"Hi De Ho" is a Vitaphone movie released on February 20, 1937 by Warner Bros in the Melody Masters Series, that wonderfully demonstrates the musical qualities and stage persona of Cab Calloway and his musicians. But there's more to know about this 11-mn and 1 reel movie, rarely seen, and often ignored by jazz historians and film or theater scholars: his uncredited cast shows besides Cab three distinguished and established actors nobody noticed. Until now!
A note of clarification
There's a bit of confusion in people's mind between three Cab Calloway movies that have been released with "hi de ho" in it: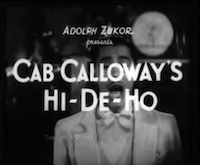 1 • "Cab Calloway's Hi-De-Ho" (1934), short movie famous for the scene of rehearsal in pajamas in the Pullman coach and the fake Cotton Club sequence. Note that it's the only title with a hyphened Hi-De-Ho.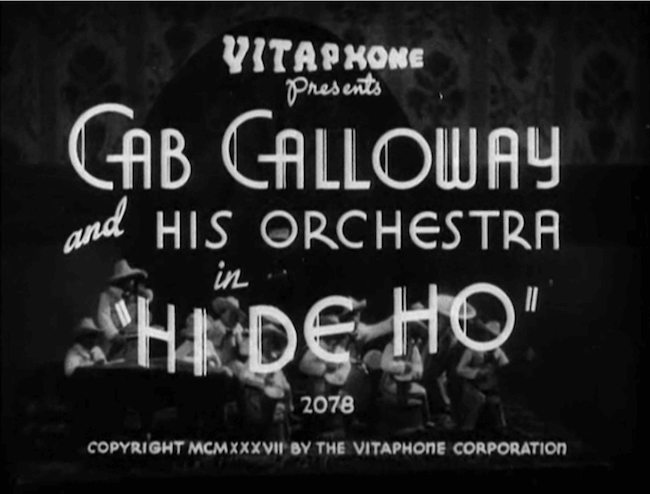 2 • "Hi De Ho" (1937): our topic for today!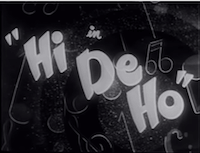 3 • "Hi De Ho" (1947): a feature movie (72-mn) produced by Republic Pictures, with Ida James, Jeni Legon, and numbers by The Peters Sisters, The Miller Brothers, Lois and Clark…
Worse: on IMDB, the poster is the one of 1947; Jeni Legon is said to be in the 1937 cast, but she only plays in the 1947 film for Republic Pictures. IMDB even indicates her role is the Deacon's wife: she was only 20 that year!

A sad Cab Calloway performing Frisco Flo in Hi De Ho (1936)
The plot: a personal story of Cab?
Said to be written after an idea from Cab Calloway himself (Film Daily, Oct 13, 1936) and described as "autobiographical" in the Film Daily review (Feb 20, 1937), Hi De Ho has a simple plot: a young man dreaming to be a conductor sees his wish comes true.
Now in detail, scene by scene:
• A young Cab Calloway dreams to be a conductor, waves his baton in front of a radio playing "I Gotta Right to Sing the Blues," which he sings to his mother in their modest apartment. Note that while Cab Calloway was literally coming into your home via radio in the 1934 "Cab Calloway's Hi-De-Ho" movie, in the 1937 version, here it's the radio that comes into Cab's home!
• A deacon passing by hears Cab and is impressed. He asks his wife to read her tealeaves. The lady foretells a bright musical future for our hero.
• In the following scene, Calloway sings and conducts "The Hi-De-Ho Miracle Man" in front of his building, where musicians are perched in the windows.
• Then, Cab Calloway expresses his sadness, singing "Frisco Flo" in the foggy streets of his neighborhood.
• Lastly, Cab appears in tails on a concert stage with his orchestra for a delirious and final "Some of These Days".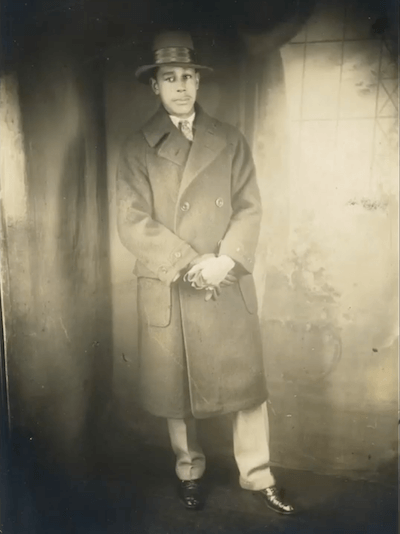 A perplexed young Cab Calloway expecting more from life (1925 ca)
The difference between Cab's real life and this imaginary one is that Cab told his dream to his sister Blanche and she didn't lead him to a fortuneteller, but rather to Louis Armstrong at the Sunset Café! Afterwards, the road to success for Cab went as fast as in this movie.
In reality, as announced in the opening titles, the story was written by a house screenplay guy, Bernet HERSHEY (1899-1971). Born in Romania, Hershey had been a war correspondent in Europe. He wrote about 80 stories, dialogues and screenplays for short Warner Bros. movies. In the Vitaphone production, he was more in the comedy department (see below). And jazz was not his specialty. The only screenplay connected to it was a 1939 short film titled "Public Jitterbug No. 1"…
---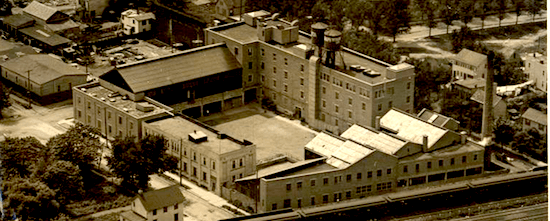 Brooklyn Vitaphone studio plant (source)
The shooting in Brooklyn, the film factory
With the working title "The Hi-De-Ho Miracle Man," the shooting, delayed from October 27 and 28 for unclear cause, started for good at 9:00 am on Thursday December 4, 1936 in Brooklyn Studios, and probably lasted a couple of days or so. Each day, thanks to a powerful local union rule, shooting stopped at 5:30 pm (and 12:30 on Saturdays, while it was closed on Sundays).
The Vitaphone process, polished by the Warner Bros. studio was very efficient. The goal was "to cut costs and focus on the production of comedies and light musicals, films that could be sold without difficulty anywhere in the country." (Richard Koszarski, Hollywood on the Hudson).
Usually, in the early Thirties, the talkie shorts were statically filmed, too close to the theatrical or Broadway performances without much creativity. The positive point for producers is that the whole New York show business industry was accessible a few miles away. And in numbers, the East coast was the source of 30 % of the 1000 live-action shorts released in 1936-1937. And Warner Bros produced 100 of them in Brooklyn, in the Vitaphone studio, where Cab's movie was made. "By 1938 the Brooklyn Vitaphone studio was producing 140 reels of shorts every year, about twenty-five hours of screen time." (Richard Koszarski, idem)
In order to be able to run so many feet of entertaining movies, producer Sam Sax who operated the Brooklyn Vitaphone Studio, explained the strict process to the press in 1935:
"We work unlike any other studio in the country. We keep factory hours — 9 to 5 — and turn out a steady amount of movie footage, rain or shine, come what may. Our schedule calls for two shorts per week. And we haven't slipped up on this in the six years I've been running this place for the Warner Brothers. We start a picture Monday morning, finish it Wednesday evening. Then the carpenters (the only night workers) spend all Wednesday night building sets for the next short subject. And we're ready to start shooting the next one bright and early Thursday morning, finishing up Saturday evening, which gives the carpenters time to do the new sets. Everybody has a holiday Sunday—and we try to figure out so that the folks get legal holidays too—a most unusual thing in the movie business." (Irene Thirer, "Sam Sax's Film Factory Turns 'em Out Two a Week in Brooklyn," New York Post, April 30, 1935, quoted in "Hollywood on the Hudson")
The director Joseph Henabery, arriving from West Coast for work there was impressed:
"When the director who had been shooting finished his picture," he recalled, "another director and all the departments of the studio were prepared to start the next. Sometimes the switch came at noon… When a company was shooting on one stage, scene striking and erection of new sets took place on the other. Most two reel pictures were shot in four days, and one reel pictures in one or two days. We stopped work at five o'clock each day. No matter if all the scripted scenes had or had not been shot… a discipline which forced everyone to concentrate." (Joseph Henabery, Before, In and After Hollywood, quoted in "Hollywood on the Hudson")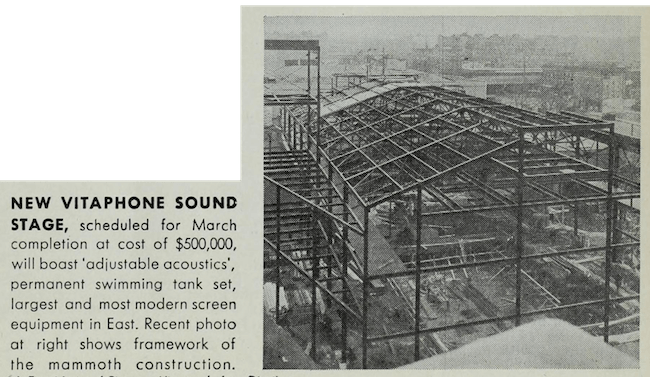 Film Daily, January 24, 1936
The new soundstage just opened in the spring of 1936 and certainly helped to enhance the industrial methods of the studio. It was "a 26,000-square-foot studio building, complete with an enormous water tank for aquatic sequences and the most modern lighting and electrical equipment, just across the street from the original lot." ("Hollywood on the Hudson")

The Director Roy MACK (1889-1962):
Born Leroy McClure in New Brunswick, NJ, was the musical shorts specialist for the Warner Brothers Vitaphone Studios in Brooklyn.
When at Livingstone high school, with other schoolmates he formed The Raven Club, a theatrical-social organization, contributing to several amateur productions, staged at Columbia Hall. He also worked as a pianist in the first movie theater in New Brunswick in 1908. He shortly joined a young troupe of children led by Gus Edwards for a vaudeville act with the likes of (soon-to-be-famed) Walter Winchell, Lila Lee, Eddie Cantor, Georgie Price, traveling throughout the east. He dropped the acting for producing vaudeville shows. He settled in Chicago and befriended a Variety reporter who later managed The RKO State Theater in the windy city, David Levin. He also produced "bands for vaudeville circuits and night clubs. He even had an orchestra of his own, The Century Serenaders, which was featured at leading night clubs in the Chicago Loop. He also ventured out to Hollywood to take a fling at appearing in films. He was one of the famous 'Keystone Kops'. (…) He even played the role of a clown in the John Robinson Circus, just for experience sake." In 1919, he's called by the Schubert Theater to produce "The Student Prince" operetta and later to stage the first "Artists and Models" show. He then tries his luck in England, with success, and is sent to Australia to produce shows there. When he comes back to London, he's involved in the cinema industry, as dance director at Elstree Studios. On this occasion a Warner Bros. representative notices him and "signs him up to go to Hollywood to direct dances for the new talking pictures." After working with Alexander Korda for "Lilies of the Field", he is named producer of the Vitaphone shorts at the Brooklyn studios in 1930 (all the quotes from this paragraph about Roy Mack are from Will BALTIN, "Roy Mack - Another New Brunswick Boy Who Has Made Good", The Central Jersey Home News, May 23, 1937).
Besides Roy Mack, Joseph Henabery (comedy shorts) and Lloyd French (dramatic subjects) were the team of directors who "handled whatever was in production on any given week." (Hollywood on the Hudson).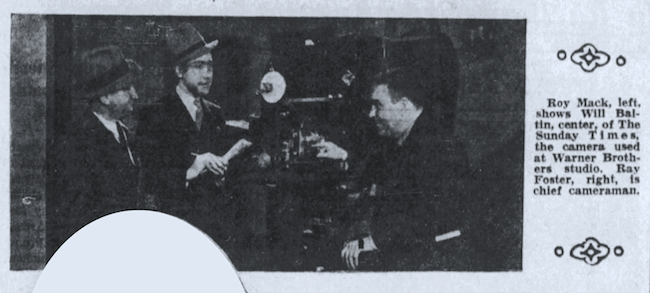 Roy MACK (left) with cinematographer Ray FOSTER (right) in charge of Hi De Ho - The Central Jersey Home News, May 23, 1937
Roy has worked in Flatbush since 1930 and directed more than 200 short movies (never a feature length), mostly musicals. Among his successes are:
Pie Pie Blackbird (1932), with Nina Mae McKinney, Eubie Blake, the Nicholas Brothers
Smash Your Baggage, (1933), with Elmer Snowden, Babe Wallace (later seen in Stormy Weather), Roy Eldridge and the Lindy Hoppers
20,000 Cheers for the Chain Gang (1933) with James Baskett
Rufus Jones for President (1933), with Ethel Waters, Sammy Davis, Jr. (just eight years old), the Lindy Hoppers
An All-Colored Vaudeville Show (1934), with Adelaide Hall, Eunice Wilson, The Nicholas Brothers
King For A Day (1934), with Bill Bojangles Robinson, Dusty Fletcher
Black Network (1936) with Babe Wallace, Nina Mae McKinney, The Nicholas Brothers
Mills Blue Rhythm Band (1934) with Fredi Washington, Sally Gooding, The Three Dukes.
When Warner stopped using the Brooklyn studios because they didn't produce enough movies there, Roy Mack connected to the new Soundies business with a company called 'Featurettes'. He was there to make musicals for the latest jukebox trade. Our man Roy did "In Love With A Song," "Jive, Little Gypsy, Jive" and "Love Turns Winter To Spring" all with Bobby Sherwood and his orchestra. But he's never been able to continue his career in Hollywood.
---

AN UNLIKELY PREMIUM CASTING FOR A SHORT MOVIE
For the first time, we can reveal who plays in this movie! Only Cab Calloway appears in the opening titles, and nowhere are the names of the three other actors credited. Nowhere else was anyone interested in this point. Until The Hi De Ho Blog who unearthed a December 1936 article, that gives us some tips about the casting…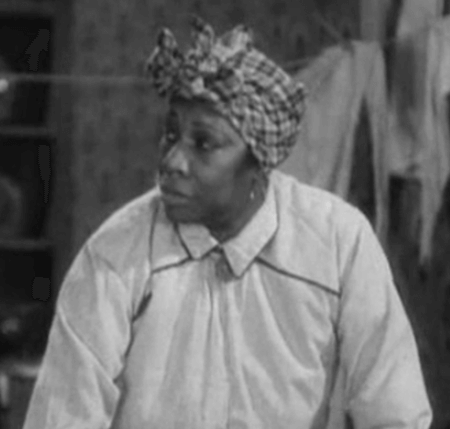 • The Mother: Ethel PURNELLO
(00:48 until 3:17) Born Purnell in 1883, Snowball, MD, Ethel lived her youth in Philadelphia, PA before coming to New York. Ethel Purnello has been an actress since 1922. On screen, she appeared in Emperor Jones (1933), in the 1936 hit The Green Pastures (she was a personal friend of Hall Johnson). In October 1936, she had just played the leading role of Tisha in "Sweet River" by George Abbott, adapted from "Uncle Tom's Cabin". Only 5 performances. In April 1937, her next play was "Hitch Your Wagon" by Bernard C. Schoenfeld, for 28 performances. She will remain active in the theater (Mamba's Daughters, Follow Your Hearts, Samson and Delilah, Hearts Divided, Camp Meeting, The Cat and the Canary, Stevedore, Behind Red Lights, Run Lil Chillun), until the 1951 revival of The Green Pastures on Broadway. In a 1940 interview, while appearing as the maternal Maum Vina in "Mamba's Daughters", she "despairs of the lowly parts Negroes, trained in dramatics, are given in 'big time' productions. (She herself had five years instruction in dramatics at the Wolton Academy, Carnegie Hall, New York)." (Joseph Woods, "192 Pounds and Mighty Proud of It" Philadelphia Tribune, January 11, 1940). Coincidentally, this article is the only one where we have confirmation she played Cab's mother in Hi De Ho. When not on tour, she had a beauty shop on 132nd Street in Harlem. She died in NYC, November 1959.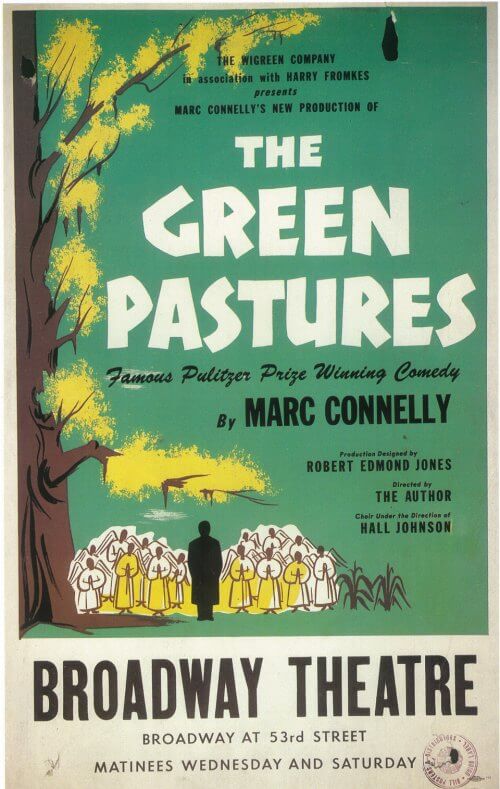 The 1951 revival of Green Pastures
Best line in the movie: "Yes, you's going to get you conducting in a job as a Pullman Porter."
---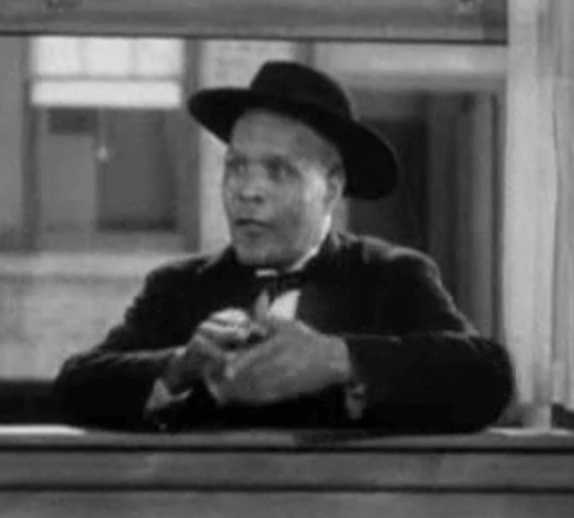 • The Deacon: Edward 'Ed' FRYE
(2:16 until 3:40; 5:41 until 5:59; 9:13 until 9:24). That comedian was famous from the vaudeville team "Moss and Frye" (Arthur Moss and Ed Frye) "originators of nonsensical classics." They had worked together since 1906: "If they don't make you laugh, you'd better see a doctor" said the bills.

Moss and Frye (left) in the Afro American, Aug 14, 1926
They first recorded their successful conversations for Victor in 1923 and later for Pathé. They were famous enough to get into troubles and got sued in 1928 by another vaudeville duet, Mack & Moran, each team claiming they originated the very famous "Two Black Crows" routine. Anyway, the Moss and Frye team ended in 1932 when Moss died.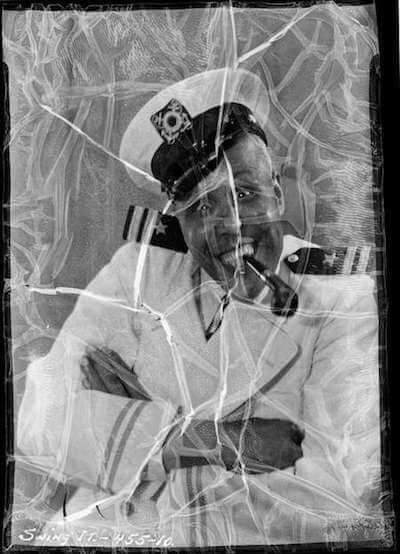 Ed Frye in Swing It, 1937 (source with 57 other pictures from that show)
Balducci in his article: "Frye was featured in the [all-colored WPA Variety] musical comedy 'Swing It,' [music by Eubie Blake] which opened at the Adelphi Theatre on July 22, 1937 [and closed on September 1]. Variety reported, 'At one point the chief comic, captain of a Mississippi boat, is played by Edward Frye, uses some of his former vaudeville material. More of it might have been more effective'."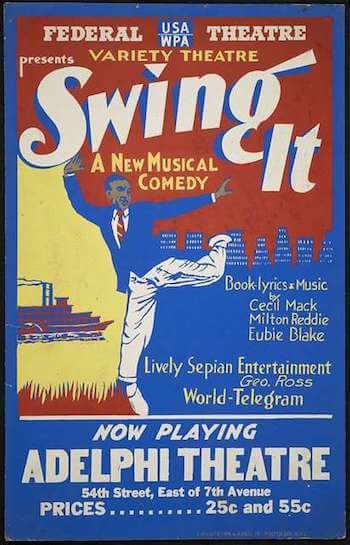 Best line in the movie: "Brother Calloway, a man with a future like yours -- he ain't got no right to sing the blues!" (2:56)
---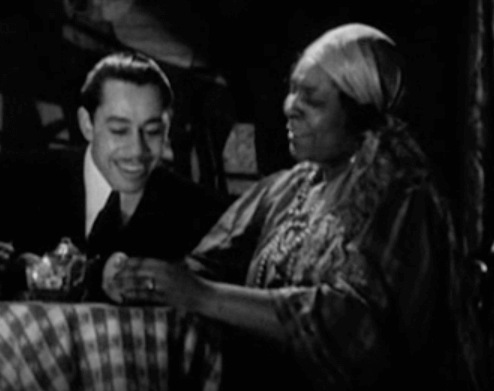 • The Deacon's wife (fortuneteller): Alberta PERKINS
(3:17 until 3:40; 5:41 until 5:59; 9:13 until 9:24) (1898-1951). She was part of the WPA Federal Theatre productions for 3 years but she started much earlier… One of the first mentions I've found is in 1915 (she's 17), in the St. Louis Argus, dated May 21, where she and Mable Grant, "two lovely girls, have a good act of singing, dancing and talking and score a hit" at the Booker Washington Theater. At that time, she's billed as "singing comediene" (sic).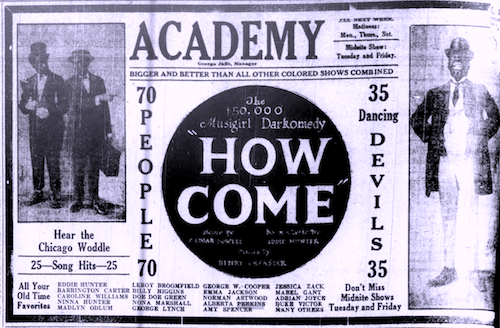 In 1925, in "How Come" in Philadelphia, Alberta is in the same cast than Norman ASTWOOD, the future husband of singer Avis ANDREWS who chirped with Cab. 1926, she's in "My Magnolia", on Broadway, where she's noticed with the likes of Adelaide Hall: "all are much in need of direction, but the talent is here" (Billboard, July 24, 1926).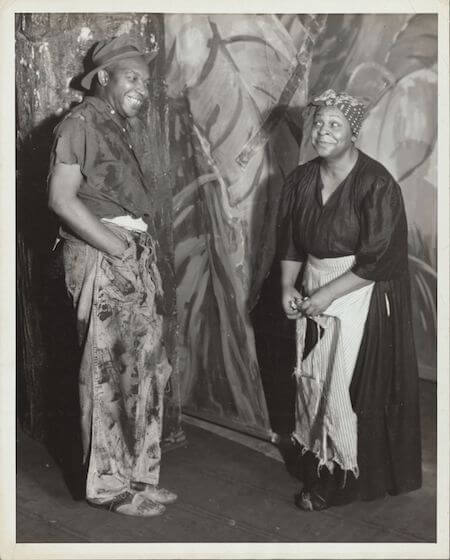 Alberta Perkins with partner Gus Smith in Turpentine, August 1936 (source NYPL)
In 1930, she's among the principals of "Change Your Luck" "a negro musical comedy" by Garland Howard with music by J.C. Johnson (only 16 performances). In 1935, she's in "Point Valaine" by Noel Coward, staged by the author, on Broadway. "Louisiana" in March 1933 and "Drums of Voodoo" by the same author Augustus Smith on May 1934, with special praise for her job then. The play will be cheaply filmed directly on stage and released in movie theaters. It is considered as the first blaxploitation horror movie in film history.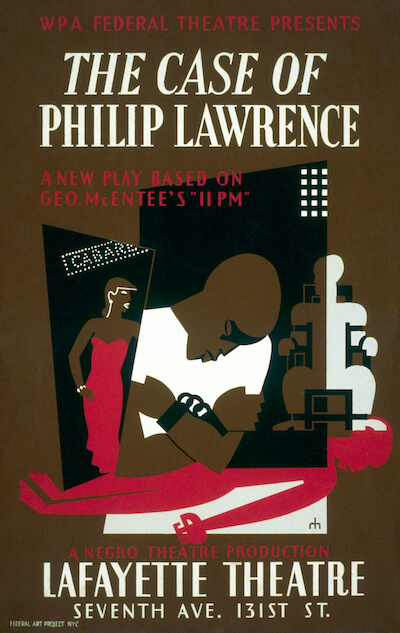 A gorgeous poster for the WPA production (source)
In a 1937 article titled "WPA Promises Busy Season", we read "Opening May 28 at the Lafayette in Harlem, the Negro theatre unit will present 'The Case of Philip Lawrence' the eighth production of this highly successful play. The George McEntee drama— ["Eleven PM"] a story of Harlem night clubs—will include in the cast Maurice Ellis, Frauline Alford, Thomas Mosely, Alberta Perkins, Charles Collins and Dorothy Paul. J. Augustus Smith is directing and Wen Talbert conducts the orchestra." (Daily Worker, May 21, 1937).
Alberta Perkins also appeared in the movies:
• "Harry von Tilzer, The Man of a Thousand Hits" directed by Joseph Henabery, Perkins's first Vitaphone production (#1768) two years before Hi De Ho. The Eton Boys and Alberta sing in front of the famous composer and songwriter during a dinner.
• "Sunday Sinners" (1940) starring Mamie Smith, Alec Lovejoy, Norman Astwood, Augustus Smith, Alberta Perkins, Edna Mae Harris.
• "Murder on Lenox Avenue" (1941) by Arthur Dreifuss, with the exact same cast!
In September 1941 she's on top of the bill for an "All Girl Revue" at the Apollo along with the 4 Co-Eds, Yak Taylor, Naomi Price, Lillian Brown, Myrtle Hutchinson. A few months earlier she was on the Apollo stage during a Louis Armstrong appearance in May.
She is also supposed to have given her voice to 14 cartoon characters between 1933 and 1940. And, "naturally", as any African American artist (rare in this domain), she remains uncredited.
On February 1949, we learn that she "has successfully recuperated from a long spell of illness at Harlem Hospital [probably started in June 1948]. She is now at home and doing fine. I hope to be seeing her back on the stage soon," adds columnist Abe Hill (New York Age, Feb 26, 1949). The same newspaper on February 18, 1950 informs us: "They're Sick — Go See 'Em. "ED.'s NOTE: The following members of the Negro Actors' Guild are ill. Go by and cheer them up as they have so often cheered you. Among those indisposed at present according to NAG Secretary Marjorie Costa are: Alberta Perkins, 238 West 129th St., Apt. 43, NYC" (coincidentally, on the same page is the last known picture of musician Andy BROWN – see our article). Alberta will die October 2, 1951 in New York, NY.
Best line in the movie: "It says that you is an unemployed genius" (3:25)
---


A scarce picture of Dynamite HOOKER (Milwaukee Journal, June 23, 1935)
• The cut-out "Dynamite": Charles "Dynamite" HOOKER
He was considered for the cast of the movie as stated in the December 1936 article. This "dynamic stepper", "dusky whirlwind", "fastest comedian on foot", formerly of Syracuse and of Jimmie Lunceford's band, was one of those vaudevillian comedians and dancers who toured with the Cotton Club orchestras, either Duke, Cab (in 1935), and others. You can spot his name on ads, bills and in programs. Choreographer Cholly ATKINS qualifies him one of the "great exponents of legomania." (Class Act: The Jazz Life of Choreographer Cholly Atkins). He opened several revues at the Cotton Club with his routine.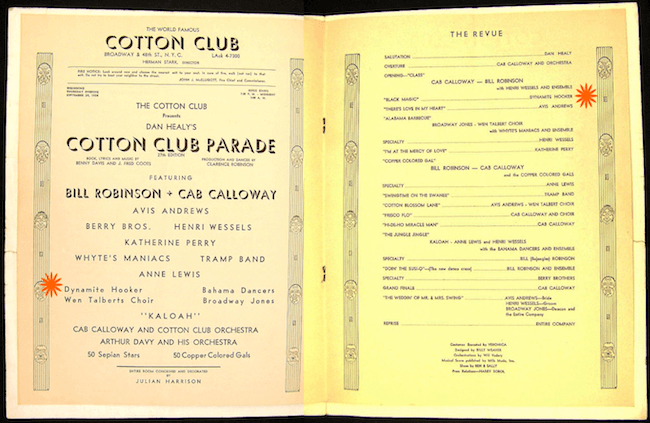 The program of the 27th edition of the Cotton Club revue:
Dynamite's name appears near the orange asterisks
"Dynamite used to dance to fast tunes. He went into a very powerful and fast kind of jittery dance, with his arms all spread out and his whole body, except for the hands, vibrating like a syncopated jackhammer," explains Eddy Determeyers in his book about Jimmie Lunceford.
Yet, opinions about Hooker diverge from one dancer to another:
• Warren BERRY (1922-1996), of The Berry Brothers: "Dynamite Hooker—he was terrific. He opened that show up like crazy." (Rusty E. Frank, Tap! The greatest tap dance stars and their stories, 1900-1955)
• James 'Stump' CROSS (from the famous Stump and Stumpy tap dance team) quoted by Stearns in their chapter about eccentric dancing: "Wearing white tails, Dynamite hit stage center to a very fast version of "Dear Old Southland" (with Lunceford) or "Black Rhythm" (with Calloway) and vibrated all over, holding his arms out like a jittery scarecrow, while his hands dangled uselessly— brute speed and energy. One of his pet steps was a straddle-legged stomp, in which he simply jumped up and down on the beat with his legs apart. After four or five minutes they banged a gong as a signal to quit. Offstage, however, Dynamite was another "cool cat." He had a voice like a hoarse Louis Armstrong and a habit of bobbing his head to some unheard rhythms. As a youngster dancer James Cross of the team of Stump and Stumpy remembers being greatly impressed with Dynamite's knowing ways. "Why, he'd just stand in a doorway bobbing his head and looking cool, and everybody would tiptoe around him with the greatest respect. Then when he spoke in that gravelly voice, you knew he was something else."
• Howard 'Stretch' JOHNSON (1915-2000) who worked along with his brother and sister in the Cotton Club revue: "The owners [of the Cotton Club] censored what they thought was not marketable and encouraged what they thought would suit the white appetite. Anything too classy or clean was out. If the dance acts were too highly polished or not flashy enough, they were told to 'speed it up, boys.' I remember one guy, 'Dynamite' Hooker who really couldn't dance. He had a bullet head and wore a yellow suit, with wide black lapels. His act consisted of clapping his hands and spreading his legs at a very fast tempo while he sweat and hollered. They loved him! But to our sensibility, he was laughable." (Newsday, Suffolk Edition, December 9, 1988 in an interview about the Coppola movie "Cotton Club" for which Howard Johnson acted as a consultant).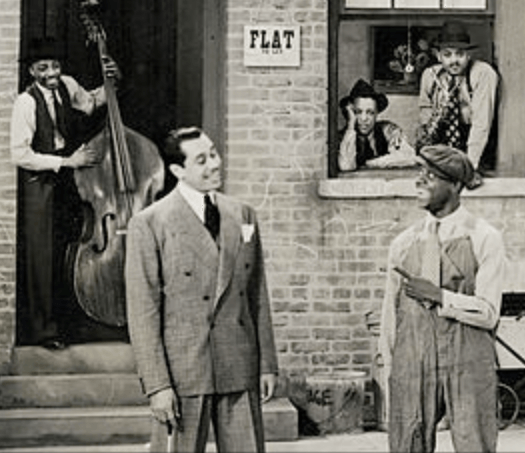 In this detail from the movie still, Cab Calloway interacts with Dynamite HOOKER
(in the background: Milt Hinton, Garvin Bushell and Ben Webster)
In our Hi De Ho movie, however, Dynamite didn't get his chance to explode on screen since he does not appear in the final version of the movie, his scene being cut. Probably because his moves didn't go along with the general mood of the movie… Remember the quote by Vitaphone director Joseph Henabery: "One reel pictures [were shot] in one or two days. We stopped work at five o'clock each day. No matter if all the scripted scenes had or had not been shot…" But we can still see Dynamite HOOKER—he is the guy next to Cab Calloway on the movie still with the musicians in the background.
By the forties, an eccentric dancer like Hooker was "trying to make a living in a dying art" (Stearns). As a farewell, one sees his name billed as "Dancing star, formerly with Calloway's band" (Buffalo Evening News, November 3, 1942) then we lose track of him.
An ignored cast then and now…
Seeing the quality of the cast, its importance since Black actors were so often underrated and employed only for minor roles, and since three legitimate actors play along with a super jazz star of the moment, I'm puzzled that no article among the contemporaneous Black newspapers ever pointed out this remarkable fact! And later no further scholastic or simple study on movie, theater, jazz… Nothing! It appears that the disdain for those movies goes deeper that we thought: people (and supposed connoisseurs) don't even pay attention to the performers on screen.
---

What Cab is doing when they shoot the movie
Shot in early December 1936… Cab is then in New York, leading the 27th Edition of the Cotton Club Parade that started in September 1936 in its new venue downtown. He costars with Bill Bailey who subbed for Bill Robinson until Bojangles came back from Hollywood in January 1937.
In the revue, Cab sings Frisco Flo and The Hi-De-Ho Miracle Man. The November 1936 edition of Down Beat confirms: "Frisco Flo" (…) will be featured in the film exactly as he represents it in the current Cotton Club revue".
In November 1936, 20th Century-Fox producer Daryl Zanuck signed boxer Joe Louis, athlete Jessie Owens and Cab Calloway to play together in a movie… which was never shot.
On December 23, 1936, at the Mecca Temple, Cab appears at the WPA Federal Theater Christmas program, along with Jack Dempsey, Bobby Green, Babe Ruth, Uncle Don. "Cab Calloway is featured in the role of the song leader, and will conduct the singing of Christmas carols by the children" (Brooklyn NY Daily Eagle, Dec 23, 1936). I haven't been able to confirm that Alberta PERKINS, Cab's costar from the movie and WPA member, shared the stage or even simply attended the show.
---
THE MUSIC IN THE MOVIE
Within 11-mn and 1 reel-movie, we can hear Cab singing 4 songs, totaling 9:39mn, as much as 89% of the movie's length! An even better rate than Stormy Weather!
While the new Cotton Club revue is in full rehearsals, and the ink on the Warner Bros. contract is just drying, Cab Calloway's agent, Irving MILLS sends him and his band to his brand new ARC Studios in New York on September 15, 1936. The show opens on September 24… Besides two other songs also in the revue (Copper-Colored Gal and The Wedding Of Mr. And Mrs. Swing), "Frisco Flo" and "The Hi-De-Ho Miracle Man" are recorded with the movie in mind.
In the studio is the same personnel as on screen a few months later: Cab Calloway (lead, vocal), Lammar Wright, Doc Cheatham, Irving Randolph (trumpet), E.B. De Priest Wheeler, Keg Johnson, Claude Jones (trombone), Garvin Bushell, Andrew J. Brown (clarinet, alto saxophone), Ben Webster, Walter Foots Thomas (clarinet, saxophone tenor), Bennie Payne (piano), Morris White (guitar), Milton Hinton (bass), Leroy Maxey (drums).
Clarinet player in Calloway's band Garvin Bushell adds in his autobiography about this session: "Cab didn't want to pay enough money for his arrangements. Bennie Payne used to arrange for him and would only get ten dollars." So, let's assume that was one of those "cut-rate" arrangements…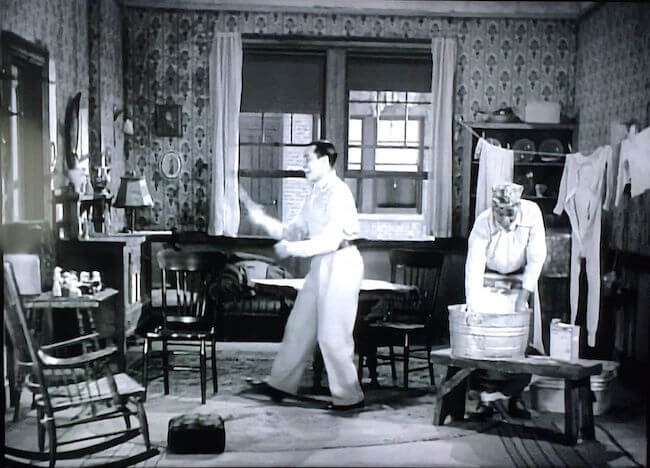 I Gotta Right to Sing the Blues (0'00)
It's Cab's first singing moment in the movie. He first recorded the song on November 30, 1932, when Ted Koehler and Harold Arlen created the song for the Broadway show Earl Carroll's Vanities. As stated in Joop Visser's liner notes for the CD-boxset "Cab Calloway, This Is Hep", "Cab displays his considerable talent as a ballad singer on this side, while Doc Cheatham's melodic lead and tuneful solo is another highlight (…) which became another top twenty hit for Cab in January 1933." So, in 1936, when the producer decided to have that song in the movie, they simply used the same Walter Foots Thomas arrangement, but with a slower tempo than in the original recording.
Cab will cover it again almost 30 years later on October 6, 1961 for the Coral LP "Blues Make me Happy" (read our article about this album). His rendition will be at an even slower tempo and in a way too emphasized crooning voice.
In this movie anyway, one can tell that the volume and timbre of Cab's voice at certain moments might have been an issue for sound engineers (as it was in the studio booth whenever he recorded!).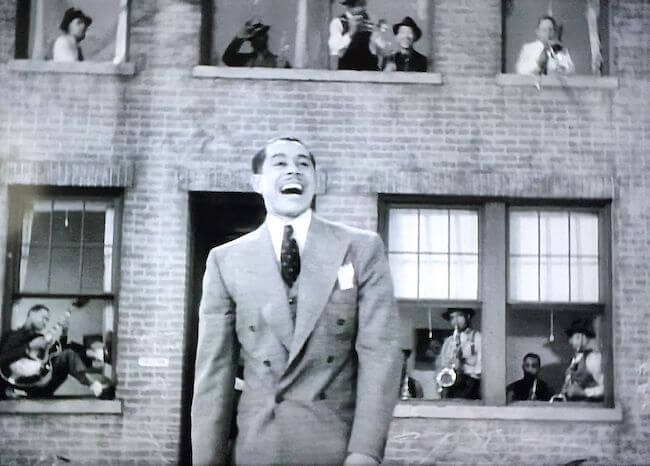 The Hi-De-Ho Miracle Man (3:41)
Benny DAVIS and J. Fred COOTS wrote the book, music and lyrics for all the songs of the new Cotton Club revue of fall 1936, and – it's not a miracle – The Hi-De-Ho Miracle Man is one of them.
This tune is in the same craze of the numerous Hi-De-Ho songs and is supposed to provide new interactions between the maestro and the audience. As pointed by Ted Gioia, Cab "made Minnie [the Moocher] into a mini-industry with "Minnie the Moocher's Wedding Day" (1932), "Keep that Hi-De-Ho in Your Soul" (1935), "The Hi-De-Ho Miracle Man" (1936), "Hi-De-Ho Romeo" (1937), "Hi-De-Ho Serenade" (1940), and other derivative numbers. As a result, Calloway veered dangerously close to self-parody."
On screen, as in the studio session, the trumpet solo at the beginning is by Irving 'Mouse' RANDOLPH.
Cab will also record the song in 1960 for his comeback album "Hi De Hi-De-Ho" (RCA — read our article).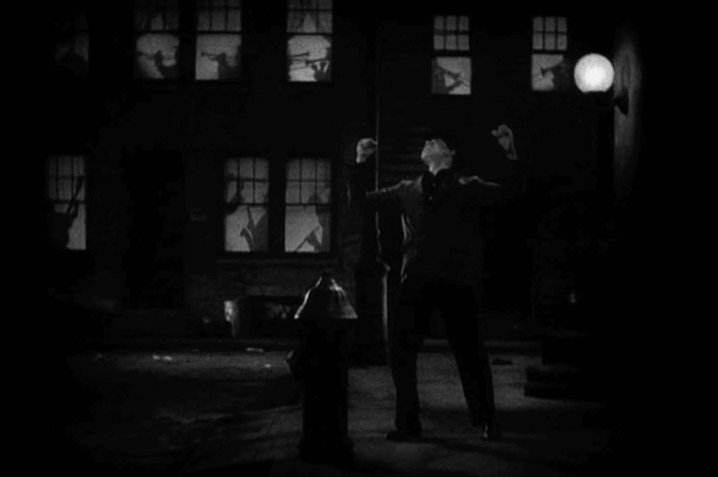 Frisco Flo (5:57)
The novelty song Frisco Flo written for the latest Cotton Club revue by the duet Davis and Coots could be considered as a re-boot or a spin-off of Minnie The Moocher. It has the same storyline, and is presented by November 1936 Down Beat as Minnie's successor. It won't be. It hasn't got the appeal of Cab's first and definitive success.
The sequence for that song is beautifully cinematographed by Ray FOSTER and set in the tenement courtyard. Cab is wandering alone, sad, passing two alluring beauties he doesn't even notice. In the background, in the lighted windows of the building, we see the silhouettes of Cab's actual musicians, playing or miming their instruments. In his singing, we can briefly hear Al JOLSON's strong influence (certainly because Cab had worked and sung with him earlier that year for The Singing Kid).
In the studio version of the song, Claude JONES provided 8 bars of a trombone solo that he didn't have a chance to repeat on screen. He will have to wait for the next number.
The songs ends with Cab singing "Like a flame, we carry onward in the name of Frisco Flo" but pretty much nobody remembers her or her song…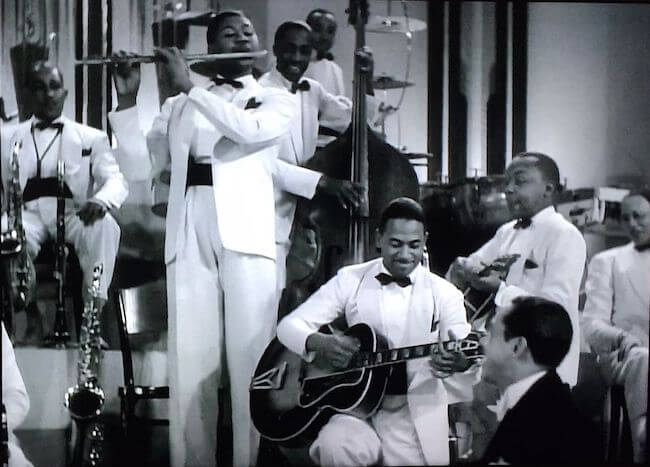 Some Of These Days (9:24)
"Ridin' high, sitting on top of the world" as foretold by the deacon's wife, Cab and is band are presented in a fancy stage set, very similar to the new Cotton Club in Manhattan (although the orchestra used to play in front of the stage).
The same recipe for I Gotta Right to Sing the Blues, is used for the finale song of the movie. Indeed, Some of These Days had been previously recorded on December 23, 1930 (Cab's only 2nd studio session) with a glorious and exhilarating arrangement by Walter Foots Thomas that gave many virtuosic solo opportunities to the musicians of the band at that time: R.Q. Dickerson, Lammar Wright, Wendell Culley (tp), E.B. De Priest Wheeler (tb), Andrew J. Brown (ts), Walter Foots Thomas (bar-sax), and the incredible William Thornton Blue on clarinet… all of them were crowned by an already crazy and powerful scatting by Cab! Be prepared for some great music!
Note that the sale arrangement was already played by Cab and his musicians during the famous Shell Chateau radio show with Al JOLSON in January 1936. You can listen to the whole show here and read the story if that broadcast here.
Focus on the solos in the movie for "Some of These Days":
In his Cab Calloway's biography, Alyn SHIPTON cleverly remarks: "The standout track in the movie is a simply dazzling version of "Some of These Days." It is a far cry from Cab's original record of the song from 1930. This version features a sparkling flute solo from Foots Thomas, a brilliant guitar solo from Morris White (who is backed on rhythm guitar by Keg Johnson, who temporarily lays down his trombone to supply some Hot Club style swing), nimble trombone from Claude Jones, and a taste of Buster Bailey—inspired clarinet from Garvin Bushell. Yet the most memorable thing about this brief tune is Cab's vocal expertise and dancing. He seems to be scatting at double speed, with lips, teeth, and tongue working overtime to add percussive consonants, before a wild display of footwork that finishes with him spinning round on the spot like a ballerina."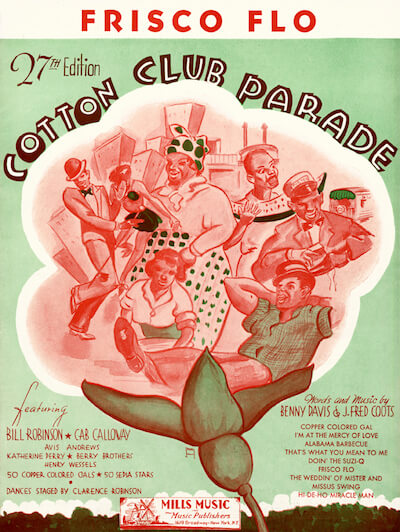 (courtesy Philippe Baudoin)
Now, share that music!
On September 22, Cab is willing to share his new songs with an audience of 15,000 at Madison Square Garden in New York, during a special Roosevelt Rally sponsored by the Good Neighbor League. And, of course, Cab "stole de show", scoring his latest hits he just waxed. WC Handy who had spoken earlier that evening came back on stage after the band played St. Louis Blues and shook hands with Calloway (New York Age, September 26, 1936).
The song was introduced to a national audience during the Rudy Vallee's Variety Hour radio show on November 5, 1936 on NBC. He may have impressed the other guests that evening, Sheila Barrett, Peter Lorre and Olivia de Havilland…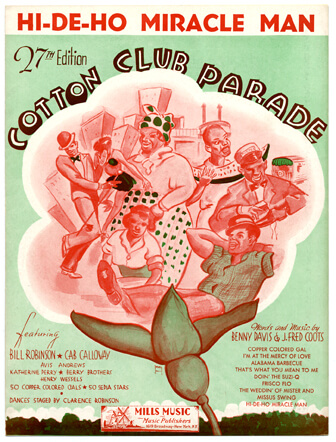 (courtesy Philippe Baudoin)
Spread the repertoire on the radio
Cab catches the opportunity on several broadcasts to sing songs from the current Cotton Club revue and the movie. All those titles won't remain very much longer in Cab's repertoire and won't be played after 1937.
Thanks to Bob Inman's commented catalog of radio logs, we learn that Cab Calloway used to play The Hi-De-Ho Miracle Man more than any other songs from the movie during that 1936-1938 period (for the broadcasts Bob listened to):
August 30, 1936: I Gotta Right To Sing The Blues
September 23: Frisco Flo, Hi-De-Ho Miracle Man
September 24: Hi-De-Ho Miracle Man
September 25: Hi-De-Ho Miracle Man
October 29 (Madison Square Garden): Hi-De-Ho Miracle Man, Some of These Days
December 25: Frisco Flo
December 31: Hi-De-Ho Miracle Man
January 7, 1937: Some of These Days
January 10: Hi-De-Ho Miracle Man
February 4 (Martin Block 2nd anniversary): Hi-De-Ho Miracle Man
February 9: Hi-De-Ho Miracle Man, Some of These Days
November 11: Hi-De-Ho Miracle Man
February 24, 1938: Hi-De-Ho Miracle Man, Some of These Days (note by Bob Inman: "Great vocal by Cab")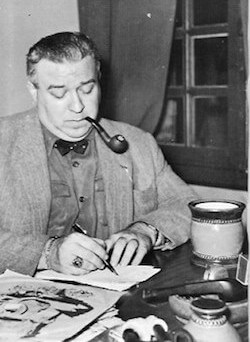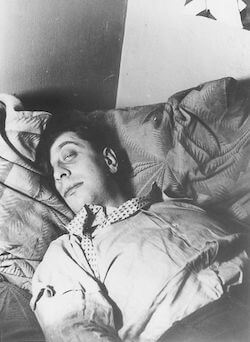 Hugues Panassié and Robert Desnos: two different points of view on Cab!
Then, let the music critics do their job!
I have found only one short review of the records from that era in the USA, from Variety dated November 11, 1936: "Scatted as only Cab can do."
In France, two "authorities" have opposite opinions about: Hugues PANASSIÉ (founder of the Hot Club de France, jazz critic and producer, "the Pope of Jazz" in France) writes with a wide sense of nuance about "Frisco Flot" (the song was released in France with a final and silent "t" to Flo, don't ask me why) and "Hi-De-Ho Miracle Man": "Absolutely pitiful."
In the newspaper Ce Soir, the surrealist poet Robert DESNOS, friend of Picasso and Hemingway, in his jazz review column states: "For Brunswick, Cab Calloway, the admirable Black artist, has recorded 'Frisco Flot' and 'The Hi-De-Ho Miracle Man'. These records may not add anything to his glory, but they will contribute to it without diminishing it in any way" (Ce soir, March 10, 1937).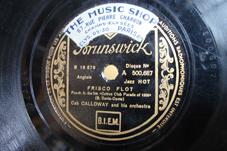 The French release of Frisco Flo, as Frisco Flot (French dig silent final letters!)
Note that for Christmas 1936, a crossed-eye Siamese cat named Frisco Flo was given to Cab…
In the second part of our article, you'll discover the rare movie stills, what Cab was doing when the movie got released (besides singing "Hi De Ho"), the reviews for the movies, and the details you never noticed before!
---
---