Avis ANDREWS (1908, Houston, TX - December 1964, New Orleans, LA)
Regular singer for the Cab Calloway Orchestra
between October 1936 and March 1944
A great singer admired... and unrecognized.
Billed alternately in the ads as "Sepia Prima Donna", "The Sepian Nightingale", "Siren of Songs", "Songbird of the South", "Bundle of Blues", "Popular and petite songbird", "The aristocrat of song", "The Broadway Favorite and Singing Sensation", "Second to Marian Anderson" or "Greatest colored soprano" (sic).
Still: if we had to rely on Cab Calloway's autobiography to find out a little more about this singer who was the canary for the orchestra for more than 7 years, we wouldn't get very far! So what about jazz dictionaries? Nothing more! Memoirs of jazzmen? Hardly. Once again, it's thanks to the newspapers of the time that we manage to retrace the life of Avis Andrews. Incompletely, of course, but it's already better than nothing. Before this article, you could always look on the Internet for an article on the woman who was admired by singer Alberta HUNTER or Jonah JONES and who even made the front page of the black American newspapers: but you'd find nothing.
Straight out of university on Broadway!

Avis Andrews was born in Houston, Texas, in 1908. Her family was from there, her grandfather being a brick mason. While the 1900 Census says the family is "Black", in 1910, they are all listed as "Mulato". Her mother, Ana Lou had her daughter when she was 19. The three generations then lived together on San Felipe Street in Houston. Avis' mother was a typist ("typewriter" in the census sheet!) in 1920 before becoming a journalist in Washington; while her father Richard Taylor Andrews was a pastor at the Mount Gilead Baptist Church in Fort Worth, Texas (after being separated, the parents remarried in 1938!). The reverend was appreciated as a valuable asset to the the religious, social and civic life of the community. He was so successful that he managed to get Marian ANDERSON sings in his church in 1939! Avis has two brothers (one named Dick, who later married Marjory Jackson – no connection to the New Zealand athlete), and four sisters (one is still alive and 103 in July 2020!).
As early as November 1927, Avis was noticed at the gala dinner for Howard's 300 female students. But that was not the first time local newspaper mentions Avis: yet in January 1921 (Avis is only 13!), with Theresa Harris she entertains the Friendly Hour at the YWCA. In March 1921, local Houston Informer relates a YWCA mother and daughter event where Avis and her mother will perform. Three years after, in April 1924, Avis "brought down the house with a vocal selection (…), with Miss Ida Mae Conway as the accompanist" (Houston Informer, April 5, 1924). The will to sing and perform on stage was undoubtedly in her veins.
Avis graduated from Howard University in Washington, DC, the university that did a lot for the advancement of civil rights in the USA (also graduating was Thurgood MARSHALL, an American politician, Supreme Court Justice and Cab's great childhood friend). There she was a member of the Women's Glee Club, the choir led by Lulu Vere Childers. Was she in the same group as Marian ANDERSON (a future rival to whom she would be compared years later) who gave a notable recital in January 1929?
Having completed her studies, but without being able to use her classical education, the young Avis went straight to Broadway to work under the direction of Florenz ZIEGFIELD in "Show Boat" in Spring 1929 and in George GERSHWIN's "Show Girl" during Summer 1929.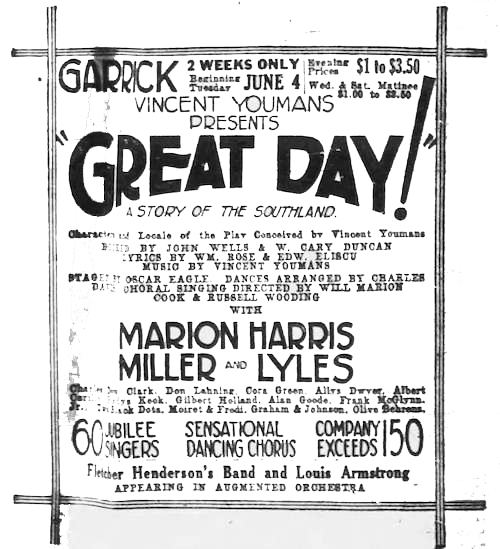 June 1929: one of the tryouts in Pittsburgh for the forthcoming flop "Great Day!"
Right after, she played in the musical "Great Day!" by Vincent YOUMANS, which according to the number of performances in October-November 1929 (36) was a flop. In the cast were Miller & Lyles, Mayo Methot, Allen Prior and Lois Deppe. But I couldn't find her name in the cast in the New York program… Maybe Avis was part of the tempestuous tryouts in Philadelphia, Atlantic City, or Long Branch or Jamaica where Youmans fired most of the cast (150 were engaged in June 1929! And there was a Jubilee choir of 60!) and crew. The show was postponed (it even got the nickname "The Great Delay!") from June to the end of October 1929 with several changes in lyricists, composers. Then, perhaps the Wall Street crash, right after the opening didn't help…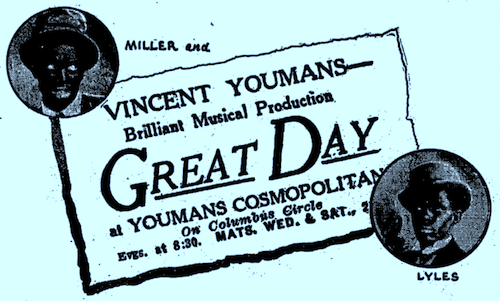 In September 1930, Avis appeared at Chicago's Regal Theatre, along with Jazz Lips RICHARDSON, Dave PEYTON and his orchestra and Fats WALLER!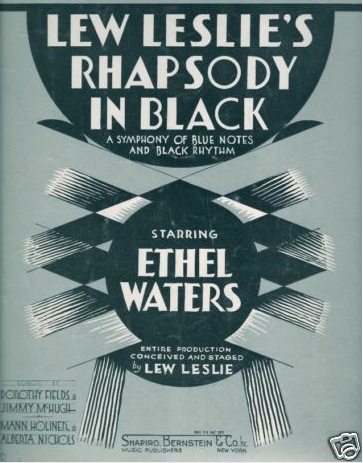 In the troupe of "Rhapsody in Black" with Ethel Waters!
In 1931, the beautiful Avis Andrews is already on the Broadway stage with Lew LESLIE's "Rhapsody in Black" (May to July 1931, Sam Harris Theatre) where she shares the bill with the BERRY Brothers, Eddie RECTOR and above all the fearsome Ethel WATERS.
Soon Avis and Valaida SNOW are both signed to long-term contracts and are supposed to appear in the new edition of "Blackbirds", scheduled to be produced in London fall 1931, just like the "Blackbirds of 1926" did in 1929.
In duet with Eloise UGGAMS (aunt of future singer Leslie Uggams and cousin of Avis), she leads the choir in Yiddish on the famous Hebrew song "Eli, Eli". Avis, who had to study the Hebrew words for the tune, was noticed several times by the critics for this performance, which will remain one of her greatest triumphs.
On the strength of its success, the revue went on tour for a long time, and in August 1932 it played in Buffalo, NY.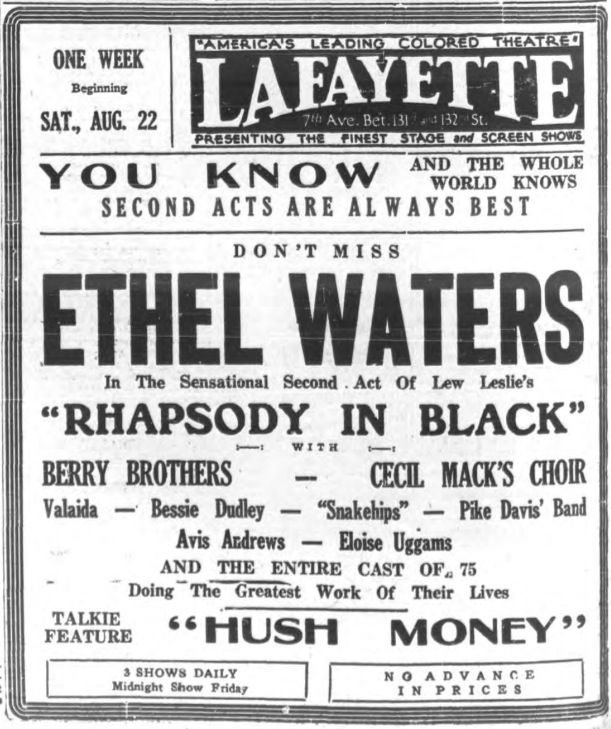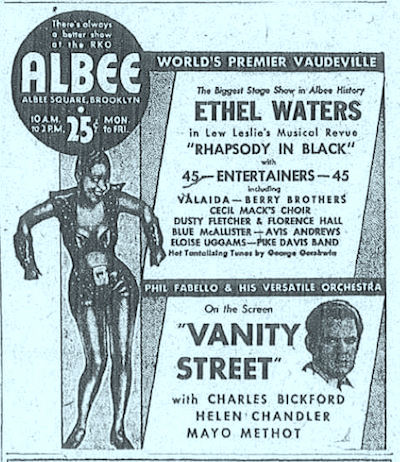 From Hot Chocolates to cotton fields...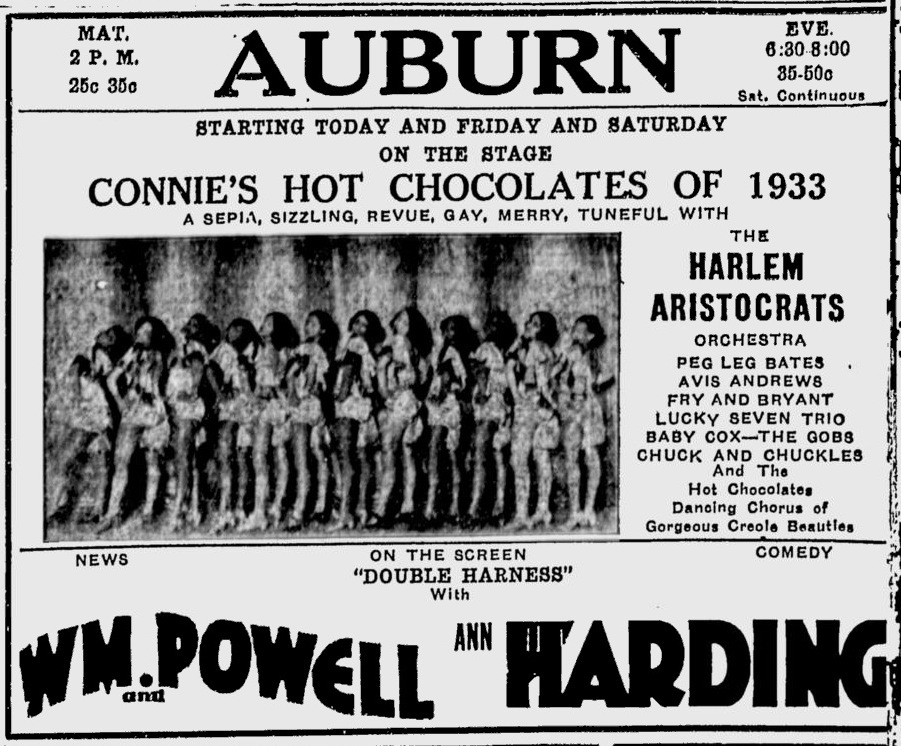 Advertisement published in September 1933.
Gradually, the name Avis Andrews is higher in the poster...
She seems to continue on with the Connie's Inn show, "Hot Chocolates" of 1933 until July 1934. In spite of the 50 artists in the troupe (with the likes of Peg Leg BATES, Johnny HUDGINS, Baby COX), Avis manages to make a name for herself and appears among the top billed performers.
Avis's voice caught the attention of many people and professionals. Billboard magazine in its section "Possibilities" that delivers tips from the staff says that Avis would be perfect for radio:
"Avis Andrews – colored singer appearing in vaude with Connie's Hot Chocolates unit. A talented warbler – not a blues peddler, but a truly first-rate soprano – who can sweetly handle a pop tune as well as hit the high ones with a classical number. In addition to definite radio possibilities, she might even be built up as a single in vauds."

A beautiful ad for Hot Chocolates with Avis Andrews
and a coincidental reference to her boss-to be, Cab Calloway! (1933)
This segregated period didn't leave a chance for Avis to get a commercial radio broadcast but her reputation grew steadily to the point that she joined the prestigious Cotton Club in the spring of 1935. Very quickly, the critics showered her with praise. After mentioning Ethel WATERS, Adelaide HALL and Aida WARD, one of them wrote in the Afro American newspaper: "With Avis Andrews, the young singer full of dramatic talent, the Cotton Club gave birth to a new sensation"!
In the New York Age dated 13 April 1935, Lou LAYNE explains that Avis's baptismal name is a perfect match: it means "opinion" in French and "bird" in Latin and that she "could even teach a nightingale to sing"! The same journalist even believes that she could even be an operatic singer without any problem.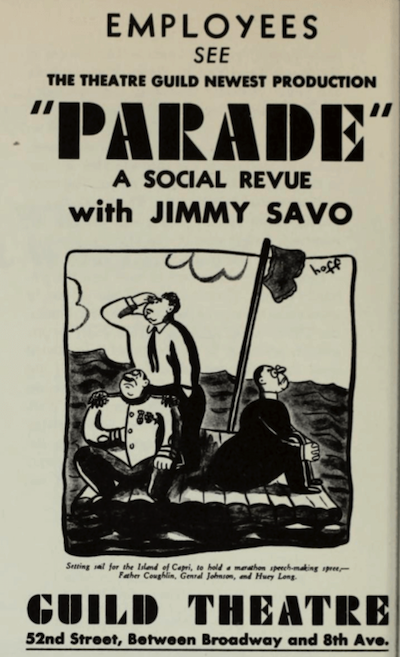 Ad for the musical "Parade" (1935)
In May and June 1935, it is in the Broadway musical "Parade" (whose orchestrations are partly signed by David RASKIN - the future composer of "Laura") that she sings two songs: "You Ain't So Hot" and "Letter to the President". She stands out for her superb voice and is the only member of the troupe who is black. Unidentified critic qualified Avis "a lady of color who sings dark, explicit songs, and with better than the usual Harlem taste".
In Variety, July 24, 1935, she's featured among the "New Acts" column:
"Avis Andrews has probably been around in the Harlem nigh spots, high brown warbler possessing a fair voice. Her claim to vaude booking is based on her presence in the cast of 'Parade' a revue which the Theatre Guild recently presented for a short engagement. She is carrying a colored accompanist. Starting with a hi-de-ho number, Miss Andrews did well with 'Why Was I Born' with variations. Routine was completed with a third number, 'You Ain't So Hot,' which was her best contribution in the Guild show. Got by on second, but not exceptional."
The Columbia Spectator dated June 4, 1935 has a negative review of Avis' performance in "Parade":
"There's a lot of swell material going to waste in 'Parade' and some not-so-well people doing a lot. For instance, the sepia Avis Andrews and the very blonde Evelyn Dall. Miss Andrews used to sing at the Cotton Club, and she has that typical Cotton Club female vocalist voice: high, plenty hot, and with that peculiar timbre that made us curl up and moan when Ada Ward used to do it."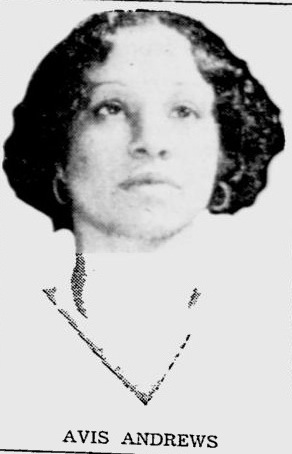 A 27 year old new star in 1935
But, Billy ROWE, columnist for the Pittsburgh Courier was literally a huge fan of hers (he will remain an intense supporter of Avis along the years). In the June 1, 1935 edition, he writes about Avis Andrews in "Parade":
"AVIS ANDREWS IS SEEN AS GREATEST STAR SINCE ETHEL"

"The Theater Guild, the intelligentsia of the theatrical world, presented to a blasé public last Monday, 'Parade,' a 'satirical revue' billed as its last offering of the season, at its theater on West 52nd Street, in the Broadway vicinity. (…) Notwithstanding the sour note which this revue struck according to the critics of the daily press, Avis Andrews, Harlem's silver voiced delineator of songs, held high the tradition of her people, who have log since been credited as those born with the voice for songs. Her contribution to the Guild's play, though the play itself was seemingly not accepted by downtown New York, was one that can be proud of. She proved to be one of the few highlights of the entire show (…). Her voice was perfect for the part she played. Her personality could be felt by the entire audience, which enabled her to be on receiving end of several curtain calls. Avis Andrews was superb."

"In getting her first chance on Broadway through the untiring efforts of Nat Nazzaro, Miss Andrews proved to both that vicinity, and those elsewhere, that she is the possessor of that which has gone so far on the ladder of success. Before many moons have passed, it is safe to wager, even though the press notices received by the Theater Guild's 'Parade' might bring it to an untimely end, Avis Andrews will go on and on, and before long, another star will be perched high upon the horizon of success which now only supports the name and body of Ethel Waters."
Well… er… let's say that Billy was unconditionally fond of Avis!
At that time, her agent Nat NAZARRO announced that Avis would soon be the star of a Warner short film with an exclusively Afro-American cast. She was even reportedly approached to do a radio show...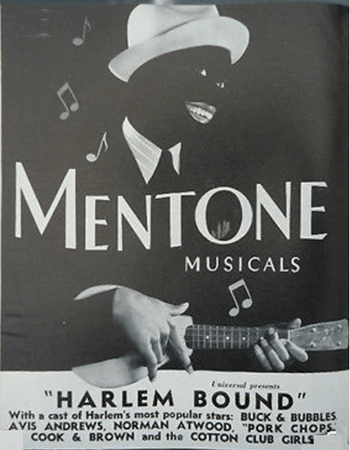 First, it is not for Warner but for Universal Pictures that Avis Andrews is going to be the movie star. Oh, nothing exceptional: just a short race movie like they used to screen before the feature films were shown in theatres with black audiences... That's "Harlem Bound" (working title: "Headin' for Harlem"), directed by Milton Schwartzwald, shot in September 1935 at the Biograph studios and whose cast includes BUCK & BUBBLES (who interpret "Truckin'"), Cook & Brown, "Pork Chops"... all from the Nazzaro squad plus the Cotton Club Girls (with probably among them Lucille Wilson). Avis is sometimes credited as Avis Astwood, like Norman ASTWOOD, star of the movie, and famous actor then (he was also in the 1926 version of "Blackbirds").
Unfortunately, I haven't been able to see this short movie, although it was screened in 2020 at Cinema Revival.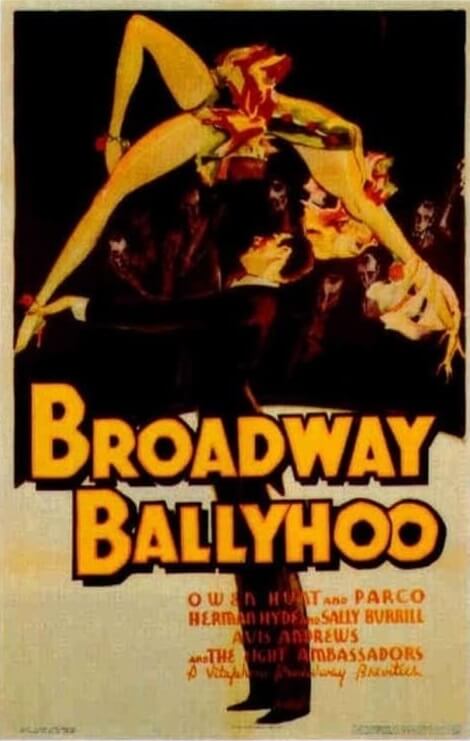 "Broadway Ballyhoo" poster (1935)
Nat Nazzaro didn't lie: Avis Andrews also appeared in a Warner Brothers movie, another two-reel for Vitaphone – Broadway Brevity series: "Broadway Ballyhoo", released December 28, 1935 and directed by Roy MACK (the same who will do "Hi De Ho" in 1937 with Cab!). Mack is responsible for more than 200 short movies and among them many musicals you have probably already seen, with the likes of Noble Sissle, the young Sammy Davis, Jr. or the Nicholas Brothers, Woody Herman, Adelaide Hall, etc.
"Owen, Hunt, and Parco, as operators of a rubberneck bus, bemoan lack of trade, offer prospective customers 'samples' of what is in store for them. Outstanding is the music store scene with Herman Hyde and Sally Burrill. GOOD" says The Philadelphia Exhibitor, February 15, 1936. Avis Andrews' name is on the bill in large letters. In the movie, she sang the spiritual "Roll, Jordan, Roll" with a hot-jazz band dressed as devils. TCM screens it occasionally, so keep your eyes open!
In 1940, Avis will miss the opportunity to appear in another movie, as pointed out by The Phoenix Index, April 27, 1940: "Avis Andrews, a stage personality who grows sweeter as the years roll by, has been asked to do a series of concerts failing to sign up with Eddie Cantor in 'Darn That Dream'."

Nat NAZARRO: "the monster agent"!
Let's take the opportunity to talk about Nat NAZARRO, Sr. who was Avis Andrews' agent. Former performer who had his fame in the 1910s and 20s (see illutration dated 1910), the "infamous" promoter had under his tutelage a roster of top black stars, singers, dancers and actors, known as "The Black Vaudeville": Stump and Stumpy, the Berry Brothers, Harold Cromer, Moke & Poke, Pearl Bailey, Chuck and Chuckles, Buck & Bubbles (who signed a contract for life, with option for renewal!), Pigmeat Markham, Babe Wallace, The Five Red Caps, Betty Carter, The Two Turbans... The tap dancer Harold Cromer talks about him as a funny guy looking like Peter Falk (glass eye included), linked to the mafia and who took 30% on the contracts, the expenses remaining at the responsibility of the artists! He justified this inequitable sharing by the fact that it was thanks to him that his artists made more money in better venues. He was also known for never letting his protégés leave without having tried to keep them by the least legitimate means...
In his autobiography, pianist Bobby Short explains: "They were all working under long-term financial contracts that allowed them a certain minimum percentage of their earnings; the rest was invested or put in trust by Mr. Nazarro. He held all purse-string, and who knew what fancy bookkeeping was afoot; not to say that Nazarro was embezzling salaries, but his organization was run on a perform-now-and-collect-later basis."
Nat Nazarro even sued Cab Calloway in August 1940 following an altercation between the two men at the Paramount Theatre in Times Square, Nazarro claiming that Calloway was "hijacking an act that was supposed to be under his own management." The Pittsburgh Courier, dated August 20, 1940 offers a different story, Nat saying that Cab assaulted the him because, sitting in the third row, he dared to walk out of the theatre while the Hi de Ho Maestro was playing on stage. Anyway, Nazarro withdrew the complaint in court. Apparently, Nazarro was used to suing people (or to irritate them!) since in 1938 he already got Bill Bojangles ROBINSON into court because he insulted him backstage.
This period of success for Avis was followed by a Broadway flop, the musical "Smile at Me" which lasted barely 3 weeks from the end of August to mid-September 1935 at the Fulton Theatre (on short notice, she had replaced Adelaide Hall, who had refused the role, considering the production too amateurish... She was probably right!). She sang "Tired of the South" in this musical.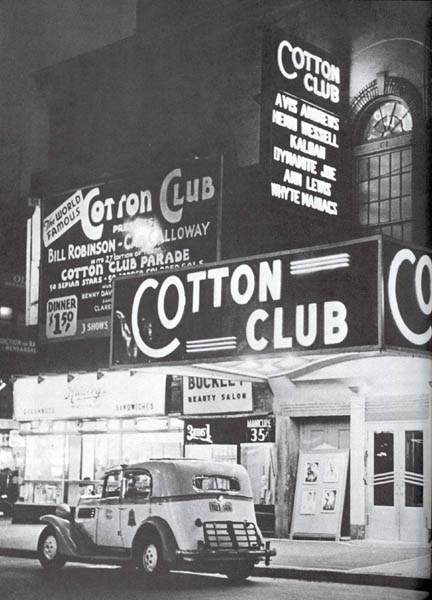 The marquee of the Cotton Club of Manhattan in September 1936.
This time the name Avis Andrews is at the top of the bill!
One of the Cotton Club's star singers...
Avis entered the Cotton Club of Harlem in the spring of 1935, but the prestigious nightclub closed its doors shortly thereafter. The riots having made the area too dangerous for the white bourgeoisie, it reopened in September 1936 in Manhattan on Broadway and 48th Street (just north of Times Square).
In New York Age dated March 21, 1936, columnist Joe BOSTIC writes about her while playing with Leroy SMITH and his orchestra:
"Miss Avis Andrews scores the grandest individual triumph that this old show-looker has seen for Lord knows how long at the Apollo Theatre this week. Oh sure, I remember the record cracking weeks of Ethel Waters and Louis Armstrong but they were established before they sang or played the first note. With the attractive Avis it is different. She steps before an audience, steeped in swing, stomp and syncopation to offer a diversified recital that could have been offered with credit in Carnegie Hall. And she GETS AWAY WITH IT. Which proves that genuine artistry can demand and get a hearing anywhere. Her cycle of songs includes "Tired of the South." a plaintive lament, "Alone," in the popular vein, "You're not So Hot." a comi-dramatic takeoff and "Dark Eyes" (in Russian). Is that variety or not?" (…) "Howard University's ex co-ed lovely Avis Andrews makes it doubly so in spades. See her and go home and give thanks for the future of the Negro vaudeville theatre, if this intelligent type is to continue to come to it."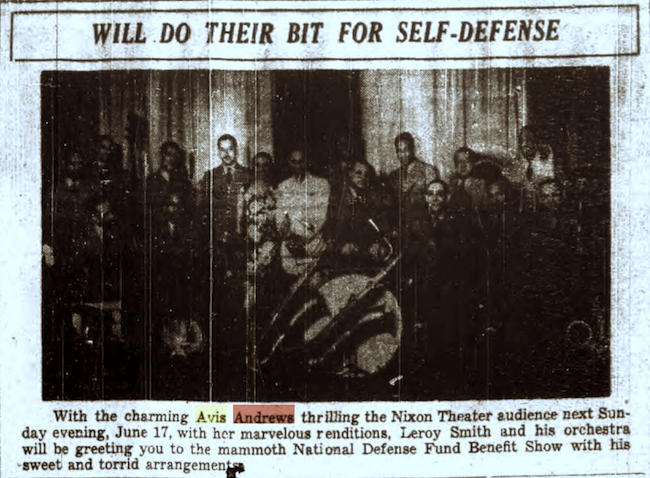 Avis Andrews with Leroy Smith's orchestra (1934).
From 1933 to 1936, she will chirp with this band from time to time.
Meanwhile she joined forces with the former Hot Chocolates orchestra, Leroy SMITH (March 1936) and Erskine HAWKINS (July 1936).
For the first new revue, everything must be the top of the top. Bill Robinson and Cab Calloway led the way. In the cast, we find the beautiful Avis Andrews (the 1st photo of this article is from the Cotton Club program).
In Pittsburgh Courier dated January 9, 1937, Billy Rowe reviews the 1936 theatrical season and among Bill Robinson, Cab Calloway, Ella Fitzgerald, Jimmy Lunceford, The Nicholas Brothers, Duke Ellington and Louis Armstrong, praises Avis Andrews:
"In the Cotton Club Revue she stands out like a beacon light in the bay. Beautiful of face and character, her being a part of the race in the theatre can only be considered as an honor. Not only is she a part of the best showing that we have ever made on Broadway, but she has proved during 1936 the greatness of our maids of color, Hers was one of the most delightful and satisfying offerings of the year."
A year later, the same Billy Rowe in the same newspaper will put her on his list of the most valuable performers of 1937, among Maxine Sullivan, Count Basie, Tip Tap and Toe: "Like in every other year her ability is a far-reaching cry towards equality."
In the Cotton Club revue that will last from September 1936 to February 1937, she simply sings at the very beginning of the show "There's Love In My Heart".
From November 1937 to March 1938, she sang "Night Fall in Louisiana" and "I'm Always in The Mood For You", a duet with Cab.

Being on top billing in a Cotton Club ad is the path to stardom! (1938)
In March 1937, once the Cotton Club revue was on tour, Avis Andrews officially accompanied the Cab Calloway band as the band's "songbird". From then on, Avis Andrews would be one of the headliners on the orchestra's countless tours throughout the United States.
In the April 10, 1937 edition of The Indianapolis Recorder, Alvin HOSES writes about Avis:
"Svelte figures, thrush throated, as modest and unaffected on and off stage as your grandfathers' oldest pair of shoes; this charming little lady never fails to take two curtain calls for "EASTERTIDE," she's been running around four a performance."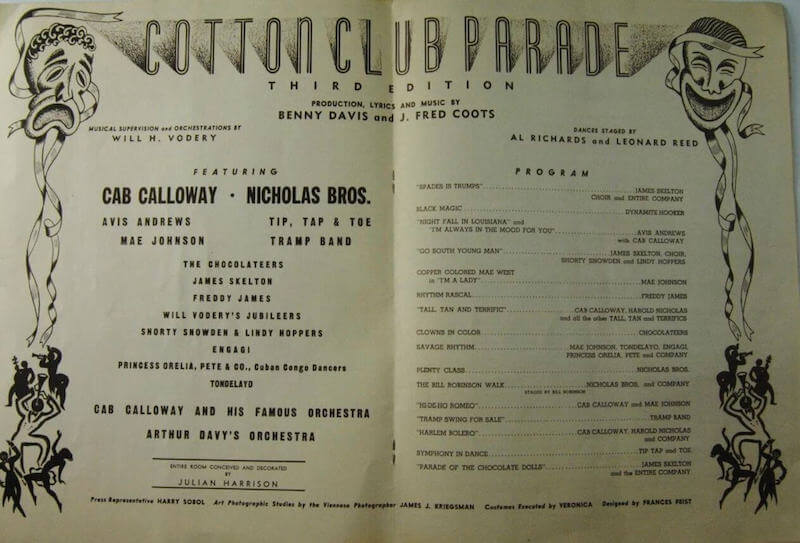 Cotton Club program with an array of stars, 1938
While in Montreal, Canada, Variety critic review Cab's gig at the Forum:
"Avis Andrews, described as a prima donna, a term that usually depresses the crowd, gets by so well that she gets close to five minutes of applause and refuses second encore three or four times." (Variety, May 5, 1937).
A few weeks later, same newspaper reviews the Calloway's Mainstreet show in Kansas City:
"Avis Andrews is liked. She warbles three numbers. 'Copper Colored Gal' (the bill's high), 'Goodnight My Love' and a medley. Combines personality and talent in a skillful mixture, peddling her soprano voice in a pop style that gets 'em." (Variety, June 23, 1937)
In 1941, for the Earl Theater in Philadelphia, reviewer will write: "In the trey spot comes taffy-colored, attractive Avis Andrews, striking in a white evening gown as she gives out with 'In [the] Still of Night' and '[The] Man I Love'. Though lacking somewhat in voice, gal has plenty of salesmanship." (Variety, August 27, 1941).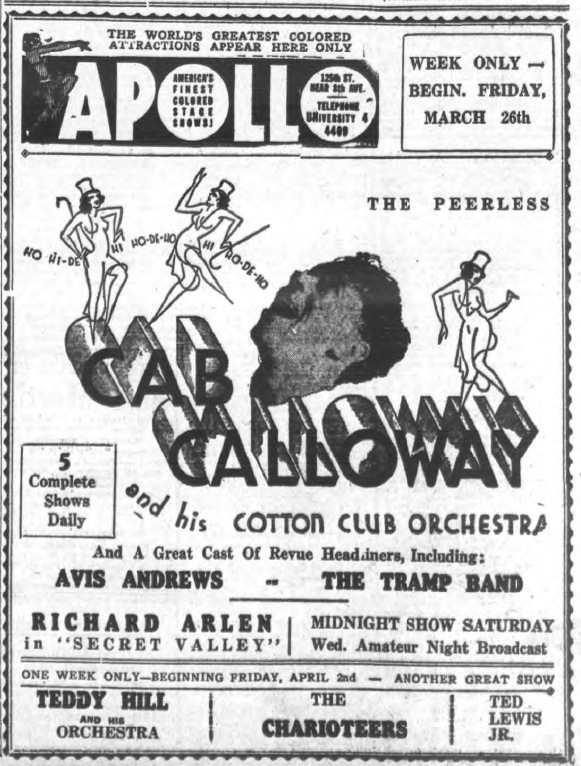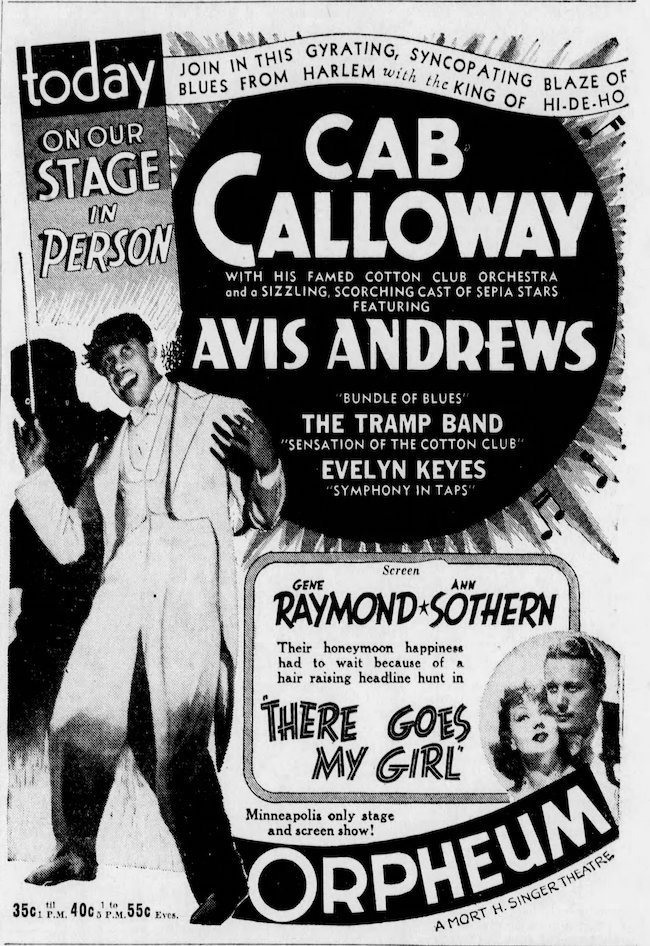 Between March and June 1937: Avis Andrews's name is getting bigger on ads.
Here are some of the dates she played with Cab Calloway and his orchestra:
September 1936 to February 1937, Cotton Club, NY
Spring 1937, New York and US and Canada tour,
November 1937 to March 1938, Cotton Club, NY
Spring 1938, tour (in March, her name is just below Cab's on the concert announcements),
May 1940, Harlem's Apollo and tour,
Autumn 1940, New York and tour,
Autumn 1941, tour and New York. She was in Cab's orchestra at the time of Chu Berry's accidental death in October 1941. Just after the funeral, the troupe returns to the Apollo stage on November 7,
On November 4, during a visit by Calloway to a children's hospital, Avis sings "Chattanooga Choo Choo" accompanied by Benny Payne, Cab's pianist,
Spring 1944, touring, particularly on the West Coast.
Cab Calloway formed a good duo with Avis Andrews, and there were even plans to reunite them on Broadway in the musical "The Chocolate Soldier"... The project will remain on the shelf indefinitely.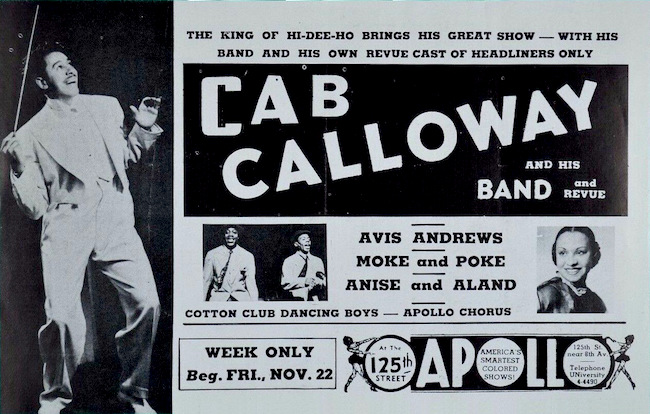 Flyer for the November 1940 engagement.
On a personal point of view, it looks like the preciousness of her stage posture ("aristocrat of Harlem" – also a way to talk about the first Cotton Club in 1930), the sophistication of her allure, her operatic way of singing make me feel like Avis seemed to be "slightly out of place in the Calloway scheme of things" (as said in Pittsburgh Post Gazette, February 22, 1941). This is obvioulsly what Barry ULANOV thought of Avis, in Metronome, July 1941. Among an incredibly enthusiastic review of Cab Calloway and his orchestra's appareance at the Strand Theatre, New York, this is what the journalists writes:
"Everything in the show fitted the band's dinstinctions, except singer Avis Andrews. This dramatic soprano seemed like a female Jerry COLONNA with a grating flatting and pompous phrasing, until you realized she meant it! Other colored specialties on the well contrived bill were really first-rate, however. Whe you left the show, you remembrered Cab, his potent voice and spectacular personality; you remembrered the variety acts and you tried no to think of A. Andrews."
In December, same year, same magazine, about the Apollo performance, Ulanov adds:
"Avis Andrews' piercing, tuneless soprano supplied none of the [missing "good girl singer"] with her breast-clutching, horse-operatic renditions of the Beguine and Night and Day."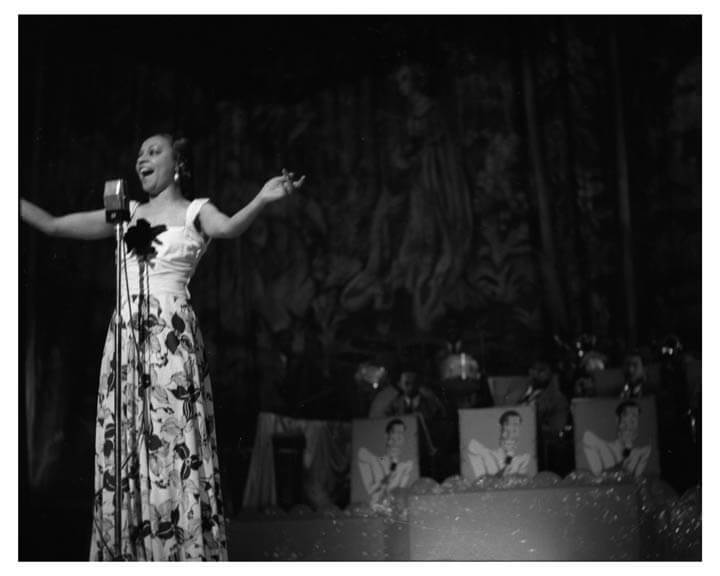 Avis Andrews, beautifully dressed, singing in front of the Cab Calloway orchestra
with its splendid designed bandstands
As a single act, as a feature singer, Avis is starred in Pittsburgh Courier (January 1, 1938) among "a brilliant array of sepia singing stars (…): Bobbie Caston, Billie Holiday, Mary Lou Williams, Alberta Hunter, Maxine Sullivan, Louise McCarrol, Ella Mae Waters, Avis Andrews, Ivy Anderson." As you can read, the level is quite high, isn't it? A few years later, in 1941's Pittsburgh Courier poll, Avis will figure among the top female singers, 12th position (920 votes), between Lena Horne and Maxine Sullivan. Lil Green was far away on first (2,120 votes) while Ella Fitzgerald got 1,500 votes, Billie Holiday got 1,280 and June Richmond 1,070!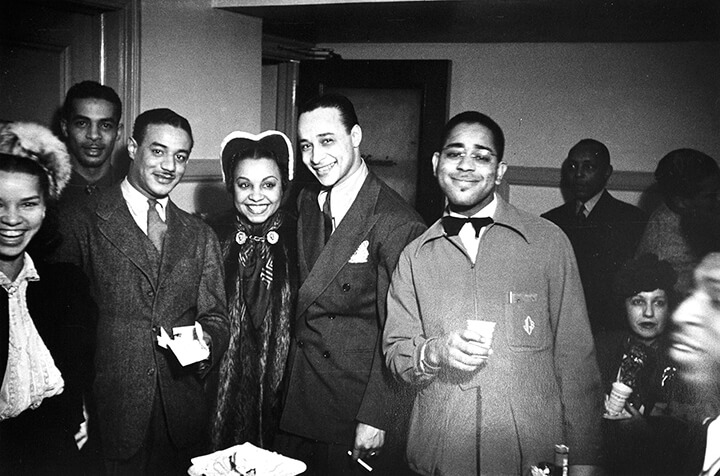 Cholly Atkins, Donald Mills, Avis Andrews, Louis Brown, Dizzy Gillespie,
Keg Johnson, backstage at the Earle Theatre, Philadelphia, 1939 (photo by Milt Hinton)
"Are You All Reet?" originally coined, unbeknownst to Avis...
In February 1941, Avis Andrews was named by the press as the originator of the phrase "Are You All Reet?"... which was then used repeatedly by Cab Calloway... It all happened during a performance in Indianapolis where Avis slipped on stage. Cab then rescued her by asking "Are you all reet?", prompting laughter from Avis and the audience. Everyone grabbed the sentence and a few days later, arriving in Philadelphia, the audience greeted her with a thunderous "Are you all reet?" Cab Calloway recorded a song by Jack Palmer and Allen Clark in the process.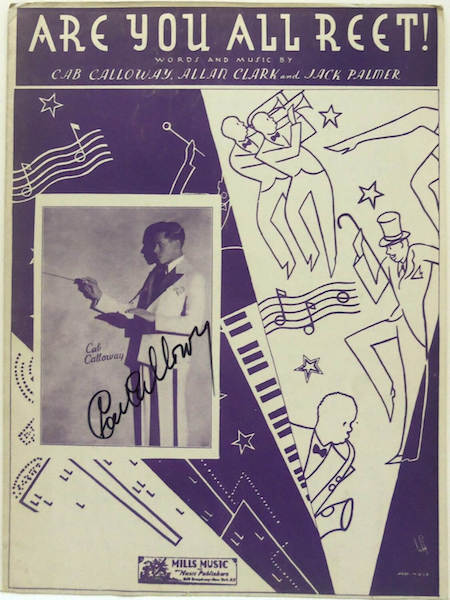 Listen to: "Are You All Reet?"
Lyrics (Cab Calloway, Jack Palmer, A. Clark)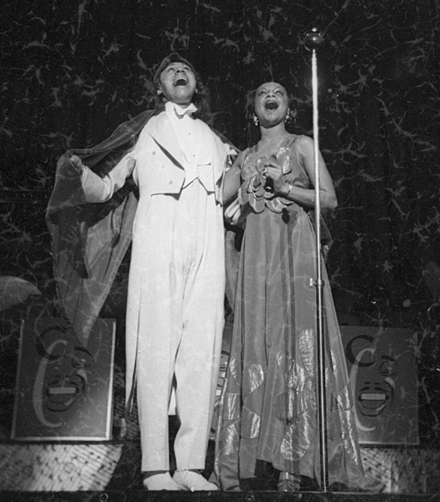 Cab Calloway and Avis Andrews duetting on stage,
probably during the "Hi De Ho Romeo" routine (photo by Hugh Morton, ca 1940).
Part-time canary with Cab Calloway
From the beginning, the king of Hi de Ho knows how to surround himself with some beautiful canaries like Adelaide HALL, Aida WARD and Lethia HILL in the early 30's). There is also the case of June RICHMOND, in 1938 and 1939, with whom he did not get along despite all the talent she showed during her 15 months with the orchestra. Let us also think of Sister Rosetta THARPE and Pearl BAILEY (whom he discovered) and later the PETERS Sisters.
And then, Calloway alternates quite a bit apparently, even launching competitions to find the rare pearl that will temporarily accompany the orchestra. This leaves Avis time to sing with others...
Here are some of Avis Andrews' entries that I've collected:
• In July 1936, Avis is featured at the Apollo, backed by Erskine HAWKINS and his youthful Bama State Collegians. Alvin HOSES in his "Footlight Echoes" syndicated column indicates in Augsut 8, 1936 edition of The Indianapolis Recorder that :
"Avis Andrews, foremost colored soprano of the day (…) is forced to take encore after encore, a huge bouquet of flowers being presented nightly by some faithful admirer. Her repertoire included "Alone," "Southland," "Little Black Boy," "Story of Love," and a snappy chorus number dealing with Broadway lights and the streets of Manhattan. Her personal charm and rare singing voice has made an enviable record for Avis throughout the country."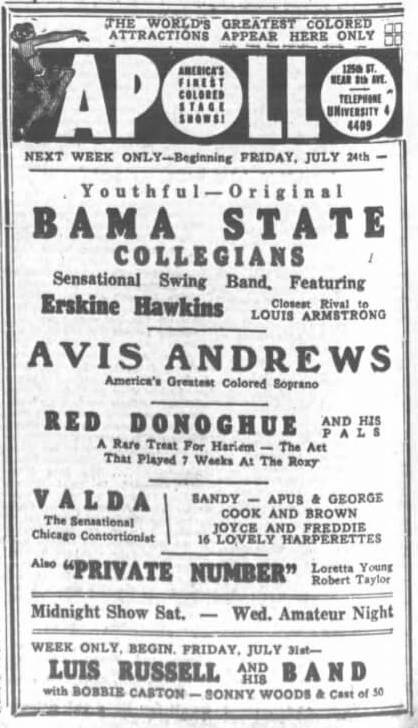 • In fall 1937, Avis appeared in Arthur SCHWARTZ's Broadway revue "Virginia" in a mixed cast along Buck and Bubbles and Will VODERY's Choir... and remained there from September 2nd to October 23rd. She's noticed as one of the best numbers in the show, singing "Schwartz's modern-keyed tunes" (Motion Picture Daily, September 3, 1937). She sang "Send one Angel Down" and "It's Our Duty to the King" and "I'll Be Sittin' in the de Lap of the Lord" with Buck and Bubbles.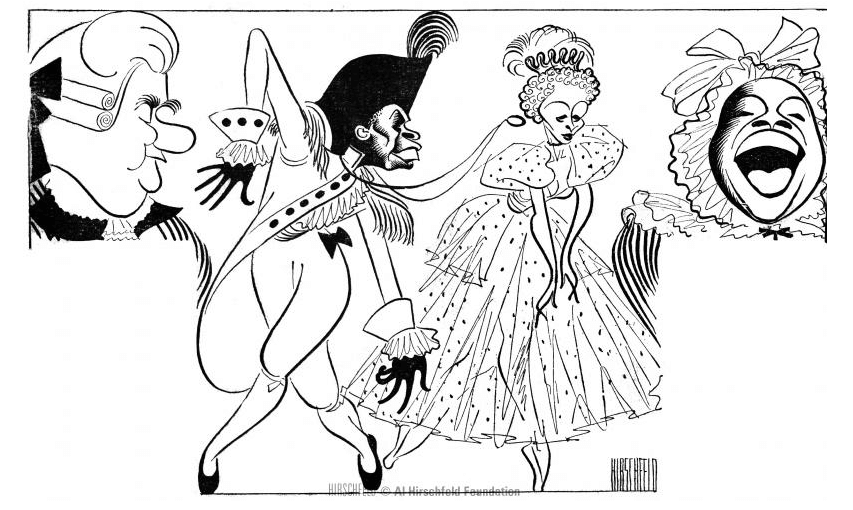 For the review of "Virginia" in New York Times, Al Hirshfeld portrayed Avis Andrews (right)

• In November 1938 (advertisement below), Avis shares the bill with Tiny BRADSHAW (coincidentally sometimes billed as "Super Cab Calloway"!)... For his show at the Howard Theatre in Washington DC, it is announced that she will then leave the orchestra to join the Broadway production "The Curtain Rises" (of which I found no trace at this date...).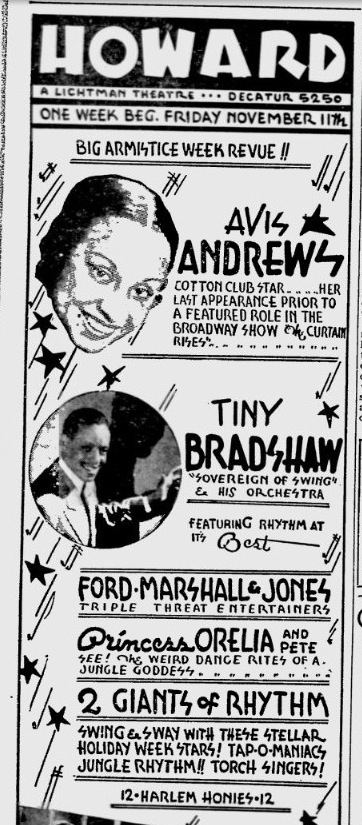 1938, with Tiny Bradshaw
• Early May 1939, Avis is elected to the American Federation of Actors Council for a four year-term, showing some kind of respect and popularity among her peers.
• From May 22 to 27, 1939, she "saves" the only 5 performances of "Susanna, Don't You Cry" played at the Martin Beck Theatre. The operetta disappoints the public except, of course, Avis Andrews, who is generously applauded on "Louisiana Belle".
• In September 1939, she is announced as the "second Marian Anderson" to perform with Don REDMAN's orchestra at the Apollo.
• Fall 1939, she's in the cast of the Cotton Club Parade with Louis ARMSTRONG and Bill ROBINSON, the latter replaced by Maxine SULLIVAN in November.
• In March 1940, she leads the revue at the Kit Kat Club in New York.
• On May 1, 1940, she was on NBC's experimental television channel, W2XBS, to celebrate its first anniversary. Between 8:30 and 10:30 p.m., she participates in the ceremony in a sequence entitled "Harlem Highlights" with the Berry Brothers and the Peter Sisters. There too, unfortunately, no trace of this appearance remains...
• She sang as a guest-star on June 21, 1940 with Duke ELLINGTON's orchestra at the Metropolitan Golden Ballroom in Philadelphia, PA. She is also known for her interpretation of the Duke's song, "Solitude".
• In August 1941, she sang with Willie BRYANT and The Sunset Royal orchestra.
• In July 1942, Oscar HAMMERSTEIN sent her the scores of "Carmen Jones" to play the title role... Unfortunately, there was no follow-up.
• In October 1942, her "colleague" Alberta HUNTER noted in her diary: "Avis Andrews has done something that was thought impossible. Not only is she the first colored artist to perform at the swanky Versailles Restaurant at 15151 E. 15th Street (New York), but she is sensational. It is gratifying that the first colored artist to be engaged here is one of Miss Andrews' calibre for only too often have some of the reefer smokers and liquor heads opened at smart spots to close with the management swearing never to engage another colored artist."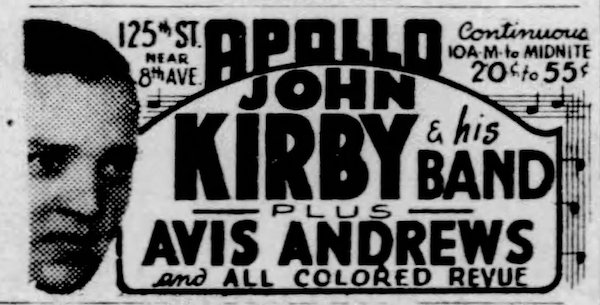 • On May 18, 1943, she replaced Maxine SULLIVAN at the Apollo Theatre at a moment's notice, who refused to sing accompanied by her ex-husband, John KIRBY!
• In August 1943 for the first revues of the new Zanzibar Cafe, Avis Andrews was on the bill at the same time as Ella FITZGERALD and Don REDMAN. She is greeted by the critic Ed SULLIVAN in the ad below:

While Avis Andrews is on top of the ad for the Zanzibar Cafe,
Cab Calloway is playing nearby at the Cocoanut Grove...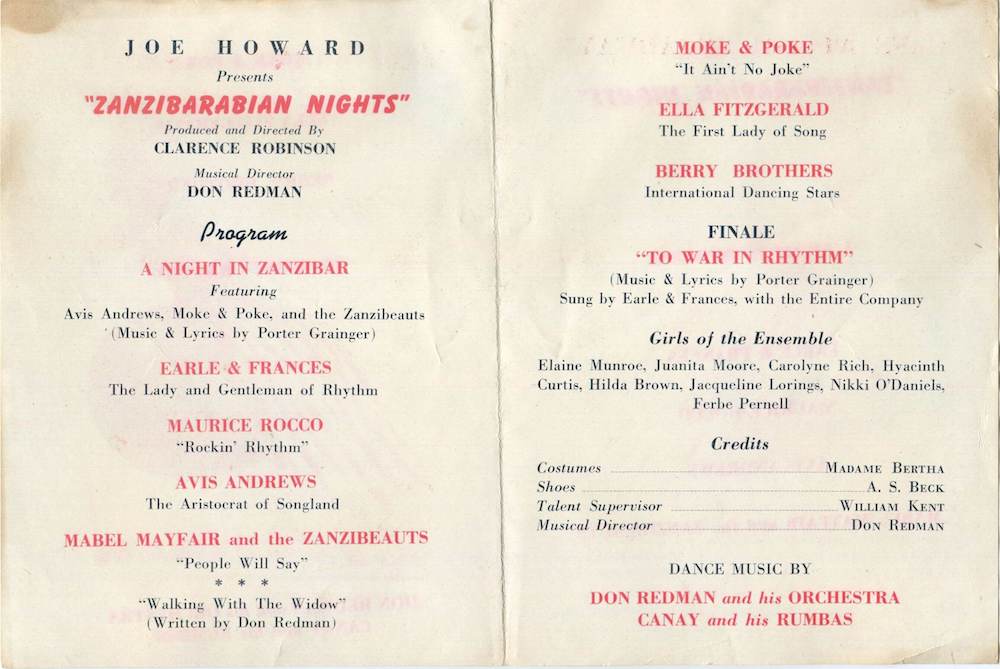 The Zanzibar program with Avis Andrews, "The Aristocrat of Songland" (courtesy of Keller Whalen)
---
"Harlem on Parade" and in soldiers' camps!
But what occupied Avis Andrews the most between 1941 and 1942 was her involvement in military entertainment.
The war is here and the U.S. Army Theater (USO) sends artists across the United States to entertain the troops. Avis Andrews is in the "Red Circuit" (probably between 1942 and 1943) which includes 66 artists of color assembled by Noble SISSLE, and including Eubie BLAKE, Al SEARS orchestra, Emory EVANS, Butterbeans and Susie, Mable LEE, dancers and attractions. On the hood of jeeps, on podiums or in improvised venues, it will boost the morale of the soldiers. The problem is that sometimes the show that was supposed to be presented to black soldiers was only presented to white soldiers, as at Fort Jackson, South Carolina where a statement that "a special section of the theatre was being 'reserved' for Negro troops" (Afro American, April 11, 1942). In about sixty dates, she will visit more than 300,000 soldiers, only on the tour with "Harlem on Parade"!
The show "Harlem on Parade" will be touring training camps for American soldiers. As he did for the Cotton Club, Clarence ROBINSON directed, the music was composed by Noble SISSLE and Eubie BLAKE. A second show for the end of 1942 is an abridgement of "Shuffle Along" by the same Sissle and Blake. In the cast around Avis Andrews, we find Johnny LEE (ex-partner of Stepin Fetchit,), the Chanticleers quartet, the dancers Moore and Larry, Chuck and Chuckles, Daisy Mae, Cora Green, Ralph Brown... and Max BOYD, Avis's husband.

March 1942: during the Harlem on Parade USO-camp show,
Avis entertains the soldiers off-stage in Fort-Bragg, NC (Chicago Defender, Apr 4, 1942)
"Harlem Cavalcade" won't run too long
Produced by then Broadway columnist (and future TV personality) Ed Sullivan and Noble Sissle, "Harlem Cavalcade" was presented first at the Ritz Theatre on Broadway and in an abbreviated version (without the PETERS Sisters, Una Mae CARLISLE, Pops and Louie, the Miller Bros, etc.) at the Apollo in May 1942. "Avis Andrews is an addition, and a happy one with her sparkling songs." "Miss Andrews still uses 'Begin the Beguine' and 'Why Was I Born' with great effectiveness. She's registering more solidly than ever. Socko here and had to beg off." (Variety, June 3, 1942).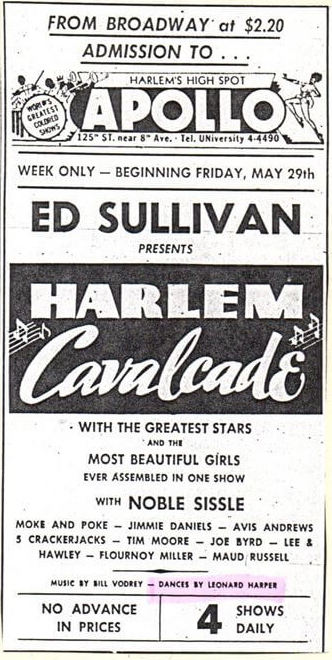 Critics won't love the show very much, saying that Sullivan didn't try his best to find the latest discoveries matching with the new taste of the audience. Indeed, the bill had the likes of Noble Sissle, Moke & Poke, Five Crackerjacks, Flournoy Miller, Johnny Lee… Music was by Bill Vodery, and dances were staged by Leonard Harper.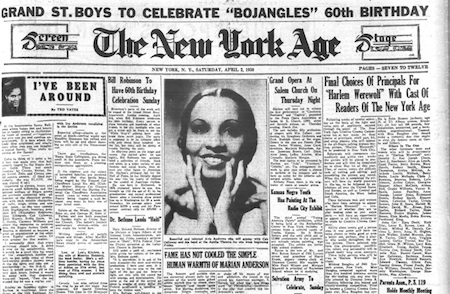 She was on the front page of the newspapers (here in April 1938)
but has never made a studio recording.
Front-page news but no studio recording!
Avis Andrews never made a studio recording, either with Cab's orchestra or any other, but has probably been heard many times on the radio.
The New York Age of February 12, 1938 announces that she will soon be singing "A Stream", composed by LaSalle J. WILLIAMS. At the same time, we notice her interpretation of the latest fashionable hit, "You Go to My Head".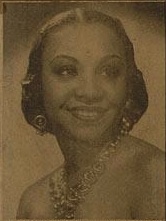 Avis Andrews in 1944, during what would eventually be
her final tour with the Cab orchestra in San Francisco.
Here's a list of some of the songs that journalists of the time picked up on:
• In 1941, following a concert in Chicago, a reporter wrote of Avis Andrews' thrilling performance on "In the Still of the Night", and she "had an olive complexion and a delicate personality that was just sensational."
• In 1951, as a pathetic version of "If You're But A Dream" came out, a journalist remembered Avis Andrews' version with nostalgia.
• "Handful of Stars", "Why Was I Born?", "'Till My Baby Comes Home", "Lover, Come Back to Me", "Indian Summer", "Rush of the Night', "Garden in the Rain", "Everything happens to Me", "Yours Is My Heart Alone", "Night and Day", and "The Man I Love" were also in Miss Andrews' repertoire.
In the book "The Ghosts of Harlem", Jonah JONES (interviewed by Hank O'Neal) refers to Avis Andrews (mistakenly called "Alice") as a "pretty singer who added even more class to our show. Her voice was so beautiful." In contrast, a March 1938 article explains that in the act she shares with Cab Calloway, "Hi de Ho Romeo" (originally a duet on the Cotton Club stage between Cab and Mae Johnson) her lines could never pass censorship!
A "comparison" of female singers of the time described Avis Andrews as "glamorous", Nina Mae McKinney as "exotic", Maxine Sullivan as "petite", Billie Holiday as "seductive"... It's up to you to judge!
During the summer of 1943, billionaire tobacco heiress and philanthropist Doris DUKE (1912-1993) is in contact with Avis, "possibly relating to La Andrews' ambition to become a concert star" (Evening News, August 25, 1943).
Unfortunately, a few months later, in March 1944, while touring with Cab in Los Angeles, it's a nasty flu that resulted in a broken blood vessel that drags Avis away from Cab's orchestra... who replaces her by Dotty SAULTERS (who joined the troupe in February 1943) with whom she shared the musical numbers at the time!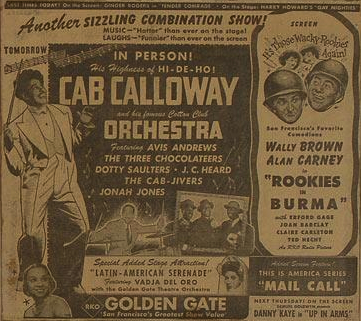 On this advertisement from early 1944,
Avis Andrews is one of the main stars of the show when it played in San Francisco.
Dotty Saulters will soon replace her...
Paralyzed and quickly forgotten...
I don't know how Avis's "official" flu evolved or if it was a sign of an upcoming illness. Anyway, she seems to suddenly move away from the scene. Avis was supposed to succeed to Billy Eckstine at the Club Zombie in Detroit in March 1944, but instead Bill Bailey got the gig. Magazine Music Dial informs us in its July 1944 edition that "Miss Avis Andrews is comping on nicely after a brief illness." but there's nothing more...
In 1946, she was paralyzed by a stroke, and is now only able to move around in a wheelchair. She lives in Brooklyn, 128 Bainbridge St. In 1951, the New York Age journalist even invites her former fans to call her at GL 5-0145 to remind them that she was "one of the greatest". Her residency with her mother in Chicago in April 1948 brought her back to the memory of the Afro-American journalist.

Avis Andrews on stage in a gorgeous outfit, possibly designed by her then former husband, Ernest 'Mack' Boyd.
You can spot Chu Berry behind, left.
Ernest 'Mack' BOYD, the husband, the agent, the costume designer
Born in Daytona Beach, Florida, Ernest Boyd was first a young singer. He and Avis meet while they are both in the troupe of the revue "Rhapsody in Black" in 1931. Once she had got rid of Nat Nazarro (see above), Avis took Ernest Boyd on as her personal manager.
In fact, Ernest Boyd's reputation had been more as a costume designer. He even designed all of his wife's stage costumes (like the one in the 1940 ca photo of H. Morton above, from the blog "A View To Hugh").
In a March 26, 1938 article, the Baltimore Afro-American journalist described Avis's outfit: "black lace pointed basque, topping yards of transparent, shell-pink skirt, and pink roses in her hair. She later switched to a henna brown tulle frock with a gold belt and gold leaf headband".
Avis wrote a song titled "I've Got a Crush on You", copyrighted on October 8, 1936, with Ernest Boyd as publisher.
Avis and Ernest divorced in 1938.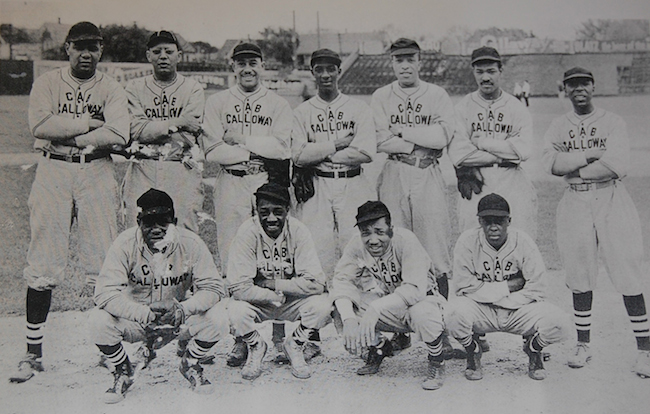 Ernest 'Mack' Boyd in the Cab Calloway baseball team (front row on the left) - 1939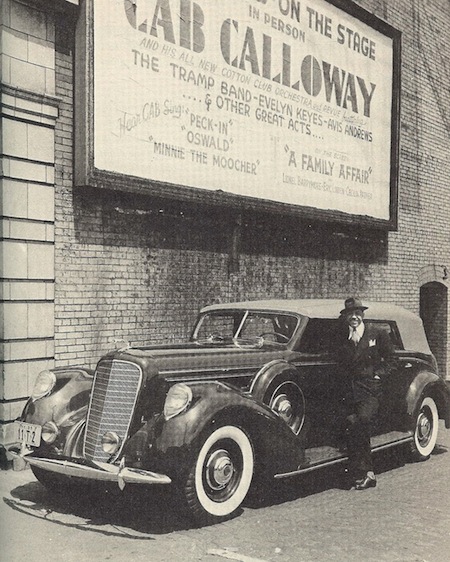 Avis Andrews and Evelyn Keyes, stage partners and friends in the city, on the bill,
with Cab Calloway and his shiny automobile in front (photo dated spring 1937).
Avis Andrews was the godmother of Avis KEYES, the daughter of tap dancer Evelyn KEYES (billed as the "tempest of taps"). The two women had probably become friends while sharing the billing alongside Cab Calloway (see below).
In December 1964, after living years invalid in Brooklyn, Avis Andrews died of a heart attack while visiting her mother in New Orleans.
There you go. That's about all I could find in a few weeks of researching Avis Andrews, to bring her out of the total oblivion she's been in since the late 1940s. How many other singers and jazz artists have suffered the same fate?... There are innumerable, so by thinking a little about Avis, we can think about the others as well.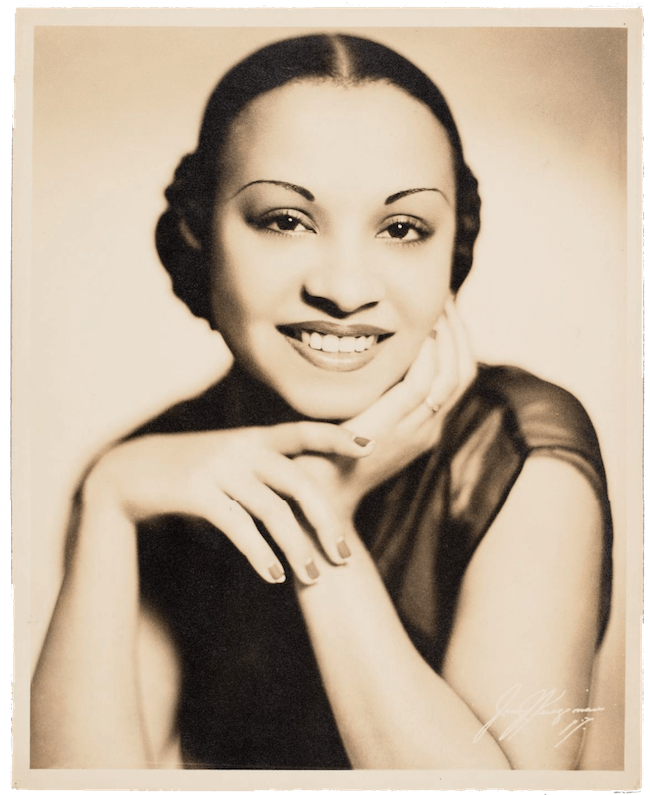 The talented and gorgeous singer Avis Andrews, portrayed by James Kriegsmann,
photograph of the many stars, the one whom fame lasted and those forgotten...
---
Main sources:
A View To Hugh (who posted photos of Hugh Morton for identification)
A History of African American Theatre by Errol Hill, James V. Hatch, Cambridge University Press, 2003
Television Obscurities, for the date of the TV appearance in 1940
G. is for Great Day! by Jackson Uppero
"Ring Bells! Sing Songs! Broadway Musicals of the 1930's" by Stanley Green, Arlington House, 1971
"Black and White Baby", by Bobby Short, Dodd, Mead & Company, 1971
To find the other ads with Avis Andrews already published on The Hi De Ho Blog, click on this link.
Many thanks to Keller Whalen for his help during the whole process of this article.