Recorded in December 1958, this album was supposed to let people discover Cab Calloway's "stylized vocal" in full stereo, backed by a big band orchestra. It was eventually released in June 1960! The Hi De Ho Blog tries to explain the story of those tracks, neglected by Jazz historians, forgotten by most but which are a lively experience of Cab Calloway's sound and voice in this era: timeless!

1958: an underrated year in Cab's career
Against all odds, 1958 is a quite active year for Cab Calloway in his mid-career (of course, much less than during his golden era):
From December 1957 to February 1958: Cab leads The Cotton Club Revue in Miami (stopped because of bad weather and lack of attendance – See our article).
March: "The Cotton Club Revue of 1958" GONE LP album is released – See our article.
April: he performs in Canada and comes back to New York to celebrate the release of the movie "St. Louis Blues" where he shares billing with Nat King Cole, Eartha Kitt and Ella Fitzgerald.
May: Cab flies to France for a 3-week engagement at Paris' Olympia – See our article.
July: he probably gets some rest between gigs in Miami.
August: Cab stars again as Sportin' Life in a new tour of Porgy and Bess in August; press releases announce a South America tour in 1959…
But the end of 1958 is quite empty in Cab's agenda: Pittsburgh, Detroit in October, Syracuse (with a 17-piece orchestra) in November and that's it!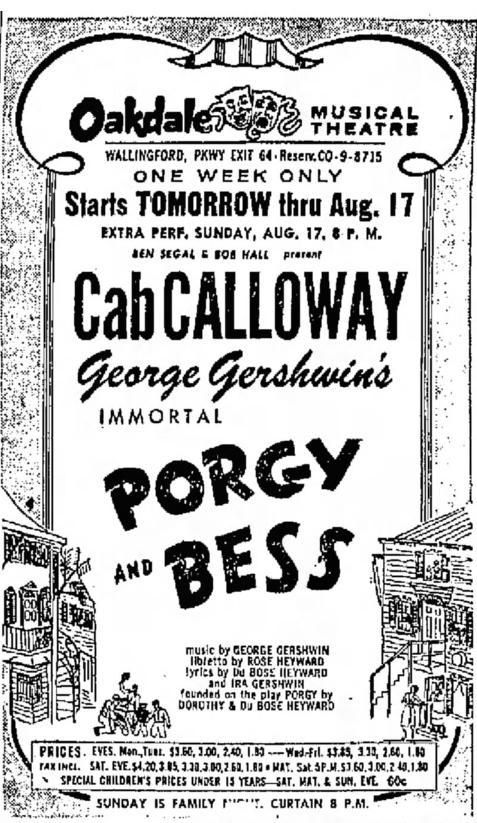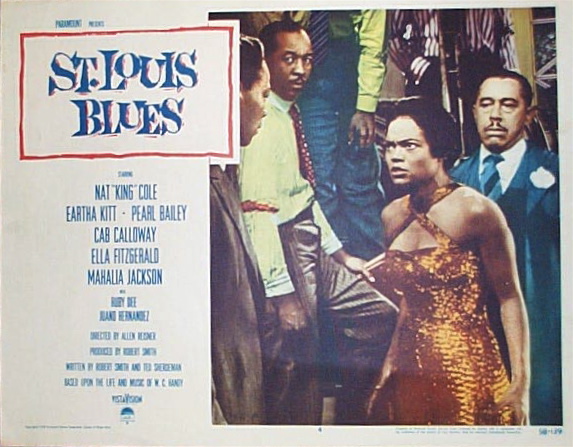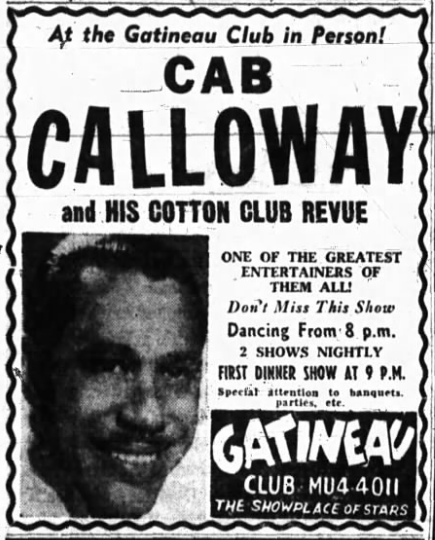 In January 1959, RCA tells the press that Cab Calloway has been signed for an exclusive contract, and the first release will be an album titled "Hi-De-Ho in Stereo", supposed to be released in March 1959. Same article indicates:
"The new contract marks Calloway's return to the Victor label. He last recorded for the company when he was still leading a band [i.e. 1949, read below]. For the past five years he has been working solo in night-clubs, television and with the Cotton Club Revue."
That is always awkward when the story told is wrong, forgetting that during the many tours with the Cotton Club Revue (started in December '56) with a full big band, forgetting the South American tour in 1951 with a 17-piece orchestra. They don't even mention the 3 years in a row with Porgy and Bess opera as Sportin' Life, the filming for St. Louis Blues in '57…
RCA Victor and Cab Calloway: a regular one-night stand relation
I – 1933-1934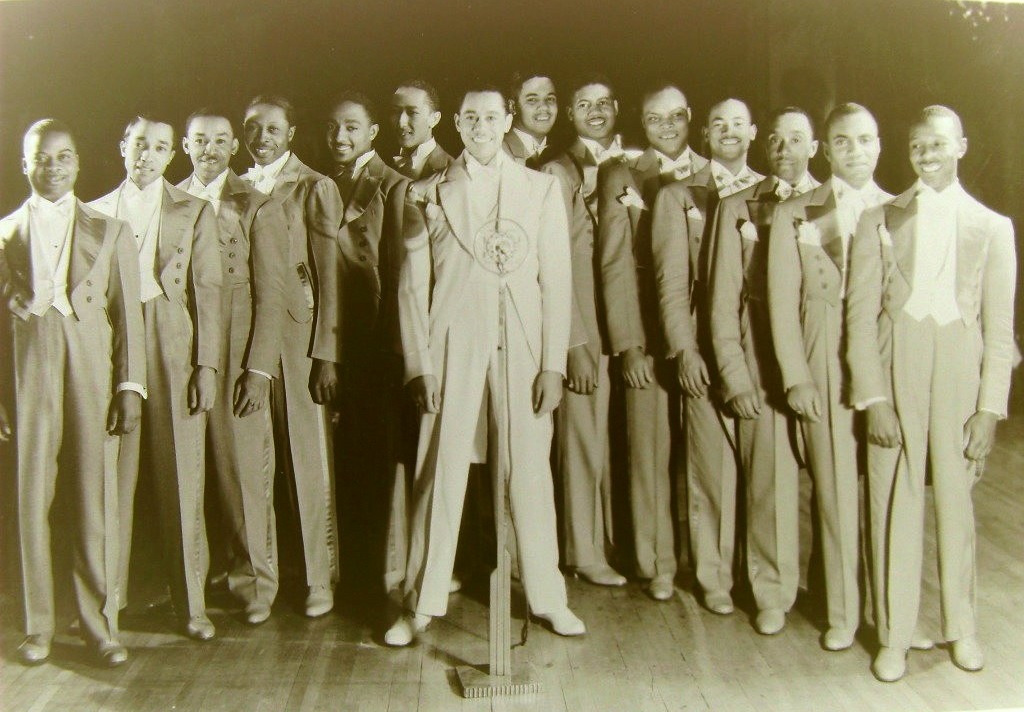 RCA and Cab always had an occasional relationship: from September 1933 to January 1934, Cab's exclusive contract sends him to studio for 21 titles (with several outtakes) recorded in 7 sessions! Among them are the likes of The Lady With The Fan, Zah Zuh Zaz, another version of Minnie The Moocher, The Scat Song, Kicking The Gong Around, Moonglow and Jitterbug… Some of the best you can listen to in this part of the career! The pristine sound, due to the quality of RCA studios, is astonishing; there are great soloes by a stable lineup of great musicians: trumpeters Doc Cheatham, Edwyn Swayzee, saxophonists Walter Foots Thomas, Eddie Barefield (on Moonglow which will get tremendous popular success), trombonist Harry White, clarinetist Arville Harris… Promised: soon, we'll dedicate a full-length article about those RCA sessions! I'm so willing to write it!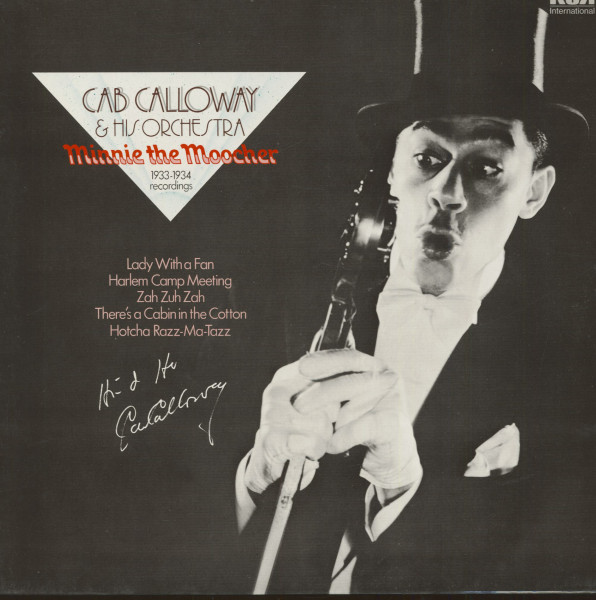 The 1981 international rerelease on LP of the 1933-1934 sessions on RCA.
My all-time favorite cover!
II – 1949


Let's just say that 1949 isn't the best year for Cab on a personal point...
Dropped by Columbia Records in December 1948 (like Woody Herman, Claude Thornhill and Tommy Tucker), Cab Calloway is in search for another home for recording! The post-war era sees the emergence of many small labels where the King of Hi De Ho can expect some recognition. In May 1949, Cab records 4 titles (only 2 were commercially released) for Hi-Tone. On May 10, Cab's TV program on NBC-TV is expected to air. Unfortunately, the sponsor Proctor and Gamble withdraws and the television show is canceled. Next summer (after his divorce from Wenonah Conacher), Cab goes back to the booth for a major label RCA which is in a full technical war against Columbia, trying to break the market with a new media: the 7" 45 RPM.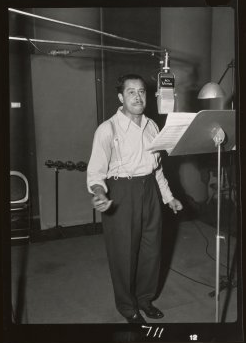 In RCA studio, 1949 (photo by Otto Hasse, NYPL)
On August 18, in Chicago:
With Jonah Jones (tp), John "Streamline Ewing" (tb), S.A. Stewart, Leon "Diamond" Washington (saxes), Dave Rivera (p), Milt Hinton (b) and Panama Francis (d) – and Maud Woodfork McElroy as the speaking woman.
• D9AB 1185 Ol' Joe Louis
• D9AB 1186 Your Voice
Both were released on RCA Victor 30-0004.
Interesting point, the speaking woman on Your Voice, who remains unidentified in most discographies has a name. I've found it in the Otto FLUCKIGER's discography and solography he published in several editions of the JAZZ JOURNAL in 1958. This is – several years before Jan EVENSMO started them – the first ever solography dedicated to Cab's repertoire. A must-have for any Calloway fan! Maud Woodfork McELROY (1892-1965) was the incarnation of Aunt Jemima, the famous character for the Quaker Oats Company since March 1947.
Soloes on Ol' Joe Louis: vocal ensemble by the orchestra with Cab ("He's still the king of them all"), tenor sax by Leon "Diamond" Washington, trumpet by Jonah Jones.
Solo on Your Voice: tenor sax by Leon "Diamond" Washington.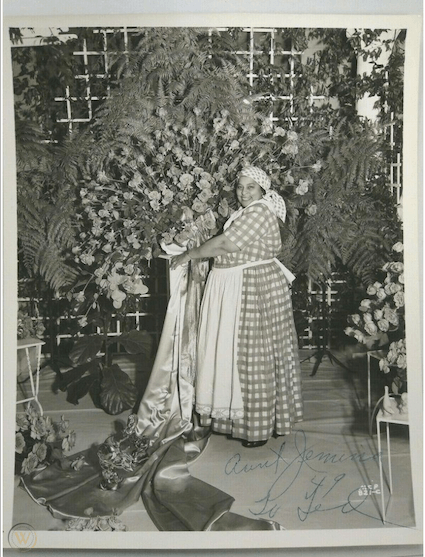 Maud Woodfork McElroy, better known as Aunt Jemina: the voice on "Your Voice"!
On September 29, Cab and the musicians work at RCA studio in New York:
• D9AB 2285 Rooming House Boogie
• D9AB 2286 I Beeped When I Shoulda Bopped
Jonah Jones (tp), Tyree Glenn (tb), Hilton Jefferson (as), Sam "The Man" Taylor (ts), Dave Rivera (p), Milt Hinton (b) and Panama Francis (d)
Both were released on RCA Victor 30-0012.
Soloes on Rooming House Boogie: tenor sax by Sam "The Man" Taylor, piano by Dave Rivera.
Soloes on I Beeped When I Shoulda Bopped: tenor sax by Sam "The Man" Taylor.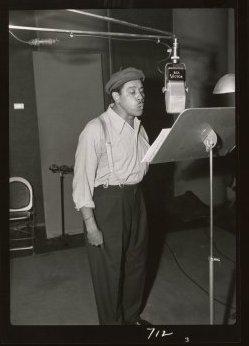 In the studio, Cab poses with a beret like the boppers (and Gillespie) used to wear...
(photo by Otto Hasse, NYPL)
Billed as "Cab Calloway and his Cab Jivers" those records tend to put Cab back in the light. From the original Cab Jivers formed in 1940 (with Chu Berry ts, Tyree Glenn vb, Milt Hinton b, Cozy Cole d) remain some of the folks and what was before considered as the "premium" group is augmented by a trumpet, an alto sax and a piano.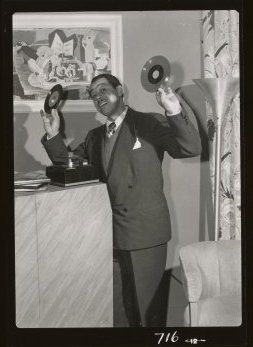 The records were both released on RCA BlueBird Series as 78 RPM and as 45 RPM. A first for Cab Calloway who declares in an article he's "OK with 45", as this photo by Oto Hasse for RCA suggests.
III – 1978
And the last relationship between Cab and RCA is in 1978 with the Disco version of Minnie The Moocher (+ B-side A Chicken Ain't Nothing But A Bird), manufactured and distributed by RCA for Hologram Records.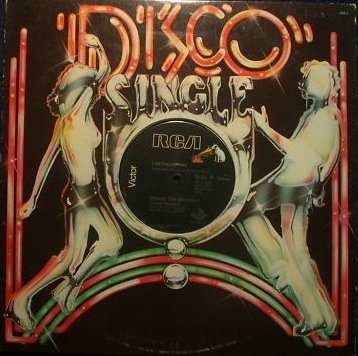 For more info about this record, check our full-length article.
Also at that time, RCA planned to release a Bluebird compilation of those 1933-34 sessions, added to those of Blanche Calloway (1931) in the great series of 2-LP sets of big band and jazz reissues produced by Frank DRIGGS. Prototypes (with records and sleeve for 2-LPs) were released, but it has never been issued. You can only see an example of it on a publicity shot of Cab singing in a cabaret (see below). It was titled "Blanche and Cab Calloway – Harlem Hospitality, 1931-1934"… Too bad it remained on the shelves...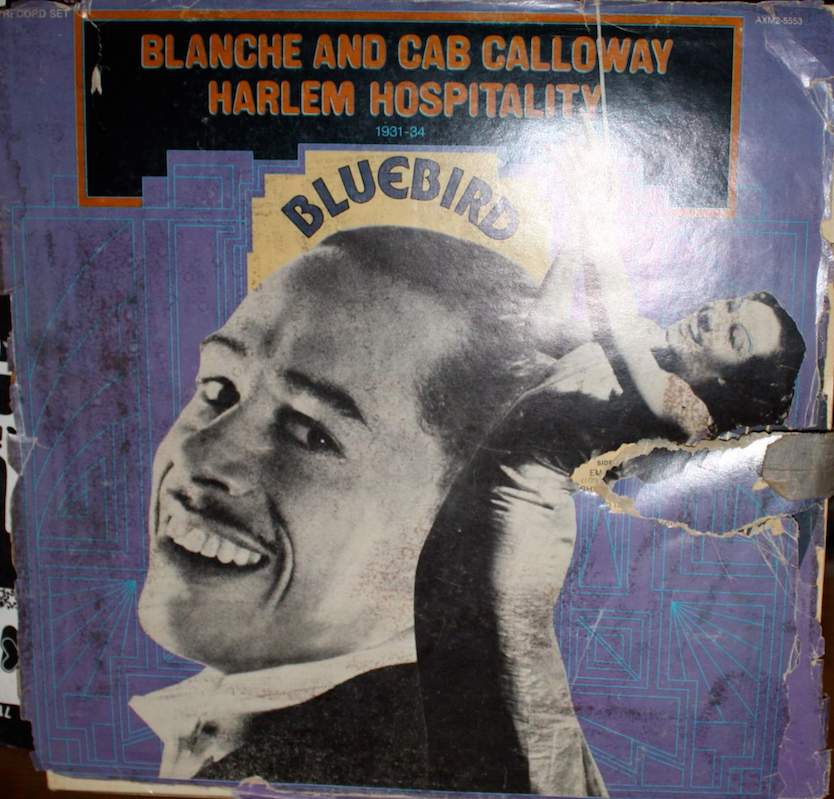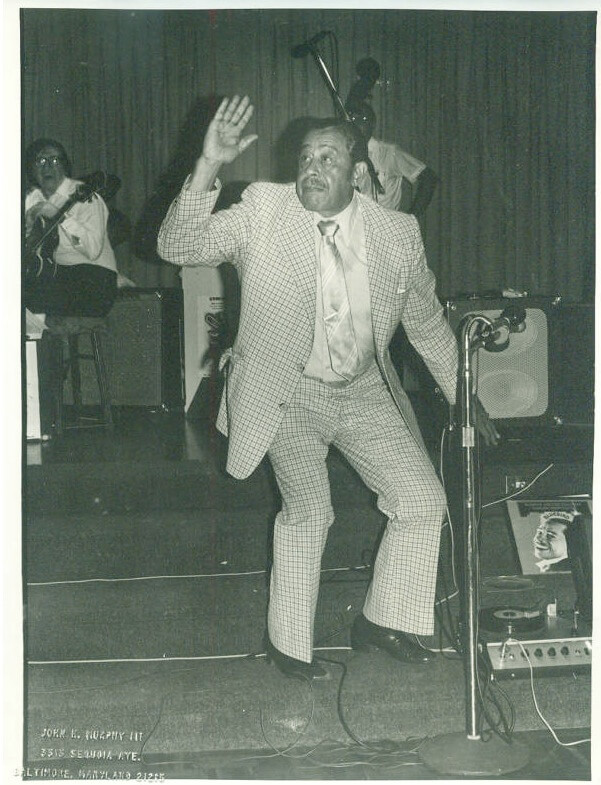 Rarer than rare: it only exists as a prototype: the Cab and Blanche album,
"Harlem Hospitality" on Bluebird, used to entertain audience in 1978...
Top session men in the studio
Billed on the record as "Cab Calloway and his orchestra", the line-up assembled in the booth is far from this appellation.
Indeed, in the 1982 French LP re-release liner notes, Daniel Nevers explains, "Some top session men were included in the line-up (Jimmy Maxwell, Bernie Glow, Jimmy Nottingham and Sam Morowitz, for example), and Cab was also able to measure his talents against those of piano virtuoso Hank Jones. He was no doubt delighted to meet up again on this date with his old buddies, Milt Hinton and J.C. Heard."
Indeed, RCA man Joe Reisman is used to regularly call the same musicians in the studio. They are all veterans or younger veterans of the big band era who played with the likes of Woody Herman, Artie Shaw, Benny Goodman, Ernie Wilkins, Quincy Jones… but were also rather "up-to-date" musicians to be in the same studio as Miles Davis!
Pianist Hank JONES played more than once with Cab Calloway: he was in the band that backed him when he came back to France in 1977 at the Nice Jazz Festival.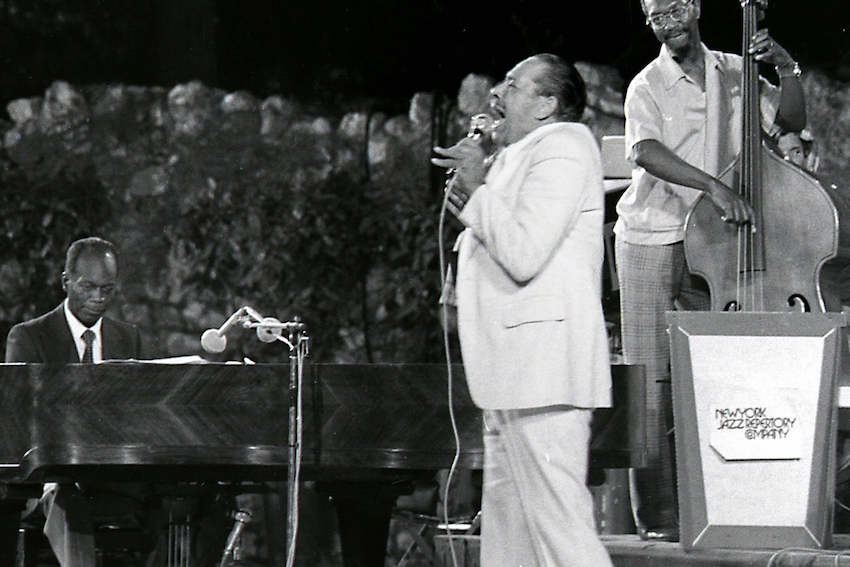 Hank Jones (piano) with Cab Calloway, Nice 1977.
Recording dates and songs:
1958, December 5 – New York, NY (RCA Studio-A, 24th Street)
Cab Calloway and his Orchestra: Bernie Glow, James Maxwell, Joe Wilder (tp); Urbie Green, Chauncey Welsch, Tom Mitchell (tb); Sam Marowitz, Charlie O'Kane, Abraham Richman, Sam Donahue, Stan Webb (sax); Hank Jones (p); Everett Barksdale (g); Milt Hinton (b); J.C. Heard (dr); Joe Reisman (ldr)
J2PB8131 The Hi De Ho Man (That's Me) – Rejected
J2PB8132 The Jumpin' Jive
J2PB8133 Minnie The Moocher (unidentified muted trumpet along)
J2PB8134 It Ain't Necessarily So
1958, December 15 – New York, NY (RCA Studio-A, 24th Street)
Jimmy Nottingham, Jimmy Maxwell, Joe Wilder (tp); Joe Bennett, Chauncey Welsch, Jim Dahl (tb); Sam Marowitz, Charlie O'Kane, Boomie Richman, Sam Donahue, Sol Schlinger (sax), Hank Jones (p); Everett Barksdale (g); Milt Hinton (b); J.C. Heard (dr); Joe Reisman (ldr)
J2PB8131-2 The Hi De Ho Man (That's Me)
J2PB8135 St. James Infirmary
J2PB8136 I See A Million People (But All I Can See Is You) (tenor sax solo Sam Donahue)
J2PB8137 I'll Be Around (tenor sax solo Sam Donahue)
1958, December 16 – New York, NY (RCA Studio-A, 24th Street)
Bernie Glow, Doc Severinsen, Joe Wilder (tp); Urbie Green, Chauncey Welsch, Dick Hixson (tb); Sam Marowitz, Charlie O'Kane, Abraham Richman, Sam Donahue, Stan Webb (sax); Hank Jones (p); Everett Barksdale (g); Milt Hinton (b); J.C. Heard (dr); Joe Reisman (ldr)
J2PB8138 Summertime
J2PB8139 Kickin' The Gong Around (tp solo by Joe Wilder)
J2PB8140 Stormy Weather
J2PB8141 You Rascal You (unidentified muted trumpet solo, unidentified tenor sax solo)
Uncredited arrangers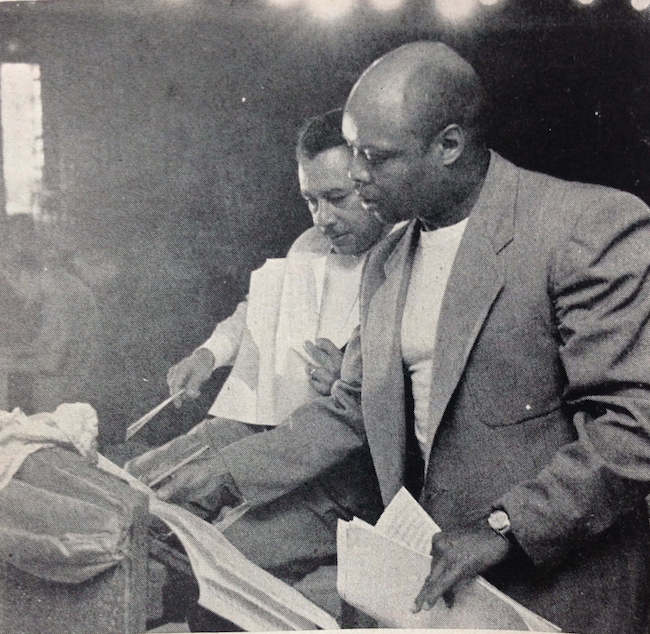 Eddie Barefield working with Cab on arrangement (for the Cotton Club Revue, 1957)
The arrangements? Nothing is specified so we may assume that it's the leader Joe Reisman, for some of the tracks... Maybe he was too busy but we can affirm that Eddie BAREFIELD is the arranger on I'll Be Around and probably on several others (as he was for The Cotton Club Revue of 1958 for Gone and then musical director for Cab: check our article on this album).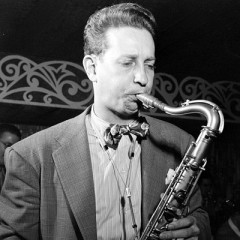 Sam DONAHUE (1918-1974)
Former big band leader and tenor saxophonist Sam DONAHUE arranged Kickin' the Gong Around. Interestingly, in his booklet for the Mosaic's Chu BERRY box set, Loren Schoenberg writes: "Countless saxophonists were influenced by this sound and phrasing; one of the best at the time was Sam Donahue, who was featured in Gene Krupa's band". So we can be sure that Cab was sensitive about Sam's arrangement and takes on soloes (on I'll Be Around and I See a Million People).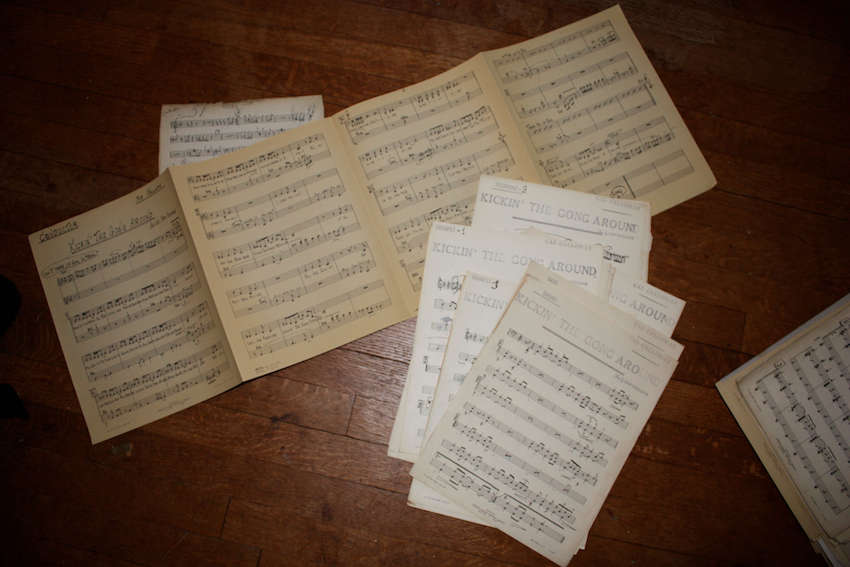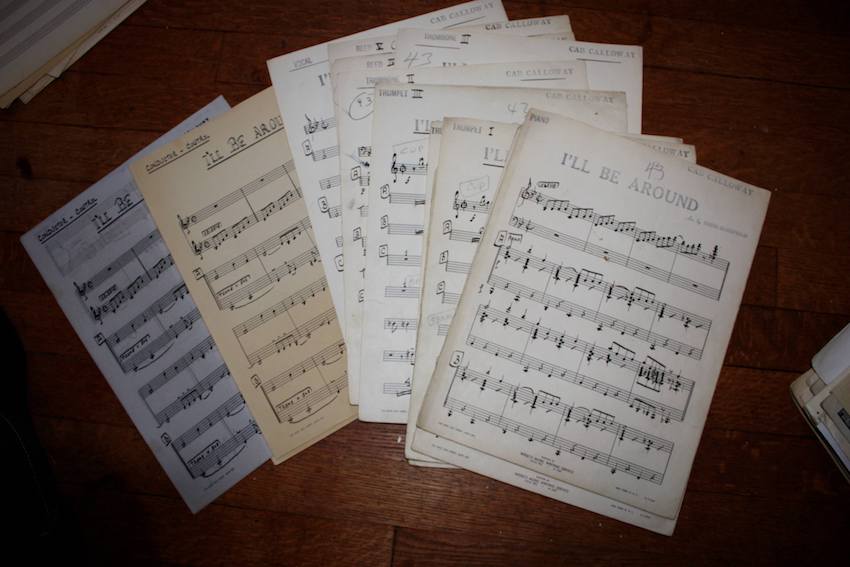 Above are the sheet music pieces we were lucky enough to photograph at Cab's home in 2008.
They clearly indicate arranger's name:
for "Kickin' The Gong Around", Eddie Barefield; for "I'll Be Around" by Sam Donahue.
Tracks recorded in the studio versus songs performed live
The producer, or A&R – with or without Cab's input – chose several songs from the King of Hi-de-Ho repertoire: old hits from the Thirties, and some from the Porgy and Bess opera with which Cab successfully toured in recent years.
At this same time, songs that Cab performed in nightclubs during concerts and noticed by reviewers were: St. Louis Blues, I See a Million People, Why Daddy?, Minnie The Moocher, Jumpin' Jive. Of course, since the long Porgy and Bess tour in USA and worldwide, Cab used to get heavy applause on It Ain't Necessarily So – Sportin' Life's theme song. He also added the opening song from the opera, Summertime. Of course, The Cotton Club Revue he led and toured with since 1956 had its own repertoire but none of the songs is among the tracks recorded there.
The songs reviewed by Keller Whalen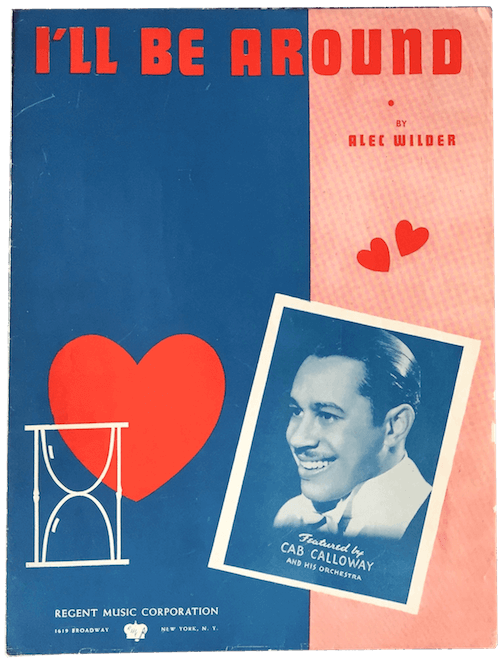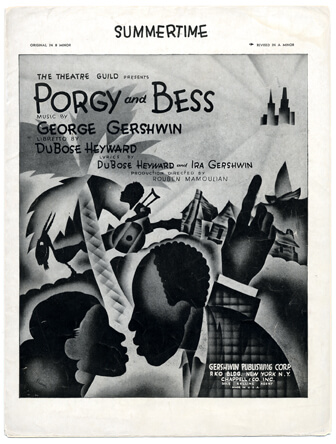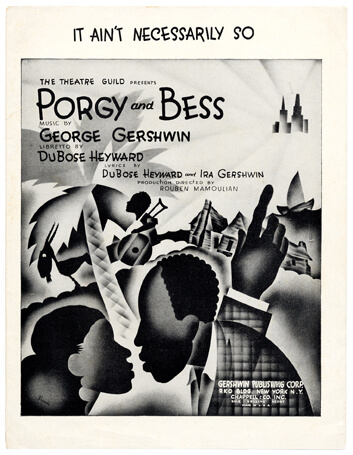 33 minutes, 11 songs:
• The Hi-De-Ho Man (That's Me) – Cab originally recorded this song in1947 and it quickly became a signature tune. The musicians perform a spirited rendition although not quite up to the tighter, more exciting original of Cab's 1940s big band. Cab's vocals are outstanding on this, belting out the words with a solid swing – after all, the song is all about himself.
• I'll Be Around – This finely constructed song was a hit ballad for Cab in the 40s. Cab seems to be singing this version is a slightly lower key or register than before. Soft trumpets make for a smooth counterpoint to the vocal.
• Summertime – this is the first time Cab recorded this iconic song from Porgy and Bess (he did not perform it in productions of the opera in which he appeared). A concert staple in his late career, Cab's voice and diction are crystal clear with a lovely and gentle brass arrangement behind him.
• It Ain't Necessarily So – Cab's showstopper from Porgy and Bess, the band arrangement here is quite different than the full orchestra backing on Cab's previous recordings of this song – we have trombones and woodwinds in place of strings. The scatting between verses is always fun and unique to every one of his performances of the song. Whether or not the Gershwins actually had him in mind when they wrote it in 1935, Cab nevertheless owns this song.
• Kickin' the Gong Around – an original Calloway orchestra hit from 1931, this version moves away from the former hot jazz sound to a more up-tempo swinging arrangement. The call-and-response with the band is delightful and Cab's scatting is inspired.
• (I'll Be Glad When You're Dead) You Rascal You – another classic originally recorded by Cab Calloway and His Orchestra in 1931, but this arrangement is brought considerably up to date. The band gives a spirited response to the humorous lyrics.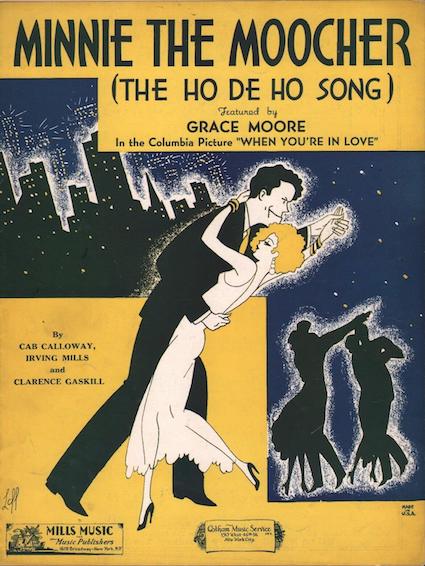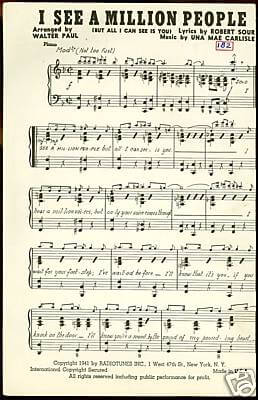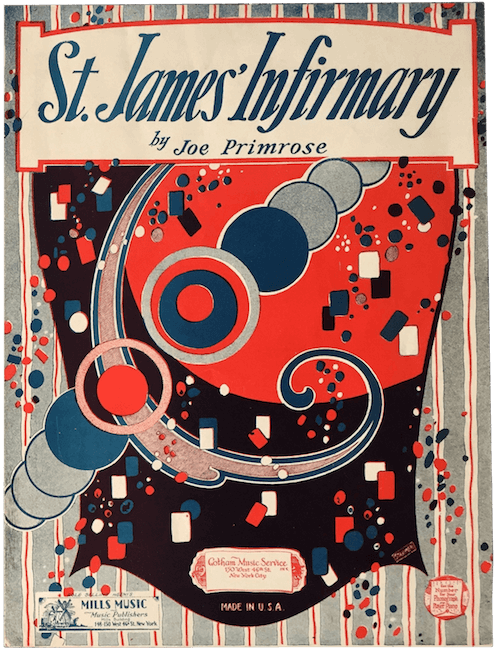 • Minnie the Moocher (The Ho-De-Ho Song) – this is the last recording of Cab's signature number using the early swing arrangement before he switched exclusively to a new disco tempo that he used on record and in concert for years (with the notable exception of the The Blues Brothers soundtrack). The band members have fun keeping up with the 'hi-de-hos.'
• I See a Million People – another ballad from the 40s; his mature 1960 voice brings a new gravity to the song. The original recording's beautiful backing chorus by The Palmer Brothers (aka the Cabaliers) is sorely missed.
• Saint James Infirmary – one of Cab's perennials, I actually find this a completely unnecessary addition to the album. While it was always a pleasure it hear it and see it acted out in concert, the 1931 and 1940 versions are simply infinitely better and more soulful than this particular recording. This album wasn't the best showplace for a slow blues tune.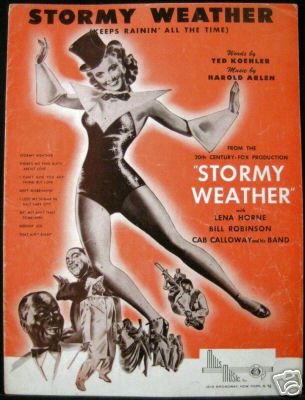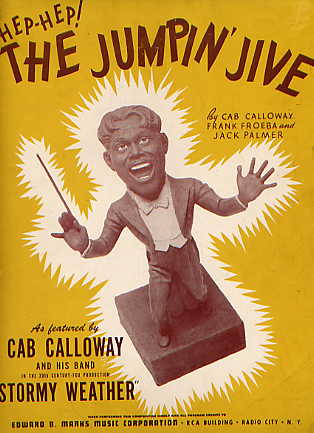 • Stormy Weather – this is the first time Cab recorded this song, although later he often sang it in concert. For my money, this arrangement is a little too upbeat for such a sad song.
• The Jumpin' Jive (Hep Hep) – a wonderful upbeat opening and the spirited band members helping out with the vocals make this a great finale for the album. Although the jive lyrics are dated, there's no mistaking the fun, happy message of this number – clearly it is Cab's favorite song. "De-boodle-de-ack, de-boodle-de-ackasaki!"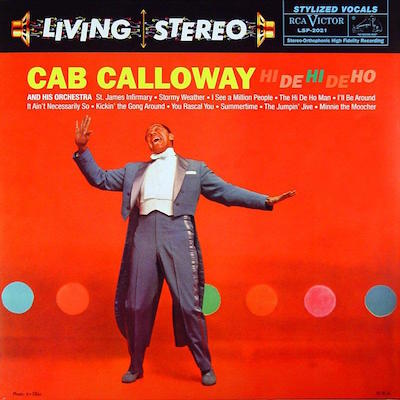 The LP sleeve
The splendid cover photo is by Irv ELKIN, freelance photographer who worked for several record labels in the sixties: Verve, RCA, MGM… He shot the likes of Kenny Burrell, Jimmy Smith, Willy Colón… But there's no more information about him.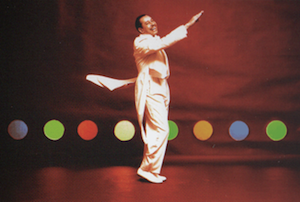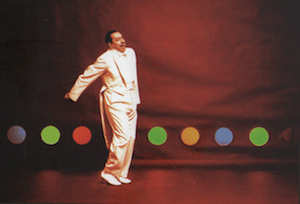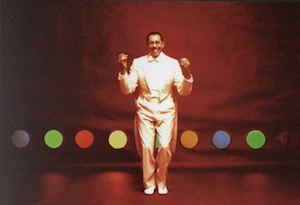 Nevertheless, another photo from the same shooting session was used on the cover of German EP Bell Records issue (RWA, ALP 10503, 2016). They even offer three other pictures by the same photographer with Cab in white tail (see above).
Cab used his purple tail in many appearances and for a long time in the Fifties and Sixties (stage, television like on the Ed Sullivan show).
The liner notes are by Dom CERULLI (1927-2012), who was East Coast Editor of Downbeat and worked for several major labels (Warner Bros., Columbia, Verve). At RCA, he was Director of Advertising/Publicity. He wrote hundreds of music-related articles for Playboy, Show Business Illustrated and International Musician. His name appears on the back of hundreds of records from the 1950s through the 1970s. When Cab's album is released in June 1960, he had just co-edited The Jazz Word, published by Ballantine Books, which will be later reprinted by Da Capo press.
His liner notes are very joyful and insist on the "good old days":
"In that wistful, screwball age that was the Thirties, one man, practically single-handed, launched an era of musical nonsense that had the whole nation humming bits of rhythmic fol-de-rol.

It was Cab Calloway, the Hi-De-Ho man in cream colored tails who gyrated to the point of actually flying while leading his band, and who sang slightly insane ditties (as well as the leading hit songs of the day) in a remarkably rich and resonant baritone.

The Cab was one of that group of leaders of the 1930's who, although playing no musical instrument, collected a fine band and a completely personal style.

In this album, Cab has freshly recorded a dozen of his biggest hits of former years, taking full advantage of the most modern high fidelity recording techniques.

(…)

And while all this nonsense was going on to the delight of millions, Calloway was also playing jazz ad blues of a very high order (…).

Maybe it was a combination of many things that made Cab and his musical fun catch on. It certainly was a time that cried out for something light, something freshy. Great favorites in other fields were Colonel Stoopnagel and Bad, Wheeler and Woolsey, The Marx Brothers, Charlie Chaplin, and Laurel and Hardy, to name just a few. Cab fit right in. (…)

In so many ways Cab symbolized that whole era of "The Jumpin' Jive" when people needed something to "make you nine feet tall when you're four feet five…" We can certainly use this helping of him these days."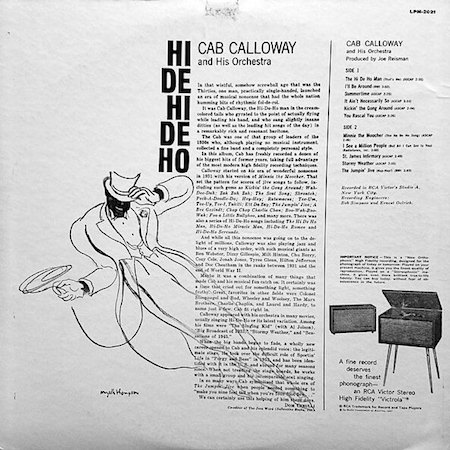 The elegant illustration on the back was created by Mozelle THOMPSON (1926-1969). Born in Pittsburgh, he illustrated more than 120 LPs and EPs – among tem a large proportion for RCA. Librarian and artist Jay Malls explains "with a short career (1953–1969), Thompson appears to be the only prolific African American artist to illustrate album covers. He was a pioneer in his industry, working alongside the first-generation artists who contributed to the history of album cover art within the first 15 years of its existence." (check this link).
You may admire some of his works following this link. Jay Malls curated an exhibition in 2014 presenting more than 100 albums covers.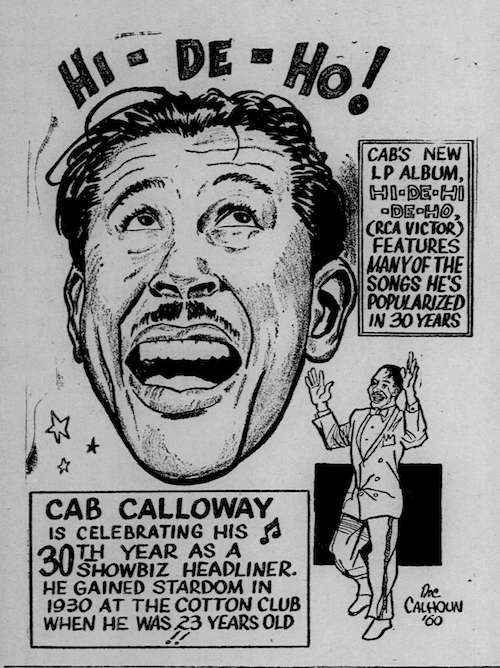 Cartoon by Doc Calhoun (who would have been press agent of Jonah Jones and Cab sometime)
published in the Brooklyn Daily (June 21, 1960)
The 1960 release
Why a release only in 1960? Sorry, I don't have the answer: commercial opportunity? Mandatory release? Threat by Cab? A way to get rid of Cab? A pretext to celebrate Cab's 30th anniversary in show business? If you have any clue, please let me know…
At the time of the release, other LPs were released or selling in shops and Cab was competing with the likes of "The Sound of Music" Original Cast, "Persuasive Percussion" by Enoch Light and the All-Stars, "Theme from A Summer Place" by Billy Vaughn & His Orchestra, "Nice 'n Easy" by Frank Sinatra… and of course rock n' roll records: Elvis Presley with number 1 "It's Now Or Never" or "Are You Lonesome Tonight?", "The Twist" by Chubby Checker, The Drifters with "Save the Last Dance For Me"…
In the jazz section, the competition as different for Cab: folks from his era also tried to keep their audience: Bing Crosby and Satchmo release their duet album, "Ella in Berlin" is a tremendous success for Ella Fitzgerald, Sammy Davis Jr. has "I Gotta Right To Swing", Billy Eckstine sings on "No Cover, No Minimum"…
But Cab was no more in the "today's league": Art Blakey's "A Night in Tunisia", John Coltrane's "Giant Steps", Gil Evans' "Out of the Cool", Bill Evans' 'Portrait in Jazz", Miles Davis' "Sketches of Spain", Hank Mobley's "Soul Station" or Max Roach's "We Insist!"… were the new coming masterpieces…
I haven't found yet any advertising for the record when it was released. On June 12, on KSTT Radio Station, a showcase was setup. A bizarre opportunity to listeners to hear what the famous stereo sounds on a mono radio machine! Another point is that the announcement doesn't give the proper reference of the album (2020 – a blank reference in RCA's catalogue – instead of 2021) and provides the monaural number…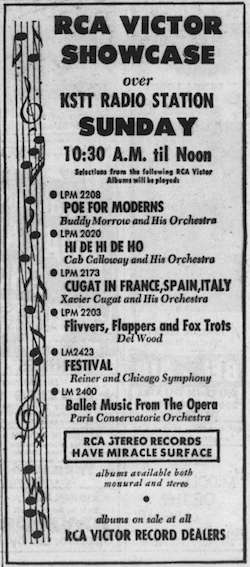 RCA Victor Showcase ad published in Quad City Times, Jun 12, 1960
The reviews: "Cab's voice in stereo"!
• BILLBOARD (June 6, 1960) gives 3 stars (for "Good sales potential") to the album and is puzzled by the fact that tis album "appears to be the only active LP collection in which [his] performances are featured". (…) The performances retain their old infectious humor, and should win a wide audience for their novelty value as well as their musical contents." Note that the album is in the "Popular" section, not "Jazz"…
• For The Indianapolis News (June 16, 1960), "Calloway cuts loose" with "fresh recordings of his former hits".
• For The Miami News (June 19, 1960), the recordings "illustrate the musical fun that made him special" (inspired by the liner notes of the album!) (…) "again in excellent stereo".
• For VARIETY (June 22, 1960), "Cab Calloway hasn't changed much in over two decades. His vocals are still power-paced, his rhythm is catchy and his identifying tunes are just as ingratiating. In this recap of tunes that he's been familiar with over the years, Calloway drives across the grooves in a winning way. It'll please those who remember 'the good old days' and win over those who unfortunately have had nothing but rock 'n' rollers to wean on."
• From CASHBOX (June 25, 1960, in the "Popular Picks of the Week", not the "Jazz picks" section!), "The Hi-De-Ho man is back on disk with a wonderfully entertaining line-up of his zany hits of the past. He revives memories of a nonsense era (…). Lots of sparkling vocal entertainment here."
• William D. Laffler (United Press International) says the album "brings back Cab Calloway and some of the songs that he converted into overnight sensations (…). Calloway's style hasn't changed since those 'Big Broadcast Days' of the 1930s." (in Wisconsin State Journal, June 28, 1960).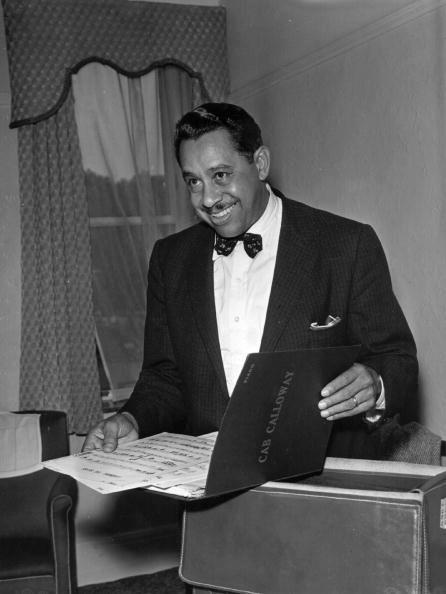 • The best review comes from an unidentified journalist (initials: T.M.) but a great fan of Cab in The Atlanta Constitution from June 29, 1960 who emphasizes on "Cab Calloway's Voice on Stereo":
"Cab Calloway has finally been released in stereo and a lot of people who grew up in the '30s will be glad.

In those days the national theme song was 'Brother, Can You Spare a Dime' and both professional and amateur sang it with much feeling. But not Cab. He always sounded like a millionaire and for a few moments at least could make his listeners feel like one, as they munched their bread and washed it down with slugs of water.

It would be a little too sentimental and nostalgic – it would be lying, too – to say that Cab's voice is as good as ever but it's surprising how much velvet is left. (…)

Sometimes his lyrics are startlingly different from the way he sang them a generation ago. One wonders whether he has been censored, after the fashion of Stephen Foster.

Cab is still the world's foremost vocal acrobat. (Incidentally, when the orchestra is trying to echo his razzmatazz, the stereo version comes through stronger and clearer than the monaural). Cab is musical even when he's apparently gargling his throat."
Despite the rock 'n' roll craze, contemporary critics seem to appreciate Cab's new album. But what about the sales? Were they as high as expected by RCA? Unfortunately, I haven't been able to locate numbers for this release.
Surprisingly enough, a few weeks after the release, Cab signs to CORAL records for a long-term contract, in the middle of The Cotton Club Revue tour. Surprisingly enough, the contract ended in 1961 after two 45's (recorded in October 1960) and one LP (Blues Make Me Happy, recorded in October 1961 and released in January 1962)! By the way, check our full-length article about this album and its latest release on CD.
RELEASES:
• June 1960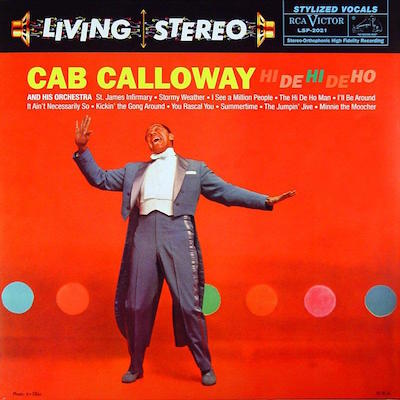 - LSP-2021 Stereo (US)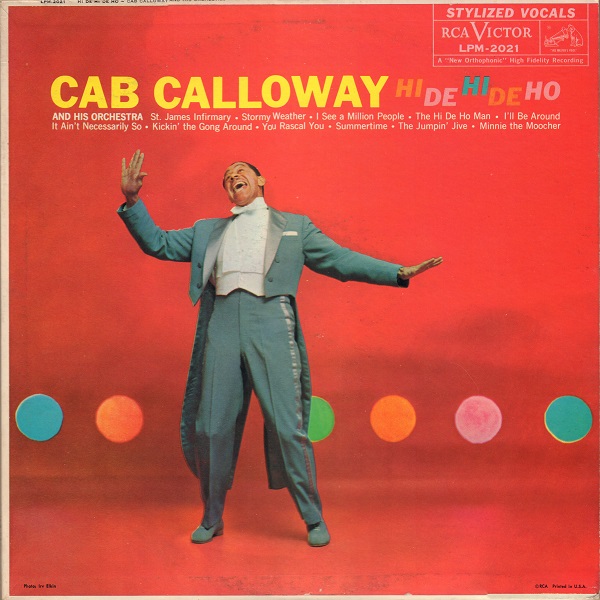 - LPM-2021 Monaural (US)
Keller Whalen (2019):
"The mono version the "Hi De Hi De Ho" LP is simply a 'fold-down' of the stereo tracks, i.e. with no re-mixing of the tracks specifically for the monaural release. The stereo mix puts the instruments and backup voices to the right and left channels, leaving the center for Cab's voice to dominate the numbers. But for the mono, the horns, the chorus and Cab's voice are all balanced equally, resulting in a slight diminishment of the main voice behind the instrumentation; there's also a very small stereo-related echo that can be heard on the lead vocals."
• 1982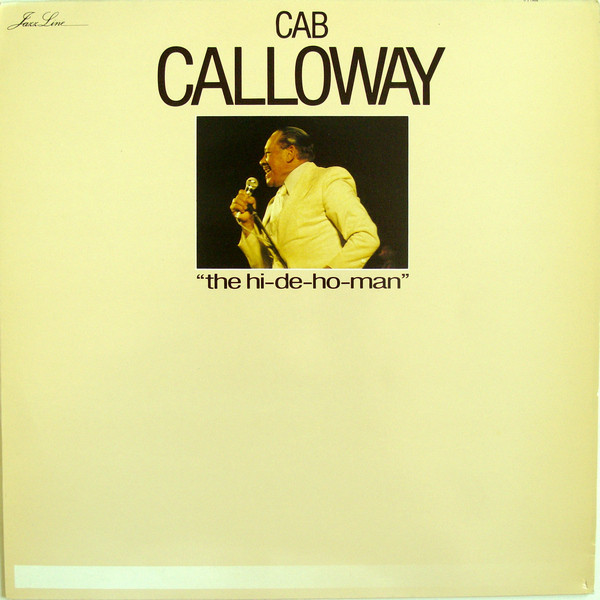 - PL 45163 (France), different sleeve and song order, with liner notes by French jazz historian Daniel Nevers. Photo on the cover is by French Jazz journalist and historian, Claude Carrière, taken at Nice Jazz Festival in 1977.
The song order is modified placing the hits at the beginning of the LP (Jumpin' Jive and Minnie The Moocher) and the liner notes consists in a sketchy portrait of Cab's life.
• 1994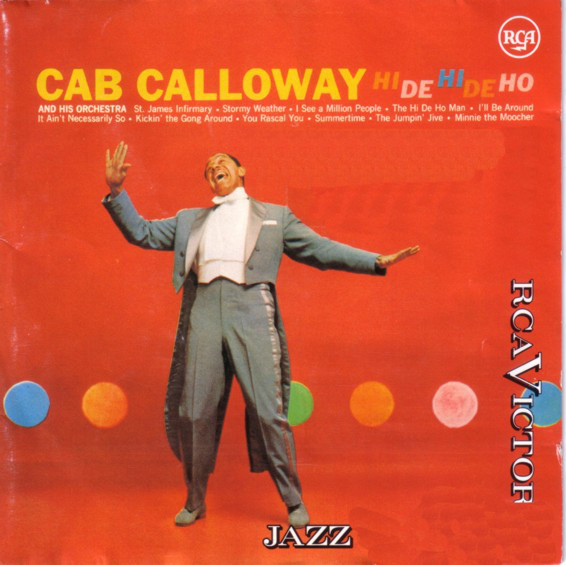 - CD, RCA BMG 74321 18524 2 (Germany)
Was it released right before or after Cab's death in November? I can't remember…
• 2010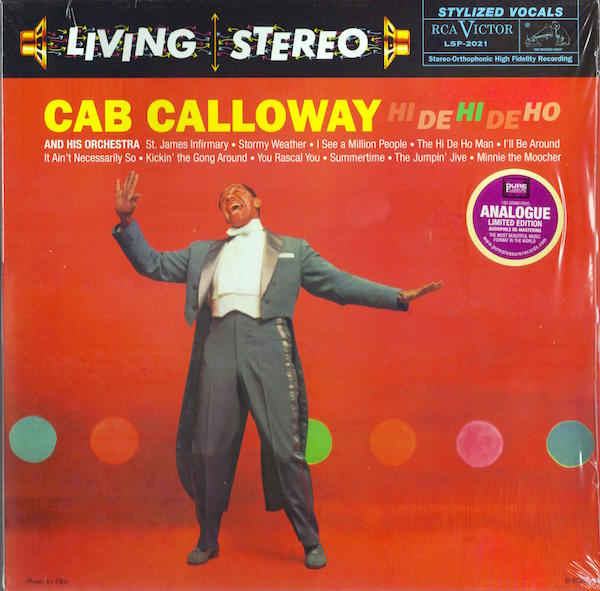 - LP Pure Pleasure records 180 g.-vinyl, PPAN LSP-2021
(The same publisher re-released Epic LN 3265 LP)
Robbie Gerson (Audiophile Audition): "This music is rejuvenated by the audiophile re-mastering. Speaker division has refined the correct balance between the orchestra and the vocals. Bass and guitar no longer sound lost in the mix. The horns are crisp and mellifluous. Calloway's singing is more articulate than on earlier recordings."