Morris Ellis 'Fruit' WHITE
(January, 17 1908, Nashville, TN – November 20, 1986, Saint-Louis, MO)
Guitarist in Cab Calloway's orchestra from 1929 to December 1937
Very little is known about Morris WHITE, Cab Calloway's first rhythm guitarist and banjo player. While French critics seem to have appreciated his musicianship during the 1934 European tour, he attained little or no place in jazz literature. In the history of Cab's orchestra, it's Danny BARKER who is recognized as the star of the guitar in the rhythm section. The musicologist Gunther SCHULLER, however, awarded White many compliments throughout his study of the music of the Cab Calloway orchestra. The Hi De Ho Blog is excited to tell you everything we know about Morris 'Fruit' White. And as a bonus, thanks to Nick ROSSI, guitarist, writer and jazz historian, we are able to offer you an extra deep dive into analyzing Morris' technique and instruments.
A family of musicians
Born in 1908 in Nashville, Tennessee, Morris White first learned the banjo as a child and later took up the guitar. He was a student at a music school in Peoria, Illinois. His father was a musician himself. The 1910 census seems to indicate that he is no longer the head of the family since the mother, Georgia (born in 1888), is designated as the sole caretaker of Morris and his older brother Baxter (born when his mother was only 15). Baxter White also became a musician and formed, with Alphonsus Agee, the vaudeville duo The Pebbles which recorded in 1927 for Vocalion, with ukulele and vocals. Some can hear the Ink Spots in one of the titles they recorded: Who's You Tellin'?
In any case, in 1930, Baxter – already a musician – still lives with his mother, who in the meantime remarried with a certain Thompson, while Morris (or Maurice) left his mother's home much earlier.
A 1934 article setup by Cab Calloway's PR, reveals that before becoming a musician, Morris' first job was waiter in a restaurant.
Like many, Morris White began his musical career at a very young age, playing alongside Charlie CREATH (along with and Dewey JACKSON), notably on the steamer St. Paul sailing up the Missouri. There, he certainly met clarinetist William Thornton Blue with whom he played later in The Missourians (read our full-length article about this forgotten mad jazzman). Other players at that time, according to drummer Harry Dial, were Norman Mason (alto sax), Eugene Sedric (tenor sax), Grant Cooper (trombone), and Robert 'Red' Muse on drums. Harry Dial remembers:
"The St. Paul was rented every Monday night to some Negro organization, such as a church, lodge or social club, and a crowd of two or three thousand people always attended. Each Monday was like a gala opening."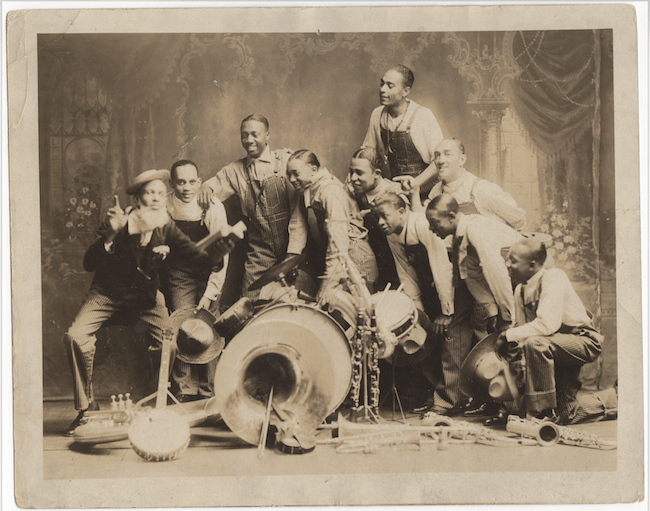 The Wilson Robinson's Syncopators, ca 1924
Wilson Robinson?, George C. Scott, Earres Prince, Leroy Maxey, Andy Brown, Eli Logan?,
Morris White, David Jones, Jimmy Smith, DePriest Wheeler
Probably in 1925, Morris
joins
Wilson ROBINSON's Bostonians
, which later become known as
Andrew PREER's Orchestra
, the
Cotton Club Orchestra
, and then
the Missourians
! That group founded by Wilson in 1922 was an important stepstone in the career of many musicians who played a few years later under the baton of Cab Calloway: William Thornton Blue (clarinet and alto sax), Andrew Brown (alto sax), E.B. DePriest Wheeler (trombone), Earres Prince (piano), Leroy Maxey (drums),
Jimmy Smith (bass). Drummer Elijah Wood who also played in that band (and later with the Missourians) remembers in 1972 the creation of the Wilson Robinson's Bostonians:
"[Wilson Robinson] had been out to Boston instead of the [?] conservatory of music, he began, when he came back home, his father was a waiter down to the American Hotel [in St. Louis]. And this fellow was talking to him and he'd tell him about his son having been out to Boston to study music. He told him, "Why don't you get him a band together?" So that' s the way the band started. He (…) had a booking agency here named [?]. When he got the band together, he started booking them. (...) I been to Nebraska, Indiana, Missouri, every place."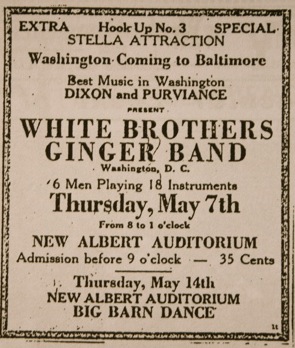 A 1925 ad for the White Brother's orchestra
In 1925, Morris White joins in his cousin's family band, "The White brothers' orchestra", led by Harry 'Father' WHITE (trombone and arrangements) and his two brothers Eddie (piano and trumpet) and Willie 'Sparks' (trumpet and saxophone). Another cousin Gil (clarinet and saxophone) was also on the bandstand. According to Timmy Rosenkrantz, "The band was ahead of its time and enjoyed success for several years around the capital. But they never recorded." (Harlem Jazz Adventures: A European Baron's Memoir, 1934-1969, page 130). Among those who played in that band are the likes of Jimmy Mundy (sax), Ward Pinkett (tp), future Ellingtonians Arthur Whetsel (tp) and Juan Tizol (tb), and saxophonist Chauncey Haughton who eventually played with Blanche, Elmer and Cab Calloway's respective orchestras!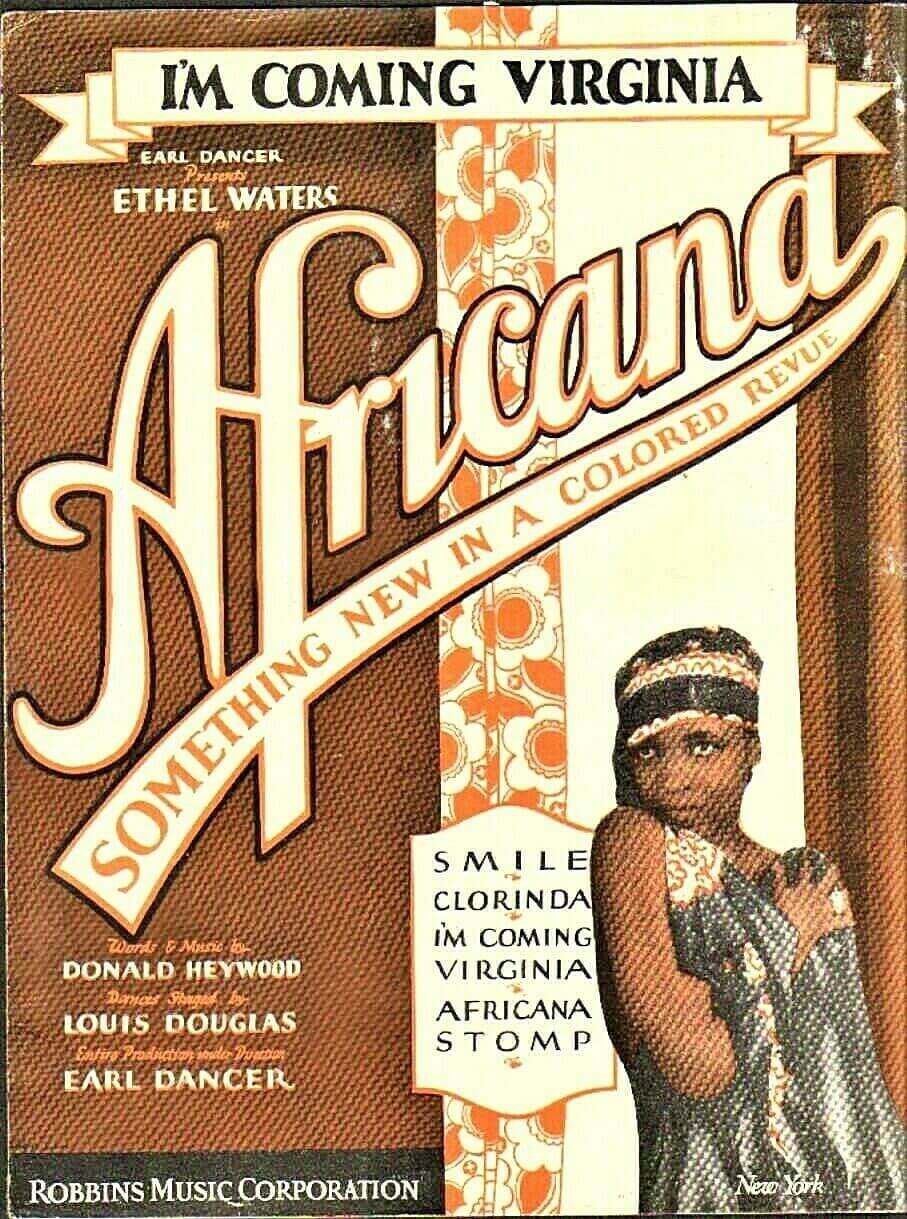 Sheet music from the revue Africana:
Ethel Waters on stage, Morris White in the pit.
During the Africana revue, which performed without much success from July to September 1927, Morris White is in the orchestra accompanying Ethel WATERS, a huge star of the era, who was making her Broadway debut. The revue then went on tour until April 1928, travelling through the eastern United States and finally reaching the Midwest, in a special train carrying the 60 members of the troupe. The show ended its run at the Adelphi Theater in Chicago in April 1928.
Thanks to Howard Rye's precious work on International Musician that analyses AFM transfer deposits from one local union to another, we learn that Morris White joined the Missourians in June 1928. That month, while the Missourians appear in Milwaukee, WI, he subbed for Charlie STAMPS. Stamps came back for July's engagement in St. Louis. Then, when the band arrives in Chicago, Morris takes over Charlie's seat right after his death (this corrects most of the discographies that keep Charlie Stamps' name in the Missourians recording sessions).
In his book Big Band Jazz, Albert J. McCarthy states "as far as we can judge, admittedly from a small number of recordings, the Missourians attempted no great subtleties of scoring, and their material drew heavily on the blues and a few standard themes of the Tiger Rag variety. However they outswung most of their contemporaries in the last, and in Ozark Mountain Blues created a near masterpiece in its idiom."
John Capes, in his liner notes for the Missourians CD "Stoppin' The Traffic" on Frog (DGF69) call attention to the rhythm section: "Special mention should be given to drummer Leroy Maxey (…). With Jimmy Smith brass base, Earres Prince piano and Morris White banjo, he was the driving force behind a propulsive section that came second to no one."
And when Cab Calloway takes over the Missourians, Morris White is among those who will remain faithful, along with Lammar Wright, Andrew Brown, Leroy Maxey, Andrew Brown, and Walter Foots Thomas... until Cab decides otherwise. We'll come back to that a little later.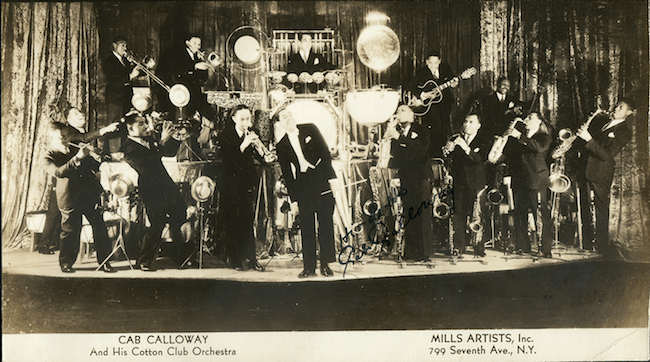 Cab Calloway and His Coton Club Orchestra in 1932, celebrating the arrival of trumpettist Doc Cheatham.
Morris WHITE is in the back (picture courtesy of Keller Whalen)
"Fruit": as "fruit lover" or as "crazy"?
Naturally, Morris White is associated with all the adventures and tribulations of the orchestra. There is no shortage of different anecdotes about the problems of relations with Whites in the South of the USA. One of them is recounted in the book Albert J. McCarthy which features saxophonist Eddie BAREFIELD and Morris White. One night when the band was performing in the city of St. Louis, MO, the band's valet was mauled by the local guys who took him to the police station and found nothing better than to threaten to throw him off the top of the third floor. Morris and Eddie arrived just in time to stop them from acting. The defendant was accused of having stolen a pair of cuff links.
Within the orchestra, Morris was nicknamed 'Fruit' by his comrades, apparently for his immoderate taste for fruit, as written in the many programs in use at that time. The slang of jazz musicians also indicates that this adjective was used to describe people who were outright disturbed...
On July 31, 1934, while driving back from Wilkes-Barre, PA to next gig in Hershey, PA, Morris White had an accident near Heckton, colliding with another automobilist who tried to avoid a truck stopping suddenly and swerving in to the center of the highway. Trombonist Harry White and two other musicians were with him. Only Harry was lightly hurt, suffering a wrenched back.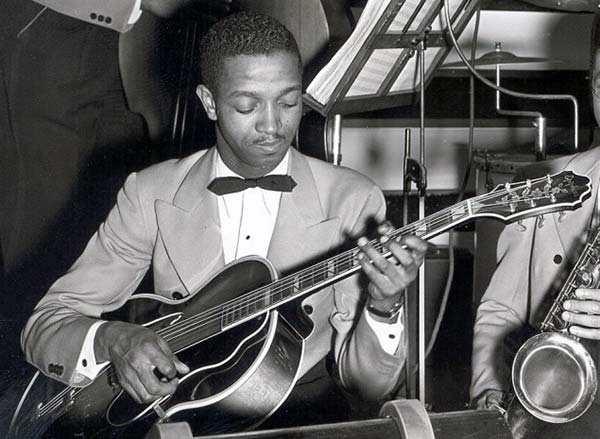 The one and only Freddie Green
Comparable to the incomparable Freddie Green!
The musicologist Gunther SCHULLER in his indispensable book Swing Era explores the music of Cab Calloway with great interest (which is always surprising for us, poor French people, so used to seeing him disdained by the local critics) and lingers several times on the playing and swing qualities of our guitarist. He submits that Morris White has broken the standard 4-count rhythmic placement, inventing a complementary counterpoint or particularly elegant arpeggio accompaniments. Schuller even compares him... to Freddie GREEN, no less, the famous rhythm guitarist of Count BASIE's orchestra who is for me (and for many) the best big band guitar player ever.
"Clear, delicate but firm", that's how Schuller crowns Morris White in three adjectives. He adds, "White's lively musical imagination enabled him to be consistently inventive in his accompaniment choices without ever intruding or interfering with the soloists, thereby enriching the texture of the Calloway' band sound (especially that of its rhythm section) in a way that is to my knowledge unique for that time. But White was also a terrific rhythm guitarist, supplying a steady swinging beat in richly voiced chords." His examples include "Harlem Camp Meeting" and "I've Got the World on a String", and many others".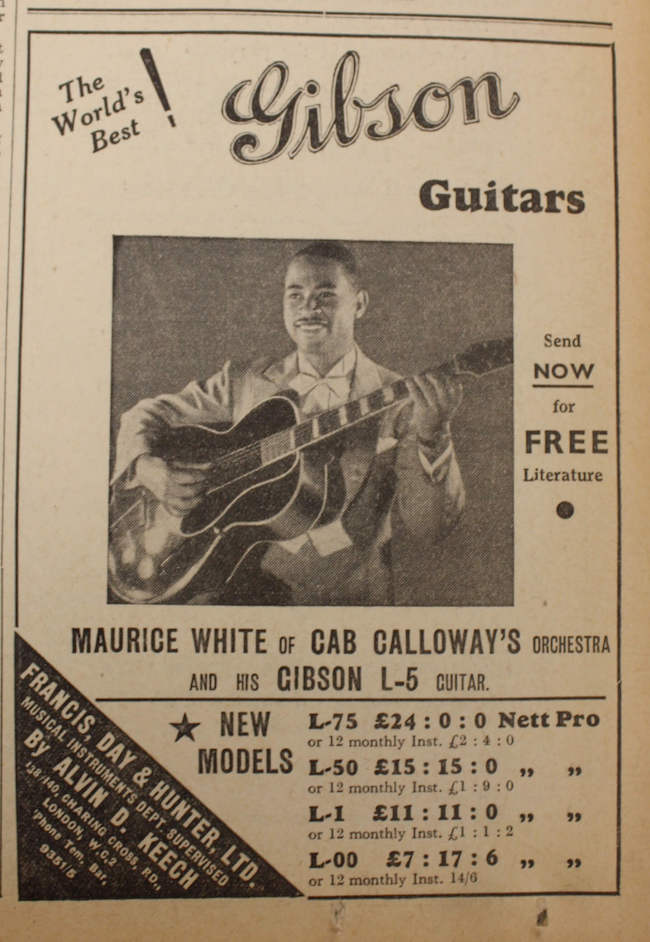 Advertisement for the GIBSON guitar by "Maurice" White in the British magazine Melody Maker
(March 1934)
Note that Gibson never published ads with Afroamerican musicians in the US but changed their habit for England readers.
Yet, this was a rare incursion in the generally lily-white pages of those Jazz magazine...
A few pages later, Schuller again notices White's arpeggios in the piece Evenin' best known for its extremely rare celesta solo by Benny Payne. On Zaz Zuh Zaz recorded for the Victor label in 1933, Schuller once again salutes White's talent. And apparently, he is not the only one to appreciate Morris White...
For the English magazine Tune Times (April 1934), several members in the orchestra touring in Europe were asked to "express themselves in regard to their individual part in the orchestral set-up." This is what Morris (listed as the banjo player) humbly said, as an obedient and disciplined soldier would say:
"It is my belief that the place of a banjo, or any instrument in orchestra, is to be a part of the entire unit, except where solo passages are indicated. I know a lot of musicians who go in for flash and overstep the bounds of good showmanship. Some very great solo pianists, for example, are very poor accompanists and orchestra men. I think the first lesson to be learnt by a musician who is to become part of an orchestra is to find where his place in the picture is. When it's time to stand individually, do your utmost to put it over; don't try to overplay your instrument or to outplay the fellow sitting in the chair next to you."
From that perspective we understand how a big band runs like a long hair orchestra, conducted by a chief, as a general would lead his troops.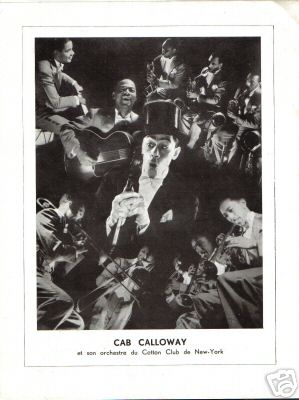 Interior of the Pleyel program with a publicity photo of the orchestra.
Noticed in France during the European tour of 1934
When Cab Calloway's orchestra came to Europe, contentious critics mainly noticed Al MORGAN in the rhythm section. Nevertheless, Morris White received some of the compliments collected here:
"Morris White is a good banjo player with nimble fingers. (...) The wonderful qualities of this rhythm section are the beauty of its timbre, the clever way of nuancing and, of course, its magnificent swing with ease" wrote H.-H. Niesen Jr. (about concerts in Holland) in Jazz Tango Dancing (April 1934)
"Guitarist White doesn't stand out much, but in 'Father's Got His Glasses On,' you can see that he's not a rookie" said N.-J. Canetti (about the concerts in Paris) in Jazz Tango Dancing (April 1934)
"Very good guitar solo on Margie (...) Great work in the rhythm section" on Smoke Rings", according to Jean Gaube du Gers about the Parisian concert of the April 23, 1934 in the Belgian magazine Music (May-June 1934).
"Morris White's banjo/guitar, which made us hear some very successful double-stringed choruses" wrote Pierre Laurent (about the concert of April 24, 1934 at the Pleyel theatre) in Music (May-June 1934).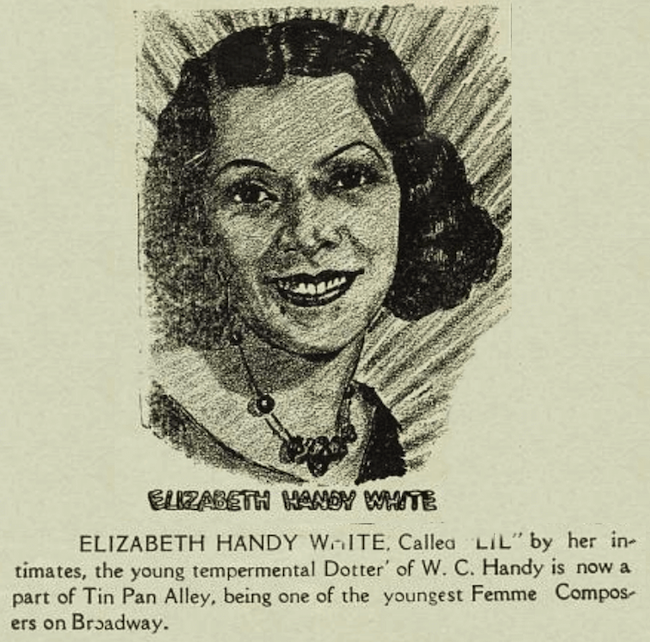 Elizabeth Handy portrayed in the showbusiness magazine Slow-Down, 1936
The son-in-law of the father of the blues
Morris White was married to W.C. HANDY's third and youngest daughter, Elizabeth Virginia (born November 17, 1910 in Memphis, TN). Graduated from the Textile High School of New York in 1930, composer, singer, pianist, she worked as a copyist in her father's publishing house and demonstrated the Handy production. As a musician, she recorded the duo "Stay" with Fats Waller in 1936. But the record remained on the shelves.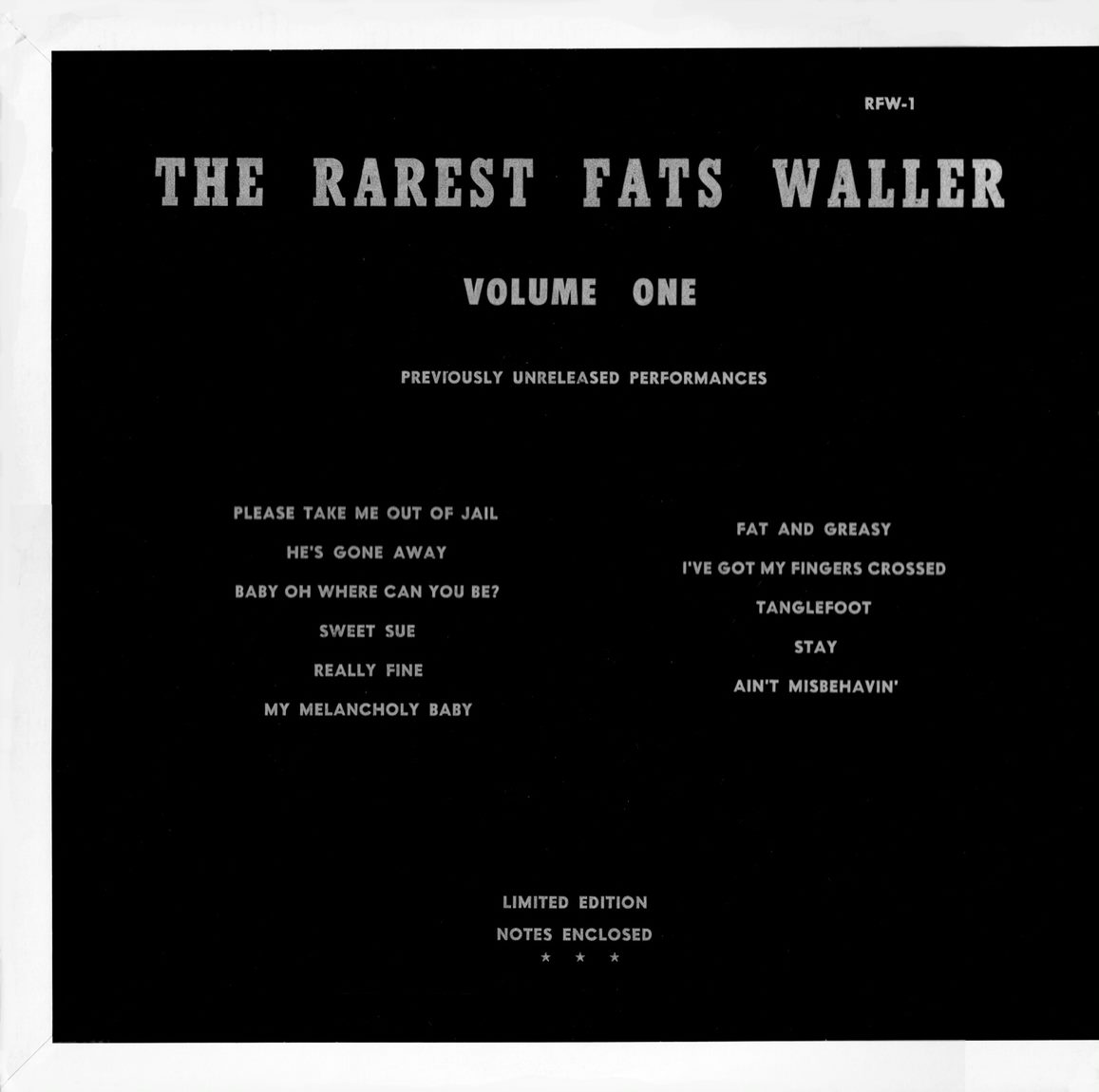 Unreleased "Stay" composed and recorded by Elizabeth Handy,
lyrics by Andy Razaf, with Fats Waller, recorded on April 8, 1936
(LP cover courtesy of Steven Taylor, FatsWaller.org)
Morris and Elizabeth met in early 1932, and in the Afro-American dated October 15, 1932, Malcolm B. Fulcher explains that "altho Lil Handy, dotter of the composer of the famous 'St. Louis Blues', was at the N.A.A.C.P. dance on Fridee with that millionaire's son, she is voom-voom over the banjo player in the Cab Calloway outfit…"
On February 10, 1934, Afro American announces "Hi-De-Ho Bride to honeymoon in Europe" and details the guests at "the secret marriage of Miss Elizabeth Handy (…) to Morris White (…). Miss Handy and Mr. White were quietly married by a justice of the peace in the City Hall on January 25. (…) We didn't mean to be rude to our friends (…) because Mother and Dad had really planned for a church wedding. But we had to cancel all of our initial plans on account of the theatrical engagements of Mr. White, who is a member of the Cab Calloway orchestra, which will keep him out of the city until the date the orchestra sails for Europe. Of course, I wanted to go along with Mr. White so there was nothing left for us to do but be quietly married." Nevertheless, "hurried plans are under way for the reception which will be held at the home of the bride's parents [400 Convent Avenue, New York, NY] on Friday evening, February 23, at 6 o'clock. The newly weds will sail for London on the Majestic at midnight on the same date, following the reception." The Pittsburgh Courier even wrote "White-Handy reception Gotham's swank affair" and detailed the guest list (most of the orchestra and wives, and with the likes of Mr. and Mrs. Bill Robinson, Cab's sister Bernice, etc.).


Cab Calloway and his men arriving in Southampton, March 1934 (Melody Maker). Morris is the one with a fur coat.
Most of the musicians toured with their wives.
Like many other wives of orchestra musicians, Elizabeth had accompanied her husband to Europe during the 1934 tour, as their honeymoon trip. On their return, they found their apartment in Harlem, at 400 Convent Avenue, the same address as W.C. Handy.
Apparently, the love affair between Morris and Elizabeth was relatively short. As early as April 1935, gossip columnist Allan McMillan from The Chicago Defender wrote that White was "making a new arrangement on the once popular tune, 'Baby, Won't You Please Come Home'"… Four months later, the same journalist announces that Elizabeth Handy "refuses to make up with Morris (…) and there are rumors of legal proceedings for melting papers." (Chicago Defender, Aug. 17, 1935). In fact, something was happening between Morris White and "pretty Lucille Love, former Baltimore entertainer, well known in Pennsylvania Avenue night clubs [former fan dancer who danced under the name of Yolanda in a Larry Steele revue]. (…) The basis of the suit allegedly filed by Mrs. White against Lucille was over the allegedly stolen affections of Morris White (…). Miss Love denied that her relationships with White were anything by platonic. 'We have been friends many years,' she said, and Mrs. White's accusations are based on gossip." (Afro-American, September 5, 1935).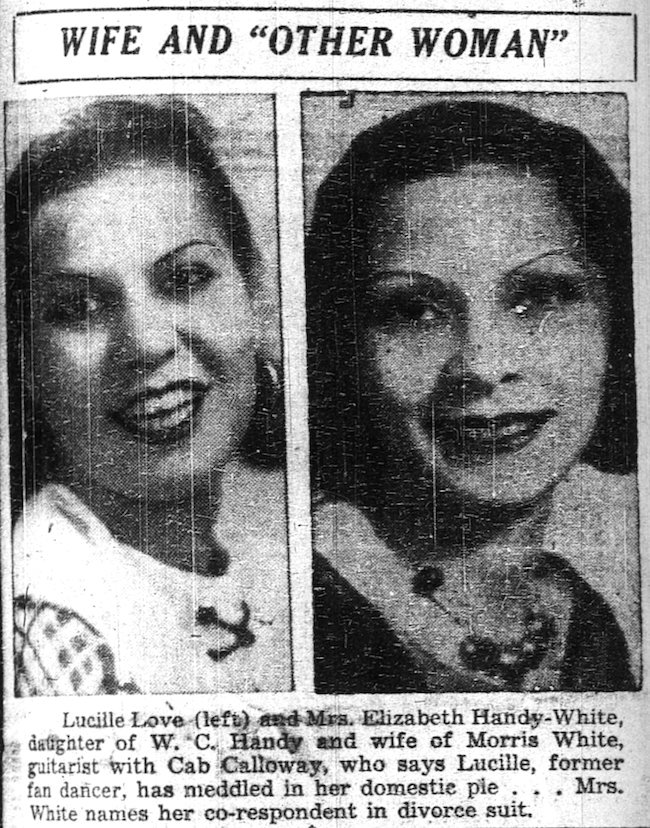 The September 21, 1935 edition of The Pittsburgh Courier published photos of Lucille Love and Elizabeth Handy

On its front page, Pittsburgh Courier dated September 21, 1935 music and gossip fans could read "Daughter of Handy files for divorce". Lucille Love replies to Earl J. Morris' questions: "Unfortunately, this is a nasty mess." After providing the platonic claims, she explains, "Cab Calloway's band is my favorite orchestra. Upon numerous occasions my business has thrown me into the same cities which the band happened to be playing. Upon these various instances I would invariably visit them. The boys in the band are my friends also. They even gave me the pet name 'Chiquita'."
Elizabeth and Morris divorced a few years later. Following a major operation at Edgecombe Sanitorium, Lil died on March 26, 1939. She was only 28 years old.
The way newspapers spread the news about Morris White and Elizabeth Handy's marriage from the early days to the fatal ending shows how jazzmen were treated in the Afro-American newspapers as famous people, just as today pop artists are.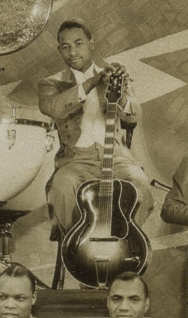 Dismissed in 1937 because he had been a Missourian?
As we know, since Cab Calloway's seizure of power over the Missourians, Cab gradually fired most of the elders. Danny BARKER, who succeeded Morris White, explains it clearly in his autobiography: "From 1931 [Cab] had fired one Missourian of the original band at a time. Rumor says he fired them because when the first joined the band they resented him. Had a hard time getting them to watch that baton. Lucky Millinder had done the same thing with the Blue Rhythm Band – he fired one at a time. A process: to break up a clique. You get a clique in a band, that's trouble." In 1937, events took on a new rhythm with the arrival of Chu BERRY to replace Ben WEBSTER. Involved in the life and future of the orchestra, Chu Berry undoubtedly suggested to Cab Calloway that the bandstands be changed to encourage a more "jazz" feel to the orchestra, with more instrumentals and less novelty. The rhythm section is crucial and the heart of the orchestra. Milt HINTON had arrived a short time before and was showing great talent and curiosity. But for Leroy MAXEY on drums and Morris White on guitar, it was a different story.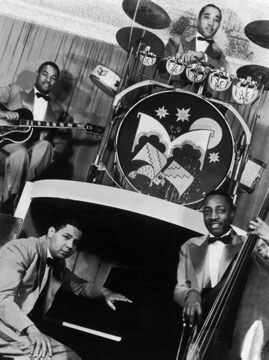 The 1936-1937 rhythm section: Morris White (g), Leroy Maxey (d)
Bennie Payne (p), Milt Hinton (b)
Milt Hinton has pointed this out several times: many of the alumni in the orchestra made no effort outside of the shows. None of the alumni would, for example, jam in the evenings after the shows or take an interest in what was being done. So, with Leroy Maxey, Cab found a way to trick him by asking him for a solo that he couldn't manage, because he was too unaccustomed to having one. By the way, The Hi De Ho Blog has already told you this not very glorious anecdote... But it happened later in 1939.
In his incredible "Swing Era Scrapbook" edited by Ken Vail, teenage Bob Inman notices Morris White's solo on Sweet Sue during a broadcast dated August 29, 1936, live from Palisade Amusement Park, NJ. Unfortunately no recorded track exists of this tune by the Cab Calloway orchestra.
In the short film Hi de Ho (filmed during Spring 1937), we can appreciate a superb solo by Morris White on the devastating tempo of Some of These Days. Trombonist Keg Johnson supports him on the second guitar. If Morris' soloes were always that good - even in the later years with Cab - it's really too bad that we don't have more examples of his brilliant talent!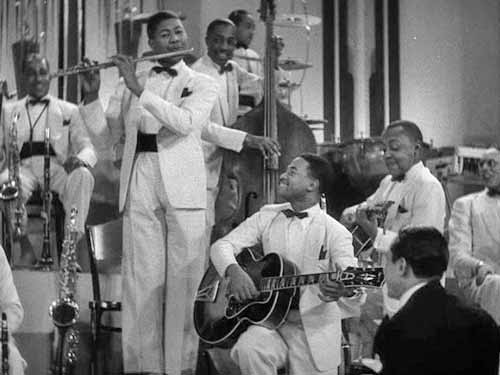 Walter Foots Thomas (flute) with two guitarists from the price of one:
Morris White and usually trombonist Keg Johnson in Cab Calloway's Hi De Ho (1937)
Unfortunately for Morris White, Cab was much less "patient" and the poor man was fired at the end of December 1937. We have not been able to find the exact circumstances of his dismissal. It must have been terrible since nobody ever dared to tell it! Chu Berry and Morris White nevertheless recorded nearly fifteen titles together with the Calloway band in 3 sessions: August 24, August 31, and December 10, 1937.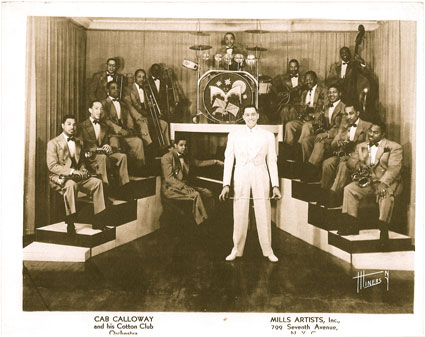 A rare photo of the orchestra with Chu Berry AND Morris White (fall 1937)
(Léon Dierckx collection)
As Alyn Shipton pointed out Cab's biography:
"Within five months of his arrival, Chu Berry had brought a whole new dimension to the band, even though he occasionally fell asleep on the stand after jamming all night. Cab himself was quick to recognize this achievement 'I didn't know if he would leave Fletcher to come with me,' he reflected, 'and I felt a little guilty about trying to steal him from a friend, but well business is business.'

The same sentiments had no doubt been behind the decision to fire Morris White, another of the surviving Missourians. In his time, White had been a fine replacement for his Missourian predecessor Charlie Stamps, and had managed the transition from the banjo two-beat of the 1920s to the smoother four-four of the swing-era guitar very competently. His soloing was usually brisk and precise, and as he demonstrated in the film of 'Some of These Days,' he had a formidable single-string technique. Yet in the large theatres where the band played, or even in the new Cotton Club, the complaint from his fellow musicians was that he was inaudible. As Freddie Green was to prove in his fifty years with Count Basie, this was not a matter of amplification. Green's acoustic guitar cut though the roaring brass and reeds of Basie's band in the largest of venues. His subtle placement of chords and precise beat were felt as much as heard, but their absence was immediately noticeable. White had no comparable strategy for being audible and did not develop his volume." (in Hi-de-ho: The Life of Cab Calloway, page 120).
As this paragraph reflects White's reflection in Tune Times in 1934 for the humble and discreet playing that was eventually ruinous to him, the old Missourian was quickly replaced by Danny BARKER (who had already guested on Berry's small group recordings)... and just as quickly forgotten, the talent of his successor erasing the memory of the musician... and then, the "survivors" all had to cling to their music stands! In any case, the first sessions of the "new team" showed that the Calloway orchestra had indeed evolved, as the recordings of December 10, 1937 attest, with the other recent changes in the band (Chauncey Haughton replacing Garvin Bushell on alto sax, and Shad Collins added on trumpet): A Minor Breakdown, and Bugle Blues are great examples of how the sound of the Calloway orchestra is at a turning point.
In an interview with Danny Barker by Milt Hinton in April 1980, made for the Jazz Oral History Project (commissioned by the Jazz Institute at Rutgers University, NJ), the two long time companions and friends discuss musicians leaving Cab's orchestra. Those lines are precious for understanding the life of musicians with its ups and downs. They also offer a slightly different version of Morris White's departure:
"Milt Hinton: Was [drummer Leroy] Maxey there when you came?

Danny Barker: Maxey had left now.

MH: Maxey had left and Cozy had come in.

DB: Yeah. I was after them, in the shake-up. No, Maxey was fired, and then that guitar player…

MH: Fruits. Morris White.

DB: … he decided to leave…

MH: Morris White.

DB: I couldn't understand it.

MH: He went back to St. Louis. I hear from him… He's got a brother [Baxter] who lives in New York, and he's still around.

DB [confusing W.C. Handy's personal history and Morris' life]: Yeah. He was having trouble with his wife, and his daughter… She died. His kid died. He married (?) behind his daughter.

MH: That's right!

DB: He married, and was supposed to have given the money to that pretty girl [Lucille Love]. (…)

MH: You're right. I forgot about that. Well, he's got some kind of decent business in St. Louis… (…) [They also talk about Leroy Maxey for a while]

DB: Man, shit, when they pull the rug from under you…

MH: That's so.

DB: And I've seen many cats leave Cab's band crying.

MH: Yes!

DB: When they's get a notice in Cab's band, I'd seen them cry. I've seen Greeley Walton cry.

MH: That's right.

DB: I've Seen [Andrew J.] Brown cry.

MH: [Garvin] Bushell.

DB: Yeah. They had tears coming out. It's a shock. You know, you were with Cab… Because it's a stigma on your career. You've been fired."
In his Dizzy Gillespie's biography, Alyn Shipton explains "To a great extent this stemmed from the rhythm section, where Cole's modern drum style, Barker's fat guitar chords, and Milt Hinton's mobile basslines were already achieving much of the departure from precedent that was to crystallize into bebop."


Fired but starts to live in a Chateau…
What did Morris White do right after he was fired from the Cab orchestra? He briefly joined Lionel Hampton's orchestra in 1941 but without recording any titles with him. Did he sub for Irving Ashby, Hampton's guitarist? Undoubtedly, but I am unable to share more with you about it, especially since there's no mention of Morris in Lionel Hampton's memoirs or anywhere else.
The moment Morris White is drafted for military service, he was still living in Harlem, working for the WPA, Works Progress Administration, probably doing manual labor. He leaves for the South Pacific end of 1942. He was demobilized in February 1945 but skin problems forced him to leave the professional music world for good.
He moved to Saint Louis, MO, where he started to manage a nightclub "the swank Chateau [Bar and Grill] located at 711 N. Vandeventer Avenue" (in Pittsburgh Courier, October 10, 1947). John Chilton wrote that, after a few years, Morris White organized his own "Ellis Novelty" business, information confirmed by former drummer Elijah Shaw interviewed in 1972. According to the Billboard magazine, the Ellis Novelty Show was playing music in schools in the Decatur, Illinois area in 1946. Ellis is Morris' middle name.
When he died at the hospital after a long illness in November 1986, Morris White was still living in St. Louis, the city of his youth, where it all began for him. And where his life ended. His older brother Baxter survived him. He had no children.
And in his obituary, Morris was still declared as Elizabeth Handy's husband...
---

An interesting letter from Moe Gale, then manager of Cab Calloway, regarding the instrument played by Morris White.
They didn't know then! But now, thanks to Nick Rossi, we do know! (document courtesy of Keller Whalen)
Morris White: Technique & Equipment
by Nick Rossi
*** Morris White's complex and personal technique ***
Morris White was part of a generation 20th century jazz plectrists for whom we have good recorded examples of their approaches to both the tenor banjo and the standard guitar. Additionally, as White not only started out on the four-string instrument, but worked professionally as a banjo player for several years, he can also be counted among the players whose earlier banjo technique may be said to have had a significant impact on his guitar playing during the Swing Era.
In both capacities, White demonstrated a solid, strong beat - or pulse. His 4/4 quarter note feel is clearly stated and unquestionably felt, although his freely added additional syncopations to both his banjo and guitar player. Regarding the banjo, this is typical of the 1920s, to the point of being expected. But from the time the guitar found favor and established dominance circa 1930, these additional accents began to slowly fade from fashion, eventually streamlining into the uncluttered quarter note rhythm line demonstrated by most guitar players by the late-1930s.
When soloing on the tenor banjo, White utilized a hybrid approach. He used both common chordal figures, often with heavy tremolo along with less common single-string runs, in some cases paired with double stops. And while it can be difficult to claim he was an innovator in this regard, his confident playing and distinct concept on the instrument allow us to rate him as one of the better rhythm players among his contemporaries.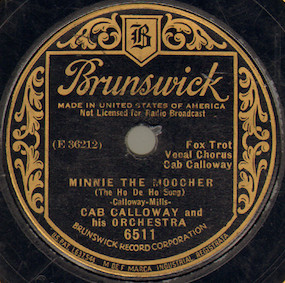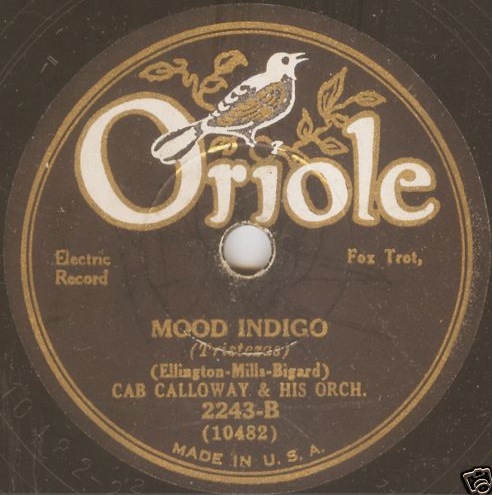 Based on close listening, but lacking any photographic evidence, it is possible that White very briefly played a tenor guitar - possibly a National-style resonator circa 1931 (MINNIE THE MOOCHER, MOOD INDIGO). This aside, White's first recorded appearances on guitar occur around this time, relatively late compared to the other major New York Black jazz orchestras of the time. Only Duke Ellington, whose longtime banjo/guitar player, Fred GUY, would wait longer to follow this Swing Era standard in late 1932. It should be noted however, that White continued playing both the banjo (alongside the guitar) on stage with Calloway as late as 1934 based on photos. This is an extremely late date for most New York-based jazz bands.
Once he adopted the six-string standard guitar, White continued to approach the instrument much in the same way he had the tenor banjo. Working from extant film appearances with Cab Calloway, the ex-banjo player continued using common banjo strokes such as the "figure eight" right arm pattern as well as more demonstrative, showy right hand techniques. This appears to diminish by the mid-1930s. But White audibly continued to use additional syncopation in his rhythm guitar playing through most of his recording career. As the decade wore on and Swing reached a plateau late in the decade, this was increasingly out of sync with the popular trends.
As a guitar soloist, White also utilized a very similar approach to the one he used on banjo: a mix of chordal figures and typical Swing Era small chords forms, often accented with banjo devices; with single-string figures, but played in a heavily rhythmic manner. And again, while one cannot claim the guitarist was a trailblazer in this regard, Morris White very much developed a highly personal and distinct technique which, particularly when one considers his high-profile as part of the tremendously successful Calloway orchestra during their heyday, continues to be unheralded by contemporary fans and students of the era.
Learn how to play like Morris White with Nick Rossi
explaining his part on Avalon
*** Morris White's steady equipment ***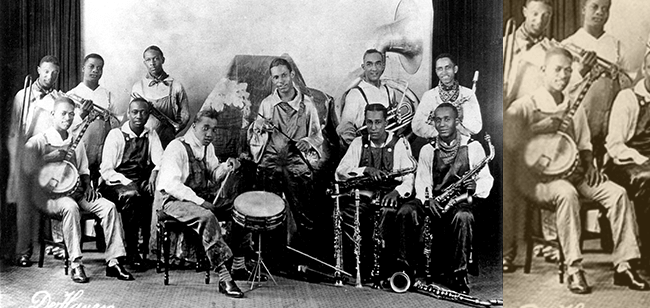 The Missourians, in 1928
The earliest photographs of Morris White with the Missourians show him playing Epiphone Recording model tenor banjos made by the Epiphone Banjo Company out of New York. These models were popular with dance and jazz orchestras from their introduction in the mid-1920s until they were eclipsed by the companies archtop f-hole guitar line that made it's debut in 1931. Epiphone at this time was a major, independent string instrument manufacturer and rivaled Gibson.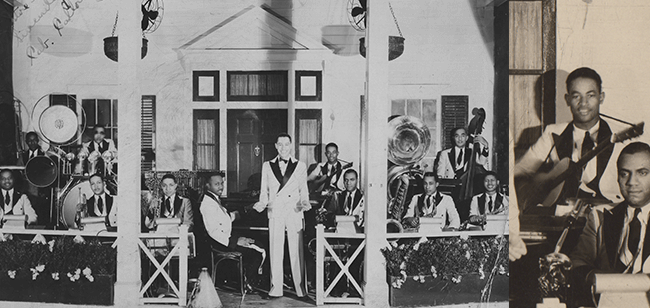 Cab Calloway and his Cotton Club Orchestra, 1931, on Harlem's stage
A photo exists from 1931 taken at Harlem Cotton Club in which White is playing a standard six-string guitar, but an atypical flat-top, round-hole model seldom associated with jazz bands of this era. Although blurred and obscured, the instrument appears to possibly be a guitar made by C.F. Martin & Company out of Pennsylvania. Even though the company was unable to capitalize on the popularity of the guitar during the Swing Era, they did make a concerted if failed effort at the start of the 1930s via their New York-based dealer, the Carl Fischer Company, to court the burgeoning jazz orchestra market. But the archtop guitar as played by Eddie Lang, Bernard Addison, and John Trueheart, became the instrument of choice for nearly all band guitarists.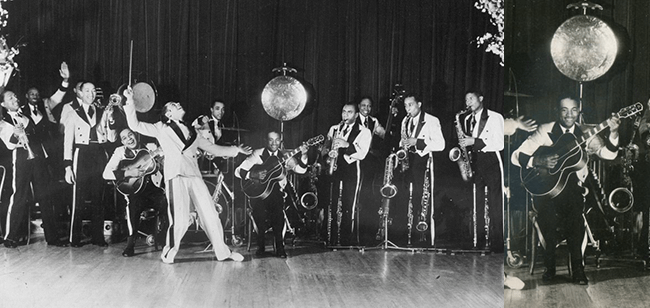 1932, Cab Calloway and his orchestra -- pianist Benny Payne is also on guitar
As early as 1932, White appears to have acquired a Gibson L-5. This 16" instrument was more or less the gold standard of archtop guitars during this era, prized for their sound, playability, and build quality. The guitar was a major and distinctly American innovation when it was introduced by the company in 1923, but by the early 1930s, it had already undergone several changes: some cosmetic and some structural. Dating his guitar to a specific year requires some degree of speculation, but in all likelihood it was manufactured by the Kalamazoo, Michigan guitar maker sometime between 1929 and 1932.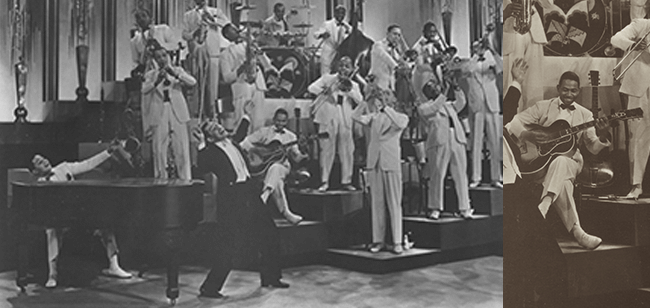 Movie still for Hi-De-Ho taken early in 1937. Tenor sax Ben Webster is still in the band
By the end of 1935, Cab's guitar man had started playing a Gibson Super 400 archtop guitar. The massive 18" instrument had been introduced by the company the year prior in response to the growing size of 1930s jazz orchestras which created the need for louder voiced guitars in the rhythm sections. In spite of the USA being near the nadir of the Great Depression, the Super 400 featured deluxe appointments and the was the most expensive instrument in their catalog. To play one, carried a certain degree of prestige. Somewhat ironically, many of the early examples from this period are remarkably quiet even though they were designed otherwise. This allows for some speculation that White's choice of instrument may have contributed towards some later complaints by bandmates that he was inaudible on that bandstand. Regardless, this appears to have been White's guitar of choice for the remainder of his time with the Calloway band.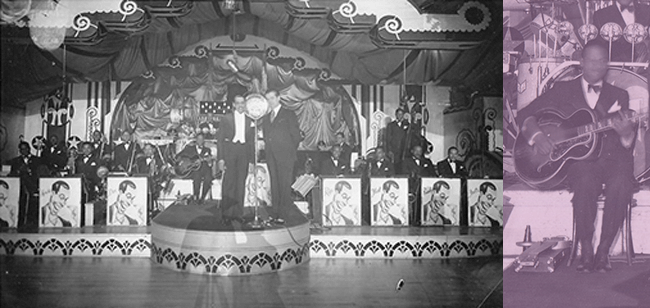 December 29, 1935: Cab Calloway begins his stay at the Frank Sebastian's Cotton Club, in Culver City, CA
Of additional interest, is a late 1935 photo of White onstage with the Calloway band in which one can clearly see an electric guitar! Sitting within arm's reach to the guitarist is an early Rickenbacher (later known as Rickenbacker) Model A-22 or A-25 Electro guitar, which had been produced starting in summer 1932. This guitar is almost certainly a Hawaiian or steel electric guitar, rather than a standard instrument and was likely used on a specialty or novelty number with the orchestra. The latter was somewhat common with jazz bands in the 1930s, but unfortunately evidence of White's skill as a Hawaiian-style electric guitar player cannot be found on record.


The Rickenbacker Model A-22, known as the "frypan" (source: Vintage Martin)
However, Calloway did feature early guitar pioneer playing an acoustic Hawaiian/steel Roy SMECK on his 1932 recording of GIT ALONG, so this may also have been a way for White to reproduce Smeck's part on stage if the song was included in the set.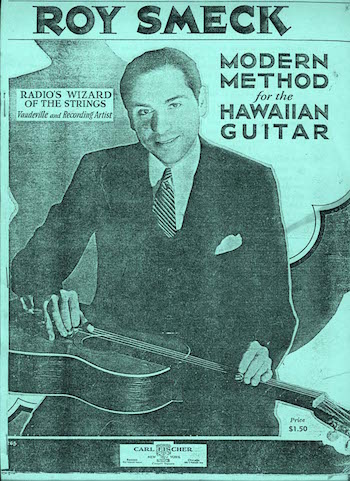 The very popular vaudevillian Roy SMECK and his method
A final point of speculation. It is worth nothing that Morris White's successor in the guitar chair, Danny Barker, started playing a Gibson Super 400 during this time with Cab's band. Barker, before and after, favored Epiphone guitars even though the 18" Gibson remained in his possession until his death. However, this suggests that either the bandleader was conscientious of the visual appeal the top-of-the-line guitar or that there was some sort of agreement with either Gibson or Gibson's New York representative. The latter was the New York Band Instrument Company which distributed the majority of Gibson guitars in the city during the 1930s. While Gibson did not have any official endorsement deals with Black musicians until the following decade, the shop was known to have excellent player relations. In any case, it is very likely that both White and Barker acquired their Gibsons through this outlet. But considering Cab Calloway's extremely high profile and distinct visual appeal during most of the 1930s, one wonders if Gibson via the New York Band Instrument Company made sure that both Morris White and Danny Barker had easy access to their flagship model archtop.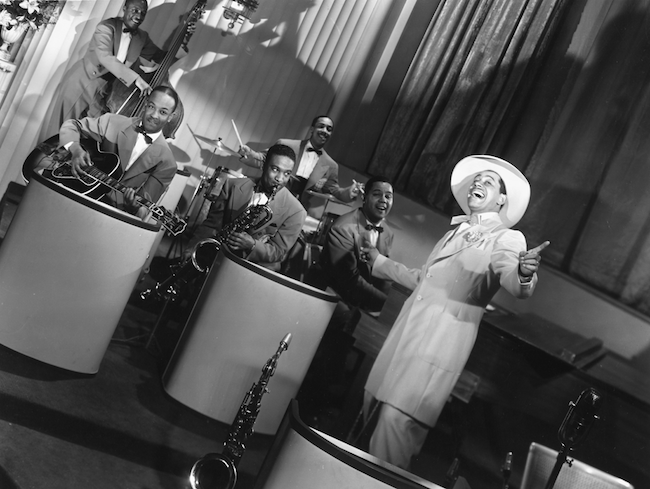 A superb movie still from STORMY WEATHER (1943): Danny Barker and his Gibson guitar.
---
To go deeper and know how to play like Morris White,
read Nick ROSSI's article for the July/August 2021 issue of

---
Best of Morris WHITE on banjo or guitar,
the forgotten rhythm behind Cab Calloway
In my humble opinion, the 1933-1934 tracks (between Evenin' to Avalon) from the RCA Victor sessions are the best to appreciate Morris White's sound. Like Nick Rossi explains, "Their recording facilities were arguably the best in the country and clearly they figured out how to record jazz and dance band orchestras very, very well. Nearly every jazz-related disc on Victor that I have heard from this same era are exceptional sound-wise and the guitars are often very present. Ellington's '33-'34 Victors are among the best examples of Fred Guy's guitar playing, for example."
They provide great examples of Morris White's subtle accompaniment to his bandleader and singer Cab Calloway. Even as an Afroamerican artist, Calloway was very much influenced by Bing CROSBY who "was responsible for the fashionable vocal with close guitar accompaniment that one hears on a lot of records through mid-decade. And, for this to be effective, the guitar would have to be close to the vocalist and therefore the vocal mic." (Nick Rossi).
Scotty Blues (with the Missourians, August 1, 1929) – on banjo
Two Hundred Squabble (with the Missourians, February 2, 1930) – on banjo
Happy Feet (with Cab Calloway & His Orchestra, October 14, 1930) – on banjo
Minnie The Moocher (March 3, 1931)
Mood Indigo (March 9, 1931)
I'll Make Fun for You (May 1931, German broadcast, live from the Cotton Club) – on banjo (not available in the playlist below)
Black Rhythm (June 11,1931) – on banjo
You Rascal, You (September 23, 1931)
Trickeration (October 21, 1931)
I've Got The World On A String (November 9, 1932)
Evenin' (September 18, 1933)
Harlem Camp Meeting (November 2, 1933)
Little Town Gal (December 19, 1933)
Zah Zuh Zah (November 2, 1933)
Moon Glow (January 22, 1934)
Margie (January 23, 1934)
Avalon (September 4, 1934)
That Man Is Here Again (March 3, 1937)
Some of These Days in the 1937 film Hi de Ho (not available in the playlist below)
---
Bibliographical sources:
Danny BARKER with Alyn SHIPTON, A Life in Jazz (new illustrated edition), Historic New Orleans Collection, 2016
John CHILTON, Who's Who of Jazz, Da Capo Press, 1985
Harry DIAL, All This Jazz About Jazz, Storyville, 1984
Milt HINTON, Bass Lines, Temple University Press, 1991
Albert McCARTHY, Big Band Jazz, G. P. Putnam's Sons, 1974
Gunther SCHULLER, The Swing Era, Oxford Univeristy Press, 1992
Alyn SHIPTON, Hi De Ho, The Life Of Cab Calloway, Oxford Univeristy Press, 2010
Alyn SHIPTON, Groovin' High, The Life Of Dizzy Gillespie, Oxford Univeristy Press, 2001
Jazz Tango Dancing, May-June 1934
Tune Times, April 1934
Chicago Defender, Afro-American, Pittsburgh Courier, St. Louis Post Dispatch…
---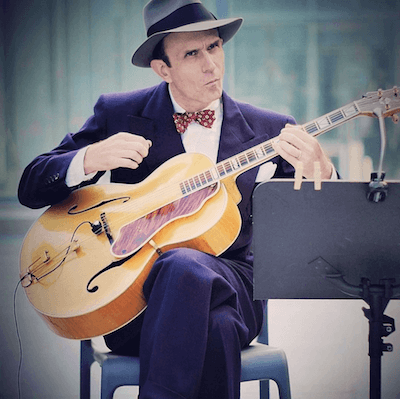 ---
My warmest thanks to Nick ROSSI and his always enthusiastic comments and his wonderful essay on Morris White.
My thanks go to Bob EAGLE who once again provided me with the official documents I needed to be certain of the chronology of events.
My everlasting gratitude to Keller WHALEN for his constant help on this article and more.