"Hi De Ho" is a Vitaphone movie released on February 20, 1937 by Warner Bros in the Melody Masters Series, that wonderfully demonstrates the musical qualities and stage persona of Cab Calloway and his musicians. But there's more to know about this 11-mn and 1 reel movie, rarely seen, and often ignored by jazz historians and film or theater scholars: his uncredited cast shows besides Cab three distinguished and established actors nobody noticed. Until now! (PART 2/2) -- Read Part One here
The movie stills and advertising material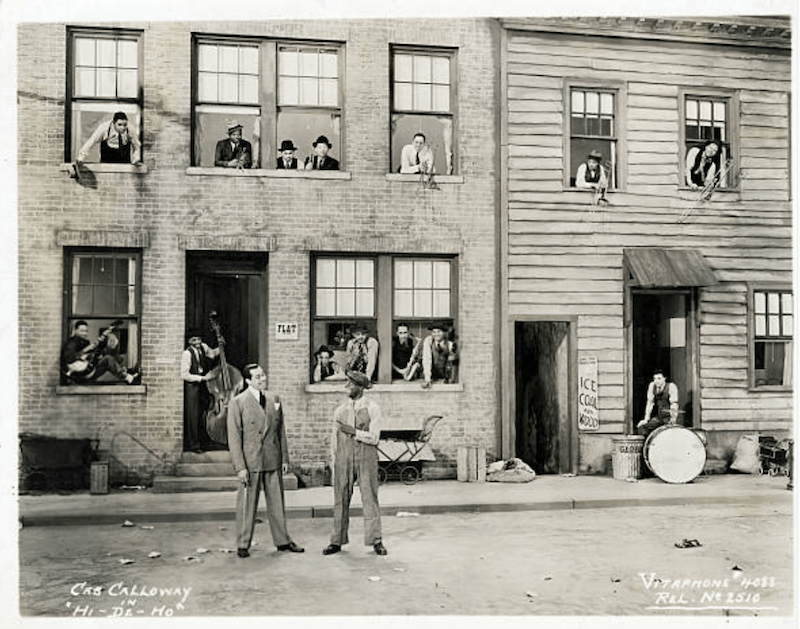 A rare Vitaphone movie still with Cab Calloway, his musicians in front of the hero's building.
To this day (July 2022), I'm only aware of two surviving movie stills with Cab Calloway for this film. The last one being often captioned only as "Cab Calloway and his Cotton Club orchestra…" and used as a promotion picture for the band. An inexperienced eye wouldn't even notice the presence of Ben Webster in the frame (in the back row, behind clarinet player, Garvin Bushell).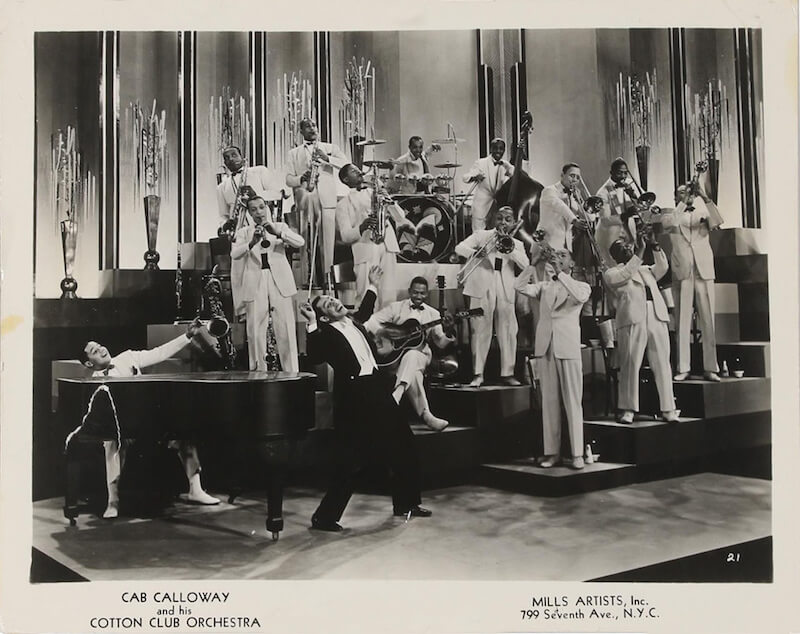 A rare picture of the band, originally produced as a movie still but rather used as a promotional item.
If you check the reference numbers in the lower right corner of the picture, you'll notice that #21 is indicated… which means that there "should" at least 20 previous stills made for the movie.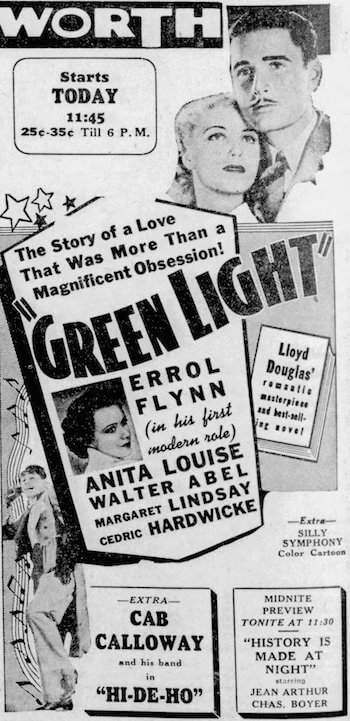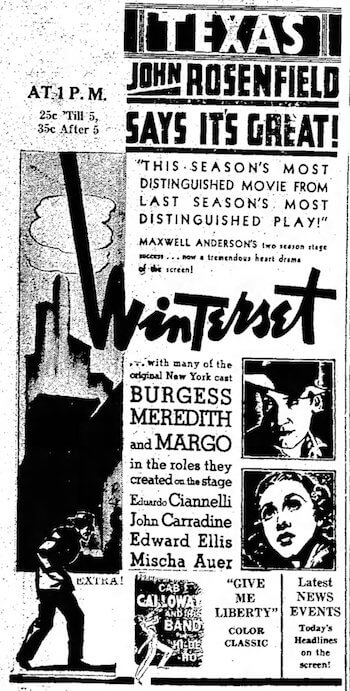 Ads for "Hi De Ho" in Fort Worth Star Telegram (March 20, 1937) and Denton Record Chronicle (March 31, 1937)
As a movie short, Hi De Ho is publicized as an "extra added attraction" to movie programs.
Most of the time, they read "Added: Cab Calloway", "Extra: Cab Calloway's Hi De Ho"… Sometimes, you may find a more "developed" ad for the movie like in the examples above.
One has even a wrong title: "The Hi-De-Ho Mystery Man" (Atlanta Constitution, May 9, 1937).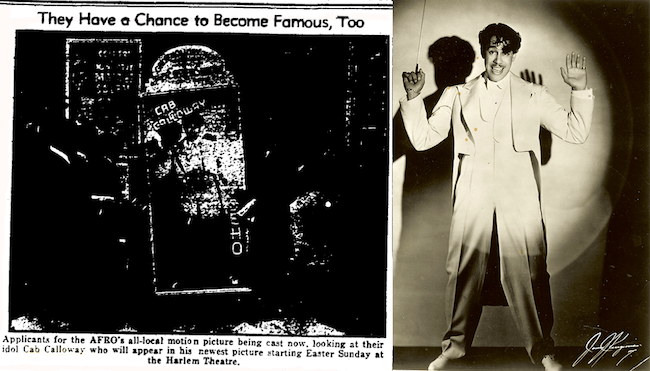 A lobby material (Afro American, March 27, 1937) and its original photo by James C. Kreigsmann
I've only found one instance of a photo of a theater lobby, which poorly reproduces one of the latest James C. Kriegsmann shots made for the opening of the new Cotton Club in Manhattan (September 1936).
---

What Cab is doing when the movie is released
When it's released on February 20, 1937, Hi De Ho still finds Cab Calloway at the Cotton Club for his most recent performances there, ending March 15 (Duke Ellington with Ethel Waters and the Nicholas Brothers will follow him). The previous evening he played at a monster benefit at Radio City Music Hall, even conducting the symphony orchestra usually led by Ernö Rapée: "I've always wanted to direct a symphony" he announced to the audience — as an echo to his lines in the movie. And right after that his band and Guy Lombardo's orchestra joined in "swinging an unrehearsed rendition of the St. Louis Blues in one of those madcap, every-man-for-himself orgies known in music circles as a jam session." (Afro American, Feb 20, 1937)
On February 21, at the Mecca Temple, he joins Benny Goodman, Isham Jones, Jimmy Durante, Stuff Smith, etc. a the benefit for Seamen. Starting March 18, Cab tours of the East coast beginning at the RKO Theatre in Boston, MA.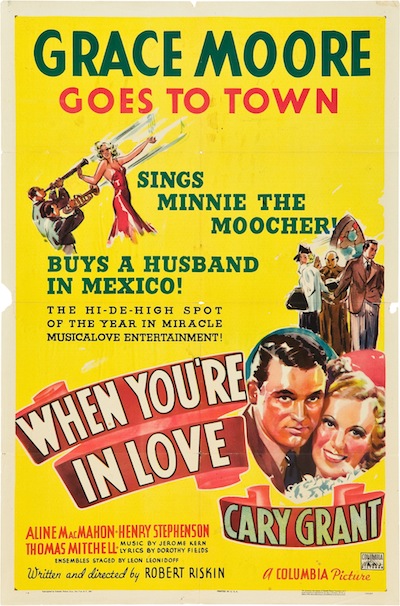 Minnie the Moocher gets featured billing with Cary Grant and Grace Moore!
When the movie's released, the soprano and actress Grace Moore is the star of the new movie "When You're in Love", along with Cary Grant, and sings a personal rendition of Minnie The Moocher that is billed on every ad and poster (see our article). Irving Mills will reprint the sheet music of the song with reference to it on the cover.


"When You're in Love" ad in Daily News, March 12, 1937
The movie "Sing Baby Sing" with Alice Faye and Adolph Menjou is top advertised with "Hi-De-Ho, What a Show!"… Martha Raye or Patricia Ellis are billed "Queen of Hi-De-Ho"… There's so much "hi-de-ho" everywhere around that a joke appears in syndicated press: "Be thankful for these hey-de-hi-de-ho songs. With this modern fast singing, you couldn't understand any other kind of words anyway."
Probably following the path of a Mills Co. press release, Daily Boston Globe dated March 19, 1937 writes, "Cab Calloway is an actor as well as a musician, a singer as well as a conductor."
Irving Mills, as a relentless agent, declares to Hollywood Reporter (Feb 23, 1937) that he "will bring Cab Calloway and his orchestra to the coast for an indefinite stay early this summer. The Mills organization has already started working on picture possibilities to augment the colored maestro's nightclub work while in Hollywood." Next summer, Cab will indeed make a movie for Hollywood movie makers Republic Pictures. But… he will shoot his sequence in Brooklyn at the Vitaphone studios. The Hi De Ho Blog tells you the whole story of Manhattan Merry-Go-Round (read our article). And Cab won't be back in the Hollywood studios before January 1943 for Stormy Weather…
High esteem in reviews
Hi De Ho is just one of "these one-reel canned performances (…) specifically designed for smaller theaters that offered no live stage acts." (New York Times critic Bosley Crowther quoted in "Hollywood on the Hudson") Hence, it doesn't get much attention from the critics, except in the trade magazines.
Hi De Ho is released on February 20, 1937; "a short month, but it's a big month for Warner Bros." says the trade ad. Indeed, no less than nine short movies are released simultaneously; six are only one-reel and Hi De Ho is one of them.
All the reviews of the movie are favorable and point to the fact that it's a subtler "short subject", well directed and played. But none of them notices the actors, Billboard even writes, "Cab's singing is the high spot of the piece" (Feb 27, 1937) and Film Daily (Feb 20, 1937) sub-titles its article "Autobiographical".
"A well-produced and executed fantasy (…) tastefully directed. (…) It should be very favorably received." (Motion Picture Daily, Feb 26, 1937)
"Band in total flashed on at the finale, with Cab leading them in a hot session. From the musical standpoint work of the ensemble, comprising 14 men and the leader, is good, particularly in that the wild hotcha stuff is restrained." (Billboard (Feb 27, 1937)
Amidst this chorus of praise, the director of a New Jersey prison gives his own opinion about the movie in the Motion Picture Herald: "Too much Cab"!
As proclaimed in early advertisings, Vitaphone "links Broadway to your theater." The opportunity afforded by a short movie like Hi De Ho to see and hear such artists as Cab Calloway "continued to give the audiences in small towns where the big name bands are seldom heard except over the air some notion of the range of musical entertainment currently available in the big city." ("Hollywood on the Hudson")
The details you didn't notice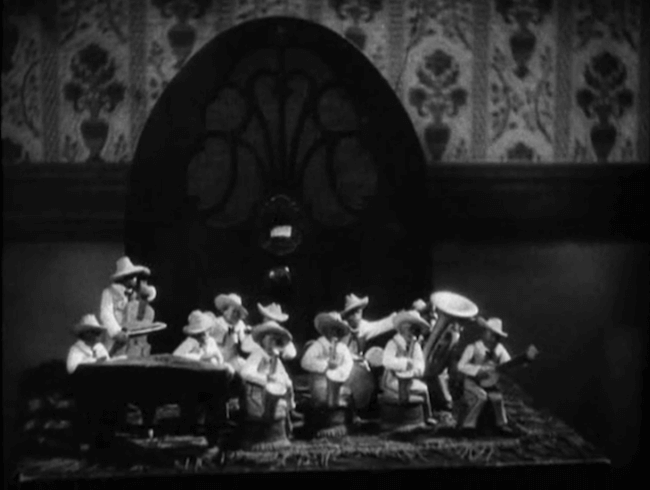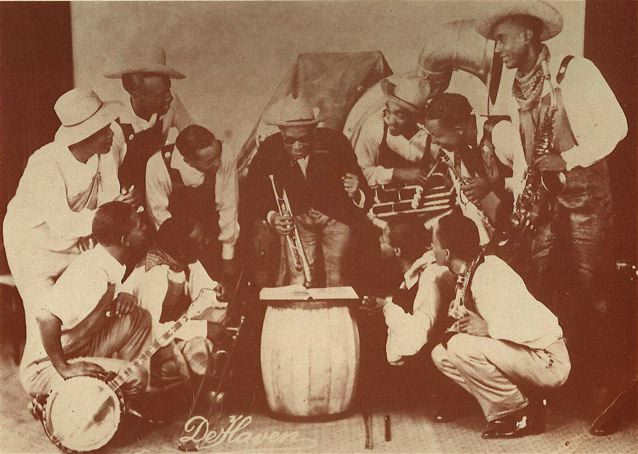 • The miniature band at the beginning of the movie: a small rendering of what the Cotton Club orchestra looked like in the late 20s, years before they became the Missourians and Cab's band (at 00:00)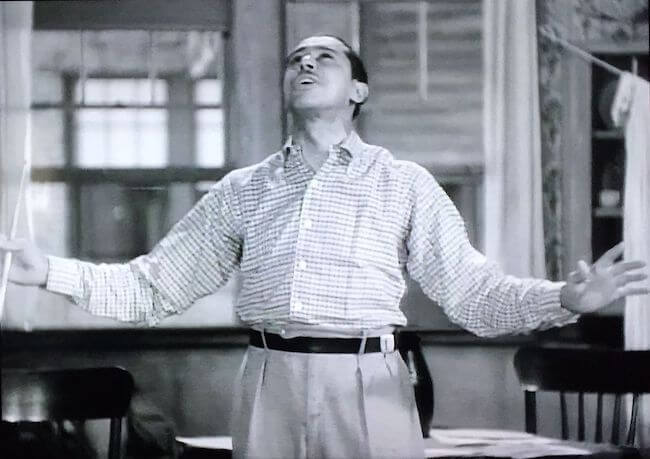 • The beautiful belt Cab wears with the buckle on the side (2:33)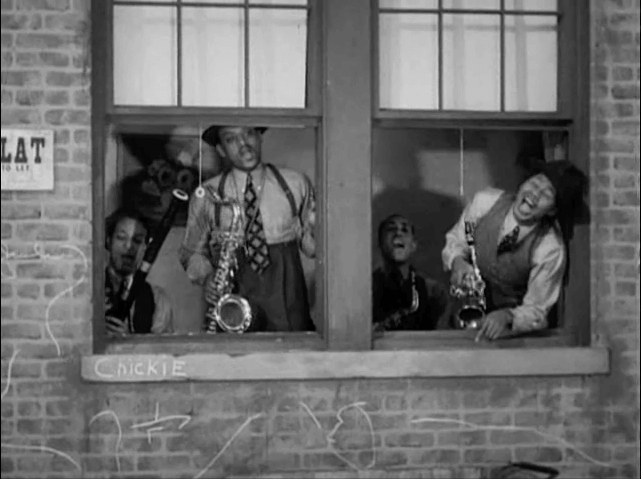 • The bassoon played by Garvin Bushell (5:03). Next him are Ben Webster and, in the next window Andrew J. Brown and Walter Foots Thomas
• This is the first filmed appearance of the new bass player in the band, Milt HINTON, replacing Al Morgan, who had decided to stay on the West Coast, along with Eddie Barefield, after The Singing Kid shooting experience.
• The solo that Ben WEBSTER never had a chance to play! Indeed, during his stay with Cab, Webster, appeared in one feature movie (The Singing Kid, 1936) plus this short film, but soloed nowhere…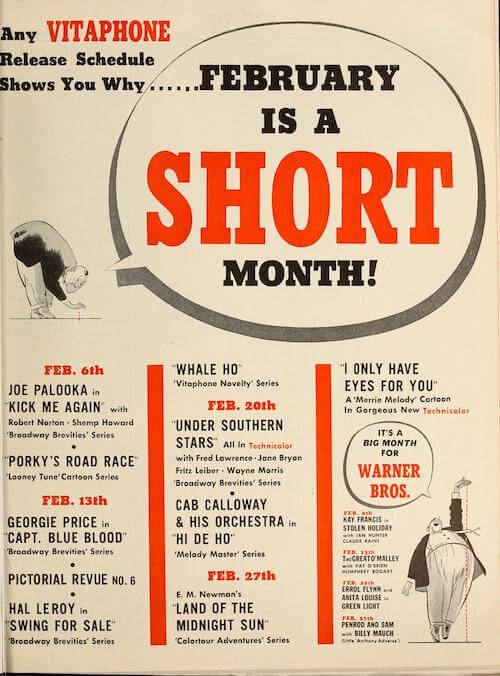 Trade advertising in Motion Picture Herald, February 1937
A forgotten Vitaphone short movie
In the memory and knowledge of jazz aficionados, this Hi De Ho movie is almost forgotten, with the exception of the final sequence, even if what's available online is poor (except for the nice print of the copy presented here). The choice of the title didn't help and it's often confused with the 1934 movie and the 1947 one, thrice named Hi-De-Ho!
Among the thousands of Vitaphone movies, this Vitaphone #2078 is just one of the incredible batch of gems that provide testimonies on what people watched and listened to in movie theaters. For the Cab Calloway fans, and now for the legitimate theater fans, this Hi De Ho is a miracle!
Note that beside a couple of poor uploads on the Internet, Hi De Ho has only been officially released on DVD as an added bonus on the 2008 Warner Brothers Home Video of "Black Legion" (1937) starring Humphrey Bogart. This could also explain the lack of interest and knowledge about it.
Let's hear what Alyn SHIPTON described so well in Cab's biography: "More than any film appearance up to this point, Cab's own performance shows why he was such a charismatic front man for the band, and it certainly explains why the Cotton Club had been so eager to reengage him for its downtown debut."
A question of race arises in 1937, and is partly answered in 1943
Thomas Cripps in his book "Slow fade to black: the Negro in American film, 1900-1942" helps us to conclude this article:
"The work of bringing Negroes to the screen was put into the hands of Vitaphone's dance director, Roy Mack, who had never done a complete movie, and Joseph Henabery, who had a long, dull career that ended in the jerry-built Columbia studio. As a result, black shorts received scant acclaim, awards, or measurable audience attention. Even when audiences enjoyed them, there was always the threat that Negro style might, in the wrong hands, lapse into racist cliche. They became a haven for the waning stars like Nina Mae McKinney and Stepin Fetchit. On the one hand critics ignored them; on the other, black audiences seemed to find little of substance under their musical surfaces, at least in comparison with the Hollywood feature films."
Columnist Alfred A. Duckett in the African American newspaper New York Age notices:
"There was a short of Cab Calloway down at the RKO Alhambra this week that seemed to drag more customers from the sidewalks than the featured picture playing at the time. One of the outstanding parts of it showed Cab in a street scene singing in his own inimitable manner that classic of his, 'Frisco Flo.' We think he ascends heights of whatever he does in that song. (…) But the thing that seemed to us most important about this short was the fact that it aroused an old pet question in our mind: if the big companies can put over shorts featuring star entertainers of the Negro race, why can't they see the feasibility in making full-length pictures starring them in worthwhile parts. The shorts go over with a band with white and colored audiences alike. There's no getting away from it, White people who are really entertainment conscious reluctantly admit that the Negro is superior in many fields of entertainment and high jinks. But of course the disregarding of the gold-mine there is in a fair and true presentation of the Negro in the flickers is just another charming Hollywood pixilation." (May 15, 1937).
Duckett was so right that Cab had to wait until 1943 and Stormy Weather to get a chance to shine on his own on screen, and among an array of some of the greatest performers of that time.
---
Sources:
Anthony BALDUCCI, Critics sing praises of Moss and Frye, Anthony Balducci's Journal, 2015
Will BALTIN, "Roy Mack - Another New Brunswick Boy Who Has Made Good", The Central Jersey Home News, May 23, 1937
Garvin BUSHELL, Marc TUCKER, Jazz From The Beginning, Ann Arbor, University of Michigan Press, 1988
Thomas CRIPPS, Slow Fade To Black: the Negro in American film, 1900-1942, Oxford University Press, 1977
Eddy DETERMEYER, Rhythm is Our Business: Jimmie Lunceford and the Harlem Express, Ann Arbor, 2006
Dan DIETZ, The Complete Book of 1930s Broadway Musicals, Rowman & Littlefield, 2018
Jan EVENSMO, The Trumpet Of Irving "Mouse" Randolph, 2015
Ted GIOIA "Being Cab Calloway, The musician behind the performer", The Weekly Standard, November 1, 2010
Ron HUTCHINSON, The Vitaphone Project website
Bon INMAN, Swing Era Scrapbook, Scarecrow Press, 2005
Richard KOSZARSKI, Hollywood On The Hudson: Film and Television in New York from Griffith to Sarnoff, Rutgers University Press, 2008
Dr. MACRO, Vitaphone and WB Shorts, High Quality Movie Scans, website
Burns MANTEL, The best plays of 1936-37, Dodd, Mead and Company, 1937
PAGHAT The Rat Girl, Hi-De-Ho, Wild Realms Reviews,
Alyn SHIPTON, Hi-De-Ho, The Life of Cab Calloway, Oxford University Press, 2010
Marshall and Jean STEARNS, Jazz dance: the story of American vernacular dance, Da Capo, 1994
Maurice TERENZIO, The Soundies Distributing Corporation of America: a history and filmography of their "jukebox" musical films of the 1940s, McFarland, 1991
---
Another batch of thanks to Keller WHALEN
for his support, help, and enthusiasm all-along the process of this article!
---