Lammar WRIGHT (1905-1973) was an incredibly talented trumpeter who played in Cab's orchestra between 1930 and 1944. He was one of the Missourians when Cab grabbed the band.
Wilmer WISE (born in 1936) is another incredibly talented trumpeter, who has been playing in many fields, from big bands, Broadway pits, philharmonic orchestras, to rock and soul studio groups.
We were honored to meet and interview him in October 2011 about his bandstand friend, Lammar Wright with whom he worked between 1956 and 1967.
N.B.: The text between brackets [e.g] or in italics is ours.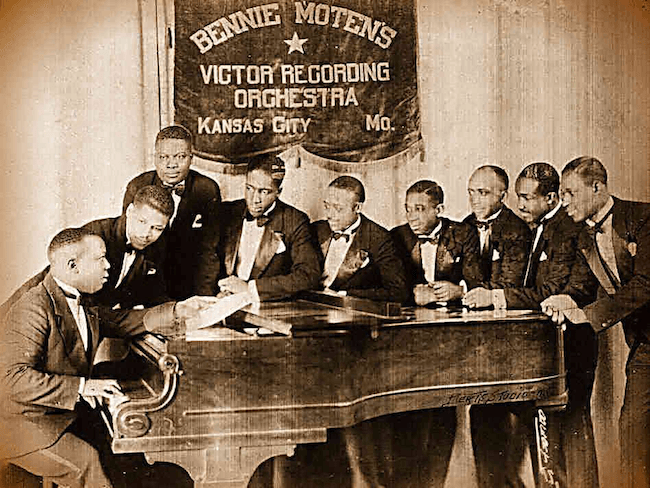 Lammar Wright (3rd from left) in Bennie Moten's orchestra, Kansas City, 1923.
Born in Texarkana, Texas, on June 20, 1905, Lammar Wright is a member of the Kansas City band of Bennie Moten, between 1923 and 1927, often praised as the "best player" in the band. His style is full of searing, stabbing immediacy, with a straightforward sharp sound.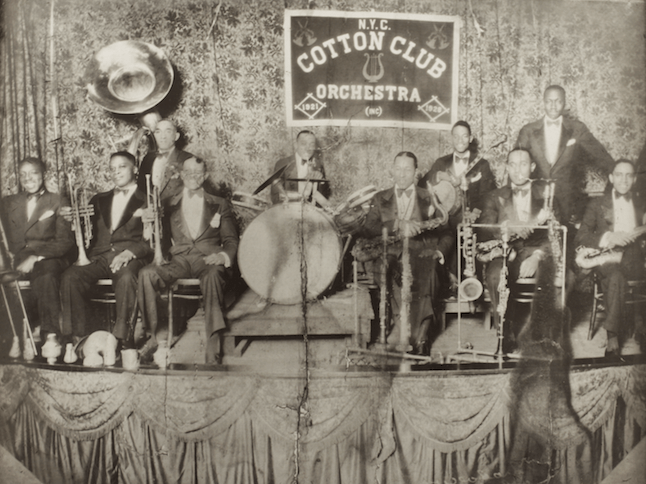 The Cotton Club orchestra in 1926 (Lammar Wright is 2nd from left)
In 1927, he joins Andy Preer's Cotton Club orchestra, which soon becomes the Missourians. In 1930 the band is taken over by Cab Calloway.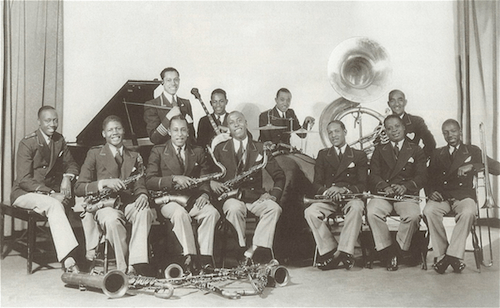 Cab Calloway and His Missourians (Lammar is 3rd from right)
He then continues as the lead trumpet until January 1940 and then rejoins Cab's band sporadically until January 1944. Afterwards, Lammar performs with Don Redman, Claude Hopkins, Cootie Williams, Lucky Millinder, Sy Oliver, and freelances with Perez Prado, Sauter-Finnigan, and regularly with the George Shearing big band or the Apollo Theater pit orchestra.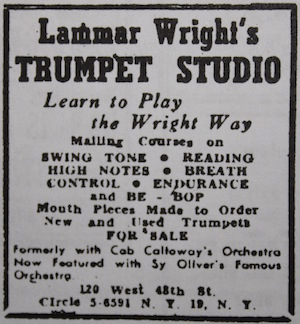 Ad for lammar Wright Trumpet Studio, "Lear to play the Wright way"
(Oct. 18, 1947 - NY Amsterdam News)
In the fifties, he teaches trumpet in New York and is recognized as one of the best. He would even appear in the film "The Night They Raided Minsky's" in 1968.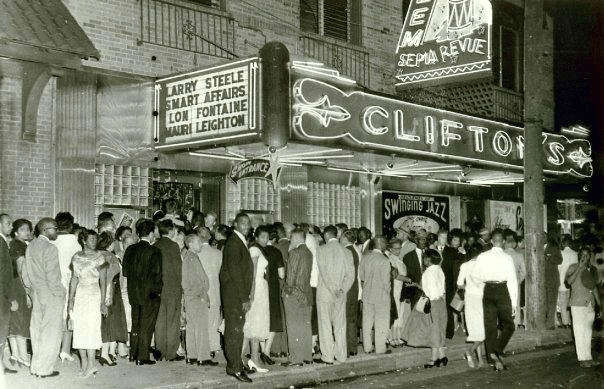 The Club Harlem in Atlantic City, NJ
During the sixties, Lammar Wright played each summer at Atlantic City's Club Harlem, in the Johnny Lynch orchestra. Along with the chorus line and comedian Slappy White, the band was permanent and backed the many artists who appeared there: Billy Eckstine, Nat King Cole, Una Mae Carlisle, Milt Buckner, Maurice Rocco, Ray Hamilton, Sarah Vaughan, Lou Rawls, Sammy Davis Jr., Billy Daniels, etc.
Both of his sons, Lamar, Jr., and Elmon, were members of the Dizzy Gillespie big band in the late 1940s.
Lammar Wright died in New York City on April 13, 1973.
---
WILMER WISE: "I was playing every kind of music: classical, big band. Johnny Lynch offered me the job for 10-12 weeks in the summer and every major black act played that Atlantic City club: Sammy Davis, Billy Daniels [with Benny Payne – who, according to Wilmer Wise played piano in "The Wiz" , 1975], Billy Eckstine. I first met Lammar while playing there. But I knew him from the records before because I did my homework!"
Cab Calloway's orchestra in 1941, Panther Room, Chicago.
In the trumpet section, Lammar Wright is between Dizzy Gillespie and Jonah Jones
"The first time I've met Lammar Wright, I was like 19-20 years old so I think of him as a very, very old man. And even then, it was 1956 or '57. He would have been nearly 50 years old. He was such an icon to me and such a fascinating character. And probably one of the most perfect trumpet players I have ever encountered. He didn't pop up the cheeks, he didn't do like Dizzy Gillespie. He played perfectly like he was playing in the NY Philharmonic. So I was just blown away by that."
"Lammar played perfect as the best lead trumpet as I've ever encountered. Lammar led by example. It was educational seating next to him in a big band. Next to Lammar was Johnny Coles, great jazz player, so for me it was just like going to Grad school. [Nevertheless,] Lammar and Johnny COLES used to have farting contests. Smelled like hell! The bandleader was also a trumpet; it was Johnny Lynch: he was the lead trumpet player with Dizzy's band. He played the lead on "Things to Come," "Manteca" and all."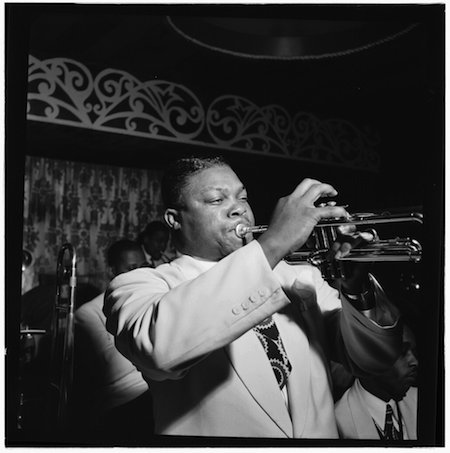 Cat ANDERSON (photo by William P. Gottlieb)
During that summer, the band in the front was Cat Anderson's. We played the closing number and Cat opens the door. When Cat hears Lammar Wright he refused to play for 20 minutes because of the comparison. Lammar was a tremendous trumpet player but the young guys don't know about him. I was blessed to know him: he was my musical father.
---
Johnny Lynch Orchestra, Club Harlem, Atlantic City (1967)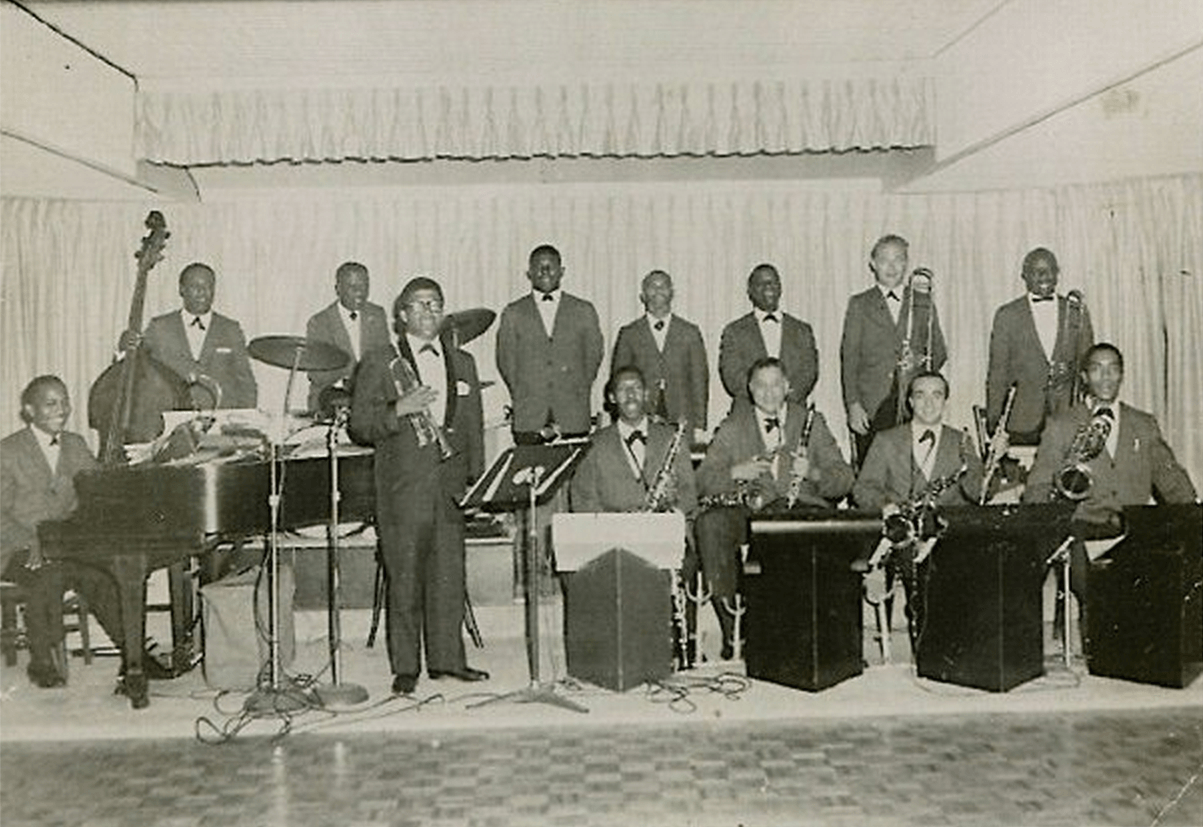 Johnny Lynch Orchestra in 1967 (ca), at Club Harlem, Atlantic City, NJ
Wilmer Wise is 5th from the left; Lammar Wright is 9th.
Piano: William 'Bill' CAMP, local player.
Bass: Jimmy MOBLEY
Drums: "Bill MILTON, played with Ellington and shared Elvin Jones' chair. He died on opening night a few years later during a drum solo."
Trumpet and bandleader: Johnny LYNCH
Trumpet: Wilmer WISE
Trumpet: Johnny COLES
Lammar WRIGHT: lead trumpet. "And to tell the truth he was the leader of the band."
Trombone: Bill HESKETH, local guy
Trombone: Rufus WAGNER
Alto Sax: Arthur DANIELS
Lead alto player: Leon Zach ZACHERY, former Lionel Hampton.
Tenor Sax: Sal…
Baritone Sax: James HUNTER
Arrangers: Bobby BRYANT, Chippie SALON – great copyist.
"There was a time when there were just 2 trumpets, Lammar and me. This photo is probably from 1967."
---
"The orchestra sounded great, especially when Lammar played: people stopped drinking, eating, dancing, talking and watched Lammar play. Even showpeople, showgirls came to listen to Lammar.
[At the Club Harlem], we had the most hideous band jacket. With the strangest fabrics ever used. But it was our uniform. John had a tuxedo but we had this uniform. Depending on the hygiene of the players, at the end of the season… but we won't talk about that!"
"I worked with Lammar for 6 or 7 summers. Lammar used to also came to Philadelphia at the Uptown Theater, which had a similar format to the Apollo. He would play gigs there. Lammar was a good reader and a reliable person. That was always a problem with lots of guys: many were good readers, but due to the drugs or alcohol, they would not show up. And Lammar was always reliable in that aspect."
"He acted like a big brother or father with me. He seemed to be a very clean guy compared to many other guys who chased the girls. I'm pretty sure that you couldn't play the way he did if you'd chase the girls all night long!
He didn't talk about his sons [Lammar Jr. and Elmon] because they had drug problems. They did everything that he didn't do. He only had an occasional drink. He was a wonderful example of what a mature adult had to be."
Since I was the kid, Lammar would talk about the good old days with the old guys, like Johnny Lynch.
Lammar was very impolite, always with a twinkle in his eyes. So I can imagine what the [Cab Calloway] trumpet section might have been with Dizzy, Jonah Jones and Lammar. Lammar actually claimed that it was he who threw the famous spitball [that caused a fight backstage between Cab and Dizzy. The latter used his knife and got fired instantly. This happened in September 1941 at the beginning of what was going to be named Be Bop]. In fact it was Jonah.
Over the years I've met many of Cab Calloway's musicians. And they all loved the band and Cab. He treated them like adults, human beings. When Cab appeared at Atlantic City I could see the admiration between Lammar and Cab. Benny Payne was the music director for Cab when he came to the Club Harlem, mid sixties. I'm not sure.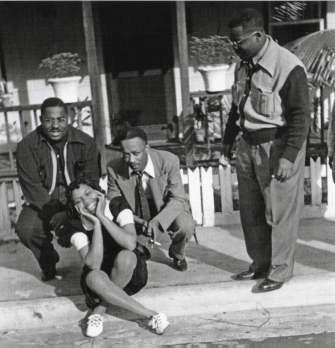 Lammar with Chu Berry and Dany Barker (photo by Milt Hinton, 1940)
I don't think Lammar ever mentioned Chu BERRY [even though Lammar was involved in the accident: Andy Brown drove Lammar's brand new car].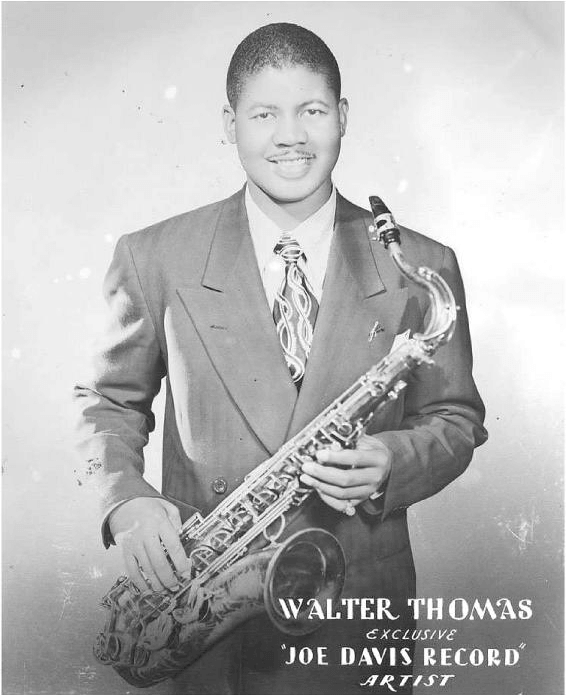 Walter Foots THOMAS
Walter Foots THOMAS was one of the guys I've met when I moved into NYC. At that time he was booking musicians, so he was a very important person to know. After Foots passed away, Mona Hinton did some booking.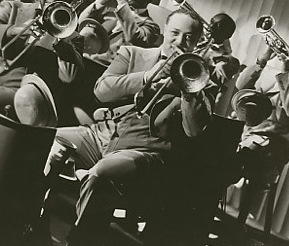 Quentin JACKSON
I did "Guys and Dolls" (1976) on Broadway and Quentin JACKSON was there in the pit. He passed away during the run of that show. That was a tragic show because another musician died during the run: the French horn Julius Watkins. Both were replaced by young kids. Janice Robinson took Butter's chair. Quentin was quite a player and a character.
[Between June 23 and July 10 1967, Cab Calloway was the star at "Larry Steele's Smart Affairs of '67".]
When I worked with Cab Calloway he seemed to be a star with all the attitude: he expected his musicians to play beautifully. He was just a regular guy, he was the boss.
What was Lammar's sound? Individual sound, he told me he worked with Louis Armstrong big band and in Europe – that's were he smoked the reefer for the first time – and Louis was a very major influence on solo playing. His section playing is uniquely his and special.
SOUND: Lammar's Boogie
"Lammar's Boogie", recorded in 1944 is a feature tribute to Cab's eldest trumpeter in the orchestra.
+ 1947 version by Sy OLIVER
Lammar had the same teacher that Cat ANDERSON had, John or William CASTELLO.
Lammar gave advice on how to play and read music. [Unlike] the bandstands in classical orchestras, the bandstands in jazz bands are lower. He was one of the most precise trumpets I've ever met.
Below is a rare feature number by Lammar Wright in Cab's band: "Estrellita", à la Harry James. Specialist on high notes, Lammar has a very recognizable sound Wilmer identified instantly.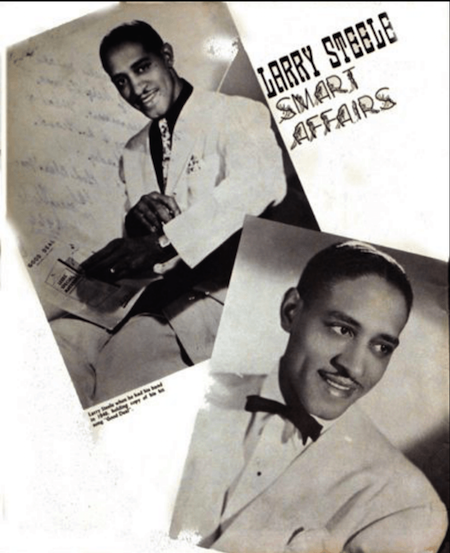 Larry STEELE.
Larry STEELE [from Club Harlem and creator of the famous revues "Larry Steele Smart Affairs"] travelled with Lammar every year. Lammar seemed pretty happy with his professional life: he didn't stop playing.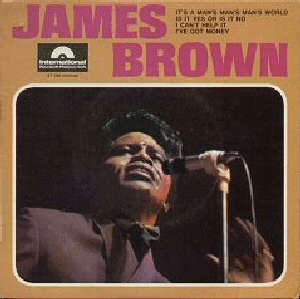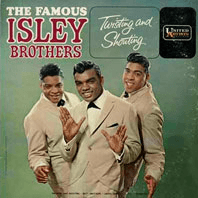 Some of the famous records Lammar WRIGHT contributed
Lammar remained active in the last years; I know there was a show named "Purlie" (1970) where Dud BASCOMB ["Others speak of him as a player who should have had a permanent place with Duke Ellington", in Stanley Dance "The World of Swing"] was the first trumpet player. They were friends and Bascomb asked Lammar to sub for him. It was in 1972 I think.
[Lammar and Dud appears together in the famous Isley Brothers "Twist and Shout" , James Brown "It's a Man Man's World" arranged by Sammy Lowe and Is It Yes Or Is It No? [Bascomb died in December 1972].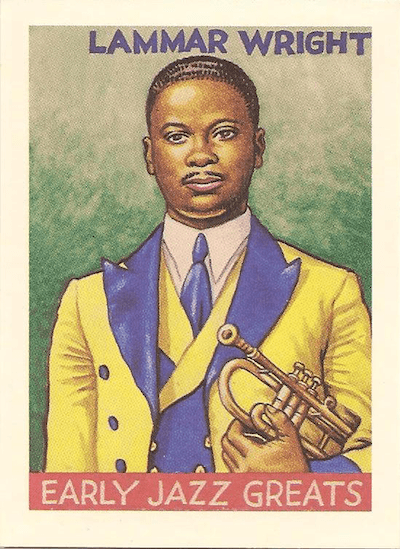 Robert CRUMB's tribute to Lammar Wright
in his "Early Jazz Greats" card series (Yazoo Records, 1982)
Lammar Wright died on April 13, 1973 in New York City.
Today, you can still enjoy the playing of Wilmer Wise for a Haydn concerto or at Dizzy's Club. He remains an open book for the young trumpet players, long hair or jazzmen. But first, Wilmer is a very nice person. A gentleman Lammar would be proud of.
---
Sources and references:
• Wilmer Wise interview by Jean-François Pitet, in New York, October 12, 2011
About Wilmer WISE:
• About Lammar WRIGHT:
John CHILTON, Who's Who of Jazz, Da Capo Press, 1985
Stanley DANCE, The World of Swing, Da Capo, 1974
Dave OLIPHANT, Texan Jazz, University of Texas Press, 1996
Frank DRIGGS, Chuck HADDIX, Kansas City Jazz, Oxford University Press, 2005
• About Club Harlem and Atlantic City:
---
Many thanks to Wilmer WISE for his kindness, talent and wisdom.
Thank you Keller WHALEN for your help on the translation.