Among the cameos Cab Calloway did in several movies, this one for Manhattan Merry-Go-Round remains quite obscure and barely appears in people's minds when talking about jazz on screen. Yet, this short sequence within a mediocre "filmusical" produced by the low budget Republic Studio is in fact interesting for jazz and dance fans: the song, the music with a great tenor sax solo by Chu Berry in his only known filmed appearance and the Lindy Hoppers gyrations plus the peculiar advertising for the movie make it worth some attention. The Hi De Ho Blog tells you everything we know about it!
Within a few years, Cab Calloway appeared in several feature films in a musical number. The first one, The Big Broadcast of 1932, was soon followed by International House (1933) with the very same kind of sequence, inserted between scenes, in a studio booth… A nice addition filmed the same way both times. Those scenes were shot in Astoria, Queens. Then came The Singing Kid with Al Jolson, filmed in Hollywood in 1936. Cab had multiple scenes with the movie hero, interacting with him, even duetting with him. A year later, Republic pictures producers asked Cab Calloway to be part of another musical movie, Manhattan Merry-Go-Round.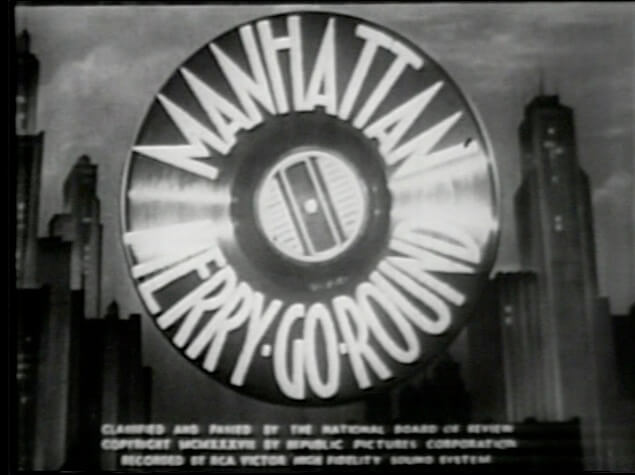 Opening titles of the movie
A plot as a pretext for music
The storyline of Manhattan Merry-Go-Round is rather short and clear: "Gangsters take control of a record company and use tough guy tactics on unwilling performers."
The film was adapted from the popular music variety program that debuted on the NBC Blue Network on November 6, 1932. It's another movie whose scenario is a pretext to get several guest artists to move the plot along.
Joe Di Maggio, who sings a few words of "Have You Ever Been in Heaven" (Sam IRVIN: "Di Maggio may have been one of the greatest baseball sluggers in history, but on the movie soundstage, he struck out big-time. Even though he only had a few lines of patter, it required twelve takes to get something remotely usable."). Yet, Di Maggio met his first wife on that same soundstage!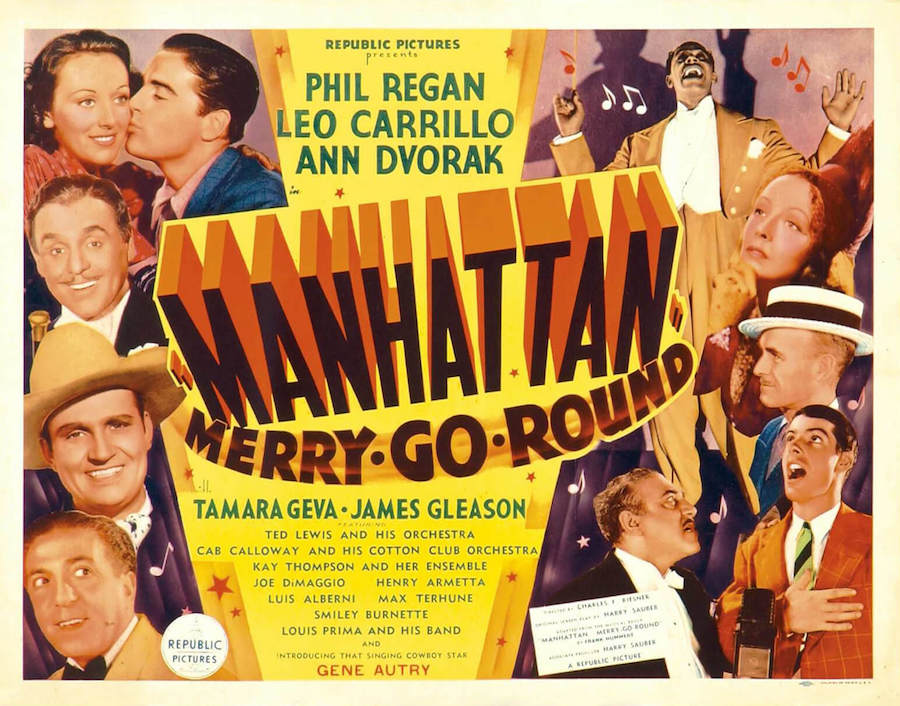 Lobby Card for Manhattan Merry-Go-Round
A cavalcade of stars
"Music comes from such masters as Ted Lewis and his band, Kay Thompson and her Rhythm Choir, and the inimitable Cab Calloway and his Orchestra. They fill out the chinks with melody and harmony, and introduce some new numbers that are sure to be sensational." (The News, December 31, 1937)
Among the music artists who appear on screen are (by order of appearance):

A rare movie still of Louis Prima precisely ON the merry-go-round.
Louis PRIMA in his third movie appearance (but almost out of frame), with Jerry HART: "I Owe You"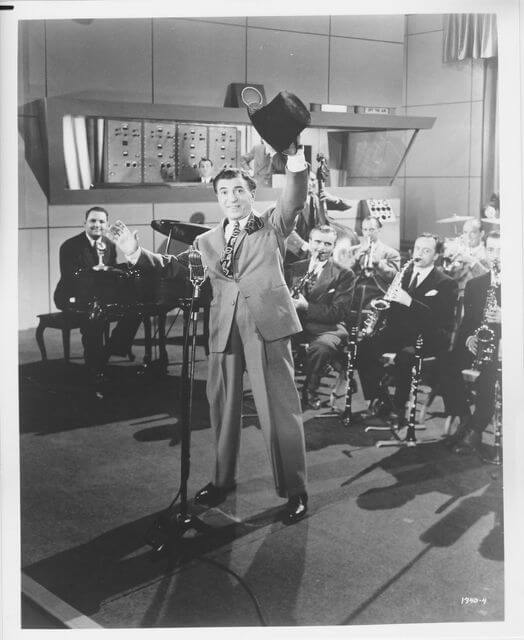 The popular Ted Lewis and his band in the studio booth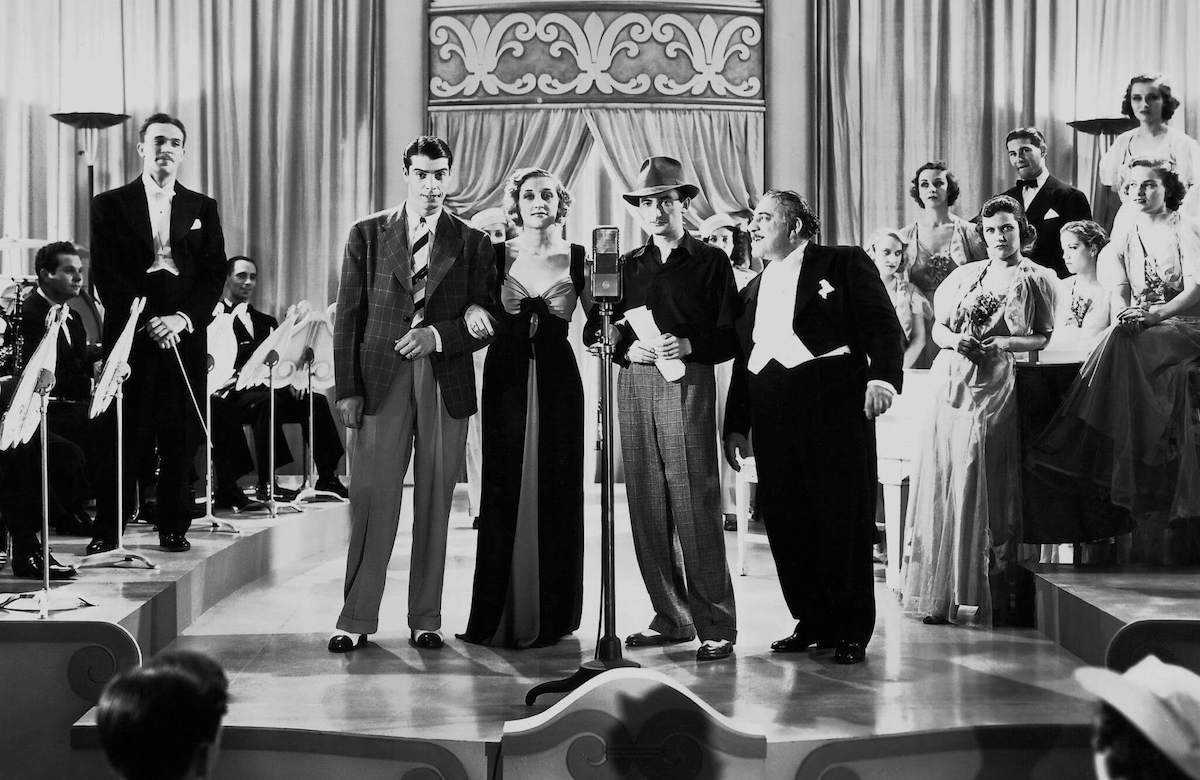 Singer Kay Thompson, with baseball player Joe DiMaggio, the director CHarles Reisner and comedian Henry Armetta.
Far left, the conductor is Kay's husband, Jack Jenney.
Kay THOMPSON and her radio choir, backed by Jack JENNEY (Kay's husband, vaguely discernable, conducting) and his orchestra: "All Over Nothing At All", "I Owe You"
Cab CALLOWAY (26th minute of the movie): see below for details.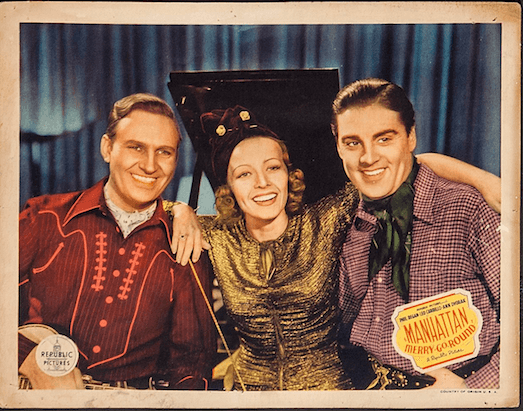 Phil REGAN: "Have You Ever Been in Heaven?"
---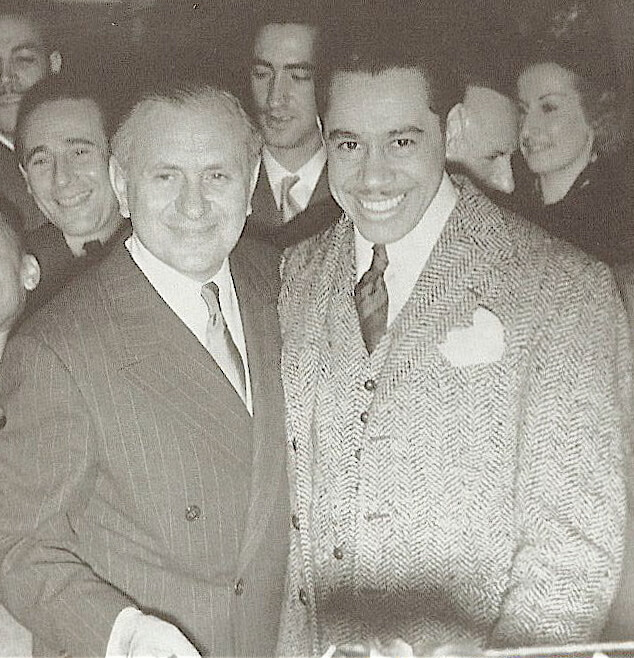 Agent and producter Irving Mills and one of his protégés, Cab Calloway (April 29, 1937)
A marketing campaign rather than just a cameo
Alyn Shipton in his biography of Cab Calloway perfectly explains the business context for our man: "Irving Mills's continuing marketing campaign was to give [Cab Calloway] some additional ways of grabbing public attention in the early months of 1938. Most important, in terms of national fame, the strategy of making regular movie appearances means that Cab was now to be seen in full-length features as well as short subjects." And Manhattan Merry-Go-Round was part of this strategy. And, indeed, like Ralph Matthews pointed out in 1937 (Afro-American, Oct 23): "A pronounced liberal trend in the attitude of Hollywood toward colored artists in the recent releases of the major film companies has been noticeable in recent months, with the production schedule indicating that there are bigger and better things to come" (…) "showing that Hollywood is becoming more conscious of the colored market." The columnist cites the recent Louise Beavers (Imitation of Life), Bill Robinson (in Shirley Temple movies and One Mile from Heaven with Fredi Washington), Louis Armstrong with Bing Crosby and Martha Raye, Ivie Anderson in the Marx Brothers movie, A Day At The Races, Cab with Al Jolson in The Singing Kid, Duke Ellington in Hit Parade and Fats Waller in The King of Burlesque. Also artists like Buck and Bubbles (Varsity Show), Tip, Tap and Toe in You Can't Have Everything, The Chocolateers (News Faces of 1937)…
Listing the coming productions not yet released, Cab is among the artists mentioned with the likes of Jeni LeGon and The Peters Sisters in Ali Baba Goes To Town with Eddie Cantor.
Sam Irvin in his book about singer and pianist Kay Thompson writes "Joe DiMaggio and the other guest stars in Manhattan Merry-Go-Round were all paid $5,000 each, favored nations." Could we assume that Cab Calloway earned the same salary, equal to almost $100,000 today?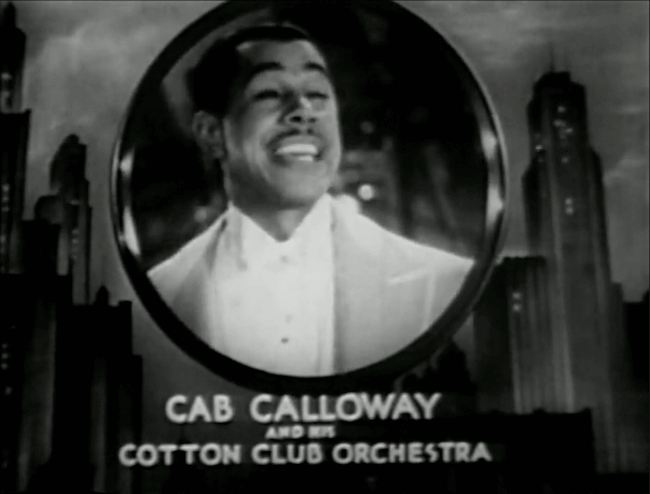 Cab Calloway as he appears in the movie's opening titles
A Hollywood movie shot in… the Bronx
Republic was not Paramount or MGM, but Manhattan Merry-Go-Round was one of their most ambitious projects to date. Yet, for singer Kay Thomson who was appearing for the first time on screen, "because the budget of the picture was poverty-stricken, (…) to save the cost of transporting her ensemble to Hollywood, her sequences would be filmed at the decidedly less glamorous Biograph Studio on East 175th Street in the Bronx. What's more, Kay's scenes were being relegated to an uncredited 'second unit' director named John H. Auer" (Sam Irvin, Kay Thompson: from Funny face to Eloise).
Pittsburgh Courier dated August 7, offers a slightly different explanation for the shooting on the East Coast, typical for a Mills offices press release: "Though the pending flicker is being filmed in Hollywood, the scenes predominated by the race will be done here so as to enable Calloway and other members of his cast to be on hand for development in making of the all-colored picture by the Mills' Artists Bureau here."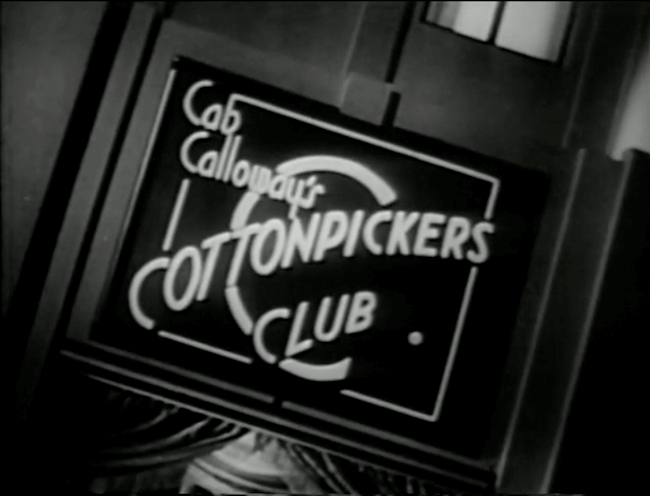 A fake name with a beautiful design.
Indeed, the shooting of Cab's sequence and all the specialty numbers are done between August 2 and 13 at the Biograph Studio. Cab has just been playing at the Harlem Apollo until August 5. In the evenings, Cab and his musicians are guests of several radio shows. One in particular, "Saturday Night Swing Club" is recorded CBS Studio n°1, on Madison Avenue, "with a small swing combination" "a small aggregation of his picked men": the newbie Chu Berry, Doc Cheatham, Chauncey Haughton, and Bennie Payne who sings: On The Sunny Side of The Street, Oh Lady Be Good (Payne used to sing many songs during the shows on tour and even recorded a duet with Cab on "There a Cabin in the Cotton"). So we can easily assume that Cab and his men were under the lights of the Biograph studio between 6 and 13 August. Film Daily dated August 6 indicates that the "start of regular production(s) scheduled for the 20th of this month" in Hollywood.
The Cab Calloway sequence:
---

One of the rare movie stills of the band, but its latest star, Chu Berry is hidden by the maestro!
(Australian magazine: Wireless Weekly, June 26, 1938)
A unique view of the band in the summer of 1937
Circulating copies of the film on Internet or even on bootleg DVDs are rather poor and the detail of the performers is blurred. Let's hope that someday Manhattan Merry-Go-Round will be properly restored and released. Nevertheless, during Cab's sequence taking place in an imaginary Cottonpickers Club (smart reference to the existing Cotton Club, isn't it?), you can spot in the band: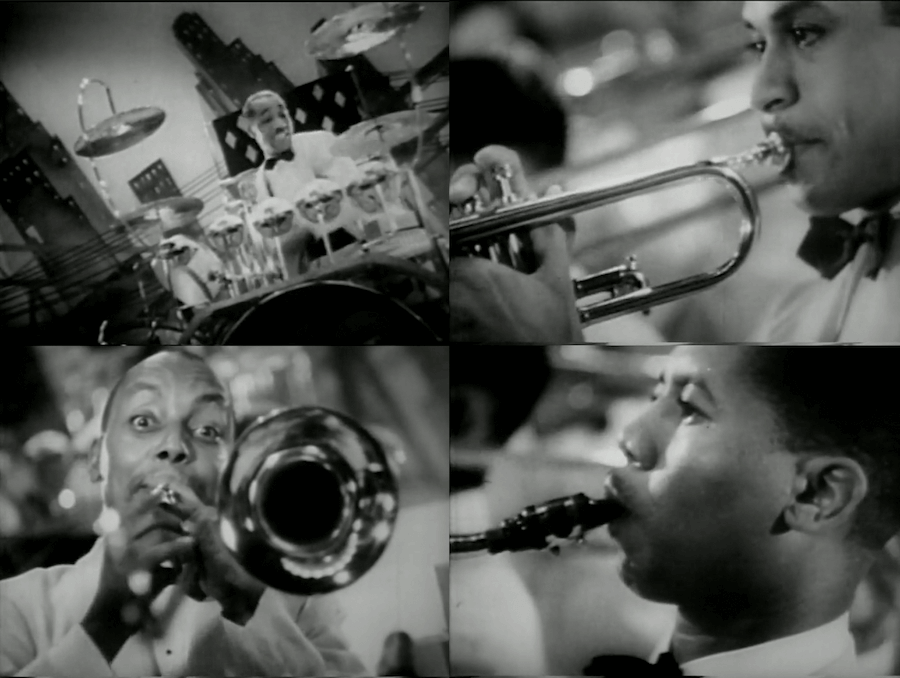 • Close frames of musicians Leroy Maxey (drums), trumpeter Irving 'Mouse' Randolph, Keg Johnson (trombone), and Walter 'Foots' Thomas (on tenor sax while it's Chu Berry that we hear).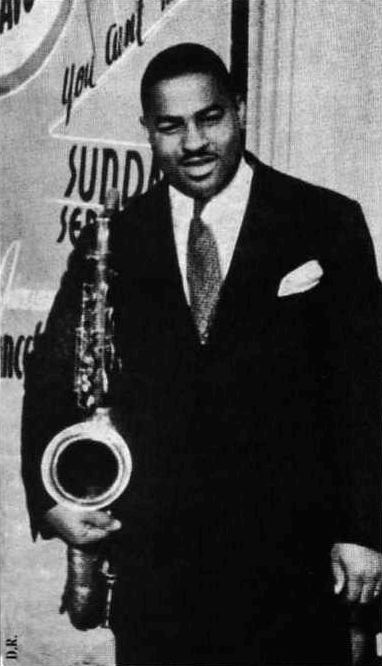 A famous cropped picture of Chu Berry, in front of the Savoy Ballroom, NYC
• The first and only known filmed footage of Chu Berry who just joined the band at the very beginning of August, succeeding Ben Webster on tenor. This scene offers a few views of him, just behind Cab Calloway, on the left of the sax section. You may notice that Chu also plays clarinet for a few bars during the verse before grabbing his tenor for the song and delivering a beautiful and long solo.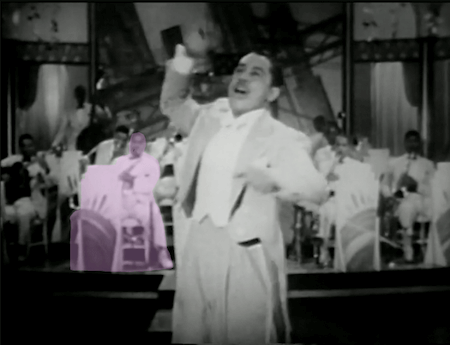 ---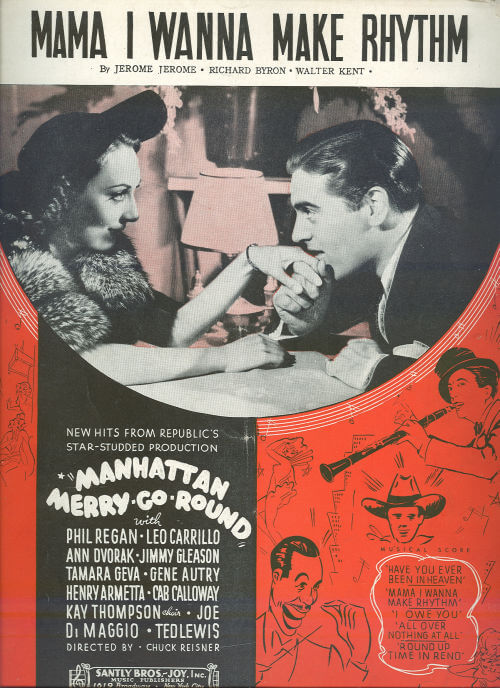 "Mama I Wanna Make Rhythm", a hit "dynamited by Cab" (as advertised)
Just before playing Mama, I Wanna Make Rhythm, Cab Calloway and His Cotton Club Orchestra play the ending bars of Minnie the Moocher, just to make sure the audience recognizes him! Most people would have only heard him on radio.
Mama, I Wanna Make Rhythm is a song created for the movie (and only copyrighted on Sept 24, 1937) by Jerome Jerome, Richard Byron (both not credited in the movie) and Walter Kent, the same team who provided Country Boy, and Love is Like a Cigarette, interpreted by Ivie Anderson with Duke Ellington (1936) -- also covered in 1997 by KD Lang -- and I Saw A Ship A-Sailing, (1937).
• Jerome JEROME (aka Richard Jerome, 1906-?) also wrote the historical Under the Woo Woo Tree with Walter Kent and with Richard Byron (both graduated from Cornell University) the following songs: I Wanna Know All About You, So Red the Rose, Over a Bowl of Suki Yaki, and Harlem Waltz.
• Richard BYRON (1908-?): composer of I'm Gonna Ask the Bobolink, A Portrait of a Lady, Moonlight Masquerade, and There's a Moon on the Mountain.
• Walter KENT (1911-1994) was born to a Jewish family – hence the lyrics probably – and was a former scholar from Juilliard. He had studied violin, architecture (several years of practice) but chose music and led his own orchestra playing in radio and theaters. His first song published was Pu-leeze, Mister Hemingway. Freelance writer for 13 movies (as far as 1943), Kent composed Who Dat Up Dere, I Just Kissed Your Picture Goodnight, I Never Mention Your Name, Too Much in Love, When the Roses Bloom Again, Apple Blossoms and Chapel Bells, I'm Gonna Live Till I Die, but he's best remembered for Blue Birds Over the White Cliffs of Dover (a WWII anthem, symbol of Allied resistance and hope) and the unforgettable I'll Be Home For Christmas.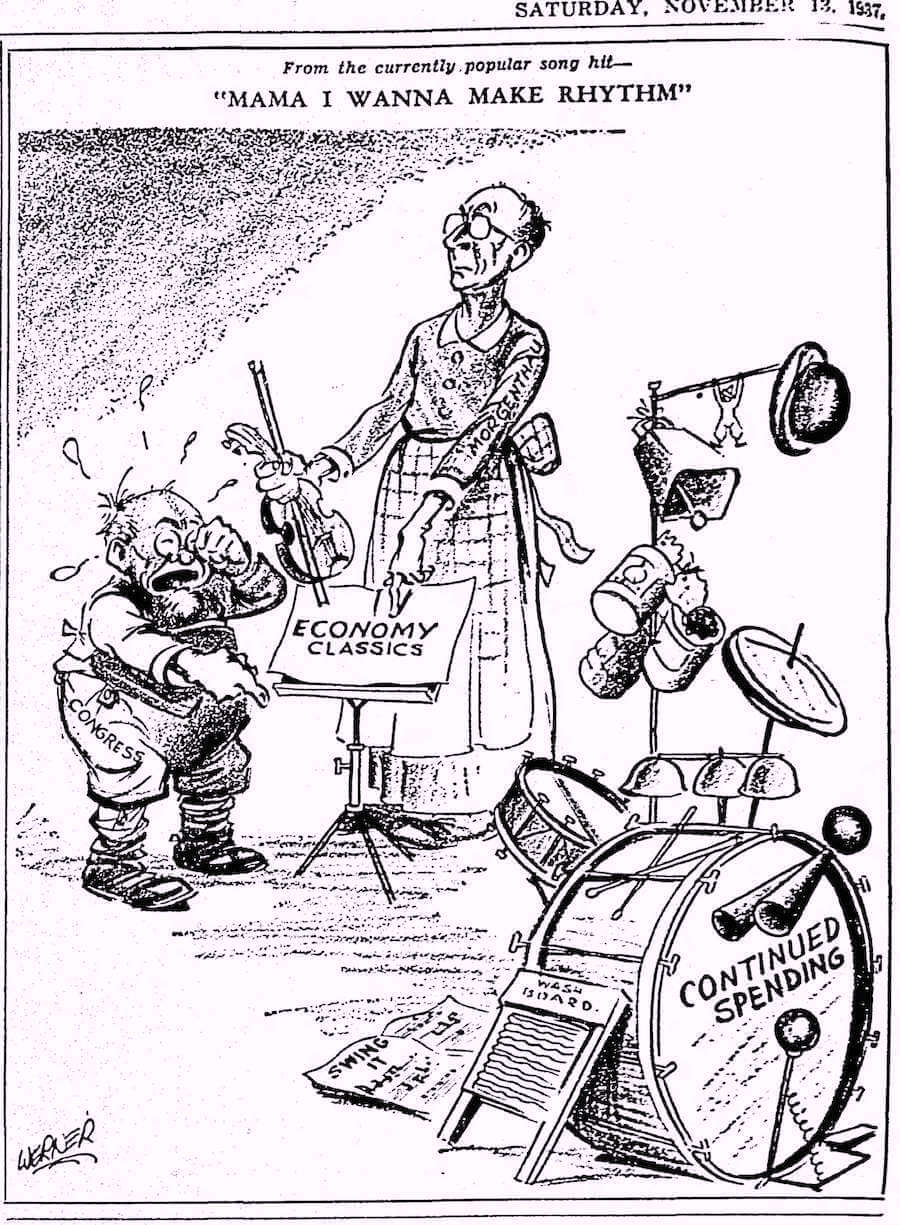 Cartoon by Charles Werner for The Daily Oklahoman (November 13, 1937)
The lyrics are a little bit "unusual" with a story that refers to Jewish characters:
Yasha was a prodigy, since he was a kid of three

He could play a rhapsody as good as they come

But as strange as it may be, Yasha hated melody

He had a yen for tympani, he longed to play a drum

When his Mother made him practice on the fiddle every day

He'd stop right in the middle and he'd say....

Mama, I wanna make rhythm

Don't wanta make music

Just wanna go zoozi-zah-zah-zoozi

Ooh-cah-dee-doodle-oodle-aah-doo

Mama, I wanna get hotcha

I wanta make boombah

I wanna go gah-gah

Za-rah-kah, zat-zow, ooh-dee-lah

I've got no desire to carry a Stradivarius, but

There's no limit of primitive tom-tom in my tum-tum

Mama, I wanna make rhythm

Don't wanta make music

Just wanna go wookee-ah-kay-a-kaya-kaya

Yag-a-yag-a-yag-a-yag


Some of Cab Calloway's "Jewish repertoire" on records and sheet music
Cab the cantor and the Jewish references
References to Judaism are quite numerous in Cab Calloway's repertoire, as highlighted by the wonderful CD box set Black Sabbath. Beyond the cantorish way of Cab's singing in Minnie The Moocher, several titles are indeed connected. Liner notes say that "Amongst pre-WWII Black entertainers, Cab Calloway was probably the best known Afro-Yiddishest. He mixed his own hepcat jive tongue-twisting with a constant flow of singing Yiddishisms on songs like "Tzotskele" (My Darling), "Who's Yehoodie" (a goof on Jewish violinist Yehudi Menuhin), "Everybody Eats When They Come To My House" ("Have an hors d'oeuvrey Irvy," Calloway offered his Jewish guests), "A Bee Gezindt" (where he shrugged "As Long As You're Healthy" alongside Dizziy Gillespie), and "Nain Nain" (which opens with Calloway riffing on My "Yiddish Momme")."
Cab Calloway and his orchestra recorded the song a few days after filming, on August 31 for the Variety label. Jan Evensmo in his extraordinary solography of Chu Berry estimates that the movie provides "an interesting version compared to the well known Variety recording. Both the solo layout and the musical details are quite different. The general impression is good but not remarkable."


Personel: Doc Cheatham, Irving Randolph, Lammar Wright (tp), Keg Johnson, Claude Jones, E.B. DePriest Wheeler (tb), Andrew Brown, Garvin Bushell, Chu Berry, Walter Foots Thomas (reeds), Bennie Payne (p), Morris White (g), Milt Hinton (b), Leroy Maxey (dm), Cab Calloway (vo).
Recorded in New York, August 31, 1937 (M 618-1)

A beautiful collection of sheet music, don't you think?
With his impeccable and prompt sense for business, Mills Artists sent Cab and his men to the studio booth to first record the debuting Cotton Club show score: She's Tall, She's Tan, She's Terrific; I'm Always in the Mood for You; Go South Young Man, and Hi De Ho Romeo.
Variety's record critic M. H. Orodenker in its October 16 1937 edition wows (for once) the new records:
"If you wonder about the sudden spurt in the sending emanating from Cab Calloway, cast the nod in the direction of Chu Berry, whose inspired tenor tootings has the Sultan of Scat jiving jeep for the swing symphonies. Calloway goes violent for Mama, I Wanna Make Rhythm, with the band catching the fever for a trilogy from the Cotton Club Show, Go South Young Man, She's Tall, She's Tan, She's Terrific, I'm Always in the Mood for You. Chu Berry making an auspicious debut thruout (sic) it all."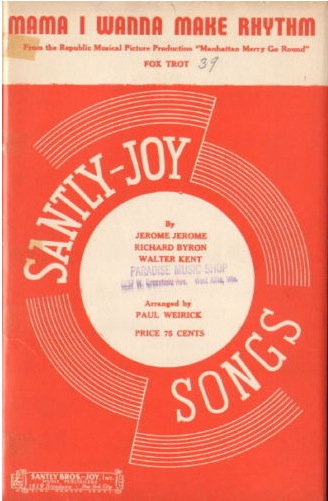 Band arrangement for "Mama, I Wanna Make Rhythm", proudly presented by Santly-Joy Songs.
As the movie press book states, The Santly Bros – Joy Music Publishing (located at 1619 Broadway, in the Brill Building, same address as Mills headquarters!) "pre-sold to millions and millions of radio listeners through direct plugs over Manhattan Merry-Go-Round radio programs".
Starting in early October 1937, Mama, I Wanna Make Rhythm appears in the middle of the Variety top "Songs with most radio plugs", ranked 13. Most of the songs at this time were originated in a movie, and Have You Ever Been In Heaven? also from Manhattan Merry-Go-Round is below in the same chart.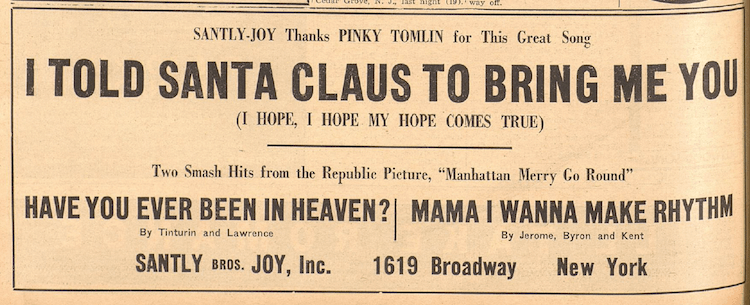 Variety, October 20, 1937
Maybe this early success is due to the idea of Irving Mills who sold "over 1,000 recordings of Cab Calloway's Mama, I Wanna Make Rhythm platter (…) to motion picture exhibitors to ballyhoo the forthcoming filmusical" (Billboard, Dec 4, 1937).
For the week ending December 27, the Vocalion #3788 record with Mama, I Wanna Make Rhythm, and Go South, Young Man is the 4th best sale on the label and the sheet music for the tune is the 15th best seller for January 1st, 1938 (Rosalie from the eponymous movie is number 1)! Even in the Nazi Germany, this song with a Jewish protagonist is successful, as confirmed by German Variety correspondent, Dietrich Schultz (Aug 13, 1938)
According to Bob Inmail in his Swing Era Scrapbook (Scarecrow Press, 2005), the Cotton Club was aired on WABC on October 7, 1937 and Cab sang Mama with "Chu Berry's nutsy tenor sax", among other titles that mainly featured Chu Berry.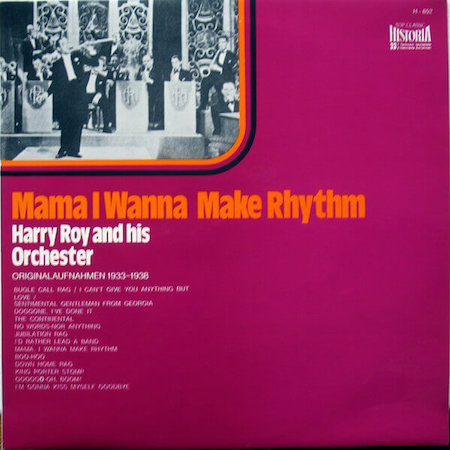 Among the artists who covered the song:
Josephine BAKER, in front of troops in North Africa in 1943

Bunny BERIGAN (recorded only 3 days after Cab!)

Ben BERNIE

Judy CLARK in the movie Beautiful But Broke, 1944

Billie COTTON and his Band

Evelyn DALL (singer with Bert AMBROSE), at Buckingham Palace in front of King George

Jimmy DORSEY with vocal by June Richmond (only on air)

Roy FOX (UK)

Carol GIBBONS and his Boy Friends (piano) (UK)

Glenn GRAY with vocal by Pee Wee Hunt (only on air)

Annette HANSHAW

Kurt HOGENBERGER & Sein Orchester (Germany)

Freddy MARTIN

Mary MERCHE (Spain)

Gerda and Ulrik NEUMANN (Denmark)

Ben POLLACK (recorded the same day than Cab Calloway, August 31, 1937!)

Patricia ROSSBOROUGH piano solo (UK)

Harry ROY (UK)

Ray VENTURA (France)
And recently
---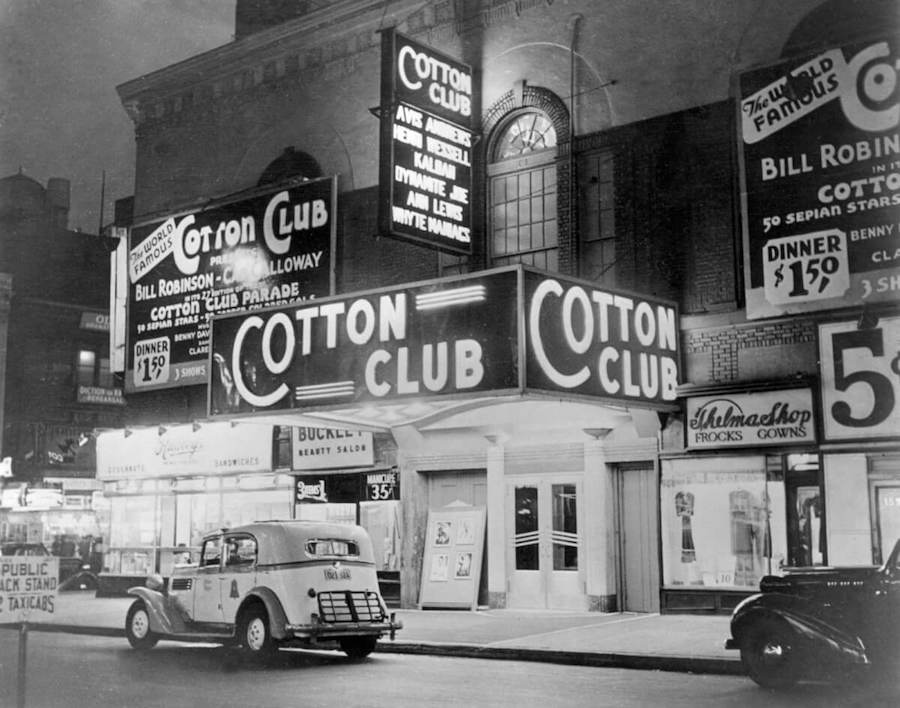 The world-famous Cotton Club, newly located in Manhattan and its first Fall revue, (September 1936).
See the bills with "Whyte Maniacs" for the Lindy Hoppers.
A new routine for the Lindy Hoppers
In this movie sequence with Cab Calloway also appear eight incredible dancers, the Lindy Hoppers. Earlier that year, another set of that group was filmed in A Day at the Races with the Marx Brothers. For this new cameo, Herbert Whyte, who runs the troupe, calls Frankie Manning and Lucille Middleton, John 'Tiny' Bunch and Dorothy 'Dot' Moses, George Greenidge, Stumpy, Eddie Davis, and Mildred Pollard.
Some of them opened the 27th edition of the Cotton Club Revue in Manhattan, led by Cab Calloway from September 24, 1936 to February 25, 1937 (the cast for the revue was: Frankie Manning and Naomi Waller, Mildred Cruz and Billy Williams, Lucille Middleton and Jerome Williams). At the new Downtown Cotton Club, they were billed in lights on the marquee as "Whyte's Maniacs" after their "chief" Herbert 'White' Whyte. There, they had a number with Broadway Jones and Wen Talbert's Choir during the song Alabama Barbecue.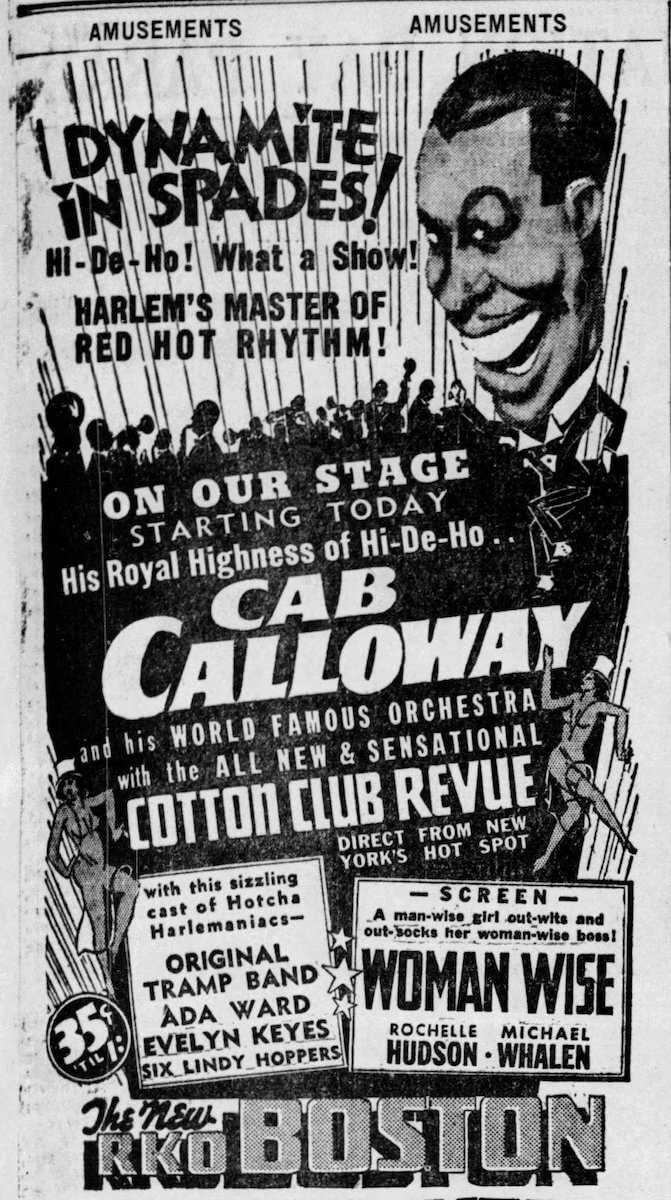 Cab Calloway on tour on the East Coast, along with Six Lindy Hoppers
(The Boston Globe, March 18 1937)
Billed as "Six Lindy Hoppers" (without those off shooting A Day at the Races in Hollywood), they toured three weeks with Cab during the spring of 1937. During their engagement at RKO-Boston, the reviewer was ecstatic: "The Six Lindy Hoppers indulge in a spectacular free-for-all tap dance that is one of the most applauded acts in the revue. These six dancers, gay in black and yellow satin, have learned what continuous motion means, and dance with the vivacity of youthful verve and zest. They can't keep their feet still – and they seem to enjoy every mad moment of their dance act even more than does the cheering audience" (Daily Boston Globe, March 19, 1937).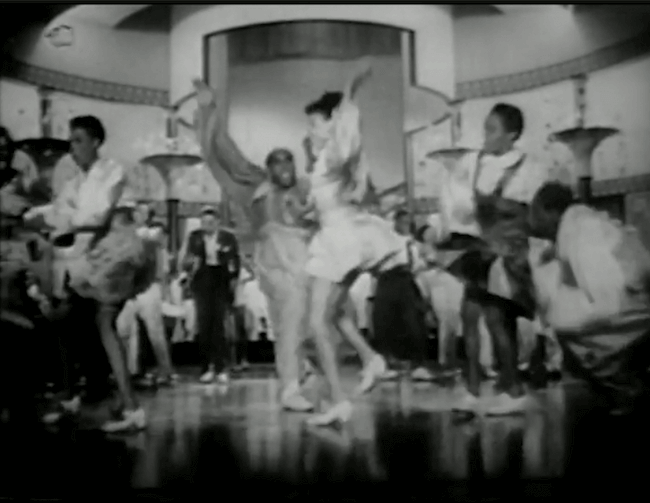 Screenshot of the Lindy Hoppers' performance.
Their filmed sequence is way too short on screen with less than a minute of dance! In his autobiography, Manning explains that the number is based on what they performed during the live shows with Cab at the real Cotton Club. Yet, the Lindy Hoppers didn't receive any screen credit for their performance.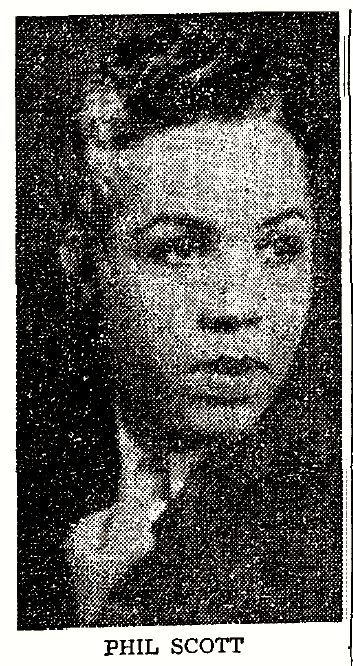 The only known appearance of Phil Scott in the news...
The Afro American dated August 21 states "Phil Scott, clever Harlem dancer, staged and conceived the dances."(…) "The dancer is native of Chicago, where he began his career as a discovery of Paul Ash at the Oriental Theatre. He has been in New York for the past four years. This is his first attempt in the cinema field, but on the strength of his work, Scott is expected to make four other pictures under the Republic Corporation." Unfortunately, it seems that Phil ultimately stayed in Harlem, choreographing revues there and would never go to Hollywood… Whatever Scott has done for this movie, he isn't credited for.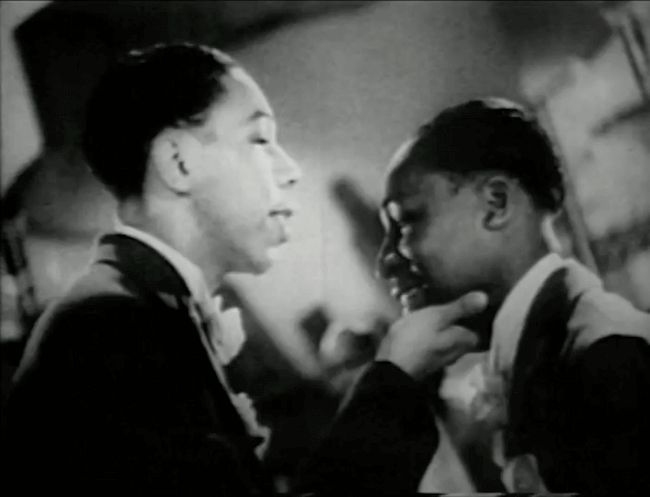 Screenshot of Cook and Brown's performance
Cook and Brown
Charles Cook (1917-1991) and Ernest Brown (1916-2009), known as the knockabout comedy team of Cook and Brown are the two youngsters who dance in tails, holding their faces.
"They combined acrobatic stunts and grassroots humor with eccentric dancing. The short-tempered, six foot Cook played foil to diminutive five-foot-tall Brown who, when knocked down, slid the full length of the stage and bounced up in reverse split, thumbing his nose for more abuse." (Constance Vallis Hill, Tap Dancing America). They will later appear in the soundies "Toot that Trumpet" (1941) and "Chatter" (1943). Charles Cook, whose favorite line was "If you can walk, you can dance," will contribute to Coppola's movie "Cotton Club" (1984).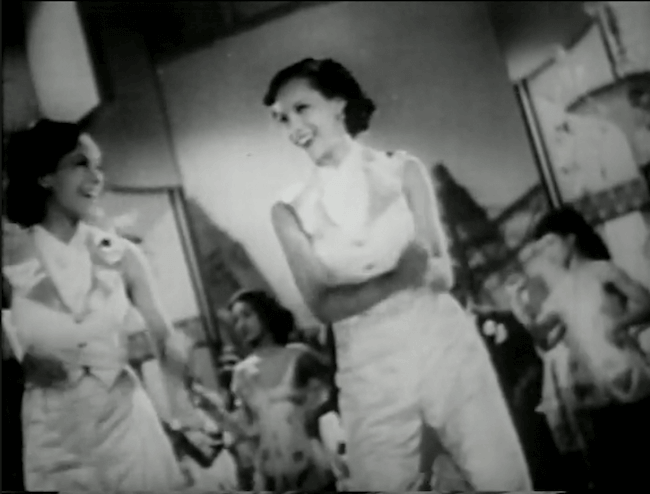 Screenshot of the Cotton Club dancers performance, with the Brown Twins in the foreground
Cotton Club dancers
"A chorus of sixteen, including: Christine Edgbert, Jeanie Martini, Gertrude Williams, Ruth Dash, Mamie Jeffries, Delores Myers, and Julia Noisette" (Afro American, Aug 21, 1937) is on screen, dancing between Cab and the orchestra.
Thanks to, Harri Heinilä, we know that the two other dancers from the Cotton Club shown shortly in front then in the background are The Brown Twins, Vivian and Hilda (a forthcoming article about her is on its way!)
Avon Long is supposed to be also in the movie (maybe he's the guy on the right side of the stage with a hi-hat).

Cab Calloway gyrating with Mabel Garrett in front of the whole Cotton Club troupe.
Cab's dance partner
Thanks to Harlem jazz dance historian Harri Heinilä from Helsinki, we know who that gorgeous and jumping lady is who shares a terrific boogie dance with Cab Calloway at the end of the sequence: that's most probably Mabel GARRETT. Harri provides some details: "She was in a show called Rhapsody in Black, which was a "brainchild of Lew Leslie", in Harlem's Apollo Theatre in 1940 and she participated in an event that the Cotton Club Girls' club organized in the Minton's Playhouse in 1940. In the latter, there were actual Cotton Club Girls, so she could have been one of them."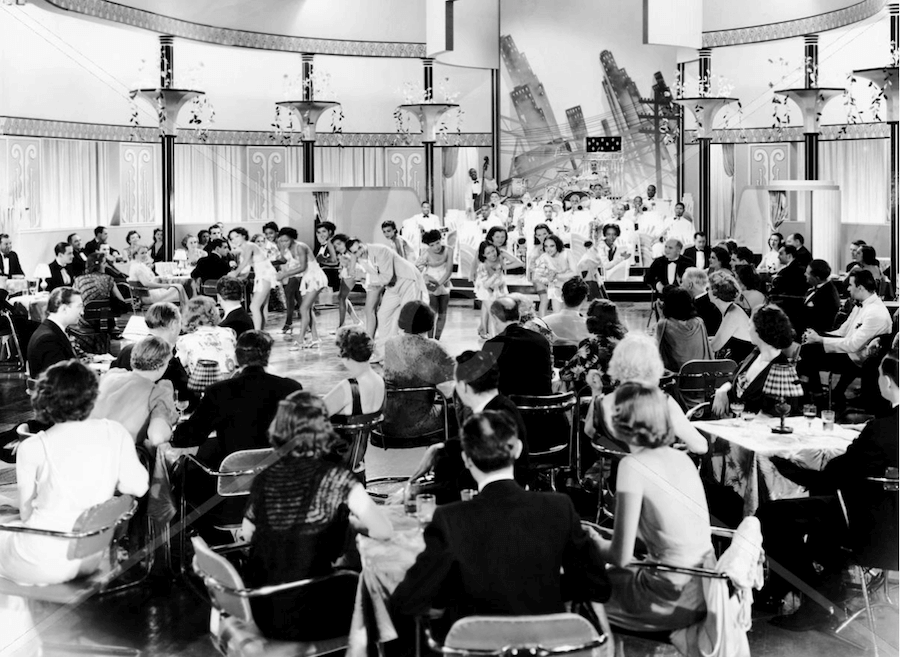 A rare movie still of the sequence in front of a lily-white audience.
Publicity material: another curiosity in the box!
As usual, several movie stills have been produced to be used as lobby cards in the theaters or for press releases. Some are in color but I've never seen one featuring Cab Calloway (except the generic one with the poster).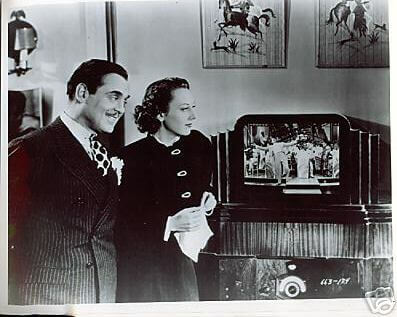 Cab Calloway on television in this British print of a movie still.

There are 2 or 3 movie stills with Cab and his band but they are scarcer than hens' teeth. One is peculiar since shot it's during "one of the very first live television broadcasts documented on film" (Sam Irvin, "Kay Thompson"), just like in International House (1933). But the one available shows Cab on the screen rather than Kay Thompson who was actually in that scene in the movie.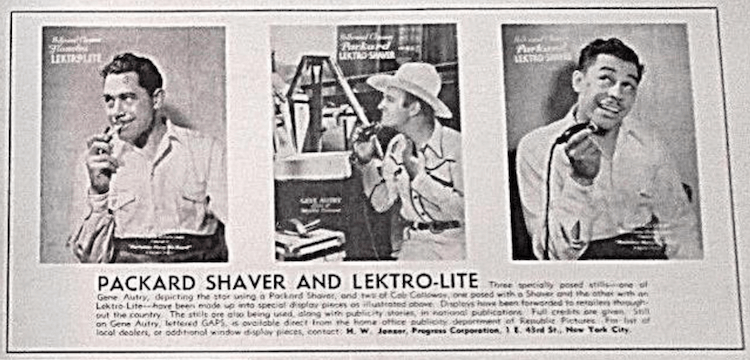 Gene Autry and Cab Calloway share the shaver for this advertising campaign.
A curiosity: a campaign for shavers
Amongst the 17 (!) promotional campaigns proposed by Republic Pictures in the movie press book, several stars offer their picture as a support for promoting tie-up campaigns for make-up, shampoo, hats, guitars, perfumes even carbon arc lamps! Ads in newspapers, magazines, displays in windows department stores… everything is possible. Even producing a campaign for the Packard Shaver "Lektro-Lite" with Gene Autry and Cab Calloway! While the singing (and white) cowboy is seen on one photo, Cab posed for two visuals promoting this newest technology for men.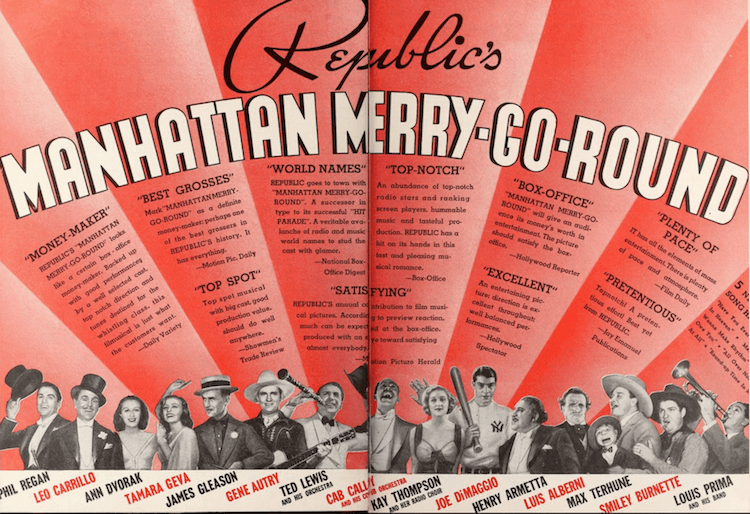 Cab positioned (and folded!) in the center of the casting (Motion Picture Herald November 27, 1937)
The position of Cab on posters and advertisings
In her book Jumping the Color Line, Susie Trenka points a double-age advertisement for the movie in the trade magazine with "15 performers standing side by side, with Calloway in the middle [Motion Picture Daily, Nov 18, 1937]. This kind of inclusion of a Black performer as both central and equal to whites is quite unusual for the time, speaking to Calloway's exceptional market value and star power." In fact, Calloway is prominently billed in several ads for the movie, sometimes right under Ted Lewis's name, sometimes above. Occasionally, his silhouette is the center of the layout. And of course, whenever the movie is advertised in a Black newspaper, Cab Calloway's name is top-billed. You can even spot some ads where Cab seems to be the only star of the movie!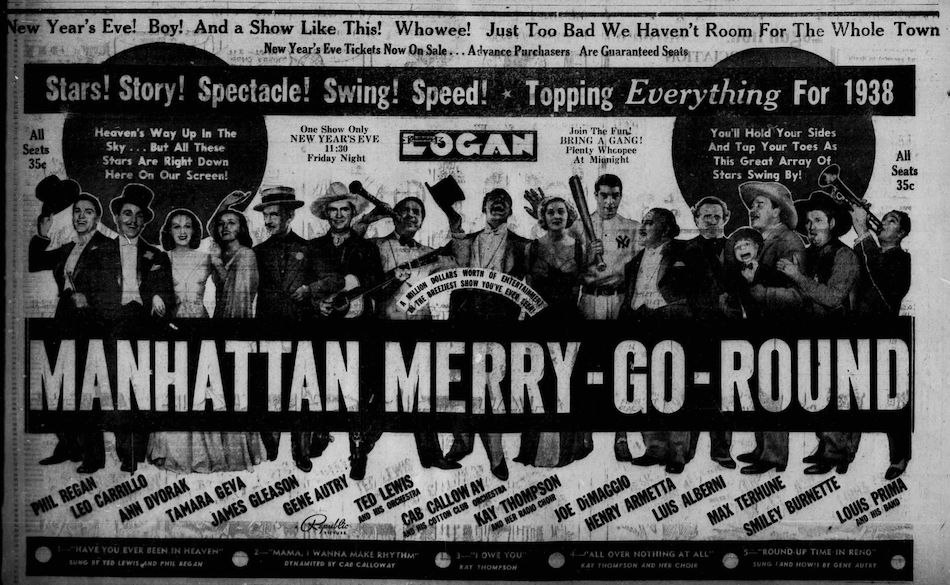 Ad published on Decembre 30, 1937 in Logan Daily News, OH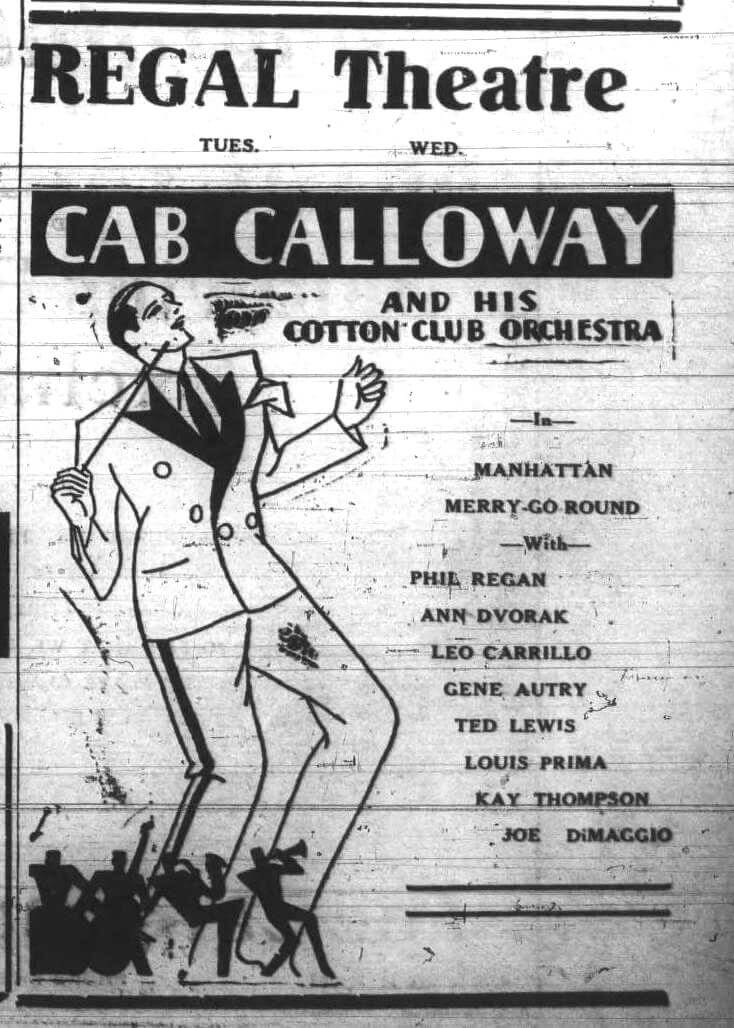 The Black newspaper Carolina times in North Carolina
bills Cab Calloway above the other stars of the show (June 18, 1938)
Reviews: "Just as good as any picture"…
The world premiere of Manhattan Merry-Go-Round happened in San Francisco, at the Paramount Theater on November 17, 1937. The first week's gross was pretty good with $13,000, "a smash hit by Republic's modest standards" (Sam Irving). The New York launch occurred a couple of weeks later in December at the Criterion Theatre.
In Great Britain, the movie was released under the title Manhattan Music Box.
W. H. Brenner, manager of the Cozy Theatre in Winchester, Indiana, state, "...it's just as good as any picture made this year and a lot better than some. It will please wherever shown."
Alyn Shipton points out that "the movie came out in the early spring of 1938, continuing to show throughout the year, and Cab's contribution was, as one press report put it, "a specialty number delivered in the 'scat' manner made famous in the dusky maestro's 'Minnie The Moocher.'" In other press reports the hand of Irving Mills may be detected in the exorbitant claims made for this relatively modest movie:
"If a thousand years from now some enterprising archaeologist should wish to learn all about entertainment in the year 1937, complete in all its phases and furbelows, that historian should excavate "Manhattan Merry Go-Round" the Republic Production... Cab Calloway and his Band... furnish the piece with several new hit tunes which will be whistled the length and breadth of America within a few short weeks." ("Reviewer Lavishly Lauds New Republic Production" Cullman, Banner, February 11, 1938)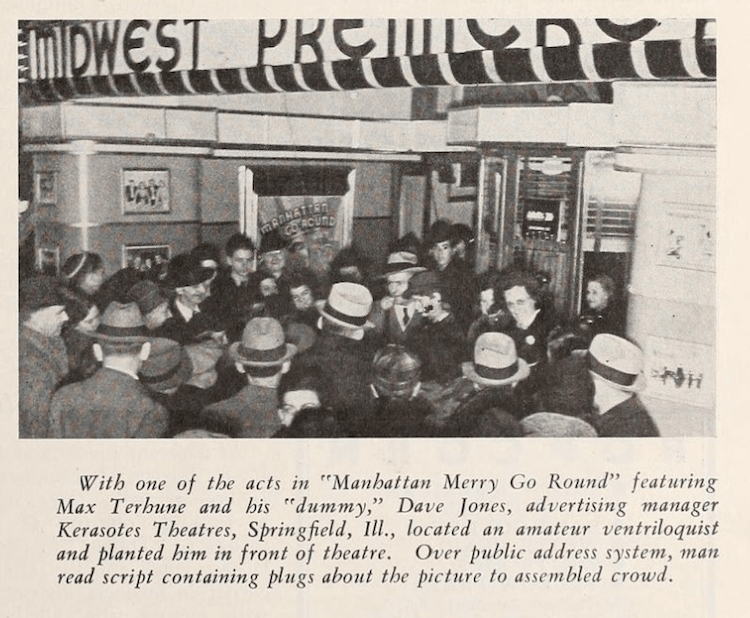 Photo published in Motion Picture Herald dated January 22, 1938
Generally, the star-studded film received positive reviews from screen critics. Motion picture trade magazine, The Film Daily, called it, "swell entertainment," and proclaimed, "this show will make dough for it has all the elements for mass entertainment."
Nevertheless the more sophisticated reviewer Kate Cameron for Daily News (December 31, 1937) judges that "In spite of its many big names and the four or five orchestras that have their specialized rhythms spotted throughout the film, the production is hardly up to Broadway's standard for musical productions. It is designed, obviously, for consumption in small towns and rural communities, as it lacks the finish and just the right sophistication touch to put it over in New York."
Variety (November 5, 1937): "Backed up with good performances by a well selected cast, top notch direction, and tunes destined for the whistling class, this filmusical (sic) is just what the customers want. It's a genuine potpourri of musical talent with one following the other to keep the footage fairly flocked with ace names in the musical world."
Manhattan Merry-Go-Round received an Academy Award nomination for John Victor Mackay's Art Direction at the 1938 Oscars. It was the third Oscar nomination for the Republic studio.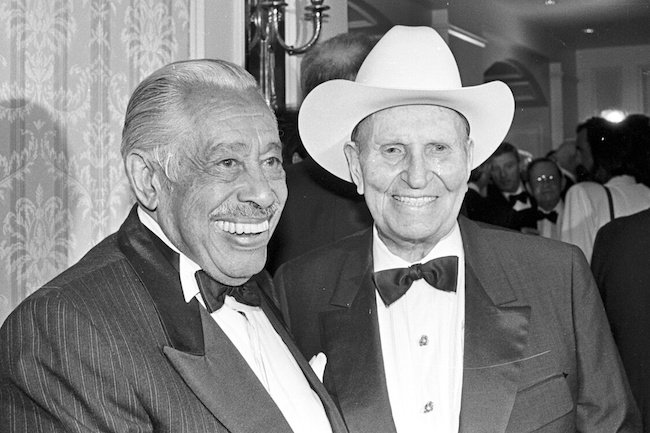 Cab Calloway and Gene Autry reunite in 1991
In 1991, Gene Autry and Cab reunite after the Songwriters Hall of Fame induction ceremony. Gene Autry — co-star of Manhattan Merry-Go-Round — got a Lifetime Achievement Award that night. The other photo is Cab with Sammy Cahn — who also wrote several of the songs from Manhattan Merry-Go-Round. Certainly, it was by chance that the three met but that was a wrap-up celebration, more than 50 years after the movie was shot!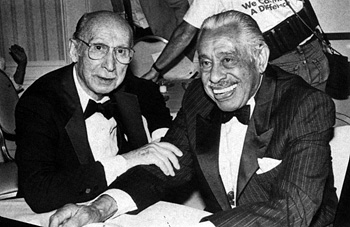 Lyricist Sammy Cahn with Cab Calloway, 1991
In the Evening Star dated December 18, 1937, Robert B. Phillips, Jr. writes, "Calloway's appearance in this film is a reminder, by the way, that the fame of his talents is no press agent's invention. He is probably the best rhythm singer of today."
Now, does Manhattan Merry-Go-Round is really the paragon of entertainment of 1937, "complete in all its phases and furbelows" as enthusiastically stated in the article quoted above? Let's just admit that the guy was very, very positive. Make yourself an opinion: watch the entire movie here:

Manhattan Merry-Go-Round full movie (85 mn)
---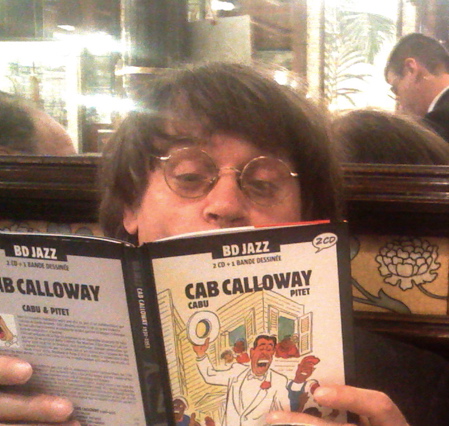 This article is dedicated to my friend CABU (1938-2015),
one of Cab Calloway's biggest fans,
whose favorite song was "Mama I Wanna Make Rhythm".
---
Sources:
Edwin M. BRADLEY, Unsung Hollywood Musicals of the Golden Era: 50 Overlooked Films and Their Stars, 1929-1939, McFarland & Co, 2016
Bob INMAIL (compiled by Ken VAIL), Swing Era Scrapbook, Scarecrow Press, 2005
Sam IRVIN, Kay Thompson: from Funny face to Eloise, Simon & Schuster, 2010
Josh KUN, liner notes for the CD Black Sabbath, The Secret Musical History of Black-Jewish Relations, Idelsohn Society for Musical Preservation, 2010
Frankie MANNING, Cynthia R. MILLMAN, Frankie Manning: Ambassador of Lindy Hop, Temple University Press, 2007
Swing FM, Cook and Brown, consulted on November 9, 2021
Alyn SHIPTON, Hi De Ho, The Life of Cab Calloway, Oxford University Press, 2010
Susie TRENKA, Jumping the Color Line: Vernacular Jazz Dance in American Film, 1929-1945, John Libbey Publishing, 2021
Constance VALLIS HILL, Tap Dancing America, Oxford University Press, 2010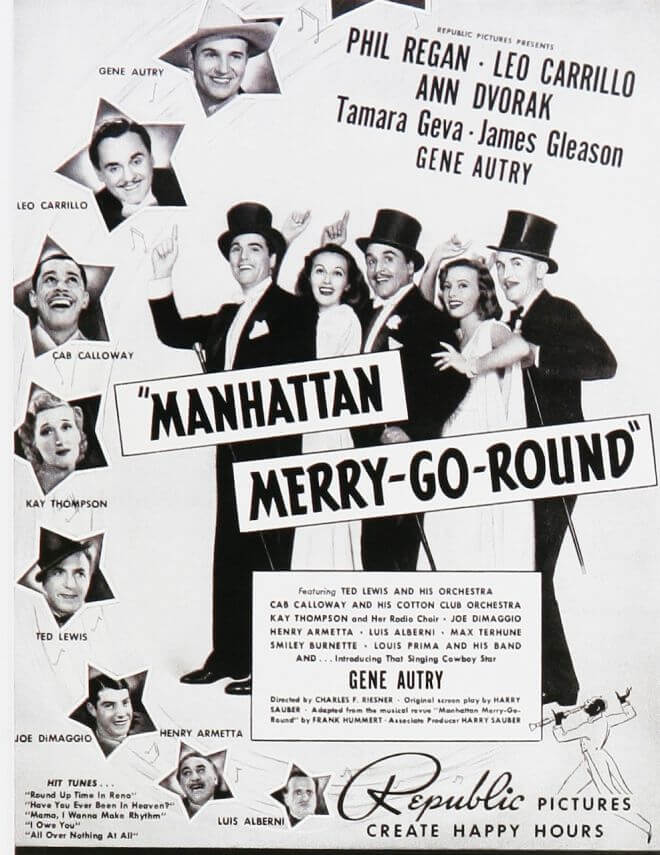 Trade ad published in Box Office, November 1937
All my gratitude to Harri Heinilä for helping me identifying Mabel Garrett.
Mister Keller Whalen is always gyrating in the The Hi De Ho Blog merry-go-round, providing knowledge, documents, support, etc. May he be warmfully thanked!