Mabel GARRETT
Dancer, Tap dancer, Showgirl
(August 26, 1903 or 1908-February 10, 1996?)
Appearing just a few seconds dancing with Cab Calloway in the movie Manhattan Merry-Go-Round (1937), this graceful, tall and jumping dancer remained unidentified until we asked jazz dance historian Harri HEINILÄ from Helsinki to help us. Then, with the name in mind, after several weeks of research, we are now able to tell you the story of Mabel GARRETT whose dancing feet crossed those of Cab Calloway many times as well as the path of many other artists of the Harlem scene. A journey with one of those performers who made it on Broadway, on Harlem stages and then had to struggle when hard times come with age…
According to IMDB, her birth name would be Mable Bertha WHITE, and birthdate May 5, 1908 in Russellville, SC. From the contemporary press the most likely birthday date is August 26. No confirmation so far…
I've found a White family in the 1910 Census in the County of York, near Russellville:
Head of home is Amzi White (laborer at Poor House Farm, born in Virginia in 1854). In 1877, Amzi married his wife Jane (born in SC in 1864 in a family of 10 children), a laundress. They live in a rented farm with their six children: Daisy (born in 1885), Maug (1888), Frank (1892), Emma (1896), James (1898) and Mabel (1903). The whole family is classified as "mulatto".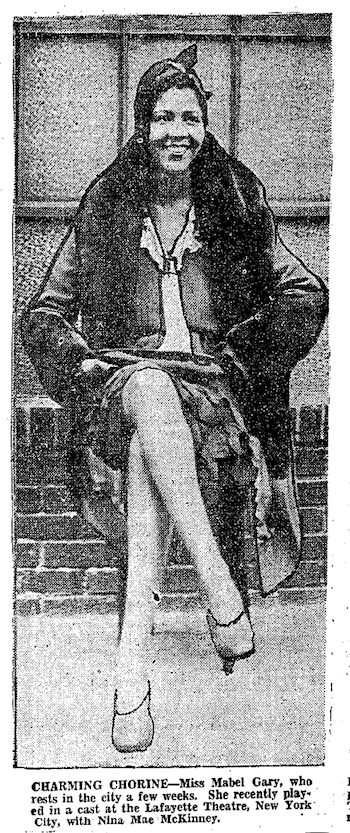 The earliest picture of Mabel I've found in the newspapers (The Afro American, March 8, 1930)

Mabel started her stage career at mid-Twenties, and the first trace I've found of her is from…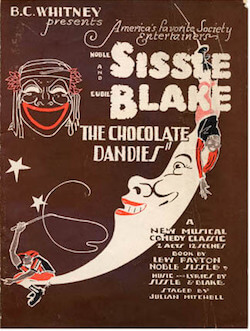 Program of The Chocolate Dandies
• Chocolate Dandies, Early 1924-May 1925
At only 16 (if her 1908 birth date is correct), Mabel is one of the many showgirls in Eubie Blake and Noble Sissle's musical revue Chocolate Dandies, with a cast of 125, "the world's greatest dancing chorus" (+ 3 horses!). In 1921, Blake and Sissle's first groundbreaker was Shuffle Along played on Broadway. It was a major step stone on the road of African American artists on the Great White way. Now essentially forgotten, "The Chocolate Dandies was the pair's attempt to capitalize on the success of Shuffle Along and produce a musical stage show that would rival the productions of contemporary white produced musicals, like the Ziegfeld Follies and Scandals with huge casts, lavish costumes, and elaborate stage designs." Initially titled In Bamville, the musical "went on a 24 week-tour before it opened at the New Colonial Theatre on Broadway on September 1, 1924 as The Chocolate Dandies. It also brought back some of the cast of Shuffle Along, including Josephine Baker in a more prominent role as a clown in the chorus line." (Maryland History website).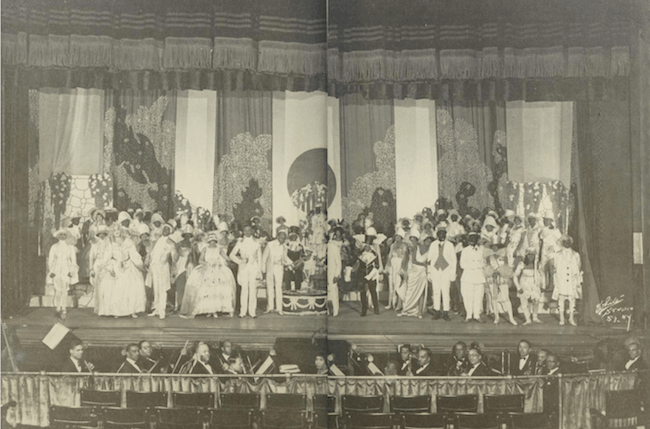 The whole cast and the orchestra of The Chocolat Dandies. Where's Mabel?
Considered by white critics as a musical with "too much 'art' and not enough 'Africa,'" the revue was a financial failure (so many salaries!), a genuine disaster. After only 96 performances, The Chocolate Dandies closed in May 1925, with nearly $60,000 in losses. Yet, Sissle and Blake considered it was their greatest collaboration!
Certainly, Mabel met there some of the people she'll cross paths with again later, like Valaida Snow.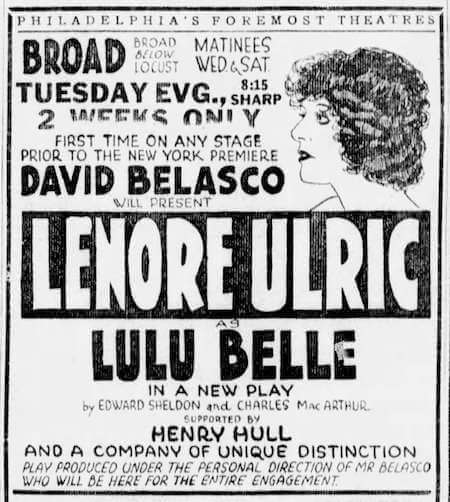 The Philadelphia Enquirer, January 24, 1926
• "Lulu Belle", February 1926-1928?
Thanks to a later mention by Lena Jimmie Donald in Floyd G. Snelson's column for The New York Age dated August 23, 1941, we learn that Lena and Mabel met when they both were in the cast of the famous Lulu Belle play, in 1926, a milestone in the recognition of the talent of African American artists on the white theatre stage.
Then famous producer David Belasco set up the Edward Sheldon drama, with a mixed-race cast, with a white actress in blackface in the title role, a Creole lead character (in fact, that's the African American actress Evelyn Preer who will play the lead). Some critics accused the play of indecency because of its mixed-race cast, "Belasco replied that that the cast remains segregated throughout the play because the costars are white" (in Charlene B. Regester, Black Entertainers in African American Newspaper and subsequent excerpts). Despite (or thanks to) similarity to the French opera Carmen, this very peculiar production found support in the Black community, the Pittsburgh Courier writing on March 6, 1926 that Lulu Belle had a "value as a source of employment and valuable training for black actors." A few months later, producer Belasco says "Negro Actor Is New Force in Theatrical World (Pittsburgh Courier, August 7, 1926) and goes on: "David Belasco chose to use 117 black cast members in 'Lulu Belle' because he observed natural acting talent among Harlem residents; he is impressed at their performances so far and dramatic potential, particularly in the case of Evelyn Preer." Therefore, journalists hope that "white filmmakers will lose their doubts about hiring black talent."
After more than a year on Broadway with Evelyn Preer in the title role, Lenore Ulric is the new Lulu Belle. She is white and appears in blackface, "but aimed at a nonstereotyped portrayal" (Thomas S. Hischak, Broadway Plays and Musicals). We are now in 1928, and we don't know if Mabel is still working with the troupe.
Anyway, when David Belasco died in May 1931, Floyd J. Calvin from the Pittsburgh Courier wrote: "His play offered the first opportunity for a large Negro cast to perform before major theater critics, and it opened doors to more roles. Belasco was also the first white producer to honor Negro critics with gifts beyond the traditional free tickets to a play."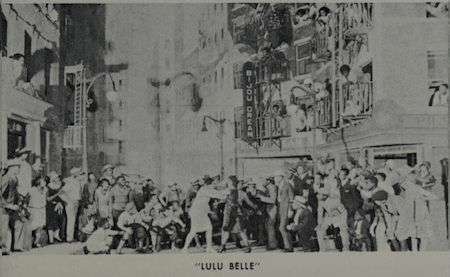 "The large cast included dozens of African Americans
and many of the scenes were teeming with characters, the stage
often resembling grand opera in its massive scale"
(Thomas S. Hischak, Broadway Plays and Musicals -
Picture from A pictorial history of the American theatre:
100 years: 1860-1960 by Daniel C. Blum)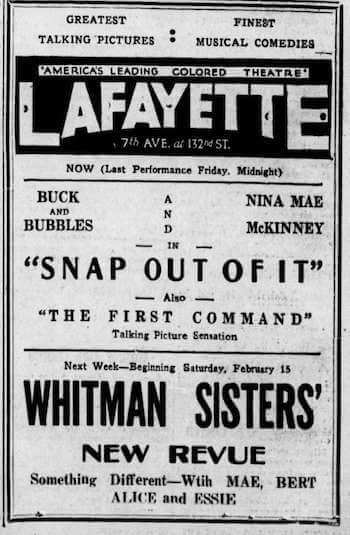 The New York Age, Feb 15, 1930
• "Snap Out of It", February 8-14, 1930
For a week, Mabel is one of the chorines in the revue titled "Snap Out of It" led by Nina Mae McKinney (of recent movie fame in Hallelujah!) and Buck and Bubbles, with music written by Maceo Pinkard, and ensembles staged by none other than Leonard Harper. The revue was successful even if ovations were mostly for McKinney, the first African-American woman to get a contract with MGM.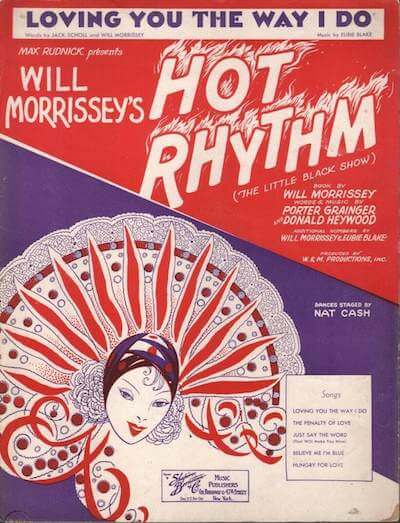 Sheet music for one of the hits of Hot Rhythm
• "Hot Rhythm", August-October 1930
While everyone in New York only has eyes for the successful Lew Leslie's Blackbirds, Mabel Gary (sic), is among the ladies of the ensemble in the two-act musical revue "Hot Rhythm" at the Times Square Theater, produced by Will Morrissey, starring Johnny Hudgins, Johnny Long, singer Mae Barnes, Edith Wilson ("Hot Chocolates", 1929 with Cab), Eddie Rector (MC). Billed "a sepia tinted little show", white producer Morrissey (1887-1957) had the standard attitude of a Broadway producer with plug hat and cigar, "stout-hearted, never-say-die, borrow-the-money, troubadour Morrissey!" but had the peculiar reputation of being a unique kidder, to interrupt numbers, insult the orchestra and shake hands with latecomers during performances, and to set up productions without content.
Critics like Arthur Pollock from The Brooklyn Eagle were nevertheless surprised by this "promising Negro revue", "a better one than most of Will Morrissey's, bright and quite snappy, though it tries to be snappy for too long a time, running along forever", "pretty good, not a riot, not positively alluring, not astoundingly original, but more than fair." (Brooklyn Eagle, Aug 22, 1930). And Pollock continues: Mabel Gary is one of the "black young ladies (who) come out and sing about love and shake their hips cyclonically." (…) "The (same) girls (who) use very little in the way of raiment to conceal their dusky skins. In fact, there's a number entitled "Vanities".
Critic Rives Matthews is more severe with Morrissey and offers his "sympathies to the sepia-tinted cast which deserves for its earnestness more praise than we can see our way clear to giving." (Billboard, August 30, 1930).
The New York Age theater critic – not invited by Morrissey – reprints the review by white columnist for The New York World Robert Littell (1896-1963) who also disliked the show but said "The chorus, while not exactly Ziegfeldian in looks, throw themselves into their stuff with a wham and a bang and an epileptic sizzle that would make most white choruses seem slightly chloroformed in comparison. And that's about all." He adds a very interesting and progressive remark: "Negro music and dancing have and an enormous effect on our song-and-dance shows. Yet most of these colored revues, with their regiments of agile, friendly Harlem nightclub performers, are in turn reflecting not the native Negro product but the white Broadway reflection of it. Which may be one reason why though often noisy and good-humored, shows like Hot Rhythm are also so stale and indoor and imitative and unattractive. There is enough material in this thought for an essay – an essay that I'll read to you some time when I'm not tired out trying to enjoy just another third-rate two-cylinder jumble of legs, jokes and saxophones" (New York Age, August 30, 1930).
The score and lyrics are by Donald Heywood and Porter Grainger but, as did any producer of that time, Will Morrissey uses numbers and songs from a previous revue entitled Folie Bergere with music by Eubie Blake. The orchestra, under the leadership of bass player Harry Hull is rumored to be augmented with white men.
I can't help but telling you this anecdote reported in Daily News, August 27, 1930 about a jinxed role: "In 'Hot Rhythm' there is a role of a murderer who is led to the electric chair. Eddie [James] Jackson, who had it during rehearsals, died the day before the show opened. Nat Cash [in fact, not an actor but the stage director of the show], who took his place, died yesterday of heart disease at his Newark home." The story was unfortunately not created by some publicist but founded on real facts.
Anyway, with odds and ends, Hot Rhythm closed on October 18 after 68 performances (not too bad when you compete with shows like Green Pastures or Earl Carroll's Vanities), was reported to go on the road but I've found no further trace of it…
We lose track of Mabel until the 26th and 27th films by African American filmmaker Oscar Micheaux both released in 1932.
In its February 6, 1932, The Pittsburgh Courier announces "Mabel Gary, popular New York chorine, has just finished two shorts for Oscar Micheaux, where she portrayed the role of the Ethel Waters of 1921."
• "Veiled Aristocrats" by Oscar Micheaux, released in February 1932
In a musical sequence of almost 7 minutes, a number performed by domestics while the aristocrats are away, starts with Donald Heywood (read below) at the piano backing a female vocal on "River, Stay Away from My Door". Then, Donald Lambert sits at the piano while male singer interprets "Jig Time", with backing vocals by Mabel, before step dancing a few bars. Next is Mabel Garrett who sings "Draggin' My Heart Around", still with Donald Lambert, ending her number with some typical chorine dancing. Just notice the glance at the camera Mabel does while signing off at the very last moment. Sassy!
• "Ten Minutes to live" by Oscar Micheaux, released in March 1932
In a complex and intricate plot of this second movie, Mabel plays the role of Ida Morton to whom a filmmaker offers a movie deal. She then sings in a typical classy revue outfit "Why Can't You Love That Way" with Donald Lambert at the piano, backed by Donald Heywood and the Dixie Serenaders orchestra.
Mabel already met Donald Heywood (1896-1967) in 1930 during the "Hot Rhythm" revue. He's famous for the Ethel Water's 1926 revue "Africana" (I'm Coming Virginia, Clorinda) and the tune Black Rhythm recorded by Cab Calloway in 1931. Heywood is in both Micheaux' films with Garrett: he arranged the music for them and even has a role as the master of ceremonies in "Ten Minutes to Live".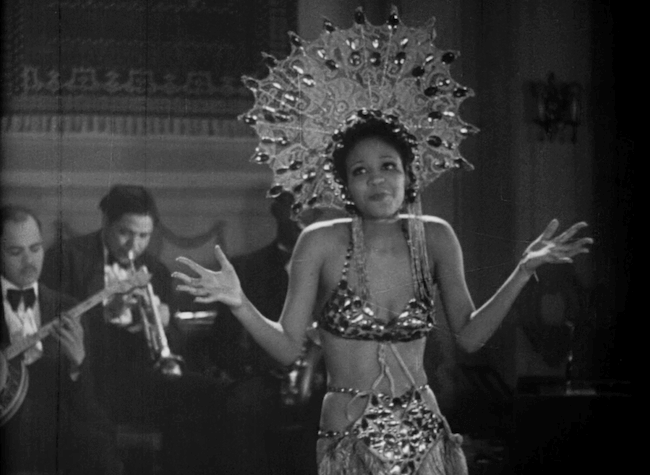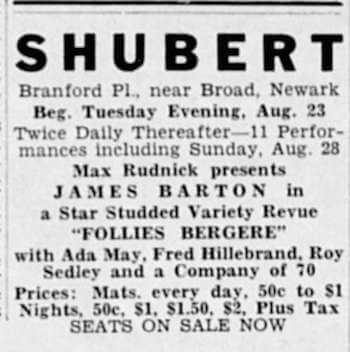 The Madison Eagle, August 19, 1932
• Max Rudnick's Follies Bergere Revue
For his August 1932 production at the Liberty Theater in Newark, NJ, Max Rudnick (who also coproduced Hot Rhythm) is in search of chorines to dance behind Nina Mae McKinney. The other leading actors are James Barton (we've seen him in "After Seben" in 1929) and Fred Hillebrand. Mabel is hired as a supporting cast with the likes of Ada May, Susaye Brown, Roy Sedley, Jack Squires, Marlon Eddy, George Anderson, De Haven and Nice, Ruth Gilbert, Kitty O'Dare, Estelle Bernier. Variety dated July 26 informs us that "two lines of girls are being used, one colored and one white, idea being to split the show up into black and white sections. Miss McKinney will head the Harlem group". The rule to determine if a show is either vaudeville or a variety revue involves the rearrangement of special materials. Harold Atterridge wrote the book and lyrics, Harry Carroll did the music and Allan K. Foster staged the show in 2 acts and 20 scenes.
Because of poor attendance, after multiple rumors of opening, "salary disputes" and "casting difficulties" (Times Union, August 30, 1932), the revue suddenly closes. One of the main issues was also a change in the minds (and legislation) for 42nd street theaters: the licenses for theaters were renewed only for those who don't operate "burlesque" shows anymore, like Rudnick used to. Without James Barton, the show is reassembled for a September 12 opening. But the Follies were definitely canceled…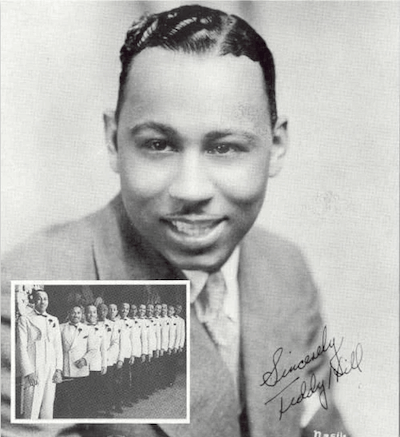 • With Teddy Hill, December 1933
During two weeks in December 1933 at the Howard in Washington, DC, Mabel Garret, "another vocalist", is in an all-star revue with the likes of Myra Johnson, the Three Rhythm Kings, Chuck and Chuckles, and Gladys Ridley.
Then… nothing until the press notices her 20th birthday in August 1935 and she's spotted the next month at the usual Small's Sunday night in the company of second-tier performers: Frank Radcliffe (from "Hot Chocolates"), Elsie LaMoine, Bill Woodson, Gee Gee James, Dante Miller, Cadillac Kelly, Ted Yates, etc. The girl is trying hard to get a social life noticed by the press. In fact, she's probably already working in the new fancy place on Broadway…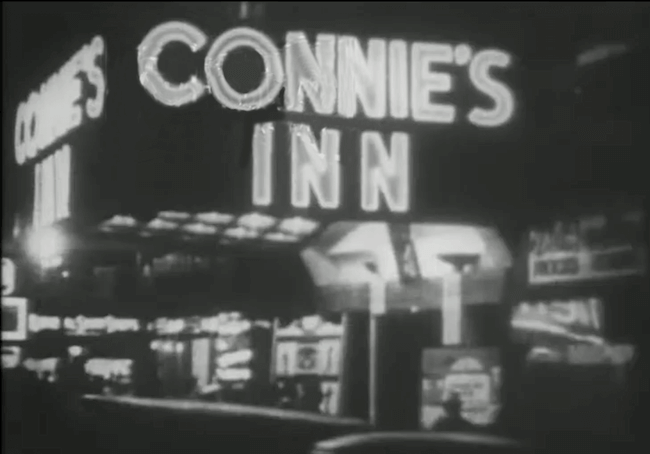 • Connie's Inn, April? 1935-?? 1936
December 12, 1935 in The Chicago Defender, the column "Hi Hattin' in Harlem" by Allan McMillan (dated Dec 6) gives us a clue to locate Mabel: "Broadway stood aghast last Sunday night at 48th street watching Mabel Garrett, the good-looking Connie's Inn eyeful alight from a chauffeured limousine attired in velvet coat and expensive furs." Other occurrences indicate that Mabel was indeed working at the Connie's Inn in Manhattan.
Opened in midtown on April 23, 1935, after 12 years in Harlem, Connie's Inn occupies the site of the former old Palais Royale, becoming the first big time colored club in the Broadway section since the Plantation in 1925.
While Connie's Inn Ted Blackman is rehearsing his forthcoming revue, a mention in New York Times dated April 13 indicates: "Marion Garrett, dancer, is an addition at the Holland Tavern, a Village spot on Watt Street". Could Marion be Mabel (a typo?)?
A $12,000-gross for the first night at the new Connie's Inn was a very good start! The first revue wins a fantastic success with Alberta Hunter and Luis Russell's orchestra (also Norman Astwood, Pete, Peaches and Duke, Edna Harris, Tim and Freddie, Teddy Hale, Jigsaw Jackson, Muriel Rahn, Liza Lee, Alice Whitman, the Four Charioteers, 18 girls and 4 chorus boys, with tunes by Andy Razaf and the white composer Paul Denniker). In June, Leroy Smith replaces Russell and Kalula joins the cast. In June, Cab Calloway and his wife are said to have difficulty gaining entrance to the place "and when he finally did get in was promptly ushered to an inconspicuous place in rear of the club… Ditto for Noble Sissle and his party." (New York Amsterdam News, June 15, 1935).
But Connie's Inn suddenly closes on June 30… surprising everyone, artists included. Soon afterwards the revue played the Apollo Theatre with a slightly different cast. Connie's Inn reopened October 29 1935 with a fall revue, starring Louis Armstrong.
"A large place that can accommodate close to 1,000 patrons, it has the floor show out on the elevated stage, with tableaux on a higher platform behind the orchestra also used." (Billboard, November 16, 1935). The critics are unanimous and the revue gets rave reviews.
In this incredible clip, we can admire the November-December 1935 revue "Hot Chocolates of 1936", with Luis Russell's orchestra backing dozens of artists, among them:
• Teddy HALE (1926-1959), that little dancing and hoofing kid with a tragic destiny.
• Timmie and Freddie ROGERS, the 2 boys hoofing with the headliner at the end of the clip (or Chuck and Chuckles, or the Reed Brothers)
• Probably Ada WARD, the headliner.
All those artists shared the stage with the Calloways: Teddy with Blanche at the Apollo in 1937; Ada with Cab in at the Cotton Club; and Timmie with Cab during the Cotton Club Revue in Miami in 1958.
I haven't been able yet to spot our dear Mabel in the chorus line.
Unfortunately, we can't see Louis Armstrong who was the star of that revue, nor Billie Holiday who was noticed then for her outstanding version of "Truckin'" and "Nature and I" with Eddie Green.
Among other artists performing at Connie's Inn at this period were Avis Andrews, Fats Waller, Ada Brown (all in the December-January touring production with Baron Lee conducting), the Brown Twins (Hilda and Vivian), Bessie Smith, Evelyn Dove (in the January production)…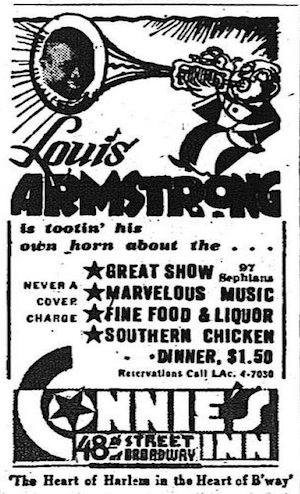 November 25, 1935
Satchmo's four month residency at Connie's Inn consolidates his recognition by the press and audience, with almost daily broadcasts. After Armstrong's departure, Don Redman leads the band. A few months later, Connie's Inn on Broadway will close its doors during summer.
But Mabel won't change her business address: in September 1936, the Cotton Club opens at the very same spot!
---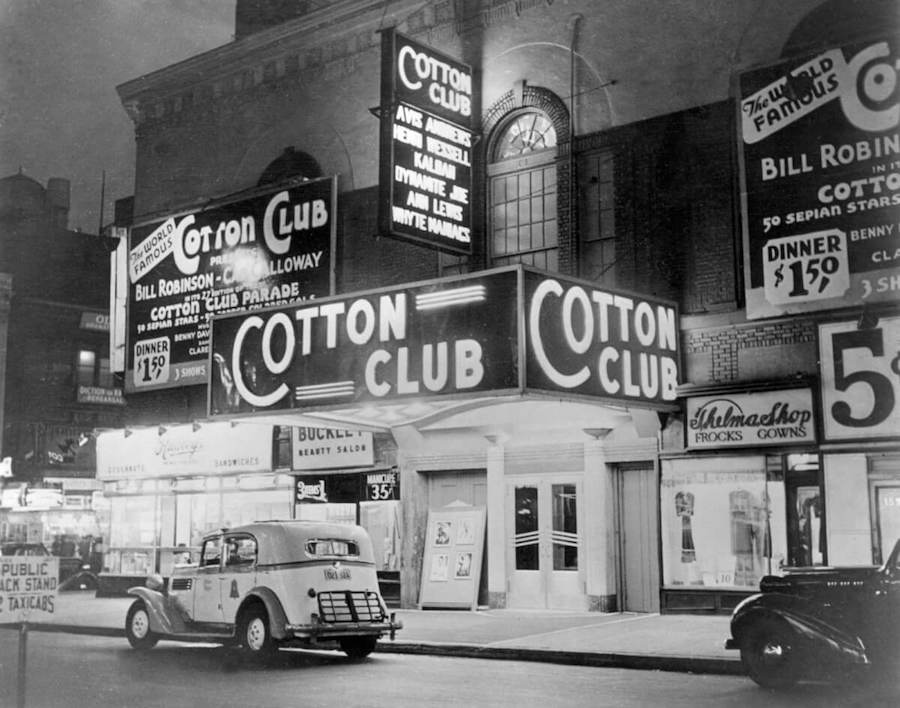 The new Cotton Club in its Manhattan location, Fall 1936.
• At the new Cotton Club, from 1936 to 1940
Jim Haskins in his book "Cotton Club": "The policy of hiring only light-complexioned chorus girls—'nothing darker than a light olive tint' [or the paper Kraft bag as shown in our documentary "Cab Calloway: Sketches", 2010]) — had seemed unassailable. Yet in 1932 Lucille Wilson did challenge it, and she won. She displayed talent and guts during her audition and charmed Harold Arlen, among others. The Cotton Club management, challenged to come up with a rational reason why they should not at least give her a try, failed to do so. Lucille Wilson was hired on a trial basis. If the customers complained, she was out. But the customers didn't complain, and Lucille, who later became Mrs. Louis Armstrong, remained with the Cotton Club for eight years."
As a 'mulatto', and with her already rich stage and screen experience, Mabel had all the chances needed to be recruited by the managers.
Haskins, again: "Each year there was a substantial turnover within the Cotton Club cast. Featured performers, naturally, did only one show, or at the most two. The chorus dancers and singers generally stayed for at least a year, and some for several. However, after the closing of each show, a few performers always left. Turnover was particularly high among the Cotton Club Girls, some of whom, like Isabel Washington, left to pursue major show-business careers of their own. Others never gained great renown, but if they had played even one season at the club, the billing 'Formerly of the Cotton Club' earned them bookings at theaters and lesser clubs. Still others, and perhaps most who left, did so to get married. After the closing of the second Cotton Club Parade, the 'Stormy Weather Show,' [1933] there were several places in the chorus line to be filled. Lena Horne auditioned for one of them. Lena was from Brooklyn, by way of the Bronx and the South, and she was barely sixteen years old. During the height of the Depression, her mother, who was 'of good family,' and her stepfather were unable to earn enough money to support the family. Partly in economic desperation, and partly because she herself had tried and failed in show business, Lena's mother decided to try to get Lena into the Cotton Club chorus line. She had known Elida Webb, dance mistress at the club, for years."
Things change smoothly but surely for Mabel when she's hired at the Cotton Club for its reopening in Manhattan. The famous cabaret needs more girls, new chorines!
Mabel's first picture by celebrity photographer — and exclusive portrait maker for the Cotton Club — James J. Kriegsmann appears in the program for the 27th Parade of the Cotton Club.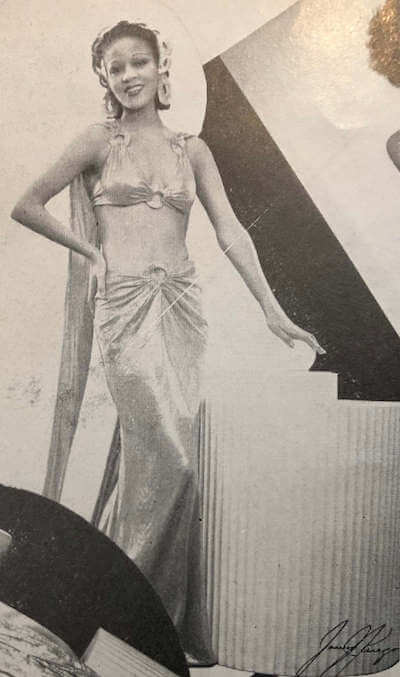 The first known picture of Mabel Garrett in a Cotton Club program (September 1936).
Photo by James J. Kriegsmann.
And now she's listed among the "famous" guests at parties like the one organized by Bill Robinson. For this one, she's even noticed by columnist for her singing: "Mabel Garrett proved that she could sing almost as well as she can dance. She's show girl – catch?"
In April 1937, Mabel inherits a property from a deceased relative in Georgia. But her territory now is the Cotton Club where she remains until it closes in February 1940. For the September 1938 edition of the Cotton Club Revue, Mabel is one of the 8 "gorgeous show girls" with Julia Noisette, Inne Snead, Margaret Chereaux, Ethel Watkins, Bea Ellis, Adeline Marshall and Verna Hill. A rank "above" the fast-stepping chorines.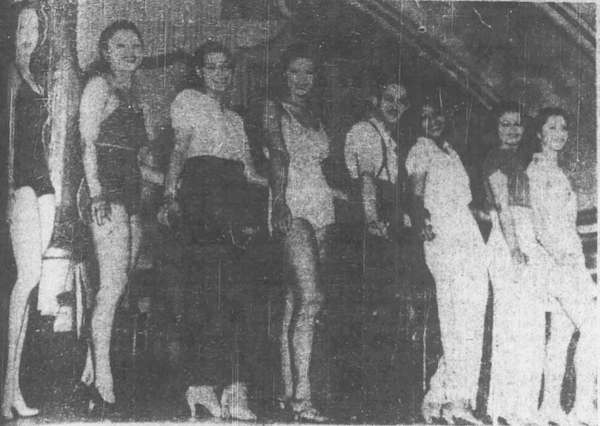 September 1937: "Grace and beautiful face count 100 per cent,
Leonard Reed, co-producer of the forthcoming Cotton Club revue."
From left to right: Adelaide Marshall, Barbara Paul, Mable (sic) Garrett
and Bea Ellis, Lenoard Reed and two unidentified chorines
Meanwhile, columnist of Harlem nightlife Archie Seal informs us that Mabel would be in love with the Charioteers' pianist, "Walter" [sic: Jimmy] Sherman, adding, "there's nothing you or I can do about it…" (The New York Amsterdam News, June 19, 1937). Coincidentally (or maybe it's a typo, the Brown twins, Vivian and Hilda, will both have a relationship with members from the Charioteers (more soon in our article about the sisters). Mabel is indeed a very close friend of Vivian Brown for whom she organizes in December 1937 a pre-nuptial party at Johnny Dancer's Club Indigo (named after Duke Ellington). Vivian will marry Eddie Jackson a few days after. More about Mabel and her (rumored) lovers later in this article…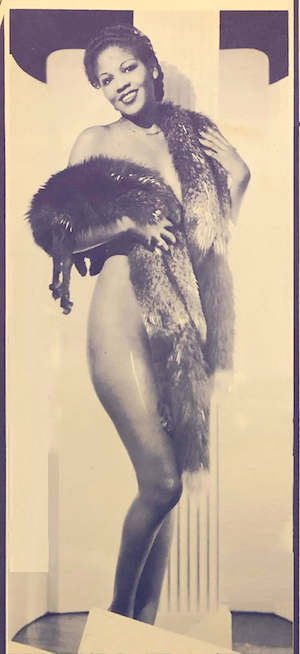 Mabel Garrett and a furry friend by James J. Kriegsmann
in the World's Fair edition program of the Cotton Club (March-September 1939).

Cover of the April 1937 Cotton Club Revue with Duke Ellington, and Ethel Waters.
Could this caricature have been modeled on Mabel?
• With Cab Calloway, Duke Ellington, and more!
During her time at the Manhattan Cotton Club, Mabel had the opportunity to back artists who were at the height of their career. With 3 shows a day starting at 9 and ending at 2 am, 7 days a week… a Cotton Club chorus girl needs to be very well-trained, willing to work hard and be able to manage an intense and exhausting schedule.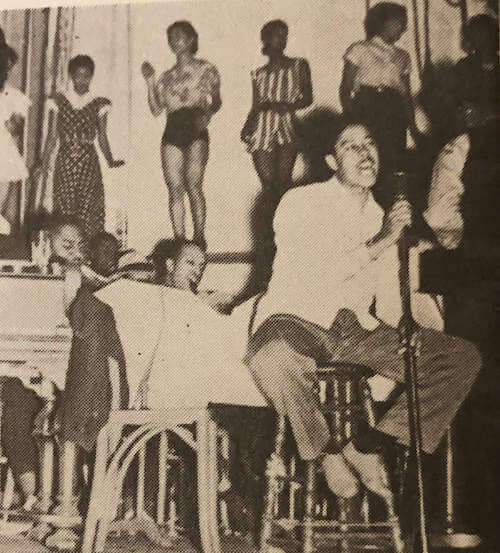 Cab Calloway rehearsing the band (Chu Berry can be spotted on the left, behind the piano)
with the Cotton Club chorus girls on stage (picture from a Cotton Club program)
Here's the list of the revues that opened at the Cotton Club:
September 1936-February 1937: Cab Calloway with Bill Robinson, Avis Andrews, The Berry Brothers, Whyte's Maniacs Lindy hoppers
March-June 1937: Duke Ellington with Ethel Waters, The Nicholas Brothers
November 1937-March 1938: Cab Calloway with Bill Robinson, The Nicholas Brothers, Avis Andrews, Mae Johnson
March-June 1938: Duke Ellington with The Peters Sisters, Peg Leg Bates
October 1938-March 1939: Cab Calloway with Nicholas Brothers, June Richmond, The Berry Brothers, Mae Johnson, WC Handy, the Dandridge Sisters…
March-June 1939: Cab Calloway with Bill Robinson (World's Fair Revue), Sister Rosetta Tharpe
October 1939-April 1940: Louis Armstrong (who met chorus girl Lucille Wilson then and later married her) with Bill Robinson, Stepin Fetchit (only for a couple of days), Maxine Sullivan
May-July 1940: Andy Kirk with Mary Lou Williams, June Richmond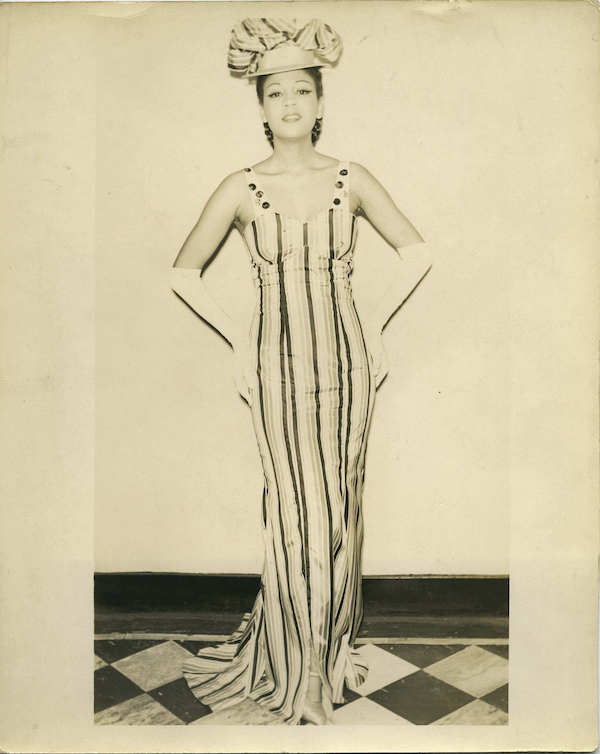 Mabel Garrett in her gorgeous Cotton Club outfit.
A picture from Lucille Armstrong's archives (courtesy of LAHM and Ricky Riccardi)
---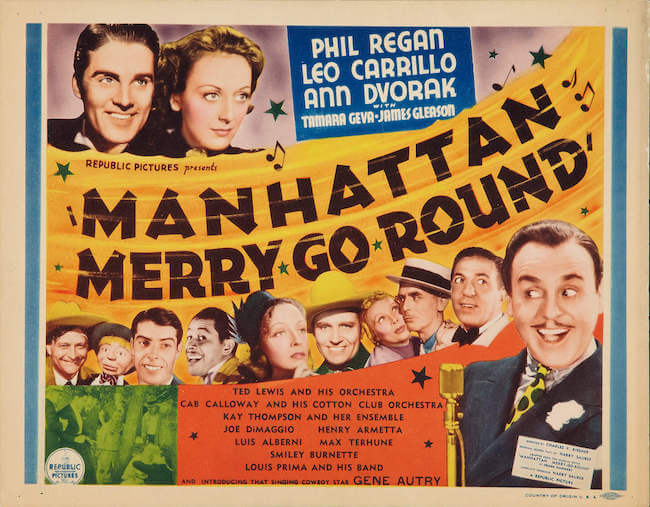 Main lobby card of "Manhattan Merry-Go-Round", 1937
• In the movie Manhattan Merry-Go-Round, 1937
Shot during the summer of 1937, the musical sequence with Cab Calloway in this Republic Picture is the perfect occasion for watching Cotton Club performers "live": the Lindy Hoppers, Cook and Brown, Avon Long, The Brown Twins, and "a chorus of sixteen, including: Christine Edgbert, Jeanie Martini, Gertrude Williams, Ruth Dash, Mamie Jeffries, Delores Myers, and Julia Noisette" (Afro American, Aug 21, 1937) from which emerges Mabel Garrett for a few steps and circles with Cab Calloway.
This could be considered as one of Mabel's career highlights but, as usual, she remained uncredited like all her jumping mates.
---
After the closing of Manhattan Cotton Club
Qualified as the "number one show girl" by The Chicago Defender in August 1939, Mabel can be considered as an attractive performer. But when the Cotton Club closes in June 1940, the same newspapers publish a short article "What, no takers for this number?" showing Mabel Garrett, "shapely Harlem show girl, [who] is one of the many eye-sores [sic] other cities and sections may now employ since the closing of the famed Broadway Cotton Club and Harlem's Apollo [for summer]. Can you imagine this number running free?"
Indeed, the closing of the Cotton Club, the reopening of the Apollo without the chorus girls signaled that this was the end of an era. All around New York and in the country, clubs and theaters were either scaling back their shows, or closing. Mabel, as many of her colleagues, had to seek other forms of employment. Many became barmaids, bartenders, cashiers; some married a wealthy husband or a former artist, moved away from the big city… But for the moment, Mabel was determined to remain one of the attractions in Harlem and Manhattan!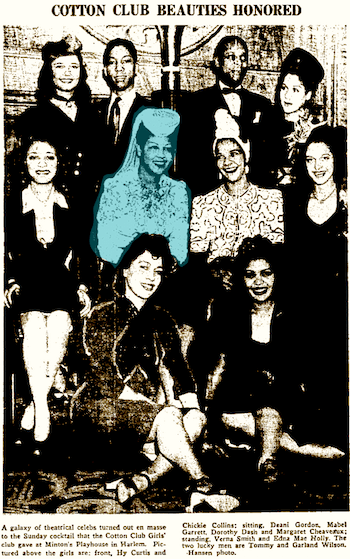 The Cotton Club Girls at Minton's Playhouse in Harlem
(The Chicago Defender, December 28, 1940)
The Cotton Club Girls
In November 1940, Mabel Garrett is the President of the Cotton Club Girls, and Edna Mae Holly, treasurer of the association. They sponsor events, cocktails where they gather, mingle and help each other and enhance their network. And it works! Anyway, Mabel appears several times in the press columns, at parties, cocktails, trips, fish parties, openings, horse shows, etc.
In his book The Cotton Club, Haskins explains: "The Cotton Club Girls also had reunions, although those who attended them were primarily the ones who had, voluntarily or involuntarily, left show business when the Cotton Club closed. One exception was the former Edna Mae Holly, who married Sugar Ray Robinson, and who rarely failed to attend one of the many reunions. Altogether, some 150 girls worked in the Cotton Club chorus line. Some married stars or important men: Isabel Washington, who became the first Mrs. Adam Clayton Powell, Jr.; Edna Mae Holly; Lucille Wilson, who married Louis Armstrong; and Peggy Griffiths, whose light skin color aroused much controversy over her racial identity and who married a wealthy New Jersey lawyer. Others continued to work, but rarely in show business. Tondelayo, who started in the line and later became an exotic- dancer specialty act, opened Tondelayo's Melody Room in Harlem, employing Margaret Cherreaux, another former Cotton Club Girl, as a cashier. Mildred Dixon, who was divorced from Duke Ellington in 1939, went to work in 1945 as office manager for a sheet-music publishing firm. Hyacinth Curtis worked for a while at the Club Zanzibar after the Cotton Club closed, and then toured with the USO before becoming a dental technician. Evelyn Sheppard married a Harlem bar owner, Jack Fuller. Carolyn Rich Henderson became a salesgirl in a Fifth Avenue shop. Ethel Sissle divorced band leader Noble Sissle and married an attorney in Los Angeles named Walter Gordon, Jr. Maudine Simmons married Chicago Brass Rail owner Nelson Sykes."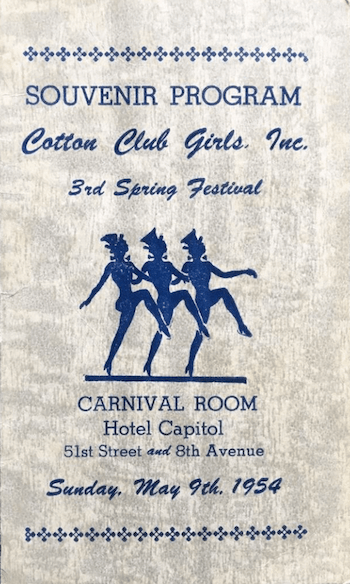 Cab Calloway emceed that gala evening that welcomed on stage
W.C. Handy, The Cotton Club Boys, Ethel Waters among others.
The association became more "official" in 1948 as The Cotton Club Girls Association, Inc. Bowman's Melody Room at 92 St. Nicholas Place at 155th Street was their headquarter. They offer several shows and parties to sponsor the National Urban League or NAACP, often on the same site where they used to dance, now named The Club Sudan. Haskins: "They held reunions, to which males who had been associated with the Cotton Club were of course invited, and maintained a newsletter to inform members of each other's activities." Mabel is no longer the president but still contributes to shows. Hyacinth Curtis [wife of choreographer-producer Clarence Robinson] is then the president. "Juanita Boisseau, vice president; Carolyn Rich Henderson, secretary, Billy Schwab, treasurer, Vivian Brown Jackson [from Twins Brown], charge d'affaires. Members are Margaret Boujai, Hilda Brown Craig [the other sister from Brown Twins], Elida Webb, Ethel Sheppard Thomas, Edna Mae Robinson [wife of Sugar ray Robinson], Ethlyn Miller, Adelaide Marshall, Ethel McReig, Mabel Garrett and Evelyn Sheppard Fuller." (Pittsburgh Courier, January 13, 1951).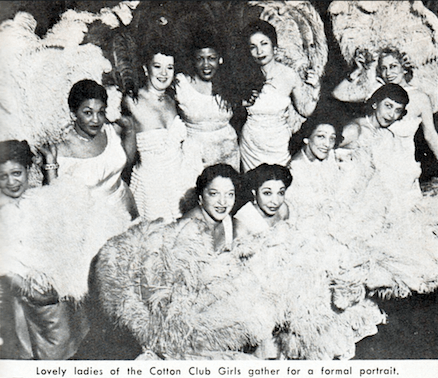 Mabel (with black feathers) in 1955 surrounded by former colleagues and forever friends
(Say Magazine, July 7, 1955)
Coppola's movie "Cotton Club" will be an extraordinary opportunity to shine the lights on the chorus girls, whose memories will be told in many newspapers, magazines, TV interviews until the great documentary "Been Rich All My Life" directed by Heather Lyn MacDonald (2006). And then the last survivors vanished one by one…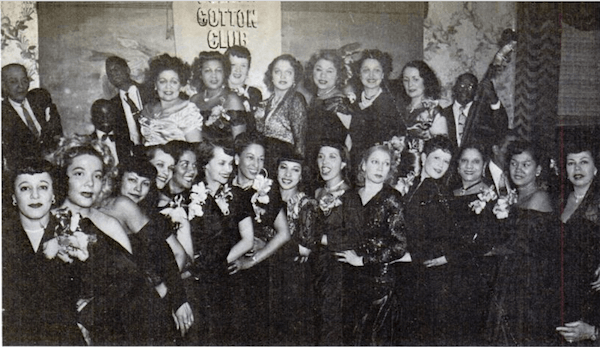 Another gathering of the Cotton Club Girls in 1955
(Mabel is right under the "c" of "Club")
In our next and final part, we see how Mabel rolls with the punches to remain on stage and in the minds of the press, from one revue to another club, and eventually running a bar...