Earres Martin PRINCE
(September 26, 1896 in Jackson, MO - April 23, 1957 in New York, NY)
Pianist in the Missourians and the Cab Calloway Orchestra from 1929 until March 1931
Earres Prince? With few fans (maybe 2 or 3 maximum in the world), who the hell knows anything about this inconspicuous man missing from all the jazz dictionaries? All the more reason for The Hi De Ho Blog to tell you a bit about the man who was the first pianist for – and apparently never appreciated by – Cab Calloway. He had the difficult task of preceding – not succeeding – Benny PAYNE, the pianist Cab had met before leading the Missourians.
We really know very little about Earres Prince, and most of the information below is from the testimonies of other musicians, especially the drummer and singer Harry DIAL (1907-1987) who knew Earres Prince from childhood.
Childhood in St. Louis, Missouri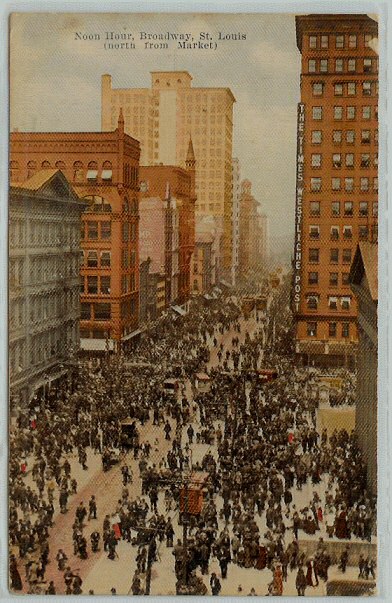 Thanks to U.S. census tables (and especially to Bob Eagle whom I cannot thank enough!) we learn that Earres Prince was born in Missouri in the small town of Jackson. His father Greely is a butcher and his mother Cora a maid and seamstress. Married in 1896, they are both 26 years old at the time of Earres' birth. Two other children follow, but only one will survive.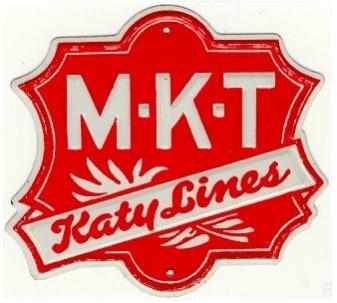 In 1900, the Prince family lives on Market Street in St. Louis. The 1910 census is rich in information, showing that the family moved to the north of the city at 2630 Randolph Street. Among the residents of their building is the DIAL family, whose young Harry (then 3 years old) becomes a friend of Earres, his first and last drummer! We will return to him later.
The First World War doesn't kill Earres Prince. He enlists in June 1918 and is inducted September 26, 1918 as a private in the 164th Depot Brigade (General Armory, U.S. Army during World War I). On his military papers (thanks again to Bob Eagle), we find him working for the MK&T Freight Office (Missouri Kansas & Texas freight company, called the "Katy Line".) In the 1920 census, Earres lives at 528 Montrose Avenue, still with his parents who are working at the same jobs. Earres, however, is now a worker in a tobacco factory.
Different official documents spell the name in different ways: Eris or Aeras for Earres ... and even Prinz for Prince.
First friends and first gig with childhood friends
During his youth, Earres Prince certainly takes piano lessons and develops his artistic sense. The city of St. Louis is already famous for the musicians it had spawned and is a place of development for jazz. Earres therefore meets his first fellow musicians early.
Harry Dial tells in his memoirs that he was friends with Earres Prince, Shirley CLAY (trumpet, who played in Cab's orchestra in 1932) and Andrew BROWN (soon to be a member of Missourians and then later on tenor saxophone with Cab until 1946). In August 1921, the friends together collect the $8 to pay for Harry Dial's union card, starting him off on his musical career.
The Manchester Cafe on Kings Highway and Manchester Avenue in St. Louis is among the first professional engagements for Earres Prince and his comrades. Shortly after, Prince leaves the small group along with Shirley Clay to play O'Connor's Chicken Farm, a popular roadhouse that offered better salaries than the Manchester Café.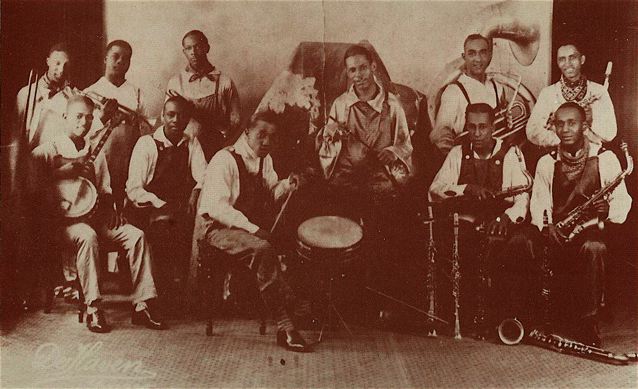 De Priest Wheeler (tb), Morris White (bj), Lammar Wright (tp),
Earres Prince (p), R.Q. Dickerson (tp), Leroy Maxey (dm), Andy Preer (vln, dir),
Jimmy Smith (bbs), Andrew Brown (ts) David Jones (as), Georges C. Scott (cl)
From the Record Breakers to Wilson Robinson's Syncopators
and the Cotton Club Orchestra
In 1922, Roger Quincey DICKERSON (tp) leads a small group called Record Breakers in Saint Louis MO along with saxophonist David Jones and Earres Prince. In the spring of 1923, Wilson ROBINSON, a producer and violinist, is hired to play the West coast Pantages circuit theaters under the name Bostonians (also known as the Syncopators), and adding to the original three are De Priest WHEELER on trombone, Eli Logan (Kansas City) on reeds, Andy Brown (cl) Jimmy Smith (bass), and Benny Washington who is shortly replaced by Leroy MAXEY on the drums. The next season takes them to the East coast and the Orpheum circuit venues. The Wilson Robinson's Syncopaters are a hit wherever they play!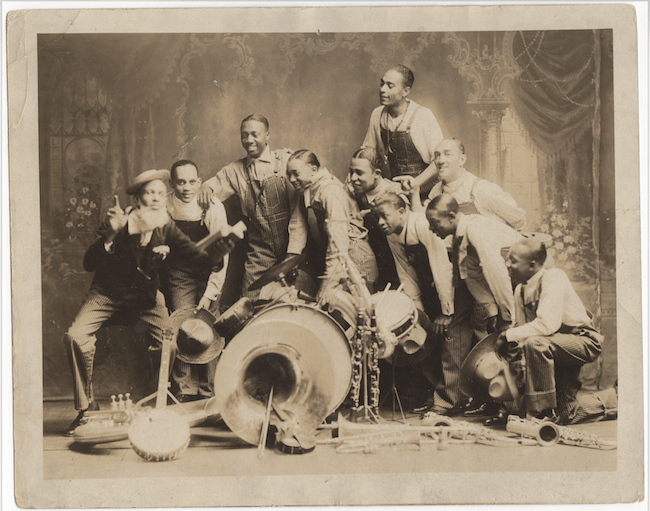 The Wilson Robinson's Syncopators, 1923
Wilson Robinson?, George C. Scott, Earres Prince, Leroy Maxey, Andy Brown, Eli Logan?,
Morris White, David Jones, Jimmy Smith, DePriest Wheeler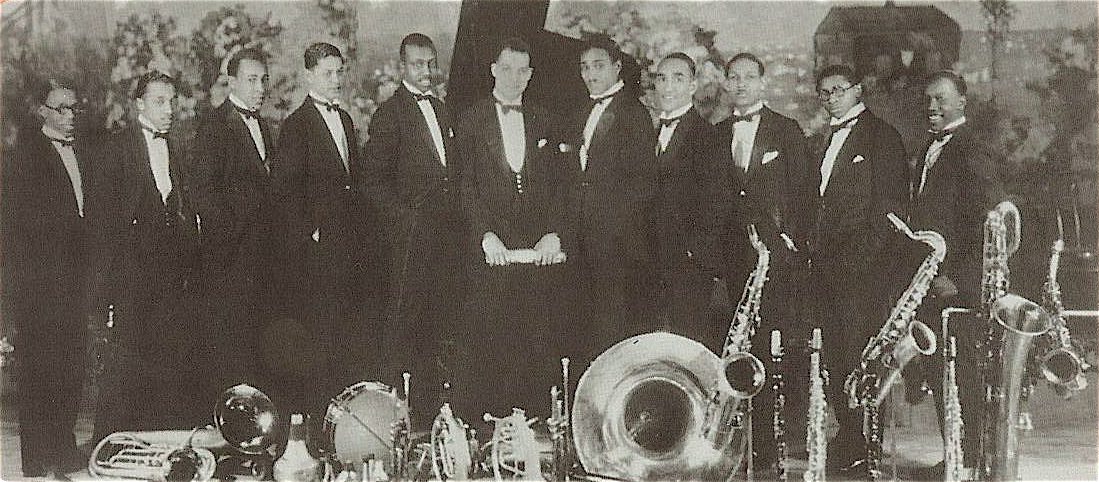 Andy PREER and his orchestra, ca 1925:
De Priest Wheeler, Leroy Maxey, Andrew Brown, Harry Cooper,
Earres Prince, Andy Preer, David jones, Jimmy Smith, R.Q. Dickerson,
Charley Stamps, Eli Logan
From Andy Preer to the first group combination of the Missourians
The group is put under the leadership of Andy PREER who needs an orchestra for the very new Cotton Club in Harlem. He adds St. Louis trumpeter, Louis Metcalf. Their recordings compare well with the other orchestras of New York at the time (January 1925).
Creativity, expressiveness and humor characterize this group where Harry Cooper and Dickerson hold the upper hand. They are soon so successful that the group becomes the permanent Cotton Club Orchestra for two seasons before being replaced, upon the death of Andy Preer, by the Duke ELLINGTON Orchestra (arriving in December 1927). Wilson Robinson, who is fired by the musicians because he wouldn't give them raises (!), is replaced by Jimmie Smith and RQ Dickerson as conductor and manager respectively. Lockwood Lewis becomes one of front men and, after a short period, the history is set for the young and cocky Cab Calloway...
The group of musicians first crosses Cab's path during a visit to Chicago, at the Sunset Café where Cab officiates as master of ceremonies. There, Cab not only accompanies the group on vocals, but also plays the saxophone. By the time they depart for New York they decide on the name the Missourians.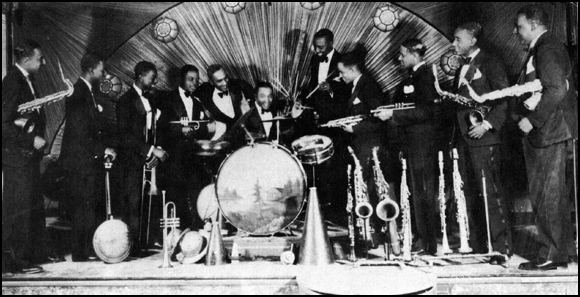 The Missourians, ca1929 BEFORE Cab Calloway.
The Missourians record some extraordinary tracks during this period. Unfortunately, the arrangements used do not demonstrate a true representation of Prince's talent. Of the dozen sides pressed there are only a few scattered Earres measures that do not really stand out. Coming from Missouri, however, he seems to play like some Chicago pianists (according to the ear of connoisseur Yvan Fournier) with a tendency to play "too many notes"...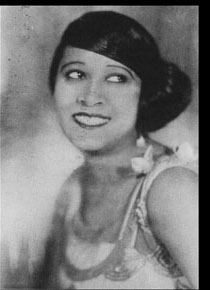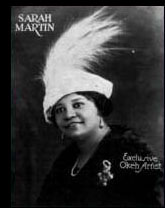 Edith Wilson and Sarah Martin
(photos : RedHotJazz)
A quartet and two singers
But moving back a little, in March 1925 Earres Prince records a session with singer Edith WILSON, one of the African-American stars of the scene. Two more titles are recorded with added Doc STAIN on vocals.
At the same time, the personality and talent of Harry Cooper is so strong that he records under his own name with a small group, Harry's Happy Four, in July and December of 1925. Cooper is accompanied by R.Q. Dickerson (cornet), Charlie Stamps (bj) and Earres Prince.
And on November 24, 1925, the Happy Four enter the studio with Sarah MARTIN. A successful singer who recorded often with Clarence Williams, she had a reputation for having a strong stage presence, to the point where she was compared with Bessie Smith and Ma Rainey (with less emotion, her diction is frankly stilted) or even Sophie Tucker.
According to Harlem Fuss' K.-B. Rau, Earres Prince would be the pianist you can hear on George McClennon's (cl) August and September 1926 recordings along with musician from The Cotton Club Orchestra, R.Q. Dickerson (tp), De Priest Wheeler (tb), George Scott (as), Charlie Stamps (bj) and Jimmy Smith (sbs).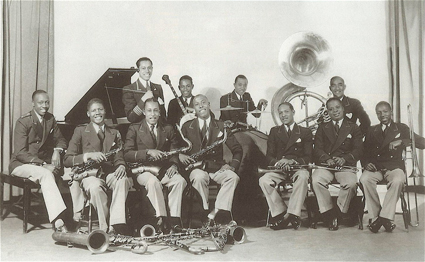 Cab Calloway and his Missourians
From left to right: Earres Prince, Walter Thomas, Andrew Brown, Cab Calloway,
Morris White, William Thornton Blue, Leroy Maxey, R.Q. Dickerson, Lammar Wright,
Jimmy Smith, E.B. De Priest Wheeler.

With Cab Calloway's Missourians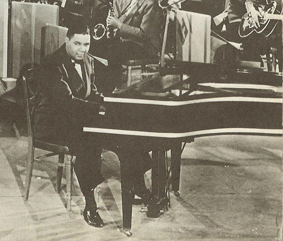 The career of Earres with the Missourians under Calloway's leadership is not brilliant. And for good reason: Cab Calloway had worked with
Count BASIE
(in 1929, when Cab traveled with the Alabamians -
see our note on this
) and
Benny PAYNE
(in 1929, when he was on tour with
Hot Chocolates
revue –
see also our note on this subject
. Cab was determined to shape the orchestra to conform in every way and to respect his ideas. The "old guard" had better watch out. Cab seizes the first opportunity! Some lasted and remained, however –
Andrew Brown
, Lammar Wright,
Walter Foots Thomas
…
After 5 recording sessions and many 78rpm releases, and with live coverage of many of the Cotton Club concerts in New York, the band is already very popular and the critics also seem to like this new sensation. But in March 1931 Earres Prince is fired by Cab Calloway. On what grounds? No doubt the history of the "old" Missourians was a part of the animosity between Cab and Earres. Besides, Earres was 10 years older than Cab, which certainly played a part in the rejection that the pianist may have felt facing the fresh, young leader with the big teeth...

Betty Boop's cartoon "Minnie The Moocher" (released in Feb. 1932 - filmed in 1931):
the only known footage of the early Cab Calloway band... with Earres Prince on piano!
Here, the record of Earres Prince is lost for a while. Does he get a gig as a musician around this time? Does he find a job in another field? Maybe he went to join R.Q. Dickerson and Jimmy Smith, similarly evicted from the Missourians, who has put together a group in Albany, NY?
There's a brief sighting of Earres Prince (under the name Charles Prince) in the Calloway Orchestra... Jean Calloway! She is actually a beautiful young woman conductor and singer who had her moment of (brief) glory in 1932 (obviously taking advantage of the Calloway name). She further pushed the lie to say that she was Cab's sister! A snippet in an article in the December 8, 1932 edition of the Daily Illinois reports that "the orchestra is under the direct responsibility of Charles Prince, former pianist for Cab Calloway, and Andres Martinez, former bassist in McKinney's Cotton Pickers. Jean can be described as Cab's feminine double." (Note: Martinez probably never actually played in the McKinney band.)
In May 1933, Earres Prince and his Syncopators appears in an all star Colored show billed Stepping High featuring blues singer Ida DEWEY, "Radio's Queen of the Air from Harlem., and comedians from Shuffle Along Tribble & Cross. They play in Mount Vernon, NY.
In 1935, we find one of the few direct mentions of Earres in an advertisement in Rome... in the state of New York, appearing at the Capitol Rathskeller. He is one of the featured artists with tap dancer and singer George Marion and they didn't forget to promote the fact that he had formely been with the Cab Calloway orchestra!
There is also a mention of the "Prince of Piano" in the orchestra at Small's Paradise in New York in 1937...
Composer of unknown songs...
Searching the American Copyright Catalog, we find many examples of Mr. Earres Prince as a songwriter:
March 1, 1936: Maisie (lyrics by L. Barber)
March 1, 1936: Take Me Back to You (lyrics by L. Barber)
July 1, 1936: Congo Rhythm (lyrics by James O'Malley and Robert S. Cragin)
October 3, 1936: Your President (lyrics by MJ McMahon)
November 17, 1936: King Boo (lyrics by RS Cragin)
June 29, 1938: Blackbird's Green with Envy Because a Bluebird Came My Way
June 22, 1940: Por la manana (conga melody)
I have found no trace of these songs being recorded by anyone. They are registered in Schenectady in upstate New York, or in actual New York.
Once again the official documents come to our aid (uncovered by Bob Eagle!), Earres Prince files a document of incorporation in 1942 for Chancellor Manor in Newark, NJ, which was probably planned to be a club. He is married to Ruth and lives at 425 W 160th Street in New York.
For the gala evening of the selection of Miss America Pageant in September 1945, Earres Prince provides orchestrations for the special music written by Al MORITZ.
In October that same year, Earres Prince plays in drummer Dick WARD's quartet along with trumpeter Sidney De Paris and sax/clarinettist Happy Cauldwell at the Shibe's restaurant, Lower East side in New York. This will be the only time Earres is named in the prestigious Down Beat magazine (Vol 12, Issue 20, October 15, 1945, page 9)
1946: reunion with a childhood friend
Here, his childhood friend Harry Dial helps us trace Earres Prince. He gives Earres work by assembling a small group to replace Allen Jackson at The Place, a restaurant in Greenwich Village in New York City. Earres is on piano, Henry 'Moon' Jones on clarinet and saxophone, and as always Shirley Clay on trumpet. The summer of 1946 brings a happy reunion with old friends from their first professional engagement some 25 years earlier. Although the audition went well, Shirley Clay ends up going with Noble Sissle in a show for the troops stationed overseas. Doc Cheatham is hired to replace him, but the club's management is still angry. The situation deteriorates when it's discovered that Earres Prince has been picked up by a nearby joint two weeks before starting at The Place... Reuben Reeves is hired back by Dial, but the orchestra is still fired.

Harry DIAL (batterie), Shirley Clay (tp), Henry Moon Jones (cl),
Earres Prince (p) au club Swing Rendezvous en 1946
(coll. Yvan Fournier)
Fifteen days later is their lucky day and they get a engagement at The Spot, just a few blocks away. Two weeks pass and The Spot is closed. No luck, right? The resourceful Eugene Sedric obtains an audition for Dial at Swing Rendezvous (W 3rd Avenue and MacDougal St.) that is looking for a group. They are hired. Despite the usual shouting matches with waiters who serve during their dance numbers and a repertoire that is not necessarily to the taste of all the band members, the engagement is a success! John HAMMOND even writes a glowing review in Esquire magazine Christmas 1946. This helps Harry Dial and his band tremendously: that kind of promotion was completely unexpected for small club like Swing Rendezvous.
In 1946 a recording session takes place with Harry Dial's Bluesicians. Reuben Reeves (tp), Henry Jones (cl), Olin Aderhold (sb) and Harry Dial (drums and vocal) are assembled along with Prince. Only two titles are recorded: I Like What I Like Like I Like It (probably a philosophical tale) and Wedding Day Blues. They are released by Mayo Williams on the Southern Records label.
On August 27, 1946, Harry Dial and his quartet broadcast live on radio. One of the numbers is Prince's Boogie.
With the article in Esquire, the Harry Dial group takes on new, more sophisticated arrangements, combining jazz, novelty tunes and opera. According to Harry Dial, the evolution of the group brings out the limitations of Earres Prince's skills on the piano. So Harry split with his old friend, but for old times, adds two weeks notice to the two weeks separation pay to allow Earres the time to find another job. As a bonus, he gives him $100 of the $133 he has saved. Apparently, Earres Prince takes it pretty well and doesn't remain bitter to Dial.
In 1947, Harry Dial returns to the studio in New York to record several tracks for Twentieth Century Fox, under the aegis of Irving Ballen. With the threat of a musicians' union strike, the record companies are quickly scooping up titles to address the coming shortage. This allows Harry Dial the opportunity to record about eight songs, including "Prince's Boogie" in honor of his old friend. But the composer is not present and Alfred Bell is the pianist who plays on it.
Apparently, in October 1948, Earres Prince is on the bill with Broadway JONES at the Walter Williams Grill in Wilkes-Barre, PA. They appear nightly there. More surprisingly, they're billed as "Internationally Famous Musical and Vocal Duo, direct from the Spivey's Roof" (correct spelling is Spivy). The latter was one of the first LGBT nightclubs in New York. So far, I haven't found any info about Prince at the Spivy's Roof.
Bad luck again for Earres: in November 1948, his partner, Broadway Jones (60) succumbs to a heart attack in a train bound from New York, a few hours after they both completed a week engagement in Hazleton, PA.
In October 1948, for Clarence ROBINSON's new musical comedy at the Harlem Apollo, we can read that "Cavalcade opens featuring such leads as Bunny Briggs, Three Brown Buddies, Olguin Trio, the Clarence Robinson dancing chorus, Earres Prince's orchestra and the Wen Talbert twenty-voice choir. (...) The production, which begins a national tour after its New York opening, has a cast of sixty, and everything from the Cake Walk to the Lindy Hop in dancing Bert Williams' comedy and echoes of the late Florence Mills are some of the highlights of the program." (in Pittsburgh Courier, Oct 8, 1949).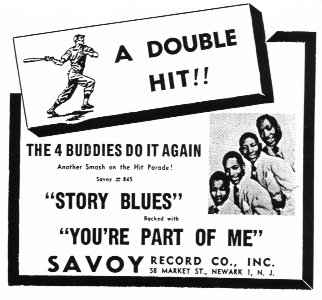 Doo-Wop: the voice up front and the piano in the background
Here we lose the trail of Earres Prince until 1951. Does he get gigs? Is he hidden in another shabby club somewhere? I have not found anything yet on the period from late 1949 to January 1951. It was at that time Earres Prince accompanies a young vocal group, The Four Buddies.
The Four Buddies was signed to the SAVOY record label and had a career for about a year finding notable success with a number 3 record on the Billboard R&B chart with their song "I Will Wait." The Four Buddies (brothers John and Larry Harrison, William Duffy and Maurice Hicks) come from Baltimore and founded their group (originally called Metronomes) in 1949 when they were 16 to 18 years old, with local radio even granting them their own show on Sundays. Singer Little Esther, who was with Savoy, passed through Baltimore and needed a support group to record a vocal track (Savoy 750, but under the name of Beltones!) For their next recording, the four boys were signed with Savoy. The signing brought their own session along with a name change to the Four Buddies. But no Earres Prince yet.
"I Will Wait" is released in December 1950 and reaches the third rank on the R&B charts in April 1951. Meanwhile, Fritz Pollard who owned the Sun Tan Studios in Manhattan, takes the group under his wing when they come home again. Was Earres Prince working there? Was he one of those instrumental accompanists under contract with Savoy? On January 13, 1951 the Four Buddies record four ballads with Earres Prince on piano. Two of them are not released on records, despite their fine qualities.
Their standings in the national charts show that the group held their own even against excellent competition: the Swallows, the Cardinals and the Clovers were all in the game by then.
In May 1951, the Four Buddies undertake a tour that includes the addition of guitarist Alvin Bowen as an arranger. Does Prince go along with them? And on May 23, the Four Buddies enter the studio again to record their third session, but only one of the four titles is ultimately pressed. Jinx? Lack of talent? The lifespan of a singing group is very short and producers quickly change their opinion of their ephemeral protégés. In addition, in November 1951 producer Herman Lubinsly writes them a letter urging them to stop fighting with everyone, including among themselves, and to focus on the real battle for the charts! The Clovers and the Dominoes has a big head start and the Four Buddies just can't catch up.
Falcons: another short-lived group
In July 1951, the baritone Vernon Palmer tries to lead another group, The Falcons, who has only one recording session on August 20, 1951. The original members of the Falcons throw out Palmer, and he doesn't appear in the personnel listing while Earres Prince is definitely there. Four titles ae released but they didn't carry on the glory of those Four Buddies.
Discover it on Marv Goldbergs' fabulous site dedicated to vocal groups and follow the end of the Four Buddies and the Falcons. As for Earres Prince, his participation in their story ends.
But whether it is the Buddies or the Falcons, Prince's piano is never up front due to the musical style and arrangements that naturally valued the voices. Marv Goldberg, who played the Falcons records for me, indicates a simple predominance of the guitar, with a few short riffs.
Continuation and end of the sad story for Prince
In 1951, according to the Phone Book provided Gilles Pétard, Earres PRINCE still lives in apartment 6-B at 425 W 160th St, New York. And since our story is in the details (what little we have), here's his phone number: WA3-6978! We are in the center of Harlem, in a relatively small area where other jazz musicians lived at that time (including Claude Jones, just a few blocks away).
Jazz historian Frank DRIGGS interviewed Earres Prince in August and September 1956 in New York, with his former comrades, Harry Dial and Reuben Reeves (from the Missourians and the Cab Calloway Orchestra). Thanks to Chuck Haddix, I've been allowed to listen to them. Unfortunately, Dial leads the conversation and we barely hear Earres Prince's voice. Probably too shy.
The last occurrence of Earres Prince is at Lucky's, a strip club in New York. Here we find Harry Dial (once again!) with his childhood friend, along with Lester BOONE. In this small, intimate club, the trio plays three shows a night. We are in the spring of 1957 and, shortly after starting their commitment at Lucky's, Earres Prince died a month after falling ill. He's replaced by Jimmy Reynolds. This is where Lester Boone and Harry Dial also ended their career as musicians.
Earres Prince is buried in Long Island. Thanks to a volunteer for the Find a Grave website, we have a photo of his tombstone. This will be the last sad picture of Earres Prince whose life was far from beeing a fairy tale.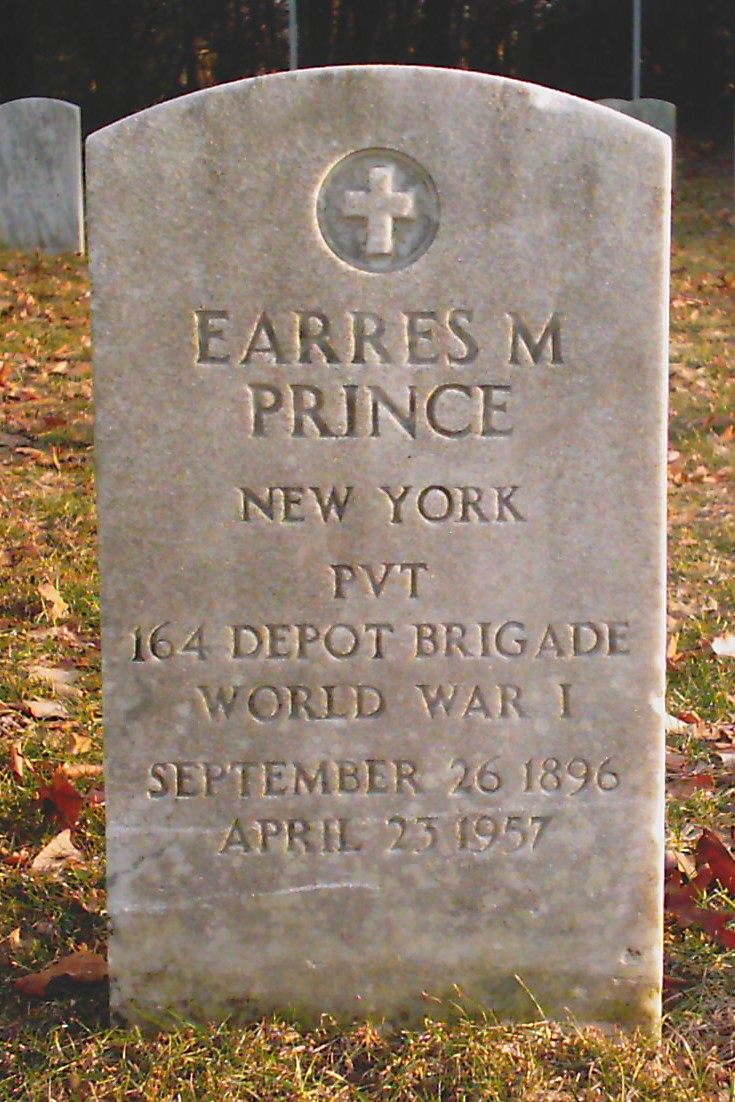 Let's hope that this first short biography of Earres Prince will be fulfilled with new comments and info by future jazz connoisseurs. Maybe this will be an opportunity to let people know a little more about this almost unknown pianist.


---

Selection of titles where you can hear Earres Prince's piano:
Edith Wilson
Harry's Happy four

Blue, Thats All (December 1, 1925)

The Missourians

Market Street Stomp

(June 3, 1929)

Missouri Moan

(June 3, 1929)

I've Got Someone

(August 1, 1929)

Harry Dial Quartet

Broadcast (August 27, 1946)

Live at the Swing Rendezvous. You can listen to Prince's Boogie by its creator (IARJC 7).
Note: absolutely no recorded solo, even 4 bars during Cab Calloway's period (July 24, 1930 - March 3, 1931)
---
Sources :
First to

Yvan Fournier

who helped me with patience, support during the long writing of this article, giving me the Harry Dial info.

Howard Rye

and

Bob Eagle

who both gave me the clues that lead to accurate info about Earres Prince.

Marv Goldberg

for his fast and accurate responses about The Four Buddies and The Falcons.

Brian

from Be BopWino for the audio documents (Four Buddies

and

Prince's Boogie

).

Glen

, great volounteer who specially went to Earres Prince's grave in Long Island cemetery to take a picture of it.

To those who tried to help me: Gilles Pétard, Steve Voce, Alyn Shipton, Wilmer Wise.

Keller Whalen who made the translation of this article.