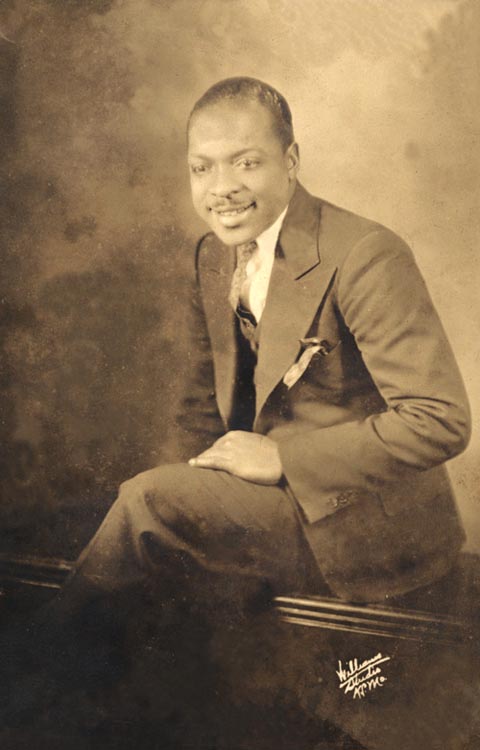 A young and promising William Basie
quickly noticed by a young and ambitious Cab Calloway
That's right! For an announcement effect, admit that it is powerful. The Count at the Cab. That was almost done. And from 1929! Count Basie and Cab met at the time when young Calloway was the leader of the Alabamians. A great friendship was born between the two men... The Hi de Ho Blog reveals a little more...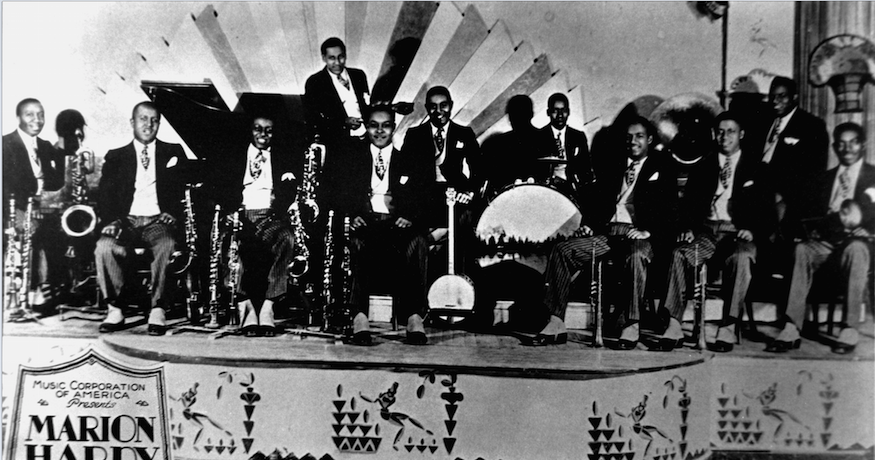 The Alabamians, with Marion Hardy as leader (Cab is not on the picture)
1929, El Torreon, Kansas City
Basie met Cab very early in his career during the time with the Alabamians, when their tour stopped by Kansas City in July and August 1929, at the El Torreon Ballroom. Count Basie remembers: "I met a hell of a great guy and struck up a very special friendship that has continued right on up to the present day. His name is Cab Calloway."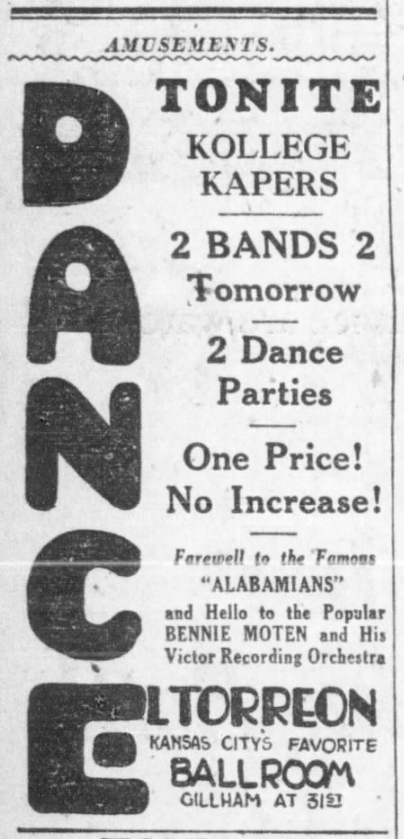 Ad for the night Benny Moten's band and The Alabamians shared the stage at El Torreon, Kansas City (July 19, 1929)
Cab was then in charge of the orchestra and asked Basie to join them as the piano player. Both of them spent a lot of time on the subject. The Alabamians were to continue their tour to New York, passing through Pittsburgh and ending at the Savoy Ballroom.
"Man, wouldn't you like to go to New York with us?" he kept asking me every time we got together. He was very excited about that. He had never been there before.
"Man, you know I'd like to do that," I said. And he really was trying to get me into the Alambamians. I think he almost lost his friendship in that band because they saw he was trying to bring me in. But Cab didn't give a damn. It didn't work out, but he really was for me."
1937, The Apollo, New York: "Whatever happens, if you need anything, see me first."
Later, in 1937, Cab met Count again at the Apollo where he had his first gig. He offered to bring whoever he wanted to see him with to the Cotton Club in Manhattan. Bill Basie went there with a couple of friends.
Cab "had reserved a choice table for us, and between sets he came over and we chatted. Then when we got ready t leave, I told him how much we enjoyed the show, and he took me aside for a minute. "Look, I wish you all the success in the world, and if at any time you get into any trouble here, let me be the first one you see before you see anyone else."

"I'll never forget that. He was one of the most popular names in show business at that time, and he was still just as much for me as he had been back when I first met him." (...)

"No matter what happens. If you make it or you don't. Whatever happens, if you need anything, see me first."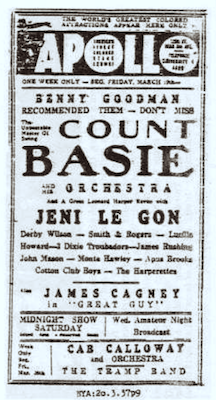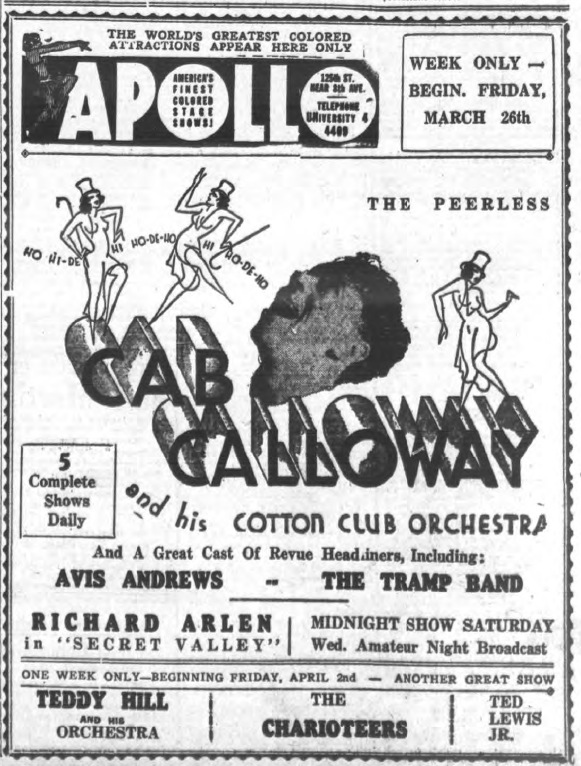 Ads for the consecutive engagements of Count Basie and Cab Calloway at the Apollo.
One night after Count's gig, Cab went backstage and spoke to Count... (source: Franz Hoffmann)
This friendship lasted and the two men often met. Their common traces can be found in various places: at charity or tribute concerts, at parties (at the home of black actress Hattie McDaniel in August 1942)...
Here are some of the photographed encounteers...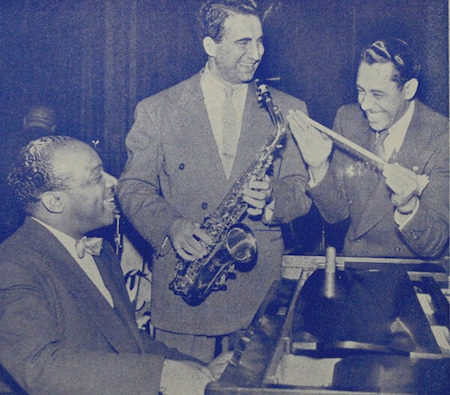 October 1941, The Famous Door, New York: with Dick Stabile after a concert
(source: Metronome magazine)
1945, June 5: Paramount Theatre, New York.
Count introduces Cab Calloway and his pianist Benny Payne, and the orchestra even backed them for a couple of bars. No photo here but much better: sound!
Listen to Count Basie and Cab Calloway during a tribute to Glenn Miller
(Read our full-length story of that evening)
1959, September 15: The Copper Door, New York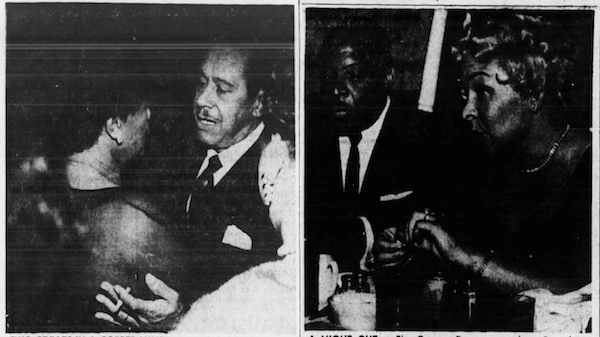 1977, July 8, Nice, FRANCE
One of the the top pictures of Cab Calloway and Count Basie together is this one taken in 1977 during Nice Jazz Festival (both leaders played there separately). They're learning the French game played with metal balls, the "petanque" (mostly played in the South of France where Nice is).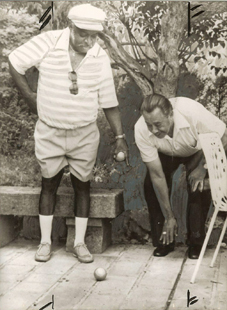 And now, better than a picture: moving images!

The historical petanque game filmed by Swiss Jean-Roland Hippenmeyer (Nice, France, July 8, 1977)

1978, November 11: Cab, Debbie Reynolds and Count Basie, Los Angeles
That evening, Cab, with Debbie Reynolds at his side, presented the The Thalians' "Mr. Wonderful Award" to Count Basie, topping the star-studded "Thalians an All That Jazz" 23rd annual gala ball in Los Angeles.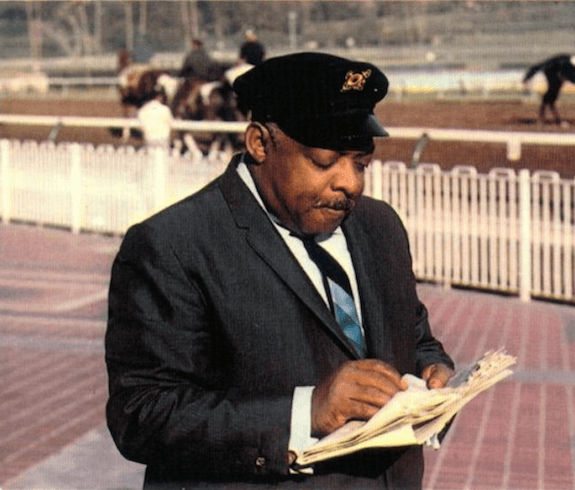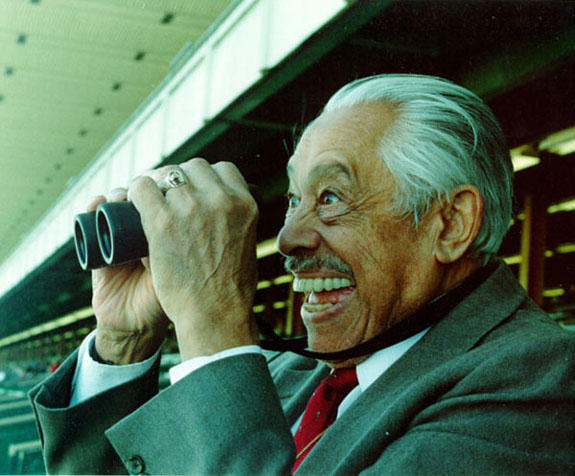 Count Basie (on the cover of his LP "Picks the Winner") and Cab Calloway share the passion for the race track
On the race tracks!
Basie and Calloway met regularly outside the concert halls: on the racetracks. Both were avid gamblers (it cost Calloway his fortune, but we'll devote a whole article to it). When they met at the racetrack, near the betting booths, they just stared at each other without exchanging a word. A way to encourage or challenge each other...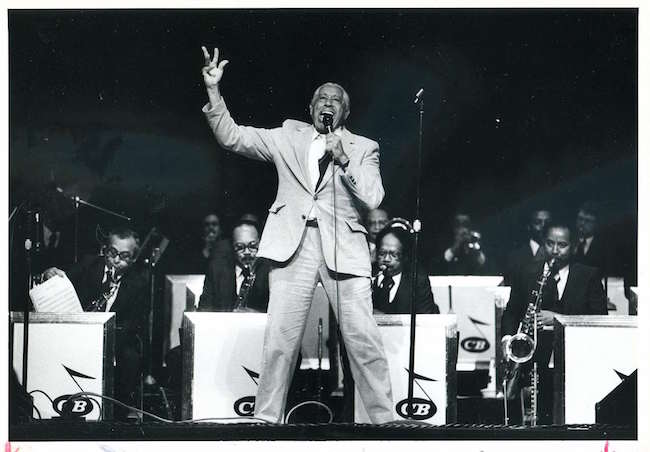 Cab singing in front of the Count Basie Orchestra, Freeborn Hall, 1984
(photo courtesy of Keller Whalen)
Cab at the head of the Count Orchestra!
Yes, it did happen! The first time was in Honolulu in 1979, at the request of the Count. But we don't have the details of this concert.
Then in March 1984, when Count Basie was too ill to continue conducting the orchestra and had to be hospitalized, Cab took over at the last minute, at the producer's request. Count Basie died on April 26. The tour continued for a few weeks, through the United States, but it seems that despite a promising bill, the relationship between Cab and the Count's musicians was not very good.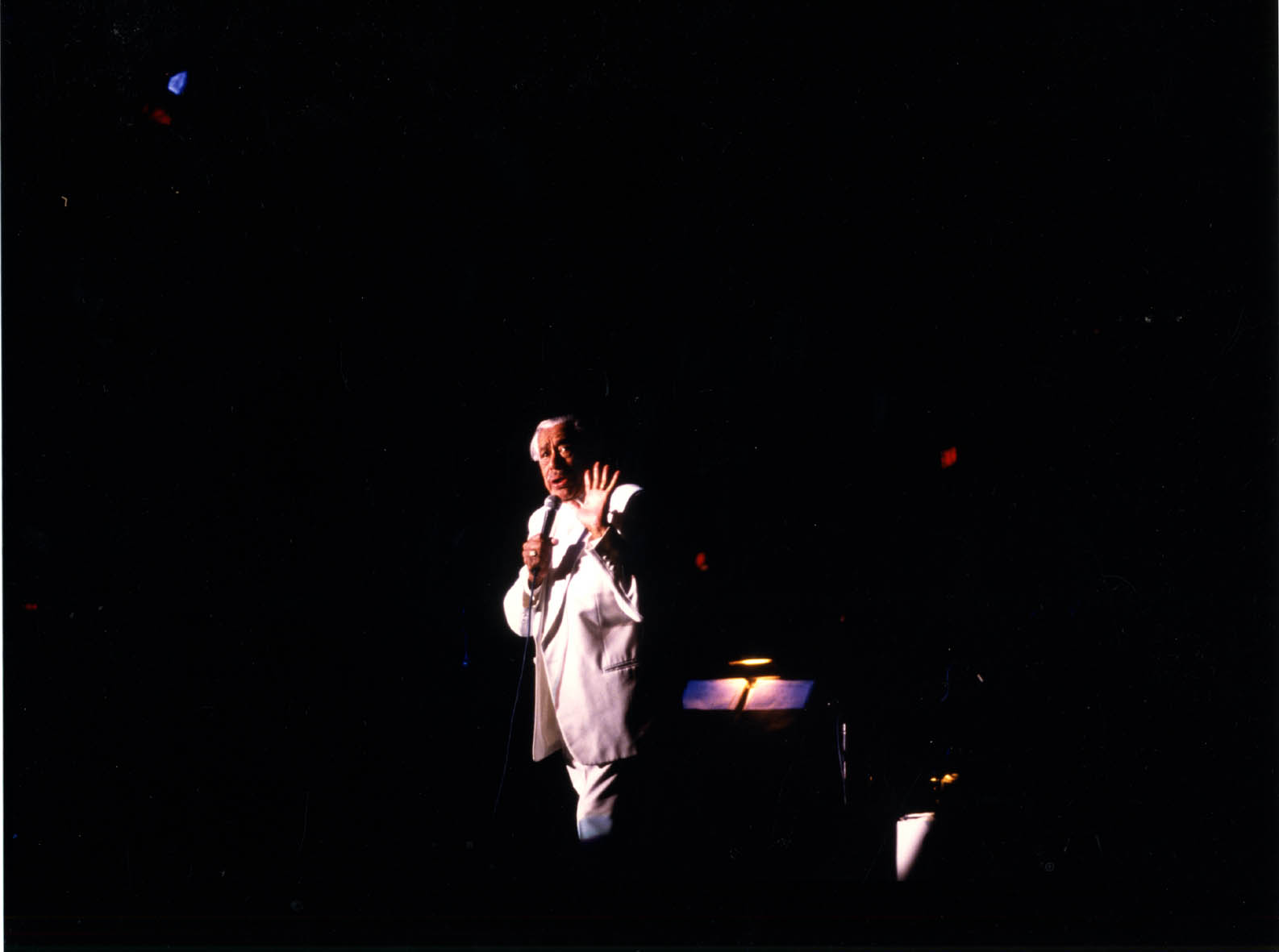 Cab Calloway singing in front of the Count Basie Orchestra in 1984, New Orleans (photo: André Clergeat)
1984, April 30, Abyssinian Baptist Church, New York
Of course, Cab attended his friend's funerals. He was there with his wife Nuffie. Also in the attendance were the likes of Dizzy Gillespie, Sarah Vaughan, Joe Williams (who sang Duke Ellington's "Come Sunday"), Billy Taylor, Woody Herman, George Shearing, Quincy Jones, and of course Freddie Green.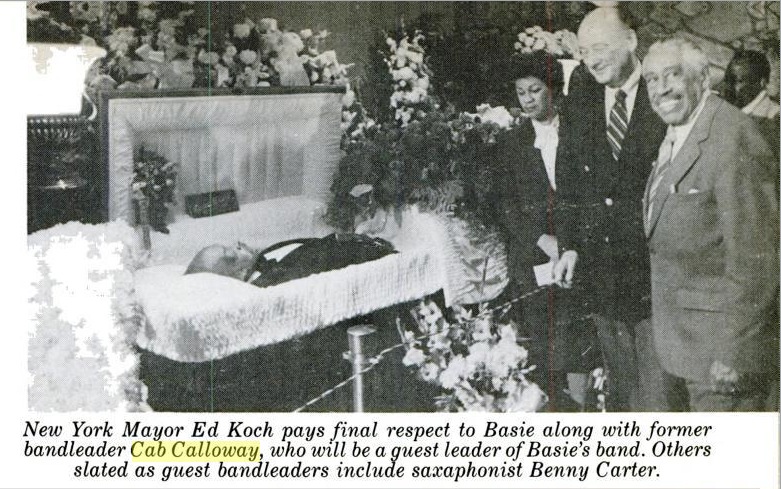 Count and Cab "one more time", for the last time.
---
Main source:
Good morning Blues : the autobiography of Count Basie, Albert MURRAY.
---
Many thanks:
to the late Chrétien LAEMMEL for the picture of the 2 "pétanqueurs",
to the late André CLERGEAT for the New Orleans picture,
to Keller WHALEN for the Freeborn Hall picture and for his help on this article and everywhere else on this site.