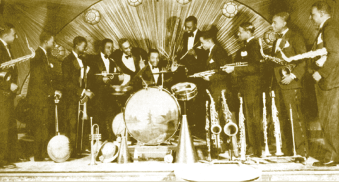 Leroy Maxey (batterie), entouré des Missourians,
avant d'être lâché par Calloway
Cab Calloway fit ses débuts de chef d'orchestre en 1929 avec les
Missourians
. Ses musiciens étaient tous de bonnes pointures dans leur domaine. Et leur fidélité était en grande partie due au salaire et aux conditions de vie dans l'orchestre (nous dédierons prochainement un article sur ce sujet).
Aussi, le batteur du temps des
Missourians
, Leroy Maxey était avec Cab depuis plus de 10 ans lorsqu'il fut congédié du jour au lendemain.
Cab était comme ça : quand tout allait bien, les musiciens menaient la belle vie mais attention aux écarts car la sanction devenait immédiate.
En 1939 donc, Benny Goodman et d'autres se mirent à jouer en petites formations. S'il y avait d'un côté Gene Krupa et Teddy Wilson, Cab Calloway ne pouvait se permettre d'en faire moins. Et il avait de quoi relever le défi : ses musiciens étaient parmi les meilleurs du moment.
Mais jouer en petite formation exige d'autres aptitudes que le big band. Le solos de Gene Krupa devenaient légendaires : Cab voulait les mêmes !
Un soir au cours d'un spectacle, il demanda à Leroy Maxey d'entreprendre un solo, pour le tester. Autant Maxey assurait une bonne rythmique, autant question solo il se ramassa de la pire manière. Cab fut obligé de reprendre le chant en plein milieu. Le soir même, Leroy Maxey était viré sur le champ et engagea le formidable Cozy COLE.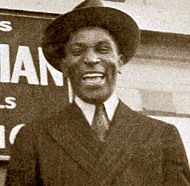 Cozy Cole, heureux d'être dans l'orchestre de Calloway.
Ce dernier s'illustra alors dans de superbes solos qui soulevaient les foules lors des concerts : On les retrouvera notamment dans
« Crescendo in Drums »
(17/07/1939, disponible sur
Classics 595
) et
« Paradiddle »
(08/03/1940, disponible sur
Classics 614
). Le « son » de l'orchestre de Cab pour le début des années '40 avait son swing ! Et avec Milt Hinton à la basse et Danny Barker à la guitare, la section rythmique allait être capable d'affronter les autres big bands avec succès.
La collaboration de Cozy Cole avec Calloway s'acheva lorsque Cole rejoignit les rangs de l'armée en 1943.
On notera également que faire découvrir de nouveaux musiciens à Cab engendrait parfois le risque de se faire virer : c'est ce qui arriva à Milt Hinton lorsqu'il fit venir Oscar Pettiford pendant une répétition de l'orchestre à Minneapolis et organisa un bœuf. Cab voulut renvoyer Hinton sur le champ et le remplacer par Pettiford ! Heureusement pour Milt, Oscar déclina l'offre et fut engagé un peu plus tard dans l'orchestre d'Ellington.
Anecdotes tirées de « You Can't Steal a Gift - Dizzy, Clark, Milt, and Nat » de Gene Lees (2004, éditions U of Nebraska Press) et de « Jazz Anecdotes » de Bill Crow (1991, éditions Oxford University Press US).