Mabel GARRETT
Dancer, Tap dancer, Showgirl
(August 26, 1903 or 1908-February 10, 1996?)
After the closing of the Cotton Club (see part 1), and her active years as a former Cotton Club Girl, let's see how Mabel rolls with the punches to remain on stage and on the minds of the press...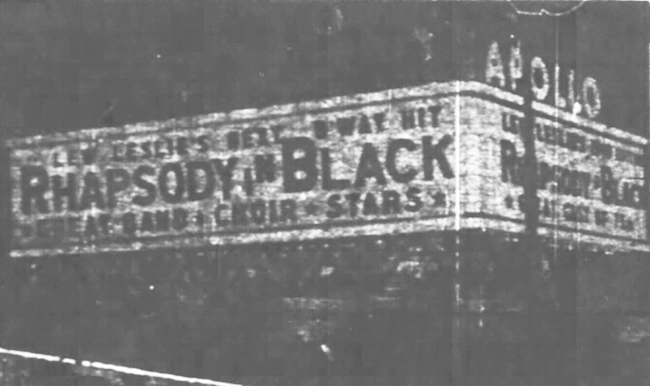 The marquee of the Apollo Theater in Harlem, promoting the "next Bway hit"! (The Pittsburgh Courier, September 7, 1940)
• Lew Leslie's "Rhapsody in Black" at the Apollo, September 1940
Now, let's go back to the run of Mabel's story after the closing of the Cotton Club. In September 1940, Mabel is already back on stage, at the Apollo for the revue "Rhapsody in Black", a brainchild of Lew Leslie, of Blackbirds fame, with dialogue written by Leslie, Cecil Mack and Nat Dorfman (whose regular function is public relation counsel for Buddy DeSylva – from the songwriting team with lyricist Lew Brown and composer Ray Henderson, one of the top Tin Pan Alley songwriters of the era).
The first show presented by the Apollo Theater for its reopening after modernization, "Rhapsody in Black" had a previous version in 1931 where Ethel Waters was the star, along with Valaida Snow and Avis Andrews.
The billed cast of 75 had the likes of Ada Brown, Mae Diggs, Winfield and Ford, Estela and Papo, Joe Attles, Tim Moore, Joe Byrd, Swan and Lee, Cecil Mack Choir. The young and talented Gertrude Martin conducts the orchestra and features George Rickson. In its "second" version for the second week, the cast included Honi Coles, Anise and Aland, Mae Diggs, Chuck and Chuckles.
Many celebrities headed to the premiere: Ralph Cooper, Fredi Washington, Ethel Waters (who played the first version in 1931), WC Handy, Lionel Hampton, Don Redman, Stepin Fetchit, Flournoy Miller, Billie Holiday and even Bessie Buchanan, owner of the Savoy Ballroom…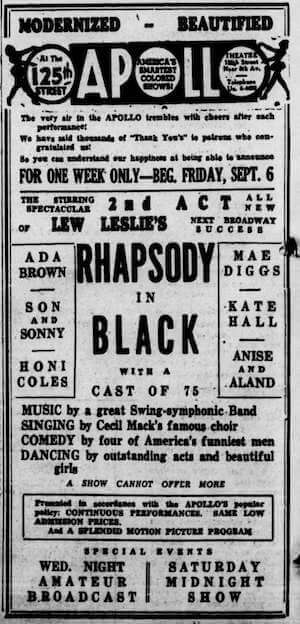 The New York Age, September 7, 1940
But where Leslie imagined a kind of best of his revues, "the seasoned observer of things theatrical would naturally realize that a show originally created to run on the legitimate stage cannot be expected to be the same when chopped up and offered from four to five times a day, and the raves must have come from those entirely without any knowledge of what the Negro had to offer on Broadway just a short time back." (Philadelphia Tribune, September 12, 1940).
"The next Broadway hit", as billed on the Apollo's marquee, only lasted from August 30 and September 12.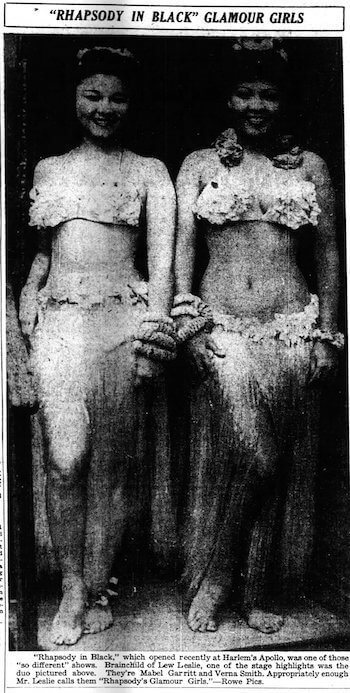 Two of the Rhapsody's Glamour Girls: Verna Smith and Mabel Garritt (sic)
(The Pittsburgh Courier, Sep 14 1940)
Even if Mabel was no more in the revue after September 12, it's interesting to follow its track a little bit. Lionel Hampton took over the stage of the Orpheum Theater in Los Angeles, CA with "The Rhapsody in Black Revue", with a totally different cast in November 1940 confirming this is another production.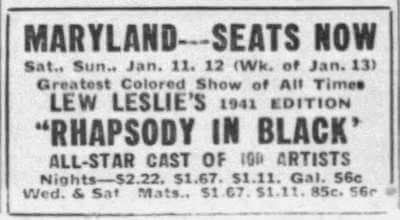 The Evening Sun, Jan 10, 1941
Yet in January 1941, Lew Leslie is back with the new "Rhapsody in Black Revue" at the Maryland Theater in Baltimore until January 18. As Donald Kirkley indicates in his article dated January 9, 1941, "the new company includes Edith Wilson, Hilda Rogers, Honi Coles, Kate Hall, Sid Easton, Crack Shot Hackley, Winfield and Ford, Estelle and Papo, Jelli Smith and Herbert White's Dancing Maniacs [aka the Lindy Hoppers]. (…) 'The prospectus describes the show as 'a musical symphony of blue notes and black rhythm'. Most of the music is furnished by violinist Billy Butler's Symphonic Swing Orchestra led by Mae Diggs, with the vocal parts by the Cecil Mack Choir.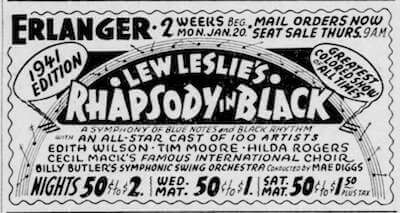 The Philadelphia Inquirer, Jan 12 1941
The show ended at the Erlanger Theater in Philadelphia where it reopened on January 20 and closed for good on January 25, 1941.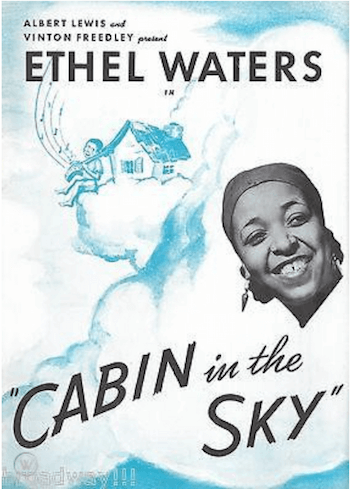 • "Cabin in the Sky" on Broadway, October 1940-March 1941
Opened October 25, 1940 on Broadway at the Martin Beck Theatre, the white-produced and directed "Cabin in the Sky" musical features Eddie "Rochester" Anderson, Ethel Waters, and Katherine Dunham. With music by Vernon Duke and lyrics by John La Touche, sets by Boris Aronson, Cabin in the Sky was staged by George Balanchine. Katherine Dunham played the role of the temptress Georgia Brown. The choreography for Dunham and her dancers was a joint collaboration between Dunham and the famous Russian choreographer George Balanchine.
Closing on March 8, 1941 after 156 performances, the troupe starts a national tour with Boston for 2 weeks (Toronto, Chicago in May, etc.). I haven't been able to find the name of Mabel in the programs in New York or elsewhere, but Milton Williams from The New York Age (December 7, 1940) tells us "Edna Mae Holley, Hy Curtis, Dot Dash and Mabel Garrett are the four pretties who grace the cabaret scene in 'Cabin in the Sky'" behind Katherine Dunham who plays the part of the seductive Georgia Brown. Earlier on November 2, New York Amsterdam's columnist Carl Lawrence noticed the same "cuties decorating the cabin" (this time, spelled "Mabel Gary").
Dancer and choreographer Katherine Dunham has a slightly different reminiscence of the Cotton Club girls' input: "When Balanchine and the producers first talked to me about the composition of the dance contingent, they had already seen our company at the Sherman Hotel and the Windsor Theater. Following the fashion of the day, they expected that those [to be?] added to the show, so as to approximate the number of dancers in current Broadway shows, would be made up of what were known as 'mulatto' or 'high yellow' Cotton Club girls, whom I knew would never integrate into our well-trained unit. I argued and fumed against it, but Balanchine stepped aside and let the others finally wear me down into accepting eight Cotton club girls, whose main contribution to the show was to sit at or drape against the bar in the 'Honey' scene. Soon we were all accustomed to them, even missing them when we parted in Los Angeles. They were pretty, as the Sherman Hotel Panther Room New Orleans mannequins were pretty, but had no aspirations to dance as we knew dance, and I suppose they were worth the effort and expense if only to demonstrate the panorama of color and culture found in Black America. Agnes DeMille's dancers, added to our company, were indeed a great help."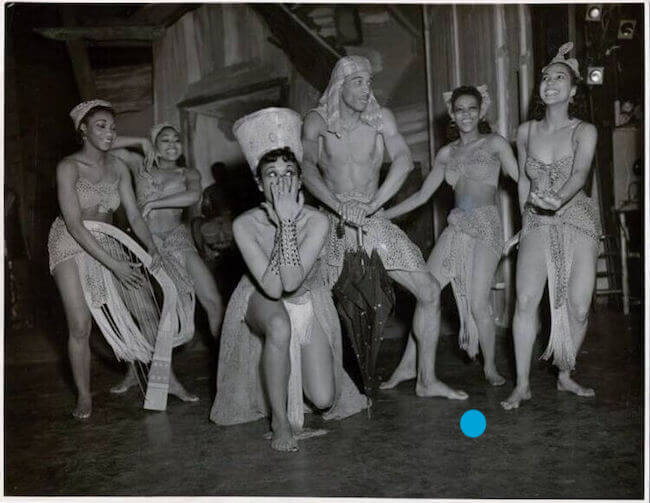 Ballet dancer Katherine Dunham, with her dancers.
Mabel is second from right (above the blue circle)
In July 1941, The New York Age indicates that Mabel "is making her home with [singer] Rosetta Williams*, at 75 St. Nicholas place [in Harlem]." Rosetta sang with Les Hite, John Kirby sextet… and was noticed several times with Mabel at events, parties, etc.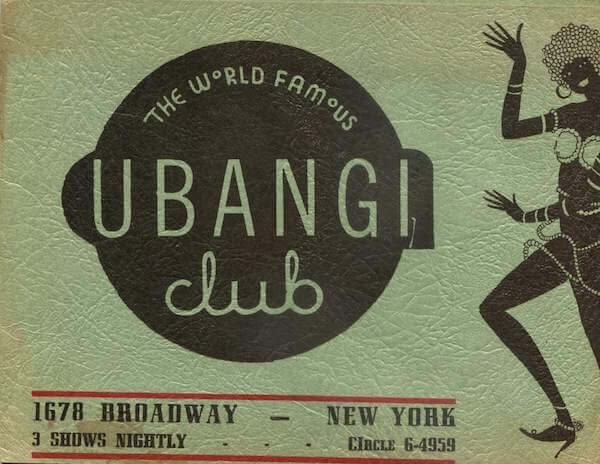 Ubangi's, souvenir photo folder
• Ubangi Club, Fall 1941-Spring 1942
The Ubangi Club first opened in April 1934, in Harlem at the corner of 131st Street and Seventh Avenue. It was famous for blues singer Gladys Bentley who was dressed in a male attire and where chorines were cross-dressing males.
The New Ubangi, a non-segregated place, managed by Joe Springer, took over the former Moulin Rouge at 52nd and Broadway at fall 1941. As Ben Schneider writes in Women's Wear Daily, January 6, 1942, "it has been several years now since the Cotton Club, the last citadel of hi-de-ho, departed Broadway. During that interim, there has been none to fill its place. (…) The Ubangi now supplies to Broadway the Harlem touch that has been missing, offering a fast and often furious sepian show loaded with jive, boogie-woogie and all the trimmings of a tan and terrific revue."
"Harlem's old Ubangi Club opened with a flourish Tuesday night with a production that boasts of top notch performers and handlers who have had years of first rate show behind them." (New Journal and Guide, Dec 27, 1941).
The initial revue is "Jungle Rhythm" (or "Jungle Rhythm Roundup") with a musical score by Paul Denniker and Andy Razaf (who did most of the previous Ubangi revues in Harlem). It premiered December 26 1941 after 3 weeks of rehearsals, with song stylist Savanna Churchill, Rosetta LeNoire "sprightly little singer-dancer"; Pauline Bryant, snake dancer, tap dancer Helena Smith (seen before in the Cab Calloway revue), dance team Smiles and Smiles, and the young Billie Nightingale. Violinist Stuff Smith and his seven-piece outfit lead the cast, alternating with Don Luis and his Conga Rhumba band [from the Club Gaucho]. The Hardin brothers, a quartet, are the background orchestra. Babe Wallace (we'll see him later as the villain in Stormy Weather, 1943) is the emcee "with songs in the Cab Calloway manner" (Schneider, idem).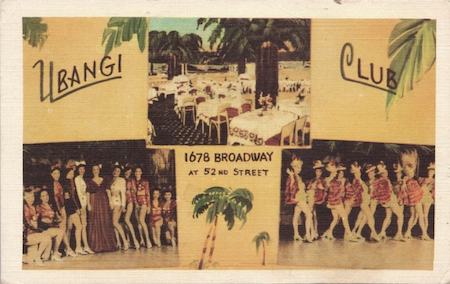 Ubangi Club postcard with its famous decoration and glamourous chorines
"The popular dance instructor, Mary Bruce, has been engaged to stage the dance numbers with a chorus of eight girls and six tall, tan and terrific showgirls" (New York Amsterdam Star-News, Dec 20, 1941). "Speaking of lovelies, the new Broadway Ubangi line is reminiscent of the Cotton Club days, with the tall Lillian Rollins, tan Mable Garrett and the terrific Adelaide Marshall among Verna Jones, Margaret Chereaux, Vivian Brown [from the Brown Twins], Marion Egbert, Mae Francis and Edna Slatten." (December 27, 1942). In this "line of 14 sepian girls", we can add the names of Verna Smith, Nicky O'Daniel, Lucille O'Daniel, Kathleen Parker, Katie Stratford, Anna Porter and Estelle Ragland. "Half of this group are holdovers from the old Cotton Club and Ubangi shows" (New York Amsterdam Star-News, Dec 20, 1941). The line will be called the "Harlem 'Creoles". After the departure of two of the six showgirls (Verna Richardson, and Edna Slatten) mid-January, Jean Eldridge joins the line.
Presented 3 times daily, the revue meets a tremendous success, "ringing the cash register faster than any other group on the Main Stem" (Chicago Defender, Jan 10, 1942).
A few days after the opening, comedian Jackie Moms Mabley joins the revue. Lee Norman's Orchestra replaces Stuff Smith for a week before Al Socarras occupies the bandstand. The Harding Brothers, and Helena Smith leave the cast. In March 1942, the tap dancer (and brother of Pearl) Bill Bailey heads the new bill at the Ubangi, along with Mae Johnson (read our 5-part article about her by her courteous admirer, Keller Whalen).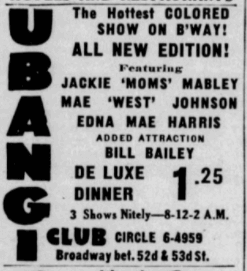 Daily News, April 11, 1942
In April 1942, the management announces that the revived Ubangi Club will move from its downtown locale and resume activities in its former spot in Harlem, following the opening of a new spot on the site of the former Mimo Club, with Ralph Cooper and Eddie Rector.
Before that move, a new show opens on May 17, 1942 with the blues singer Ann Lewis as leading artist, with the Beachcombers (of Cotton Club fame for their "savage dances"), "the three Speed Kings, Kelsey Pharr, Negro baritone; and Spo-de-o-de, the song jester. (…) A prominent feature of every Ubangi Club production is the bevy of dusky beauties and the alternating bands – Socarras and his orchestra and Don Luis and his Rhumba-Conga Band." (Women's Wear Daily, May 15, 1942)
But Mabel does not work anymore at the Ubangi. She's been hired for a promising new revue on Broadway…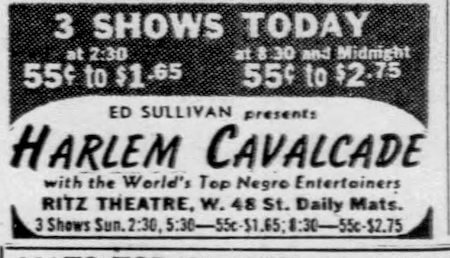 Daily News, May 2 1942
• "Harlem Cavalcade" on Broadway, May 1942
In May 1942, she's one of the Harper Harlemaniacs in the Noble Sissle and Ed Sullivan revue, "Harlem Cavalcade" presented at the Ritz on Broadway. The cast consisted in Noble Sissle (who sang and danced!), the Peters Sisters, Moke & Poke, Flournoy Miller, Una Mae Carlisle, Winnie Johnson, The Five Crackerjacks, the Delta Rhythm Boys, etc. Music by Will Vodery, arrangement by Chappie Willet, dances stages by Leonard Harper.
Before being the master of USA's Sunday evening, Ed Sullivan was the NY Daily News Broadway columnist and this was his second attempt to produce a stage review, after his first flop with "Crazy with the Heat" (Spring 1941). Always admiring and promoting African American performers, Sullivan even appeared on stage, opening the second act of the show.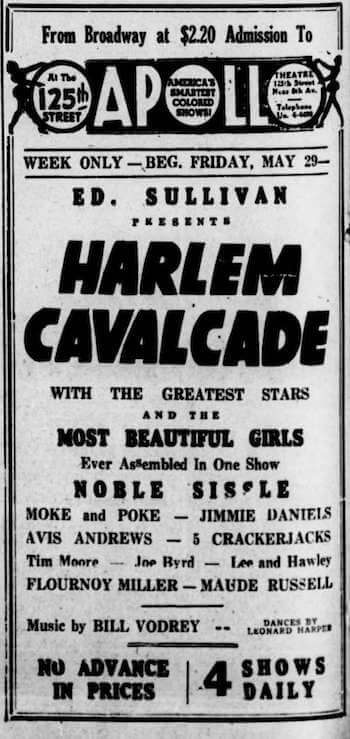 The New York Age, May 30 1942
Only 49 performances on Broadway, then a week at Harlem's Apollo that grossed $10,400. Despite very encouraging reviews, the show didn't last.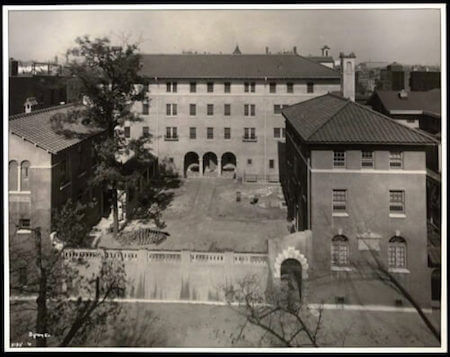 Supervisor for rescued girls at the Brooklyn Training School, 1942-1947?
A 1950 mention in a New York Age article tells us that Mabel would have been a supervisor at the Brooklyn Training School. Founded in 1889, the private institution later "seems to have developed a dual function, with girls being rescued from the street along with girls sentenced there by the courts. (…) (Suzanne Spellen, Brownstoner website). Often referred as "the school of opportunity" because of its high record of accomplishment in dealing with delinquency cases (New York Times, July 18, 1947).
Since the school closed in March 1949 and we don't have news from Mabel between 1942 and 1947, this could be the period she was employed there.
---

Love, affairs and rumors
Mabel Garrett married in September 1947 in Las Vegas to Demsey John. They celebrated their wedding back in New York at Bill Cohen's house party, along with former chorine Adelaide Marshall.
Before that official event, the press noticed several probable fiancés:
• Leonard Reed (1935) dumped in May 1935 for the Californian "Jackie Williams, the clean cut tap dancer, has all of the young "singles" groggy… (Hi Hattin' in Harlem, McMILLAN, ALLAN, The Chicago Defender, Jun 8, 1935), just hired for the Connie's Inn first revue in its new Manhattan place. The "Fred Astaire rotogravured" (Allan McMillan, jul 6, 1935) was born on Feb 22, 1913. Later, in March 1936, Jackie will be "holding hands with Hilda Brown" (one of the Brown Twins, also seen in "Manhattan Merry-Go-Round" and subject of a forthcoming article).
• Charioteer's pianist and future composer of "Lover Man" Jimmy Sherman in 1937 (cf. supra)
• The Tap dancer Honi Coles was trapped in Mabel's net in May 1937, seen hands in hands at a Duke Ellington party (The Pittsburgh Courier, May 15, 1937). She will work with him in the same show in 1940 and 1941.
• Thomas 'Chink' Lee, the captain of the Cotton Club Boys: "Cotton Club dancing flash, and Mable Garret of the C.C. show girls, are rumored having secretly wed the other sun-up…" (Chicago Defender, Jan 8, 1938)
• Mable and Julia Noisette were supposed to be friends and colleagues at the Cotton Club. But in December 1939, Mabel was making her move on Mercer Ellington (Duke's son) while Julia was dating him (New York Amsterdam News, December 16, 1939)
• "A dapper Army officer at Camp Devens" (Massachusetts) "a 366th Infantry Lieutenant" (July 1941)
• Again with tap dancer and co-inventor with Willie Bryant of the shimmy routine, Leonard Reed (September 1941)
• Boxer Henry Armstrong (December 1941)…
---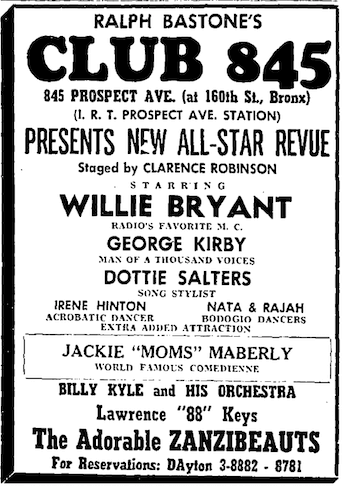 New York Age, December 13, 1947
• Club 845, 1947-1950?
In September 1947, Mabel is said to work at the Club 845 and have celebrated her birthday along with bandleader and emcee Willie Bryant and Zanzibeaut Anne Porter.
The place was owned by Ralph Bastone who already runs the famous Palm Café, "The Most Modern Palm and Cocktail Lounge in Harlem", next to the Apollo Theater on 125th Street.
Located in the South Bronx, "on 161 Street and [845] Prospect Avenue stood club 845, one of the most important centers of be bop in New York City, where Thelonius Monk, Dexter Gordon, Charlie Parker, and Sonny Rollins all played regularly in the late 40's and early 50's."
Before that bunch of bop and hard bop heroes you could go there and listen to Count Basie, Willie Bryant, John Kirby, J.C. Heard, Edgar Sampson, Earl Bostic, Perez Prado, Harry Dial (with pianist Earres PRINCE of Calloway fame too! – read also our article about him), Eddie South, backing Etta Jones, The Nicholas Brothers, Dottie Saulters (from Cab Calloway fame – read our 3-part biography about her), Moke and Poke, Cook & Brown, Slim & Sweets, Leon Collins, The Four notes, , Tondelayo (of Cotton Club fame). The famous Zanzibeauts (of Zanzibar Café fame – read our article about this venue) were the chorus girls of that place before Henry Le Tang changed to line and the name for "Le Tang's Lovely Dancing Beauties".
We don't know what position Mabel had in that place: manager? Hostess? Barmaid? We assume she was probably "too old" to still belong to the chorus line. In the rare picture we've seen of her in the newspapers of that time (too poorly to be reproduced here), she looks dressed as a respectable lady, out of the stage feathers but still remains an elegant and glamorous woman.
---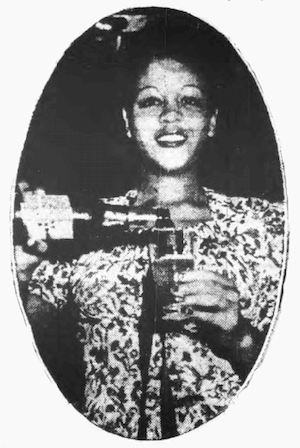 Mabel "former Cotton Club show lovely,
makes a striking picture as she pours her own thirst quencher"
(Pittsburgh Courier, August 23, 1941)
"Pour me a drink, Mabel"
At the beginning of 1950, Mabel works now at the Happy Hour Café in the Bronx as a barmaid, "so easy on the eyes the checks look small" (New York Age, March 4, 1950). A few weeks after The New York Age mentions her position, she's now managing the Murrain's Music Bar also with Alwillie Harris (1916-1994), just a block from the Happy Hour where guest bands entertain the patrons every weekend.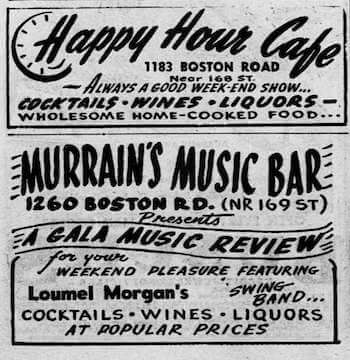 Owned by Jerry Foster, who also runs Jerry's Hideout on 8th avenue at 113th Street in Harlem, the Bird Cage opens on 2308 7th Avenue between 135th and 136th Streets in September 1950. "Specializing in luscious fried chicken and waffles", Jeri's Bird Cage is open 24 hours and you may ask Mabel to pour you some drinks. She started there in November.
In February 1954, Jet Magazine announces that Mabel "bought a tavern in the Bronx with money willed to her." I couldn't find the name of the bar and lose her track then, except for the Cotton Club Girls gathering where she remains noticed until 1955...
After that date, did she continue to manage her own place? Did she work at some friend's place, like the Baby Grand run by one of the Brown Twins?
The IMDB notice states: "Later a bartender and hostess in a number of well-known taverns and nightclubs in Harlem and in the Bronx." The same IMDB source suggests Mabel died February 10, 1996, in the Bronx, New York, NY.
In 1928, when columnist Eva Jessye wrote for The Pittsburgh Courier "the chorus girl has been the most active medium in glorifying the Negro woman" (cited by Es-Pranza Humphrey, 2020), she sums up the racial uplift of this generation, "For Black women during the twentieth century and onward, the chorus girl provided a new avenue to display feminine identity through metropolitan fashion stylings."
I'm pretty sure that Mabel Garrett would have endorsed such statement, since her life proved to be one of those women who bravely set stylistic standards for the others.
Thanks to a few seconds with Cab Calloway on screen, we have been able to write down the story of this now unknown performer, whose glamorous picture was often in newspapers, whose path crossed the life of so many artists. One life among so many that remain unknown to everyone…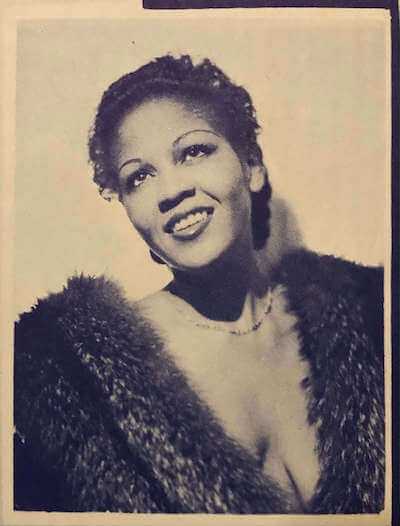 ---
Acknowledgements to Harri HEINILÄ, who identified Mabel Garrett on a couple of blurred frames from the "Manhattan Merry-Go-Round" sequence.
Many thanks to Ricky RICCARDI for allowing me to reproduce Mabel's picture
from Louis Armstrong's archives
My everlasting gratitude to the one and only Keller WHALEN,
who always supports, contributes, helps and encourages me to set those articles.
---
Sources and references:
Anonymous, Cotton Club Girls, Ebony Magazine, April 1949
A. Peter BAILEY, The Cotton Club Girls, Ebony Magazine, December 1985
The Veiled Aristocrats, The Department of Afro American Research, Arts, and Culture's Archive, 2016
Dan DIETZ, The Complete Book of 1940s Broadway Musicals, Parlux, 2005
Katherine DUNHAM (edited by Vèvè A. Clark and Sara E. Johnson), Kaiso! Writings by and about Katherine Dunham, University of Wisconsin Press, 2005
Harri HEINILÄ, An Endeavor By Harlem Dancers to Achieve Equality – The Recognition of the Harlem-Based African-American Jazz Dance Between 1921 and 1943, 2016
Jim HASKINS, Cotton Club, Hippocrene Books Inc., 1994
Es-pranza HUMPHREY, Fashioning the Black Chorus Girl, Fashion and Race, 2020
Robert KIMBALL and William BOLCOM, Reminiscing with Sissle and Blake, The Viking Press, 1973
Maryland Historical Society, Chocolate Dandies, Maryland Center For History and Culture
David PALMQUIST, Wini Johnson and Wini Brown, website The Duke Where ad When, 2017
Teddy Hale Dances, Past Entertainment, 2021
Charlene B. REGESTER, Black Entertainers in African American Newspapers, McFarland & Company, Inc, 2010
Ricky RICCARDI, Heart Full of Rhythm, The Big Band Years of Louis Armstrong, Oxford University Press, 2020
Mark ROBINSON, Remembering Cabin in the Sky, Mark Robinson Writes, 2019
Sarah ROSE, Brown Sugar: The Story of Lucille Wilson Armstrong, That's My Home, Louis Armstrong House Museum Virtual Exhibits, 2020
Suzanne SPELLEN, Walkabout: The Training School and Home for Girls, Part 3, Brownstoner, 2012
And many articles from The Chicago Defender, Baltimore Afro-American, Pittsburgh Courier, New York Age, New York Amsterdamer, Daily News, Billboard, Variety, Jet, Ebony