The author of this incredible biography is my great friend and jazz connoisseur Keller WHALEN.
PART I: THE EARLY YEARS AND NEW YORK
The Sepia Mae West, Copper-Colored Mae West, Creole Mae West, Scarlett O'Hara from Lennox Avenue, Gypsy Rose Lee in Bronze, Rainy Day Sadie, the Duchess of Yorkville, the Chick with the Limber Timbre, and Miss Atomic Blues. These are all sobriquets given to Mae Johnson, forgotten star of the Cotton Club.
Histories of the Cotton Club era, biographies of its performers, and appreciations of the music and personalities of the period are full of facts and stories about Duke Ellington, Cab Calloway, Ethel Waters, the Nicholas Brothers, Lena Horne, Bill 'Bojangles' Robinson and the many other talented musicians, singers, dancers and comedians who entertained at the famous Harlem club.
Books, articles, and essays about the Cotton Club itself include short biographies of such memorable performers as Avis Andrews, Peg Leg Bates, the Berry Brothers, Buck & Bubbles, The Dandridge Sisters, The Peters Sisters, June Richmond, The Four Step Brothers, Sister Rosetta Tharpe and The Tramp Band.
But in those books and other histories, there's nothing about Mae Johnson, even though she was a popular and top-billed singer, dancer and actress who starred in nightclubs, records, the stage, and movies, with an eventful life full of music, movies, sports, violence, and lawsuits!
Two comprehensive books, The Cotton Club by Jim Haskin (1977) and Live From the Cotton Club by Michael Brooks, Horst J.P. Bergmeier and Rainer E. Lotz (2003), each fail to reveal a single detail about Mae Johnson's life or performances, even though her name is listed prominently throughout those books in illustrations and photos of Cotton Club programs, reviews, flyers and newspaper ads.
The biographies, autobiographies and memoirs of Mae's contemporaries and fellow performers, Louis Armstrong, Cab Calloway, Dorothy Dandridge, Duke Ellington, Ella Fitzgerald, the Nicholas Brothers, Charlie Parker, Andy Razaf, and Bobby Short each mention Mae Johnson just once or maybe twice -- albeit usually appreciatively – but with no more than a passing sentence.
Let's celebrate Mae Johnson and her contemporaries now. Come along way backstage at New York's and L.A.'s hottest nightspots and far behind the scenes in Hollywood to learn about the life and work of Mae and other forgotten African American performers.
First, a short aside on some other entirely worthy and talented women —not to be confused with our star— who all happened to be named 'Mae Johnson' and who lived and worked around the same time and who will have to be memorialized at a later date:
Mae Johnson, dancer, and wife of Harlem pianist James P. Johnson; young Fats Waller slept on their couch.
Mae Johnson, a New York agent and nightclub promoter in the 1940s.
Mae E. Johnson, inspirational author of the book "This Too Shall Pass."
Mae Johnson, actress of a certain age who appeared in Earl Carroll's Vanities, 1929.
Ida Mae Johnson, singer who recorded "Jezebel" with the Earl Hines Orchestra, 1938.
Mae Johnson, Miss Tan Washington DC, 1965.
WASHINGTON, NEW YORK AND SHUFFLE ALONG
Mae Johnson was born Eddie Mae Johnson in Washington DC on November 15, 1910, the fourth of five daughters. Her father was a barber and her mother a hairdresser.
Mae attended Dunbar High School in Washington and went to the progressive Hunter College in New York with plans to become a teacher. Beginning her career in New York, her first work was in 1929 with producers Teddy Blackman and Leonard Harper (who directed the original production of "Connie's Hot Chocolates.") She was a stand-in or replacement in some of the various revival and touring productions of the long-running shows, "Blackbirds" and "Hot Chocolates."
Mae had at least one sister in show business – Teddy (Theodorisa) Waters was the hostess and main entertainer at the Gold Dollar Café in Syracuse, New York in the late 1930s.
Mae was connected with and possibly even married to a man named Mexico, who was the owner of Mexico's, Duke Ellington's favorite after-hours speakeasy in Harlem.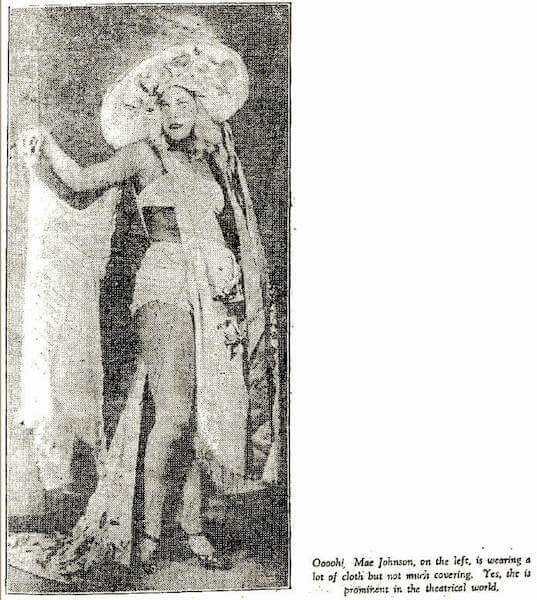 A very early publicity shot of Mae Johnson, 1928
A major break for Mae was her 1932 appearance in "Rhyth-mania," the 18th Edition of the Cotton Club Parade at the original Harlem Cotton Club, starring Duke Ellington and His Orchestra. Mae took part in four ensemble numbers, adding her "specialty" singing and dancing to each piece — "Get Under the Sun," "'Neath the Pale Cuban Moon," "Dinah" and "Shake that Thing."
On the west coast for a few months in 1933, Mae was the headliner at the Harlem Showboat in Los Angeles with dancer Ella Mae Waters. And then she moved to the Club Alabam for a show that included Don LaRue, a female impersonator (maybe he did a Mae West impression with some ideas for our Mae?) And in April 1933 Mae joined the touring cast of Irvin C. Miller's "Brownskin Models" revue with Alto Oates (more on the interesting Ms. Oates later). Mae was starting in earnest to build a career in both major musical productions and solo club appearances.
Beginning in June of the same year Mae takes a principal singing role in the latest touring production of Sissle and Blake's perennial favorite "Shuffle Along." Originally a huge hit in 1921, a major revival production had just flopped on Broadway in late 1932 with Edith Wilson and Lavada Carter in the two principal female roles, and traveling companies of the show were still popular throughout the country. This tour played in Wisconsin, Illinois, Indiana and Ohio. The production included Noble Sissle (without Eubie Blake) and Flournoy Miller (with Mantan Moreland replacing Miller's writing and performing partner Aubrey Lyles.) Also, in this cast was Edith Wilson, who had also appeared on Broadway in "Connie's Hot Chocolates" in 1929, and sang with the Duke Ellington, Lucky Millinder and Cab Calloway orchestras.

"Shuffle Along" in Indianapolis, July 1933
"Shuffle Along" was a stepping stone to stardom for many African American performers – Florence Mills, Josephine Baker, Adelaide Hall, and Paul Robeson all had roles early in their careers in various productions of the show; and enduring popularity was ensured for composers Eubie Blake and Noble Sissle, choirmaster Hall Johnson, and comedian Flournoy Miller.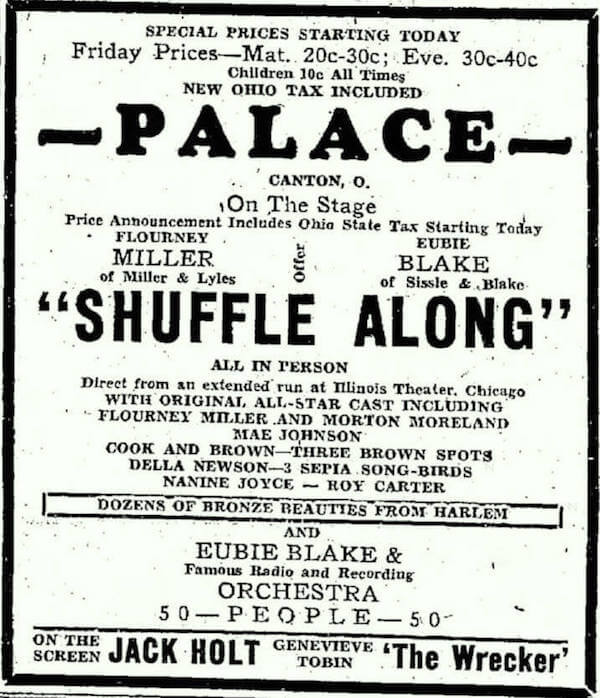 The cast of "Shuffle Along" in Canton, Ohio, September 1933 included Mae Johnson
"Shuffle Along" was revived on Broadway in 1952 with Avon Long and Thelma Carpenter, and again in a critically acclaimed and much-publicized production in 2016 starring Audra Macdonald. That revival was well on its way to being a smash but was forced to close early when Ms. Macdonald was sidelined.
Although there was a major surge of African American musicals and revues stemming from the success of that original 1922 production of "Shuffle Along," such large productions became harder to sustain with diminishing audiences. Shows launched through 1932 like "Blackbirds" and "Hot Chocolates" had brought Ethel Waters, Louis Armstrong, Bill Robinson, Jackie 'Moms' Mabley and Lena Horne to the world's attention. Cab Calloway had a major early success singing "Ain't Misbehavin'" as a replacement for Louis Armstrong in "Connie's Hot Chocolates" in 1929. But by 1933, the number of new shows had dropped drastically, and successful productions were even less common. At the age of 23, Mae was experienced and primed for a career in musical shows as a lead or featured singer but the depression would slow everything down.
Back in Chicago, Mae appeared at the Club Lido singing the popular Fats Waller tunes "Dragging My Heart Around" and "Honeysuckle Rose."
In September 1933 Mae was slated for producer Quintard Miller's new musical revue at the Illinois Theater, "Dixie To Harlem," with a cast of 125 people, including headliners Butterbeans and Susie, Sammy Dyer, Mae Johnson, Margurite Watkins, Alice Harris, the Four Covans, Ralph Delaney, Three Rockets of Rhythm, Margurite Goosby, Freddie Williams' Streets of Paris Orchestra, and Edward Boatner's singers. It doesn't look like that show ever actually opened in Chicago, but a show of the same name opened in St. Louis in 1938 produced by Miller.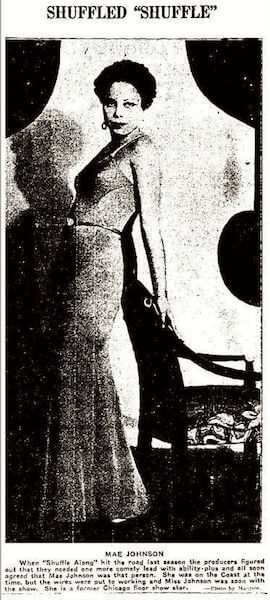 Mae Johnson, "the former Chicago floor show star" 1934
In September 1934, several members of the "Shuffle Along" cast including Mae moved to Johnny Wooley's Midnite Club in Chicago. Alice Wilson, lyricist Andy Razaf's then girlfriend, and later wife, remembered seeing Mae Johnson in Chicago around this time:
"The first club we went to, I think, was Blitch's Garden; it had little spotlights in the floor. Then Johnny Woolley's Midnite Club, where Jimmy Noone, the New Orleans clarinetist, led the orchestra. When we walked in the show was on and this beautiful woman was singing—Mae Johnson, she was billed as 'The Queen of Chicago's Nightclubs.' She was obviously one of Andy's girls. That's what I thought, I remember, because when we walked in she was in the middle of a song, she was singing: 'Don't save your kisses, just pass them around,'—you know, the song 'A Hundred Years from Today'—Oh God, I'll never forget it—and when she got to the line 'There'll always be one to make you feel . . .'—really wailing—she saw Andy and she stopped dead. A split second—looking right at him. Then the next song she did was 'Honeysuckle Rose.' Oh, she was a handsome lady: tall, stately—yellow in color, with rather Chinese eyes."
(Barry Singer, Black and Blue: The Life and Lyrics of Andy Razaf, p. 276).
****
In January of 1935, Mae enjoyed a highly successful appearance at Chicago's Regal Theatre with the Tiny Bradshaw Orchestra. Described as a "Titian-haired hot mamma," Mae was called back to sing four encores of "Honeysuckle Rose." Mae's memorable appearances during her years in Chicago forever associated her with that city and she was often referred to as 'a Chicago girl.'
On her way to New York, Mae handled a few more performances, this time billed as the female lead, in another "Shuffle Along" tour in Oshkosh and Milwaukee, and then went on to win over Buffalo with a hit solo appearance at the Little Harlem Hotel in February 1935. Mae was moving briskly up the nightclub ranks.


NEW YORK, THE UBANGI CLUB
On April 1935 Mae made her debut in at the Club Ubangi, which had recently taken over the location in Harlem at Seventh Avenue and 131st Street that had been vacated earlier by Connie's Inn. Between engagements at the Ubangi, by way of introducing herself to New York audiences, Mae also appeared for a week at the Harlem Opera House in March and the new Connie's Inn on Broadway in April. And in June, she made her first appearance at the famous Apollo Theater in a lineup headlined by Blanche Calloway and her band.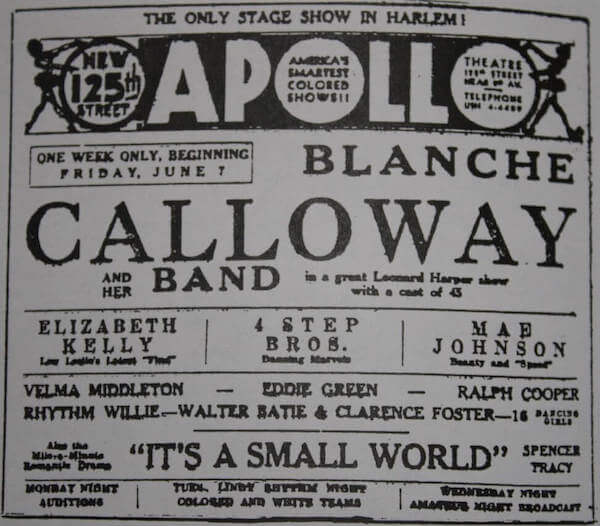 Ad for the Apollo Theatre in Harlem, June 1935; Mae Johnson, "beauty and speed"
Columnist Billy Rowe singled out Mae Johnson's appearance at the Ubangi that April, describing her for the first time as the "Sepia Mae West."
Mae Johnson became a bona fide New York hit, heralded as 'the western sensation from Chicago', with her signature number "Honeysuckle Rose." She was introduced as a guest celebrity in the audience at the opening of the Cotton Club Parade 26th Edition on July 27, 1935 (although the Cotton Club's clientele was usually restricted to exclusively white, they made occasional exceptions for African American celebrities or reporters). This was to be the last Cotton Club show at the uptown Harlem location—a riot in 1935 caused the downtown audiences to stay away from the uptown businesses and several clubs that were reliant on white audiences either closed or moved out of Harlem as a result.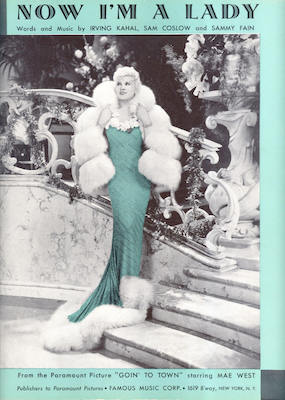 The original Mae West in the original rendition of "Now, I'm a Lady"
(Click here to see an excerpt of the movie)
There was a series of floor shows at the Ubangi Club starring the stalwart Gladys Bentley (who sang in a tailored tuxedo and top hat), Velma Middleton (later the vocalist with Louis Armstrong's band), Billie Daniels, and Pearl Baines. One of Mae's numbers was "Now I'm a Lady" from the Mae West film "Goin' to Town" (1935) which according to one columnist, Miss Johnson sang in true Mae West style. Other special music and lyrics for the Ubangi shows were provided by Mae's friend Andy Razaf, with choreography by Lou Crawford.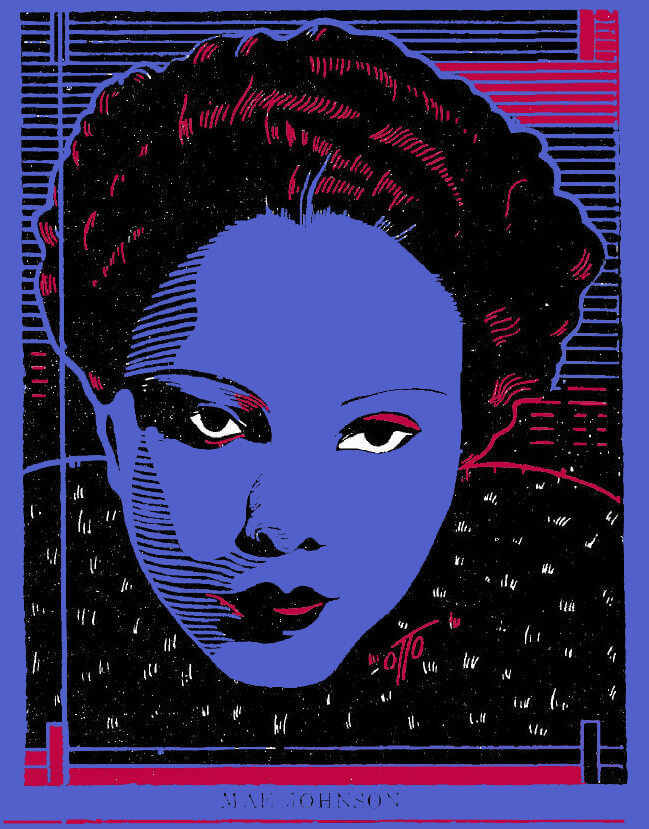 Portrait of Mae Johnson by Otto McClarrin, 1935 (colorized in 2018)
Variety in September 18, 1935 described the Ubangi club show as "a bit more hotcha than the Cotton Club." Principals in the show were Mae Johnson, the "dusky Mae West"; Gladys Bentley, "with her own peculiar spicy song style that's very Harlem," Lee Simmons, Dusty Fletcher, Pearl Baines, Bobby Evans, Edna Mae Holly, Billie Daniels, Bunny Brlggs, Velma Middleton, Brown and Brown, 3 Speed Demons; Erskine Hawkins and his Bama State Collegians, and a 12-girl chorus line. Leonard Harper produced.
Variety helpfully added that there was no cover charge at either the Ubangi or at the Cotton Club; the Ubangi's minimum was $1.50, $2.00 weekends, and the Cotton Club's minimum $2.50, $3.00 weekends.
When some of the Ubangi Club Revue performers appeared together at Harlem's popular Apollo theatre (which catered more to a black audience) for a week in September, Mae got her first top billing.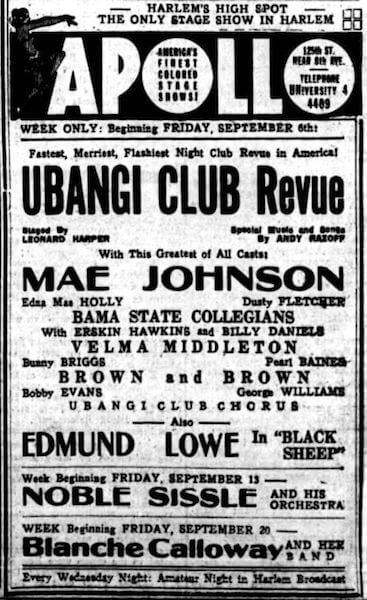 The weekly stage show at the Apollo Theatre in Harlem starred Mae Johnson, September 1935
The total of the weekly salaries for the Ubangi Club performers was $9,500, compared with $12,000 weekly at the Cotton Club. Small's Paradise had 30 people with a weekly salary expenditure of $2,500 while Connie's Inn paid out $17,500. The most expensive nightclub show in town was at the Hollywood Café at 49th and Broadway -- the Abe Lyman Orchestra, along with ten headlining acts plus 50 girls, and a second "relief" orchestra to play intermissions came to a weekly tab of $21,000.
After a reported break with Ubangi Club owner Joe Springer, Mae made up with him in time to be put under contract for the fall Ubangi Club follies. Producer Leonard Harper spent weeks in rehearsal for the 6th edition of the "Ubangi Follies" slated to premiere around New Year's. Mae Johnson, Gladys Bentley, Avon Long, George Williams and Edna Mae Holly were to be featured.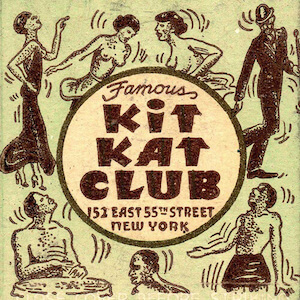 NEW YORK, THE PLANTATION CLUB and THE KIT KAT CLUB
While already a hit at the Ubangi uptown, Mae simultaneously began appearing at the Kit Kat Club at 152 East 55th Street (call El Dorado 2-0543 for reservations) with their new policy of presenting African American entertainers for the mid-town Broadway crowd. It was not unusual for performers to appear on Broadway in the evenings and then dash uptown for the midnight shows in Harlem. The Kit Kat was an intimate venue and Mae's appearances there for an amazing ten weeks from February to April 1936 made her well-known among the downtown swanks and brought in considerable business for the club. Allan MacMillan, the columnist of "Hi Hattin' in Harlem," promoted her regularly. "Saucy…Mae Johnson, who was the rage of the Park Avenue Stay Up Lates who frequented the Club Ubangi, is now creating a sensashun at the Kit Kat" (Chicago Defender, February 15, 1936.)
After the Kit Kat gig, Mae was reportedly scheduled to appear at Leon & Eddie's, another upscale mid-town club, but I could not determine whether an appearance in this iconic 52nd Street club ever occurred.
In between Ubangi shows, the "New Ubangi Club Revue" entertained at the Apollo theatre in Harlem several times, allowing the African American audience to see the acts that were playing in the nightclubs for white audiences only. The Revue even traveled upstate briefly; Rome, New York hosted the show "straight via the Harlem Express."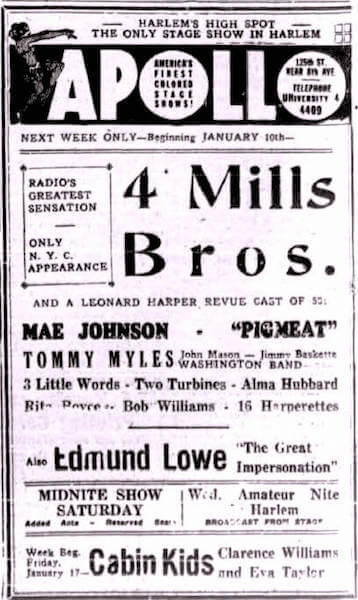 The weekly stage show at the Apollo in Harlem, January 1936
The Ubangi Club opened a new seventh revue June 1936, but this one without Mae. Choreographed by and starring Broomfield and Greely from the west coast, the Ubangi show included, as always, male impersonator Gladys Bentley with her double entendre songs, singers Edna Mae Holley and Alma Smith with music by Willie Bryant and his band. While this particular show had no famous headliners, it's notable for the chorus girls who appeared topless in the finale number, a new twist to the nightclub business in New York.
In mid-1936, the Cotton Club moved out of its longtime location on Lenox Avenue and 173rd street for more lucrative digs downtown at Broadway and 48th Street, inaugurating a new era when their new show opened, the 27th edition of the Cotton Club Parade starring Bill Robinson and Cab Calloway.
The Cotton Club's former Lenox avenue spot was taken over by the Plantation Club and Mae Johnson was one of the first headliners there, opening the fall season in September along with Jackie 'Moms' Mabley.
"Up at the Plantation on Lenox Avenue, things are beginning to take shape fast, and already the cast which will inaugurate the new trend on Lenox Avenue has been selected. Mae Johnson, exotic lady of many nite club revues, will head the cast, which will feature Chick and Chicklets, Jackie Mabley, Dusty Fletcher, Lovey Lane, Velma Middleton, the Three Peppers, backgrounded with the tantalizing music of the Sunset Royal Entertainers, New York's newest musical sensation from the South. The club is scheduled to open the first of October" (Billy Rowe, Pittsburgh Courier, September 5, 1936.)
Mae continued to headline at the Kit Kat throughout the summer, making stops at the Melody Club in Philadelphia and the Grand Terrace in Chicago. It was at the Grand Terrace where twelve-year-old Bobby Short, in his autobiography, remembered being brought by Fats Waller to see Mae singing with Earl Hines and His Orchestra. According to Bobby, Fats was so enthralled with Mae that he yelled "Sing it Mama…Oh sing it, Baby!" from their table (Fats was prohibited by contract to perform there, otherwise he would surely have run up on stage and started singing and playing along).
Newspaper gossip columns had previously connected Mae with Dr. Clarence "Shag" Hogans, the personal physician to boxer Joe Louis, when, on July 15, 1936, Dr. Hogans was implicated in a doping accusation after claims surfaced that Louis had been administered a hypodermic needle before his fight with Max Schmeling in June (this turned out to be Joe Louis's first loss professionally and the only match he lost until 1950). That same week, the violence of the sport spilled over when Mae was severely beaten by Hogans as reported in July 1936, "Mae Johnson, we've been told, was brushed up no end by a well-known local doctor, losing a few teeth and her good looks until the swelling went down..." Unfortunately, this won't be the last violent incident to occur while Mae was in the spotlight.
As 1936 closed out, Mae expanded to another part of New York, downtown on West Broadway in Greenwich Village, with an extended stay at the Herbie Benson's Black Cat Cafe, a jazz club nicknamed "Harlem in Bohemia." The Black Cat was specifically a jazz club, a showcase during this period for guitarist Freddie Green and saxophonist Lonnie Simmons.
She finished off the year with a short run at the Howard Theatre in Washington DC in a mixed race Christmas show called The Black & White Revue of 100 Stars.
Mae made a few more appearances at the Apollo in 1937, solo as opposed to being part of the Ubangi Club Follies, joining a couple of bills with Teddy Hill and his Orchestra, and an out-of-town appearance at the Club Caliente in Philadelphia. In February Mae presented some new numbers at the Black Cat club, including tunes specially written for her by her friend Andy Razaf (music by Paul Denniker).
Beginning in March 1937, the Ubangi Club put together an all-new song, dance and comedy revue called "Brevities in Bronze," produced by Joe Springer, choreographed by Broomfield & Greely and starring, as usual, Gladys Bentley with her risqué lyrics, and this time touting Mae as "the Gypsy Rose Lee in Bronze." The press carefully described Mae's striptease as naughty and risqué and also announced that she had "shaved off a few pounds." Variety gave Mae a rare good review with this appearance, "Hits are Tondelayo, rhumba and native dancer, Barrington Guy, in singing and dramatic bits, Mae Johnson, singing bronze stripper, and Al Moore and Dene, ballroomers. Miss Johnson's ditties are enhanced by an expert selling ability." The review continued, "Blue stuff, once started, continues with Mae Johnson's singing of 'Get It While You Can.' Gal has a nice blues voice and a delivery that is well suited to this type of lyrics." (Variety, April 7, 1937.) The music was provided by Ovie Alston and His Orchestra and the chorus line was dubbed The Ubangettes.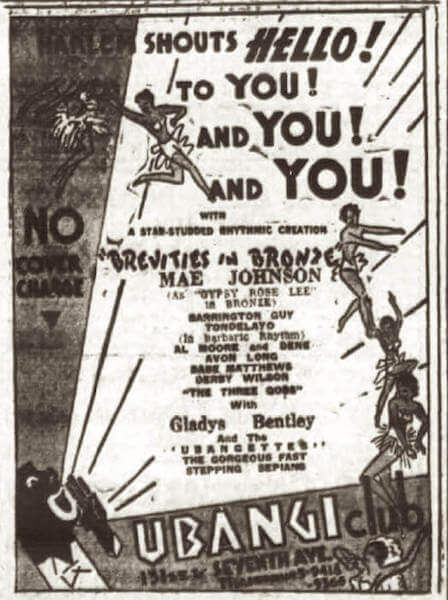 "Brevities in Bronze" at the Ubangi Club starring Mae Johnson, "Gypsy Rose Lee in Bronze" 1937
"Mae Johnson, doing a bronze version of Gypsy Rose Lee's intoxicating strip-tease, stands the on-lookers on chairs with ohs and ahs," (Billy Rowe, Pittsburgh Courier, April 10, 1937.)
Variety tastefully described the on-stage activity as "the last word in nitery erotica. Mae Johnson's crowning achievement is a burley [i.e burlesque] bit called 'Gypsy Rose Lee in Bronze.' She has a knowledge of the burley art that has now invaded niteries. Chorus in same number, peels to waist and then behind a dropped circular curtain does a wiggle in silhouettes." (Variety April 7, 1937)
There were no actual African American burlesque houses, which were a huge business downtown nurturing many singers, dancers and comics and serving all-white audiences some entertainment just a little more juicy than the moribund vaudeville or the classy nightclubs. Thus, the Harlem nightclubs added their own saucy burlesque-like performances to their usual fare. "Other fun haunts in town have introduced the sepian versions of the strip--Mae Johnson does a lulu in the Ubangi Club's new opus." (New York Post, April 10, 1937)
On April 26, 1937 Ed Sullivan announced in his column that "Mae Johnson, bronze strip-teaser at the Ubangi Club, and the best in the business, will wed Dr. Clarence Hogans, Harlem surgeon, personal physician to Joe Louis."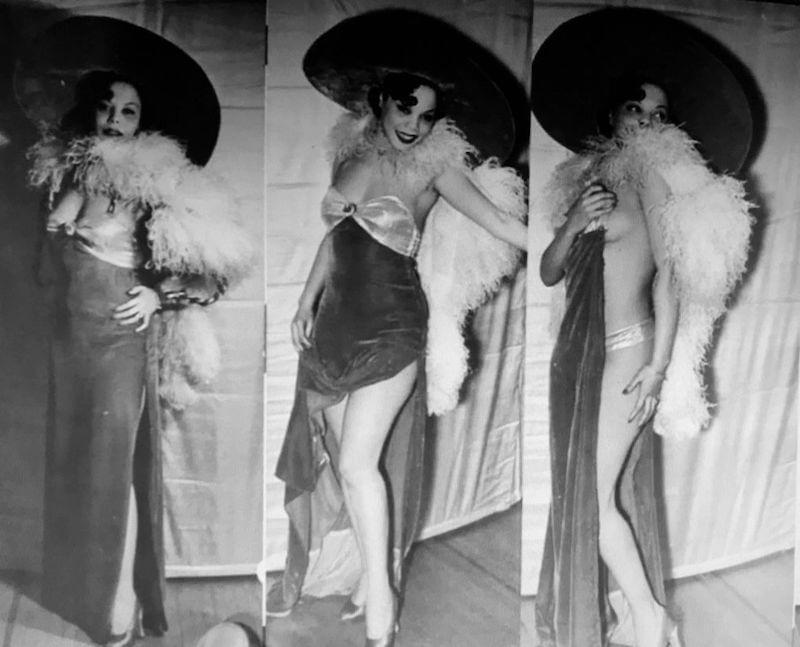 Mae Johnson poses for the camera mid-strip in 1937
NEW YORK, THE UBANGI CLUB CLOSES
In the spring of 1937, the Ubangi Club was unceremoniously closed due to a minor liquor law violation during one of Mayor Fiorello La Guardia's periodic attempts at purging vice and uplifting morals in New York City. The Ubangi was caught in an unfortunate wave when this time, La Guardia tried and succeeded in finally closing all of the burlesque houses in the city for good after several prior attempts over the years. This had a profound effect on the New York entertainment world.
Almost immediately, however, on Saturday, May 8th the old Plantation Club moved its operation and opened up in the same historical location as the Ubangi (and the Cotton Club before that) taking most of the Ubangi performers along. The advertising even indicated that The Ubangi Club's Revue was now at The Plantation Club.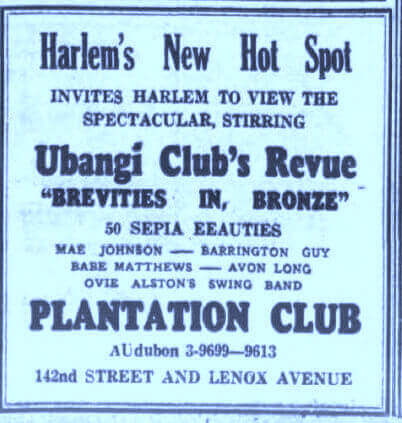 In May 1937, the Ubangi Club was closed and simply moved their revue to the Plantation Club
The Minsky Brothers were the proprietors of the major burlesque houses in New York that had been closed and they fought for several months to be able to reopen their flagship in the heart of the theatrical district, the Oriental Theatre on Broadway between 51st and 52nd Streets. A new concept for the old burlesque theater was to be the first Broadway venue to present an "All-Colored Revue" choreographed by Boomfield and Greeley from Sebastian's Cotton Club in L.A. With the tag, "Doin' the uptown downtown," featured acts of the bill would be Mae Johnson, Ralph Brown, the Two Zephyrs, Cook and Brown, Renee and Estelle, the Six Lindy Hoppers, Norman Astwood, Swan and Lee, a huge chorus line and Erskine Hawkins and His Bama Collegians. Opening Wednesday, July 21, 1937, there were to be eight shows a week and an all-new show every week. But the Oriental Theatre was not an intimate nightclub and in spite of positive reviews, no one was interested and the show folded in less than two weeks -- a near miss for Mae.
In July, Ed Sullivan once again reported that "Mae Johnson, Plantation Club eyeful, to wed Clarence Hogans in the fall, one of the great Negro medicos." But that promise seemed to change from week to week and from one newspaper to the next – "have they changed their minds?" asked one columnist while another reported that Mae would "neither confirm nor deny a marriage to Hogans."
Mae and her controversial partner, however, made the papers again when Hogans was arrested for beating up Mae once again in September 1937. He was released on $1,500 bond; Mae suffered bruises on her face, two black eyes, and was knocked down.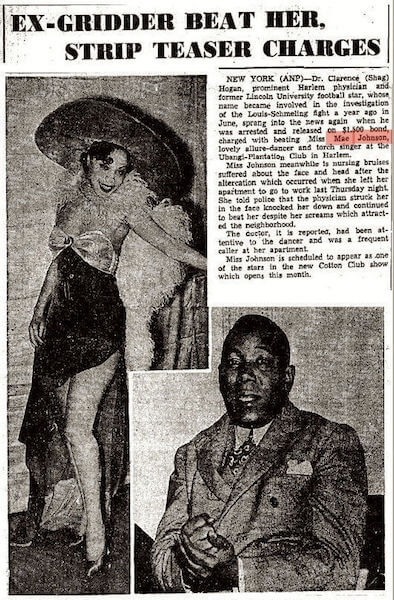 Mae Johnson in the news; from the Baltimore Afro-American, September 11, 1937.
Within days, the couple's reconciliation was reported by none other than Ella Fitzgerald who was a guest columnist that week for Billy Rowe's Harlem Notebook column. Mae was quoted as saying, "If I should have Shag arrested and cause him to lose a practice and the respect of a profession he has worked many years to become a part of, I would never forgive myself." After dropping the charges Mae said, "This isn't the first time a woman has received black eyes. I have known of many such cases and after some flowers, a fur coat or some sort of peace settlement has been made, things become like new again" (Billy Rowe, September 11, 1937 Courier.)
But soon, her rise to fame was going to accelerate thanks to the new Cotton Club in Manhattan...