DOTTY SAULTERS
(Born August 7, 1922 in Philadelphia,
died April 5, 1962 in New York)
in Cab Calloway's troupe from 1941 to 1947, and then sporadically in 1950, 1951
She was the canary in Cab Calloway's orchestra between 1943 and 1947 and her rather garish voice is heard on many live recordings… Nevertheless, she is actually a complete stranger in the eyes (especially the ears) of jazz connoisseurs. Do not rely on reference books either: they do not even know she exists. Yet Dotty SAULTERS was a helluva little woman, a singer and exceptional entertainer, not to mention a great tap dancer. She was married to Honi Coles, the great tap dancer, and her life was always pulsed by the rhythm. And what rhythm! What a woman! The Hi De Ho Blog reveals everything we know about Dotty Saulters.
---
Part 1: BEFORE CAB CALLOWAY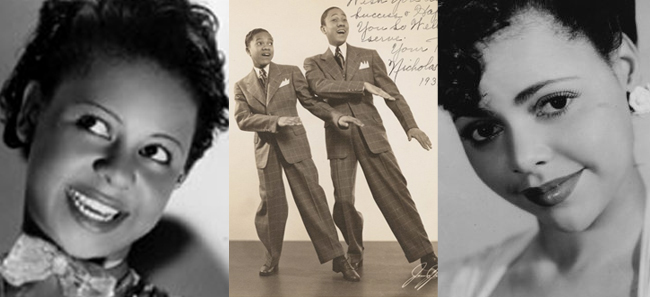 Dotty Saulters, The Nicholas Brothers and Ida James.
All scouted in Philadelphia. The 4 of them with work with Cab Calloway
Scouted while a girl, along with Ida James
Born in 1922 in Philadelphia, in a relatively wealthy family, Dorothy Saulters is already keen on singing at an early age. Her city proudly organizes several programs to promote local talent.
Thus "Little Dottie" is quickly identified in a Philadelphia radio show, The Children's Hour, a variety program that allows young African-American talents to challenge their taste for the stage – and the audience. The Nicholas Brothers, Ida James, and many others were also scouted thanks to this program.
The first mention in the press that I've found about Dorothy Saulters is dated September 8 1934 (Pittsburgh Courier) and is about a charity event held in Philadelphia involving children in the Kiddie Radio group, led by Lou Garcia. Among them are Baby Hilda and Dorothy Saulters.
In September 1935, the press notices Dorothy on a revue at the Royal Theatre in Baltimore (only 100 miles from Philadelphia) with Roscoe 'Reds' SIMMONS and Rivers CHAMBERS. Young Ida JAMES (she will be Cab Calloway's co-star in the 1947 movie Hi De Ho) is an eye-catcher as Helen Paige for whom a beautiful artistic career is promised. As for Dorothy, the reporter indicates that she was widely applauded.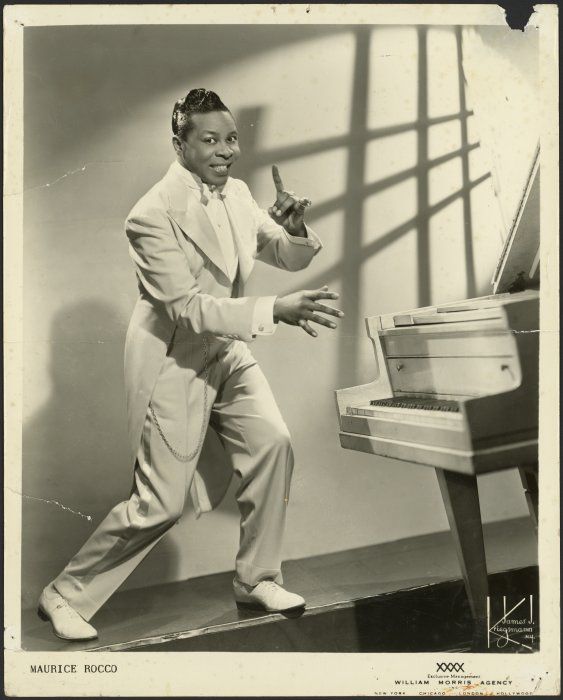 Maurice Rocco, the pianist who couldn't sit
A torrid and dancing duet with pianist Maurice Rocco
In 1936, Dottie works at New York's Kit-Kat Club (E. 55th Street), where she is a "petite singer and dancer" and "torrid tap dancer" accompanied by a young pianist named Maurice Rocco. Extravagant, he's Mr. 1,000,000 volts! He plays the piano standing up. A virtuoso boogie player, he later becomes the featured acrobatic pianist at the Café Zanzibar [link to article]. For the moment, the revue "Harlem Goin' Park Avenoo" is a great success at the Kit Kat.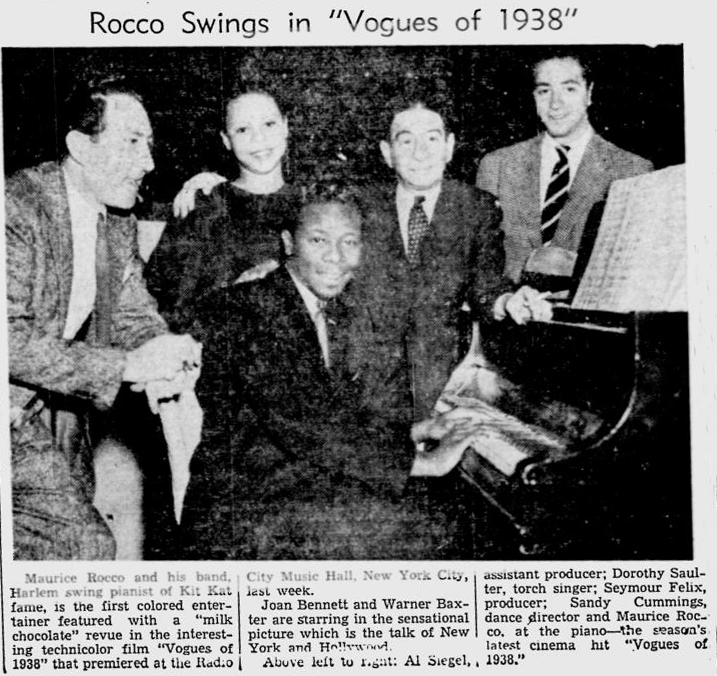 The Baltimore Afro American celebrates Dotty and Maurice's contract with Hollywood
A first movie with one of the first African-American directors
Oscar Micheaux, the "Black D.W. Griffith," hires Dottie for his movie UNDERWORLD. Filming in Chicago takes place in late 1936.
The film will only be released in September 1937, and only in theaters for black audiences. On the bill: Oscar Polk, Bee Freeman, Sol Johnson, Slick Chester and Ethel MOSES (the wife of Cab Calloway's pianist, Benny PAYNE – see our article), the elastic dancer Stringbean, Bobby Hargreaves' Kit Kat orchestra and 'Dot' Salters.
"Underworld is a powerful drama about the wife of a gangster who cheated once too much" (in New York Age, October 2, 1937).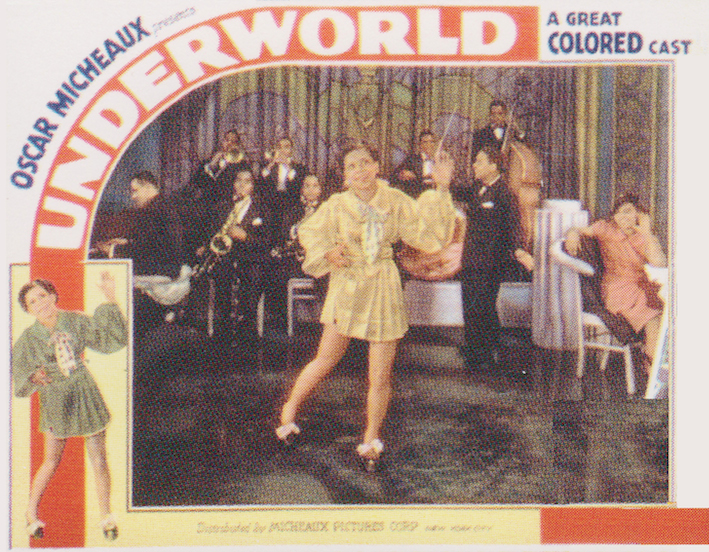 Dottie Salters, dancing in front of Bobby Hargreaves and the Kit Kat Club Orchestra
at Chicago's Red Lily Nightclub in "Underworld".

The scene with Dottie Saulters appears in the documentary "Plenty of Good Women"
2 movies in Hollywood in 1937!
And it seems natural that in January 1937, the Rocco-Saulters duo signs a 2-year contract in Hollywood. They are still in the successful Kit Kat revue "Harlem Going Park Avenoo." But on March 12, they leave for the west coast and their adventures in the movies.
They quickly shoot in "Walter Wanger's Vogues of 1938" and "52nd Street."
"Vogues of 1938" will be released first, in Technicolor on August 7, 1937. Reviewers speak of a "milk chocolate-revue"… a silly way to evoke the complexion of the African Americans on the screen.
Look at this spectacular clip and you will figure out how Maurice Rocco and Dorothy Saulter (spelt this way in the credits this time!) stop the show!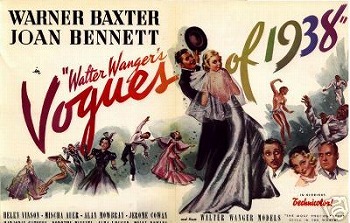 A ballet filmed in color for the song "Turn On That Red Hot Heat (Burn Your Blues Away)" is a great musical moment during which the Four Hot Shots dance around a spicy and banter singing Dorothy; then Maurice Rocco takes over as the piano phenomenon. VARIETY magazine in its August 16, 1937 issue affirms:
"Seymour Felix has assisted with the dance numbers, of which the ensemble in brown, featuring Rocco, pianist, and Saulter, soprano, with a group of terp dancers, is the most elaborate and effective. Lighting effects achieved on the dark skins of the scantily dressed girls are startling and beautiful. It's something new in the use of color."

"Red Hot Heat" performed by Dotty Saulters in Vogues of 1938
Mark Cantor's accurate eye allows us to name bassist Al Morgan in this sequence, who had played with Cab Calloway until he moved to Hollywood in 1936. From then on, he plays in the Eddie Barefield and Les Hite orchestras and is often used as a sideman in white production studios (and unfortunately, it's often only the studio orchestra we hear).
Note also that the scene may have been partially censored in some southern states or, according to Mark Cantor, cut for further TV release. Here you can enjoy an uncut version but in black and white:
Maurice and Dotty participate on June 12 in a large benefit concert organized by Bill Bojangles Robinson and Clarence Muse at the Lincoln Theater in Los Angeles. There they meet the Three Chocolateers, Stuff Smith, Earl Hines, James Cagney, Louis Prima, Art Tatum, Tip-Tap-Toe, Buck and Bubbles, etc.
In September 1937, Rocco and Saulters return to the Kit Kat Club, after spending August in Philadelphia, the city of their artistic youth. On September 10 the new Kit Kat Revue opens – announced in the same article with the Cotton Club with Cab Calloway! This time, crowned with their Hollywood success, Maurice (now with a 10-piece orchestra, the Rocking Rhythm) and Dorothy lead the show produced by the famous tap dancer Ralph Brown (who also toured with Cab).
Sharing the stage with them are the vocal quartet The Charioteers, dancers Cook and Brown and singer Katherine Perry. And, in the kitchen, Ethel Sims, 'Mammy' from the Roosevelt Hotel in New Orleans! The Brooklyn Daily Eagle black newspaper qualifies Dotty a "grown-up Shirley Temple in Technicolor"...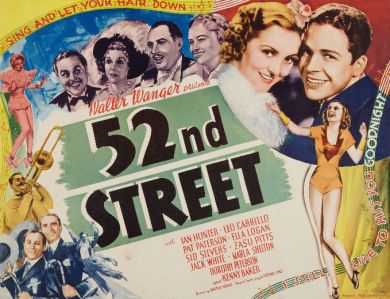 At this time, "Vogues of 1938" is released, as is "52nd Street" a few weeks later in November 1937. Much less interesting than "Vogues of 1938" (and only in black and white!) "52nd Street" tells the story of the world famous street of nightclubs in the Big Apple. No luck: in addition of being afflicted with a particularly plodding and foolish script, there are many performances by artists quite honorable but who can't beat the few seconds when we see Dotty and Maurice...
The stars of the Kit Kat Club
December 1937 starts with the new Kit Kat Club revue "Christmas Night In Harlem," again with Dorothy, Maurice and his orchestra and The Charioteers.
In January 1938, the "beautiful and talented" Dorothy is up in the top billing for the Maxine Sullivan show at Harlem's Apollo. This is the time when Maxine has her greatest success. With Noble Sissle's orchestra, Billy Banks and Peg Leg Bates, she's in very good company.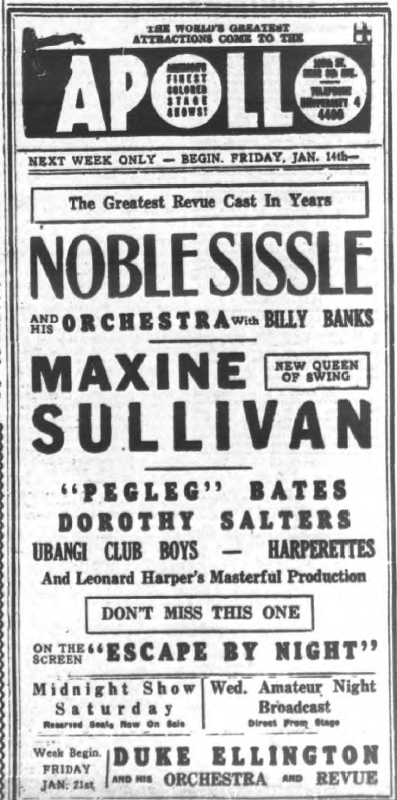 February 1938, Saulters and Rocco are the regular stars at the Kit Kat, as this article in the New York Herald Tribune (February 12, 1938) testifies "Noise and Fried Chicken":
"Rhythm at the Kit Kat Club is served so liberally that an early morning visitor is likely still to be rocking to its echoes at his breakfast table the next noon. When Maurice Rocco and his boys are demanding too much attention, Dorothy Saulters and Pearl Baines are in the spotlight. Tops for the show are John Cooper with his colored Charlie McCarthy and the well-known Charioteers. If you can stand a lot of noise with your fried chicken, you should come to the Kit Kat."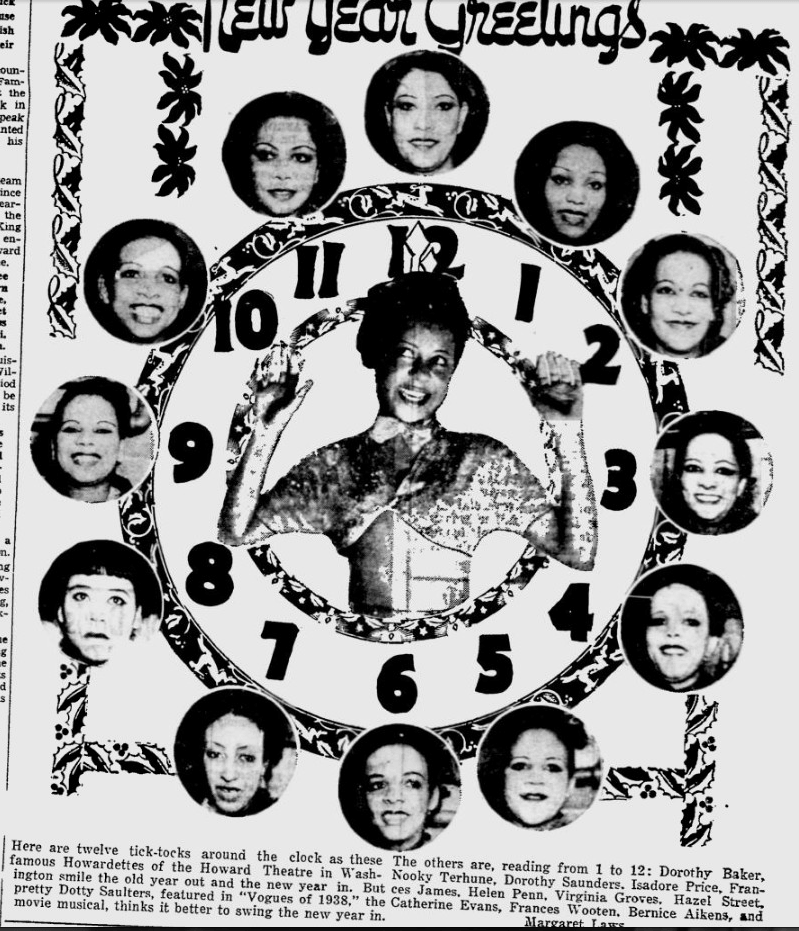 1938 seems to be the year when all the promises will come true for Dotty,
evidenced in this montage made by the Afro American newspaper in its edition of January 1.
She's in the middle of all the chorus girls at the Howard Theatre in Washington, DC.
In September 1938, Dorothy Saulters seems to be in Chicago where she's spotted at the Terrace nightclub. With her are Honi Coles, Bert Howell, Madalyn Sue Jackson and Streamline Sue.
In April 1939, we see Dorothy in another new revue at the Kit Kat Club. This time Dolores Brown, Edith King and Flash and Dash are with her on the bill.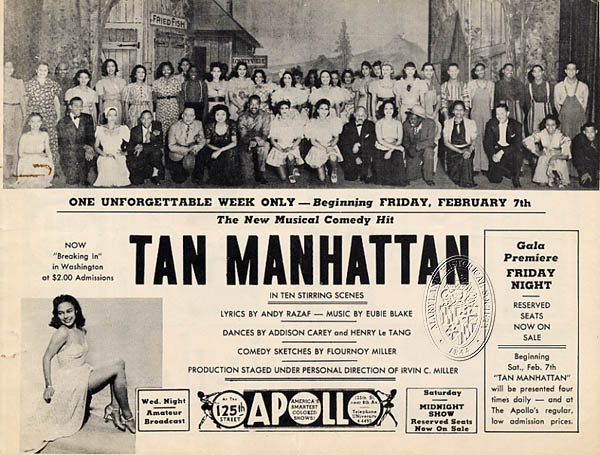 In the "Tan Manhattan" revue by Eubie Blake and Andy Razaf
In December 1940, the press reported that "Tan Manhattan" revue with the music of Eubie Blake and lyrics by Andy Razaf is in rehearsal and the cast already includes: Dot Saulters, Evelyn Keys (who will be in Cab Calloway's troupe a few years later and Avis ANDREWS's best friend). This revue, which wins great success but never enjoys high production values, highlights the contributions of African Americans to the American culture. In January 1941, it is presented for 10 days at the Howard Theatre in Washington DC, before leaving for New York. The cast consists of Avon Long, Nina Mae McKinney, and Dot Saulters, who contributes to the song "Shaking Up the Folks Below" and the ballet "Hep Cat."
It's at the Apollo in Harlem that "Tan Manhattan" opens. The reviews are mixed, especially pointing out the need to tighten the plot and give it a little more background.
"Tan Manhattan" is supposed to go to Broadway in February 1941 at the Shubert Theatre. But apparently racial barriers are still high and strongly held: they won't allow African Americans to attest their contribution to the USA. The black show will eventually go to the Apollo in Harlem. Success is enormous, and in order to give 4 performances per day, the show is reduced to 90 minutes instead of the original 2 hours and 30 minutes. Variety's critic is further concerned, saying that even as it assembles so many talents, the show lacks vigor, story and scenario. The question remains open with the revival in 2004.
Dotty keeps signing contracts and soon finds herself in the cast of "On a Striver's Row" with Louis JORDAN and the Lindy Hoppers in March 1941 at the Apollo in Harlem, with 4 shows per day.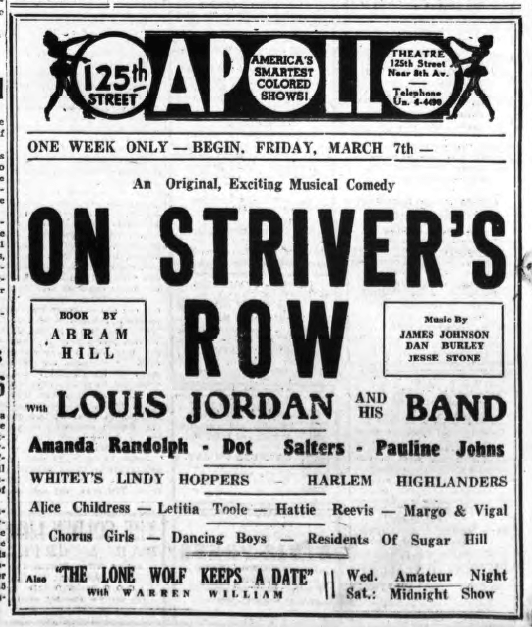 First steps with Cholly Atkins
In September 1941, Dotty and her bouncy feet are with the MILLS Brothers on tour on the East Coast. In the September 13, Pittsburgh Courier, she appears in the photo with dancer Cholly Atkins (Charles Atkinson) and both are already captioned as "America's newest boy and girl dance sensation." The duo Cholly and Dotty is born.
In fact, their first meeting took place a few years earlier. Cholly Atkins had met Dotty in Hollywood in spring 1937 during the filming of "Vogues of 1938." The former dancer and entertainer Nicodemus (for a long time in Cab's troupe) were introduced to each other at a birthday party in honor of Herb JEFFRIES (the famous cowboy and jazz singer). Nicodemus created a service company for black artists in the Mecca of Cinema and opened a center where singers, actors, dancers had everything they wanted at their disposal: rehearsal studios or space for relaxation, etc.
Even then, Dottie is chaperoned by her mother, who also served as her agent. This lasted for several years, but not without problems for Cholly and for Dotty's career development.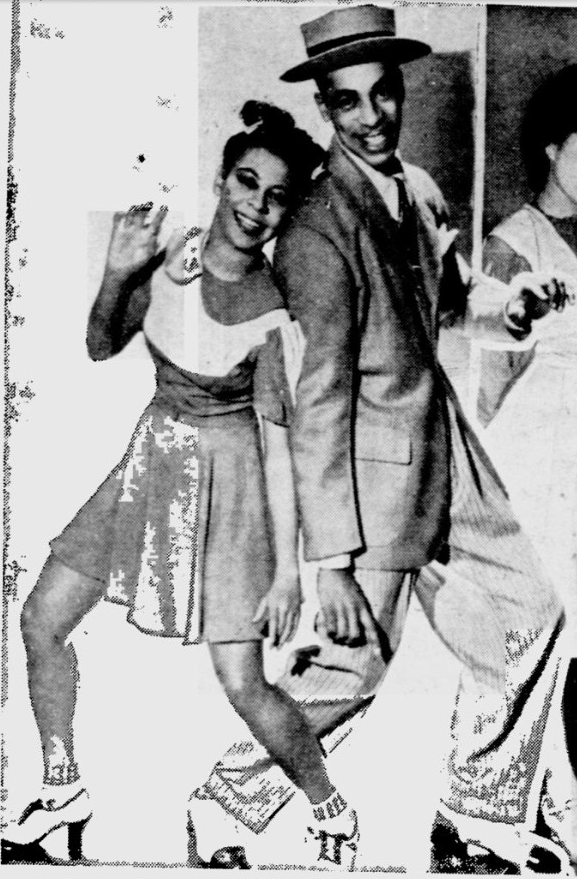 ---
Sources:
Class Act, The Jazz Life of Choreographer Cholly Atkins

, Cholly Atkins & Jacqui MALONE, Columbia University Press, 2001

Hi De Ho, The Life of Cab Calloway, Alyn Shipton, Oxford University Press, 2010
Groovin' High, The Life of Dizzy Gillespie, Alyn Shipton, Oxford University Press, 2002
Satchmo Blows Up the World: Jazz Ambassadors Play the Cold War, Penny M. Von Eschen, Harvard University Press, 2006
Hendersonia: the music of Fletcher Henderson and his Musicians, Walter C. ALLEN, Jazz Monograph No. 4, 1973
Plenty of Good Women Dancers: African American Women Hoofers from Philadelphia
"Africa, The Cold war and Diaspora at home" by Ingrid Monson, 2011 (full-text PDF)
"Maurice Rocco in the 1930s", Mark Cantor, 2013 on Celluloid Improvisations
R&B Notebooks by Marv Goldberg
Dottie Saulters's grave on Find a Grave
---
Many thanks to Mark CANTOR (www.jazz-on-film.com) for his info and help on the film section.
My deepest gratitude to Keller WHALEN for helping me in providing a better english text.
---