Kris DiLorenzo and Cab Calloway in New York in 1980
(from Kris DiLorenzo's private collection).
The Hi De Ho Blog has often favored the oldest career Cab Calloway periods. Considering them, the last decades of the King of Hi De Ho are very misinformed. It is mainly confined to The Blues Brothers movie and European tours, and then that's all. Thanks to Kris DiLorenzo, we can learn more about 1978 and the launch of the Minnie the Moocher Disco version. Since she was the Director of Publicity and was on the A&R Commitee of Hologram Records and therefore was publicizing Cab Calloway's record, her role was to promote his records and concerts, to capture media attention and serve as a link between the musicians and the press.
Kris DiLorenzo: "The Killer Queen"
After having worked with Andy Warhol, attended the recording session of the The Velvet Underground's first album produced by Andy Warhol and removed all the mud off her clothes after Woodstock, Kris DiLorenzo becomes a DJ at New York WRCU-FM radio. Her nickname is "The Killer Queen". In 1972, Kris DiLorenzo becomes one of the first female rock journalists.
She's then was hired by the public relations company relationships for rock music: International Media Associates. Several years after, she joins Hologram Records.
HOLOGRAM Records : many rockers and one Cab Calloway…
Hologram Records is a joint venture between the Record Plant studios and International Talent Consultants (ITC). Its records are manufactured and distributed by the powerful RCA label.
The Hologram Records roster counts mostly rockers: Axis, Machine, For Shakes' Sake... What is most surprising is that Cab Calloway was the first artist to release a record on Hologram!
How Cab became a major artist at Hologram remains a mystery, even for Kris who belonged to the inner circles, but this probably was done through his then agent Stan SCOTTLAND (former jazz musician, who also manages Eartha Kitt at that time). According to Kris, Cab was more interested in concerts than in records (has he ever been?).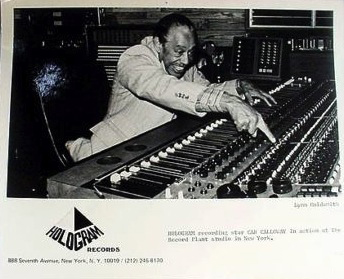 Cab always leading at the Record Plant studios.
The terrible and true story of "Minnie The Moocher"'s disco version
Cab records his Disco version - disco was then very popular in New York - of Minnie The Moocher at Record Plant Studios. The likes of John Lennon and Bruce Springsteen record there regularly.
Cab does not take Disco fashion very seriously, considering that everyone did that already some decades before. He's even surprised that people want him to re-record the song. Like any show-businessman, he says it's easy money, easier than touring the country for a gig. It is primarily a unique opportunity to demonstrate that he's not a cheesy old singer anymore but a hip one. He probably thinks this record will attract media attention and a new audience.
His last album was officially released as a 2-record set compilation on CBS (with Cab in yellow zoot suit on the cover). According to Kris DiLorenzo, he accepted the idea of remaking "Minnie The Moocher" to please someone... but she never knew who!
Although Cab always hated studio sessions, he knew about the business. "They were all-time wrong with this record," he said to Kris; indeed, after recording the song with real musicians, new tracks with synths were added, wiping the groove from the original performance.
Hologram even spreads a rumor that for the whinnying sound on the record, a horse has been recorded at the Aqueduct Racetrack, where Cab spends time almost everyday (in Billboard, March 11, 1978).
The records producers were
Roy Cicala
and
Jimmy Wisner
. The first regularly works with Lennon, the latter with Barbara Streisand (whom Cab admired!). However, this leads to an odd result that some people tend to compare to the ineffable
Ethel MERMAN's Disco album
.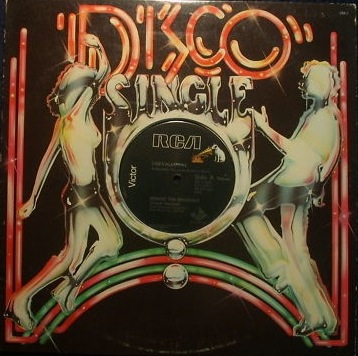 EP Disco version of "Minnie The Moocher"
In July 1978, RCA releases four different versions:
A 45 RPM commercial version 45s (RCA PB-11364-A); you may listen below
A version for radio, without cocaine references in the lyrics (RCA JD-11365)
An extended version on Maxi 45 RPM (RCA-PD-11365A)
An extended instrumental on Maxi 45 RPM (RCA-PD-11365B)
Pretty rare and hardly ever heard (and for good reason, you'll figure out), the B-side of the "Minnie The moocher" single has a very special version of "A Chicken Ain't Nothing But A Bird", à la disco. Very challenging. Honestly ... When we think that Hologram had planned to record a whole Cab album in this vein!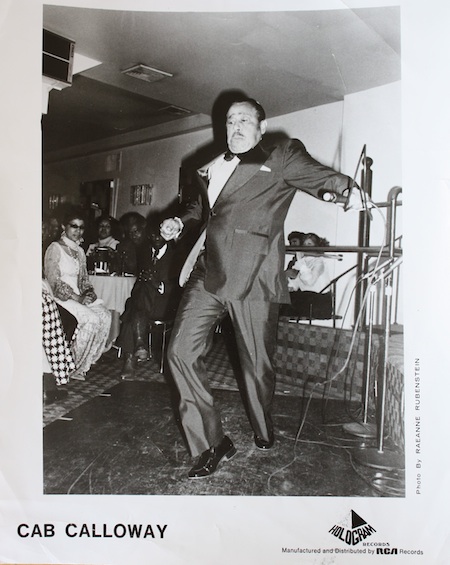 Cab's looking for a place to dance his "Minnie The Moocher" steps
at the New Cotton Club in Harlem (January 1978).
Release party at the new Cotton Club in Harlem
But in January 1978, at the request of Hologram, he begins a promotional tour with
an evening at the new Cotton Club in Harlem.
He even inaugures the club but the bandstand is too small for an average big band.
"The dance floor was as big as a postage stamp, the drinks overpriced. Cab had a lot to say about this place,"
says Kris.
"Such crazy prices for that. I remained away from that stuff after the first night there. Ever. I've never approached it anymore. It was really a horrible opening night"
adds Cab in a 1979 interview by Kris. It was a particularly horrible night since
the audience had in its ranks
the likes of Muhammad Ali, Donald Byrd, Eubie Blake, Mrs. Duke Ellington, dancer Peg-Leg Bates and Ella Fitzgerald!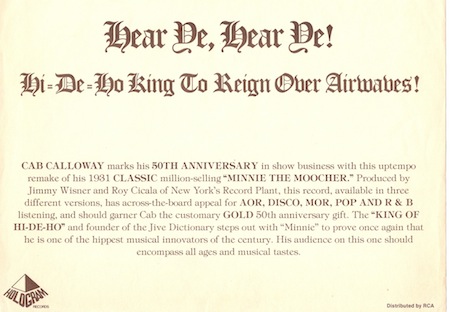 An element from the Hologram press-kit (Kris DiLorenzo's collection)
Promotion with some Hi and a few Ho!
According to Kris DiLorenzo, Cab Calloway was the original Rock and Roller: "He was flipping and shaking his hair long before Paul McCartney was a twinkle in his Dad's eye. He aced the Moonwalk before the first Jackson hit the planet. He had more voltage than the Energizer Bunny. Cab was a wild, handsome cat with a snazzy wardrobe and a fast-track life...and his music made you want to boogie."
But Hologram hasn't got many ideas to promote the disc. The executives hire a promotion man who hits the road to try to get airplay on the African-American radio stations. It is a flop outside some second zone stations. By tracking down an important New York DJ while he was looking through the record stacks at his radio station, Kris manages to have Minnie The Moocher played on the coolest rock radio station of the moment, WNEW-FM.
In the aftermath, Kris shedules a lunch with one of the Rolling Stone rock journalists. According to Kris, the guy is totally amazed to have lunch with Cab. For his part, the old king of Hi De Ho doesn't care at all and does everything but talk about his new album. Therefore there's no clue of an article in the archives of the prestigious magazine.
Quickly, after the failure of the launch and disagreements between Kris and the management at Hologram Records, she leaves the label in November 1978 which closes a few months later.
The buzz around the moonwalk, Michael and you know who.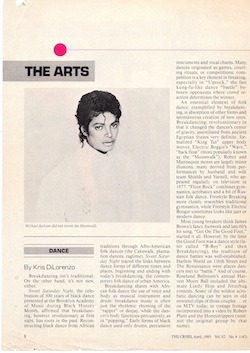 About the famous Moonwalk dance so often attributed to Michael Jackson, Kris DiLorenzo wrote an interesting article in 1985 showing her excellent knowledge of the world of dance. (She admires tap dancer Honi Coles, a member of the Calloway troupe in the 40s).
She reported that after dancing the Moonwalk on stage at the Blue Note club in New York, someone asked Cab if it was his grandson who had taught him to do... He bluntly replied: "Shoot! We did that in the 30s! It was called 'The Buzz' back then."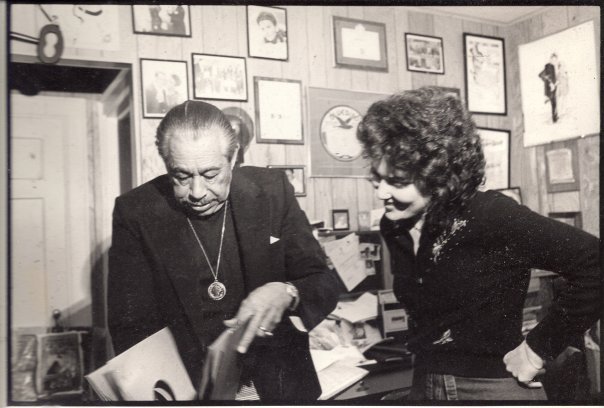 In Cab Calloway's personal office in White Plains, in the 80s
(Kris DiLorenzo's collection)
A book project about artists' everyday life... with Cab!
In 1979, Kris DiLorenzo partners with
fashion photographer Bonnie West
for a book project dedicated to artists in their everyday life:
Offstage
. The very first artist on the list is Cab who responds positively inviting the two women to his home in White Plains. Ms West took the photographs seen above and below.
The interview with Cab was to be used in the book, which was never completed. In 2006 it was published on the CultureCloud website as "Cab Calloway, the first rock & roller". This article is a deep and rarely heard Cab spealing with the utmost sincerity. He describes his distaste for drugs of all kinds, explaining that though he may have sung about drug dealers (the famous Reefer Man), he did not touch to drugs. His personal kick was the horse races. Kris says humorously that if she wanted to find Cab easily, she had to page him at the racetrack. On his own, Cab admits that he made ​​a fortune and lost a lot of money with bets. A lot. He also talks about Christopher Brooks, his grandson and about how close he feels to Osaze, the son of Chris Calloway (both since deceased), in whom he sees a budding artist. Cab also announces that he will appear next summer in the movie The Blues Brothers: "It's gonna be crazy!" Having said that it would be his last film, he admits he's unable to stop. Indeed, Cab performs almost up to the end of his life with a change noticed by Kris: Cab doesn't dress anymore like a retired Florida man but he wears with panache his whitetailed jacket from the movie (John Landis also said that Cab has never given his costume back!).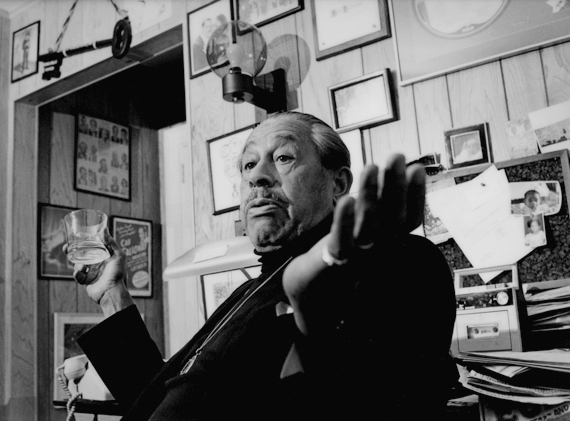 Cab Calloway in his office, by
Bonnie WEST
(with her authorization)
Agent for artists (Cab included again !), journalist, actress, playwright...
In 1982, Kris DiLorenzo joins the largest talent agency in the world, International Creative Management. She is the assistant to Stan Scottland, then agent for Cab and his daughter Chris. Kris overseesa headshot session for Chris, (brushing included!) and makes sure the tours run smoothly. She stayed at ICM until mid-1985.
In 1987 and 1988, Kris works for General Artists Management, which manages... Cab Calloway! Scottland is now the president of GAM and she again becomes his assistant. Her role is to oversee Cab's concerts in the New York area and facilitates his tours.
After leaving GAM, Kris dedicates herself to writing articles for many magazines, trains as an actress at the Royal National Theatre Studio in London, performs poetry and theater in New York and even writes a one-woman show!
She is now sharing time between writing articles for the RocksBackPages website and her blog,
"Boomer Culture"
, and is writing a novel and a new one-woman show.
The book scheduled in 1979 was never released. The tapes of the interviews were lost but Kris kept the transcript... Fortunately, she also has an excellent memory, shared with you in this column.
---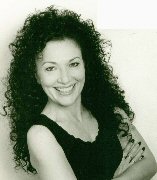 More about Kris DiLorenzo :
Articles by Kris DiLorenzo:
All my gratitude to Kris for her generosity and patience with me.
---
Thanks to photograph Bonnie WEST for allowing us to use her pictures
---
Warm thanks to Keller Whalen for his discographical help
(and his faithful and friendly support!)