Released in March 1958 to support the Cotton Club Revue, which was then touring in Miami and the USA (see our forthcoming article), this LP is Cab Calloway's very first album – in the modern sense.
Despite genuine qualities, this record went straight into the dustbin of discographers and jazz critics. It seems nevertheless to warrant some interest since, besides its two releases at the time, an unofficial vinyl emerged 30 years ago and an official release even popped up on CD in August 2014.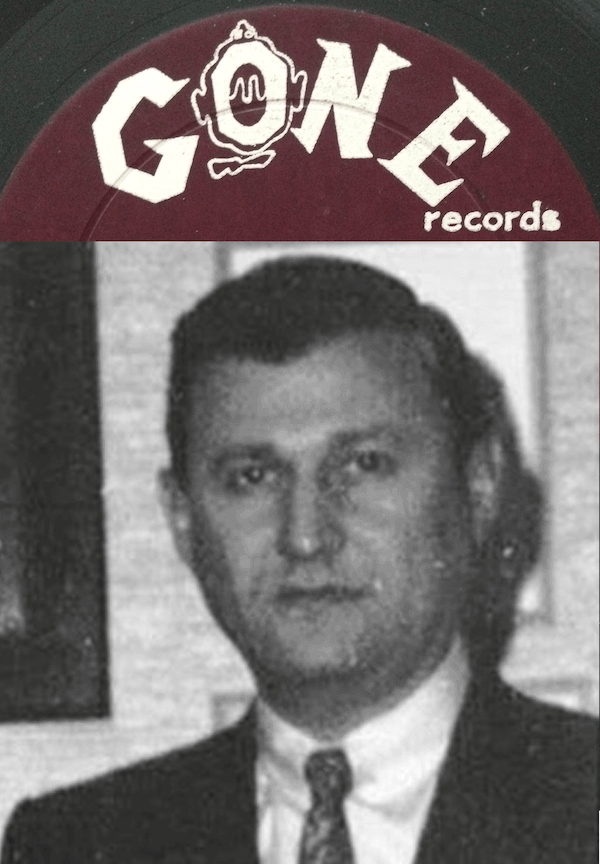 George GOLDNER, founder of Gone Records
The first LP release for GONE
Cotton Club Revue of 1958 is actually the very first LP issued by the label GONE (LP101). GONE had been created by one of those amazing producers of the '50s, George GOLDNER (1918-1970), but will have only a short life.
In its edition of 25 November 1957, the trade magazine Billboard reports that Cab recorded his first session for his upcoming album. Announced in late January in the press as an event, the album is released in March 1958.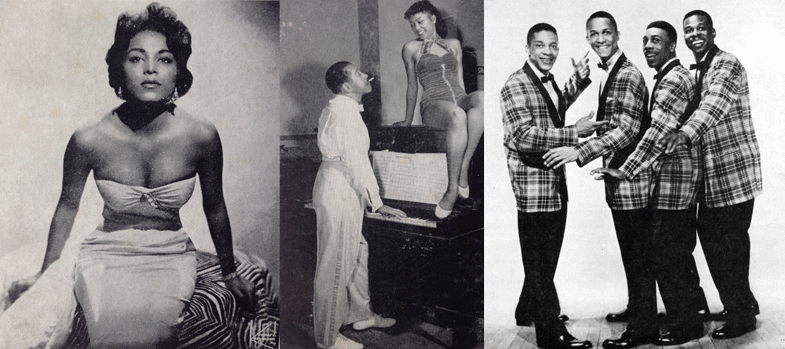 Mauri LEIGHTON, Cab Calloway (and chorus girl Jeannette DuBois), Malcolm DODDS and The TUNEDROPS
12 tracks featuring Cab Calloway – but not alone
Here for the first time is the exact track listing with interpreters (no discography, no editing, even the latest research does not give this information):
A1: Born To Be Happy (voc.: Cab Calloway, backing voc.: Malcolm Dodds & The Tunedrops)
A2: Tzotskele (My Darling) (voc.: Cab Calloway, backing voc.: Malcolm Dodds & The Tunedrops)
A3: Sinful (voc.: Mauri Leighton, backing voc.: Malcolm Dodds & The Tunedrops)
A4: Beginnin' Of Sinnin' (voc.: Cab Calloway, backing voc.: Malcolm Dodds & The Tunedrops)
A5: Sweeter Than Sweet (voc.: Cab Calloway and Mauri Leighton, backing voc.: Malcolm Dodds & The Tunedrops)
A6: Never Had It So Good (voc.: Malcolm Dodds & The Tunedrops)
B1: Minnie The Moocher (voc.: Cab Calloway, backing voc.: Malcolm Dodds & The Tunedrops)
B2: Copper Colored Gal (voc.: Cab Calloway)
B3: I've Got The World On A String (voc.: Cab Calloway)
B4: She's Tall, She's Tan, She's Terrific (voc.: Cab Calloway)
B5: Don't Worry 'Bout Me (voc.: Mauri Leighton)
B6: St. James Infirmary (voc.: Cab Calloway)
Each side of the album corresponds to a specific musical universe: side A (the first 6 titles) are taken from the revue and are original compositions by Benny DAVIS and Clay BOLAND (see article).
Meanwhile side B contains the "traditional" repertoire of Cab Calloway (although Don't Worry 'Bout Me was sung by Cab at the 1939 World's Fair Cotton Club Revue – see our article).
What is surprising is that, besides being a Cab Calloway album, it's also a disc where his stage partners appear on both sides. Unfortunately for Malcolm DODDS & The TUNEDROPS, like Mauri LEIGHTON, their names are not listed on the back cover and remain unidentified (a photo of the beautiful singer is not even captioned).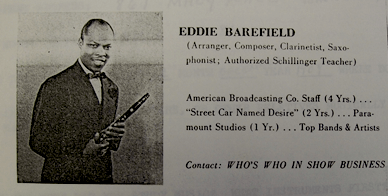 Ad for Eddie BAREFIELD (1951)
Eddie BAREFIELD is the conductor and arranger of the album. He is an old Cab Calloway companion having entered Cab's orchestra in 1933 where he shined with his solo on Moonglow (1933). He had left the band after filming The Singing Kid in 1936 and moved to the West Coast, with bassist Al Morgan to found his own orchestra. From 1951 and the sporadic reformation of his large band (especially for tours in South America and Cuba), Cab hired Eddie Barefield again. The latter remains his music director until the late '70s, alternating with pianist Danny Holgate.
At the time of this recording (and tour), Eddie Barefield is also a studio musician, especially for NBC-TV; he runs a Broadway pit orchestra (for A Streetcar named Desire); he also gives saxophone lessons.
The orchestra is composed of:
Lammar Wright, Johnny Letman, Herbie Jones, tp
Henderson Chambers, tb
Eddie Barefield, Chauncey Haughton, as
Maurice Simon, Bobby Greene, ts
Willard Brown, bar
Raymond Tunia, p
Herman Wright, b
Solomon Hall, d
(The musicians whose names are bolded have previously worked with Cab Calloway).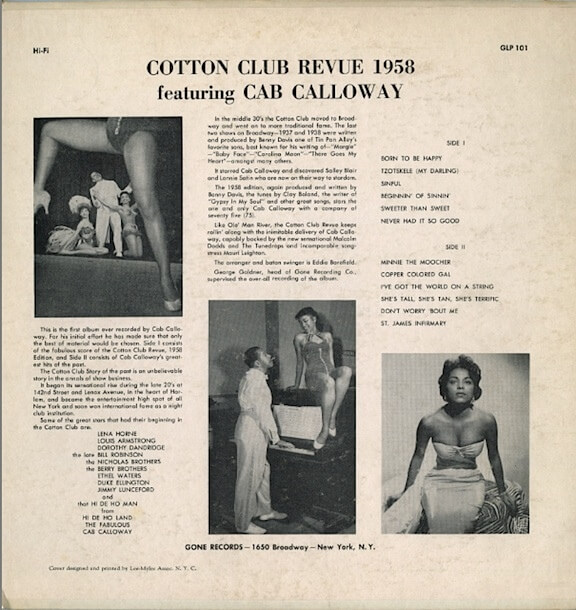 Our critical listening of the album
• Born To Be Happy: Cab appears to introduce himself to an audience that wouldn't know him (NB: all the lyrics of the album are available in the booklet of the Japanese edition on CD), but he keeps using the phrasing and an old-time arrangement known by his longtime fans...
• Tzotskele is a typical Jewish song, and Cab's singing was often compared to the cantor's. Several songs from his repertoire really sound to belong to the Yiddish tradition: Who's Yehoodi?, A Bee Gezindt, Utt Da Zay, Nain Nain… and even Minnie The Moocher's chorus scat could sound Yiddish with the Oy oy! You can get the CD box set "Black Sabbath" which explores the relations between Black and Jewish music traditions.
• Sinful is sung by Mauri Leighton and the Tunedrops. A simple song with no interest. At all.
• The Beginnin' of Sinnin' belongs to the typical revues repertoire with call and response with the vocal group.
• Sweeter than Sweet could have been an old Calloway song those languorous ones he cherished. Mauri duets with Cab, but is featured on a separate verse. Her warm low register voice perfectly pairs with Cab's. The Tunedrops end the song with Cab.
• Never Had It So Good is by just Malcolm Dodds & The Tunedrops. Nice chorus by the saxophones.
• On the shining arrangement of Minnie The Moocher , Cab makes his then-typical final number of the '50s and '60s holding the longest low register note while the guys in the orchestra encourage him. We can find a similar performance in this Canadian television clip from 1958 (LINK TO YOUTUBE).
• Copper Colored Gal was created for a Manhattan Cotton Club revue in 1936. Cab has sung it hundreds of time on stage but seems to still appreciate it. The arrangement, as with whole album, is mainstream with no risk at all.
• I've Got The World On A String is even older and is a gem by Harold Arlen written for the Harlem Cotton Club in 1932. Listen to Cab's voice: pure, clear and mature. One of the highlights of the album.
• She's Tall, She's Tan, She's Terrific has the same texture as Copper Colored Gal and is rendered like Cab has never stopped singing it since 1936!
• Don't Worry 'Bout Me is sung by Mauri Leighton. Because of her strong voicing, we're not worried at all for her…
• St. James Infirmary is a classic for Cab. The singing, the arrangement, nothing's new here but what a pleasure to hear it properly recorded.
Too bad the producers didn't decide to record a live album that would have sounded more accurate. This was not the custom at that time and probably too technically difficult to set up. We miss somehow Cab's energy on stage and his gift of reacting to the audience.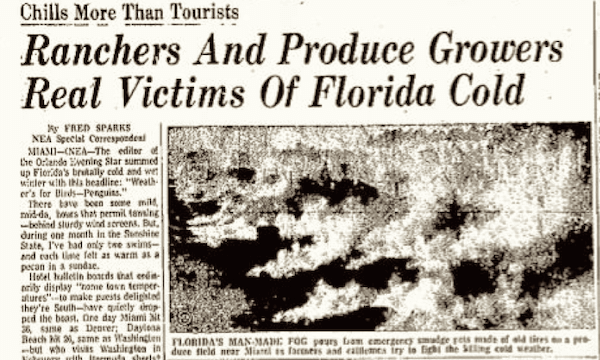 Released at the wrong time
Terrible fate for the album: it's released in March 1958 when the revue is on stage in Miami. It was supposed to be a good move for a producer. Unfortunately, for once, the weather on Florida is calamitous and to avoid the cold tourists are fleeing the beaches, hotels and especially the theaters, which go empty within days. With the increasing deficits, the Cotton Club in Miami closes. And the revue will return on stage in December 1958 in Chicago, where fewer palm trees grow but where tourists are used to the snowy torments of the Windy City! But that's another story we tell in our forthcoming article entitled "3rd season: 1959: Chicago, South America and Manhattan."
Rediscovered 30 years later
30 years later, an unofficial edition on the Danish label OFFICIAL (see our article about Gilles PETARD, the French record producer behind this release) will bring a rediscovery of this record to a new public.
And 26 years later, in 2014, it appears on CD in Japan via Warner. No new titles or bonuses. Note however that this digital reissue is in Mono.

A 7-inch for the younger generation
Note that during his contract with GONE, Cab Calloway recorded two other songs for the label, that discographers try to forget since their qualities are really hard to find... They were released in December 1957 on the 45 rpm Gone 5018:
• Tomorrow Night
• Blues Came To Dinner
Those significantly more "rock" tracks were made to capture a younger audience... who was not fooled on this one! It was a bit like having an old uncle who sings rock for the youngsters...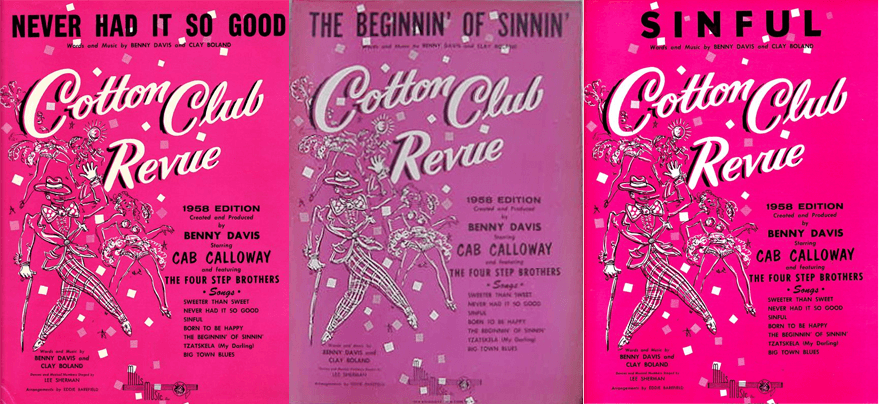 Sheet music to sing along with Cab!
As usual at this era, several folios of sheet music are also published, probably at the same time the album was released:
Sweeter than Sweet
Never Had It So Good
Sinful
Born To Be Happy
The Beginning of Sinnin'
Tzotskele (My Darling) – spelled "Tzatzkela"
Plus one cut not included in the album (but which was probably sung on stage):
Big Town Blues (If you ever have this score, let me know!)
---
Discographic Notes
Two almost similar editions appear under GONE label: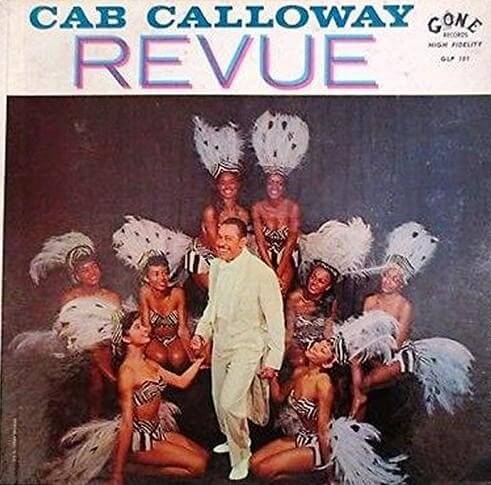 1 - Cab Calloway Revue, Gone Records, GLP 101, 12", Mono
Color of the label: purple
Side A: 101 A
Side B: 101 B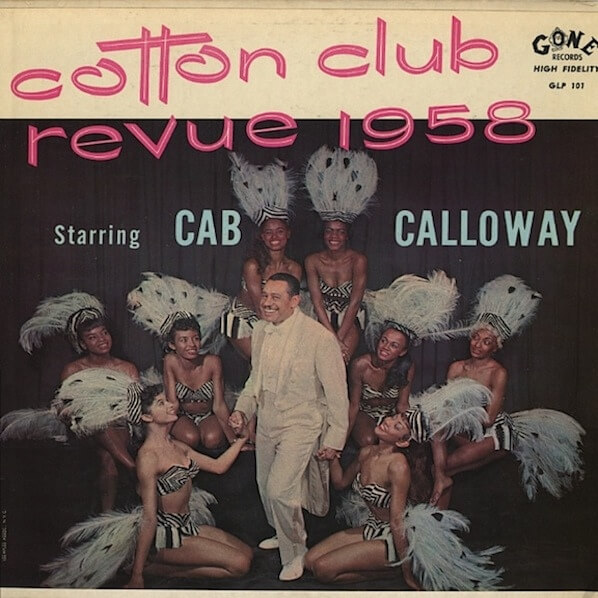 2 - Cotton Club Revue 1958 Starring Cab Calloway, Gone Records, GLP 101, 12", Mono
Different title, different layout and liner notes on the back.
Color of the label: black
Side A: HO-8P-1909
Side B: HO-8P-1910
Vinyl reissues, 12" LP: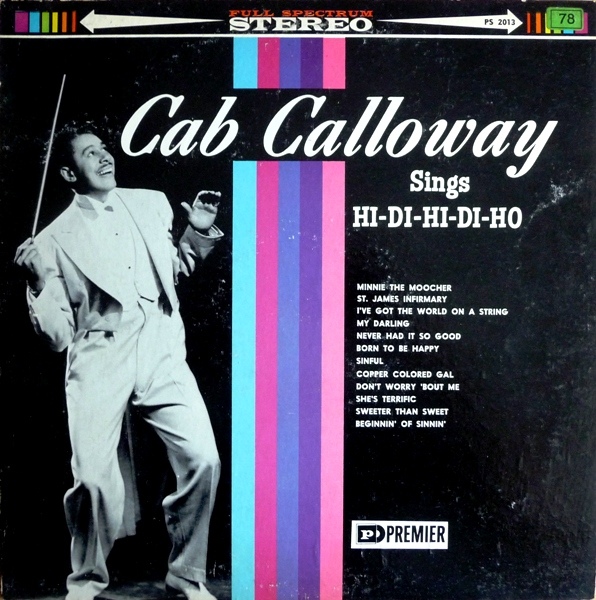 • 1960's?: Cab Calloway Sings Hi-Di-Hi-Di-Ho - Premier Records (USA), PS 2013 (stereo) and AM 2013 (mono)
12 tracks, side A and B reversed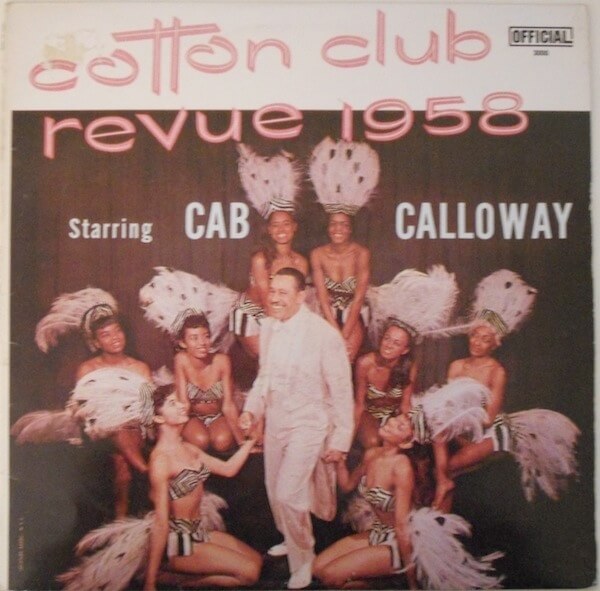 • 1988: Cotton Club Revue 1958 starring Cab Calloway - Official Records (Denmark) Official 3000 – Stereo
Perfect fac-simile of the GONE LP 101, second version.
CD reissues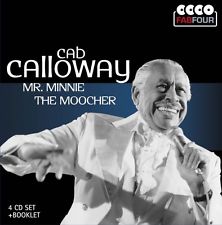 • 2011: Cab Calloway, Mr. Minnie The Moocher, Membran (Germany), FabFour series (on CD 1 of a 4-CD set), LC12281, Stereo
Original order of tracks, except Minnie The Moocher on track 1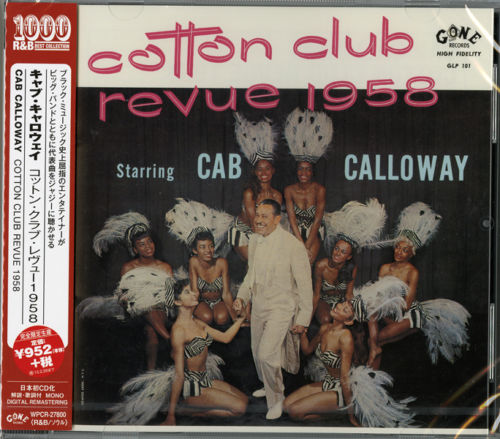 • 2014: Cotton Club Revue 1958 Starring Cab Calloway, Warner Music Group (Japan), Best R & B 1000 Collection, WPCR-27800, Mono
Numerous unofficial digital editions are available on several streaming services.
---
Again, many thanks to Keller WHALEN for his help and support
---