An Appreciation by Keller Whalen
Cab Calloway's 1962 album of standards, Blues Make Me Happy has recently been released on CD on the Sepia label. The original Coral LP has been re-mastered and cleaned up for the first time using the CEDAR noise-reduction process, with rare bonus material from the Coral and ABC-Paramount labels.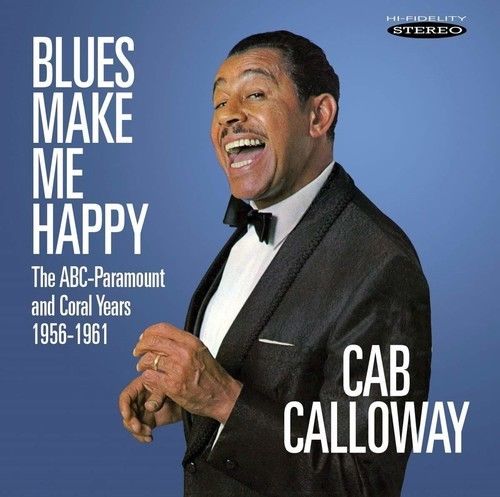 The CD cover for "Blues Make Me Happy The ABC-Paramount and Coral Years 1956-1961" - SEPIA, 2018
The new CD "Blues Make Me Happy The ABC-Paramount and Coral Years 1956-1961" includes a booklet with full discographic details and very informative liner notes by Christopher POPA, webmaster of the Big Band Library website.
It's unfortunate that Cab didn't record more albums of standards or contemporary tunes during this era, because he was at the height of his powers as a vocalist. Although the rapid high-pitched scatting and vocal pyrotechnics of the hot-jazz 1930s were somewhat diminished, they were more than equaled by a mature and powerful voice, perfect diction and breath control, and an impressive three-octave range.
The Hi De Ho Blog brings you the whole story, reviews the CD, and adds new information about this milestone yet underrated album.
THE ORIGINAL 1962 ALBUM "BLUES MAKE ME HAPPY" IN ITS ERA
Cab's career after about 1955 was very uneven. After spectacular success as Sportin' Life in Porgy and Bess touring the world in the early 50s, he was now making occasional TV guest shots, acting in the W.C. Handy biopic, "St. Louis Blues" with Nat King Cole, playing small clubs and restaurants and, from 1960 to 1963, performing six months a year as the half-time act at Harlem Globetrotters appearances around the U.S. and Canada.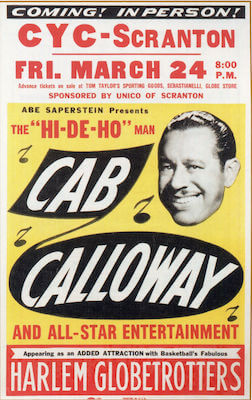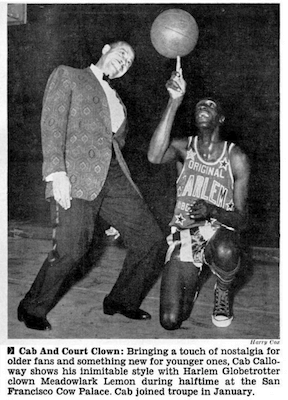 Publicity poster for Cab with the Harlem Globetrotters; photo of Cab with Meadowlark Lemon (you'll see that wild jacket again.)
In 1962, the era of big bands was long gone and rock'n'roll was dominating the charts – even though in November 1958, Cab had declared to the Pittsburgh Courier, "The rock and roll craze has made its contribution. It has calmed down quite a bit now and is really becoming jazz."
Among the top hits of 1962 were several new dances – "Mashed Potato Time" by Dee Dee Sharp, "The Locomotion" by Little Eva, "The Stripper" by David Rose & His Orchestra, and of course "The Twist" by Chubby Checker. Other chart toppers were more middle-of-the-road such as "I Can't Stop Loving You" by Ray Charles, "Roses are Red (My Love)" by Bobby Vinton and "Stranger on the Shore" by Mr. Acker Bilk.
Jazz artists with new albums that year included Dexter Gordon, Charles Mingus, Oscar Peterson, and Cab's future son-in-law, Hugh Masekela. The biggest selling LP's of 1962 were the soundtracks to West Side Story and Elvis Presley's Blue Hawaii.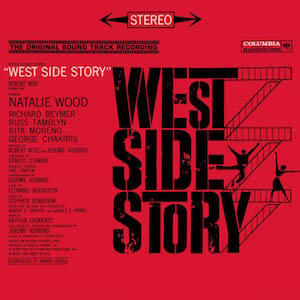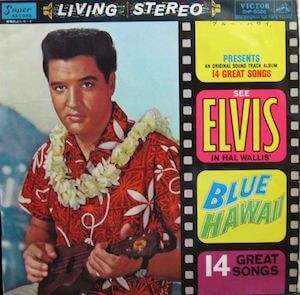 The 'STEREO' and 'LIVING STEREO' banners were selling points for the most popular LP's of 1962, the soundtracks to "West Side Story" and "Blue Hawaii".
---
OTHER ORIGINAL LP'S BY CAB CALLOWAY
Cab's recorded output from 1950 to 1970 amounted to a few attempts at contemporary or topical singles and just three albums of newly recorded material. All of the 1956 through 1961 singles on Coral and ABC-Paramount are included as bonus cuts on the new CD—they incorporate some poor attempts at rock'n'roll ("Chigger Chigger Wa Wa", "Dancing Man", "Lost Weekend"), a doo-wop song ("Remember When"), duets with Cab's daughter Lael, and some original tunes.
Cab's other full-length albums from the LP era (excluding orchestra radio transcriptions or compilations of his 30s and 40s recordings) are: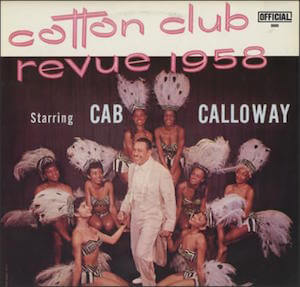 Cotton Club Revue 1958, released on the Gone label, was a mix of freshly recorded classics from his canon with some new songs written for a successful touring review that opened at a newly-christened Cotton Club in Miami. Read our article about that memorable show and the following tour. The Gone LP was issued on CD in Japan in 2014 and you can read our full-length review of this album.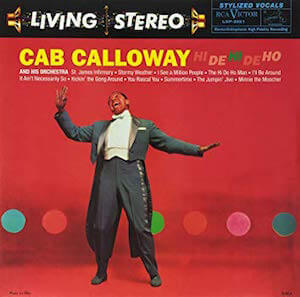 Hi De Hi De Ho was an album recorded in New York, December 5, 15 & 16, 1958 and only released in June 1960 by RCA Victor. The cover describes the musical category as "Stylized Vocals." On this LP, Cab once again re-recorded many of his old hits (this time in stereo), plus two songs from Porgy & Bess. The orchestra includes some of Cab's old band-mates from the 1940s. RCA Victor Jazz Classics released the album on CD in 1994 (the booklet says "with no electronic enhancement whatever"). It was also pressed on 180-gram vinyl on the Pure Pleasure label in the U.K. in 2010.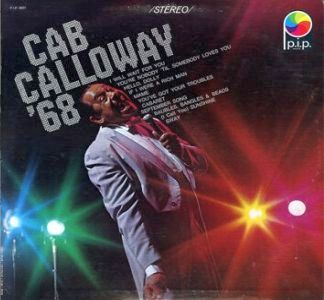 Cab doesn't return to the recording booth for another full album until 1967 when he makes a comeback in the iconic all-black production of "Hello, Dolly!" on Broadway. The LP Cab Calloway '68 covers a fine selection of mostly show tunes with an excellent orchestra conducted and arranged by Bugs Bower. The album has Cab tackling great songs like "Cabaret", "Hello Dolly" and "If I Were a Rich Man" in dynamic arrangements, but the budget label P.I.P.'s vinyl pressing was terrible and the album doesn't sound very good. This LP has not yet been re-mastered for release on CD. Read all about the making of the album, including a conversation with its remarkable arranger, leader and producer Bugs Bower:
---
THE MAKING OF "BLUES MAKE ME HAPPY"
Author Alyn Shipton doesn't mention Coral Records or the album Blues Make Me Happy in his biography of Cab, Hi De Ho, nor does Cab himself say anything about it in his 1976 autobiography, Of Minnie the Moocher and Me.
The album's label, Coral Records, was a subsidiary of Decca Records that was formed in 1949. It recorded pop artists and jazz and swing music. After Bob Thiele became the head of the label in 1954, the label produced rock and pop musicians including Buddy Holly, Jackie Wilson, Lawrence Welk and Steve Lawrence and Eydie Gormé. Thiele also produced hit songs by his wife, Teresa Brewer. In the 1950s, the label recorded Debbie Reynolds's hit song "Tammy" (Wikipedia).
Cab signed with Coral in August of 1960. During the fifties, several small and frantic labels had signed him (for short-lived contracts), mainly for singles: Signature, Regal, London, Bell, ABC-Paramount, Gone and a return to RCA for his 1958 LP.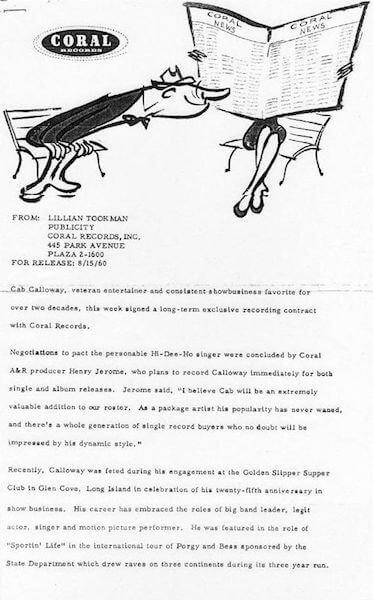 CORAL Records Press Release announcing Cab Calloway's exclusive new recording contract.
In the "CORAL News" press release dated August 15, 1960, we read "Cab Calloway, veteran entertainer and consistent showbusiness favorite for over two decades, this week signed a long-term exclusive recording contract with Coral Records. Negotiations to pact the personable Hi-Dee-Ho singer were conducted by Coral A&R producer Henry Jerome, who plans to record Calloway immediately for both single and album releases. Jerome said, 'I believe Cab will be an extremely valuable addition to our roster. As a package artist, his popularity has never waned, and there's a whole generation of single record buyers who no doubt will be impressed by his dynamic style.'"
In October 1960, soon after signing with Coral, Cab recorded four sides for single releases. With orchestra and chorus directed by Henry Jerome, Cab sang "Lost Weekend," "Dancing Man," "I'll Follow You" and "Just Wait." They were released in January and April 1961 and all are included on the new CD. (In the future we plan to dedicate a full article to Cab's eclectic singles output.)
It was not until fourteen months into Cab's engagement with Coral that the songs for Blues Make Me Happy were recorded in a New York City studio, four numbers each day over three days, December 4th, 6th and 10th, 1961. Henry JEROME conducted the orchestra with arrangements by Dick JACOBS.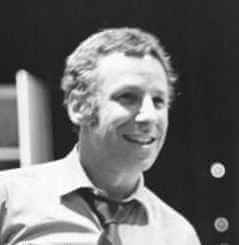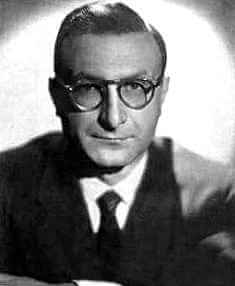 Henry Jerome (left) and Dick Jacobs.
Henry Jerome (November 12, 1917 – March 23, 2011) was an American big band leader, trumpeter, arranger, composer, and record company executive. Jerome formed his first dance band in 1932 in Norwich, Connecticut. His bands flourished throughout the 1940s, 1950s, and 1960s. Jerome went on to become A&R director at Decca Records in 1959 and for Coral Records, a Decca subsidiary (Wikipedia).
Dick Jacobs (29 March 1918 – 20 May 1988) was an American musician, conductor, arranger, orchestrator, music director and an artists-and-repertoire director for several record labels (Coral, Decca, Brunswick and Springboard). He helped Jackie Wilson, Buddy Holly, Bobby Darin and others early in their careers in the late 1950s and early 1960s (Wikipedia). Jacobs is responsible for the wonderful strings in Buddy Holly's final two songs, "Raining in My Heart" and "It Really Doesn't Matter Anymore".
In 1961 Cab's 54-year old voice was absolutely superb -- he was at his best. He could still hit all the high notes and the low notes were flawless. His breath control and diction were perfect. His range was tremendous and his voice was steady. Cab's occasional TV appearances in 1950s and early 60s showcased an energetic and charismatic singer at the top of his game. A new album of popular standards with orchestra would be a perfect match.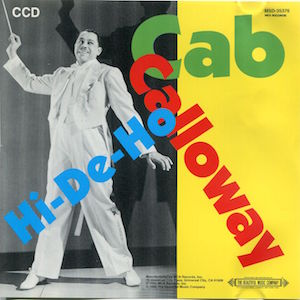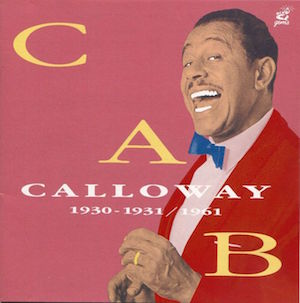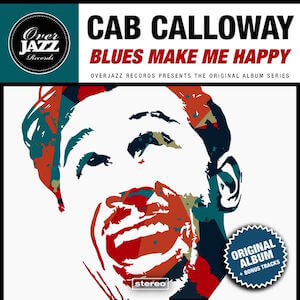 The various CD and digital releases that include songs from "Blues Make Me Happy"
Only some of the cuts from Blues Make Me Happy have appeared on CD previously. Cab Calloway Hi-De-Ho, a mail order offering from The Beautiful Music Company, was released by MCA in 1992 and includes six of the songs. Cab Calloway 1930-1931/1961 from the MCA Gems label in Japan in 1997 has seven of the songs. But even if you own both of those CD's, you're still missing four songs that don't appear on either. The album was also released in digital-only format in 2010.
Ten of the twelve cuts on Blues Makes Me Happy also appeared on the 1968 abridged version of the LP called Cab Calloway Sings the Blues on Decca's budget label subsidiary Vocalian. And an early 1960s newspaper clipping from Brazil promised a 10-song disc of the Coral material from Copacabana Discos, but we have found no other evidence of this record.
---
THE SONGS ON "BLUES MAKE ME HAPPY"
The 12-song selection includes some well-known classics and others that are a little more obscure. Many of the songs had been performed or recorded by Cab in prior years but several are heard here for the first time. Almost all of the songs are not strictly blues, but rather they are popular tunes using "the blues" as subject matter.
The blues has always been in Cab's catalog. Before his first recording session in 1930 with "St. Louis Blues", Cab used to sing the blues at the Sunset Café in Chicago as far back as 1927. Mainly in the wee hours of his career, he regularly recorded blues songs like "St. James Infirmary" (1930), "Farewell Blues", "Blues In My Heart", "Down-Hearted Blues", "Stack O' Lee Blues" (1931), etc.
When Cab appeared in the 1958 movie "St. Louis Blues", many observers — Cab being the first — were surprised that it was a non-singing role. But at that time, and later in 1960, his cabaret and nightclub repertoire did not include a lot of blues, but rather his old classics like "Minnie The Moocher", "St. James Infirmary", "The Jumpin' Jive", and other popular numbers like "That Old Black Magic" (usually with comic add-ons), "My Funny Valentine", "It Ain't Necessarily So" (from Porgy and Bess) and newer R&B material (for the new audiences). The only genuine blues he was singing then was "St. Louis Blues". He offered several different arrangements of this standard, even a Latin version in the early fifties.
All the vocals on the album are subject to a sometimes painfully heavy reverb/echo. Of all the voices in the world, Cab's was certainly not in need of any particular technological enhancement! But various recording effects were popular in 1962 since the development of stereo was only a few years old and still something of a novelty.
The orchestra, not subject to the reverb on the recording, has a full complement of wonderful strings and a powerful and talented brass section. From 1960 to 1965, Henry Jerome and His Orchestra put out many albums under their own name, most of them using the title "Brazen Brass" (Brazen Brass Goes Latin, Brazen Brass Goes Hollywood, etc.) Although the members of the orchestra's brass and rhythm sections are not identified on Blues Make Me Happy, we can guess that they probably included some of the great session players of the time who were also used by Jerome on the "Brazen Brass" LP's: Bernie Glow, Jimmy Maxwell, Jimmy Nottingham and 'Doc' Severinsen on trumpet; Lou McGarrity on trombone; Bob Rosengarten on percussion; and Sandy Block on bass. Refer to our interview with Bugs Bower in our article about Cab Calloway '68 to learn how recording sessions were organized at that time.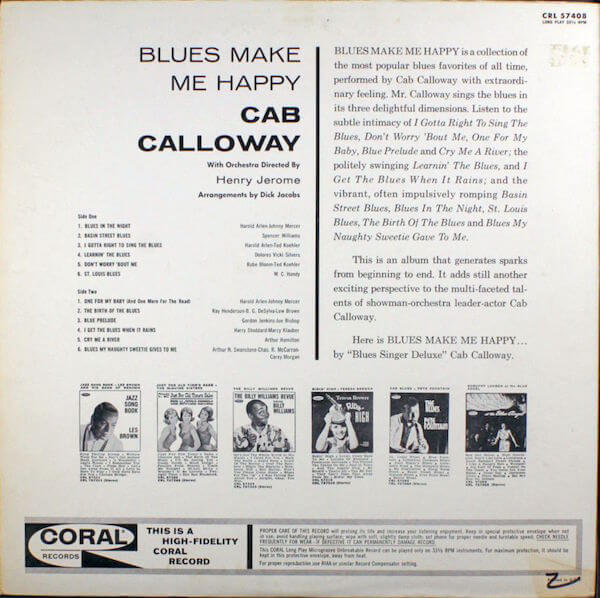 The back cover of the original album.
The first song, "Blues in the Night", was written by Johnny Mercer and Harold Arlen for a movie of the same name in 1941 and quickly became a jazz standard. "My mama done tol' me, when I was knee pants…" It was a big hit for anyone who recorded at that time (right after Pearl Harbor – read the great book Pearl Harbor Jazz by Peter Townsend about this song and the era). The opening horns become a counterpoint to Cab's vocals with lush and smooth strings in the background. The strings and piano behind the vocal take over beautifully during a slow section. Cab had recorded the song in 1941 with his full band in 1941 and a four-man vocal backup group, The Palmer Brothers (also known as The Cabaliers). Watch a 1942 Soundie of "Blues in the Night", a short musical film by Cab and his Orchestra with the Cabaliers.
"Basin Street Blues" written in 1928 was first recorded by Louis Armstrong. On the LP, Cab and the horn section are brilliantly matched in a slightly playful tune (it's really a happy song because the singer knows just how to get rid of those blues). The strings and piano move in for the middle sections before the horns take over again. With a powerful vocal, Cab even slurs a few words a bit like Elvis. He recorded the song previously with his own orchestra in 1931.
"I Gotta Right to Sing the Blues" was sung by Cab at the Cotton Club in Harlem and recorded by Cab with his band in 1932 when it was published by Harold Arlen and Ted Koehler. On the new version of this fine ballad, the strings and piano arc smoothly throughout behind Cab's vocal, and a plaintive alto sax follows the vocal wonderfully. Cab holds a couple of notes for an inhumanly long time towards the end.
"Learnin' the Blues" was a big hit for Frank Sinatra with Nelson Riddle's orchestra in 1955; Cab had recorded the song that year for the budget label, Bell Records. This version is so much better. Piano and drums set the scene, and muted horns and the rest of the brass take over at the end. Listen to Cab's 1955 version of "Learnin' the Blues" here.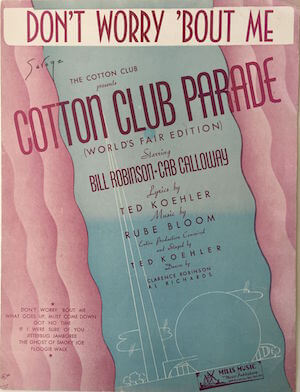 "Don't Worry 'Bout Me" is a 1938 song composed by Rube Bloom, with lyrics by Ted Koehler. It was introduced at the "World's Fair" edition of the Cotton Club Parade in 1939 sung by Katherine Perry. Cab didn't record this marvelous ballad himself it until the Cotton Club Revue of 1958 LP. Violins open the tune, a true torch song with a slow sax playing along. A delicate piano joins the strings while Cab actually sings in a restrained register for most of the song. The tenor sax provides a gentle coda.
"St. Louis Blues", the 1914 classic by W.C. Handy, was recorded several times by Cab, including the very first recording session for Cab Calloway and His Orchestra in 1930. Here, with the power of brass and strings of the full orchestra, it becomes a swinging number, slightly reminiscent of Glenn Miller's arrangement, "St Louis Blues March." This number is in fact the only genuine blues song on the album. "I hate to see that evening sun go down."
"One for My Baby (And One More for the Road)", written by Harold Arlen and Johnny Mercer in 1943 and first sung by Fred Astaire, was a big hit for Frank Sinatra in 1947; it was previously waxed by Cab as a single in 1949. Much later, it was recorded by a big Calloway fan, Iggy Pop, as a bonus track on the CD release of his 1981 album "Party". A famous torch song, "One for My Baby" has a lilting bass line and a single muted trumpet that add to the lonely barroom ambiance. Cab sings it with feeling. You can also listen to Cab's somewhat subdued 1949 version here.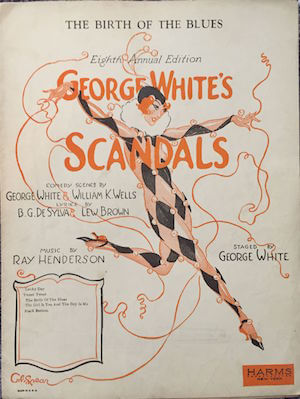 "The Birth of the Blues" was composed in 1926 by the team of DeSylva, Brown and Henderson. Over the years, Cab had sung this song on stage and on the radio, but not in the studio. The strings and horns burst out at the beginning and join in as the vocal narrative moves along, telling the story of how the blues came about. Cab's vocal alternately lilts and soars as the story unfolds.
The last four songs on Blues Make Me Happy were all recorded by Cab for the very first time in 1961 for this album.
"Blue Prelude" was written by Gordon Jenkins and Joe Bishop in 1933 and was a hit for Bing Crosby the same year (in a rather maudlin version). A song with an unusual structure, the dramatic strings and piano join the at-times soaring vocal, while later a solid solo flute backs up the sad story. "What is love but a prelude to sorrow?" This is the best song on the album, an original and dramatic musical presentation. Listen here to Cab singing "Blue Prelude" from the original LP release.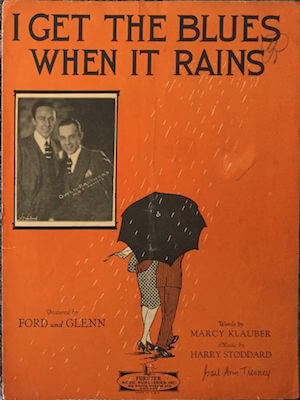 "I Get the Blues When It Rains", a 1928 composition, was later recorded by Peggy Lee. It's another playfully swinging song on this album, with muted horns again accenting the vocal. Cab includes some of his trademark scatting towards the end and hits some fine high notes.
"Cry Me a River" was written by Arthur Hamilton and first published in 1953. It was made famous in 1955 with the hit version by Julie London, and Joe Cocker performed it memorably on his 1970 live album Mad Dogs and Englishmen. There's also a wonderful modern dance version by Mari Wilson from 1983. Cab does justice to this great torch song, melancholy at first but then it really starts to swing a bit. Cab opens and closes the recording with a sample of Jewish cantor singing that he so often interpolated into his songs in concert. Listen carefully and you can hear a splice in editing at 1:56 between two different vocal takes, something that no longer occurs with digital technology.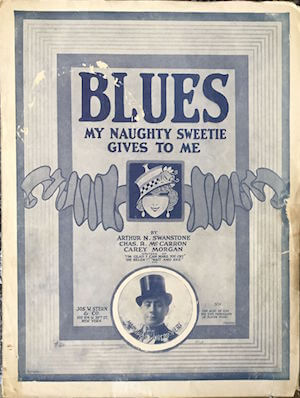 "Blues My Naughty Sweetie Gives to Me" from 1919 was an instrumental hit for the Hal Kemp Orchestra and later recorded by Glen Campbell, The Gaylords and Spanky and Our Gang. The singer lists the various kinds of blues that can be compared to the blues his naughty sweetie doles out, "there are blues that you get from worry, there are blues that you get from pain," etc. Cab only sings about one-third of the original published lyrics. And later singers, including John Denver and Jim Kweskin, added many whole new verses of their own, listing all kinds of wacky 'blues' for comparison. For this recording, Cab changes the words slightly by removing the sibilants, singing "the blues my naughty baby gave to me" instead. This arrangement really swings and the album is closed on a high note.
The average composition year for these 12 songs calculates to 1934, which was Cab's creative heyday., Along with his older hits, Cab continued to sing "Blues in the Night", "Learnin' the Blues" and "One for My Baby" in his 1980s and 90s concert appearances.
---
THE REVIEWS
There was virtually no publicity or advertising for the record other than Decca's full page Billboard ad for the trade listing all of the company's latest releases.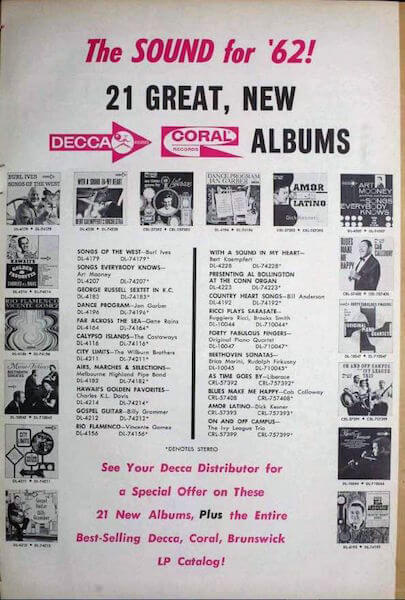 January 13, 1962 trade ad in Billboard. You can spot Cab's new LP in there somewhere.
Contemporary reviews were mixed for Blues Make Me Happy. Record reviewers didn't seem to know what to make of this famous jazz orchestra leader and personality trying something a little different. Here they are, from the worst to the best.
The Daily Oklahoman dismissed the album altogether: "Cab tries hard to recapture the spell he used to weave when he sang blues but on the whole this is an unsuccessful album. Better luck next time."
The Rochester Democrat and Chronicle said "Cab Calloway plows his way through a dozen blues songs….this is strictly for those who like the vocal gymnastics of the undisciplined school of jazz which we thought was beginning to go out of fashion."
The Putnam County (NY) Courier came up with some awful comparisons: "The old Hi-Dee-Ho man's performing style is about as appropriate here as Jerry Colonna's would be" and "between the bovine lowing and the siren-like wailing…this is better as a take-off on Ray Charles than a true blue performance." How rude.
Stereo Review panned: "The days of hi-de-ho and Sportin' Life are gone but no one seems to have told Cab Calloway….He portrays the same sharp, flip character that has been his stock in trade for so many years." Is that a bad thing?
The Indianapolis News was non-committal: "Cab Calloway, laying aside his baton and hi-de-ho's, steps up before the Henry Jerome orchestra and practically chortles through what may be the most light-hearted blues program ever recorded." I didn't hear any chortling.
The Syracuse Post-Standard pounced on the recording's echo: "This one will really whomp your woofers – and tweeters, too. Cab sounds as if he's been recorded at home plate in Yankee Stadium and Henry Jerome's Orch. is spread from first to third bases." But then the same review reported that "Calloway once again proves himself to be the master vocal entertainer….A most welcome return performance by the great Cab Calloway."
The Hartford Courant published a confusing review: "Cab steps down from the podium to sing rather nasally…Cab's "Basin Street" is a Phil Harris-type vocal. A rather reedy voice, but Cab knows right where he is every moment, with as many tricks in his showman's sleeve as Sammy Davis Jr. This has its good and bad points, all vibrant." Reedy? The reviewer seems to have confused Cab with Claudine Longet.
The Akron Beacon-Journal was kinder: "There are no wild 'hi-de-ho's' in Cab Calloway's Blues Make Me Happy as the veteran showman puts vocal life into a weepy dozen."
The Lake Charles (LA) American Press simply said: "Calloway proves his caliber as a blues singer by handling the vocal line in a dozen songs from the early years of jazz."
The Weirton (WV) Daily Times loved the album, "In his new Coral album, Cab Calloway refutes the timeworn idea that blues bespeak sadness….Inventive arrangements by Dick Jacobs and the orchestra is superbly directed by Henry Jerome to offer record fans a delightful new listening thrill."
Variety, the showbiz bible, stated the facts: "Cab Calloway has shelved his 'hi de ho' technique for this excursion into the blues field. It's not familiar Calloway but it's good and could win him a completely new following. He approaches the blues repertoire in varied moods but each fits the particular song perfectly and gives it an interesting new dimension."
Cash Box generally liked the album: "Coral showcases a new side of the Calloway coin in this album of blues sturdies. The finger-snapping is replaced by a sincere, dedicated artist who sings the blues from a deep understanding in the music."
It doesn't seem that the music trade publication Billboard reviewed the record at all, but they gave it three stars and included it in a weekly listing under their regular heading "Moderate Sales Potential."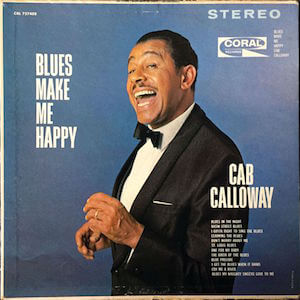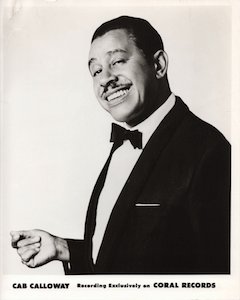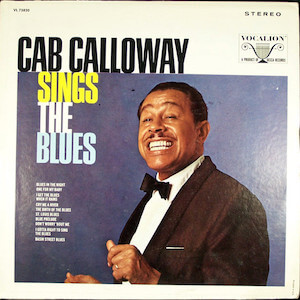 The many faces of Cab Calloway—the original LP, a publicity photo, and the abridged re-release.
Ultimately, the album didn't chart or make much of a dent in sales, but it's a spectacular representation of a long-time star at his mature best. The new CD transfer is rich and clean and worth tracking down to complete your Cab Calloway collection.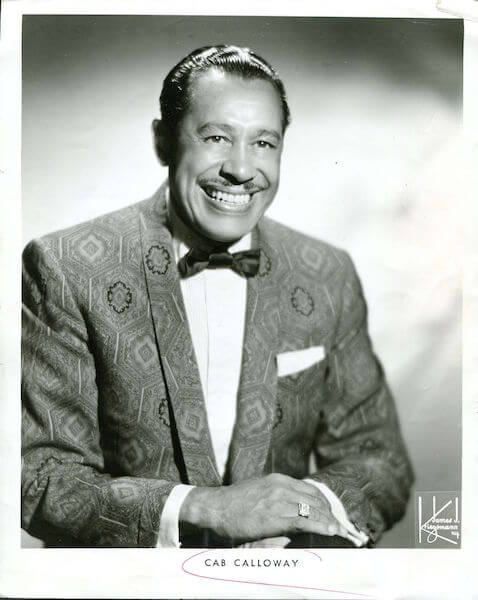 Cab Calloway, circa 1961, wearing that wacky jacket you've seen before.