Leroy MAXEY (1904-1987)
Drummer in Cab Calloway's orchestra from 1929 to October 1938
Third part of the life of Leroy MAXEY, first drummer in Cab Calloway's orchestra from the Missourians era until his lightning eviction in October 1938 by Cozy COLE. The fault lies with Gene KRUPA, but other circumstances as well. The last part of this biography stopped with the veneration Leroy Maxey claimed to have for his boss. Let's see how Cab talks about him...

The whole Cab Calloway band, arriving in Paris, April 1934. Everybody looks sharp.
Leroy is wearing a white scarf, between Lammar Wright (with the pipe) and Edwin Swayze (seated on the luggage)
A SEDUCER OBSESSED BY HIS LOOK
Cab CALLOWAY, in Of Minnie the Moocher and Me paints a detailed and rather funny portrait of his dapper drummer:
"Maxey was quite a character. He was a sharp, dark-skinned young guy, handsome as-hell, and he knew it. Leroy and I had more suits than anyone in the band. He liked to get dressed up and stand in front of the mirrors and check himself out. A real delightful, happy guy who loved to play drums and who loved life. He was a meticulous man. Leroy would spend hours cleaning his drums. When you're on the road, a set of drums can begin to look a little scruffy. I always told my band that we were going to be the cleanest, best-dressed, sharpest band on the circuit, and Leroy took it to heart. He'd polish and shine his drums the way other men clean their cars. (…)

Maxey was a short guy, who always wanted to look best and appear educated. He would study the dictionary, pick out the longest, most complicated words, and throw them into his conversation. In the dressing room, he would line up ten or twelve bottles of perfumes and lotions on the wash table; he could always tell if anyone touched them and he would raise holy hell. In the Cotton Club and other places where we had individual dressing tables, Leroy always set up special lighting in front of his mirror so he could see himself in the best light. He always wore lots of lotion and perfume and powdered his body and face heavily. One night, when we were playing in Louisville, he didn't have a mirror, and he put too much of the damned stuff on. He was late coming on stage, and since he was in the back and the lights were low, nobody noticed until the lights came up, in the second number, that he had put so much damned powder on he looked like a powder puff. We were in the middle of a tune, and a couple of the trumpet players in the back row started to laugh so hard they couldn't play. I was up front wondering what the hell was going on until I looked at Leroy. Then I cracked up, too. We got through the number as well as we could, and I took a short break and told Leroy to go get his-face together."
It must be noted that Leroy Maxey is the only musician from his band Cab Calloway writes about that much in his autobiography. Probably because like Leroy, Cab was a dandy and a womanizer…
---
A FAMOUS MISTRESS, AND A MYTHOMANIAC WIFE
When on January 11, 1936 the Baltimore Afro American published a front-page article about Leroy Maxey, it was not to talk about his drumming technique but rather about his love affairs... Indeed, while the orchestra was in Hollywood for the filming of The Singing Kid, Leroy Maxey had been seen on the arm of a young Harlem actress named Theresa MASON but calling herself Mrs. Maxey, while the "real" Mrs. Sadie Maxey was yearning in New York!

The spouse
Daughter of Mr. and Mrs. George TREADWELL of Flushing, Long Island, Sadie Maxey, born Treadwell in South Carolina in 1903, had played in Lew Leslie's "Dixie To Broadway" revue with Florence Mills. It was in Chicago, in August 1924. The revue was playing at the Shubert Garrick. The Wilson Robinson Syncopators were at the Grand (coincidentally, future Calloway trumpet player Edwin Swayze was playing with Sammy Lewis at The Monogram). Anyway, Sadie met Leroy. They quickly got married.
Earlier, Sadie was singing and dancing in the trio formed with Alberta Jones and Dewey Jones that successfully toured the East coast in 1923.
According to the cheated wife talking to the press in 1936, "she indirectly contributed to the creation of both the Calloway and Duke Ellington bands in her efforts to keep her gay husband" (BAA, January 11, 1936). Now, either the journalist Ralph Matthews didn't understand or else Sadie is a first-class megalomaniac:
"Upon returning to New York [in 1924], the then Miss Treadwell used her influence to have the [Wilson Robinson Syncopators] placed in the Cotton Club at a salary increase of from $40 per week to $100 [$1,650 of today] per week per man." The story goes on: "After some time in the club, the band went on strike for $150 per week and it was then that Irving Mills snatched the obscure Duke Ellington and his five-piece band from a small club, increased the organization and placed them to the Cotton Club." Without a job, the former "Cotton Club Orchestra" took the name of Missourians until Cab arrived. But once again, in 1927, thanks to her New York contacts, Sadie Maxey managed to get the orchestra into Earl Dancer's "Africana" revue, with Ethel Waters.

Theresa Mason, in 1943, at the Small's Paradise.
Still a chorus girl while her rival sells sandwiches.
The mistress
The mistress Theresa MASON, was born in 1906, married to Charlie Kelly in 1930. She was an actress, dancer, singer, chorus girl and played in many revues with Ethel Waters, Adelaide Hall, Bill Robinson, Fats Waller. Since she was also in the cast of Africana with Ethel Waters, that's where Leroy probably met her for the first time, in 1927! Theresa also appeared in several Harlem Cotton Club revues (in a dancing routine with Margaret BECKETT), along with Ethel MOSES, another Cotton Club girl who turned the head of another Calloway musician: pianist Benny PAYNE.
The affair between Leroy and Theresa was already acknowledged in 1934 and narrated in Allan MacMillan's gossip column in the Afro American: "Theresa Mason and Ethel Moses, two other delectable parcels of feminity at the Cotton Club, will not go with the revue to Europe [Editor's note: Cab and his ork were already back!], if and when it goes on account of a heart-throbbing for two certain gents in the Cab Calloway orchestra…" (July 7, 1934).
"Here is a good reason why married men should be careful when they are away from home: Leroy Maxey of the Cab Calloway ork had a lovely lassie with him in Boston and introduced her to someone as the Missus. A few nights later in the Cavalcade, a Harlem drinker, the fates brought together the real Mrs. Maxey and a young lady who happened to have been in Boston when Theresa Mason was there with Leroy, and in this triangle Sadie Maxey refuses to be the goat…" (Chicago Defender, October 19, 1935).
It's important to be aware that, after a July 1932 fight between Sadie Treadwell and Susaye BROWN (actress and show girl Sadie knew from "Rarin to Go", a 1926 revue) in front of the Cotton Club, Maurice DANCER publicized the gossip about a divorce proceeding between Leroy and Sadie in his column "Harlem Night by Night" early the next September! Because of what Leroy wrote on his marriage certificate: "I no longer want my wife Sadie Treadwell anymore". However, it is also important (or rather amusing) to be aware that Sadie's father, George, would have paid the bill of $3,000 [$60,000 of today!] for the new and flashy set of drums that Leroy was begging for…
Note that a couple of weeks before the headlines about the affair hit the front page (!) of the Afro American, Sadie Maxey was already in court claiming back alimony from the neglectful husband. Leroy was then ordered to pay her $15 from his weekly salary of $100. One could say that he neglected her but he had time to send mail to her since she received a "receipt for nearly $600 which he had spent on his teeth"…
She even received a phone call… from a process server "with a summon in connection with unpaid furniture bills and household articles purchased in the name of Mrs. Theresa Maxey."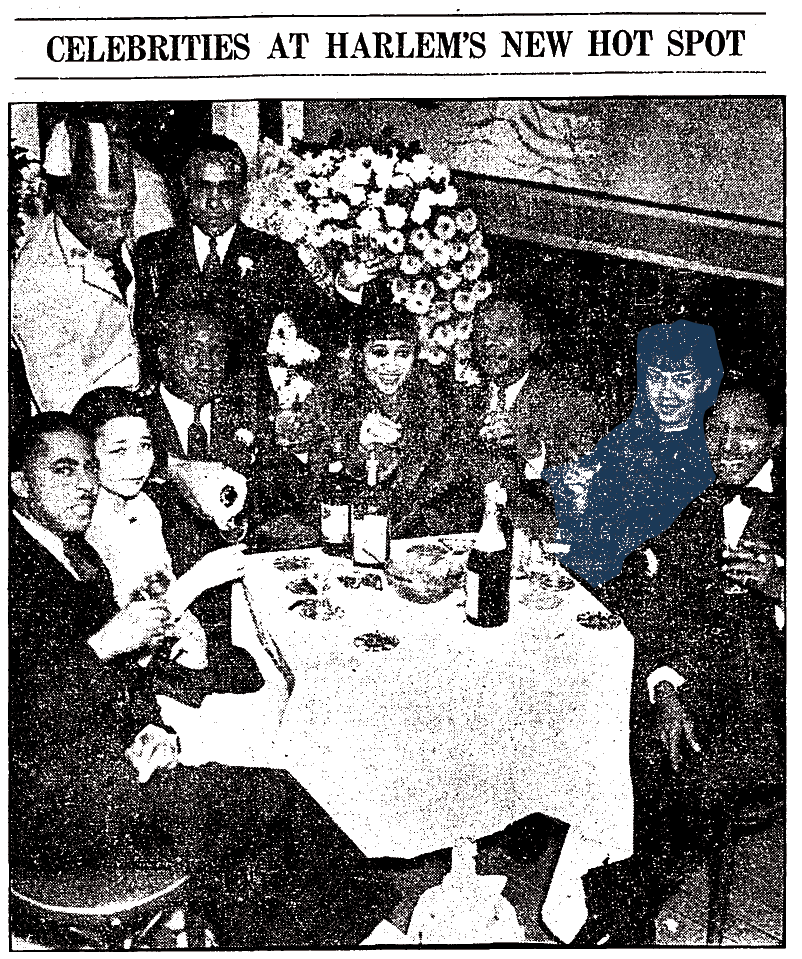 Sadie in good company, with Freddie Jenkins (Chicago Defender, Dec 21, 1935)
The story, after…
On January 11, 1936 – on page 11 of the same newspaper – another gossip column points out that, "Eddie TOMPKINS (he's Lunceford ork trumpeter) and Sadie Maxey are two-soming" (also alleged in October…).
A few months later, in August 1936, Sadie was seen holding hands with Ellington trumpeter Louis METCALF (and, if you remember, a bandstand friend from the Wilson Robinson Syncopators and Cotton Club Orchestra!). She said to the reporter that she would obtain her divorce next October…
In October 1939, Sadie "still" Maxey, lives in a fancy apartment on 2040 Seventh Avenue in Harlem with Jack DRILLICH of Chelsea Furs – some guy we already met in the press along with Sadie at parties. They were robbed and the loot is valued at $5,000 [$100,000 of today!] in cash, jewelry, and furs of course…


An ad published in People's Voice, Nov 11, 1944
In May 1944, Sadie, still named Maxey, opens a sandwich shop, The Shanty, 2091 7th avenue, opposite famous Hotel Theresa (don't you notice the irony?...) in the heart of Harlem. Still opened in 1950, with "special service by Sadie in person"! In 1954, a mysterious phrase appears in Izzy Rowe's column for The Pittsburgh Courier (June 12, 1954) "Business woman Sadie Maxey is happy to report that the rumors about her death are just that and nothing more…" In 1959, the "ex-restaurateur for night lifers, taking her longtime friend into court soon over return of $1,800 worth of furs she left with her." In 1964, Sadie Maxey appears at the Annual Gala sponsored by the Ex-Glamour Girls, at the Riverside Plaza Hotel, with the likes of former Cotton Club girls: Fannie Robinson, "Vivian Harris and sister Edna Mae Harris; Julia Noisette Morin (…) Elida Webb, John Yates and Adelaide Marshall." Just like an old recollection of what Sadie's life had been when on stage in the Twenties…


One bad headline for Cab in the Afro American, Jan 1, 1936, while shooting the movie "The Singing Kid"...
Despite Cab Calloway's reputation as a Don Juan, I'm not sure the bandleader appreciated this type of publicity Leroy offered to the press during years.
---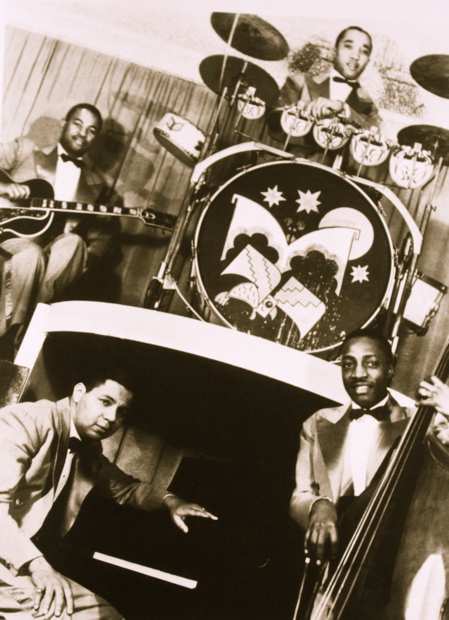 Cab Calloway's rhythm section in 1937:
Morris White (guitar), Bennie Payne (piano), Leroy Maxey (drums) and Milt Hinton (bass)
FROM CHU TO COZY, VIA GENE
Everyone knows that the arrival of tenor player Chu Berry in Cab Calloway's orchestra is a game changer in the band and the oldest musicians of the group were the first to be shaken in their habits. Milt Hinton has often said that the older members of the Missourians were content to play their parts without ever opening up to what was new or going out to jam with the local musicians on tour. This is probably what eventually doomed Leroy Maxey, perhaps too busy managing his look and love affairs...
Pivot of the rhythm section, Leroy Maxey had already seen the departure of his longtime high school friend Jimmy Smith (tuba and bass) in March 1932, replaced by Al Morgan then Milt Hinton (spring 1936). The guitarist Morris White had been fired in December 1937 (read our article).
Yet, Chu Berry, who had just arrived at Cab in July 1937 invited Leroy Maxey as drummer during one of his personal sessions which he had kept secret on September 10th 1937. This could produce gems, but also sometimes less "spectacular" moments. Still, surrounded by a large part of Cab's band with the likes of Irving Randolph (tp) Keg Johnson (tb) Chu Berry (ts) Benny Payne (p, vcl) Danny Barker (g – who will soon succeed to Morris White) Milt Hinton (b), Chu Berry recorded 4 tracks:
• My Secret Love Affair (with vocal by Benny Payne)
• Ebb Tide
In his wonderful liner notes for the Mosaic box set dedicated to Chu Berry, Loren Schoenberg explains that like Benny Payne whose piano playing is too heavy, Leroy has an issue in the studio:
About Chu Berry Jam: "It sounds as though the players are playing as though there were still a big band surrounding them. Maxey has a good sound on the ride cymbal and a perfectly placed backbeat on a par with Sid Catlett's, though he doesn't use it nearly as sparingly.
About My Secret Love Affair: "As good as Maxey's back beats are, they seem out of place on what was until the trumpet solo, a lovely ballad. Maybe this is what playing in a big band for several years can do to you."
Drummer and Jazz historian NICHOLAS D. BALL'S comment: On the subject of the four small-group sides made under Chu Berry's leadership, I'd strongly dispute the opinion that Maxey's contributions are in any way inferior or heavy-handed; in fact, I consider them among his best recorded work. 'Chuberry Jam' fizzes and crackles zestily, whilst 'Maelstrom' rumbles with moody, Latin-tinged menace. Freed at last from the restrictive musical shackles that come with playing in any large ensemble, and granted the freedom to supply a degree of genuine creative input, to me Maxey sounds excited, happy and inspired, firing up a succession of soloists and imbuing a great deal of energy and vitality to the music. His frequent interjections are undeniably powerful, but it's worth remembering that similar percussive outbursts are exactly what the likes of Webb and Gene Krupa were being lionised for during exactly this period. It's a fine line between playing with generosity and being overbearing; for me, Maxey stays the right side of that line and his 'bombs' are no more intrusive than those of many of his peers.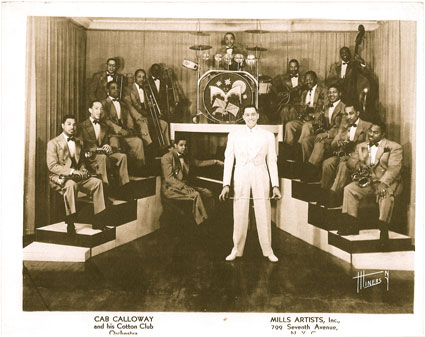 One of the rare photos of the orchestra with Chu Berry and Leroy Maxey, early 1938
(courtesy of Leon Dierckx)
Was the spell cast that day for Leroy Maxey in the eyes of Chu Berry? Probably partly when one knows the incredible influence that the great tenor had on Cab. But that's not all. Maybe the everlasting swanky and hip bandleader needed a pretext...
We are indeed at the time when Benny Goodman and others started to play in small formations. If there was on one side Gene Krupa, Lionel Hampton and Teddy Wilson, Cab Calloway could not afford to do less. And he had enough to take up the challenge: his musicians were among the best of the moment.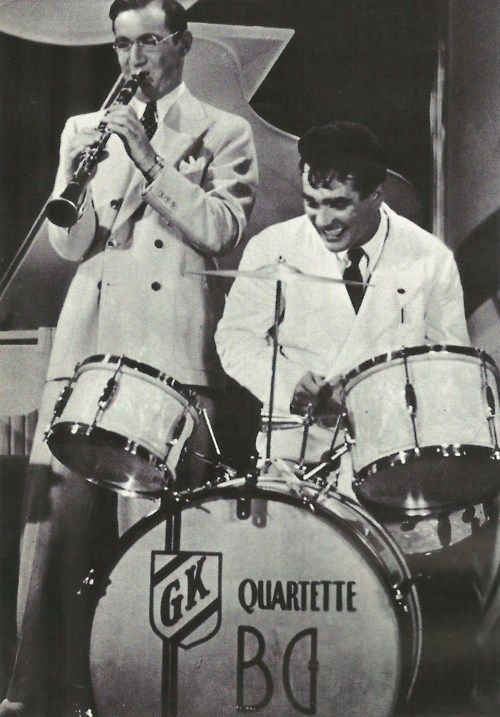 Benny Goodman and his featured drummer, Gene Krupa
But playing in a small group requires other skills than big band. Gene Krupa's solos were becoming legendary: Cab wanted the same ones!
Alyn SHIPTON explains in his biography of Cab Calloway:
"Cab was beginning to share his band's apprehensions over Leroy Maxey. On a medium tempo swing chart, Maxey was one of the finest swing players, able to boot the band along and create momentum. But at slower tempi he could drag, and there were similar problems with some of Cab's fast flagwavers. According to Hinton he "never listened enough to keep up." By this he also meant that Maxey never bothered to keep an ear cocked to what was going on in the wider world of jazz and popular music. He did what he did, just as he had done since the 1920s, when he was an innovator on the tom-toms and in using the bass drum pedal. Although since then his kit had expanded to look like the one that Sonny Greer used with Ellington, his playing range as a drummer remained relatively limited and he seldom used the tympani, chimes, temple gongs, and other paraphernalia that adorned the stand. More to the point he was not a natural soloist and even his best-played breaks on record held the possibility of imminent collapse at any moment."
So, it seems that one evening during a show, just after seeing the famous Gene Krupa at the Pennsylvania Hotel, Cab asked Leroy Maxey to take a solo. Bad luck! What Maxey played was has-been and out of what the audience (and the bandleader) could bear: Cab was obliged to resume singing in the middle.
That night, Leroy Maxey was fired on the spot and Cozy COLE was hired. And with Milt Hinton on bass and Danny Barker on guitar, the rhythm section would be able to compete successfully with other big bands and would also be able to perform in small groups like the famous Cab Jivers in Calloway's orchestra.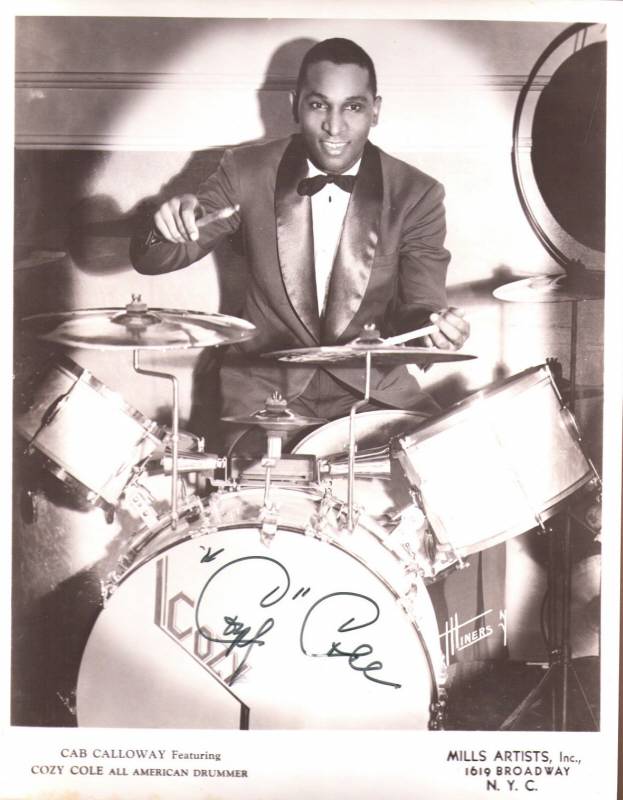 Cozy and happy Cole, drummer "featured" in Cab Calloway's orchestra
Let's not forget that being a drummer in Cab Calloway's band meant being there to provide all the necessary support to the musicians and dancers (it was the time when people danced to jazz...), to the chorus girls of the Cotton Club as well as to the variety acts that peppered the shows on tour. The show-off solos were Gene Krupa's prerogative (which did not leave much room for the other musicians). Cozy Cole's collaboration with Calloway ended when Cole joined the army in 1943. J.C. Heard would replace him then.
The last session Maxey recorded with Cab (and the last of his career) was on October 27, 1938. Do You Wanna Jump, Children?, I'm Madly in Love With You, April In My Heart and Blue Interlude were recorded. Leroy's last recording session ever. And besides a short break at the end of Do You Wanna Jump, Children? there's no drum solo at all… Time will change soon for the drummer in Cab's band who will be featured in several tunes on stage and on records.
Less than a week later, Cozy Cole enters the studio with his new band. As you can see, events were swift. Assuming that Cole had some time to get together with the orchestra, that's pretty fast! What's more, the November 2 recording session had probably been scheduled before Calloway's decision. So Cozy Cole really did fill in at the drop of a hat! At that time, Cab was staying in Manhattan for the 5th edition of the Cotton Club revue, starring the Nicholas Brothers, Mae Johnson, the Dandridge Sisters, Sister Rosetta Tharpe and the new singer in the band, June RICHMOND.
Loren Schoenberg explains the change: "Cozy Cole's coming into the band made a huge difference in the evolution from the original Calloway personnel, which had formerly been The Missourians, to a stable of younger, more contemporary players. A technician of the first magnitude with a crisp approach to the instrument, Cole sparked things in a way that Leroy Maxey (who may have even swung more, in an older style, however) didn't."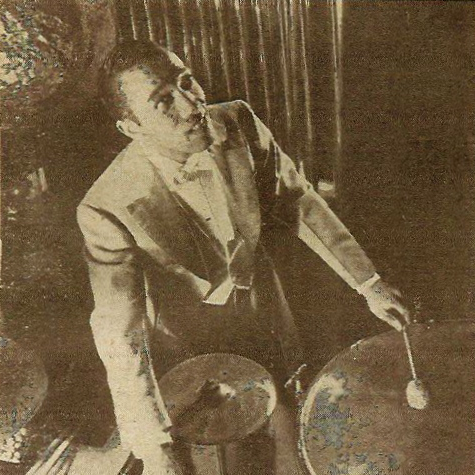 THE ANGUISH OF THE DISMISSED DRUMMER...
A March 11, 1939 article informs us that Leroy MAXEY would have signed with bandleader Don REDMAN… Bill BEASON was Redman's drummer then, but he started to sub for Chick Webb with Ella Fitzgerald a few weeks before the drummer died and remained there after. This means that Leroy could have subbed for Beason at least during the spring of 1939.
Coincidentally, in a 1932 article, Ted Yates already said that at that time Redman's drummer Manzie Johnson and Maxey were some of the rare top drummers around.
Several testimonies speak of deep depressions that followed the departure of several musicians from the Calloway orchestra. In the case of Leroy Maxey, there was indeed reason to do so: the salary, the fame, the female successes... all of this undoubtedly resulted in debts, alimony and a great void.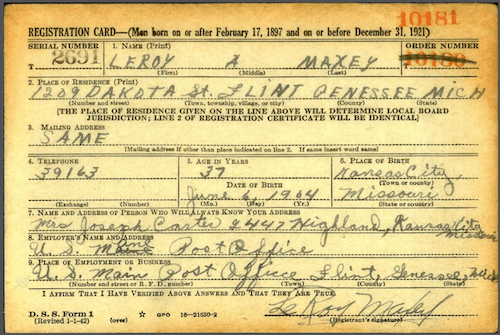 Leroy Maxey's draft card, signed on February 16, 1942. He then works at a post office.
The war in good company
In February 1942 when Leroy is drafted, he fills the card indicating that he lives 1209 Dakota Street in Flint, Michigan and works at the main Post Office there. The contact name Maxey gives is Mrs. Joseph CARTER, 2447 Highland in Kansas City.
Leroy will cross the path of several old friends from the show business, beginning with tap dancer Honi COLES. Together they stay at Jefferson Barracks, MO (a major reception center for U.S. troops being drafted into the military; also, a training site for the Army).
Like many men drafted from the show business ranks, the army uses their talent to entertain troops. Hence, Honi sings along with other guys like Edward Hollis and Wellington Sutton, formerly with Fred Waring, James Polack from Earl Carroll's Vanities…
Former Calloway pianist Pvt. Bennie PAYNE, enlisted in September 1943, joins Sgt. Honi Coles. Starting in 1944, they write several tunes together through 1948. One is noticed by newspapers: "The Sergeant, The Captain and the PFC" [Private First Class], which Calloway featured at the Y Circus, an annual stage benefit, in St. Louis.
In March 1945, Sergeant Leroy Maxey is noticed by columnist Al Monroe, along with Honi Coles, and Alland Dixon from the famous Cotton Club dance duo, Anise and Alland.
Leroy will remain in the US army until the end of 1945 or early 1946, as written: "Enlistment for the duration of the War or other emergency, plus six months, subject to the discretion of the President or otherwise according to law."

Settled in Flint, MI with family
After the war, back to civil life, Leroy married his second wife Vivian W. Cherry MAXEY (27 Nov 1908-24 Dec 1983). Together they had two kids: Leroy Allen Maxey, Jr. (born in 1948) and Ronald William Maxey (1949-2015) and lived there, enjoying the community at least until 1966.


Source: Find a Grave (photo by Lillian)
Vivian died on Christmas Eve 1983, followed by Leroy Maxey on July 24, 1987 in Culver City, CA his last known residence. They are buried together in Forest Lawn cemetery, Hollywood Hills.
The only connection with Leroy's past was in April 1957 when he copyrighted the tune he wrote for the Missourians for their last recording session in February 1930, "Stoppin' The Traffic."
One more reason to pay tribute to Leroy Maxey, whose "Missourian groove" with its Indian accents was the rhythmic pulse of Cab Calloway for almost 10 years and also contributed to the success of the ensemble. To console us, here are a few tunes in which Leroy Maxey can be noticed...
---

Nicholas D. Ball (photo by Olivia Da Costa)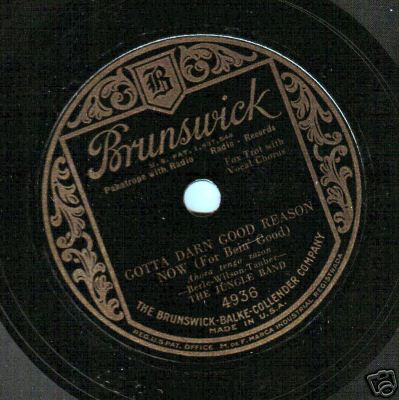 Compared to the incendiary, ear-catching sonic liberties he was allowed to take with the (predominantly-instrumental) Missourians, once the group become Cab Calloway's backing band much of the fire and spontaneity across the board is naturally subdued somewhat in order to serve the new leader's vocals. Maxey's drumming is one of the immediate victims of this refocusing process, yet at least the early Calloway band's oeuvre continues to showcases some of Maxey's orchestral percussion colourism: he plays vibraphone on 'Gotta Darn Good Reason' and tubular bells on 'Sweet Jenny Lee' and 'Six or Seven Times'.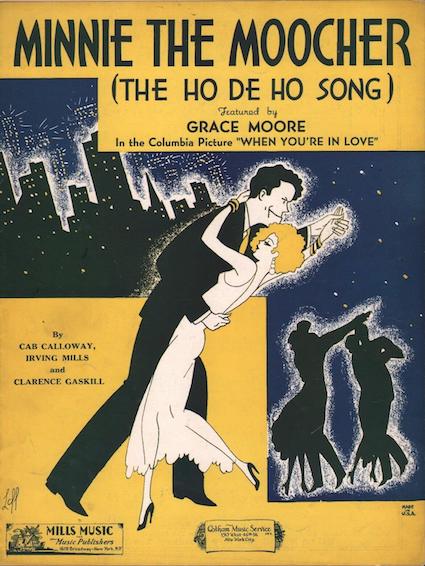 Occasional drum highlights from the next few years would have to include 'Viper's Drag' (Nov '30) powered along with sonorous tom toms; a propulsive 2-beat bass drum feel on 'Some Of These Days' (Dec '30) that would do Tubby Hall's contemporaneous work with Louis Armstrong credit; and a version of 'Nobody's Sweetheart' which finds him playing pumping 4-on-the-floor bass drum exactly as Zutty Singleton and Lionel Hampton among other great drummers were at that time pioneering.

The most famous, first record of 'Minnie The Moocher' meanwhile (Mar '31) features slick press rolls throughout and frequent tricky-cymbal understick fills, including an improvised coda. In one session from the same month he'd perhaps been inspired by the stunning hoop-and-trap interjections that were such a specialism of Charlie Johnson's Paradise Orchestra's drummer George Stafford.

After fairly restrained performances throughout 'Farewell Blues' and 'I'm Crazy 'Bout My Baby', Maxey suddenly emerges with beautifully-played hoop-and-trap fills of his own to really enliven the sonic landscape. Similarly-excellent playing graces 'You Can't Stop Me From Lovin' You' (Oct '31) – cymbal tricks, press rolls and hoop-and-trap stuff all a complete delight.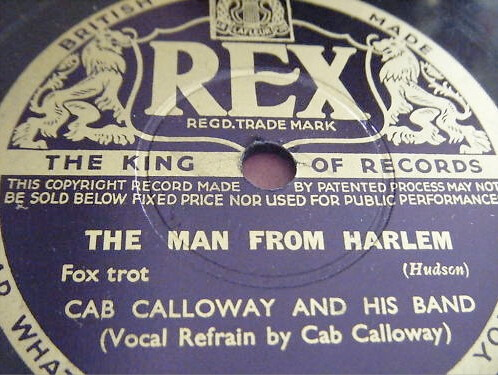 The entire character of the bass end of the band changed completely in June 1932 when the round, soft sound of Jimmy Smith's tuba was replaced with the pokey, percussive slapped double-bass of Al MORGAN. Whilst this move was in keeping with the fashion in leading competitor bands (even overdue!) Maxey evidently took some time to readjust his playing to lock in successfully in with this startling new element. In some early sides Morgan's bass is extremely prominently recorded, with the drums appears to have been dropped to a more subservient role, sitting in the background decorating proceedings with icy cymbal washes and occasional froward prods on the toms.

Soon, however, he and Morgan are co-ordinating their talents more effectively and presaging a very different kind of rhythm section feel, with Maxey laying down press rolls between Morgan's slaps very much in the style of contemporary rhythm teams such as Barbarin/Pops Foster (with Luis Russell's orchestra) and Greer/Wellman Braud (with Ellington). This texture, a hallmark of the transition period as 20s hot dance music evolved into the mainstream swing of the later 30s, can be heard to terrific effect on Calloway sides such as 'This Time It's Love' (Jun '22).

By November, and records such as 'Beale Street Mama', 'The Man From Harlem' and 'My Sunday Gal', they've really got it down to a fine art, going through the rhythmic gears and sounding almost like one instrument. Maxey too is finally returning to the kind of prominence within the arrangements of the later Missourians days, being heard to great effect on rare instrumental numbers like 'Hot Toddy' and 'Hot Water', where the sense of freewheeling excitement is palpable as the musicians revel being let off the leash.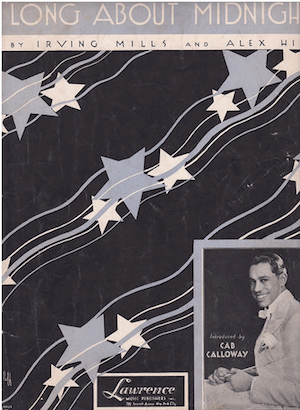 Despite being photographed with a hi-hat among his performing setup from 1931, Maxey only recorded definitively with one for the first time on the crisply-recorded 'Long About Midnight', on January 22, 1934. (By means of comparison, Sonny Greer had been using one both live and on records with Duke Ellington for over four years). Maxey uses the new instrument in a very similar manner to his drumming peers - namely, as a novelty-sounding alternative to a regular cymbal, used for 'socking' out steady, choppy rhythm for a chorus or more at a time, to the exclusion of any other part of the kit.

The smoothed-out time feel and use of the hi-hat as an integrated, co-ordinated part of the drum kit we know from later swing drummers such as Jo Jones would not become standard practice for several more years. It's also worth nothing that the hi hat was still treated as a special texture to be deployed sparingly rather than the default timekeeping device – on the other sides recorded during the same session Maxey returns to his familiar press rolls and choked cymbals, even on the ripsnorting 'Jitterbug'.On subsequent recordings, however, we can hear a slightly slicker and more refined hi-hat style. Al Morgan has for a while been increasingly playing round, plucked notes on the bass rather than the relentless slapping of the early Thirties, a style which sits better alongside Maxey's hi-hat time.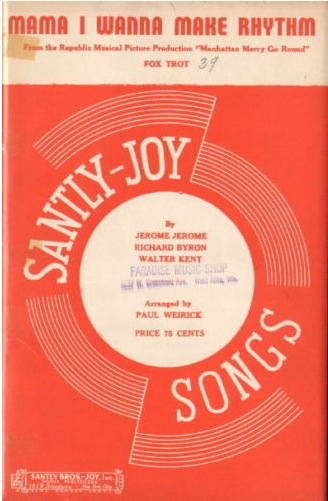 'Peckin', from March 3 1937, sees Maxey adding a backbeat on the snare to his hi-hat beat, which further deepens the groove and places him the vanguard of drummers leading the charge into what would eventually become rock and roll. On 'Congo', he is featured throughout on tom-toms, playing a solo intro and a very brief, understated break leading into the coda. The general mood is restrained and spooky, and very different from the more famous, roaring version Chick Webb would record that November under the name 'Harlem Congo'. True to form, where Maxey was here granted a few almost apologetic bars, his rival makes of it an extended, heart-stopping tour-de-force of showpiece solo drumming. However, on 'Manhattan Jam' later that month Maxey truly does step up and deliver some punchily effective (if not necessarily groundbreakingly original) breaks on snare drum, and indeed plays with great verve and brio throughout the number.

The nervous-sounding solo Maxey, so at odds with his commanding rhythm section playing, returns though in August '37, on 'She's Tall, She's Tan, She's Terrific' where a clumsy, miscontrolled break during the introduction almost threatens to throw off the entire band. His feature breaks on 'Mama, I Wanna Make Rhythm' and 'I Like Music' from the next session, however, are much more assured, and categorically disprove the assertion that he couldn't supply captivating solo contributions when called upon.

Courtesy Philippe Baudoin
'A Minor Breakdown', from December 1937, sees the first recorded instance of Maxey riding on an open cymbal – another notable milestone in the evolution of drumming - to supply a smooth sustained backing for a sultry trombone solo for eight bars. This was not an original innovation, however; in isolated instances both Ben Pollack and Zutty Singleton had recorded this texture during the late 20s, whilst contemporary drummers like Webb and Dave Tough were also making it an important component of their sonic repertoire contemporaneously with Maxey. However, further examples of Maxey using this device are rare, and it evidently never became a core part of his style.

Sadly, he wasn't allowed space to really shine on what would turn out to be his last sessions with the Calloway band.
---
Sources and references
Mark BERRESFORD, That's Got Them – The Life and Music of Wilbur C. Sweatman, University Press of Mississippi, 2012
Cab CALLOWAY with Bryant ROLLINS, Of Minnie The Moocher and Me, Thomas Y. Crowell Company, 1976
Fred E. COX, John RANDOLPH, John HARRIS, "The Jug Bands of Louisville", Storyville 155, 156, 160, 161, 162
Franck DRIGGS, Chuck HADDIX, Kansas City Jazz: From Ragtime to Bebop--A History, Oxford University Press, 2006
Josh DUFFEE, video about Leroy MAXEY
Brian HARKER, "Louis Armstrong, eccentric dance, and the evolution of jazz on the eve of swing." Journal of the American Musicological Society, vol. 61, no. 1, spring 2008
Peter M. LEFFERTS, Black US Army Bands and Their Bandmasters in World War I, University of Nebraska-Lincoln, 2018
Dave OLIPHANT, The Early Swing Era, 1930-1941, Greenwood Press, 2002
David PALMQUIST, The Other Cotton Club Orchestra , Ellington on the Web
John RANDOLPH, "Lucian Brown", Storyville n°47, June-July 1973
K.B. RAU, Harlem Fuss website
Bob SALES, "Dickie Wells, Helen Humes were in Looeyville Kid Band of 1925," Down Beat, 1942, April 15
Alyn SHIPTON, Hi-De-Ho, The Life of Cab Calloway, Oxford University Press, 2010
Dan VERNHETTES, Jazz Puzzles, Jazz Edit, 2010
Gunther SCHULLER, The Swing Era, Oxford University Press, 1991
Hal SMITH and Jeff BARNHART: Focus on the Missourians, Syncopated Times
Keller WHALEN, The Cotton Club: Productions and Performers 1923-1940,unpublished, 2023
---
My warmest thanks to Nicholas D. BALL who gave his time and beat on his wonderful insights
about Leroy Maxey's playing, solos, equipment even if some tunes were out of his Drums of the Twenties's scope!
Acknowlegments also go to Hal SMITH and Jeff BARNHART
As usual, all my gratitude to my friend Keller WHALEN for his everlasting support and help