Leroy MAXEY (1904-1987),
Drummer in the orchestra from 1929 to October 1938/Part 2
---
[Preliminary remark: several paragraphs (preceeded by *) of this article
are borrowed from the article about the one-time Missourians' leader, Lockwood Lewis]
---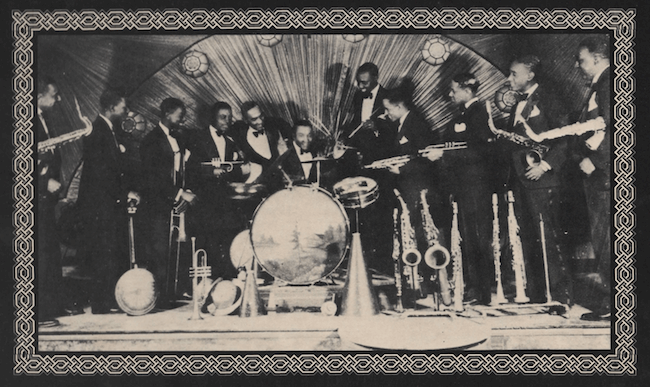 Leroy Maxey surrounded by the Missourians (source: RCA LP)
WITH THE MISSOURIANS
Naming this group of travelling guys from St. Louis as "The Missourians" made sense in New York. The city was still a great source of talented and respected musicians. But the Cotton Club Orchestra was still in the head of show business people. Changes were needed because the band couldn't play any longer at Harlem's Cotton Club: it was Duke Ellington's harbor.
The Savoy Ballroom got them a great contract with an addition that could change their fame over the demanding Harlemese audience: getting their star saxophonist Lockwood Lewis as a front man for the Missourians. Somebody who could wave his baton, sing and dance. Even if Lockwood was older than all the boys from the band, he was a favorite of the Savoyites.
*Lockwood LEWIS (1890-1953) has a long and rich career that remains unexploited by Jazz historians. However, he started early in Louisville, KY, playing saxophone and singing in various bands such as John H Wickliffe's Ginger Band. During WWI, he belongs to the famous 814th Pioneer Infantry regiment, known as "The Black Devils". After the war, Lockwood joins John Embry's Jazz band and is billed as an "eccentric saxophone comedian". His imposing stature, Lockwood Lewis is easily recognizable on pictures of the bands he plays with. But that's as a teacher that Lewis gets recognition. At the Sunday school band of the Booker T. Washington Community Center, he teaches the likes of Jonah JONES, Bill BEASON, Buddy LEE, Helen HUMES, Dicky WELLS, and mezzo-soprano Lucie B. FRENCH.
After, he leads his own band, plays in W.C. Handy's orchestra. The important move is when talent scout for Victor Talking Machine Company Harry Pace hired Lockwood Lewis to enhance Clifford Hayes's jug band for a recording session.
Lockwood Lewis had fronted and maintained a regular dance band in Louisville until 1927. Then, he gives up trying to keep a working band intact, and begins working odd gigs with pick-up musicians or working with other dance groups needing an alto saxophone or a singer for special dates.
A decisive encounter with Fess WILLIAMS happens in late 1927: Fess offers Lockwood position fronting his Royal Flush Orchestra at the Savoy in Harlem. He arrives there and gets his Local Union card in April 1928. The "incomparable" Lockwood Lewis becomes the new leader of the Missourians, starting December 1928.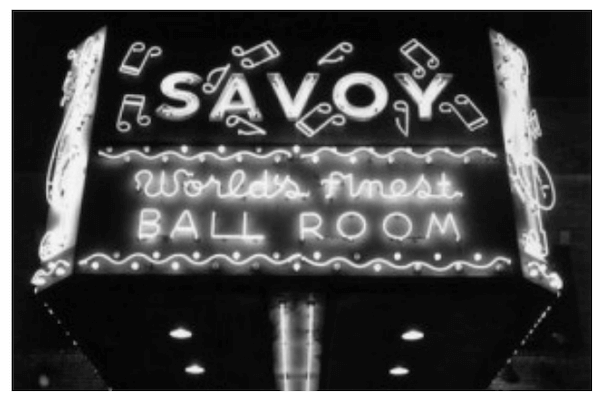 For the beginning of 1929, the orchestra with its new leader tours on East coast (for instance, Galesburg, IL in January, Waterbury, CN in April) then comes back to its "nest", the Savoy Ballroom.
A week before the "North and South Jazz Battle", the Cotton Club Orchestra must publish a press release to let people know that they are now named "The Missourians". Duke Ellington and his Cotton Club Orchestra are among the fighters and his band's name must be distinct from any other. (This wise decision was certainly taken to be Cotton Club owner Owney Madden's men suggestion to do so).
*In his book, The Swing Era, Gunther Schuller sums up: "The energy level of this band – their bite, their attack, their powerful juggernaut rhythm, powered by Leroy Maxey's drums and Jimmy Smith's tuba – must be heard to be believed."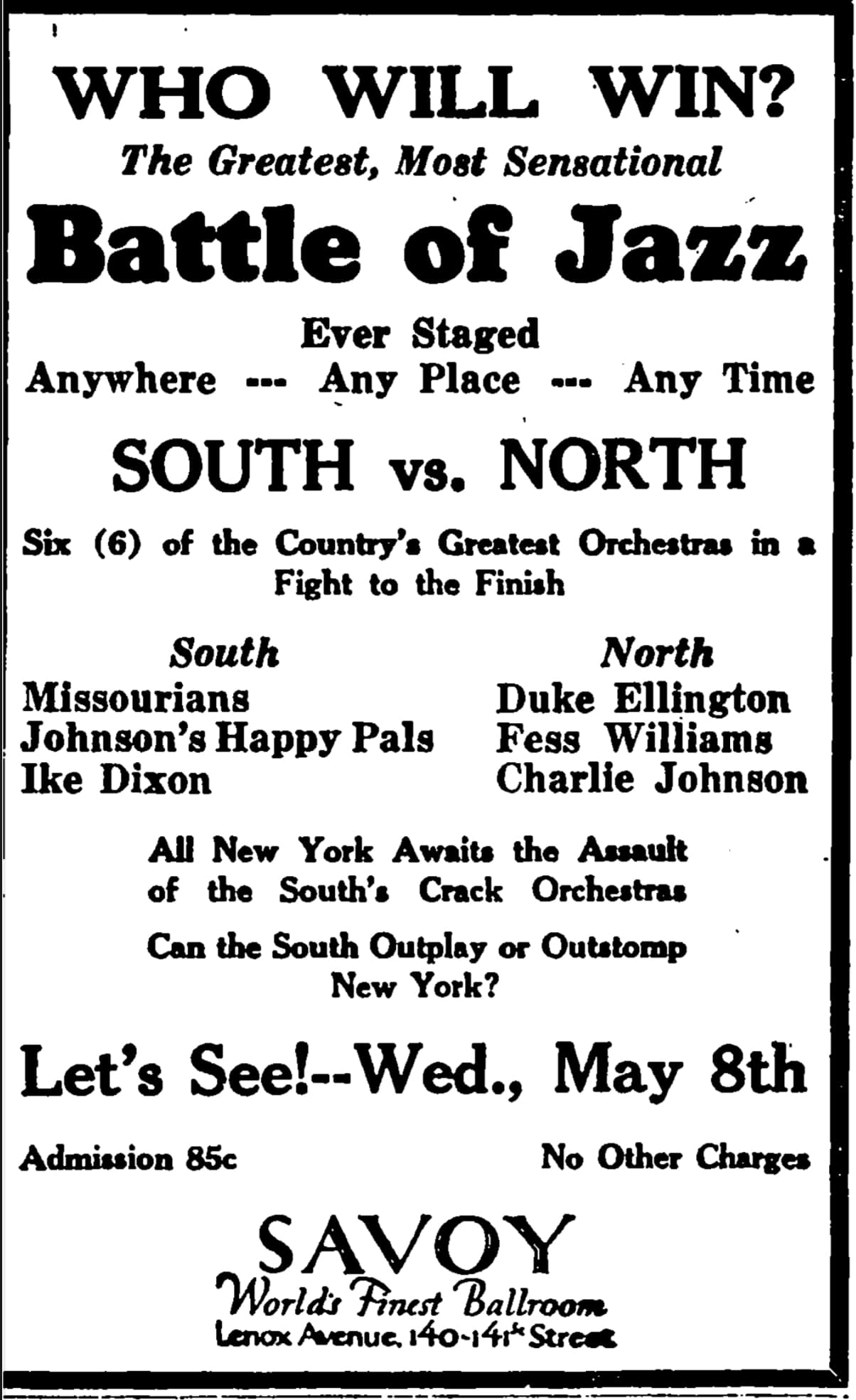 On May 8, 1929, the Savoy Ballroom resonates to this battle of bands:
The North:
Duke Ellington and his Cotton Clubbers (now you figure out the need to change the name of the band to avoid confusion)
Fess Williams and his Royal Flush Orchestra
Charlie Johnson and his Small's Paradisers
The South:
Johnson's Happy Pals from Richmond,
Ike Dixon and his Southerners from Baltimore,
The Missourians (personnel for this date: R.Q. Dickerson, Lammar Wright, Andrew Brown, G.W. Scott, Morris White, Earres Prince, James Smith, Leroy Maxey "are the original Cotton Club orchestra") fronted by Lockwood Lewis
*In front of 4,000 "Savoyites", some sources say that the Missourians win the favors of the audience. Nevertheless, they are still known in the mind of people as the "original" Cotton Club Orchestra. In his Jazz Oral History Project interview, Walter Foots Thomas develops: "The Missourians could cut any band that played in the Savoy. I don't care who they was. You could bring them White bands in there, the big bands; by the time they got though playing their little Jazz, they was the favorite."
*The summer of 1929 has Lockwood Lewis with the Missourians at the Savoy Ballroom, alternating with the Fess Williams' orchestra for June and July and with Johnson's Happy Pals for the month of August. Every Tuesday and Friday, they broadcast over WAUC from the "home of happy feet."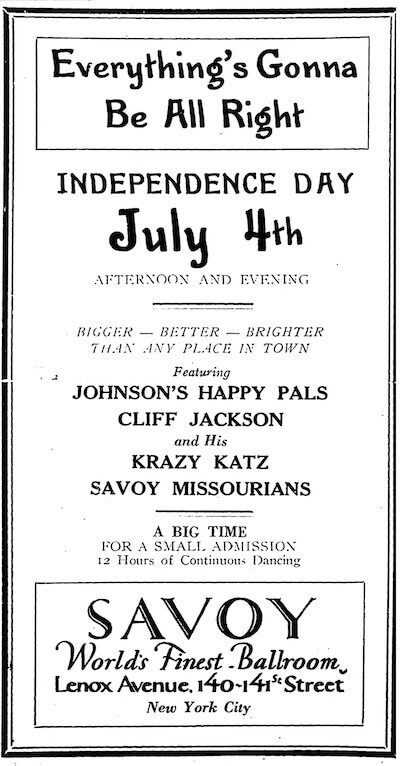 For Independence Day, the Savoy invites 3 bands:
The Missourians under the direction of Lockwood Lewis,
Johnson's Happy Pals, and Cliff Jackson and his Krazy Katz.
*Saturday 27 July 1929, the Alhambra Ballroom now under Savoy Ballroom management launches a big midnight show with an array of artists from every revue around: Bill Robinson, Harriett Calloway (back from Europe with Blackbirds of 1929), Miller & Lyles, Andy Razaf and many more. In front of the mayor of New York James Walker, The Missourians played at 4 in the morning, "and made such a hit they were requested to render other numbers, although it was felt that the splendid musicians were tired after a big night at the Savoy" (New York Amsterdam News, July 31, 1929).
From then on, depending on the availability of the Savoy Ballroom, the Missourians play either there or at the Alhambra, often rented to clubs or organizations for parties.


Inter-State Tattler (September 27, 1929)
*The most important events of the summer are their first recording session for Victor in New York under their new name and with Lockwood Lewis as the leader.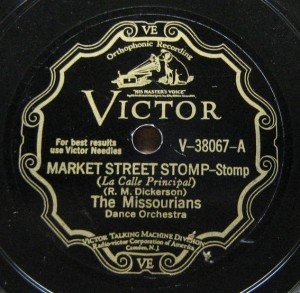 JUNE 3, 1929
Personnel: Lammar Wright, R.Q. Dickerson – trumpet; De Priest Wheeler – trombone; George Scott, Walter Foots Thomas – alto saxophone, clarinet; Andrew Brown – tenor sax, clarinet; Earres Prince – piano; Morris White – banjo; Jimmy Smith – tuba; Leroy Maxey – drums, vocal; Lockwood Lewis – vocal, leader; Manager: James E. 'Jimmy' Smith (aka Jimmy Smith):
Market Street Stomp,
Ozark Mountain Blues [2 takes],
You'll Cry For Me, But I'll Be Gone [2 takes],
Missouri Moan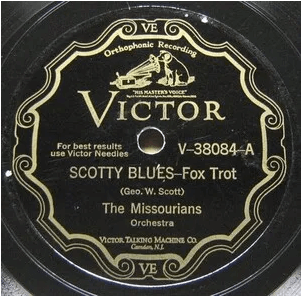 Scotty Blues, composed by George Scott and probably recorded WITHOUT him!
AUGUST 1, 1929
Personnel: Lammar Wright, R.Q. Dickerson – trumpet; De Priest Wheeler – trombone; Walter 'Foots' Thomas rather than George Scott [see below for explanations], William Thornton Blue – alto sax, clarinet; Andrew Brown – tenor sax, clarinet; Earres Prince – piano; Morris White – banjo; Jimmy Smith – tuba; Leroy Maxey – dms),
I've Got Someone,
"400" Hop,
Vine Street Drag,
Scotty Blues
For a long, and very informative analysis of the Missourians' recording,
read the article till the end with Nick BALL's insights about Leroy Maxey's input;
and don't forget to read our Lockwood Lewis article with detailed memories by saxophonist Walter Foots Thomas.


New York Amsterdam news, September 4, 1929
*On September 13, for the reopening evening of the Alhambra, Buchanan settled another big evening in a renovated Nile green and gold painted ballroom that lasted until 3 am minimum with 5 bands including the Missourians: Jack Whyte from Cincinnati, Luis Russell, Bennie Carter and Johnson's Happy Pals. "A night you'll never forget" claims the ad. For sure!
The week after at the Savoy Ballroom, another historic night occurred: Cab Calloway and the Alabamians lost their first battle against Zack White and his Chocolate Dandies, Johnson's Happy Pals, and Cecil Scott's Bright Boys. The latter won. Cab and the Alabamians got their two-week notice. And the rest is history (a confused history though, since the battle told everywhere by Cab in his autobiography or by jazz historians between the Missourians and Cab and the Alabamians, never happened). A history where Cab will reappear later in January 1930…

Afro-American, October 19, 1929.

Meanwhile, from mid-September to the end of November, the Missourians tour out of New York, with several one-nights back in Harlem: at the New Albert Hall in Baltimore on September 23, in front on 1,200 people (adding local banjoist Benny Jones as a guest musician).
*The "mighty Missourians" are in Philadelphia on October 15 (against Doc Hyder's Southernaires), with a return engagement on November 21 at the Strand. Same with Baltimore: due to their success there, and thanks to local promoter L.B. Gamby, the Missourians are back at the New Albert Hall on October 21. Lockwood is proudly billed with his saxophone: the music we want to hear and the man we want to see. October 22, they are in Westchester, PA. Next evening in Wilmington, DE. On the 24th, Harrisburg, PA welcomes them.
*The last battle of bands of 1929 places New York versus Baltimore on December 19 at the Savoy. Six bands are reunited and represent their city:
New York: The Missourians with Lockwood Lewis, Buddy Bowman and his Chocolate Dandies, Cecil Scott and his Bright Boys.
Baltimore: Irvin Hughes and His Royal Southerners, Percy Glascoe and his Plantation orchestra, Ike Dixon and his Bear Cats.
"As usual, writes the reporter in December 21, 1929 Afro American, no decision was given, but none was needed. After all that hot music, the dancers melted and ran down the steps."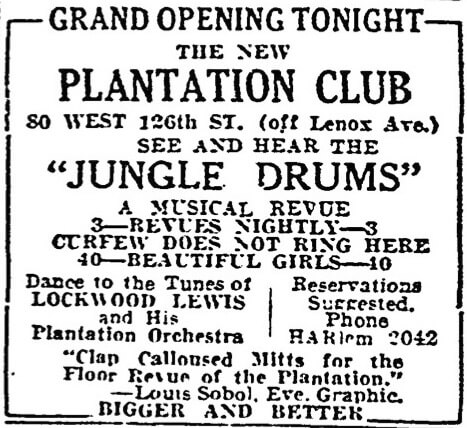 "Jungle Drums" at the Plantation Club, with music by Lockwood Lewis and His Plantation Orchestra (aka The MIssourians)
(New York Evening Journal, January 18, 1930)
*The Plantation Club, the mob and the fugitive
[A much-detailed paragraph about the Plantation Club is available in the article about Lockwood Lewis]
On December 18, 1929, despite a tough environment with clubs owned by the mob, successful places like the Savoy Ballroom, the Cotton Club et al, a newcomer in the neighborhood opens its doors: the Plantation Club, on 80W, 126th Street, next to Lenox Avenue — and more important: next to the Savoy!
The copycat of the Cotton Club confirms why the Owney MADDEN's team kept on saying to the Plantation Club operator William HILL: "Don't open no club in Harlem," recalls Foots Thomas.
For the opening, the management is trying to do things a la Cotton Club on stage, with beautiful "creole" chorus line, famous Harlem performers. The very first revue itself has all the exotic power with racist stereotypes in its title, "Jungle Drums". With "snappy and catchy tunes" featuring the likes of: Eddie Green, Alma Smith, Joseph Attlea, Neeka Shaw, Pete and Peaches, and Bob Williams.
And on the top of the revue, a great band, this time Lockwood Lewis and the Missourians. Officially it's billed "Lockwood Lewis and his Plantation Orchestra (formerly the Missourians)."
Early January, "Lockwood Lewis's Plantation Orchestra" is on the air over WMCA New York and those broadcasts probably enhance the fame of the band and the new Plantation Club.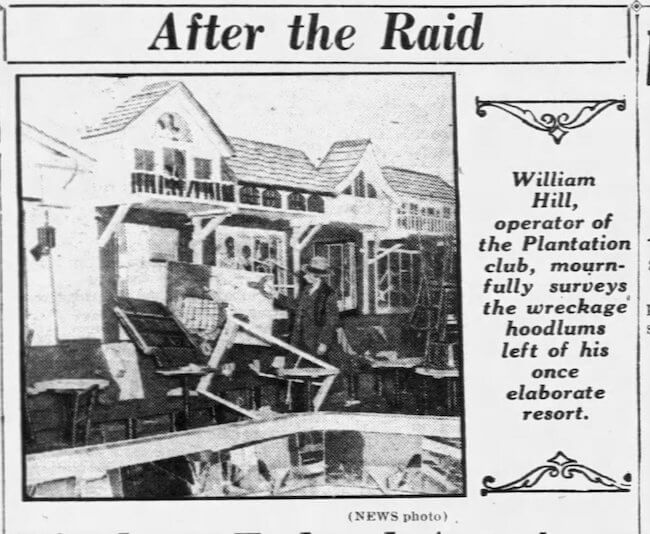 *Walter Foots Thomas remembers what happened on January 16 at 11:00 am: "When we come back that night to do the show, somebody had come in there and chopped up the dance floor, cut the strings on the piano… Now, how they knew between the show music and our music, I'll never know. Tore the show music in half. Didn't scratch an instrument of ours and didn't scratch a piece of our arrangement. (…) And we knew who did it. It never did come out. But they told the man not to open up, but he was bullheaded." The costumes were also slashed and torn. "For nearly two hours, [10 men] wrought their destruction. When they were through the place was unrecognizable. (…) [William] Hill strode out on the dance floor. Great gaping holes had been torn in its waxen surface by wielders of pickaxes. He looked at the 150 mirrors that made a knee-high enclosure of the floor itself. Not one was unbroke,. Upholstered benches had been torn from the walls, their tapestried surfaces slashed to ribbons. A $2,500 piano, its mahogany body shattered and its wires torn, was upside down in a corner of the room. Even the band instruments had been hammered and twisted out of their original shapes." (Daily News, Jan 17, 1930).
Alyn Shipton goes detective in this paragraph from Hi De Ho you can read in our article about Lockwood Lewis.
Suddenly, the Missourians have no front man anymore, since Lockwood Lewis left New York as fast as possible for his safe hometown Louisville, KY. He'll remain there for a couple of months before coming back with new musicians grouped as "The Oh! Boys" and will play the Savoy ballroom.
---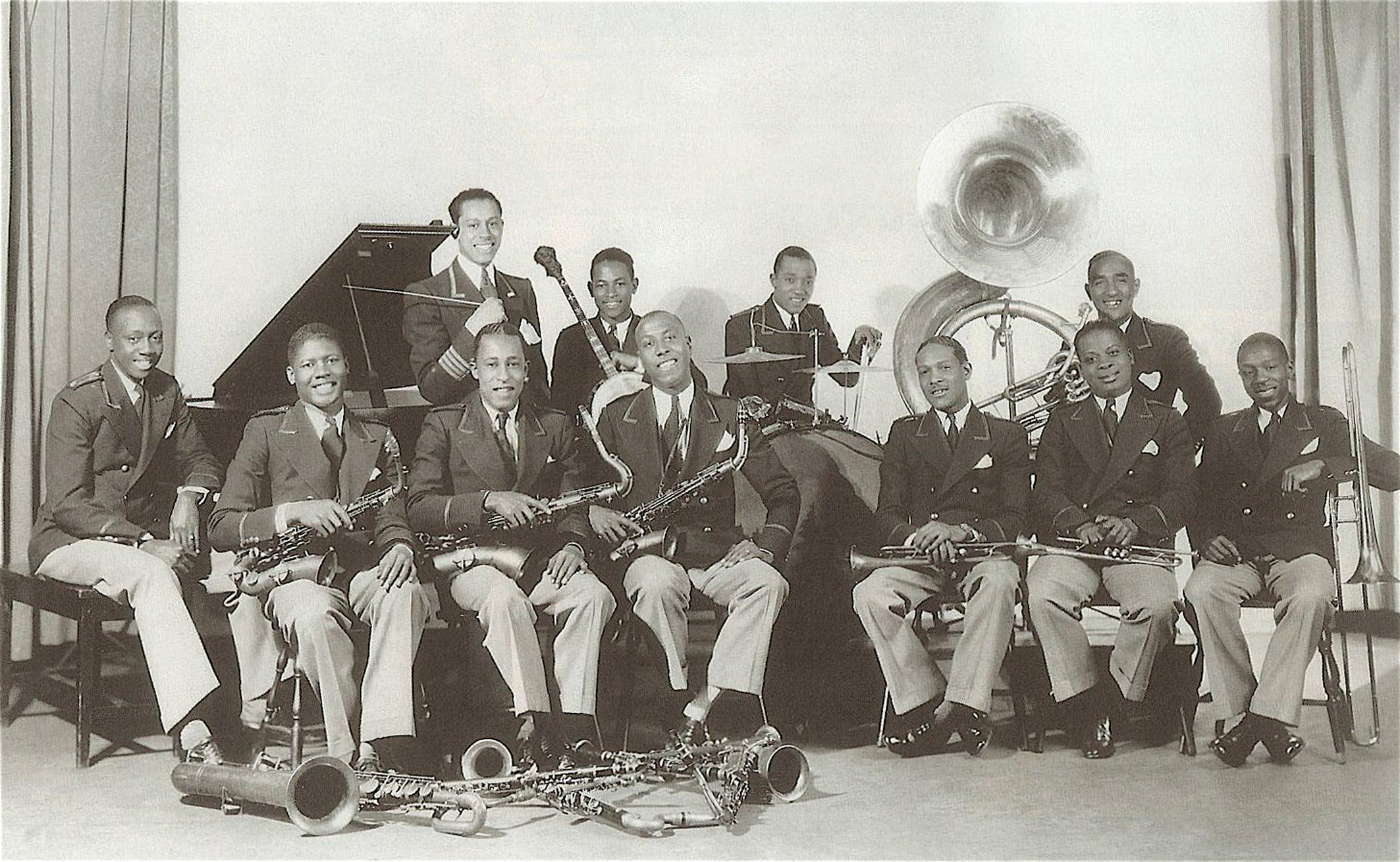 A very "official" picture of Cab Calloway and His Missourians
From left to right: Earres Prince, Walter Foots Thomas, Irving Brown, Cab Calloway,
Morris White, William Thornton Blue, Leroy Maxey,
R.Q. Dickerson, Lammar Wright, Jimmy 'Smitty' Smith, E.B. DePriest Wheeler
NOW, WITH A NEW LEADER: CAB CALLOWAY
And Lockwood Lewis is right to stay away from Harlem because at the same moment, jumping on the opportunity, the young Cab Calloway gets the job as a leader for the Missourians, probably propelled by the Savoy management who didn't want to lose any money on this very promising association.
This association starts in a strange way with a new recording session for Victor on February 17, 1930. While Lockwood Lewis doesn't appear on the ledgers, neither does Cab Calloway, who allegedly was also in the studio and may have played saxophone with the band, according to Walter Foots Thomas. But no one has found any evidence of this assumption. Calloway's name won't appear on the label.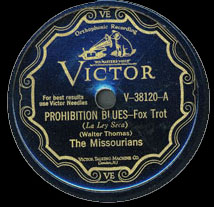 Lammar Wright, R.Q. Dickerson – trumpet ; Priest Wheeler – trombone; Walter Foots Thomas – alto sax, clarinet, baritone sax; William Thornton Blue – alto sax, clarinet; Andrew Brown – tenor sax, clarinet; Earres Prince – piano; Morris White – banjo; Jimmy Smith – sousaphone; Leroy Maxey – drums
Two Hundred Squabble
Swingin´ Dem Cats
Stoppin´ The Traffic
Prohibition Blues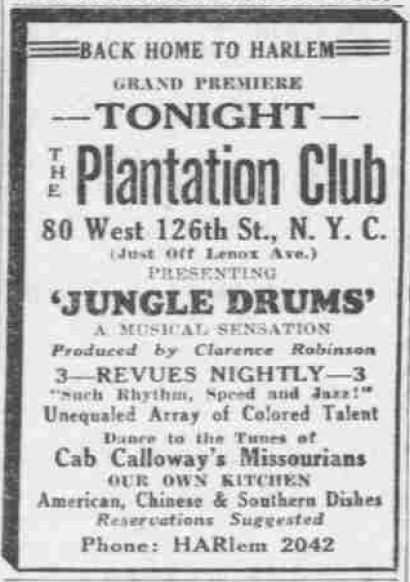 Proudly announced in the Daily News dated March 13, 1930, the reopening of the Plantation Club.
This time, the Missourians are led by Cab Calloway.
From then on, the Missourians will follow their path with their new leader Cab Calloway. The latter was alternating or doubling between the Missourians and the Hot Chocolates revue then touring (Pennsylvania, Brooklyn). He left the revue that gave him fame and came back for good to New York on March 28. That's just in time for the reopening of the Plantation Club, now located at the former Parody Club, on 48th and Broadway — i.e., far from the Harlem's underworld dangerous rhythms.
What a week it was! The band was doubling with the Club Plantation Revue, at the Lafayette in Harlem.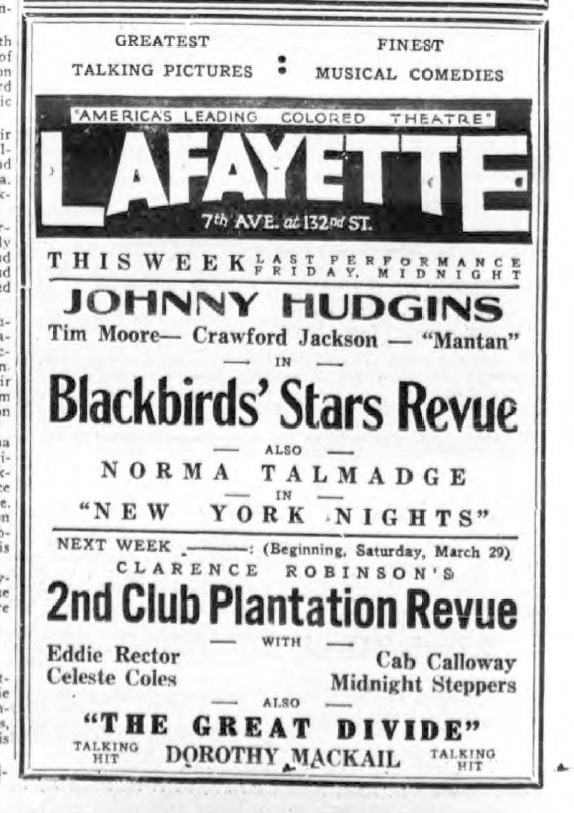 The Lafayette, another place to be in Harlem (March 29, 1930)
The chronology is getting easier to follow then, like a beat by Leroy Maxey!...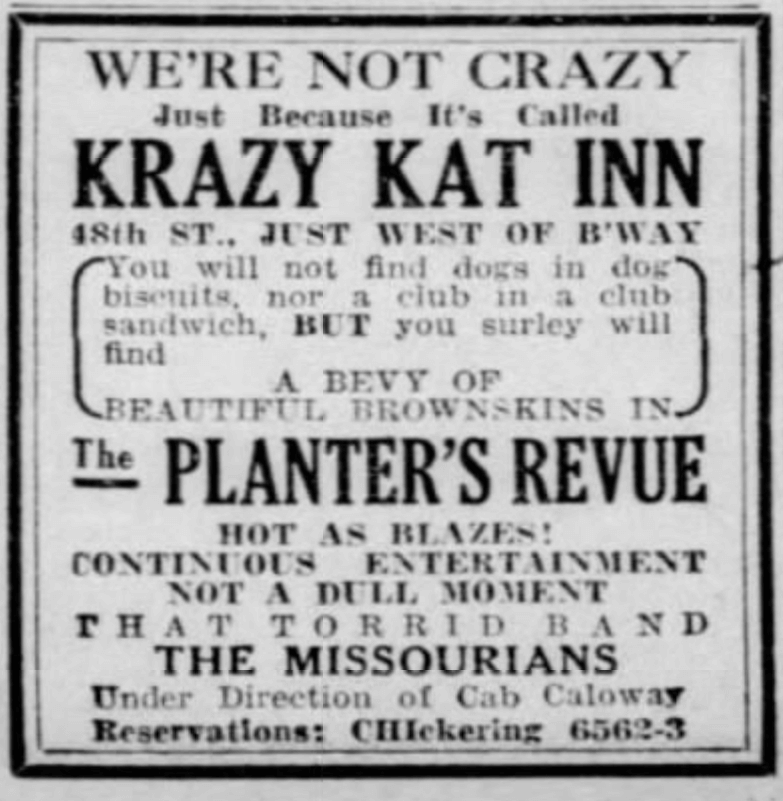 The "hot as blazes" Missourians at Krazy Kat Inn (Daily News, March 27, 1930)
That "torrid band" under the direction of Cab Calloway gets a steady gig at the Krazy Kat Inn, on Broadway 48th Street for April 1930 , playing at the Savoy for a private parties.


Pittsburg Courier, May 10, 1930
*The truth about May 14, 1930 and the "Million Dollar Affair in Musical Talent"
Involving six orchestras, the Savoy ballroom organized one of its "historical" battles, this time with:
Duke Ellington and his famous Cotton Club orchestra
Fletcher Henderson,
Chick Webb,
Cecil Scott and his illustrious Joy Boys
Lockwood Lewis and his Oh! Boys, [and NOT the Missourians!]
The Missourians with Cab Calloway [and NOT the Alabamians!].
Contrary to what Alyn Shipton writes in Cab's biography, Cab didn't play with the Alabamians there, but he was already with the Missourians. So, the famous "switch" of Cab to the Missourians didn't occur that night. Those interested would like to know that Fletcher Henderson won that battle that night.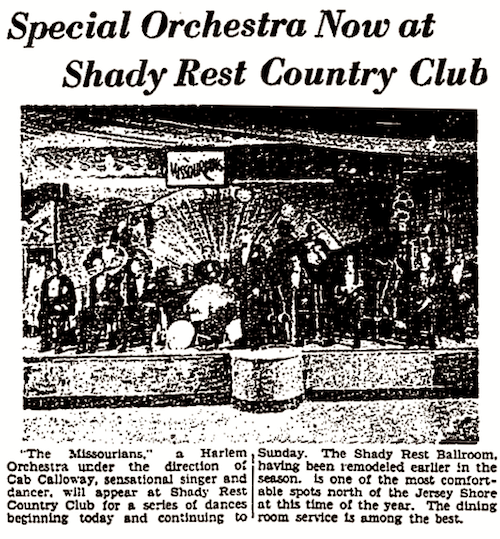 This Missourians' picture for their Jersey shore engagement
doesn't have Cab on the picture but former alto sax and manager George C. Scott
(New York Amsterdam News, May 14, 1930)
Right after that "historical" battle, they move to the Shady Rest Country Club in Westfield, on the Jersey shore for a week-engagement, with dancing from 9 to 3.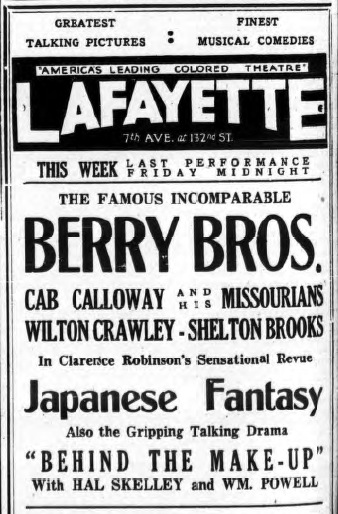 "Japanese Fantasy" after "Jungle Drums":
producers's imagination for titles is wide! (New York Age, March 29, 1930)
Clarence Robinson's Japanese Fantasy is next on schedule for Cab and his Missourians at the Lafayette Theater. With Shelton Brooks, Winton Crawley and the Berry Brothers. While the two latter get the biggest ovation and best reviews, Inter State Tattler of May 30, 1930 states "Cab Calloway and his musical aces scored heavily with their mastery of jazz; Cab put over several pleasing numbers and then was called up to kick back with the St. James Infirmary Blues as an encore." Note that during this week, the young Avis Andrews (spelled Alice) appears among the "ten pleasing to look at light-footed damsels" billed as "The Plantation Beauty Chorus".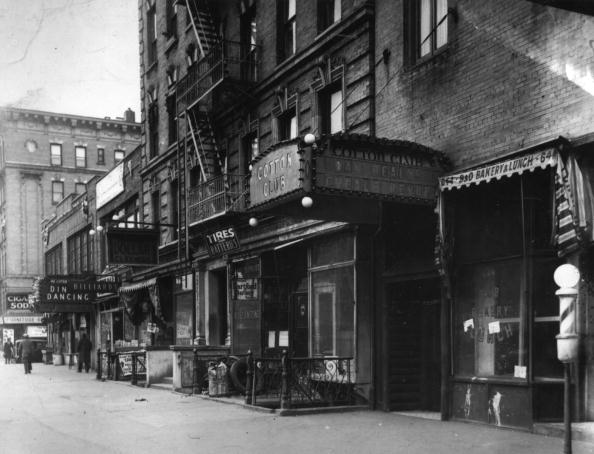 Harlem's Cotton Club: where the rhythm is set
Subbing for Duke Ellington at the Cotton Club
June 1930 starts with another gig in Baltimore, on 9 and 10 at the New Albert Hall, followed by a night at the Suburban Gardens, Washington DC.
A couple of days for rehearsal and the Missourians are ready for their next big move: subbing for Duke Ellington at the Cotton Club. For many Missourians musicians, this is like going back to their former office, from the time they were called "The Cotton Club Orchestra".
Ellington, the maestro in residence at the "aristocrat of Harlem" leaves for an extended tour first going East, then journeying to the West up to Hollywood, for shooting Check and Double-Check with Amos and Andy. The Duke and his orchestra will spend the summer in California before coming home at the Cotton Club in mid-September. At that moment, Cab Calloway and his (now) Cotton Club Orchestra will go on tour.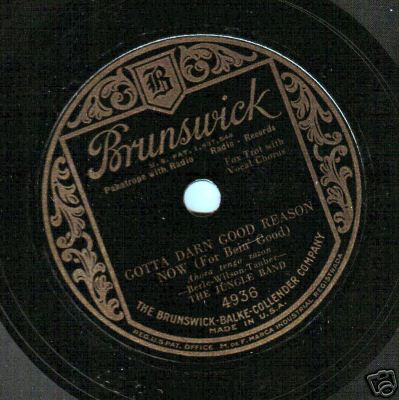 Cab's first recording with the MIssourians released under a pseudonym, The Jungle Band
Meanwhile, Cab Calloway and his Orchestra enter the recording booth at ARC studios in New York on July 24 for a first "official" session. Several songs allow the technicians to check how to properly record the exhilarating Cab who jumps and gyrates in front of the microphone:
Gotta Darn Good Reason Now – 2 takes;
I'll Be A Friend with Pleasure – 2 takes, unissued (and lost to history!)
St. Louis Blues
The shellac will be released on Brunswick under the name of "The Jungle band", because The Missourians were still probably under contract with Victor. As Keller Whalen notes, "The Jungle Band" was also used as a pseudonym for Duke Ellington records on Brunswick in 1929, so it might have been a ploy to pretend they were the same group, or maybe manager Irving Mills owned the name and decided who should use it."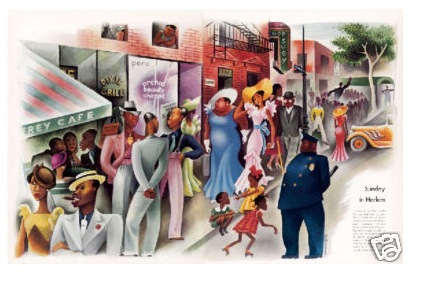 "Sunday in Harlem" by Covarrubias
A steady and wealthy life for Leroy Maxey
Thanks to Mark Berresford's research for his book "That's Got Them – The Life and Music of Wilbur C. Sweatman," we learn that Leroy Maxey lived in April 1930 in a boarding house operated by Lottie Joplin, the widow of the famous ragtime pianist Scott Joplin, located at 246 West 138th Street, near Striver's Row and very close to the Savoy ballroom. Berresford continues: "According to the census, Sweatman was sharing the lodging with fourteen others, including fellow musicians Johnny Dunn, drummer Leroy Maxey of the well-known band the Missourians (shown as Massey), and West Indian-born pianist and composer Donald Heywood. Practically all of the lodgers were involved in the entertainment business, with descriptions such as "actor," "actress," "drummer," "songwriter," and "musician"." Jelly Roll Morton would also live there for a while.
In 1934, Leroy's address is 634 St. Nicholas Avenue, just a couple of blocks North. But he's on his own now, probably thanks to the high salary earned in Calloway's orchestra.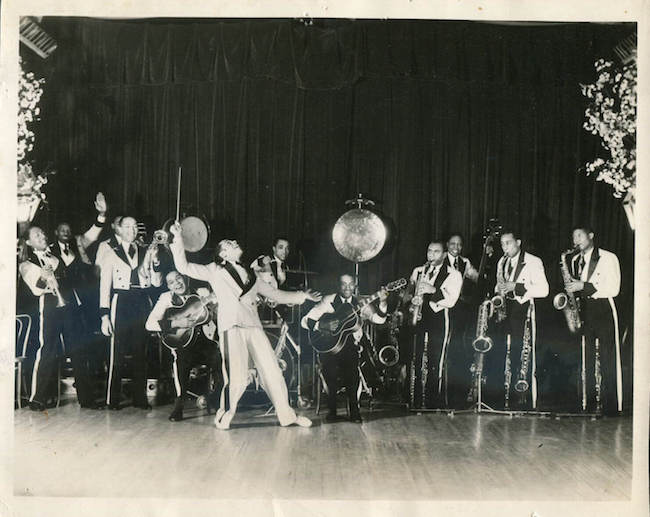 The orchestra in 1932
A beautiful face led by a big mouth!
How was Cab welcomed when he took over the Missourians? We can continue to speculate for a long time. But it's not hard to imagine that the Missourians were a close-knit group who had known each other since high school for many of them. It was a cooperative band where musicians elect or reject their front man, manager, etc. Let's not forget that Cab Calloway had been a drummer himself (read our article) and that he was very influenced by Chick WEBB, a rising figure in drums. And a pretty face like Maxey, with the aura of his first successes, certainly had a hard time adapting to the new leader... Nevertheless, Cab Calloway says in his autobiography: "Because Leroy had been one of the old Missourians, he felt a special responsibility to set an example. He used to say to me, "Cab, we've got to keep these new guys in line." The new guys, of course, were some of the best musicians in the country." Cab wanted to stand in front of them as their real and mighty chief. One day, Foot Thomas remembered, Cab called them to a meeting. He said: "Well, I'm going to either take the band, or I'm gonna fire you all and get me another band". That kind of 'pep' talk may have influenced some to leave and others to remain.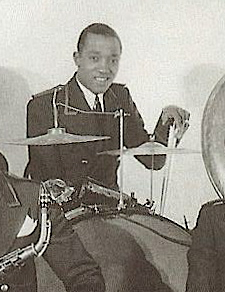 "Ka-ching!", a sound Leroy really enjoyed and not necessarily produced with his set of drums and cymbals.
NICKNAME CASH
With the short biography printed in programs for tours, and a press release spread around the country in 1933, everyone is aware of the many nicknames of the guys in the band. For Leroy, it is "Cash", "because he seldom talks about anything else"!
And this is not new for people who knew him. It probably originated during his high school years, since already in the 1922 Lincoln yearbook, as a token of remembrance, the classmates wish: "To Leroy Maxey we give the privilege of becoming a multi-millionaire since that seems to be the height of his ambitions."
WHEN JIM CROW RULED THE LIVES OF MUSICIANS
Cab Calloway tells in his autobiography an anecdote on how hard it was for African American artists to perform peacefully anywhere in the United States:
"The worst incident of the whole trip occurred in St. Petersburg, Florida [in March 1933, according to our files]. It involved our drummer, Leroy Maxey, who had been one of the original Kansas City Missourians. (…) In St. Petersburg, on this first trip south we were playing to an all-white audience in a tobacco warehouse. As the evening went on, the crowd got louder and drunker until at around one in the morning some drunk threw a coke bottle and it hit Leroy square in the side of his head. When the bottle splintered it cut a huge slash in his head and he was bleeding like a stuck pig. We stopped playing. Some of the guys were pissed as hell; they wanted to raise a ruckus, but with about 2,000 whites in there I figured it wasn't the time to take a stand, so I cooled everybody down. But Leroy was in bad shape. We took him to the back, and the other guys were ready to call it quits. Leroy said, "Hell, no. We came here to play music and we're gonna finish. These folks are not going to run us out of this town with a coke bottle, man."
We wrapped some bandages around Leroy's head and went back out and finished the dance. The next morning we found out that it was the police chief's son who had thrown the damn bottle. This kid comes over to where I was staying and says, "I'm truly sorry, Mr. Calloway. I just got drunk and threw the bottle and didn't care where it went. I wasn't trying to hurt anybody." Well, what could I say? "That's okay. Forget it.'' But I was angry as all get out. (…) Now I was beginning to learn what it means to be a responsible professional. No matter what the circumstances, we had to overcome them, go out on the stage, and do what was expected of us—and do it well. When that white boy cracked Leroy Maxey on the head with the bottle, we could have packed up and split. But we were professionals and went back on the stage and performed. "We're the best," I used to tell them. "Let's act it.""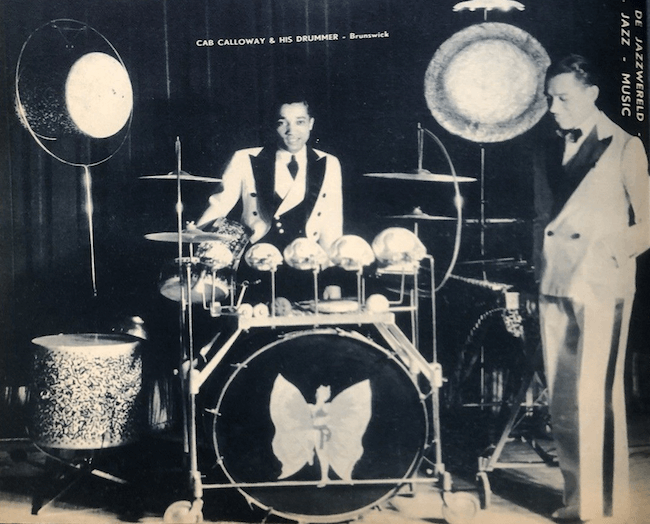 A rare promotional picture of Cab Calloway with his drummer Leroy Maxey
(De Jazz Wereld, Netherlands, September 1933)
MAXEY'S DRUMS SET: A REAL ADVERTISING TOOL!
Here's an early chance to see Maxey in action in the background.
With barely no room for his moves, Maxey throws his sticks in the air
in order to be as noticed as possible behind Cab's gyrations.
When Maxey is seen throwing his drumsticks around during the entire Minnie The Moocher song in the opening credits of the eponymous Betty Boop cartoon (1932), he doesn't have all his complete clinking and clanking set yet, as explained below...
Small, thin and dark-skinned, Leroy Maxey is described by Cab in his autobiography as someone who was particularly attentive to his appearance and a formidable maniac, constantly polishing his drums, skins and cases. He keenly obeyed the Colonel's (nickname given to Cab by the musicians) demand for cleanliness. It must be said that Leroy was a sort of star of the orchestra with his sophisticated equipment, completely modeled on that of Sonny GREER, Ellington's drummer. The latter explains:
"When we got into the Cotton Club, presentation became very important. I was a designer for the Leedy Manufacturing Company of Elkhart, Indiana, and the president of the company had a fabulous set of drums made for me, with timpani, chimes, vibraphone, everything. Musicians used to come to the Cotton Club just to see it. The value of it was three thousand dollars, a lot of money at that time, but it became an obsession with the racketeers, and they would pressure bands to have drums like mine, and would often advance money for them. Leroy Maxey, who was with Cab Calloway, and Jimmie Crawford with Lunceford, both had equipment something like mine." (Stanley Dance, "The World of Duke Ellington"
In 1934 ahead of Cab Calloway European tour during the spring, the adverts for the Leedy drum and percussion brand published on the occasion of the concerts at the London Palladium, show our man Maxey rather well surrounded.

"Have always played Leedy for ages. Always will" states Leroy Maxey
in this advertisement published in Melody Maker a few weeks
before the arrival of Cab Calloway's band in England (March 1934)
Here is what Leroy Maxey wrote in person, at the request of the Tune Times newspaper which had sponsored one of the London concerts:
"There are two instruments of prime importance to an orchestra to set and keep tempo. These two are the piano and drums. Both keep the rhythm going. And, in a unit like ours, what with dances and recordings, tempo is a mighty necessary item.

I also would like to answer the comments of a number of critics who insist that my set-up contains much too many gadgets for practical use, and that l have them there for sight purposes rather than sound. To a small extent, that is true, because a full set-up of tympani, vibraphones, chimes, etc., does make a good show for the eyes. But I do want to insist that each instrument in my equipment has a definite musical purpose; that each is useful and necessary; and that certain lights and shades can be introduced into the playing of a tune that would be impossible if l were not fully equipped. Let the other fellow worry about being caught short—I want to know that I can readily answer every need called for from my part of the orchestra." (March 1934)
It should be noted, however, that Maxey changed equipment during the orchestra's UK tour from Leedy to Premier. Our Drum expert Nicholas D. BALL explains:
"Comparing Leedy vs. Premier drums and why he made the switch – hard to say. By that point both companies were industry-leading brands making equally beautiful instruments. Perhaps the Premier drums just caught Leroy's eye (and those Full-Dress premier kits are beautiful – I'm lucky enough to get to play one regularly, with Alex Mendham's Orchestra here in London). Or they just offered him more money to be an endorsee, after all, we know he was addicted to cash!!! Certainly, he wasn't alone among American drummers choosing to use and endorse Premier drums around this time."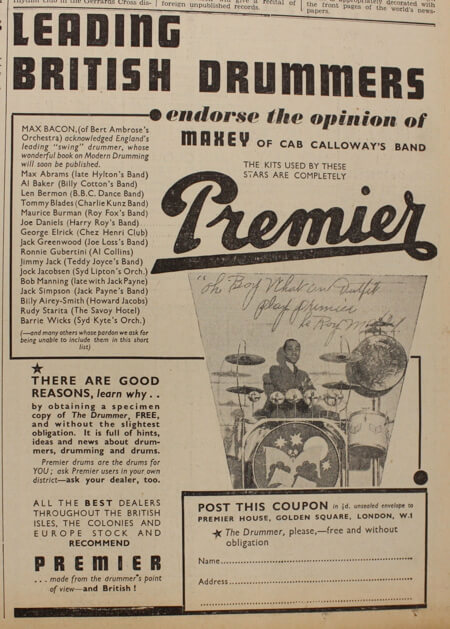 Is it for its premium set? Or just like the songs tells: "We're Only In It For The Money"?
After years with Leedy, Maxey changes for Premier...
The Kansas City Star dated November 21, 1934 celebrates the engagement of Cab Calloway and emphasizes on the "local guy":
"Leroy Maxey, that member of Cab Calloway's orchestra who sits behind a shield of one bass drum, two kettle drums, one trap drum and innumerable cymbals and what-have-you on the Mainstreet stage this week – on the highest point of the stage, too, incidentally – is a Kansas City boy and these are truly busy days for him. They're busy days at the Mainstreet, where Leroy has to play all his instruments, catch Calloway's baton as the latter hurls it to him in a frenzied moment in 'The Roar,' return the baton in an equally frenzied fling, contribute surprised and disapproving comments on 'Sho! Sho! Sho! Sho!' as Cab sings of the goings-on of Minnie the Moocher, and do other chores big and small."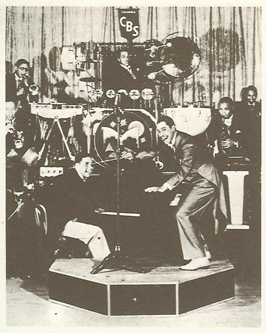 Shooting of Cab Calloway and his Cotton Club Orchestra, ready to air on CBS, with a "shiny" Leroy Maxey

As in 1934, later in January 1935, in the publicity photos for the broadcasts of the Cab broadcasts on CBS, the timpani, tubular bells and other gongs draw the horizon line of the orchestra.
---
"From his earliest days Maxey seems to have always used
all the latest hi-tech drum equipment."
– Nicholas D. BALL, drummer and jazz historian
Nicholas continues: "The beautiful Leedy set he began using in 1931 and seems to have stuck with throughout the early 30s includes (in addition to the fundamental snare and bass drums) five temple blocks on post mounts arranged in pitch from low to high; two Chinese style tom toms; four cymbals (including two hung from eyecatching 'gooseneck' hangers); an early hi-hat, a vibraphone and two large gongs suspended behind the kit. The 'fairy girl' decal painted on the bass drum head was one of several designs offered by the Leedy company (1933 price $10!), and was a popular choice not only with Leedy customers; similar versions were produced by several competitor drum manufacturers including Slingerland.
By the mid-30s he had added tubular bells in a rack behind the drums and at two pedal-tuned timpani on the drummer's left, with vibraphone switched to the right. When he made the switch to Premier, he seems to have acquired an almost identical setup, albeit with the bass drum head now featuring a stylised bat and owl - presumably another company-produced design intended to appeal to nocturnal jazz musicians working in nightclubs! It's almost certain both bass drums would have come equipped with a flashing lightbulb that illuminated the paintings from inside, providing a diverting visual spectacle as well as heating the drumheads to keep them taut - essential in sweaty dancehalls."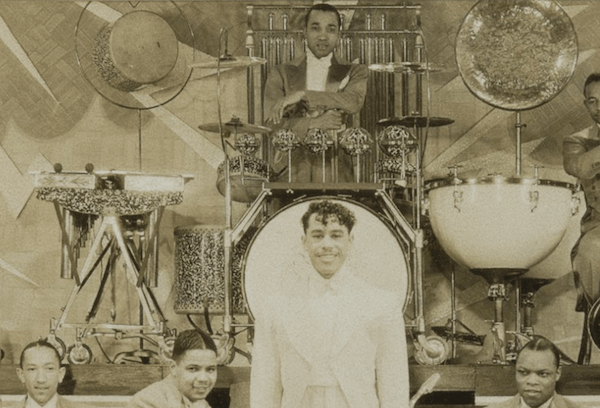 ---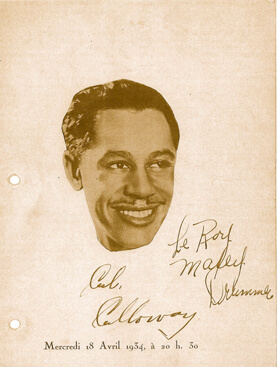 Cover of the Bruxelles' program from the European tour,
signed by Cab Calloway and Le Roy Maxey (courtesy Leon Dierckx)
"A CONSCIENTIOUS SHOWMAN"
I have only found one reference to Leroy's talent in the American press and it's rather short and elusive, for a review of a performance at the Jefferson, New York: "Solo playing by the saxophonists, cornetists and the drummer added more zest." (Billboard, September 6, 1930).
If we can regret the lack of details in the USA, we can on the contrary praise the European press which reported precisely the concerts given in the spring of 1934 and which give a lot of information on the play of the musicians of Harlem visiting old Europe. Here are a few excerpts devoted to the star drummer, who was often noticed (though less so than bassist Al Morgan):
In a review of the Brussels concert:
"Le Roy (sic) Maxey knows how to achieve a thunderous force and a lightness that borders on the whisper."
In Candide on the Paris concerts:
"The drummer never stops throwing his sticks in the air" (in the article by Jean Fayard with the amusing title: "Bob Calloway - Jazz torride")
In Jazz Tango Dancing (H.H. NIESEN, Jr. about the Holland concerts):
"But the best thing about the orchestra is the rhythm section, which is not made to surprise with stars such as Al Morgan and Maxey. If you've had the good fortune to hear the twenty-minute version of Dinah, in which Maxey and Al Morgan each take about four solo choruses, you will have been able to study the playing of these two musicians, which is fantastic, believe me!" (…)

"This one (Al Morgan) is also spectacular, as is Maxey, who at times sounds like a sort of demon and whose rhythm on the snare, cymbal and timpani carries the orchestra along irresistibly, especially in the choruses at the end." (…)

"The wonderful qualities of this rhythm section are the beauty of its tone, the intelligent way of nuancing and, naturally, its magnificent swing full of ease."
Note that the author indicates a different nickname than 'Cash' for Maxey: Leroy 'Froggy' Maxey, not seen anywhere else.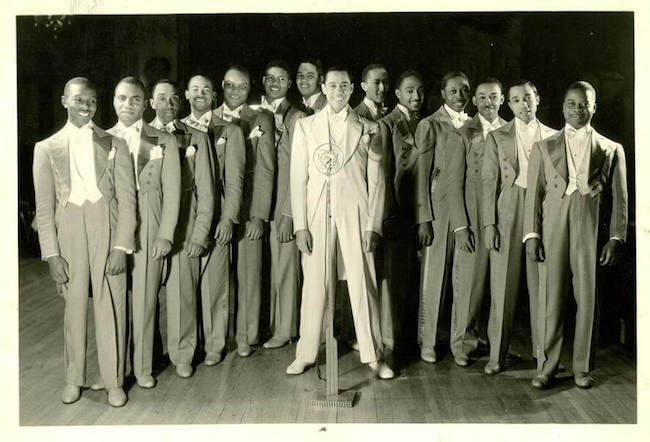 The orchestra, as it appeared in Europe in 1934
(Leroy Maxey is the 2nd from the right).
In Jazz Tango Dancing (N.J. Canetti about the Paris concerts):
"Leroy Maxey is an above-average drummer and, with that, a conscientious showman." (Note: Canetti seems to hate Cab Calloway's singing and leading style!).
In Tune Times, dated April 1934, right after Calloway's concerts in London, "The Drummers' Corner" column shared its "Thoughts on Listening to Leroy 'Cash' Maxey":
• There weren't many drummers outside of the Trocadero that Sunday afternoon.

• That there are several ways of hitting a gong—and all of them quite useful.

• That the return-stroke of a stick or beater is most useful from the showmanship point of view.

• That there was nothing in Maxey's big outfit that he didn't use at one time or another.

• That there is a deuce of a lot of rhythm in plain after-beats.

• That the legitimate roll makes good rhythm in slow numbers.

• That, for hot licks, there's nothing like a High-Hat cymbal pedal and a pair of sticks.

• That his bass drum was very subdued.

• That fast wire brush on cymbal is as good rhythm as ever was.

• That it would break his heart if he ever missed one of those left-hand rimshots.

• That the tympani break in "Margie" ought to be written out and published in Tune Times.

• That Two cymbals are twice as good as one if they are struck simultaneously.

• That, when he "showmanised" without playing, it was because there was nothing for him to play at the moment.

• That the cymbal pedal is just as effective on the down-beat as it is on the after-beat.

• That everything he did had some connection with what was happening at the time, had just happened or was just going to happen.

• That cymbals set huge on the console are a great aid to showmanship… and

• That chromatic-mounted chimes are a godsend to drummers."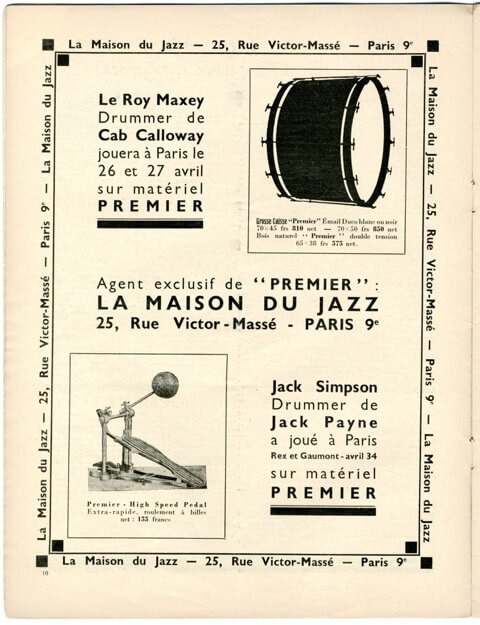 March 1934 ad for Premier in French magazine Jazz Tango Dancing
stating that Le Roy [sic] Maxey will play in Paris on April 26 and 27 [sic] with Premier material.
(Courtesy Philippe Baudoin)
The only negative review was by Pierre Laurent in the Belgian magazine Music, in an article about the April 24 concert in Paris: "Drummer Lerroy (sic) Maxey who did more gestures than good work."
Another interesting period testimony, a 1936 concert program featuring all the musicians of the Calloway Orchestra and especially the drummer:
"Leroy MAXEY – 'Cash' – Drums. Born in Kansas City, Missouri, June 6, 1904. Studied under Major N. Clark Smith. Played previously in the Dave Lewis Band in Kansas City and the Lon Basket Band. Prefers the fast fox trot type of music because it gives him the opportunity of setting the 'swing' rhythm. Has utmost respect for his leader."
---

Nicholas D. Ball (photo by Olivia Da Costa)
On the Cotton Club Orchestra sides
Maxey's early recording career, like so many others, was blighted by the demands of acoustic technology, and engineers' consequent restriction of drummers to the use only of 'recording traps' (predominantly cymbals and woodblocks) in studios.
What little that is audible to us on the Cotton Club Orchestra sides reveals the young Maxey to be a typically punchy, driving player, cut from similar drumming cloth to Kansas City hometown boys Willie McWashington and Carleton Coon. His ability to power the band with heavy offbeat 'socking' on cymbals alone is tangible.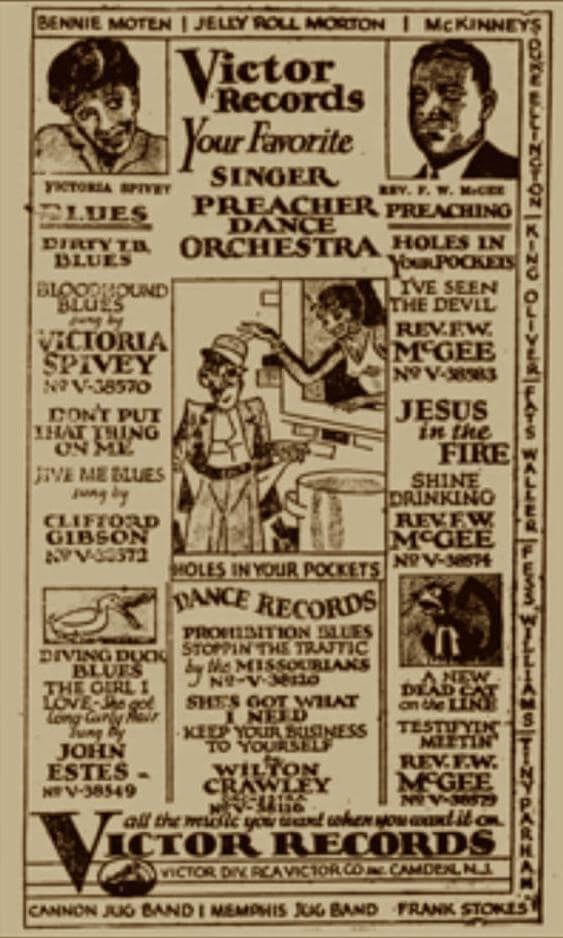 A rare Victor Records ad featuring The Missourians records
Heard with the Missourians records
With the evolution into the Missourians period, electric recording has finally arrived, and the clearer sound and opportunity to record the full drum kit allows us a much greater insight into the percussive content of the music. The orchestra has also attained higher levels of artistry in both the musical arrangements and the quality of the performances, and these sides feature much greater interactivity and drum involvement than in their Cotton Club Orchestra days.
On 'Market St. Stomp' Maxey is featured with a 'tricky' cymbal break, displaying a command of the difficult 'understick' technique that ranks alongside his New York peers, Kaiser Marshall, George Stafford, Ralph Bedell and even the inventor of the technique itself, Vic Berton.
August 1929's '400 Hop' & 'Vine Street Drag' meanwhile, are virtual masterpieces of late-20s hot dance-band type drumming – close to the apogee of the style anywhere, in fact - complete with a cutting-edge 'proto-swing' cymbal pattern and frequent piquant fills using temple blocks. A delight for the ears, and more than worth a comparison to Sonny Greer's contemporaneous work as an acknowledged master of delicate, improvised fill comments with Duke Ellington's orchestra. LeRoy's unique and surprising fills would never be confused with Greer's, yet fulfil a very similar function in the music and for me have a comparable kind of light-touch decisiveness.
The following year's 'Two Hundred Squabble', meanwhile, comes powered by kinetic press-rolls similar to those with which Paul Barbarin was then powering Luis Russell's band, whilst 'Swingin' Dem Cats' boasts excellent, punchy brush playing akin to that of Jimmy McEndre or Tommy Benford.
Meanwhile, it's clear Maxey was a master of percussion instruments beyond just the drum kit, and we can hear him variously supplying extra colour in the form of steamboat whistle, siren and vibraphone.
---
But perhaps the leader Cab had his reasons...