LOCKWOOD LEWIS
(December 22, 1890, Bowling Green, KY-October 24 1953, Louisville, KY)
– Saxophonist, singer, bandleader –
Missourians' leader in 1929-1930
Lockwood Lewis is associated with Cab Calloway's rising fame at the moment the latter took over the baton of the Missourians after a famous (and supposedly) battle of bands at the Savoy in 1930.
This event has overshadowed Lockwood Lewis' long career that spanned from an admired teacher, to one of the Harlem's favorites and a respected Union man and circus bandleader. Meanwhile, he was one of the Black Devils during World War One. What a life. What a forgotten artist! Not anymore, thanks to The Hi De Ho Blog.
Despite a long and rich career, there's only a little entry in the Encyclopedia of Louisville (2001), with many mistakes, about Lockwood Lewis (a full-length and first-hand article based on interviews of him existed and was sent by the author Everett Mock to a magazine that ceased publication in 1952. NO duplicate copy remained).
Early life in Kentucky
However, Lewis's early life is explained in detail in Storyville number 156: "Lockwood first experienced the sights and sounds of Louisville when his father, Haywood Lewis, brought him from Bowling Green to attend the first Kentucky State Fair in 1902. (…) [He] was most impressed by the music and bright uniforms of the marching brass bands and from that time on, Lockwood Lewis had music in his mind. Back in Bowling Green, he started as a blacksmith's apprentice in his father's shop at the age of fourteen. He hated every minute of it and everything about the blacksmithing business. When he turned sixteen, Lockwood ran away from home but two weeks later his father located him in Louisville and returned him to the family anvil and forge. Lockwood stuck with it until he was eighteen, when he once again ran away and headed for Louisville. Finally convinced that the boy would never make a blacksmith, his father accepted the inevitable and made no attempt to return him to Bowling Green. Lockwood soon found a musical job as grand Marshal and vocalist with a brass band, a childhood fantasy come true."
Lockwood began playing tenor saxophone at 16 (1906) and only six years later, he was working as a musician in Louisville.
In 1911, Freeman newspaper from Indianpolis already talks about Lockwood Lewis as "a minstrel man of experience" (Jan 28, 1911), engaged as an "added attraction" for the first performance of the Colored Blue Grass Minstrels in Bowling Green, KY.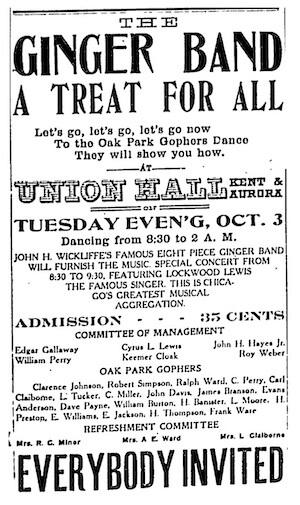 Already recognized in 1916 in John H. Wickliffe's eight-piece Ginger Band as "the famous singer", originally from Milwaukee, Lewis moved to Minneapolis for a while. During his time with Wickliff, Lewis was already featured with his song I'm the Doctor of the Love Disease. Singing was another talent added to playing bass and violin in the orchestra. After, Thomas J. Hennessey writes that Lewis "cashed in on the new fame of jazz with a small jazz vaudeville act in the winter of 1917-1918."
One of the Black Devils in the First World War
During the First World War, Lockwood served as a band sergeant in the 814th Pioneer Infantry regiment known as "The Black Devils." In his article Black US Army Bands and Their Bandmasters in World War I, Peter M. Lefferts tells the story of that legendary regiment:
"The 814th Pioneer Infantry regiment was one of the very last US army regiments to go overseas and one of the first to return, leaving the states in the first week of October 1918 and returning just two months later. While abroad, the regiment was split, partly going to England to build a railroad, and partly to France to do stevedore work. The band and the companies that went to England were housed in Winchester. From that base, the famous forty-two-piece band of the 814th Black Devils "toured and established a long-to-be remembered reputation in various cities and towns in England." By one report, during their two months in England "the band visited London several times. On one of their trips they played in the Palace Theatre in the act of Miss Elsie Janis. They also played in Winchester Cathedral, at the request of the caretaker, to the guests at that time in the building." According to Time magazine, the most conspicuous wartime service of the 814th was rendered by its regimental band, "a collection of superb musicians and entertainers who took London by storm. Its most famous members were Drum-Major Julius ("Slim") Williams and Corporal Charles ("Egg Shell") Fleming, both expert buck-&-wing dancers. The high point of their visit was a command performance at Buckingham Palace, which brought a letter of commendation from King George."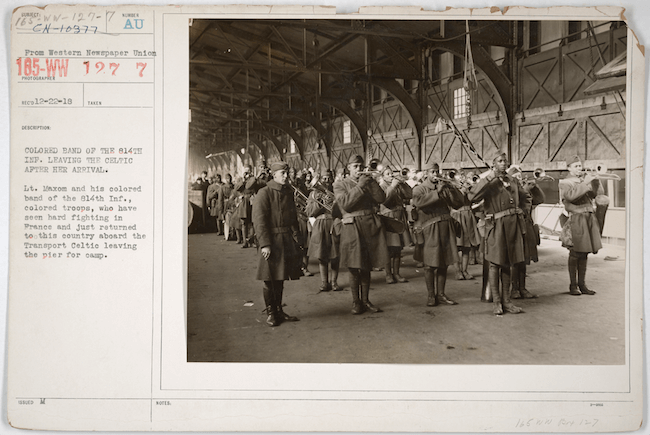 Photo of the band of the 814th taken upon its return,
on December 18, 1918, immediately after disembarking onto the docks.
With John Embry's Jazz Band
Back in the USA, Lewis quickly joins John EMBRY's Jazz Band (more often spelled EMERY), supposedly originally from New York (but more certainly from Louisville), consisting of 6 musicians. He's equally billed with the leader (a trombonist) and publicized as an "eccentric saxophone comedian" (Louisville Courier Journal, April 15, 1919).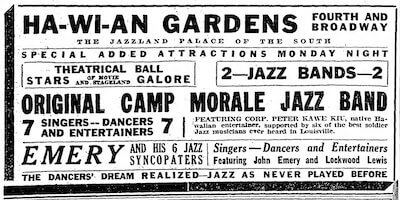 "Jazz as never played before" is the valid promise made by John Emery and Lockwood Lewis
(The Courier Journal, MAy 18, 1919)
At the same moment, Lockwood Lewis and Louis E. ZOELLER advertise in Variety about their opus "Chocolate Babe," "which looks like a hit from the start. This number has a great punch at the finish. (…) Lewis states that this is one of the biggest fox-trots they played while in New York."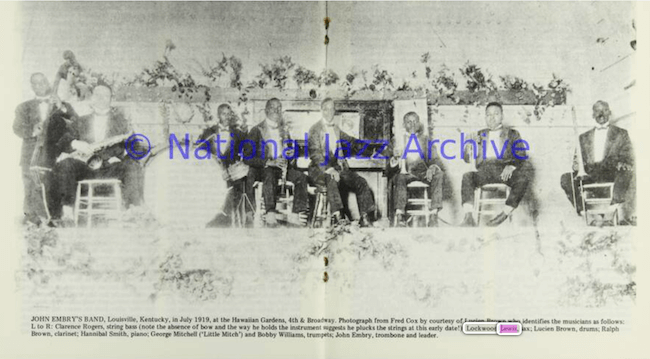 Second from left, the imposing stature of Lockwood Lewis seated with his saxophone.
Source : Storyville n°47 - National Jazz Archives
Thanks to his imposing stature, Lockwood Lewis is easily recognizable on pictures, like the one on the bandstand with John Emery band. The coming stardom led Lockwood to have his own band.
Thomas J. Hennessey writes in his book From Jazz to Swing, "By 1919, Stanley R. 'Fess' Williams, Lockwood Lewis, and Howard Jordan all led small jazz bands playing for dances in and around Louisville."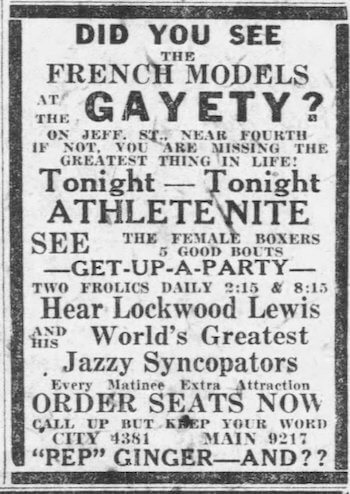 One band: The Jazzy Syncopators (23 Nov 1923, The Courier Journal)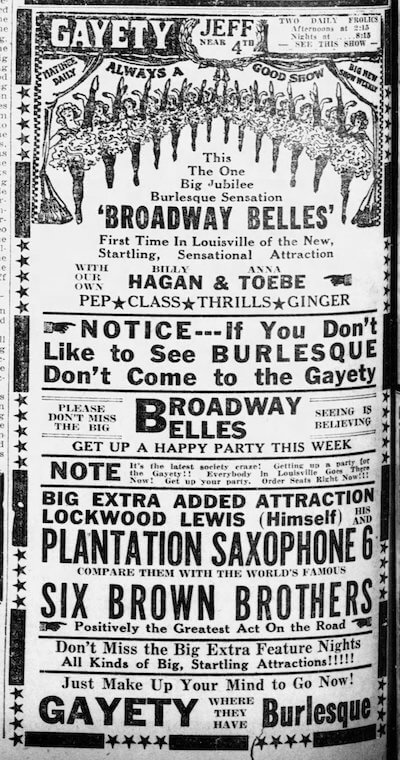 Another band; The Plantation Saxophone 6 (27 Jan 1924, The Courier Journal)
A knowledgeable teacher with famous pupils
In the mid-twenties, Lockwood becomes one of the teachers of the Sunday school band of the Booker T. Washington Community Center. He then teaches the likes of Jonah JONES, Bill BEASON, Buddy LEE, Helen HUMES, and mezzo-soprano Lucie B. FRENCH. Dicky WELLS in his autobiography Night People writes, "he was a wonderful fellow, and he treated us as though we were his own kids." The famous trombonist adds, "We would travel in a truck and play country fairs, and the pay was three dollars and a half a week." Jonah Jones remembers: in 1965: "Lockwood Lewis, conductor of the band, called all the young musicians by their last names. He also stammered. One day we were laying a march. I was supposed to be making E-flat, but was on E-natural. Mr. Lewis knew someone was blowing a bad note, but he didn't know who. We'd start again and I'd blow sour. Finally, he caught me. He threw his baton and yelled. Instead of it coming out 'Jones' he made it 'J-J-J-J-JONAH!' The kids all took it up and that was the end of Elliott Jones; I was Jonah for keeps." (Courier Journal, Feb 21, 1965)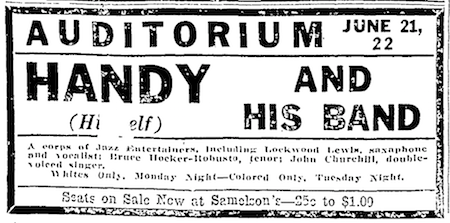 Lockwood Lewis, saxaphone and vocalist touring with "Handy (himself)"
(Commercial Appeal, Memphis, TN, June 20, 1926)
A noticed musician in W.C. Handy's touring orchestra
Leading his own orchestra in 1924, he turned into one of the "famed people" in all Kentucky. Lockwood Lewis became one of the musicians in W.C. HANDY's orchestra in Memphis, TN, in 1926. Worte The Commercial Appeal from Memphis (June 20, 1926): "Lockwood Lewis, an old favorite, will play saxophone solos and do some blues singing." A few years earlier, Lockwood already "served as saxophonist and entertainer with W. C. Handy's Memphis Blues Band, which also featured William Grant Still on cello and oboe, on a tour of midwestern cities ("Handy's 'Memphis Blues Band' Going Big Through Pennsylvania,' Indianapolis Freeman, January 31, 1920 - in The original blues : the emergence of the blues in African American vaudeville by Lynn Abbott). The Savanna Tribune (April 24, 1920) reviews the concert by 12 musicians, in a two hours' program, "a night of jazz and blues", where Lockwood provided a noticed saxophone solo.
Lockwood married Frances Campbell (Feb 6, 1895-Jun 5, 1964). In March 1925, he's apparently shot by his wife and seriously wounded at his home, 713 West Liberty Street, Louisville (Courier Journal, March 22, 1925). I found no other mention of this incident. They have no children although he was raised with 2 brothers and 2 sisters.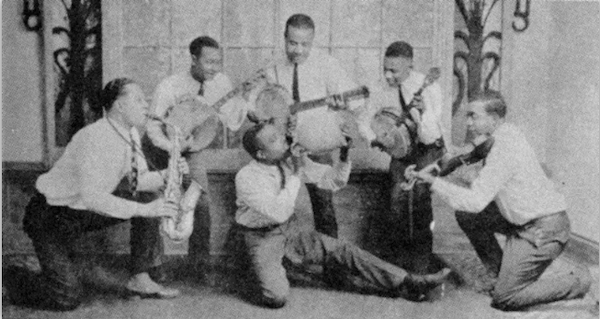 The Dixieland Jug Blowers: on the front row are
Lewis (sax), Earl McDonald (jug), Clifford Hayes (violin)
(source : CD booklet of "Ruckus Juice & Chittlins, vol. 1")
In one of the famous local jug bands, in Louisville
In 1926, Harry H. PACE, a Black-artists talent scout for the Victor Talking Machine Company, hired Lockwood Lewis. Pace knew Lewis from the time he worked in the music publishing business with W.C. Handy. He was sent to Louisville "to locate a jug band and singers for a Victor recording date" (The Jug Bands of Louisville, Storyville 160). Pace wanted Lewis to enhance Clifford HAYES's band forthcoming 8 titles to be recorded. Lockwood was "a talented alto sax man, had several good novelty songs of his own, and could play with any type of group." For the first time, a jug band was going to integrate a saxophone, a violin, three banjos, and two jugs. They recorded in Chicago on December 10, 1926. You can hear Lockwood's alto sax and vocal on Boodle-Am-Shake and Don't Give All The Lard Away (the latter written by Lewis). The day after, for their second recording session, famous clarinetist from New Orleans Johnny DODDS was added to the band.
The Jug Bands of Louisville article provides very interesting insights about Louisville and the music business then: "The dance band business in Louisville was very competitive in the 1920s, with local semi-professionals and touring bands securing a large share of the market. The continuing increase in ownership of radios and phonographs had reduced the number of available house-party dance gigs for the small dance combos. Louisville was never known as a musicians' town; the pay scale for sidemen was lower than that paid in other metropolitan areas in the Mid-West." It continues: "Lockwood Lewis had fronted and maintained a regular dance band in Louisville from 1921, when he left the John Embry band, until early 1927. Discouraged by losing his talented sidemen to touring bands that offered higher pay, Lockwood gave up trying to keep a working band intact, and began working odd gigs with pick-up musicians or working with other dance groups needing an alto saxophone or a singer for special dates."
"In early spring 1927, Lockwood, feeling that the jug band as a more lucrative future bet, accepted an offer as lead alto and vocalist with a newly formed jug band being put together by one of his ex-sidemen, the banjo-guitar picker Coleman 'Ed' CHESTNUT. Coleman's new jug group featured Bennie CALVIN on mandolin and Jimmy BERRY on jug." Together, they recorded four instrumentals and four vocal tunes on March 30, 1927 in Atlanta. Lewis remained with the band for the Derby Week festivities in Louisville where the jug bands were in competition. He recorded with another assembled group for the recording session in June 1927 for Victor, the Dixieland Jug Blowers (with Clifford Hayes, violin; Earl McDonald, jug, and others).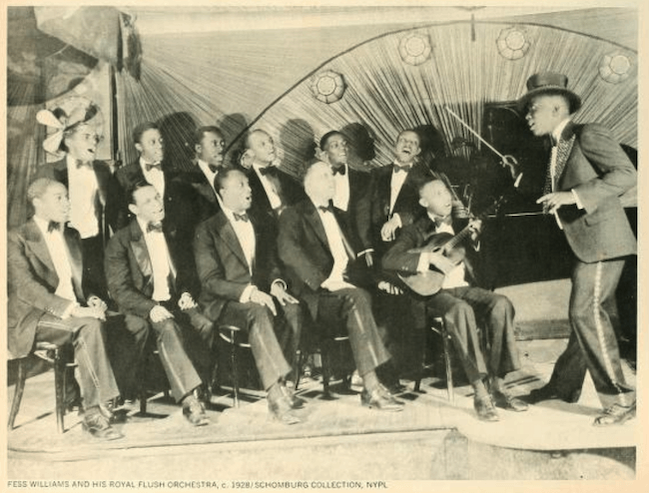 1928: Fess Williams and his Royal Flush Orchestra
on the bandstand of the Savoy Ballroom.
Lockwood Lewis is left of the guitarist (source: Harlem on My Mind)
The decisive encounter with Fess Williams
In Louisville, Lockwood plays bass violin and tenor sax. In July 1927, there, he was his own orchestra of seven pieces. Then, the big move occurs thanks to Fess WILLIAMS:
"Late in 1927, Lockwood Lewis received an offer from Fess Williams to front his Royal Flush Orchestra in New York [at the Savoy] while Fess was working in Chicago. Lockwood was at loose ends in Louisville, gigging as an entertainer with stage and club bands, and playing an occasional date with Ed Chestnut's Jug Band. Eager to move up to the big time at the Savoy in New York, Lockwood Lewis accepted the offer with pleasure. Fess had been tendered a lucrative contract to become the master of ceremonies and to front the Dave Peyton band to open the new Regal Theatre in Chicago. Fess could not resist the Regal's six-month contract, with a six-month option, that would pay him $350 a week. In an interview with Frank Driggs, Fess would state: 'That's when I sent back to Louisville and got Lockwood Lewis, because he was the only guy at the time, who could entertain in front of the band like I could. Lockwood was good, but he didn't know how to handle the boys, and they began to get jealous. They resented anyone new coming in to take the spotlight, but they didn't realize they needed him, because they were just musicians, and my success was built around entertaining people. Lockwood held the band together until I came back to the Savoy in March 1929.'"
April 1928: Lockwood Lewis is a new member of the Local Union No.802 of New York. He's with Fess Williams' Royal Flush which is the Savoy's band.
Lockwood is featured with the band and the ballroom puts his face and name on top in the newspapers, as "incomparable." After its summer tour on the East Coast, the Fess Williams orchestra is the star of the venue for the Fall opening, along with Lloyd SCOTT with his Bright Boys and a female orchestra, The Novelty Syncopators.

The "Greatest Band of Today" with Lockwood Lewis leader (formerly with Fess Williams)"
Lockwood Lewis and the Missourians: the real chronology
Contrary to what is generally written, Lockwood Lewis didn't front the Missourians right after Andrew Preer's death in May 1927 (at that time, they were named The Cotton Club Orchestra – Read our article about Leroy Maxey). It's only in December 1928 that he made the move, when the Cotton Club Orchestra, that had no front man then, landed in New York back from their tour [link], and went straight to the Savoy Ballroom. Adding the eccentricity of Lockwood Lewis to the Missourians, as the official bandleader, was an easy move for the management that became decisive for the history of the band.
For the beginning of 1929, the orchestra tours on East coast (for instance, Galesburg, IL in January, Waterbury, CN in April) then comes back to their "nest", the Savoy Ballroom.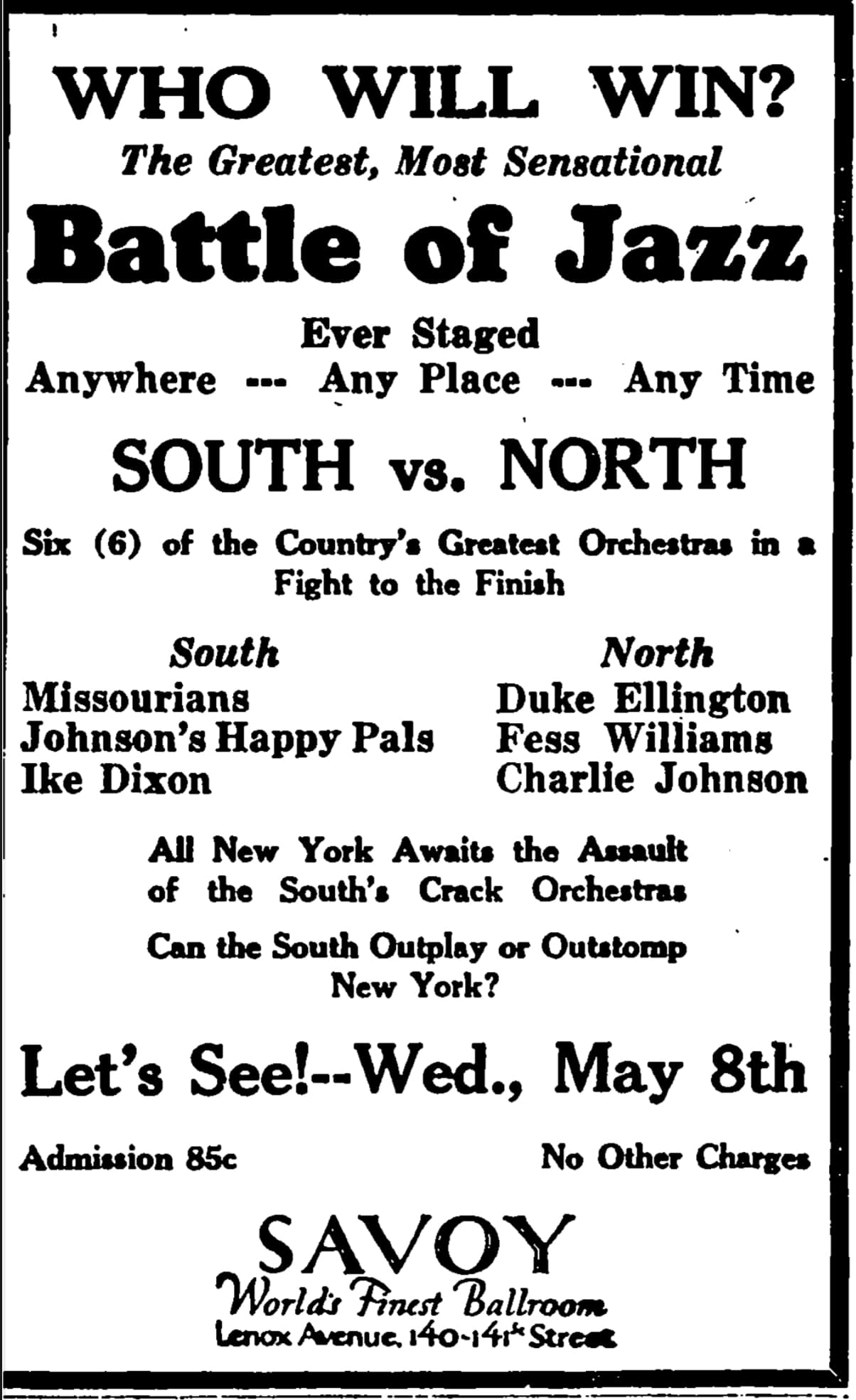 "Let's see"... as billed in the New York Age dated May 1, 1929
This is the moment the Cotton Club Orchestra officially changes its name to The Missourians, a few days ahead of a big event organized on May 8, 1929 by the Savoy Ballroom, the "North and South Jazz Battle":
The North:
Duke Ellington and his Cotton Clubbers (now you figure out the need to change the name of the band to avoid confusion)
Fess Williams and his Royal Flush Orchestra
Charlie Johnson and his Small's Paradisers
The South:
Johnson's Happy Pals from Richmond,
Ike Dixon and his Southerners from Baltimore,
The Missourians (personnel for this date: R.Q. Dickerson, Lammar Wright, Andrew Brown, G.W. Scott, Morris White, Earres Prince, James Smith, Leroy Maxey "are the original Cotton Club orchestra")
In front of 4,000 "Savoyites", some sources say that the Missourians win the favors of the audience. The Pittsburgh Courier dated May 18, 1929 tells another version:
"Unheralded, unannounced, but bringing with it a determination to win and a confidence which carried with it an assurance of their superiority, Roy. F. Johnson and His Happy Pals orchestra completely outplayed and out-stomped New York's pride and joy, Duke Ellington and his Cotton Club orchestra. Charlie Johnson and his band, who we are looking forward to dropping dead most any time; Fess Williams and his Harmony Dispensers, who tried to perform a Barnum & Bailey-Ringling Brothers act by clowning himself away; Ike Dixon and his Melody Boys, who were just good enough for one set of pieces; the Classical Missourians, who equaled the efforts and tied for first place with the Happy Pals."
Nevertheless, they are still known in the mind of people as the "original" Cotton Club Orchestra. In his Jazz Oral History Project interview, Walter Foots Thomas develops: "The Missourians could cut any band that played in the Savoy. I don't care who they was. You could bring them White bands in there, the big bands; by the time they got though playing their little Jazz, they was the favorite."
The summer of 1929 has Lockwood Lewis with the Missourians at the Savoy Ballroom, alternating with the Fess Williams' orchestra for June and July and with Johnson's Happy Pals for the month of August. Every Tuesday and Friday, they broadcast over WAUC from the "home of happy feet."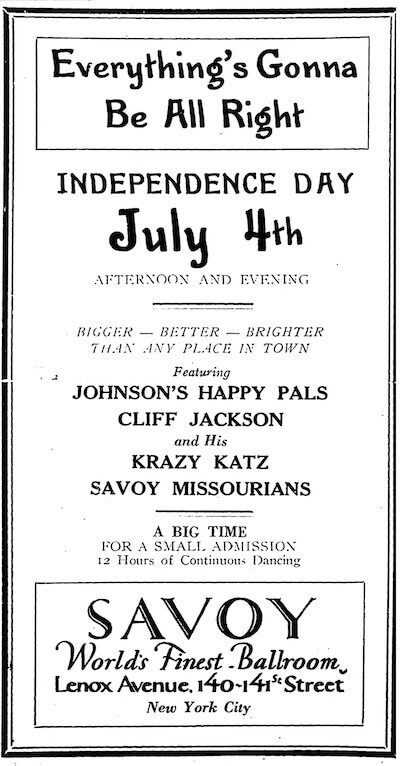 For Independence Day, the Savoy invites 3 bands: The Missourians under the direction of Lockwood Lewis,
Johnson's Happy Pals, and Cliff Jackson and his Krazy Katz.
(Inter-State Tattler, June 28, 1929)
Saturday 27 July 1929, the Alhambra Ballroom now under Savoy Ballroom management launches a big midnight show with an array of artists from every revue around: Bill Robinson, Harriett Calloway (back from Europe with Blackbirds of 1929), Miller & Lyles, Andy Razaf and many more. In front of the mayor of New York James Walker, The Missourians played at 4 in the morning, "and made such a hit they were requested to render other numbers, although it was felt that the splendid musicians were tired after a big night at the Savoy" (New York Amsterdam News, July 31, 1929).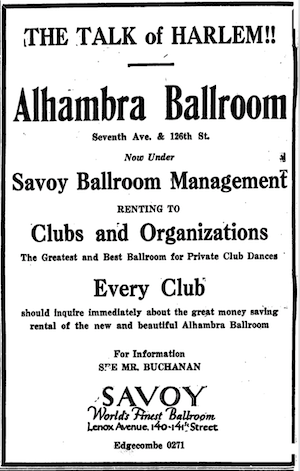 New York Amsterdam news, July 24, 1929
From then on, depending on the availability of the Savoy Ballroom, the Missourians play either there or at the Alhambra, often rented to clubs or organizations for parties.


"The World's greatest dance orchestra"
(The Inter-State Tattler, September 27, 1929)
The most important events of the summer are their first recording session for Victor in New York under their new name and with Lockwood Lewis as the leader.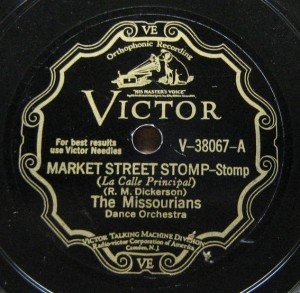 JUNE 3, 1929
Personnel: Lammar Wright, R.Q. Dickerson – trumpet; De Priest Wheeler – trombone; George Scott, Walter Foots Thomas – alto saxophone, clarinet; Andrew Brown – tenor sax, clarinet; Earres Prince – piano; Morris White – banjo; Jimmy Smith – tuba; Leroy Maxey – drums, vocal; Lockwood Lewis – vocal, leader; Manager: James E. 'Jimmy' Smith (aka Jimmy 'Smitty' Smith):
Market Street Stomp,
Ozark Mountain Blues [2 takes],
You'll Cry For Me, But I'll Be Gone [2 takes],
Missouri Moan
In his essay, K.B. Rau analyzes: "We do not hear complex and intricate stock arrangements as on their Cotton Club Orchestra sessions, but they present rather simple arrangements of probably own production now, much in the way the Bennie Moten Band played at this time – and much to the delight of the dancers. This might well have been a consequence out of having Lammar Wright on first trumpet now in the band, as Wright was the trumpet player of the early Bennie Moten band of Kansas City, and he certainly brought a lot of his own experiences from there to New York and into the Missourians." About the questions of arrangements, see below with Walter Foots Thomas testimony.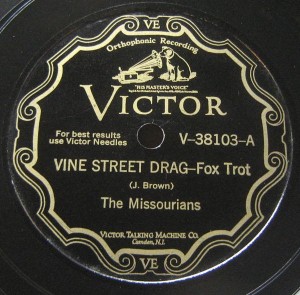 AUGUST 1, 1929
Personnel: Lammar Wright, R.Q. Dickerson – trumpet; De Priest Wheeler – trombone; Walter 'Foots' Thomas rather than George Scott [see below for explanations], William Thornton Blue – alto sax, clarinet; Andrew Brown – tenor sax, clarinet; Earres Prince – piano; Morris White – banjo; Jimmy Smith – tuba; Leroy Maxey – dms),
I've Got Someone,
"400" Hop,
Vine Street Drag,
Scotty Blues
Alto saxophone player George Scott handled the musical direction until mid-1929. But Walter Foots Thomas explains to Milt Hinton in his inestimable (and barely noticed by jazz historians) interview for the Jazz Oral History Project that George Scott, nicknamed Scotty, was put in jail because of the Sullivan Act, a gun control law from New York, saying that the private possession of firearms without a license was a misdemeanor, and carrying them in public is a felony. Much bribery and injustice occurred then. And, for sure, whenever a Black person was arrested with a gun, "there was no bargaining. You got six months" says Walter Foots Thomas. "So Scotty got involved with his wife or somebody in Harlem, and they caught him with a gun, and they put him in jail for six months." Lammar Wright, friends with Foots from his teenage years, put a word to the other Missourians to get him in the band. It was supposed to be just a replacement. Walter Foots Thomas, leaving Luis Russell's band, got his chair for good with the Missourians thanks to the compositions and arrangements he provided to the group: "When Scotty got out of jail, he didn't have no job. Because man, I got in there and I… And when I first got here, them guys were playing all head arrangements; I said, "You'll got to be crazy. You got to write some of this stuff down. Because whoever comes in the band and has to play in somebody's place has got to have something to play." Ans I started to do a little writing, because I had just started to write". (JOHP, pages 68-70).
This means that George Scott is probably absent from the June 1929 session (and most certainly on the August 1's with the Scotty Blues dedicated tribute!) and that's Walter Foots Thomas who only plays alto-sax. He will change later for tenor after Andrew Brown got sick and that he replaced him.


"You will be bombarded" (New York Amsterdam News, September 4, 1929)
On September 13, for the reopening evening of the Alhambra, Buchanan settled another big evening in a renovated Nile green and gold painted ballroom that lasted until 3 am minimum with 5 bands including the Missourians: Jack Whyte from Cincinnati, Luis Russell, Bennie Carter and Johnson's Happy Pals. "A night you'll never forget" claims the ad. For sure! The week after at the Savoy Ballroom, another historical night occurred: Cab Calloway and the Alabamians lost their first battle against Zack White and his Chocolate Dandies, Johnson's Happy Pals, and Cecil Scott's Bright Boys. The latter won. Cab and the Alabamians got their two-week notice. And the rest is history (a confused history though, since the battle told everywhere by Cab in his autobiography or by jazz historians between the Missourians and Cab and the Alabamians, never happened). An history where Cab reappears later, in January 1930…
Meanwhile, from mid-September to the end of November, the Missourians tour out of New York, with several way back for one-nights in Harlem: at the New Albert Hall in Baltimore on September 23, in front on 1,200 people (adding local banjoist Benny Jones as a guest musician).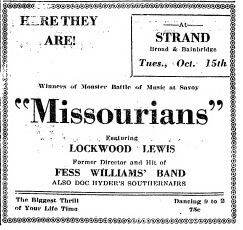 "Missourians featuring Lockwood Lewis" at the Strand (Oct 10, 1929, Philadelphia Tribune)
The "mighty Missourians" are in Philadelphia on October 15 (against Doc Hyder's Southernaires), with a return engagement on November 21 at the Strand. Same with Baltimore: due to their success there, and thanks to local promoter L.B. Gamby, the Missourians are back at the New Albert Hall on October 21. Lockwood is proudly billed with his saxophone: the music we want to hear and the man we want to see. October 22, they are in Westchester, PA. Next evening in Wilmington, DE. On the 24th, Harrisburg, PA welcomes them.
Philadelphia Tribune article, dated October 10, 1929 states: "Lockwood Lewis who has won such widespread popularity as the singing, entertaining and clowning director of Fess Williams' Band, is director of the Missourians and promises to let you have all he's got and to send you home feeling "just too bad"." And they do it so for instance at the Alhambra every Saturday, starting October 19 for the New York Collegians team for the basketball season. The Missourians play all the leading amateur teams nearby and after the floor is for dancers on the music by the Missourians. Same will go for the Autumn Prom of the Ideal Pal's Club, Inc. on Halloween night, October 31, 1929.
The last battle of bands of 1929 places New York versus Baltimore on December 19 at the Savoy. Six bands are reunited and represent their city:
New York: The Missourians with Lockwood Lewis, Buddy Bowman and his Chocolate Dandies, Cecil Scott and his Bright Boys.
Baltimore: Irvin Hughes and His Royal Southerners, Percy Glascoe and his Plantation orchestra, Ike Dixon and his Bear Cats.
"As usual, writes the reporter in December 21, 1929 Afro American, no decision was given, but none was needed. After all that hot music, the dancers melted and ran down the steps."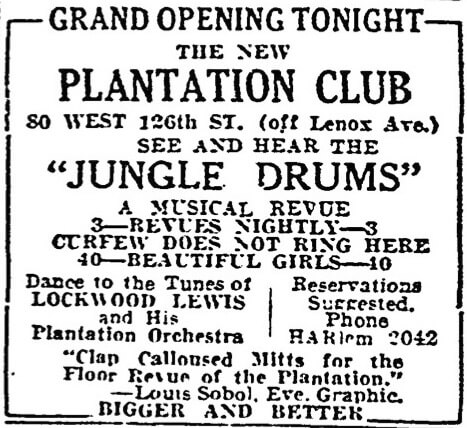 "Jungle Drums" premieres with Lockwood Lewis for the opening of The Plantation Club
January 18, 1930, New York Evening Journal
The Plantation Club, the mob and the fugitive
Things are becoming hard to untangle then, since no press article, ledger and no trustful testimony confirms or even announces what really happens with the relationship between Lockwood Lewis and the Missourians. Cab tries to fit in with the band; the mob gets involved. And many mistakes, errors or cloudy memories have been repeated since. Now, it's time for The Hi De Ho Blog to try to write an (almost) accurate version of the story.
On December 18, 1929, despite a tough environment with clubs owned by the mob, successful places like the Savoy Ballroom, the Cotton Club et al, a newcomer in the neighborhood opens its doors: the Plantation Club, on 80W, 126th Street, next to Lenox Avenue — and more important: next to the Savoy! "Rumor was that the club was being partly financed by a consortium of African American numbers bosses, including Madame Stephanie St. Clair and Bumpy Johnson" (T.J. English in Dangerous Rhythms).
On the ground floor of the former Elsmere Hall, with a capacity of 400 guests, the Plantation Club, a strictly private membership venue, expecting the wealthiest and aristocrats of New York. This was the venue supposed to be the "achievement in cosmopolitan divertissement" (Philadelphia Tribune, Jan 23, 1930). "Hahlim's newest… neatest… and niftiest gesture in night clubberies" writes The Brooklyn Daily Eagle (Jan 8, 1930).
The decor of the place was astonishing. Walter Foots Thomas remembers: "They had a ceiling that would open up so you could see the sky and all that." (JOHP, p. 103). The News (Jan 11, 1930) from Paterson, NJ, explains the magic trick: "Strikingly modernistic mural paintings [by William A. Perles] adorn the stars light the ceiling." Brooklyn Eagle Daily lengthy describes: "mirrors around the edges of the dance floor (….) It's laid out to resemble a chummy colony on the banks of the Mississippi, which laps happily along behind the orchestra stand." The copycat of the Cotton Club confirms why the Owney MADDEN's team kept on saying to the Plantation Club operator William HILL: "Don't open no club in Harlem," recall Foots Thomas.
The personnel of the venue consist in a maître d'hôtel, formerly of the Cotton Club, 17 waiters, cooks and bus boys, doormen, etc. (seeing the unemployment situation in Harlem at that time, every new job for an African American was very welcomed), "with salaries aggregating $4,000 weekly. (…) The Plantation cuisine boasts of its chefs, a southern Negro and a Chinese from Hong Kong." (Pittsburgh Courier, Jan 11, 1930)
For the opening, the management is trying to do things a la Cotton Club on stage, with beautiful "creole" chorus line, famous Harlem performers. The very first revue itself has all the exotic power with racist stereotypes in its title, "Jungle Drums". With "snappy and catchy tunes" and "An extravagant classic in oracle expression presented by Frank Bannister." Frank BANNISTER: the unforgettable author of Say It With a Ukulele, Bringing Home the Bacon, was also speaker on the early radio in 1923 on WJZ, conceiving a radio revue for vaudeville, as he wrote the score and book of the latter (Billboard, May 19, 1925).
Arrangements (not musical but stage) are said to be by Dave 'Izzy' MEYERS, a longtime performer, comedian and pianist originated from Cincinnati". He was already noticed in 1917, who had his own orchestra in 1924, who appeared in a comic duet with Jerry Buske in mid-20s; who backed Cora Green in "Ebony Showboat" in January 1929 at the Lafayette. Meyers had his own show since 1919, "The Izzy Meyers Follies". He would later have a concert ensemble that plays classical or Broadway ballads.
"Jungle Drums" features:
Eddie Green, formerly featured comic in "Hot Chocolates"
Alma Smith, former lead in Blatt's play "Harlem"
Joseph Attlea,
Neeka Shaw, "a tan lady (…) who is a roto-gravurean ringer for Dorothy ("Young Sinners") Appleby"
Pete and Peaches,
Bob Williams.
And on the top of the revue, a great band, this time Lockwood Lewis and the Missourians. Officially it's billed "Lockwood Lewis and his Plantation Orchestra (formerly the Missourians)."
Early January, "Lockwood Lewis's Plantation Orchestra" is on the air over WMCA New York and those broadcasts probably enhance the fame of the band and the new Plantation Club.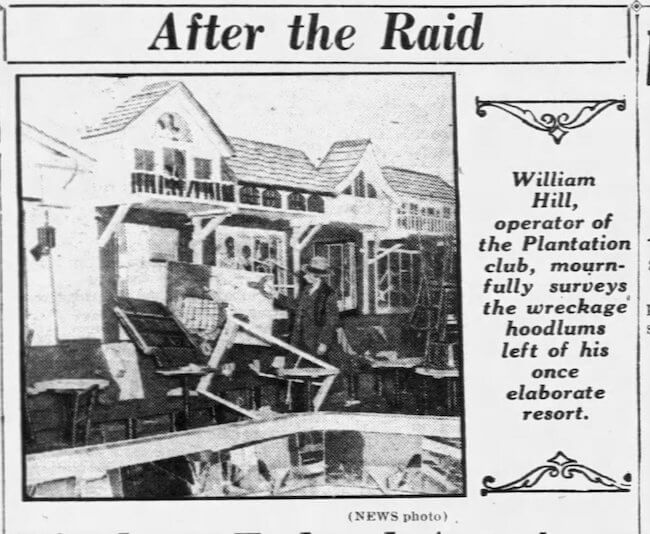 What was left of the interior of the Plantation Club (January 17, 1930, Daily News).
Even scrambled in pieces, the set really looks the same as the Harlem's Cotton Club
Walter Foots Thomas remembers what happened on January 16 at 11:00 am:
"When we come back that night to do the show, somebody had come in there and chopped up the dance floor, cut the strings on the piano… Now, how they knew between the show music and our music, I'll never know. Tore the show music in half. Didn't scratch an instrument of ours and didn't scratch a piece of our arrangement. (…) And we knew who did it. It never did come out. But they told the man not to open up, but he was bullheaded." The costumes were also slashed and torn. "For nearly two hours, [10 men] wrought their destruction. When they were through the place was unrecognizable. (…) [William] Hill strode out on the dance floor. Great gaping holes had been torn in its waxen surface by wielders of pickaxes. He looked at the 150 mirrors that made a knee-high enclosure of the floor itself. Not one was unbroke,. Upholstered benches had been torn from the walls, their tapestried surfaces slashed to ribbons. A $2,500 piano, its mahogany body shattered and its wires torn, was upside down in a corner of the room. Even the band instruments had been hammered and twisted out of their original shapes." (Daily News, Jan 17, 1930).
Alyn Shipton goes detective in this paragraph from Hi De Ho:
"Although there were suspicions aplenty about who was behind this desecration, there was no proof. However, when Harry BLOCK, a shareholder in the Cotton Club and co-owner of the Silver Slipper in midtown, was shot dead at three o'clock in the morning on April 30 by "two pale youths" in the elevator of his apartment building on West Seventy-third Street, the truth began to emerge. According to the newspapers, Block's black notebook containing "the name of practically every racketeer in town… suggested so many feuds as a possible background to the killing" that the police had to work through a forest of clues. They soon settled on the theory that this was a revenge murder for the wrecking of the Plantation Club, suggesting that the destruction had taken place at the behest of Owney Madden, who disliked the idea of serious competition on his doorstep. Conveniently for him, Madden was in the hospital being treated for old gunshot wounds when the wrecking and the subsequent killing occurred." ("Arrests Near in Nightclub Man's Slaying," Syracuse Herald, May 1, 1930)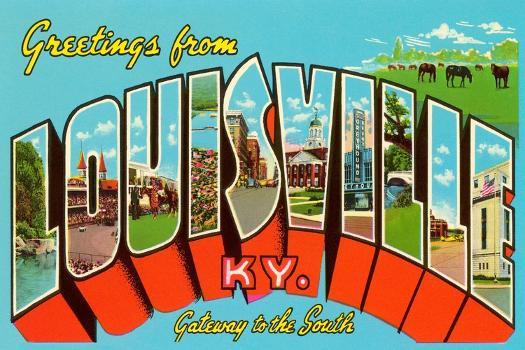 This racket expedition sounded like an alarm to Lockwood who apparently put all he had in a luggage and left New York for his safe hometown Louisville, KY. Which is too bad, since the two weeks before the event, Lewis invested an ad in Variety, claiming "Lockwood Lewis and his Plantation Club Orchestra – Formerly the Missourians, World's Greatest Colored Band, Now at the Plantation Club, 80 West 126th St., New York City."
Getting away from the mob was probably a secure move and Lewis wanted to let it know, hence the couple of snippets in the newspapers in February and March, stating that he was back in Louisville, "gathering new musicians for his orchestra which will spend the summer months in New York City."
Cab instead of Lockwood with the Missourians
And Lockwood Lewis is right to stay away from Harlem because at the same moment, jumping on the opportunity, the young Cab Calloway gets the job as a leader for the Missourians, probably propelled by the Savoy management who didn't want to lose any money on this very promising association.
From then on, the Missourians will follow their path with their new leader Cab Calloway, training their skills with the
Club Plantation Revue
, at the Lafayette in Harlem, playing at the Savoy for a private party and, more important having their new recording session on February 17, 1930. While Lockwood Lewis doesn't appear on the ledgers, neither does Cab Calloway, who allegedly was also in the studio and may have played saxophone with the band, according to Walter Foots Thomas. But no one has found any evidence on this assumption.
Read our article about Leroy Maxey for detailed information about this session.
Cab Calloway was alternating or doubling between the Missourians and the Hot Chocolates revue then touring (Pennsylvania, Brooklyn). He left the revue that gave him fame and came back for good to New York on March 28. That's just in time for the reopening of the Plantation Club, now located at the former Parody Club, on 48th and Broadway — i.e., far from the Harlem's underworld dangerous rhythms.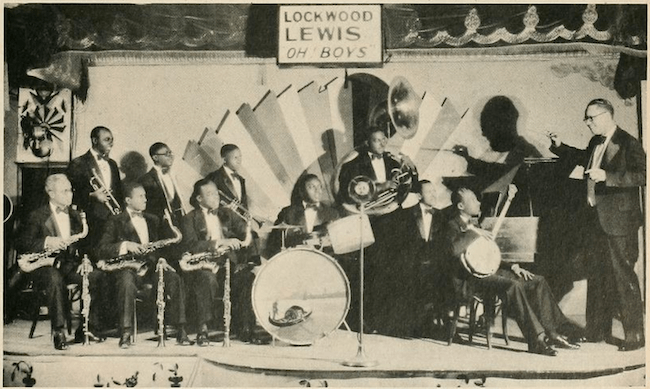 Lockwood Lewis and his Oh! Boys on the stage of the Savoy (source: Harlem on My Mind)
A new start with the "Oh! Boys" at the Savoy
April 19, 1930, New York Age announces: "Lockwood Lewis, the preaching saxophone leader (late leader of that sterling combination the Missourians, now playing on Broadway), has assembled a band and starts next week in the Savoy, replacing Sammy Stewart. We have not yet heard Lockwood's bunch, but knowing of him as we do, we will not be surprised to hear a well-rehearsed, evenly balanced combination to ripen into one of the best bands in town." With their new Savoy contract, the new band had just played at the Strand Ballroom in Philadelphia on April 17 and report says that it "compares favorably with any band that has appeared in this city recently." (Afro American, April 26, 1930). The name of the band might have confused journalists, since they write "Honey Boys" rather than their actual name "Oh! Boys."


Headline in Pittsburgh Courier, May 10, 1930
The May 14, 1930: the "Million Dollar Affair in Musical Talent"
Involving six orchestras, the Savoy ballroom organized one of its "historical" battles, this time with:
Duke Ellington and his famous Cotton Club orchestra
Fletcher Henderson,
Chick Webb,
Cecil Scott and his illustrious Joy Boys
Lockwood Lewis and his Oh! Boys [and NOT the Missourians!],
The Missourians with Cab Calloway [and NOT the Alabamians!].
Contrary to what Alyn Shipton writes in Cab's biography, Cab didn't play with the Alabamians there, but already with the Missourians. So, the famous "switch" of Cab to the Missourians didn't occur that night. Those interested would like to know that Fletcher Henderson won that battle that night.
In his oral interview by Milt Hinton, Walter Foots Thomas explains with harsh words for Lockwood: "We had a leader called Lockwood Lewis. He was a formal type guy, he would… he wouldn't… he didn't move much. He'd just start the band off… he didn't move much. So, I don't know whether Lockwood quit or what.
Hinton: Was Lockwood a musician or…?

Thomas: No, he wasn't… just some guy who stood in front of the band.

Hinton: Did he sing at all?

Thomas: No, [chuckles] he didn't sing. Maybe that night, in front of a young, screaming, dancing and gyrating Cab, the old Lockwood wanted to appear as a contrast one, he who was yesterday billed "eccentric…"
Alyn Shipton sums up the Missourians status with their new leader Cab Calloway:
"This was now undoubtedly a band that could tailor its performances for a record, but which clearly also had the skills to put on a live show that more than lived up to its sound on disc. Its only limitation was the vocalizing of Lockwood Lewis, who spoke rather than sang his lyrics with little of the extrovert dynamism that was audible among his fellow band members and that would be a vital part of Cab's act." (Hi De Ho, p. 39)
Yet BEFORE the May 14, 1930 battle, the Missourians had been definitely linked to Cab Calloway. They start to play at several clubs in New York, New Jersey, Baltimore, Washington and get their first tryout at the Cotton Club in Harlem on June 16, 1930, subbing for Duke Ellington, engaged in Baltimore that day.
But the story of Lockwood Lewis is far from ending, even if his path will be far from the big city and his fierce lights. Again, in June 1930, local newspaper indicates that Lockwood Lewis returned to Louisville after a successful engagement in the Big Apple. His transfer to Local Union No637 is deposited in July 1930, and defintiely acted in February next year.

"Direct from the Savoy", Lockwood Lewis is the new sensation there (Evansville Journal, October 4, 1930)
A new life begins (again)
Gathering musicians around him fin Kentucky or another orchestra went quite easy for Lockwood: he had been a teacher, a bandleader, a famous Harlemite with top bands at top venues. Rapidly, Lewis found engagements, less hip than in New York, less paid also. But he was able to maintain a professional career all along the Thirties.
Starting September 1, 1930, during a banquet of Elks in Lexington, Lockwood Lewis and his Twelve Aces provide the music and from October they were the attraction of the Green Lantern in Evansville, IN. Another Savoy venue, this time of Louisville, KY had Lockwood under contract. They even feature Thomas 'Sonny Boy' Williams and Rafael and Baby Mary, Apache dancers! And "may be reached at 901 W. Chestnut St., Louisville, KY" (Chicago Defender, Nov 8, 1930).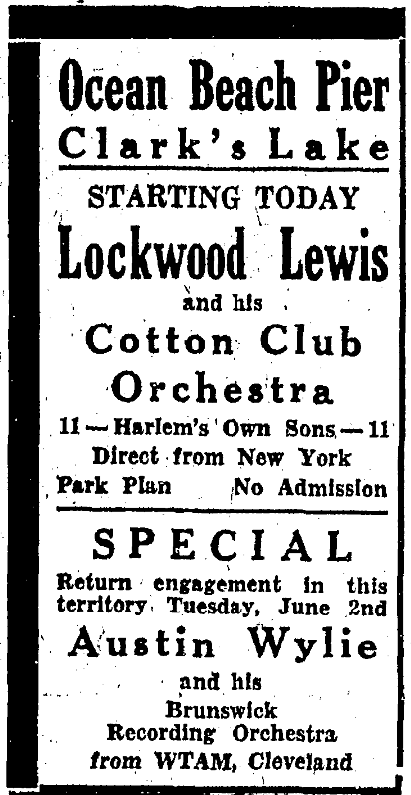 The bold Lockwood Lewis appears with his "Cotton Club Orchestra"
at the Ocean Beach Pier in Michigan (May 19, 1931, Adrian Daily Telegram)
A very surprising advertising (and rather inconscious move from a guy supposed to remain discreet after a mob raid) indicates that 'Lockwood Lewis and his Cotton Club Orchestra' play for the opening of the remodeled Ocean Beach Pier at Clark's Lake, MI. No raid happened that night and Lockwood was "allowed" to play!
A real manager, Lockwood purchased an 18-passenger Reo bus for touring the states of Ohio, Indiana, Kentucky and Tennessee, for dance engagements, featuring Lily LOAN, blues singer and entertainer. They even reached Clark Lake, Michigan, at the Ocean Beach pier for a ten-day stand in June 1931.
Interestingly, the Pittsburgh Courier's poll for September 1931 had Lockwood Lewis appear among the famous "Negro bandleaders", with a fair amount of votes, far above many other famous names…

The surprising poll that remembers Lockwood Lewis
(Pittsburgh Courier, September 26, 1931)
Maybe that recognition comes from the multiple audiences his band has on the Julia Belle Swain boat that runs nightly between Cincinnati and Louisville, during fall 1931.
1932 starts with "Your old friend Lockwood Lewis and his 11 New Yorkers" who play a barnyard dance for a local fraternity, promising to "feed the little chicks their corn and bran with his hot jazz and novelty songs." (Lexington Leader, Jan 31, 1932).
A missed reconnection with the Savoy in Harlem…
May 14, 1932, New York Age informs its readers that Lockwood Lewis "told his brothers musicians [in Louisville] that the orchestra he was going to join in New York at the Savoy Ballroom "had broken up." But the fact is that Duncan MAYER, leader of the [Savoy Bearcats] orchestra, after Lockwood's mysterious disappearance, hunted another sax player and started the job at the Savoy – where he is still working." The Savoy Bearcats were one of the first 2 orchestras that played at the Savoy in 1926 (the other one being Fess Williams). According to KB Rau, they were back with Buddy Murphy, Reunald Jones on trumpet; George Stevenson on trombone; Glyn Paque on alto and clarinet; George James on alto and barytone; Ray Bumford on tenor; Ralph Escudero –on bass; Tiny Bradshaw on drums, and of course Duncan Mayer at the piano.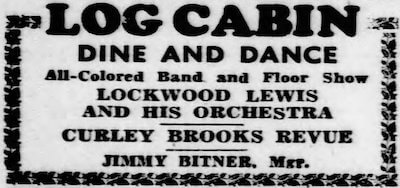 December 19, 1932 ad in the Courier Journal for the Log Cabin
entertained by Lockwood Lewis and his orchestra
In 1933, Harlem columnist for The Pittsburgh Courier Floyd G. NELSON Jr informs his readers that his "old friend and pal, Lockwood Lewis (…) has just opened with his orchestra at the Log Cabin Club, a swell ofay place and the goose is hanging high." (January 7, 1933). Indeed, Lockwood remained there for a few months, before settling down in 1934 at Bauer's Park, famous for its whiskeys, in Louisville. Operating as a liquor store, Bauer also had groceries, a restaurant, a bar, a park and… a dance hall.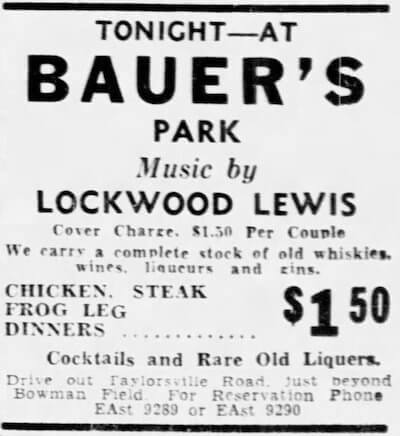 Frog legs... and Lockwood Lewis (May 5, 1934, The Courier Journal)

Steak, Chicken... and Lockwood Lewis (May 14, 1938, The Courier Journal)
In 1938, the Hill Top Tavern glorifies its "wonderful steak, chicken Country ham dinners" and, yes, they also have Lockwood Lewis and his orchestra! Fairs, balls, taverns and restaurants were the daily sets for Lewis and his band. When came the moment, he wanted to stop hunting for contracts and get a steady job.


May 1945 ad for the Cole Bros Circus where Lockwood Lewis
is the leader of the "Colored band and minstrels" side show attraction
(source: Bandwagon Vol 22 No 4, 1978)
On a new ring: in the circus business
Starting 1939, Lockwood joins the circus business, playing in Arthur WRIGHT's band on the Ringling-Barnum Side Show, and with the famous P.G. LOWERY's band (1941) on Cole Bros' Side Show. He then becomes the leader of the "colored band and minstrels" in the Cole Bros. Circus (1945-1946). The personnel in the band was: R.V. Lewis, tp; Pat Shelton, tp, sax, cl; George Tilford, sax; William 'Bo' Mills, Henry Grundy, tb; Ben Goodall, baritone sax; William Mays, bass; Noah Robinson, bass drum and comic; Robert 'Shufflin Sam' House, snare drum and stage manager). Lockwood Lewis later had the band on Biller Bros.' Side Show (1950). The lineup for that band included Charlie Hart or Hort Jones, second trumpet; Harrison Hall, bass; Druey Bess, trombone; Harvey Langford, trombone; Alrook Duncan, snare drum and traps, Billy 'Dee' Freeman, bass drum. For both orchestras, he led and played first trumpet and sax. In the band's repertoire, ironically, the tune Give My Regards To Broadway is a hit…
In the 1940 census, Lockwood Lewis lives in Jefferson, KY with his wife Frances. The old wounds from 1925 have long since healed.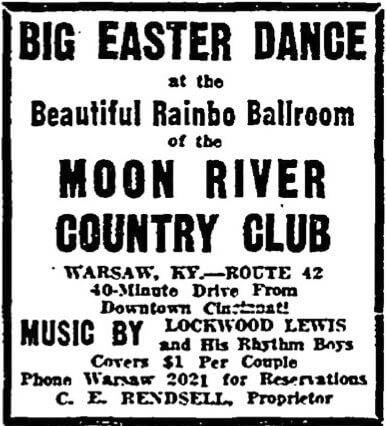 "Lockwood Lewis and His Rhythm Boys", one last attempt by the leader to form a band.
Note that in 1940, the mood in Warsaw, KY is rather different than in Warsaw, Poland...
(April 4, 1940, The Kentucky Post)
In 1948, always involved in the musicians' community, Lockwood Lewis presides over the colored section of the local union in Louisville (#637). Between seasons at the circus, he remains active in the last years of his life, playing saxophone with several other Louisville dance bands for special occasions.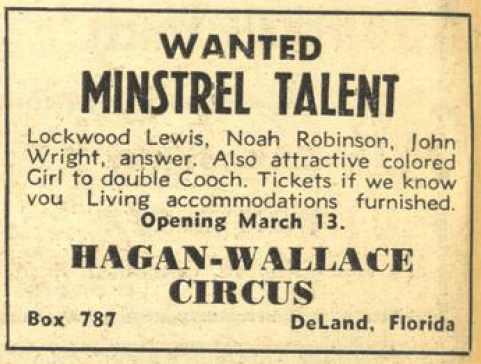 Recruiting talent: one of Lockwood Lewis's skills (Feb 1953 ad in Variety)
In 1953, Lockwood plays the spring season with the Hagan-Wallace Circus. He even recruits "minstrel talent," "also attractive colored girl to double Cooch." (Variety, Feb 21, 1953).
After the summer 1953, Lockwood Lewis starts a new season as director of the Side Show band on King Bros & Cristiani Circus. Next season he is supposed to go with the Beatty circus. His band consists in Alfred Brazley, Harrison R. Hall, James B. Johnson, Julius Shelton, William Wayman and Marie Williams, and the once famous vaudeville comedy dancer Jazz Lips Richardson (who was an act in Shuffle Along, who appeared at the Sunset Café in Chicago, and in the cast of Hot Chocolates in 1929 with Cab Calloway!).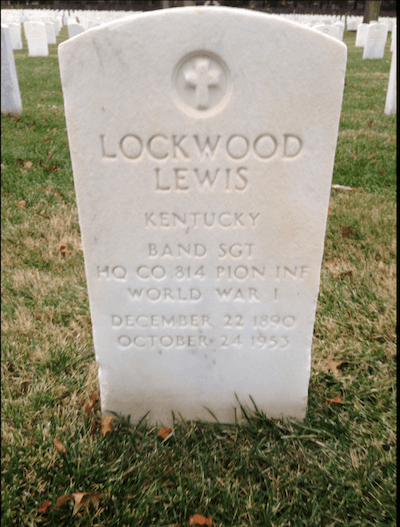 Lockwood Lewis's grave,
Zachary Taylor National Cemetery, Louisville, KY (source: Find a Grave)
A brass band leading his casket to his grave
In October 1953, Lockwood Lewis dies of a heart attack at his home, in Louisville. A brass band playing circus music accompanied him to his grave.
As written at the beginning of this article, shortly before his death, Lockwood Lewis told all his life to a friend, Everett Mock, who sent it to Playback, a jazz magazine published by famous American discographer Orin Blackstone, that ceased to exist before the article was published. The manuscript (without duplicate copy, of course) vanished then. So, The Hi De Ho Blog hopes that our article will persist a little longer online in order to pay tribute to another artist that everyone or so has forgotten. Not so much unlucky, but more an artist whose path was like a missing link between the Twenties and the Thirties, a man just on the edge of everything going on. Oh! Boy!
---
Sources and references:
Lynn ABBOTT, The Original Blues: The Emergence of the Blues in African American Vaudeville, University Press of Mississippi, 2017
Cab CALLOWAY, Bryant ROLLINS, Of Minnie The Moocher and Me, Thomas Y Crowell, 1976
John E. COX, John RANDOLPH and John HARRIS, The Jug Bands of Louisville, Storyville No156 (December 1993) and 160 (December 1994)
T.J. ENGLISH, Dangerous Rhythms, William Morrow, 2013
Thomas J. HENNESSEY, From Jazz to Swing, Wayne State University Press, 1994
John RANDOLPH, "Lucien Brown", in Storyville No47, June-July 1973
Allon SCHOENER, Harlem on My Mind, 1900-1968, Random House, 1968
Alyn SHIPTON, Hi-De-Ho, Oxford University Press, 2010
Stephanie STEIN CREASE, Rhythm Man, Chick Webb and the Beat that Changed America, Oxford University Press, 2023
Dicky WELLS, The Night People, Crescendo Pub, 1971
Bandwagon Vol 22 No 4, 1978 and Vol 33 No 5, 1989
And many articles from : Pittsburg Courier, The Courier, Evansville Courier, Variety, Billboard, Inter-State Tattler, New York Age, New York Amsterdam News, Baltimore Afro American, International Musician, and many more.
---
Once again, my deepest gratitude to Keller WHALEN