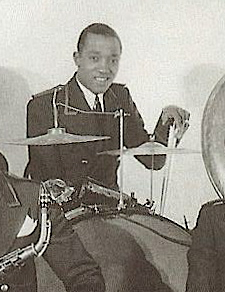 Leroy MAXEY (1904-1987)
Drummer in Cab Calloway's orchestra from 1929 to October 1938
Is there a curse for the Cab Calloway's musicians from the rhythm section?
Like Cab's first pianist, Earres Prince with Benny Payne, like guitar player Morris White with Danny Barker, like Al Morgan with bass player Milt Hinton, drummer Leroy Maxey remains in the shadow of his successor Cozy Cole. And yet, Leroy 'Cash' Maxey had long been the drummer of the Missourians when Cab took over as leader of the band. Jazz historians have since recognized him as a classic drummer, notable for his use of the bass drum pedal and his four-to-the-floor technique.
The Hi de Ho Blog will tell you what we know about the man who was a small star in his time, a great seducer (almost a bigamist) who was fired overnight by Cab because he couldn't play an up-to-date solo... + Vintage drummers specialist Nicholas D. Ball offers deep research on Maxey's playing and drum kit. A must-read!
---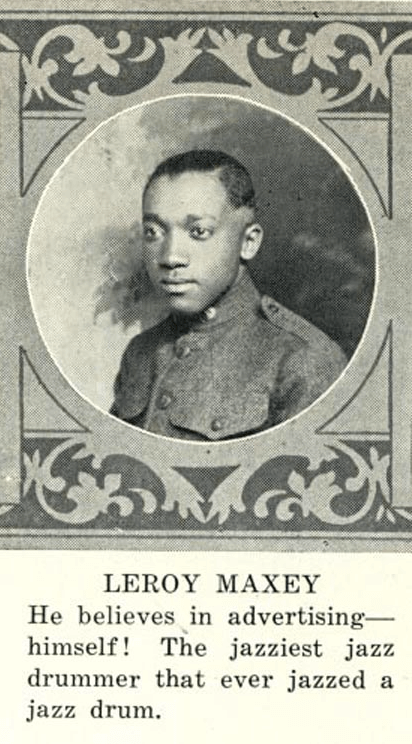 Born in Kansas City, Missouri, on June 6, 1904, undoubtedly a part Native American, Leroy grows up there with his folks. "He grandma and he sisters live heah now," a Negro waiter in a South Broadway hotel testified proudly Monday night. "He grandma an es'mable lady – most es'mable. I see Lee-roy today and have long talk with him. Posterity hasn't changed him a bit"" reports with racist stereotypes columnist L.L. in the white newspaper The Kansas City Star dated November 21, 1934.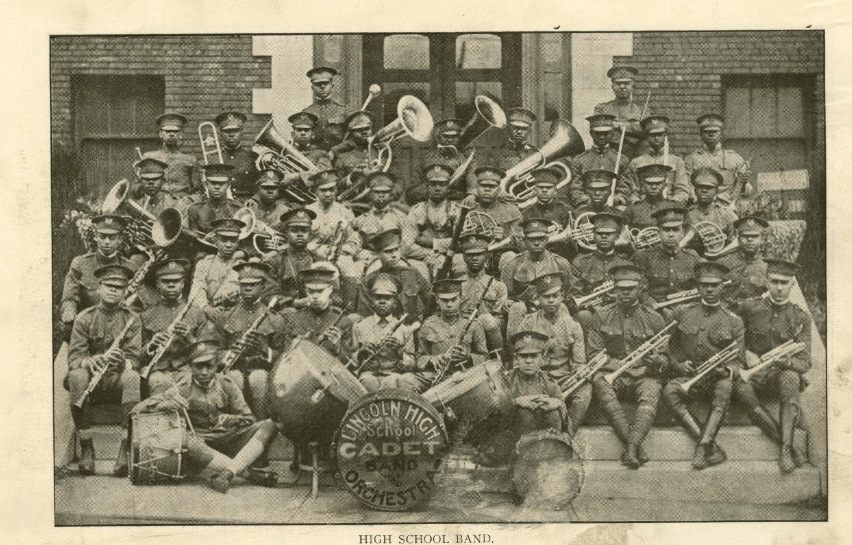 1920, Leroy Maxey (first row, seated with sticks in hands) proudly plays in the High School Band of Lincoln High School
FROM THE MARCHING BANDS TO THE TERRITORY BANDS
Leroy Maxey received a musical education from Major N. Clark SMITH (father of future tuba Jimmy Smith) at Kansas City's Lincoln High School, along with his buddies -- and future bandstands pals in many orchestras: E.B. DePriest WHEELER (trombone), Lammar WRIGHT (trumpet), Jimmy SMITH (tuba) but also other musicians of the first generation of Kansas City jazzmen like trumpeter Harry COOPER, sax player Eli LOGAN, tubist Jasper 'Jap' ALLEN, or bassist Walter PAGE.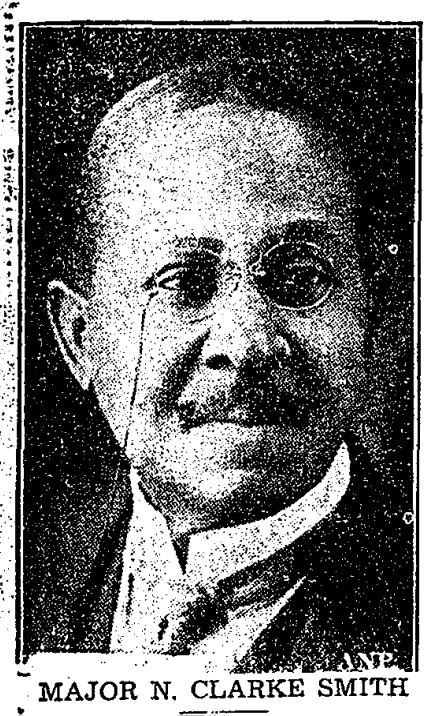 In Jazz Style in Kansas City and the South West by Russell, Ross, saxophone player Harlan LEONARD (1905-1983) remembers well:
"When I knew Major Smith he was a man past middle age. He was an American Negro. Most of his earlier life had been spent in the military service as a drum major and leader of military bands and he was supposed to have served in the Spanish-American war. After leaving the service I believe he was in show business for a while and had toured Australia with a musical group. Major Smith had a vivid and commanding personality. He was short, chubby, gruff, military in bearing, wore glasses and was never seen without his full uniform and decorations. His language was rather rough and occasionally slightly shocking to the few young ladies who were taking music classes, though never offensive. Major Smith simply ran a tight ship. He was the music tradition at Lincoln High School. He discouraged dilettantes and time wasters and encouraged talent. Major Smith was not an outstanding player himself but he knew all of the instruments and he could teach. He drilled the Lincoln marching bands until they were the best in the area, some said the best of their kind in the Middle West. He made music seem exciting and important and over the years Lincoln High won a reputation for turning out a steady stream of well-prepared musicians who succeeded in the profession." (…) After Major Smith retired another very fine instructor, Alonzo Lewis, took over and carried on the tradition that Major Smith had started and Lincoln High continued to turn out professional musicians. In fact some of them were to serve in the Rockets—Jimmy Keith, Jimmy Ross, and Charlie Parker."
One of Leroy's friends in high school, Harry COOPER (1903-1961) who was a first lieutenant in the Lincoln High School band and would become later a famous trumpetist and bandleader (see below), points out Major Smith's asset: "[he] possesses such power as to promote rapid development, and accuracy along the lines of reading music with rhythm, and harmony." (The Lincolnian, 1922)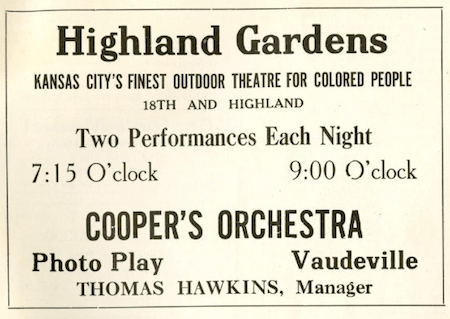 A 1922 ad in the Lincolnian for Harry Cooper's orchestra
The magazine for Lincoln High School, The Lincolnian dated December 1920 notices that "the Seniors and Juniors have furnished two splendid benefits (…) Through the influence of Major Smith several professional musicians from the city volunteered their services with the result that a splendid program was rendered." Among the program was Leroy Maxey with a xylophone solo. Along the years in photos showing Leroy's equipment, we can spot this instrument – but we never hear it on records.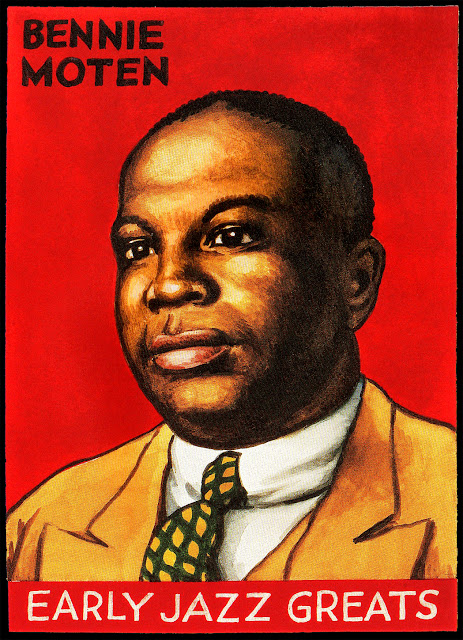 Bennie Moten by Robert Crumb
With Benny MOTEN?
In 1920, Leroy is supposed to be playing in Benny MOTEN's band. This happened to trumpet player Harry Cooper who also sometime played with local star George LEE. Unfortunately, I haven't been able to locate any confirmed information about this job that might have been a touchstone in Maxey's career, even if Moten was still a young bandleader then.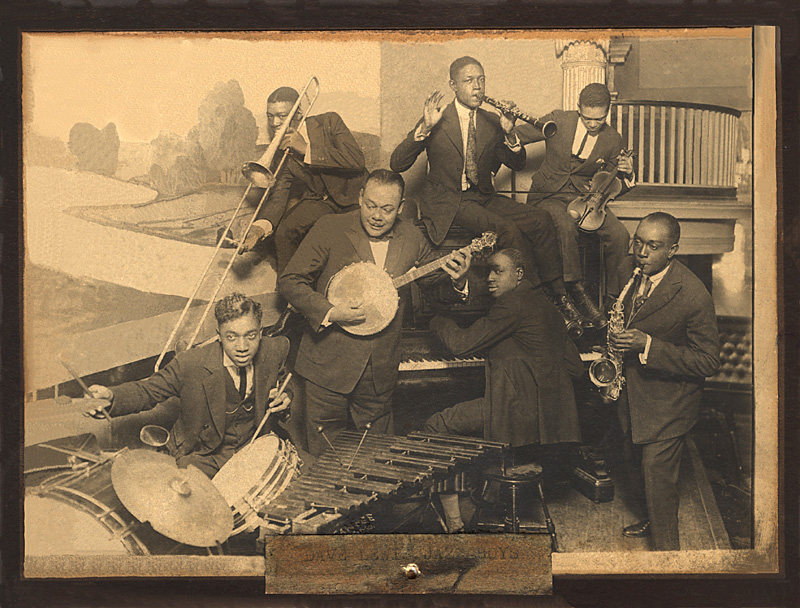 Leroy Maxey in the Dave Lewis (as) orchestra,
with E.B. DePriest Wheeler (tb)
(source: University of Kansas City)
With Dave LEWIS
Maxey's first musical steps were in marching bands and then he made his first appearance in Dave LEWIS' orchestra.
Originally from Chicago, saxophonist Dave Lewis was one of the first Kansas jazz bandleaders with the Jazz Boys, between 1917 and 1920. The 7-piece band included Leroy Maxey on drums and xylophone, E.B. DePriest Wheeler on trombone, Dave Lewis on alto sax, William Thornton Blue on clarinet, Walter Page on bass and others. Ross Russell in his book Jazz Style in Kansas City and the South West adds, "Lewis was a saxophonist and the band included Dude Knox, piano; Roland Bruce, violin; Bill Story, banjo; Lawrence Denton, clarinet; Leroy Maxey, drums; and DePriest Wheeler, trombone.
Frank Driggs and Chuck Haddix explain in their book Kansas City jazz: from ragtime to bebop: "The seven-piece band alternated between Lyric Hall and the McHugh Dance Academy, a spacious white-only dance hall at 15th and Troost. Short and stocky with a receding hairline, Lewis gave up his band in 1920 after losing the engagement at the Dance Academy. The manager of the Academy, impressed by a band featuring two saxophones playing at downtown theater, asked Lewis to add another saxophone. When Lewis declined, not wanting to split the band's meager take with another member, the manager fired the band. Discouraged, Lewis disbanded and returned to Chicago."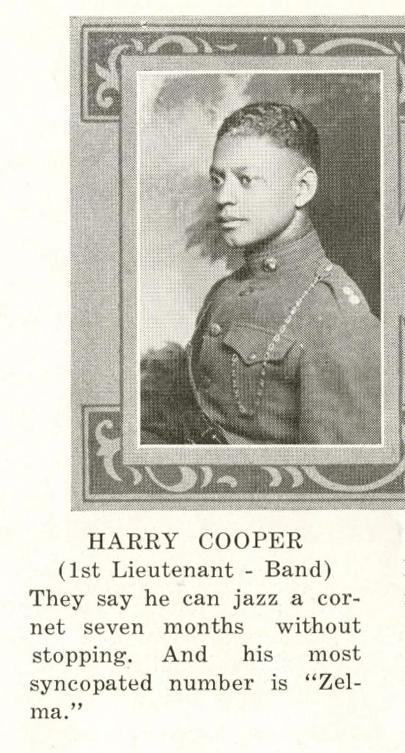 Harry Cooper in the Lincolnian, yeardbook of the Lincoln High School
With Harry COOPER?
Trumpet player and former high school friend Harry Copper led an orchestra on his own at that time. One could easily suppose that Leroy may have shared a few gigs with him.
Later, during the Cotton Club Orchestra's adventure, Cooper will come back to the bandstand and share several recording sessions with guys from the bands, associated to blues singers. K.B. Rau's incredible website details Cooper's discography.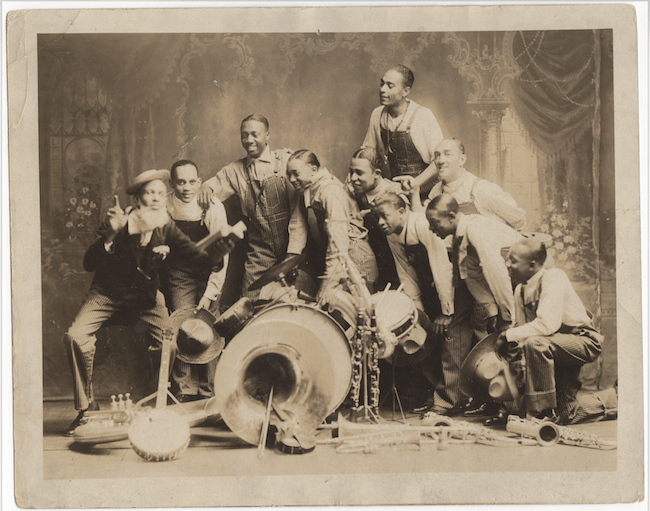 1924: The Wilson Robinson Syncopators (Leroy is the fourth from left)
R.Q Dickerson, Wilson Robinson, Earres Prince, Leroy Maxey, Andrew Brown,
unidentified, Morris White? (on top), E.D. De Priest Wheeler, Jimmy Smith (pointing), Eli Logan
FIRST SUCCESS WITH THE WILSON ROBINSON SYNCOPATORS
A couple of sources indicate that Leroy Maxey thus passed by the orchestra of Leon BASKET, but I've never been able to find any information on this band (only on a Russian artist "modern arbiter of elegance" named Leon Baskt).
Anyway, from the moment he became part of the WILSON ROBINSON SYNCOPATORS in spring 1923 replacing Elijah 'Lige' SHAW, Maxey started to meet continuous success. Wilson ROBINSON was a fiddler from St. Louis who had gathered around him DePriest Wheeler (tb), Earres Prince (p), Andrew Brown (cl), Eli Logan and Davy Jones (sax), Louis Metcalf, R.Q. Dickerson (tp), Jimmy Smith (b) and the drummer Benny WASHINGTON (according to Harry Dial in his autobiography) or Elijah SHAW. Anyway, Leroy Maxey who was already a sensation in the region soon replaced the latter. The orchestra, consisting of many friends playing together since high school, alternated from one season to the next between the Pantages vaudeville tours on the West Coast and the Orpheum theater circuit on the East Coast.
Variety, July 19, 1923, describes in details their routine at the Newman Theater, Kansas City:
"(…) The introduction of the act was played behind a full stage drop, showing a huge watermelon; the drop proved a transparency which disclosed the nine players seated in front of another melon, this time the picture being that of the rich red melon heart. The band consists of the following instrumentation — piano, violin, banjo, trombone, cornet, two saxophones and drums. The boys dress as plantation field hands, and their selections range from the old familiar tunes of the Old South, to the raggy, jazzy things of the present day, and they can play either kind. Each is a soloist and the work of the banjo picker and the drum artist brought them hearty applause.

For the closing number the bunch presented a burlesque on a Negro camp meeting, with the cornet player as the preacher and the others as the jumping, shouting and praying congregation. It was well worked up and the cornet fairly talked.

The old saying, 'Give a colored Performer a little applause and he'll work himself to death' proved true with this act, and they were generous with their encores and extra numbers."
A few days after, the band is at Hutchinson's Midland Theater in Texas. "The now famous jazz band" (as they are billed) "proved to be that great Jazz band you were waiting for, and now for three more days of real music from these Syncopators. Playing such numbers like Tiger Rag, Swahee Smiles, Seven Eleven, Muscles Shoals Blues and Yankee Doodle Blues".
Hendon Coy, in the Chicago Defender (September 9, 1923):
"Robinson's Syncopators, ten jazz masters, at the Lyric Theater, on the 'Pan' time, brought the best band of the season. The while dailies said they were the best aggregation of jazz artists seen in Indianapolis. Quite a bit to say in a playhouse like the Lyric, which is the home of prejudice, not even allowing a Negro to buy a ticket. Each member of the band doubles and stopped the show cold at each performance, taking as many as five encores. Much credit is due the band for an original idea in vaudeville. The band does an 'old-time camp meeting' with their instruments, which seem to talk. They call the congregation to prayer, do a bit of shouting, as the sermon from the instrument gets deeper and deeper, take up a collection and pronounces the benediction. Wilson A. Robinsons, leader and violinist; Charley Stamps, banjo; Ernest (sic for Earres) Prince, piano; R.Q. Dikson (sic for Dickerson), cornet; Andrew Brown, clarinet, oboe and tenor saxophone; David Jones, C-melody saxophone; Levi Loka (sic for Eli Logan), alto saxophone; De Priest Wheeler, trombone; James E. Smith, sousaphone; LeRoy Maxey, drums."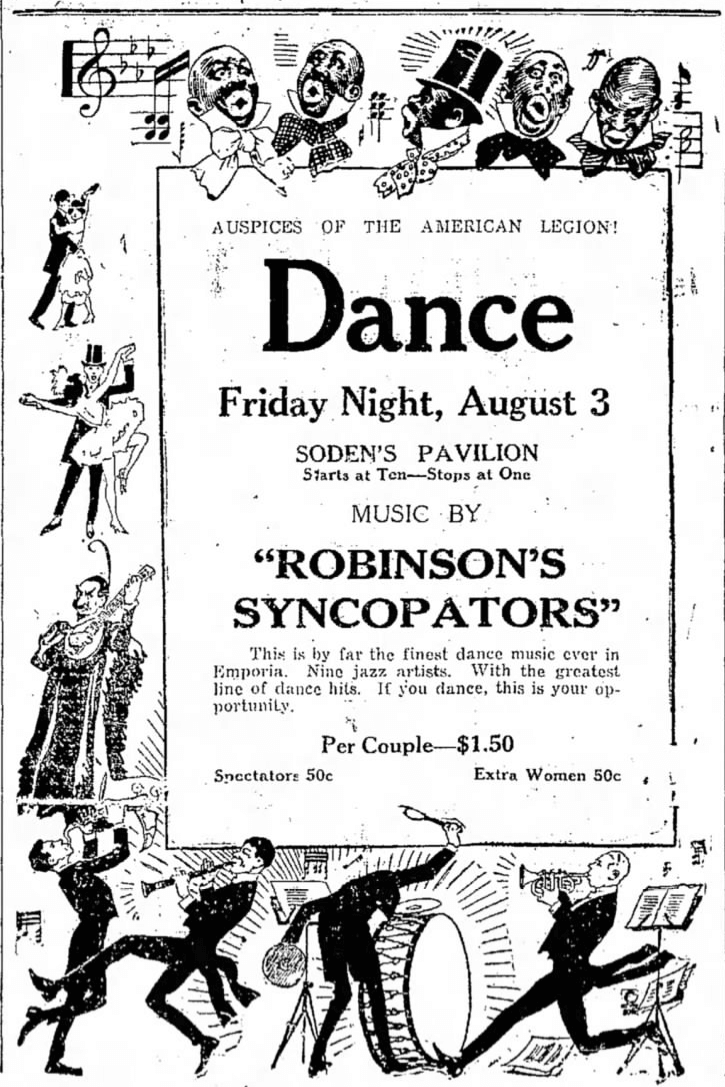 August 1, 1923 ad for the Wilson Robinson's Syncopators,
"The Greatest Jazzband on earth" who kindly stops to play in Emporia, KS
While touring the Pantages circuit on the West Coast and Canada, the Wilson Robinson's Syncopators stop the show as every performance, "as still as a clock". Billy Tucker in an article entitled "Coast Dope" published in The Chicago Defender, February 16, 1924 turns the lights on two musicians:
"Leroy Maxey and R.T. (sic for RQ) Dickerson are the features of the act. Dickerson is the lad who takes the part of the preacher and preaches his text via cornet route, he really makes his cornet pray. And that boy Maxey on trap drums makes you watch every move he makes. WARNING! Look out, Sonny Thompson, Peggy Holland [who taught Sonny Greer] and Sonny Morris, this boy, Maxey, is a find, he's red-hot. While Robinson's Syncopators are in California it will pay all of the jazz bands around here to catch their act."
The Syncopators will be successful enough to be noticed by critics and professionals… and the Cotton Club!
At the end of the summer 1924, James Smith and RQ Dickerson oust Wilson for unpaid raises. Both now manage the band.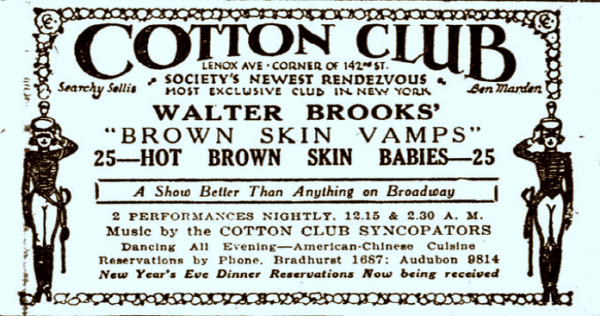 The Cotton Club Syncopators accompany the initial revue of the new fancy place (Womens Wear, Dec 13, 1924)
Courtesy Keller Whalen
WITH THE COTTON CLUB ORCHESTRA
Back in the New York area at fall, the Robinson's Syncopators are hired by the brand new Cotton Club in Harlem – which opened earlier that year in February. The band is quickly renamed the Cotton Club Orchestra, with variations according to the published ads. They succeed Billy PAGE's Broadway Syncopators and the female bandleader Ruby MASON who worked on the first shows.
"Brownskin Vamps" is the initial revue created by Leonard HARPER and Walter BROOKS accompanied by our bunch of musicians. Starting November 29, 1924, they are first billed as "The Cotton Club Jazz Fiends" and after "The Cotton Club Syncopators". In this lavish floorshow are the likes of Doc Strain, Edith Wilson, Alberta Hunter, Ada Brown, and The Leany Four.
Very quick, they start to broadcast over WHN from the Cotton Club, usually at 7:00 pm ("music for dinner" and after later and later at midnight) in December 1924. And from then on, they kept on playing on the ether waves thirty minutes, almost daily until they leave the Harlem Cotton Club for good, on December 3, 1927.
"Society has at last found a new rendezvous and nightly is crowding the Cotton Club at Lenox avenue and 142nd Street" as stated by Women's Wear dated December 6, 1924. Celebrities like Paul Whiteman, Sophie Tucker, or Texas Guinan run there almost daily. And indeed, being the band at the swankiest place in Harlem, and with success on the radio are two suitable reasons why the Columbia Phonograph Company soon signs the Cotton Club Orchestra and sends them to the studio as early as January 6, 1925.
The band who records that day consists in Louis Metcalf, R.Q. Dickerson, on trumpet; De Priest Wheeler, on trombone; Eli Logan, alto sax; Davy Jones, on a C-melody sax; Andrew Brown, on tenor sax. The rhythm section is Earres Prince (piano), Charlie Stamp (banjo), Jimmy Smith (tuba) and LeRoy Maxey on drums. Down And Out Blues and Snag ́Em Blues are Maxey's first canned tracks; they will be released in March. But a couple of musicians already recorded for one a famous blues singer and leader of the current revue, Edith WILSON, on December 17, 1924. According to discographies revised by KB RAU, the personnel behind the vocalist consisted in RQ Dickerson, DePriest Wheeler, possibly David Jones, an unidentified tenor and clarinet (Andrew Brown would make sense) and Earres Prince. Maxey wasn't called that time, certainly because drumming was an audio parasite when recording blues singers at that time.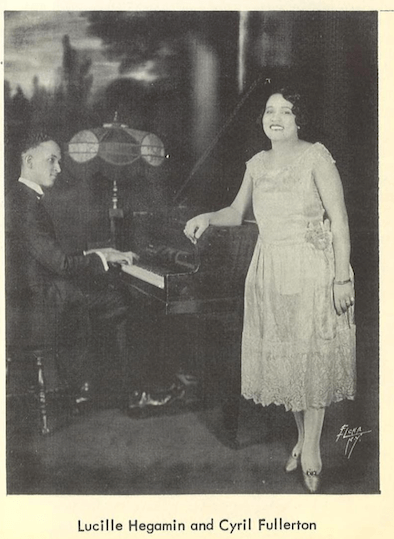 Source: Record Research #43
A second version of the Cotton Club revue starts in January 1925 and finds in the cast singer Lucille HEGAMIN, and soon to be famous Ivie Anderson. Maxey is possibly the drummer on the April 22ca, 1925 recording session with Lucille Hegamin for Cameo.
Walter Brooks and Leonard Harper who already wrote the previous revue are maintained as authors for the spring show simply called "The Cotton Club Revue". Danny Small, Marie Maxwell & Bert Chadwick, Bernice Ellis, Ivie Anderson, and Honey Brown light up the stage with songs like Out of the Way, The Dancing Fiends, A Touch of Charleston, Twilight on the Nile, and Barnyard Strut.
The revue will last until June, when the Cotton Club briefly closes till Sept 1925 for Federal prohibition violations.
At this moment, trumpeter Louis METCALF (who will later play with Ellington) joins the band to accompany versatile comedian Johnny HUDGINS's variety act.
---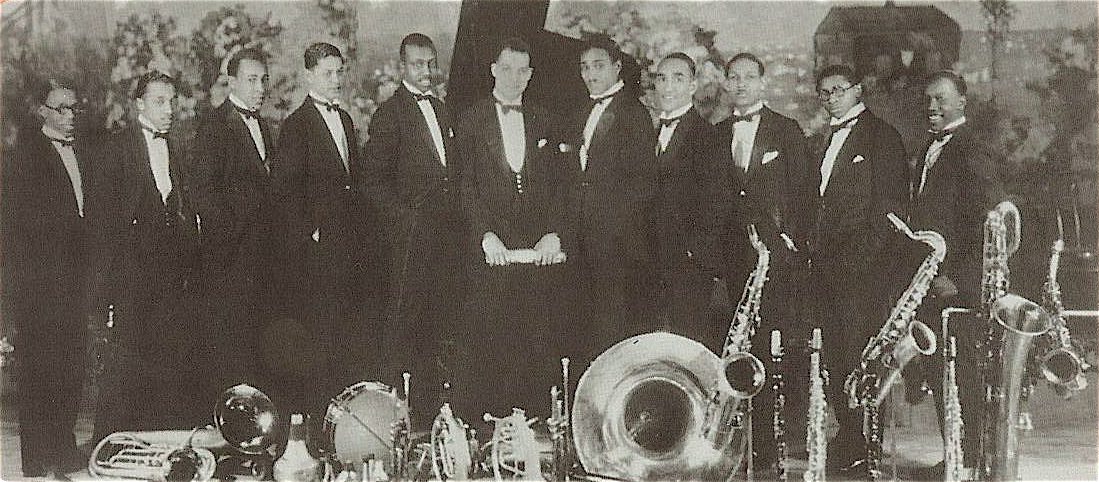 Andrew PREER, holding his sheet music, surrounded by (from left to right):
E.B. DePriest Wheeler, Leroy Maxey, Andrew Brown, Harry Cooper, Earres Prince,
Davy Jones, Jimmy Smith, R.Q. Dickerson, Charley Stamps, Eli Logan
Andrew PREER (1898-1927)
We haven't found the exact circumstances when or where the band meets their new leader and violinist, Andrew PREER. The fiddler isn't new in the show business but rather unknown in New York. "Mulatto" born in Escambia, Florida on March 2, 1898 (father Andrew is from Florida and mother Lillie from South Carolina), he's married to Maria Gallagher (born in 1899 in Pennsylvania) on April 18, 1919. They lived together in Cleveland (8717 Blaine Avenue and after at 371 Euclid Avenue). Andrew (or Andy or A.W. according to various press clippings) lived in Akron, OH at least until 1921. There he plays violin with Tony YATES orchestra, originally from Cleveland (Tony Yates, banjo; Herbert Fields, drums; Richard Cheatham, piano) in May 1920. How long did he play with the band? His name is not in the personnel noted by journalists in July 1921, Burton Howard having replaced him on violin.
In December 1921, Preer, accompanied by Fred Preer (brother or father?) celebrates the 59th anniversary of the freedom of the slaves playing a violin solo for the Second Baptist Church of Akron. What happened to Preer between 1922 and 1925 remains unknown to us.
His name first appears in October 1925, when Variety critic Mark raves about the new revue opened on the 14th. The journalist provides the whole line-up for the band: Andrew Preer, ldr, vln; RQ Dickerson, Sidney de Paris, tp; Walter Thomas, sax and cl; David Jones, sax; Earres Prince, piano; James Smith, tuba, Leroy Maxie (sic), drums; Charles Stamp, banjo. Note that they are still named for the show "The Cotton Club Syncopators". They have "become immensely popular through the engagement" during the first season there.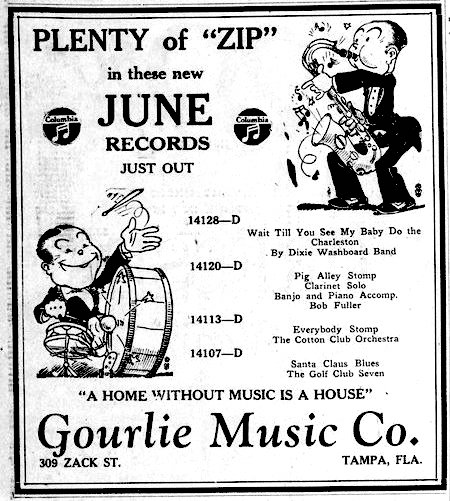 A May 1926 ad for a Cotton Club Orchestra record... without Andrew Preer's name...
Note also that on record, despite a session with him in November 1925 and press ads for revues at the Cotton Club with his name in print as early as January 1926, Preer will have to wait for Gennett No. 513 to read "Andy Preer's Cotton Club Orchestra" after his February 1927 studio visit for one title, I've Found a New Baby.
"Walter Brooks Revue" (Spring 1926, with Brown & McGraw, Eddie Rector, Ralph Cooper), "Brownskin Vamps Summer Edition" (Summer and Fall 1926 with Lew Paton, John Larkins, White & Sherman), and a fall revue with Lottie Gee, Leona Williams, White & Sherman keep the band busy for the whole year 1926.
In May 1927, during the "Breezy Moments In Harlem" revue (with Shirley Jordan, Leitha Hill, Leonard Ruffin, Eddie Burks, Aida Ward, Elida Webb, Mae Alix) Andy Preer suddenly dies. As told by New York Age dated June 4, 1927, Preer "was well liked by everyone who came in contact with him and was thought so well of by the management that they raised a very large fund for him. He was sent to Saranac Lake [probably for ailing tuberculosis since the place was notorious for its sanitarium and later had one building specially erected for artists] but without avail. Preer was brought back to New York where he died. (…) Interment was at Woodlawn."
---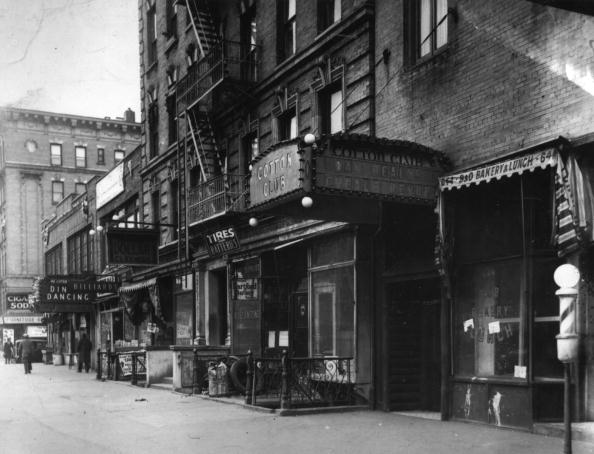 The Cotton Club in Harlem: the place to be.
After Andrew Preer…
Blushing Browns (with Cora LaRedd and Eddie Baker) in the fall was the last revue backed by the Cotton Club Orchestra before the recruitment for their replacement was fixed.
Meanwhile, in the competition between Harlem nightspots, during autumn, Small's, Club Ebony and the Cotton Club are renovated, thoroughly overhauled and rearranged as to specialty lighting for cabarets. Apparently, the mob wants to enhance the shows and attract more and more people from Manhattan.
In this process, from December 4, 1927, Duke Ellington starts his new engagement at the Cotton Club. It will last until 1931. When leaving for Hollywood, a newcomer will replace the maestro with alumni from the venue, Cab Calloway and the Missourians — but this story is told a few paragraphs below.
Despite their fame, the Cotton Club Orchestra doesn't find a new job as classy as expected. For the moment, they keep their name. First, they do several engagements between December 1927 and January 1928 like parties and dances in the Tampa area in Florida. Then the Whippet Supper Club in Rio Vista, FL appoints them for a couple of weeks.
They also have a date in Cleveland, OH and another one in Pittsburgh, PA.
On February 22, they share the stage of the Manhattan Casino in New York with "Duke Ellington and his Little Ellingtonians" (NY Age, Jan 28, 1928) for a dance organized by the Metro Club. What do they really share then: jealousy? irony?... It sure may have been a difficult moment for those who have been abruptly laid off from one of the fanciest venues… The main point is that surely at this moment, the Cotton Club management might have felt for good that the remaining use of the name "Cotton Club" for the former orchestra was an issue for the newcomer Ellington…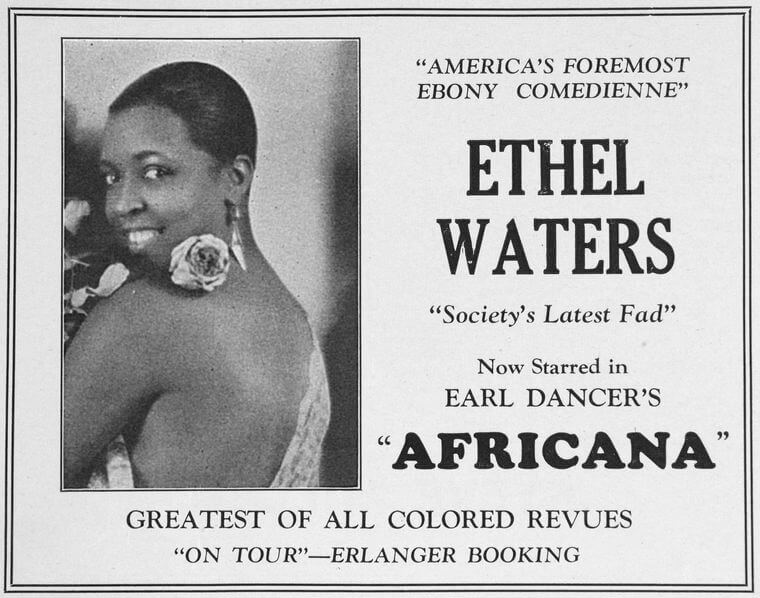 Source : NYPL Digital
With Ethel WATERS in the Africana touring revue
Their next gig begins in March 1928 and when they're selected to be the orchestra for the touring revue of Africana, created on Broadway with Ethel WATERS the previous year. It had been a very honorable success with rave reviews, admiring Ethel's talent. Earl DANCER – who is Ethel Water's husband – wrote and produced the revue.
The tour starts with the Adelphi Theater in Chicago for two weeks. Then they stay at the Schubert Theater, in Kansas City, MO. Thanks to The Kansas City Times dated April 10, 1928 the "local" stars are put under the light, since eight members of "the 'hot' jazz band in the pit and on the stage in 'Africana" (…) are from Kansas City. (…) Larmar [Lammar] Wright, formerly with Benny Moten's Victor recording orchestra here, plays the 'hot' trumpet with the 'Africana orchestra. Other Kansas City men include Archie Dickerson [in fact from St. Louis], DePriest Wheeler, Leroy Maxey, Charles Stamp [Stamps], George Scott, Walter Thomas and E.J. [A.J.] Brown. The six other musicians in the orchestra are from St. Louis".
Which means that 14 musicians form the band… Who are the six remaining ones? Jimmy Smith on tuba – who was precisely from Kansas City… and? Thanks to Howard Rye's precious work on International Musician that analyses AFM transfer deposits from one local union to another, we can catch – or suspect – few additional names that appears in the professional newspaper. During that period, we can cross the names of unknown fellows from St. Louis: Edward PHILLIPS, R.W. DICKSON (a white musician!), J. HARRIS but also the great and then notorious clarinetist William Thornton BLUE (read our full-length article). Other musicians who shared the bandstand at that period are Arthur B. BOYD (see below) and Walter LWELEY (from Philadelphia, PA). The surprise comes from two women in the band: Mrs. Loraine FAULKNER (from Milwaukee, WI) and cornet player Mrs. Diyaw JONES (from Philadelphia, PA – future mother of the first female trumpeter to record under her own name, Dolly Jones). The latter is noticed by reviewer of St. Louis Globe who gave a mediocre review of the show, keeping his lauds for her: "a woman cornet player who is almost the best bet of the evening." (April 30, 1928). Anyway, one of those ladies is probably the woman on sax in the picture shown after (Mrs Diyaw Jones also played saxophone like her husband). So many questions remain unanswered… The show fails to get advance booking and lays off for a week in Kansas City. Then the company moves to Milwaukee, to open the Orpheum Palace Theater. They stay there from April 22 to 28.
While the orchestra is in Milwaukee, Morris WHITE subs for Charley STAMPS, probably sick (information thanks to Howard Rye's notes from International Musician). Banjoist Morris White was already in the pit orchestra during the Broadway months of the revue. When the band arrives in St. Louis, Charlie Stamps comes back in July while the band is in St. Louis. Then, when the band arrives in Chicago, Morris takes over Charlie's seat right after his death (this corrects most of the discographies that keep Charlie Stamps' name in the Missourians 1930 recording sessions).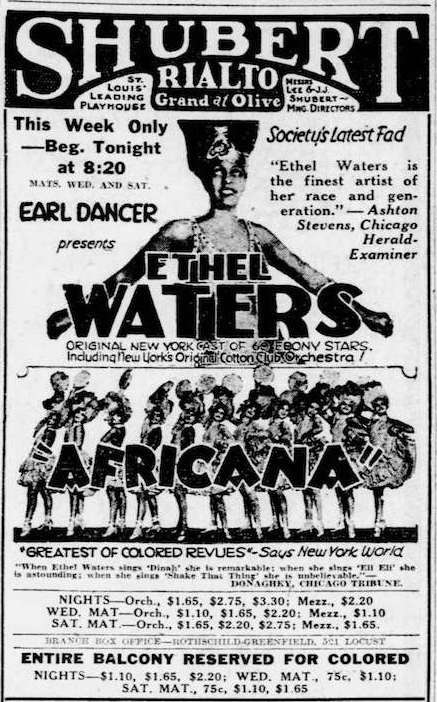 "Including New York's Original Cotton Club Orchestra" (St. Louis Post Dispatch, April 29, 1928)
Back to the end of the "Africana" tour. Despite the four pianos that go on and off stage during the show, the speed, the punch of the performers, when Africana appears at the Shubert-Rialto in St. Louis, all the accumulated issues during the tour make surface for good: and on the first row, the salary. The orchestra demanded the rest of their week's pay in advance, suspecting the lack of money in the ailing production. Earl Dancer refused and consequently, the orchestra refuses to play. The May 2 performance was canceled at the last minute. To the press, the morning after, producer Earl Dancer explains: "We had such a touch time in Milwaukee last week that when we got here I decided this would be our last week. Ethel Waters (the star) and I were going on the Orpheum Circuit after this week. We planned to take about 40 members of the 'Africana' company with us. But I was indiscreet. I let the news get out and the orchestra boys to know if I was going to take them, too. I couldn't afford to take more than eight, so the other five raised a row. They all belong to the union and they insisted I must take all 13. Thirst is an unlucky number, anyway, so I decided we couldn't afford any more hard luck. I refused to carry more than eight and they demanded their money before it was due. When I wouldn't pay they wouldn't play." The article goes on with the other side of the battle: "James Smith, manager of the orchestra, said he was advised by a member of the local Musicians' Union not to play after Dancer refused to advance his men $250 of the $1300 Smith claims would have been due them at the end of the week."(St Louis Post Dispatch, May 3, 1928).
Even if Earl Dancer claimed to be confident, the show never reopened and the curtain was kept down. Again 600 persons were told the performance was off and the St. Louis engagement definitely canceled.
Even when "The 1928 edition of Africana" was later performed again in Chicago, Pittsburgh and New York at the Lafayette Theater in June 1928, the producer didn't hire the strikers! But they were elsewhere already…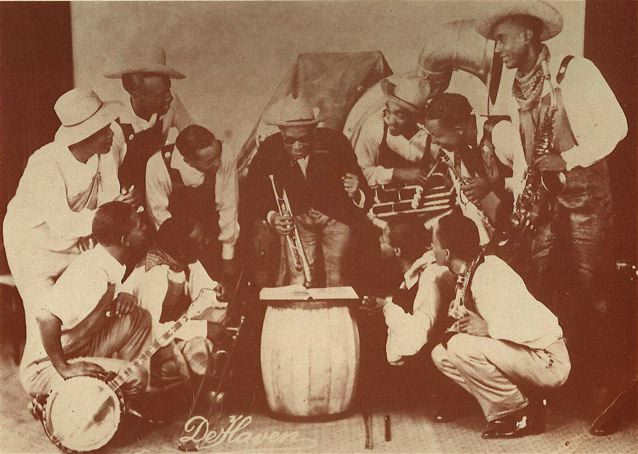 The Cotton Club Orchestra on tour
At the Dreamland Cafe, Chicago
The Dreamland Café, an 800-person-capacity dance floor and "one of the brightest spots on the South Side" in Chicago is the new harbor of the Cotton Club Orchestra from mid-May to the end of July 1928, with violinist Arthur BOYD as the leader (see below). Our men replace Klarinet King and his orchestra who closed their season's engagement and are supposed to come back in September. But first, the Dreamland Café is famous for having featured the likes of King Oliver as the house band, and Louis Armstrong backed by his wife's orchestra, "Lil Armstrong's Dreamland Syncopators" in 1925.
---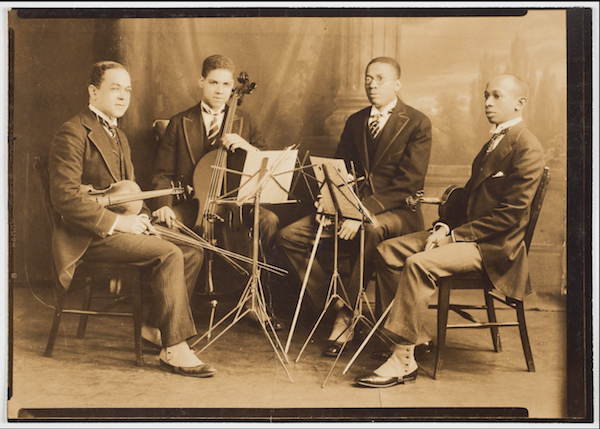 The Negro String Quartet, 1923. Arthur Boyd is far right
Arthur BOYD
"Long hair" musician from New York, active between 1910 and 1957 at least, Boyd was a violinist who was previously (1923) and after in the famous Negro Swing Quartet led by Felix Weir – the one who led the Black Birds Orchestra with Edwin Swayze (see our article, Part 2).
---
The Cotton Club Orchestra's success is immediate: "La Rue's [new manager of the place but who will "suddenly" resign during their stay] is hitting on all six these days. Packed houses are common occurrences nightly. The Cotton Club Orchestra is probably the draw here. Percy Venable has the revue." (Chicago Defender, June 23, 1928) They play "scintillating music" (Chicago Defender, July 7, 1928) and radio listeners appreciate their music every night between midnight and one o'clock, live from the café. This kind of broadcast leads them to play more popular songs and tunes, and widen their repertoire.
Dave Peyton, from The Chicago Defender writes on May 26, 1928: "Another real orchestra is housed in La Rue's Dreamland Café and they hail from New York City. They carry the label of the Cotton Club Orchestra where they made their reputation in the great metropolis. Their musical rendition reminds one of the Famous Café de Paris orchestra. Their playing is soft and sweet. They do not indulge in that disagreeable blatant style of dance playing. They are a good floorshow players too. In the orchestral line-up are James Smith, manager; R.Q. Dickerson, DePriest Wheeler, Lamar Wright, Leroy Maxey, Andrew Brown, Walter Thomas, George Scott, Eris Prince, Morris White and Arthur Boyd, leader." According to International Musician dated July 1928, Misses Loraine Faulkner (587) and Dorothy Jones are supposed to be in the band too. Later, The Chicago Defender dated December 15, 1928 will tell that a lady named Dorothy Jones from Columbus, OH, that she "wants to hear at once from the New York Cotton Club orchestra, now en route with the act of Brown and McGraw." Another female musician totally forgotten by Jazz historians and aficionados.
When the Cotton Club Orchestra leaves the Dreamland Café, Tiny PARHAM and his six-piece orchestra fetch the bandstand.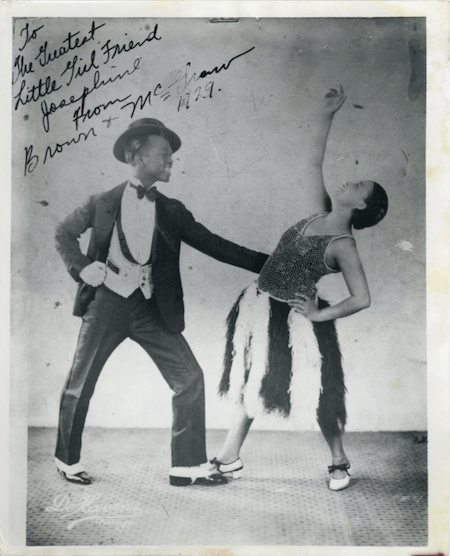 Herb BROWN and Naomi McGRAW
With Herb BROWN and Naomi McGRAW
The next big move for the Cotton Club Orchestra is their association with the vaudeville duet, Herbert Brown and Naomi McGraw. I haven't found any mention of Brown and McGraw already playing at the Dreamland Café during June and July (in May, they played the Regal Theater along with Blanche Calloway and backed by Fess Williams).
Indeed, while they are in Chicago at the Dreamland café, The Cotton Club Orchestra also plays the Majestic (only billed as "a band") with Brown and McGraw, doing their usual routine of the camp meeting but Variety's reviewer Nat S. Green writes "the best part of the act was a pair of hot dancers boy and girl, who let loose some torrid stepping that should win them speedy recognition." (Variety, July 21, 1928).
---
Herbert BROWN (1899-1944) and Naomi McGRAW (1901-1968)
was a husband-and-wife eccentric dance team, originally from New Orleans. Louis ARMSTRONG accompanied them, on stage (and not from the bandstand) at the Sunset Café in Chicago, in 1926-27. As stated by Brian Harker in his essential article "Louis Armstrong, Eccentric Dance, and the Evolution of Jazz on the Eve of Swing": "Dancers Brown and McGraw had Armstrong's lines notated in an arrangement, allowing them to hire other trumpet players to accompany them whenever they went out on tour. They were known for a dancing style that was fast, acrobatic, and unpredictable-attributes" In our Cotton Club orchestra, that was probably the part of R.Q. Dickerson. Brown and McGraw knew very well the Cotton Club Orchestra since they danced at the Harlem Cotton Club between October 1925 and spring 1926 for two consecutive revues. Brown even sued the Cotton Club for breach of contract.
In the summer of 1928, the propulsive fame of the routine with Armstrong was progressively fading out. It lasted until 1931 when the duet became a trio. The trio, consisting of Herbert, Naomi and Miss Marcelle Wilson was even hired in the summer and fall 1932 revues of the Cotton Club, led by… Cab Calloway! Soon, young prodigies, considered as Brown and McGraw's heirs, would be the new stars of the dance stage: the Nicholas Brothers.
---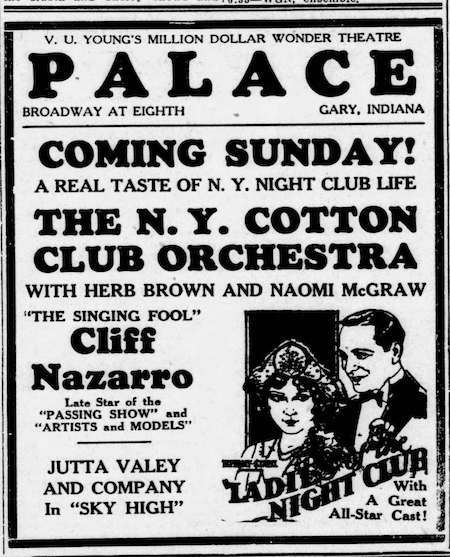 The Times, Gary, IN, Aug 4, 1928
Anyway, the Cotton Club Orchestra started to tour the "junior Orpheum circuit" with the successful eccentric dancers in July 1928 at Gary, Indiana, as "a taste of real new York night club life" according to The Times (Aug 4, 1928). Eleven musicians (as told by the article) back "Herb Brown, (…) recognized as the 'Ace of Modern Dances,' while Miss McGraw is a talented miss whose wining personality and nimble feet help to put over his numbers in a most pleasing manner."
Late August, they play the Capitol in Davenport, Iowa, titling their appearance as "New Rhythm". Numbered 12, the Cotton Club Orchestra continues the "New Rhythm" revue next in Rockford, Illinois, also for a 2-day engagement. Right before the Orpheum in Wisconsin where they stay for almost a week with pleased audience but mixed reviews. They appear in Indiana: at the New Orpheum in Sioux City, starting September 13; then, the Grand Theater, of the Orpheum circuit in Evansville welcomes them on September 20-21; right before the Keith-Albee's Indiana Theater in Indiana.
After Indiana, that's Michigan! While they perform in Lansing, in early October, at the Strand Leroy is noticed by the journalist: "And speaking of drummers – the world's best drummer is positively located. He is with the Cotton Club orchestra. He looks as though he'd like to give every cent he's got to pay for the privilege of sitting there and aiding in the melody. He deserves all anybody cares to hand him for that job. For he's very, very smart." ("Jazz Music Par Excellence Offered by Cotton Club Orchestra at Strand", Lansing State Journal, Oct 5, 1928).
Flint, at the Capitol; Pontiac, at the State; then they come back for another 3-day gig in Flint. Reviewer writes: "The Cotton Club Orchestra comprises eleven talented melody makers whose rendition of popular number fills the air with a brand of red hot music." (The Flint Daily Journal, October 11, 1928). The Bijou in Battle Creek is a 4-day gig with 4 performances per day!
The won't stop more than 3 days in South Bend, Indiana, St. Paul, Minnesota, Bloomington, Indiana, Terre Haute, Indiana…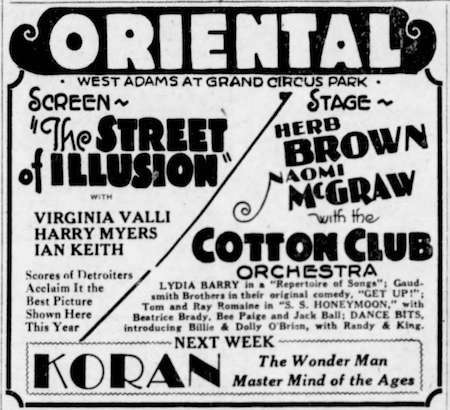 Detroit Free Press, November 12, 1928:
one of the last time the Cotton Club Orchestra is billed with this name...
They're all in Detroit, at the Oriental from November 11 to 16, before heading to New York State in Syracuse, from November 25 to 28. Schenectady, NY is the last stop at the Proctor's before the big Apple. At that time, everyone might be exhausted, even the publicist who basically bills them on the ad "It's different."
Approaching New York this way prepares the path to a nice welcome back. This will happen in December 1928 at the Savoy Ballroom, with Lockwood LEWIS as the new leader. And the orchestra will adopt a new name: The Missourians.
---
Part 2 will be about The Missourians, and the first years with Cab Calloway + insights by Nicholas D. Ball
---