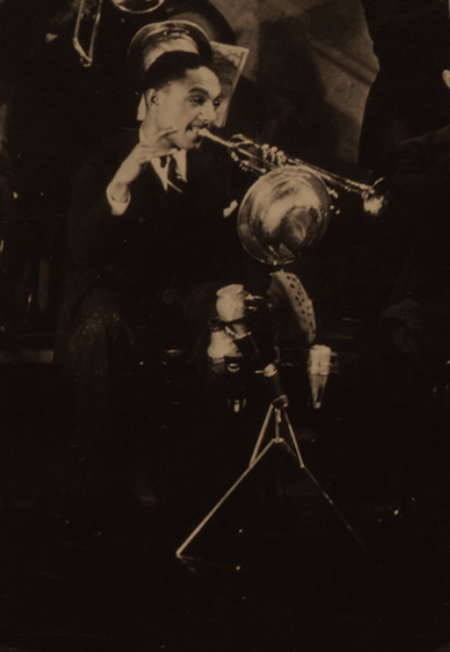 Edwin Walter SWAYZE
(June 13, 1906, Marshall, TX – January 31, 1935, New York, NY)
Nicknames: "King", "Ravoy" or "Son"
Trumpet in Cab Calloway's orchestra between July 1931 and January 1935
Crowned "The King", inspired by King Oliver, leader of his own band for a while, famous for composing Jitterbug, noted soloist on muted trumpet and high notes, Edwin Swayze is a musician who deserves to be rediscovered for his intense career that started in Arkansas, made him a bandleader, lead him twice to Europe, and ended abruptly at only 29 during a stay the world-famous Cotton Club in Cab Calloway's orchestra.
---
Part II: In Paris and Holland
with the Blackbirds and the Plantation Orchestra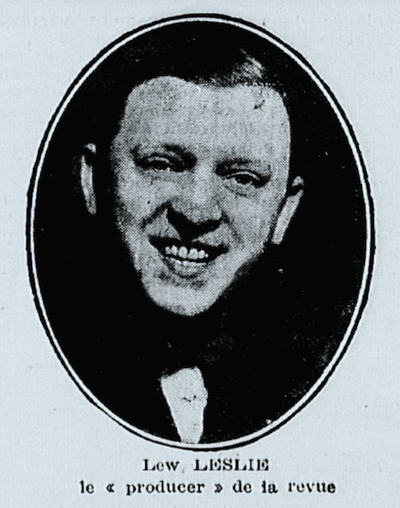 Lew Leslie, producer of the internationally successful Blackbirds
(in La Semaine à Paris, June 14, 1929)
In January 1929, renowned producer Lew LESLIE (1888-1963) announced that he would travel to Europe in order to settle arrangements for gigs in Paris and London for his revue Blackbirds. Blackbirds of 1926 had been a tremendous success in Europe in 1926 with the late Florence Mills heading the revue. Now, members of both the Boston and New York companies would merge to create the European one. In March, the director of the Parisian theatre Les Ambassadeurs (where the Revue Nègre opened in 1925) came to see the show on Broadway.
In May, many changes are made to the personnel, with transfers from n°1 company to the one who plays in Philadelphia. Besides the comedians, singers and dancers, journalist Maurice Dancer explains in The Pittsburgh Courier (May 4, 1929): "Five of the regular show musicians served notices on Leslie that they were leaving, claiming Leslie had promised them more money and had never made good. All five have signed with Noble Sissle to open at the Ambassadeurs in Paris on May 15. These musicians, [Jesse] Baltimore, drummer, who has been playing with Leslie for years with companies in Paris, London and Germany; Pike Davis, first trumpet, another vet; Jack Smith, banjoist; Johnny Dunn, second cornetist, had no contract with Leslie, having worked year in and out on a verbal understanding only."
What a tremendous opportunity! With two missing cornetists in the orchestra, Edwin Swayze probably took his chance and made his way to be hired for Leslie's band. Nevertheless, as we told before, he recorded with Chick Webb on June 14 and 27. So, when did he leave US to join the troupe in France? The passengers' lists remain wordless on his travel across the Atlantic. Indeed, Edwin was recording in New York while the Blackbirds company was already the craze in Paris with its revue at the Moulin Rouge.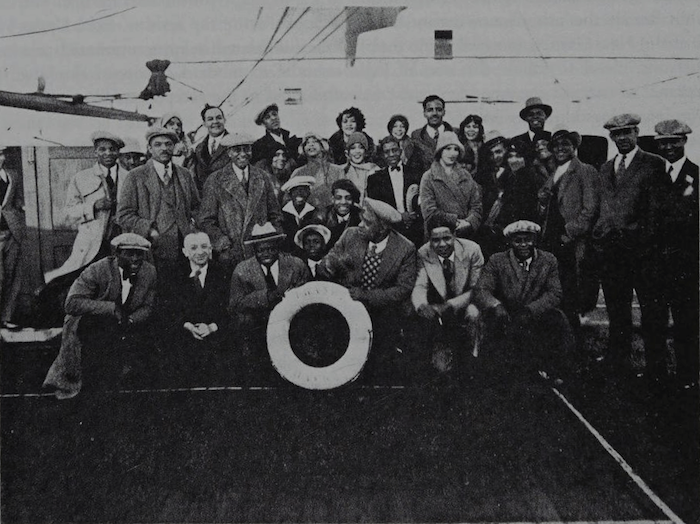 The Lew Leslie's Blackbirds on board the French liner France
(in the French magazine Documents, n°4, 1929).
Pianist Benny Payne, who will later play in Cab Calloway's orchestra,
is seated in front, second from right.
---
The Blackbirds fly to France
---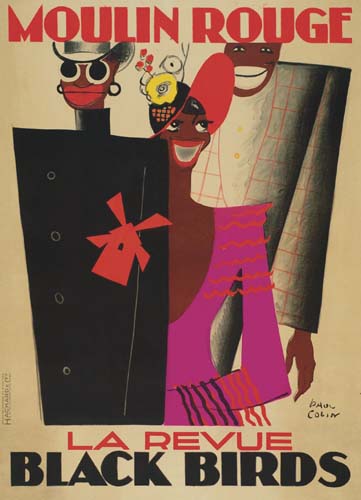 Original poster for the Parisian edition of La Revue Black Birds
by Paul Colin (who previously designed La Revue Nègre posters in 1925)
End of June 1929-September 1, 1929
Blackbirds at the Moulin Rouge, Paris, FRANCE
As Howard Rye writes in his long study The Blackbirds and their Orchestras (Storyville #112, April-May 1984), with Adelaide Hall on top billing and who became the craze of Paris, "the production left New York on 25 May 1929 [aboard the liner France] to open at the Moulin Rouge, Paris, on 7 June 1929. This engagement with the orchestra conducted by violinist Felix Weir, lasted about three months. A projected transfer to London did not materialize and by late September cast members had returned to New York."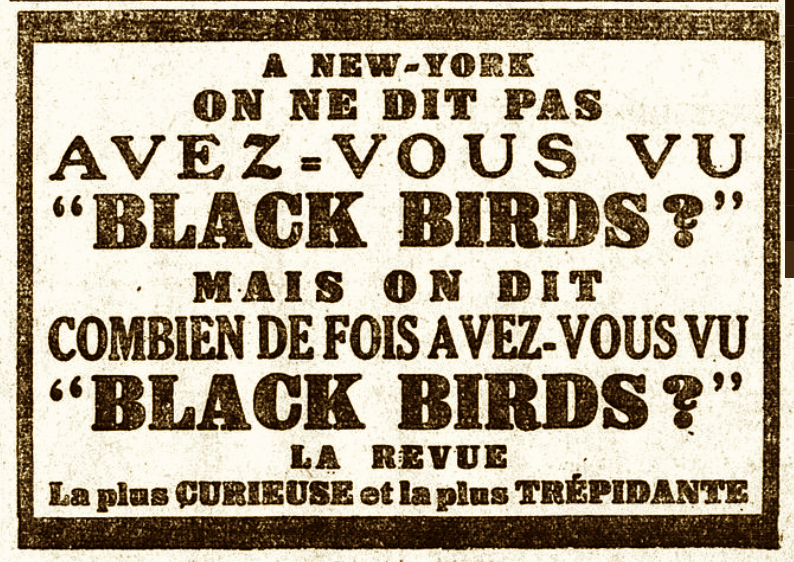 Before the premiere, ads are already in the Parisian newspapers:
"In New York, we don't say 'Have you seen The Blackbirds?'
but we say 'How many times have you seen The Blackbirds?'
the most odd and shivering revue". (L'Intransigeant, June 1, 1929)
"The troupe is lodged at the Hôtel du Mont Joli, 8 rue Fromentin and after the show, they entertain themselves in the surrounding clubs, rue Fontaine and rue Pigalle, especially at Bricktop" notes Philippe Baudoin, jazz musician and specialist in the history of Jazz in Paris.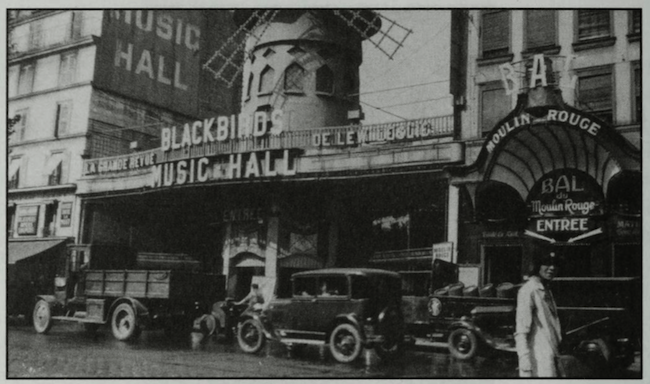 The marquee of Le Moulin Rouge in July 1929
(source: "Elisabeth Welch, Soft Lights and Sweet Music", by Stephen Bourn)
"When we enter the Moulin-Rouge, we must forget all that we have seen up to now at the theater and the music hall, and not remember the Revue Nègre at the Champs-Elysées, four years ago, and the first Blackbirds of the late Florence Mills at the Ambassadeurs, to make us a new and ingenuous soul and to abandon ourselves without restriction to the animal pleasure of being taken for two hours in a whirlwind of strident, hectic, jumping music, dances, shouts, songs, following one another without any rest in a crazy rhythm. Each scene, which raises storms of applause, is immediately followed by another one, which will have the same success. The artist who was the star of the previous scene is only an extra in the next one. The whole company, moreover, gives itself with a frenzied spirit, takes part in the game with a kind of frenetic and beastly joy." (P.G. in L'Echo de Paris, June 24, 1929).

The night of the premiere, Josephine Baker's French rival Mistinguett, Jean Gabin
(who starred together in the previous 1928 revue "Paris qui tourne" at Le Moulin Rouge),
and Maurice Chevalier, are among the top French stars who attended.
While the critics are astonished by the quality, the variety of the performances on stage (Clayton Peg Bates, the Berry Brothers, Earl Snakehips Tucker, Tim Moore with Mantan Moreland, Eddie Rector, Aida Ward…), the blues singer Adelaide HALL is definitely the star of the show, and "the darling of Paris".

Adelaide Hall photographed in Paris by Waleri who previously shot her rivals:
Mistinguett, Josephine Baker… en even the spy Mata Hari.
"Enveloping the show from one end to the other is the extraordinary jazz of the Plantation orchestra, which is undoubtedly one of the best we have heard. Those who want to ignore the contribution of jazz to the renovation of music, but who reject its distorting excesses, should go and listen to and watch this plethora of black and white artists! They will quickly change their minds," writes enthusiastically the French journalist Jacques Chabannes for the magazine La Rampe (July 1, 1929).
The Dutch correspondent in Paris writes in a rave critic of the revue: "The tension, which in the ordinary revue only the girl-evolutions exude, is nowhere interrupted. All pauses are rhythmically filled and even the intervals between authentic time applause are elastically absorbed by the music, which never ceases its exhilarating effect. The Plantation orchestra, well known from the phonograph, performs its task in an excellent manner. It may be that at some points the trumpet blasts are too overwhelming for a Parisian mouse hall, but the accompaniments are limited to a muted saxophone and piano or carillon double keyboard, so that nothing is lost of the strains. What puts this revue ahead of the first Negro spectacles is its rare ensemble. Rarely has such exemplary unity been seen." (De Telegraaf, July 24, 1929).
While Will Vodery in New York led The Plantation Orchestra with music arrangement by Russell Wooding, the Parisian band has violinist Felix Weir as the conductor (although Herb Flemming wrote that he co-led the orchestra with Allie Ross. The latter, in fact, refused to go and stayed in New York, conducting the orchestra for the revue Bamboola, after having led the first and second companies of Blackbirds). French newspaper L'Intransigeant, as reported by J. A. Rogers in The New York Amsterdam News (July 10, 1929), "lamenting the invasion of the French music by foreign artists" admits that "even the jazz is not uniformly aggressive; it is calm and shows itself capable of sighing romance."


The artists on stage and the pit orchestra led by Lew Leslie in Le Quotidien, June 16, 1929
An Afro-American article dated August 24, 1929, where columnist L. K. McMillan reports his evening in Paris, attending the show provides precious and unheard information: "The accompanying jazz orchestra is about half colored and half white. The director is a white man [in fact, only for the night of the premiere, Lew Leslie conducted the orchestra, as seen on the illustration above. For the remaining evenings, Felix Weir led the band each performance]; the wind instruments and the drums and the piano are manned by Negroes and the string instruments by whites. On the left of the director are seated the whites and on the right the colored. One exception is the man playing the bass horn; he sits on the left of the director. Another distinction between the races in the orchestra is that the Negroes wear red ties and grayish brown suits while the white men wear white dress shirts and semi-dress clothes."
According to Herb Flemming who mixes up the 1926, 1928 and 1929 Blackbirds orchestras and tours plus the Noble Sissle orchestra in his memories, the musicians of the Plantation Orchestra who played at the Moulin Rouge were:
• Trumpets: Pike Davis (no, he left the band as explained above to play with Sissle), Demas Dean (https://en.wikipedia.org/wiki/Demas_Dean in fact he played with Sissle at the Ambassadeurs), Luke Smith, Edwin Swayze
• Trombone: Herb Flemming (see following part below)
• Clarinet, alto, flute: Albert Socarras (the one who later led the continuity orchestra at the Cotton Club in Manhattan)
• Violins: Lorenzo Caldwell (who played with WC Handy in 1919!), Felix Fowler Weir (born in 1884, already active in 1895 as a child prodigy, and whose long hair – the Negro String Quartet – and jazz career spans until de Forties)
• Violin and viola: Lloyd Pinkney (who in fact played piano in 1930 in Paris with Noble Sissle and his Sizzling Syncopators)
• Cello: Leonard Jeter (who played with his sister pianist Olyve with Felix Weir as the Weir-Jeter trio in the Twenties, until a few days before sailing to Europe)
• Piano: George Rickson (no, he was in the Broadway show in New York and didn't sail to Europe).
• Brass bass: King Edwards (probably Edwards Cole who played with Noble Sissle).
• Drums: Jesse Baltimore (no: like Pike Davis, he quit before leaving New York, to play with Noble Sissle at Les Ambassadeurs in Paris).
Among the musicians I've identified with certainty are: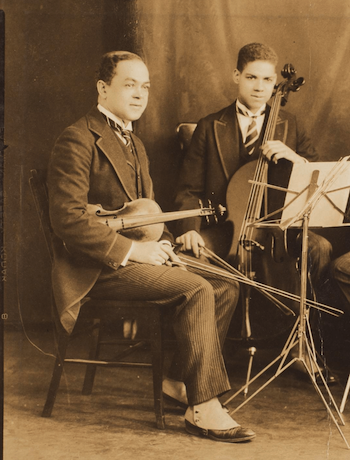 • Felix Fowler WEIR (1884-1978): violin and leader whose career has already been partly told here (https://en.wikipedia.org/wiki/Felix_Weir) and here (https://www.blackpast.org/african-american-history/negro-string-quartet-1920-1933/); but there would be much more to write about that gentleman who started at 10 as a child violin prodigy, led several 'colored' orchestras and helped to break racial barriers with classical music.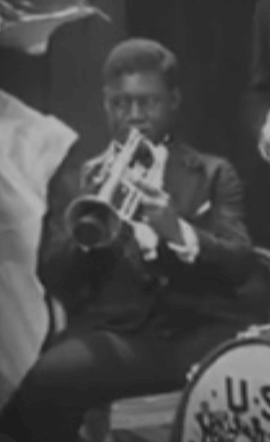 • Arthur BRIGGS (April 9, 1901-July 15, 1991): The trumpeter had traveled to England in 1919 with William Marion Cook and was one of the very first Afro-Americans to settle in Europe (Belgium, Germany, Austria, France). He worked with several musicians who came there (Noble Sissle, Sidney Bechet) and was later one of the founder members of the Hot Club de France. He was considered as one of the most famous jazz pioneers on the old continent. Coincidentally, he had just recorded with tubist John Warren in May 1929.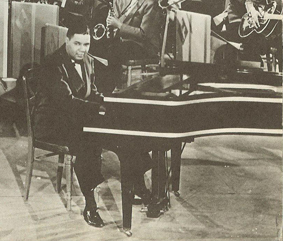 • Benny PAYNE (yes, our Benny Payne!) on piano: Before joining the troupe, Benny debuted at the Cotton Club in Philadelphia (1926), and had already worked with several orchestras (like with Wilbur Sweatman). Fats Waller was a mentor (they'll eventually record a duet in March 1931, After You've Gone), he'll sing for Ellington in December 1930 (When A Black Man's Blue) and he'll meet Cab Calloway at the end of 1929 during the Hot Chocolates revue. Read our full-length article about this pianist who played with Cab between 1931 and 1943 and remained one of his closest friends. When he joined the European orchestra for Blackbirds, Payne was already a regular accompanist for Elizabeth Welch who had sung in Blackbirds of 1928 on Broadway and who also sailed to Paris. As told in a full-page article from Down Beat dated August 1942, "through Bill Robinson's recommendation, Benny landed a job in the show Blackbirds of 1929. He sang in the choir and acted as relief pianist." He was part of the troupe in Paris and "after returning to New York, Benny did the same type work with Hot Chocolates in the fall of 1929. Here he met Calloway." (read our 2-part article about Benny Payne).
• Joseph 'Joe' HAYMAN, longtime pal of Edwin (June 7, 1903 – November 1981): Born and raised in Little Rock, Joe Hayman was one of Edwin's closest friends and partners in the music business since their very beginning. They toured together with the Hill's, Trent's orchestras before Joe Hayman was hired by pianist and band leader Claude Hopkins for an Atlantic City gig during summer 1925. The engagement folded when Prohibition agents raided the club. The band auditioned for Mrs. Caroline Dudley Reagan, the wife of a diplomat at the American Embassy in Paris. Then, they came to Europe for the Revue Nègre in 1925. In the band were the likes of Williams, Bechet, Henri Goodwin (tp), Daniel Boyle (tb), Ernest 'Bass' Hill (b), and Percy Johnson (d).
Hayman remained in Europe after the revue closed its tour in 1926. He came back to the USA and played with Eugene Kennedy in New York, also with Wilbur de Paris in Philadelphia where he met Doc Cheatham in 1928 and joined the Blackbirds show in New York. He sailed with them.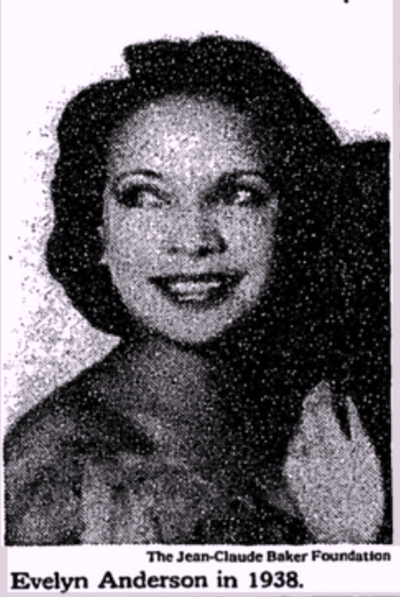 Hayman had married Evelyn ANDERSON (1907-1994), a dancer who also came to Paris along with Joe Hayman as a member of the Revue Nègre (they met when she was cast by Caroline Dudley). "After leaving the show she traveled through Europe dancing in several musicals, then settled with the children in the Netherlands in 1939." At that time, she was dancer in a cabaret in The Hague. "As American citizens in the Netherlands, Evelyn and Joe Hayman believed themselves not subject to arrest by the occupying force and were taken by surprise when ordered to report to their district's police station" (in Harlem in Montmartre: a Paris jazz story between the great wars, by William A. Shack). Evelyn and her two daughters were interned by the Nazis during WWII. "[Evelyn] Hayman was held in a concentration camp [for 27 months] near Liebenau, Germany. Through the Red Cross, she was able to get access not only to food and coffee, but also female items such as "lipstick, perfume, and face powder" (in Hitler's Black Victims: The Historical Experiences of Afro-Germans, European Blacks, Africans, and African Americans in the Nazi Era by Clarence Lusane). With twelve other African American men (some musicians: pianist John Welch, guitarist John Mitchell, horn player Freddy Johnson, and Henry Crowder, Maceo Jefferson, Reginald Berry, Jack Taylor, William Bowman) who had been in either internment or concentration camps, Evelyn was the only black woman aboard the Swedish ship S.S. Gripsholm that arrived in New York in March 1944. They were traded for Germans. In 1944, she married Robert Robbins, an orchestra leader in the Philadelphia area. Joe Hayman had already come back in the USA in February 1940 after a tour in Egypt with Bill Coleman in Willie Lewis' band. Meanwhile he had pursued his career as a musician, playing with Louis Armstrong (1943), Claude Hopkins, Marcellino Guerra's Afro-Cuban band at the Broadway Palladium (1948) with Doc Cheatham and Greely Walton (2 Calloway alumni). Joe Hayman remarried, to a woman named Charlotte, a psychiatric social worker, and left the music business in 1951, opened a pharmacy in Little Rock which he sold in 1953 and became pharmacist at the New York Hospital.
****
When the Blackbirds revue closed at the Moulin Rouge, the venue also closed its doors to be turned into a cinema newly wired for talkies. But at this moment, Swayze was already playing nearby in Paris, taking with him several members of the Plantation Orchestra, at the Abbaye de Thélème…
---
The King in the Abbaye: the Pigalle days
---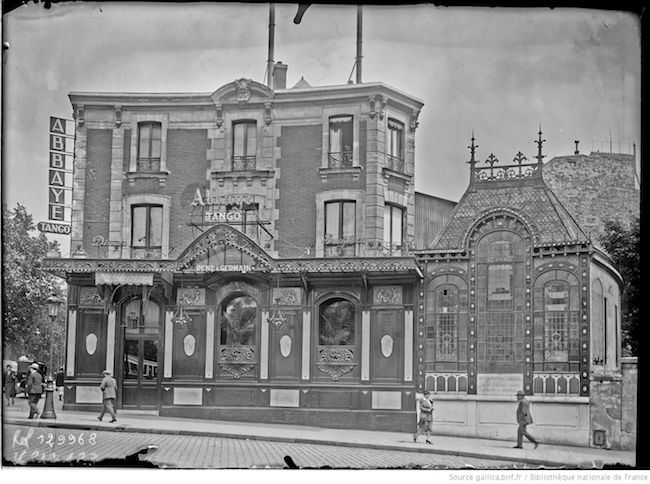 October-December 1929 + April 5-end of June 1930:
Hayman and Swayze and the Plantation Orchestra,
Abbaye de Theleme, Pigalle, Paris
Chris Goddard's book "Jazz Away From Home", quoted in Storyville 1998-1999, describes the Abbaye de Thélème: "There were a few night clubs and cabarets where jazz was played by French and American musicians. In Paris, places like Chez Florence and Joe Zelli's Royal Box were popular nightspots that used jazz musicians. Black-American artists like Arthur Briggs, Valaida Snow, Freddie Johnson, Leslie Hutchinson, Glover Compton, Frank 'Big Boy' Goudie, Sidney Bechet and Eddie South, to name but a few, were enlivening the jazz scene of Paris. Other American musicians, professional and student, were drifting over to France to help create the form of music needed for the popular dances of the day.
Combinations of black and white musicians were not an unfamiliar practice in the nightclubs of Paris, but were almost never seen in America except in 'after-hours' sessions. American tourists however, often made objections to this playing behavior. But it was not a jazz-oriented cabaret or night club that Levandowsky secured for the New Yorkers for their first long-playing job in Paris. One of the most luxurious and fashionable clubs in Paris was the L'Abbaye de Thélème located in the 9th Arrondissement. It was situated on the corner of rue Pigalle and Place Pigalle at the junction of rue Pigalle and the Boulevard De Clichy in the Montmartre district. The name was taken from the book Gargantua and Pantagruel by Rabelais. And it celebrates Gargantua's final victory over Pantagruel by the erection of the Abbey of Thélème, where, in contrast with the ordinary monastic institutions, the code of rules contains only one clause, "Fay ce que vouldras" (Do what thou wilt). Despite the lengthy imposing title, the L'Abbaye, as it was more commonly called, was originally an old theatre converted into a café. Customers entered a door at street level and climbed five stairs to the foyer. It was a brightly lit place with a bank of cushioned seats approximately five feet above the floor and set against the walls. And the walls were lined with mirrors from floor level to the ceiling. Tables were set up to the edge of the dance floor. The bandstand was several feet up from floor level, and the musicians entered the stand from the rear. As in most clubs or cabarets the musicians played in Europe, they could have little or no contact with the clientele because of the physical arrangement. The L'Abbaye was a high-class place. It catered to wealthy Parisians and Argentinians. But it was too expensive for most of the college kids or any of the poor struggling artists, writers, and other expatriates who came to Paris during that period. A Frenchman everyone called Monsieur René managed the L'Abbaye. And it was always crowded."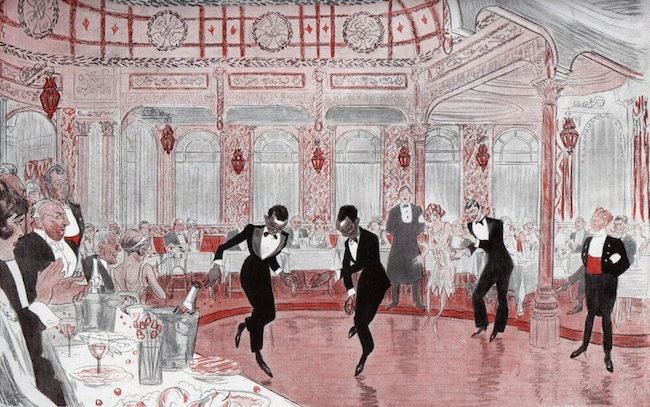 Inside L'Abbaye de Thélème
In Chris Goddard's book, jazz trombonist and composer Leo VAUCHANT (https://en.wikipedia.org/wiki/Leo_Arnaud) who once had also a band at the Abbaye de Thélème remembers: "I was with Jack Hylton in 1929. While I was in England I used to fly over to Paris to play in jam sessions with Joe Hayman. There was another guy with him called Edwin Swayzee. He later played with Cab Calloway. For a long time I thought Joe Hayman was Benny Carter."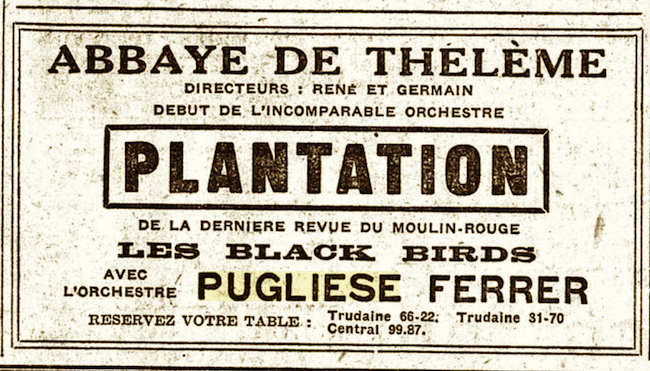 Several days in a row, the Abbaye de Thélème proudly announces the premiere
of "the incomparable Plantation Orchestra" (L'Intransigeant, October 31, 1929)
The Hayman and Swayze band was famous enough to shortly get two official pictures by local photographer from Pigalle, D. Roussé (Studio d'Art, 8, rue Blanche, Paris) and earned top billing in regular newspaper ads. The jazz connoisseur and Belgian writer Robert Goffin in his book "Aux frontières du Jazz" (1932) even shows one of them as an epitome of Black Jazz in Europe.

The Hayman Swayze Plantation Orchestra: Herb Flemming, Jose 'Florentino' Frontella (d),
Edwin Swayze (tp), Jack Mayes (p), R. Bricket (bj, g),
Joe Hayman (as), John Warren (b), Jesus Pia (reeds, vln).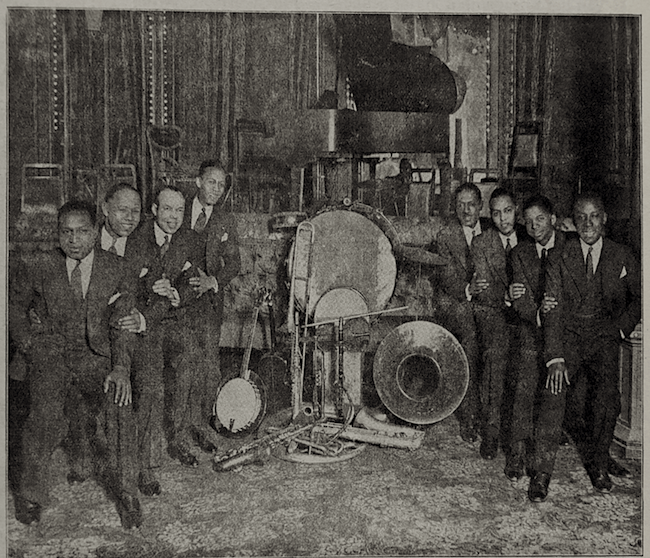 The same band remembered by Herb Flemming as his International Rhythm Makers:
Jose 'Florentino' Frontella (d), Joe Hayman (as, cl), Bricket (bj, g), Herb Flemming (ldr, tb, voc),
and Edwin Swayze (tp), Jesus Pia (reeds, vln), Jack Mayes (p), John Warren (b).
Here are the short biographical notices for those musicians; note that we don't know if some of them were also in the pit orchestra for the Blackbirds revue at the Moulin-Rouge:
• Herb FLEMMING (1898-1976), trombone, vocals: Member of James Reese Europe's band in New York, and then Europe's 369th U.S. Infantry Band in France in 1917. After the war, he goes back to the USA and learns to play cello. He joins Sam Wooding and Bobby Lee's band in Philadelphia. He sails with Wooding to tour Europe in the mid-1920s, and continues to play with him Stateside when they returned in 1927. In 1926, he plays with the Lew Leslie's Blackbirds revue with Florence Mills, which toured London and Paris. He's back on the old continent with the Blackbirds revue of 1929. After the show closed he formed his own band, the International Rhythm Aces. He's the leader at the Abbaye de Thélème in fall 1930. I haven't been able to find any French clipping with Herb Flemming's name on it, with the exception of Harry Flemming who played in Biarritz with his Blue Melody orchestra (summer 1929, and he was already in Paris in 1927). Afterwards, he continues to work with Wooding in Berlin. He also accompanies Josephine Baker. He also appears in Buenos Aires before the mid Thirties. In 1933 he plays in Paris, and then tours in Asia (Calcutta, Shanghai, and Ceylon). He sings in Berlin between 1935 and 1937 (he interpreted for the U.S. at the 1936 Olympic Games) before coming back to the United States at the end of the 1930s. He played with Fats Waller, Noble Sissle and moves to California where he stops the music business and works for the Internal Revenue Service (1943-1949); Flemming also appears in several movies at this time. He moves to New York and plays with Henry Red Allen from 1953 to 1958. In the sixties, he moves – again – to Spain and keep playing in residencies before going to Italy and Germany. He last comes back to New York in 1976 where he dies shortly thereafter.
• Jack MAYS (or MAYES) (1911-?), piano: thanks to Clyde E. Bernhardt and his indispensable book "I Remember", we learn that Jack Mayes worked as pianist and musical director in 1928 in Henry P. McClane's Society orchestra in Huntington, W-VA. They played in hotels, social clubs, parties, ballrooms, in and out there and also in Ohio, and Kentucky. Although McClane was a good concert violinist, he didn't play in the band, he just "managed the business". On the bandstand were the likes of: Freddy McClane (banjo), Montgomery Morrison (tuba), Frank Fairfax (second bass horn, trumpet), Ed Belton (first alto), Walter Minor (tenor), Edwin Black (alto), Thomas 'Sleepy' Grider (feature trumpet), Lloyd Saunderland (drums). Musical director at only 18… I haven't been able to track down the circumstances and dates of Mayes' arrival in France. After his stint with the Plantation orchestra, Jack Mayes stayed in Paris and was among the musicians backing Josephine Baker in the Casino de Paris Orchestra. On December 17, 1932, with Joe Hayman and Herb Flemming, they even wax two songs by La Baker: "Sans amour" and "Si j'étais blanche" with the Mélodic Jazz du Casino de Paris led by Edmond Mahieux.
• Jose 'Florentino' FRONTELLA (March 23, 1904, Cuba-?), drums and washboard: arrived in France via Spain in 1929 when the American bandleader A.C. Cox hired him to replace his drummer. Emilio Don Barretto was also part of that orchestra. They play in Paris when Frontella is hired to drum at the Abbaye de Thélème with Edwin Swayze. After the Plantation orchestra, Frontella plays and records with the Orchestre Typique Cubain (November 1931), then with the American saxophonist Frank 'Big Boy' Goudie and later with the Don Barretto at the Melody's in Pigalle. After a short stint with Lud Gluskin, Frontella joins Leon Abbey at Le Bœuf sur le Toit, stay with the band and lives in Holland, playing at the Tabaris in The Hague, tours in Europe (he records – and sings – in Sweden in 1938). He probably comes back to Cuba when the war starts and his track is lost (after Alain Boulanger, La Havane à Paris, JazzEdit, 2018).
• Jesus PIA, reeds, violin: As Frontella, Pia was born in Cuba, arrived in Paris at the end of the Twenties and worked with A.C. Cox, first in Spain during the Ibero-American Exposition in Sevilla. He may be among the violinists in Rico's Creole Band who recorded in September 1931. Like Frontella, he also joins Leon Abbey's band. Pia lives in Italy after the war and records on tenor sax in 1946 (Exactly Like You) and in 1948 (El Blues del Dom) (after Alain Boulanger, La Havane à Paris, JazzEdit, 2018).
• R. BRICKET, banjo, guitar: there's no information that I've been able to find about this particular musician. Yet, anthropologist, worldly and jazz connoisseur George Henri Rivière (1897-1985) writes in the intellectual periodical Document, that the banjoist is Harold BERCHET, another undocumented musician.
• John WARREN (1895-?), sousaphone, bass: played in US and toured Europe with Sam Wooding's orchestra between 1923 and July 1926. Warren probably remained in Europe then. He recorded with Leon Abbey in England in 1928. Just before being hired by the Plantation Orchestra, he had recorded with Arthur Briggs in Paris in May 1929.
Chris Goddard again: "Trombonist Herb Flemming's Plantation Orchestra, including Ed Swayzee on trumpet and the nineteen-year old Jack Mays on piano, was playing at the Abbaye Thélème in the fall of 1930." Flemming recalls:
"At the Abbey we worked from midnight till 4 am. There was a tango band opposite us and we would play fifteen minutes in each hour with the tango band doing the rest… So one evening, one of the waiters comes over and hands us a thousand franc note and says: "An American gentleman wants some lively American music!" We were just playing the usual stuff, but we changed right quick. A thousand francs! So we hadn't played more than eight bars when the waiter comes over and hands me another thousand francs note and says "The lady with him wants you to play slow and soft."
Anyway, once again, it's becoming difficult to make distinctions between the Herb Flemming's International Rhythm Makers and the Hayman Swayze Plantation orchestra who played at the same place at the same period or so… Herb Flemming's biography by Biagioni is based on the musician's accounts and reveals several errors, and omissions: for instance, the Blackbirds of 1929 didn't play London's Pavilion (that was in 1926). Therefore, how much credit can we give to Flemming's assertions and chronology? Just enough to have written that paragraph!
You can read the whole story of Abbaye de Theleme on this link.
Anyway, when the Hayman-Swayze Orchestra leaves Paris in July 1930 for the Netherlands, George Henri Rivière (aka G.H.R.) writes in Documents: "Jack Mayes is one of my best friends and music mates, and his departure saddens me very much."
---
On the French Riviera,
"in a most distinguished atmosphere"
---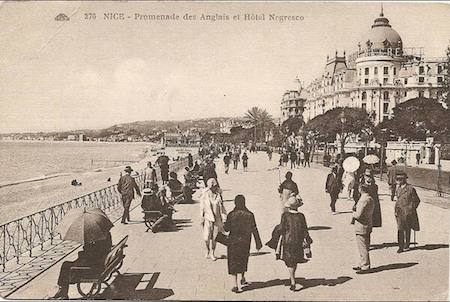 December 1929-March 30 ca, 1930
Nice, Negresco Hotel
The Hayman and Swayze Plantation Orchestra
Swayze's success led him to the South of France for the winter season: he moved to the French Riviera. Precisely at the famous and luxurious palace Hotel Negresco in Nice where, according to Flemming's souvenirs "the type of quiet jazz music my Rhythm Aces featured, gained fame as well as a lengthy stay." [Note that in any local source from that period, Flemming's Rhythm Aces is not named, only Hayman and Swayze].
Like many rich cities in France with beaches, casinos and palaces, Nice was an early place for Jazz. Earlier in March 1929 before Swayze comes, a gala was organized at the Palais de la Méditerranée in honor of the jazz, "triumpher of modern dance" with Jack Hylton and his 15 boys. In March 1930, the same Hylton will play at the Opera House in Nice. Who would say that Jazz wasn't in the air on the French Riviera? In fact, jazz was a bit too much present in Nice, according to G. Davin de Champclos, chroniqueur at the local fancy magazine L'Eclaireur du Dimanche after a pageant contest crowned a "Miss": "Why Miss Europe, Miss France? Are we so Americanized that all our orchestras have to be to be jazz bands and all our pretty girls to be Misses?" (February 9, 1930).
Other orchestras on the Riviera at this time were the likes of Horace Heidt in Monte-Carlo, Billy Arnold (already there in 1921!) in Cannes at Les Ambassadeurs restaurant, Ray Williams at Le Perroquet in Nice, Andry Jordan and his Aces, Gregor and his Gregorians, Wiener and Doucet at the Municipal Casino in Nice, Little Jacky and his Boys at Casino Ruhl in Nice, Layton and Johnstone at the Palais de la Méditerranée.
The Hayman-Swayze's engagement at the Negresco was under the best conditions. They played almost every afternoon, sometimes in the evening; they played for gala dinners, special events, benefits, wedding parties, etc. Casinos and palaces compete in ingenuity and luxury to attract rich and famous people.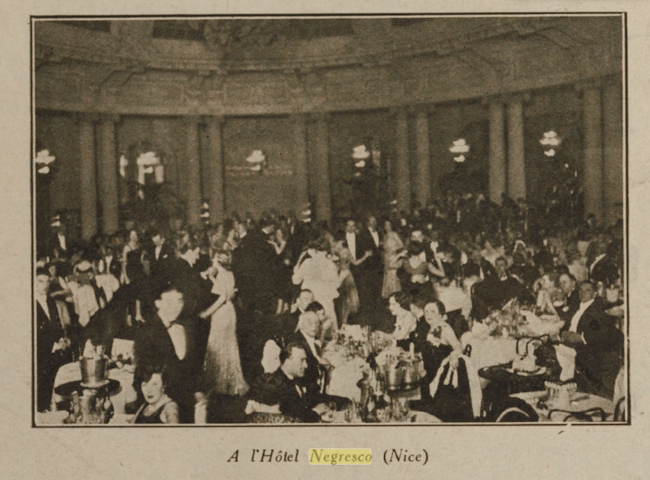 Christmas Eve at the Negresco: the chic audience is dancing to the music by the Plantation Orchestra
(L'Éclaireur du Dimanche, December 29, 1929)
During the Christmas Eve and New Year's Eve celebrations at the Negresco with the orchestra, "the evening was particularly brilliant and, in a most distinguished atmosphere, enjoyed a charming animation."
Reporting about the election of European pageants, "The Plantation which was agitated as never before, to the great satisfaction of its leaders Haymar and Swaze [sic]. Orlando and his Argentine virtuosos were also excellent. Animated by their noisy or languorous sounds, the dance was very brilliant." (L'Éclaireur du Dimanche, February 16, 1930).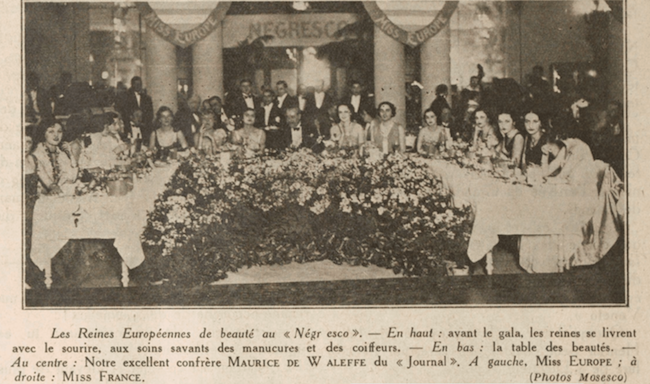 During the Miss Europe pageant the Negresco: can we spot the Plantation Orchestra in the background?
(L'Éclaireur du Dimanche, December 29, 1929)
Later in the same magazine dated March 2, 1930, Colette Mauritz recounts about her last evening at the famous palace:
"I was invited to luncheon at the Negresco the other day to attend to something or other, exactly what I did not know. But during the entire meal, I felt an important pending surprise. And sure enough it came after coffee we were invited into one of the salons and there two apparently inoffensive, perfectly harmless and charming persons performed the most perfect Zulu War-dance, genuine enough, with costumes, attributes, etc., to give the bravest little shiver down the spine. I learnt afterwards that their names were Robert Sielle and Annette Mills and that they had lived for some time in South Africa where they had studied the dance of the Zulus to perfection. From this native dance, which in itself is full of suppleness and grâce, they have derived a most attractive ballroom dance called 'The Mocchi' which will probably be the next vogue on all dancing floors. These surprising dancers have grasped the meaning and expression as well as movements of the war dance and… well, I felt quite pleased they did not perform this dance before having luncheon with us, as we might not have felt quite safe! They are making a big hit with this dance, as they have also brought back with them the music which the excellent Plantation Jazz. Hayman and Swayze at the Negresco, have adapted in a perfect way to their instruments."
During the Gala des Dentelles (Gala of the Laces) in March 1930, the Plantation plays opposite to Horace Heidt's from Monte-Carlo: "dancing was more than lively, it was real fun and everyone enjoyed themselves until dawn replaced dusk" (L'Eclaireur du Dimanche, March 23, 1930).
A few months later on May 19, 1930, the Dutch newspaper Zutphensche courant confirms that "the Plantation Orchestra, (…) gained fame at the Hotel Negresco in Nice this winter" before moving North to Paris in spring 1930.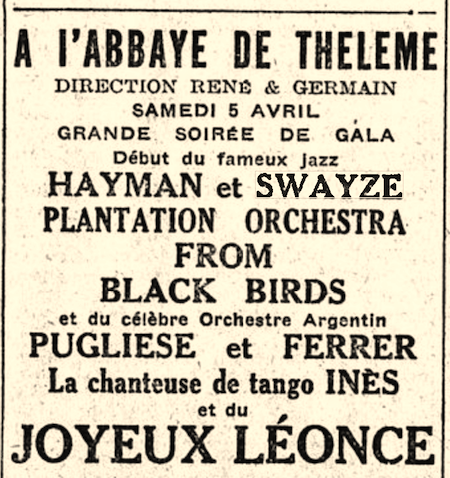 Several Parisian newspapers run the ad for the comeback of The Hayman et Swayze Plantation Orchestra
at the Abbaye de Thélème (L'Intransigeant, April 4, 1930)
Now that spring has come, Swayze and his band move back north to Paris and play again at the Abbaye de Theleme, between the first days of April and the end of June 1930.
Swayze will come back on the French Riviera in March 1931, but we'll tell you the circumstances later in this article.
---
The star of tea time: the months in Holland
---
HOLLAND

• July 1-Aug: Kurhaus, Scheveningen, Holland
"A special attraction awaits lovers of jazz and dance. From June 21-30 [1930], none other than Dajos Béla and his orchestra will be gracing the afternoon teas in the Foyer of the Kurzaal. One will not only have to listen to this orchestra but will also be able to experience the pleasure of the beautiful rhythms through dancing. After the departure of Dajos Béla, the musical stage will be taken by The Plantation Orchestra that, after its successful debut in the Paris Moulin Rouge, continued its triumphal march through Europe this winter in the Hotel Negresco in Nice. Besides this orchestra also the Tango Band of Juan Mordrez will perform. The well-attended Sunday afternoon concerts, without exception with soloists, and the children's performances on Wednesday afternoons under the direction of Henri Nolles, are back on the program." (Kroniek, May 1, 1930)
At the Kurhauss, where Duke Ellington would play in 1933, "Hot jazz is provided by a Negro band: The 8 Plantation Orchestra, which is able to get a famous rhythm, especially from the brass. Next to them is the tango orchestra of Juan Mordrez and his singer Belfranco, already good friends, who play the southern melodies in all its nuances, charming and warm, mocking and sentimental, so that it is a joy and a luxury to dance to it." (De Kunst, July 12, 1930)
Dutch musician and jazz historian Herman Openneer in his indispensable article about the Plantation Orchestra published in 2002 have drafted the composition of the orchestra during its stay in Holland without certainty:
• Edwin SWAYZE, tp, arr, ldr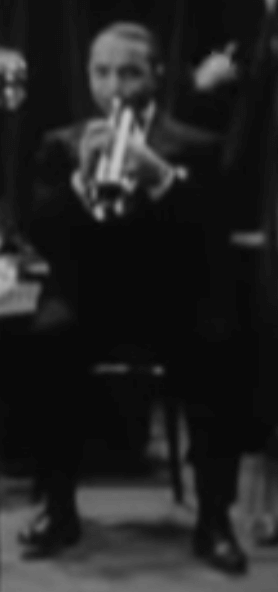 • ADDITION: Charles D. JOHNSON, tp (1897-1937). Openneer: "According to a report by Ben Bakema, aka Red Debroy, in The Jazzwereld [the Dutch Jazz magazine created in 1931] of February 1933, Charles Johnson was a trumpet player in the Plantation Orchestra in 1930. Over a year later, Charles Johnson was back in our country with Louis Armstrong's orchestra [in fact in 1933]."
• Joseph 'Joe' HAYMAN, 1st as, cl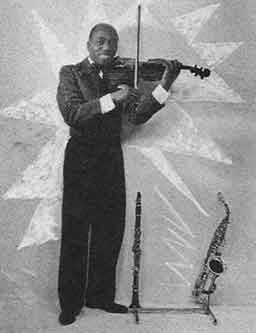 (photo courtesy of Anthony Barnett)
• REPLACEMENT: Robert Edward 'Juice' WILSON (1904-1972), vl, tp, cl, fl. Famous for his solos on Noble Sissle's 1929 recordings, he replaces Jesus Pia who remained in Paris. In his book about the violinist, Antony Barnett informs us that Wilson, who was working for Noble Sissle since 1929 in France, Holland, London, Monte Carlo, and Paris, left his band in April 1930 to join Thomas Chase's outfit at the Music Box in the Pigalle area in Paris. He then probably met Swayze and they ended working together during the Dutch gig for two months. In an interview published in the Bulletin du Hot-Club de France (n°121, Oct. 1962), Wilson said that "one of the best trumpet players I knew was Edwin Swayze who was in the revue Blackbirds".
Jack MAYES, p
R. BRICKET, bj, g
John WARREN, b and sousaphone
Florentino FRONTELLA, dr, washboard
No name is known for the trombone, and we haven't been able to find who played then – or not. Herb FLEMMING isn't in the band at this time since he left for Berlin to join Sam Wooding's band. By the way, neither the name of Herb Flemming nor the Rhythm Aces appears in any publication in Paris, or in Netherlands during that period (it was always either "Hayman-Swayze" or "Plantation Orchestra"). The only Flemming who was there then was dancer Harry Flemming, at the Carré in Amsterdam with Florence Mills (June 1930).
Openneer adds: "The picture of the Plantation Orchestra that was distributed in our country caused further confusion. This picture was taken earlier in Paris and shows in reality Herb Flemming's International Rhythm Aces!"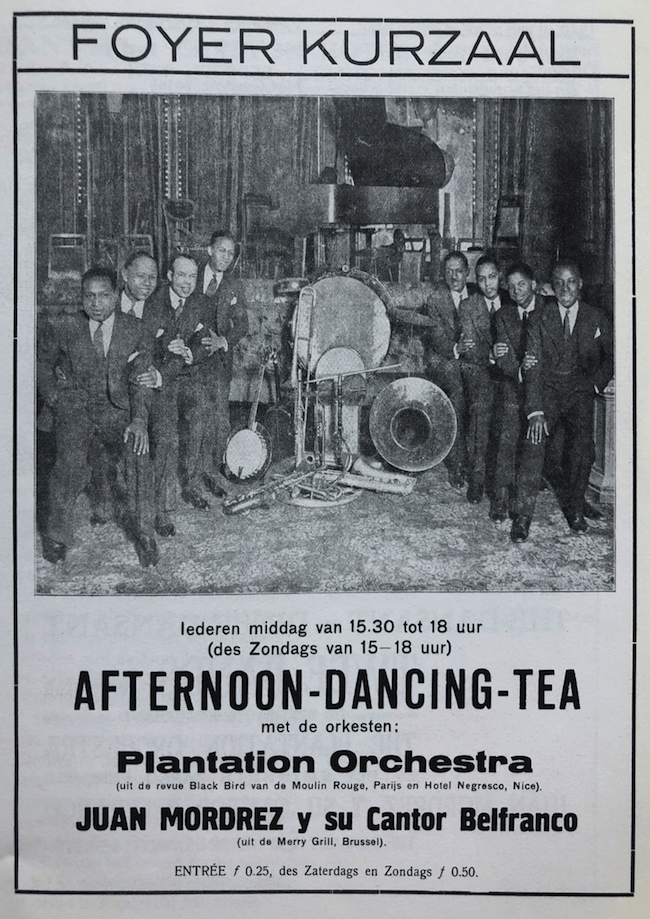 (source: Nederlands Jazz Archief Bulletin #43, March 2002)
Talking about the local orchestras, a reader from the Dutch newspapers Het Vaderland (May 27, 1931), Jan Heemstra explains "the one who breaks with this tradition and demonstrates a certain cheerfulness almost always succeeds. Further proof of this theory is provided by The Plantation Orchestra, whose tone, which is a purely musical point, was by no means ideal, but whose personality brought them an insane success in the Kurhaus, which, incidentally, they fully deserved."
Their first concert on July 2 is reviewed the next day in the national newspaper Het Vaderland:
"Dajos Bela and his men have left, but the jazz band of the Black Birds Revue from the Moulin Rouge — The Plantation Orchestra — sparkling with enthusiasm, has taken their place. And the Palais de Danse, where the lights are lit in a colorful fairy light court, where evening after evening a distinguished feast of dance and joy, color and line, draws the guests to itself, maintains its character of mundane pleasure in an exemplary manner. The new program has been put together with dedication and good taste. Enchanting is the supple, graceful dancing of Mary and Erik, the famous skaters of the Casino Biarritz, as they are announced. Noiselessly they perform elegant dance figures on roller skates, reminding us of a bygone age when the minuet was once the center of attention.
Then there is an Argentine orchestra of Juan Mordrez, which plays sparkling, delightfully wild dance music. Bea Zolthana gave dance demonstrations. Many will have admired her already in the Kurhaus cabaret where she performs. This little Hungarian woman has a temperament that is truly enchanting.
There was a large audience last night, and what is almost saying more: it was an undivided pleasure to take part, both actively and passively, in this dance feast."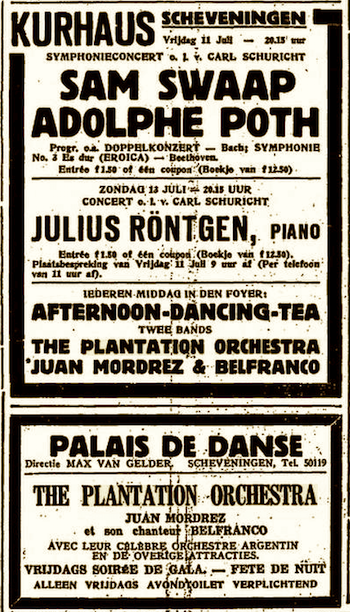 The Plantation orchestra at the Kurhaus AND the Palais de Danse (Het Vaderland, July 10, 1930)
The journalist for Haagsche Courant on the same date is as enthusiastic as his colleague:
"The Palais de Danse, the most intimate temple in Scheveningen dedicated to the goddess of dance, has again received a new program that has been carefully chosen by the impresario, Mr. Max van Gelder. The dancing, which is as always a refined pleasure in this fairy-tale setting, is now done, now that Dajos Bela has left, to the tones of The Plantation Orchestra, the excellent Negro band well known from the Black-Birds revue. The rhythmic sounds of the witty blacks are alternated by the compelling music of Juan Mordrez, to whose Argentine company the singer Belfranc also belongs.
Occasionally the dancing of the many graceful couples is interrupted by the voice of Mr. Rocco Dubois, who announces the program numbers. First to perform was the Hungarian dancer Bea Zoltana, who with her passionate temperament did a wonderful gypsy dance, ending in a beautiful flag dance.
No less to the taste of this spoiled audience were the performances of the pair of figure skaters Mary and Erik. Their gliding and floating is like a super-dance, in which all movements are without noticeable transition. We saw them perform a Spanish serenade, a poem from the time of Louis the Fourteenth and a solo by Eric. The dancers themselves, their costumes and their art, it is all a feast for the eyes."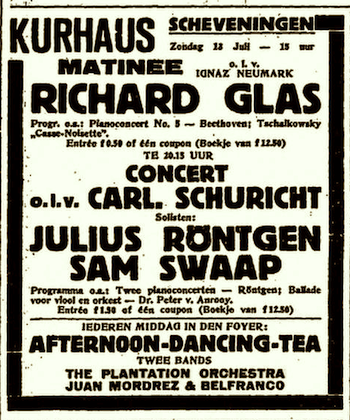 Tea Time every day for the Plantation orchestra at the Kurhaus (Het Vaderland, July 12, 1930)
The Plantation Orchestra will play most of the time in the foyer of the Kurhauss during the afternoons from 3:30 to 6 pm, while they will play several evenings at Le Palais de Danse, a ballroom in the same chic neighborhood.
That very attractive summer season in Scheveningen lasted until mid-September 1930.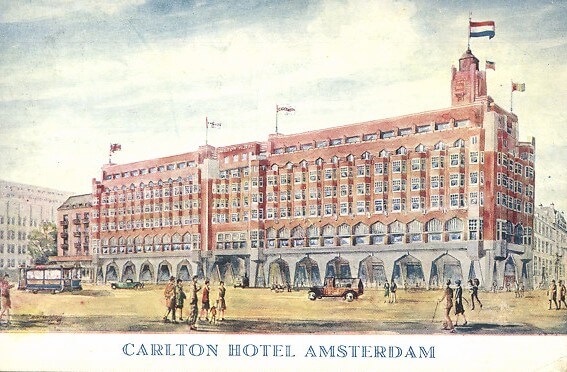 • September 22, December 1, 1930: Tea Time at the Carlton Hotel, Amsterdam, Holland
The Carlton is a palace that has a very mundane life and its Thé dansant ["tea dance"] matinees are the thrill of Amsterdam. There, during more than two months starting September 22, the Plantation Orchestra plays, alternating with the Argentinian orchestra led by Juan Mordrez. Probably the same repertoire every afternoon (from 4 to 6 pm), and every evening (from 9 pm to midnight) in a luxurious place, while Gaston Raskin and his orchestra play during the dinner… quite a boring schedule for any jazz musician used to the Harlem nightclubs, but a peaceful way to earn easy money in decent conditions.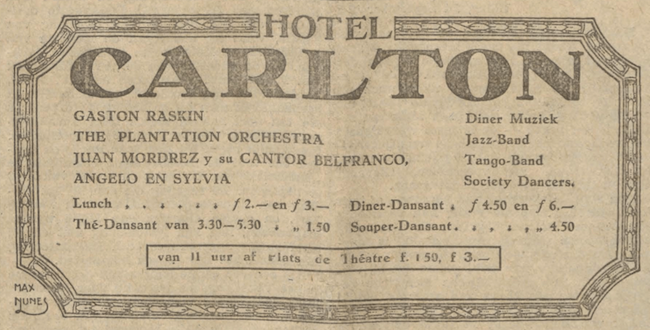 (Algemeen Handelsblad, Sept 28, 1930)
What did the members of the orchestra do when they're not on stage? Do they go jamming in other clubs? They probably don't, the Hotel management having certainly secured exclusivity. But they do play for charity events, like for the victims of the disaster in San Domingo on November ca 5 where the "indefatigable boys" (as qualified by the Carlton management in a letter to Algemeen Handelsblad of November 7, 1930) play the whole evening.
Two gala suppers are organized at the Carlton on November 20 and 22 where the Plantation Orchestra and "the Argentines" play music during a fashion show with the mannequins of French stylist Paul Poiret. The management rejoices that "Everyone is doing their best to make Amsterdam what it should be: a world city!" (Algemeen Handelsblad of November 14, 1930). The Plantation Orchestra even had the opportunity of several broadcasts of the radio (for instance on October 10, November 18, 1930 on AVRO, at 10:45 pm).


One of the daily ads published in local newspapers between September and December 1930
(Algemeen Handelsblad).
On December 6, Jack Hylton arrives at the Carlton: "The Carlton Hotel engaged none other than him for its tea and dinner dance, thus proving that the management is fully serious about making its establishment the most attractive amusement place for the people of Amsterdam" (Haagsche courant, Dec 12, 1930).
The Plantation orchestra left to Rotterdam on December 2 to play on December 3 at a benefit for the Pension Fund for Dutch Theatre Workers. After that date, we lose the path of the Plantation orchestra in Holland. It is possible that they toured a little in the country, as asserted by De Jazzwereld's editor in February 1933: "The Plantation Orchestra, the band that (…) stirred the spirits of the people of The Hague, Scheveningen and Wassenaar and many others." Where did they go after? Did he go back to Paris? Did he travel directly to the South of France? Did he enjoy his free time, resting after months of daily work? Nobody knows, so far…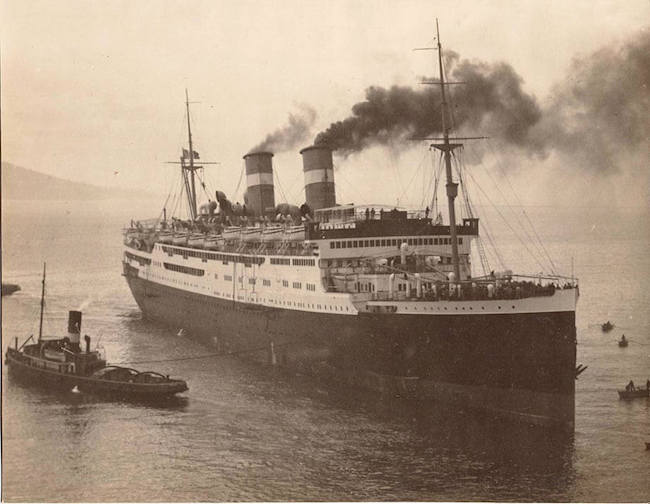 What is sure is that Swayze left Europe from the coast of the French Riviera, the most beautiful journey back to the US continent, but a rather long one. He sailed from Villefranche-sur-Mer, the port near Nice, aboard S.S. Conte Grande (Italian liner), and arrived at New York City on 10 March 1931. Was his wife Evelyn Anderson or his friend Joe Hayman with him? Probably…
---
---
Read Part 1: With Alphonso Trent, Sammy Lewis, Jelly Roll Morton, Chick Webb and many more
Bibliography, sources and aknowledgements are presented Part III