"Recognized as a 'natural' for television, Cab has made several test performances before the television cameras" states a newspaper in February 1947... But Cab Calloway, propelled to stardom by radio in the early Thirties, would soon appear frequently on numerous shows in the new media. Things would not be easy for him as with any other African American performer. But he struggled to get a spot on the small screen that is starting to get a room in many homes in the USA.
Before merchandized television sets were sold to the American customer, a couple of movies using the primitive and experimental television as a futuristic subject of fantasy welcomed Cab Calloway in a couple of scenes. And that started as early as 1933!
In this first episode in our series "Cab Calloway on Television" by decades, we'll see that even when the television invention is at its dawn, Cab Calloway already has many assets to become one of the new big stars of the small screen...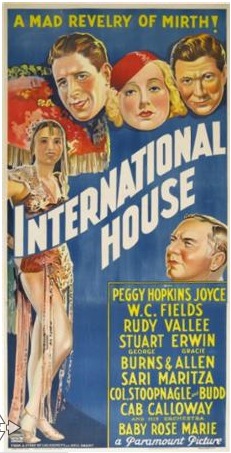 Poster for "International House". Note that Cab Calloway's face doesn't appear…
"International House" (1933)
As Richard Koszarski writes in his 1998 article, "while Britain and Germany were on the air with electronic television by the mid-1930s there was very little to see in America, at least until the World's Fair opened in 1939." Kosarski explains that the first appearance of a television in a movie is in "Up the Ladder" (1925). But for Cab's career, the first testimony is not that far away, since it's in the 1933 movie "International House".
The story is centered around the new television invention, as explained by a reviewer from Kinematograph Weekly (July 6, 1933): "Doctor Wong, Chinese scientist, perfects television and receives representatives from all nations at his headquarters in Wu-Hu, where they compete for the world's rights [already!]. (…) The story not only paves the way to bright fooling, but through the televisor finds an opportunity for introducing logically in to the irresponsible story" numerous performers: WC Fields, Rudy Vallee, Burns & Allen, Bela Lugosi, and Baby Rose Marie. And among them, Cab Calloway for a now famous number "(Have You Ever Seen That Funny) Reefer Man?". This gives way to a "video version of standard radio performances" (Koszarki).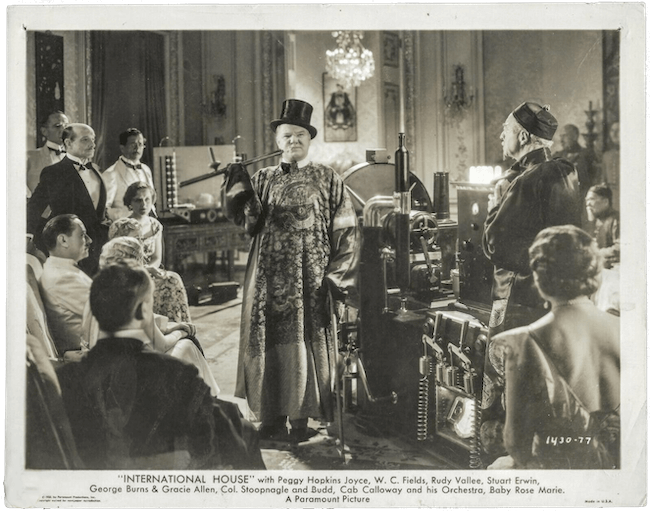 A view on Dr. Wong's machine, with W.C. Fields smoking opium in this pre-Hays Code movie.
Director John LANDIS delivers a hilarious presentation of the movie here:
Jane Stokes in her book "On Screen Rivals, Cinema and Television" explains, "For Dr. Wong, the primary application of television is to transmit images of events instantaneously across great distances and his avowed aim is to present a six-day bicycle race, live, from New York. Much to the doctor's annoyance, and the delight of his audiences, each time Wong tries to demonstrate this feat, the radioscope delivers popular variety acts instead, [including the terrific Girls in cellophane!!]. The most exhilarating of these acts is Cab Calloway's joyous tribute to marijuana, 'Reefer Man'." Check our article about that song here.
Stokes again:
"Before the Cab Calloway number begins, we see the radioscope screen from Tommy's point of view, in an over the shoulder shot. The television image fills the central area of the cinema frame and at first appears blurry. The screen clears to reveal a medium two-shot of Cab Calloway and the bass player, other orchestra members being visible in the background only, as the music begins. The song is filmed using three different kinds of shot: the group shot of the orchestra as a whole, with Calloway conducting; a two-shot of Calloway and the bass player; and a medium close up, either of Calloway waist-up singing or of his feet tap dancing. The whole scene is filmed front on, with some shots slightly to one side. The repertoire of the film form used for the 'television' act 'Reefer Man', is significantly more limited than that used for the performance in the diegetic world of the hotel cabaret. Television is depicted as a visually less complex medium than cinema, and International House does not present the medium as a threat to cinema's scopic regime."
Now, after that theory, check this wonderful version of the "Reefer Man" from our film where all the musicians in the band want to have their moment on screen (even if it's only a televisor)!
Al MORGAN, on bass, is the star of the number. Rolling his eyes, spinning his bass, he's a pre-rock 'n' roller and will have a great influence on later rock bassists. That song remained his featured number on stage until he left the band in 1936. Milt Hinton who replaced him, had to play it instantly on his first night with Cab!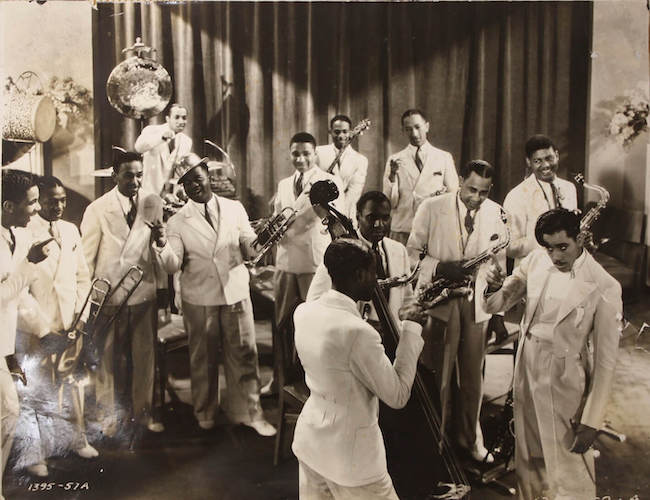 A rare movie still of Cab Calloway's number in the movie
(from De Priest Wheeler's archives, at IJS, Rutgers)
where everybody wants to be in the frame!
But other musicians won't give up their share to the camera-catcher Al:
Brief clarinet solo by the placid Andrew BROWN followed by a few bars of alto sax by Arville HARRIS (who made an incredible solo on Hot Toddy in the movie Big Broadcast of 1932).
Drummer Leroy MAXEY, in the back, tries to catch the attention swirling his sticks.
Trumpeter Lammar WRIGHT is clowning with his scintillating mute in the shape of a hat, grinning and juggling with his instrument.
The tall (and usually discreet) pianist Benny PAYNE plays his heart (and hands) out and, at the end of the tune, jumps from his stool, with a big smile for the camera.
Note also that due to his light complexion, Cab Calloway has makeup that darkens his skin on screen – then a "usual" racist practice by moviemakers.
Another interesting fact found in Wikipedia's entry on "International House" (unfortunately, no original source given):
"In 2013, International House was preserved to a polyester dupe negative by the UCLA Film & Television Archive. It was copied from the excellent Paramount 35mm nitrate studio answer print, the lowest generation surviving copy. The audio was re-recorded and denoised, revealing very high fidelity. The Cab Calloway "Reefer Man" number proved to be dubbed 4 dB louder than the rest of the film, giving the Calloway band an infectious, powerful musical presence."


"Manhattan Merry-Go-Round" (1937)
The next film in which Cab calloway appeared alongside primitive television was Manhattan Merry-Go-Round, released in October 1937. On the above British print of a movie still for it, Cab Calloway appears on television. This is a peculiar one since it's shot during "one of the very first live television broadcasts documented on film" (Sam Irvin, "Kay Thompson"), just like in International House (1933). But the one available still photo shows Cab on the screen rather than Kay Thompson who was actually in that scene in the movie.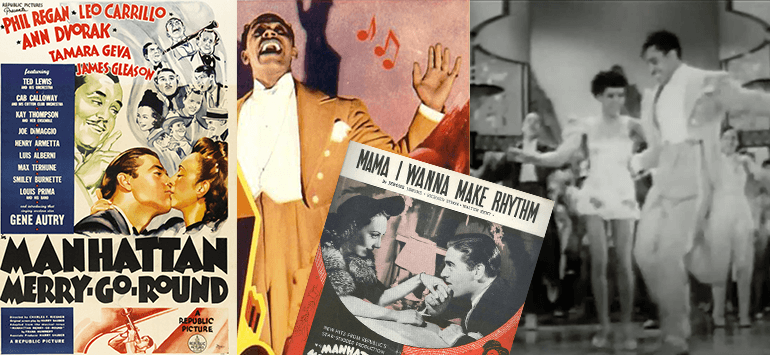 News about the future from Australia!
In its April 16, 1937 edition, the Australian magazine Wireless Weekly quotes Cab Calloway when asked "How will the radio stars personally react to television when it comes?":
"Television is on the way, and I am not running away. True, it's going to be a bit tougher to know there will be critical eyes as was as critical ears focused on you. However, let it come. It will be an important step forward for the radio industry, and I'll be happy to be among the first to telecast (Incidentally, I submit that word to describe the coming television broadcast)."
In the next decade, artists like Cab Calloway will have to struggle in order to find a place on the screen in that emergent new media. Mostly thanks to TV shows like CBS' "Toast of the Town" hosted by Ed Sullivan, African American artists will get very honorable television spots. But they will be scarce and this will be another fight to lead…
---
Sources:
Sam IRVIN, Kay Thompson: from Funny face to Eloise, Simon & Schuster, 2010
Richard KOSZARSKI, Coming next week: Images of television in pre-war motion pictures, Film History, Vol. 10, 1998
Jane STOKES, On Screen Rivals, Cinema and Television in the United States and Britain, MacMillan Press, 1999
And many articles from Billboard, Variety, New York Age, Pittsburgh Courier…
Our other articles tagged with Television: http://www.thehidehoblog.com/blog/tagged/television
---
Many thanks to Keller Whalen for his help on this article and the whole series