Voilà bien un titre qui a longtemps fait parler de lui. Amateurs de marijuana et autres herbes délirantes, ce morceau est pour vous. Le "Reefer Man" est en effet le type qui vend des joints au coin de la rue, bref, le petit dealer auprès desquels le bourgeois s'encanaillait dans Harlem. C'était aussi celui qu'allaient souvent voir les musiciens de jazz, consommateurs très réguliers.
La drogue : sujet de conversation et de consommation à Harlem.

Au moment de sa création en 1932, la marijuana n'était pas encore illégale aux Etats-Unis, même si cela ne se faisait pas forcément au grand jour. Beaucoup de chansons de jazz l'évoquent, certains allant même jusqu'à parler de drogues plus fortes (comme Cab avec Kickin' The Gong Around qui signifie "prendre son pied" à l'aide de l'opium).
Nous aurons l'occasion de faire une série d'articles sur le sujet de la drogue au sein de l'orchestre de Cab Calloway et sa relation avec le sujet. Vous verrez qu'il y a vraiment beaucoup à dire...
Mais pour l'instant, concentrons-nous sur Reefer Man, enregistré le 9 juin 1932.

Nous en voyons ici un "clip" tiré du film International House, dans lequel apparaît notamment W.C. FIELDS. Sans autre intérêt que de voir se succéder des vedettes de la radio et du cinéma à l'écran, le tout dans une mise en scène d'une grande platitude. Néanmoins, le morceau Reefer Man que nous allons voir permet de constater à quel point l'orchestre de Cab était excellent, et son bassiste de toute première catégorie. Attention, c'est parti pour 2 minutes et 20 secondes à un rythme effréné (pour info, le trompettiste qui fait son intéressant derrière avec son chapeau n'est autre que Lammar WRIGHT).
Un morceau de bravoure et de slap pour Al MORGAN...
repris par Milt HINTON
Comme vous le constatez (et encore, c'est la version courte par rapport à ce qui semblait être de coutume sur scène !), c'était un véritable morceau de bravoure pour le contrebassiste Al MORGAN. Un solo terrible avec du slapping de première catégorie.
Une prouesse à un tempo particulièrement rapide.
Au point que lorsque Milt HINTON arriva dans l'orchestre de Cab après le départ impromptu d'Al Morgan (printemps 1936), l'un des premiers morceaux qu'il dût jouer sur scène pour son "baptême" fut
Reefer Man
. Heureusement pour lui, étant donné qu'il admirait le travail d'Al Morgan (sur lequel, promis, vous aurez très bientôt une note biographique), il avait appris par coeur son solo.
Ce soir-là donc à Moline (Illinois), sans avoir pu répéter une seule fois avec son nouvel orchestre,
Milt Hinton dut enfiler les habits de son précédesseur
(au sens propre comme au figuré, puisque chaque musicien avait un uniforme. Al Morgan étant nettement plus grand et plus imposant qu'Hinton, ce dernier dut jouer pendant un certain temps avec les manches qui retombaient sur ses mains, donnant un aspect clownesque à son jeu de scène). Pour le morceau-vedette, Hinton fut mis sur le devant de la scène et dut son salut au pianiste Benny Payne qui lui indiqua les changements d'accord, tout au long du spectacle. Apparemment, la prestation du petit Milt fit sensation auprès des gars de l'orchestre...
Reefer Man
(sous-titré parfois
Have you ever met that funny reefer man?
) connut un tel succès qu'il eut une "suite" avec
The Wail of the Reefer Man
(co-écrit par Ted Koehler et Harold Arlen) enregistré en octobre 1932 pour la
revue

Cotton Club Parade
.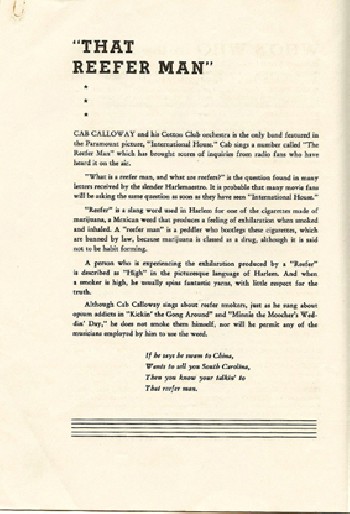 Comme le signale (image ci-dessus) un programme édité pour la tournée au moment de la sortie du film International House en mai 1933, "bien que Cab Calloway parle des fumeurs de joints, tout comme il parle des accrocs à l'opium dans Kicking the Gong Around et Minnie The Moocher's Wedding Day, il n'en consomme pas lui-même et interdit à quiconque dans son orchestre l'usage de marijuana." Etonnant, non ?

A noter, une excellente reprise par le bluesman Taj MAHAL dans un album sorti en novembre 2007, intitulé The Harlem Experiment.