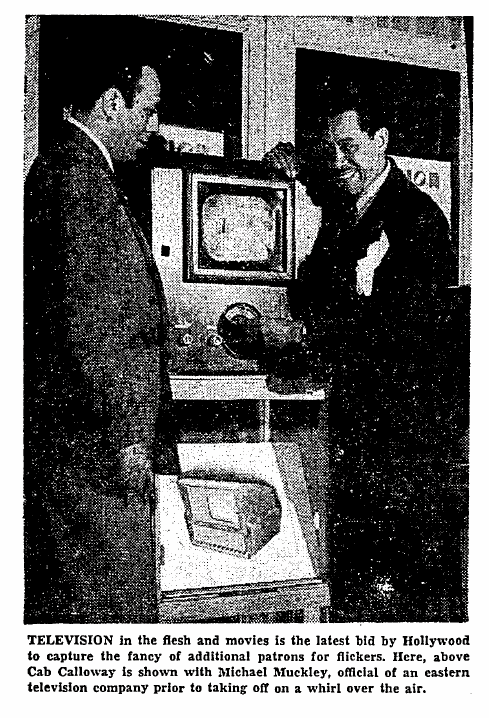 An August 1948 photo for the article "Television Films are Hollywood's Latest Bid" (Chicago Defender)
First TV in January 1947
"Recognized as a 'natural' for television, Cab has made several test performances before the television cameras" states The Macon News dated February 2, 1947. But Cab Calloway's first known TV appearance is only dated a few weeks before, on January 17, 1947 between 11:30 pm and 1 am. Cab indeed performs on the debuting TV Show "Cavalcade of Bands" for the March of Dimes Telethon, along with bandleaders Jimmy Dorsey and Guy Lombardo. The show, probably shot in Chicago, was telecast on the CBS Network. From then on, Cab will appear frequently on many TV shows and will participate in numerous telethons on TV until the late 1980's.
I haven't found yet any other appearance for 1947. Remember that at the end of 1947, his feature movie "Hi De Ho" is released in movie theaters. But, starting 1948, Cab will progressively share his time among stage, radio, and TV studios.
And that's the right time for Cab: in April 1948, he disbanded his orchestra, only keeping a small combo with him. The forthcoming years will be hard for Cab, Duke, Count, Woody, Benny and many more! Cab quickly understands the power of television and struggles to get a spot on the small screen that is starting to get a room in many homes in the USA.
He almost got his own show but the black and white screens still had issues having an African American artist as the main feature on a regular TV show.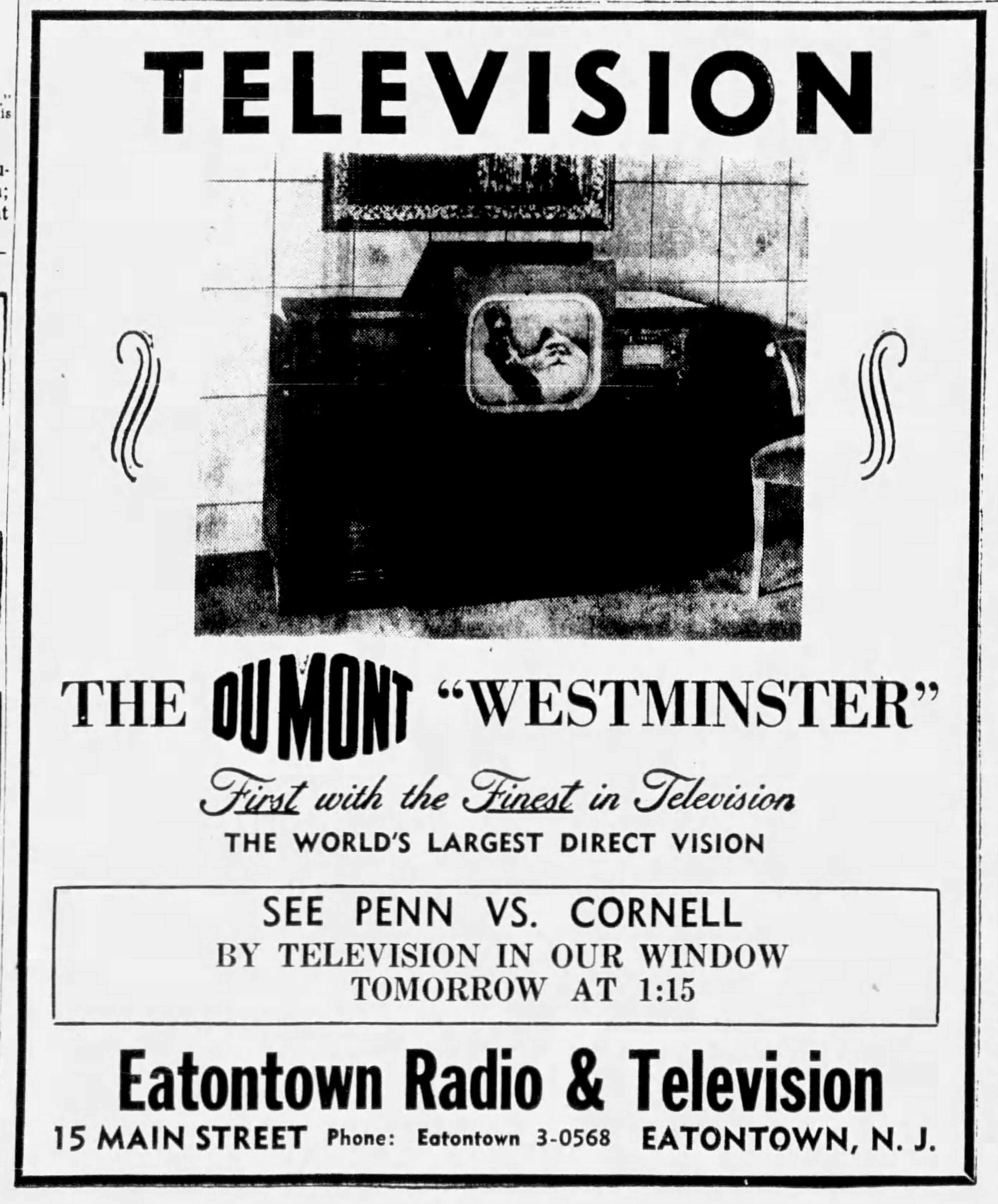 The Daily Record (November 11, 1946)
"What does television promise for band world fans?"
The magazine "Band Leaders" dated July 1945 opens a sponsored article titled "Television Topics" with this question. As sponsor, General Electric offers the answer: "In the post-war television era, you'll be able to see Betty Hutton go through her jitterbug gyrations as she sings — Frank Sinatra at the mike — the full show put on by Cab Calloway, Louis Prima, Benny Goodman and the other spectacular band leaders — and many other big features." Let's just point out that Cab is the only African American artist listed here… But the decade of 1940 won't be a golden path for him even if, among African American performers he rolled with the punches to get a spot in the American homes equipped with a TV set.

A "bopper" Cab, photographed by William Gottlieb (1949)
Television isn't a color-blind media
In January 1946, Ebony article titled "Radio & Race" salutes the "growing up" of radio "in race relations. It's taken a quarter of a century but the static of stereotypes is finally beginning to disappear over the airwaves." Later in the article, ensues: "Biggest future test will come when television becomes a reality. Before a cold color-blind mike, producers have been encouraged to spot capable Negroes in starring roles. Whether the television audience will accept Negro actors as they are now being hailed on the Broadway stage is another question."
Despite those hopes, Cab had to wait for a while before being able to sing his hi-de-ho's on screen with a more regular cadence.
1948: changes in the band, on screen… and in American society
In Down Beat magazine dated January 28, 1948, the column "Strictly Ad Lib" signed by The Square announces, "Cab Calloway was televised for the first time in his experience, early this month in Schenectady[, NY]." Whether or not the information is erroneous, I haven't been able yet to find a trace of that television appearance.
On March 28, 1948, Cab is invited to the Cavalcade of Bands (apparently, not the national famous TV show) telecast from WRAL-FM Raleigh, NC. On the 30th, Stan Kenton would be the next guest.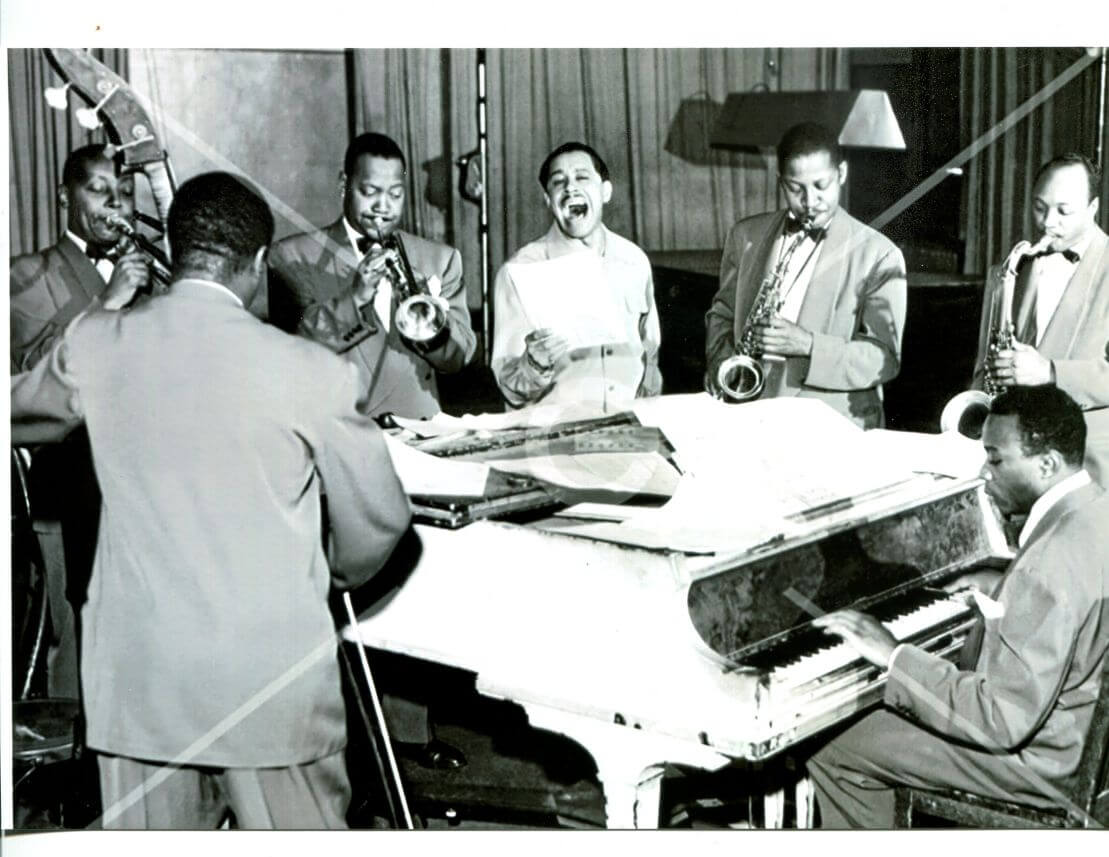 This rare 1948 picture shows Cab with the Cab Jivers in studio:
Keg Johnson (tb), Milt Hinton (b), Jonah Jones (tp), Cab, Hilton Jefferson (as), Dave Rivera (p), Sam The Man Taylor (ts).
Missing is drummer Panama Francis.
A couple of weeks after, Cab disbands his orchestra and starts his nitery tour with a small combo of 7 musicians (later cut to 4) composed of Milt Hinton on bass, Dave Rivera on piano, Panama Francis on drums, Jonah Jones on trumpets, Hilton Jefferson and Sam the Man Taylor (and sometimes Lucky Thompson!) on sax, billed as the Cab Jivers, and singer Mary Louise is the vocalist along with Cab. From large venues, Cab now is only able to fill cabarets, restaurants and small places… As envisioned by Roy Rob, "Cab Calloway, Cootie Williams, Johnny Hodges (…), Eddie Vinson, Louis Armstrong and others all have small combos now which render them all perfect for television closeups." ("Television Films Are Hollywood's Latest Bid For Public Favor – Replace Canned Music And Shows With 'Flesh'", The Chicago Defender, Aug 14, 1948).
At this time, in April 1948, James C. PETRILLO, president of the American Federation of Musicians, and the radio networks reach a six-month agreement on wage rates for musicians performing for the new expanding media: television. "Musicians who play for television network programs will receive three fourths the rate for standard radio network programs. The standard radio scale is $152 to $192 [$1,773 to $2,240 in 2021 dollars] a week minimum in New York. Those who play for a local television broadcast will receive two-thirds the rate applying to a local major radio station" (The Sun, April 30, 1948).
Compared to the annual gross Cab used to collect each year until 1945 ($500,000!), the sums are still small but not negligible anymore!

Bob HOWARD, the 'piano jive bomber' had his own program on CBS as early as 1948
Cab is probably sure that he's got a role to play on television. So, he will always give his best as it would be for a large stage in a big venue. Big stakes for the small screen yet! Los Angeles Sentinel dated August 12, 1948 declares "Negro artists get television spots, (…) especially with the Columbia Broadcasting System. Bob HOWARD, known as the 'piano jive bomber' started out on his own program last week over WCBS-TV. He is being heard Monday through Friday; Howard is already on the CBS radio show, 'Sing It Again,' series.
Donald Bogle, in his book Primetime Blues: "Strangely enough, The Bob Howard Show helped transform the American living room. For the first time, audiences could sit in their homes and see a Black man hosting the proceedings, calling the shots, and literally running the show. No one at CBS seemed particularly concerned about any adverse reactions »
On his side, Cab Calloway was featured on the August 1 CBS 'Toast of the Town' telecast. Also featured on this program was the Javanese dance team of Copsi and Ayres."
Indeed, Cab appears here, invited by an old acquaintance, Ed SULLIVAN.

Toast of the Town and Ed Sullivan: the Sunday rendezvous
Will Friedwald, in his great book about Nat King Cole "Straighten Up and Fly Right" describes one of the pillars of the American TV: "Even by 1949, Sullivan was well on his way to becoming the most essential host in the history of the variety show. Sullivan's name has become a permanent synonym for that kind of programming, with his patented mix of pop stars, comics, singers, bands, acrobats and plate-spinners, sopranos and tenors, dance acts and ballet companies—not to mention "something for the youngsters," be it the Beatles or the Muppets." Friedwald underlines the fact that "Sullivan was also a particularly enthusiastic though historically under-appreciated supporter of African American talent. He had started as a sports columnist and gradually made a lateral move to covering entertainment. To his considerable credit, he consistently advocated racial equality and even integration in both fields at a time when that was hardly the norm in either athletics or showbiz."
In 1949, just a year after Toast of The Town started, Sullivan clearly states that "Television not only is just what the doctor ordered for Negro performers; television subtly has supplied ten league boots to the Negro in his fight to win what the Constitution of this country guarantees as his birthright. It has taken his long fight to the living rooms of Americans homes, where public opinion is formed, and the Negro is winning! He has become a welcome visitor, not only to the white adult, but to the white children, who finally will lay Jim Crow to rest." (The Pittsburgh Courier, April 4, 1949).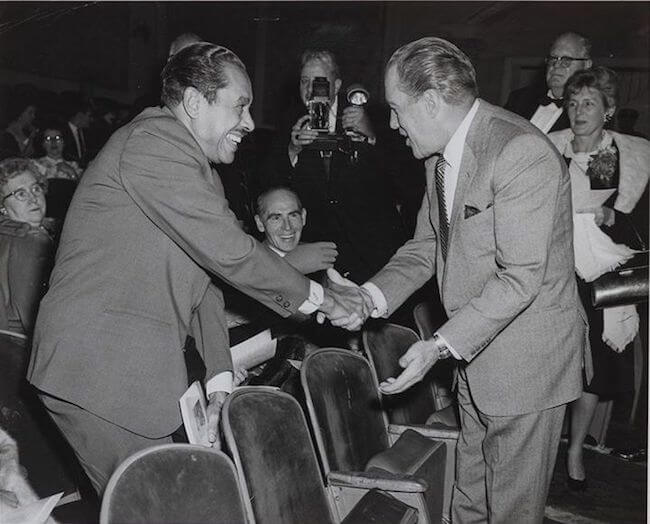 Cab thankfully shaking hands with Ed Sullivan (ca 1960)
With 12 TV appearances during the 23-year run (and 1070 shows!), Cab Calloway is an African American artist who was greatly supported by Sullivan (the most present was Pearl Bailey with 23 Sunday evenings on TV!). Name them all and you see that Toast of the Town and later Ed Sullivan Show was a bandstand for all those artists.
Just in the first 2 years here's the list of those who appeared:
• 1948: The Ink Spots (early in the 2nd show! And twice that year), Bill Bojangles Robinson (twice), Ella Fitzgerald, Lena Horne, Cab Calloway, Count Basie, Sarah Vaughan, Louis Jordan, Bunny Briggs, Nellie Lutcher, WC Handy…
• 1949: Nat King Cole, Nellie Lutcher, Toni Harper (twice), Juanita Hall, Sarah Vaughan (twice), Illinois Jacquet, Cab Calloway, Jackie Robinson, Dusty Fletcher, Hazel Scott, Thelma Carpenter, Garland Wilson, Sugar Ray Robinson, George Kirby (twice), Ethel Waters, Pearl Bailey, Hot Lips Page, Bunny Briggs, Billy Eckstine, WC Handy…
Being part of the Toast of The Town Show was a huge step in any performer's career. But it demanded a lot of work. The whole week before the show was dedicated to preparation and rehearsals (at least one per performer) at the New York CBS Studio 50 (which later became the Ed Sullivan Theater on Broadway):
• Saturday is the "studio" rehearsal with the orchestra.
• Sunday has the last rehearsal for acts and the dress rehearsal for everyone at 1 pm (with audience including friends of the sponsors and cast). During the show, "Frequently [Ed Sullivan] will call over an entertainer and talk to him, usually because he enjoyed the act but sometimes because there is extra time. Performers like this personal touch because it gives them status" (from Michael Harris, Always On Sunday: An Inside View of Ed Sullivan).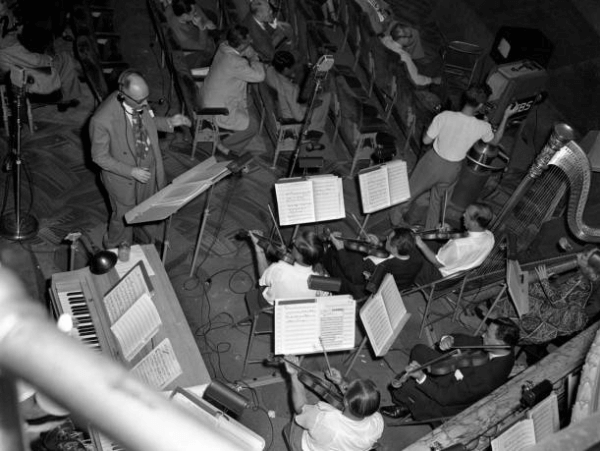 Ray Bloch and his orchestra, rehearsing for Toast of the Town, 1948
The Ray BLOCH orchestra was the show band. "His accomplished orchestra had been stuffed into a backstage storage area out of view of the performers ("We might as well be out of town," he moaned), forcing him to rely on a crude headset" (from Gerald Nachman, Right Here On Stage Tonight). So during 23 years the audience in the theater or in front of their TV-set never had a chance to see the musicians. And what a band! The personnel changed along the years but we think that in 1948-1949 it possibly included:
Trumpet: Chris Griffin, and at least 2 others
Trombone: Roland DuPont, Morton Bullman, Frank Rehak, Cliff Heather
Reeds: Toots Mondello, Hymie Schertzer, Ed Zuhlke
Percussion: Frank Schlesinger
Piano: Hank Jones (who will record later in 1958 with Cab and will play in his band during the 80s).
Drums: Howard Smith
Ray BLOCH led the band and wrote the special arrangements (with a team of 3 arrangers and 5 copyists) always crafted for the TV show.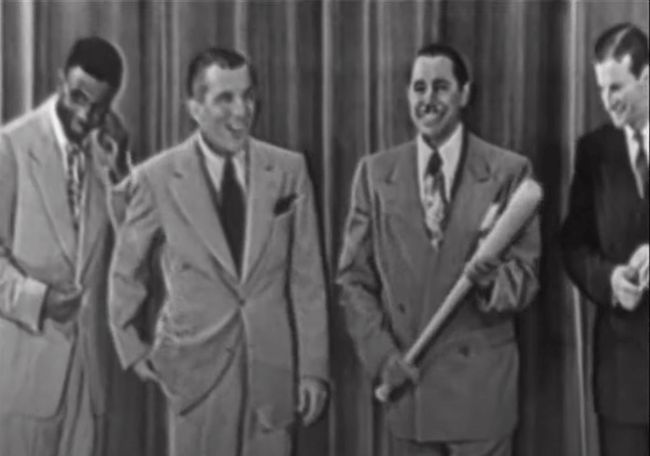 Jackie Robinson, Ed Sullivan, Cab Calloway, and Stan Musial (July 17, 1949)
Cab Calloway on the Toast!
- First Season, 7th show: 1948, August 1 (aired Live at 9 pm) – Toast of the Town, CBS Studio 50, New York, NY
So far, no existing telecast was conserved and we haven't found the title of the song performed.
- Second Season, 45th show: 1949, July 17 (aired Live at 9 pm) – Ed Sullivan Show, CBS Studio 50, New York, NY
Did You See Jackie Robinson Hit That Ball?
Unidentified trio (or skit) with Jackie Robinson and Stan Musial
I've Got The World On A String
The Huckebluck
The Calloway Boogie
The "historical" appearance of Cab on The Ed Sullivan Show is in 1964 when the Beatles were also on the bill for the first time in the USA. But from the Calloway history viewpoint, this 1949 episode is the very first one with Cab that survived!
For Ed Sullivan, the presence of the famous player on the screen was a perfect accomplishment for his fight against "the clique opposing Jackie Robinson's entrance into organized baseball" (Billy Rowe, Pittsburgh Courier, April 9, 1949)
The song Did You See Jackie Robinson Hit That Ball? was created by Buddy Johnson and just recorded in June 1949. As stated in the Library of Congress note: "Jackie Robinson inspired a number of singers and songwriters to compose songs in his honor. In the years immediately following Robinson's major league debut in 1947, the Library of Congress Copyright Office received deposits of at least four songs with Robinson as their subject, including such titles as 'The Jackie Robinson Boogie' and 'Jackie Robinson Blues.' By far the best known song honoring Robinson is Buddy Johnson's classic, 'Did You See Jackie Robinson Hit That Ball?' Johnson submitted this sheet music for copyright in June, 1949. In August of that year, his recording of the song (Decca 24675) hit its peak position on the charts at number 13. Today many baseball fans are familiar with Count Basie's recording on the Victor label (Victor 20-3514), featuring vocalist "Taps" Miller. This recording, made in the Victor studios in New York City on July 13, 1949, has become synonymous with the song itself."
Be sure that in the articles forthcoming, we'll present you with the best available clips of Cab Calloway in the Ed Sullivan Show.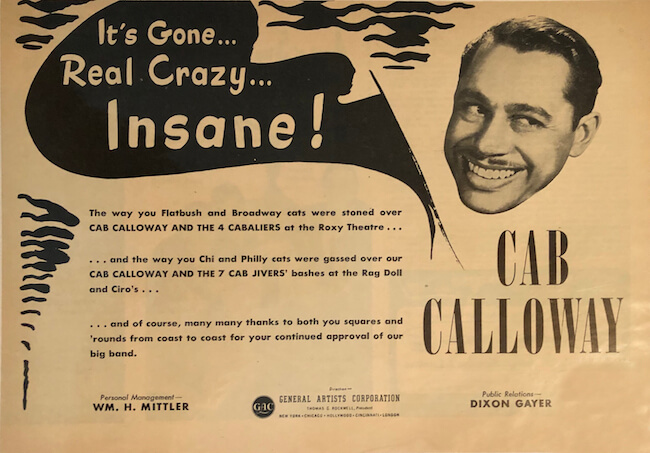 A General Artists Corp. advertising for Cab at the Roxy, 1948
Between two TV shows, Cab is writing a new chapter in his life
Cab, always up to date, is reported in the newspaper during summer 1948 that he's currently writing his autobiography (at only 41!) to be patched together by his press agent Dixon Gayer (cf. "Stop the Music" article) for Hermitage Press (New York publisher who released "Records for the Millions" by Paul Whiteman that year and in 1946 "How to Write, Sing and Sell Popular Songs" where Cab had written a whole chapter) with a wire recorder… Nobody knows were those wires went…
1948 August, while playing at the Roxy, New York, NY, Cab and Jackie Miles offered a television set to Roxy stagehands (Newsday, Aug 3, 1948).
As pointed by Alyn SHIPTON in his Calloway biography, "in July 1948 [Cab] moved [from Irving Mills Agency] to GAC, the General Artists' Corporation, which was the successor to one of Mills's former rivals, the Rockwell-O'Keefe Agency. By the fall of 1948, for the first time in his life he was leading a small group, he no longer had Mills's inventive stream of publicity behind him, and even with his powerful new agency he was unable to get bookings to play the venues that he had consistently sold out for the best part of two decades. As 1949 began, although he remained the sunniest of onstage personalities, Cab slid into a deep depression." (Hi-De-Ho, The Life of Cab Calloway, page 182)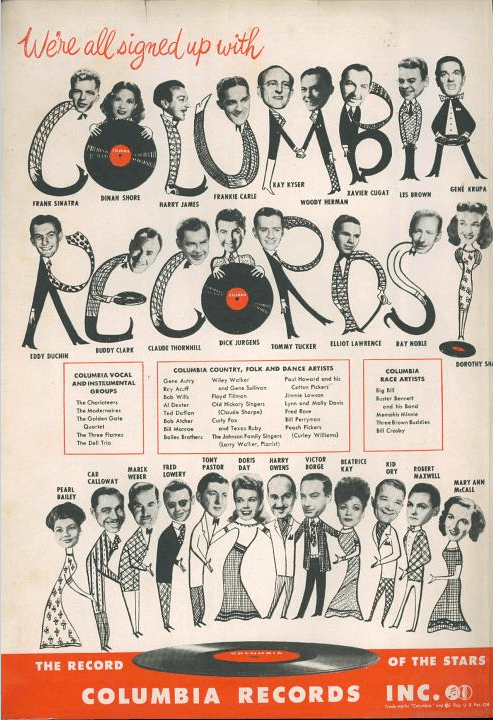 A Columbia trade ad with the whole herd… before some heads were cut.
1948 doesn't end well at all for Cab: Columbia Records has decided to drop Cab Calloway, along with 3 other orchestras: Woody Herman, Claude Thornhill and Tommy Tucker. As soon as their contracts will expire, more bands will be dropped as well by Columbia and other record companies. Thornhill went almost instantly to Victor Records as Herman did for Capitol. Calloway will also go to Victor later in 1949.

"Stop the Music" but don't stop Cab live on TV!
An unconfirmed source states that Cab Calloway and his orchestra would have subbed for Harry Salter's on the TV show "Stop The Music", on ABC-TV for 3 consecutive weeks in December. Cab was the guest of the radio version of that show earlier in May, and was the prize for the winner of the game. Mrs. Lillian Fineran, from Providence, RI, "won" Cab and his orchestra playing for free wherever she wanted. In fact, she "donated the outfit to the dance for the benefit of the Christian Brothers' Centenary Fund in Washington, DC." (The Pittsburgh Press, June 28, 1948)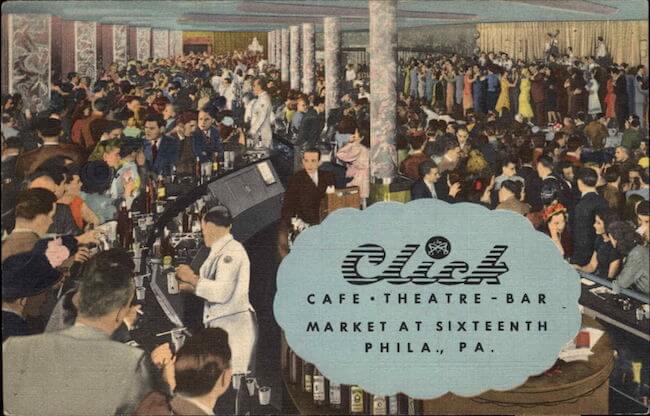 The Click Club, featuring the "world's largest bar" and a revolving stage
While he was playing at Philadelphia's hippest place, for an engagement (December 20-January 2) at the Frank Palumbo's Click Club, "Cab Calloway 'hi de hoed' his way through a half an hour program on New Year's Eve night in a crowded [Pittsburgh] night spot and the patrons jitterbugged and apple-jacked right along with him" (Evelyn Mansfield Swann, 'The Feminine View point' column, News Journal and Guide, Jan 15, 1949.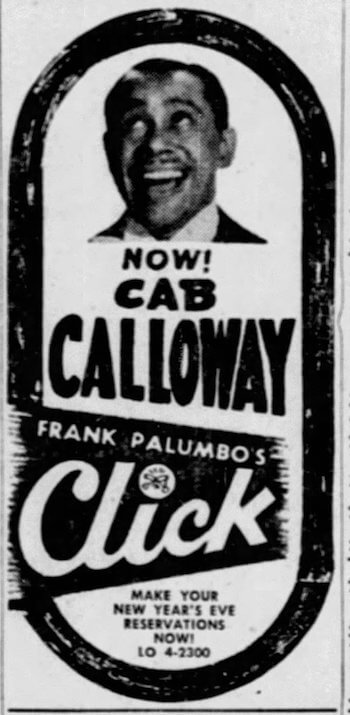 Call LO 4-2300 on our behalf: they'll find a table for you for New Year's Eve!
(The Philadelphia Inquirer, Dec 22, 1948)
And, indeed, between 8:00 and 8:30 pm, thanks to a TV remote from the Click Club on Philco WPTZ (Philadelphia's video network channel for NBC), a few hundred TV viewers have jumped in their seats, watching Cab and his small group singing and strutting for the cameras. "Roy Neal emceed the show, which had Cab and the audience collabing on Minnie The Moocher, and interviews with Frank Palumbo, Kippee Valez, Bosh Pritchard, etc." (Helen Wormley, "Fils and Fillies under Billy's Hat", The New York Age, January 8, 1949). This local experiment – first television remote from a café – was so successful that, after having "the green light from the musicians' union before setting up a regular gig", Frank Palumbo made a deal with Philco WPTZ that their cameras would "pick up a band show for a 8-8:30 ride on the NBC video net." (Billboard, February 12, 1949) Dean Hudson and the Kirby Stone Quintet were the first to share the bandstand for this TV remote series.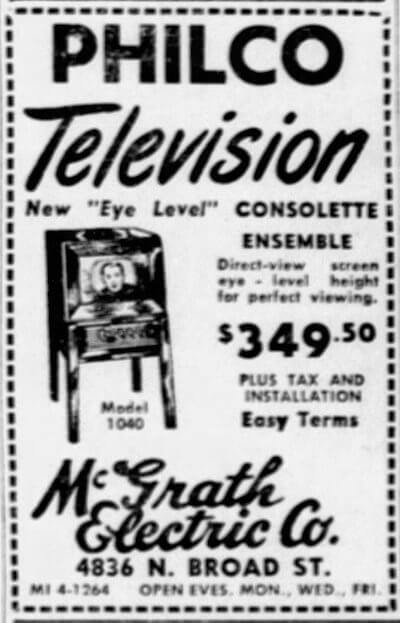 This ad for a TV set at $349 reminds us that in actual dollars,
it would cost today more than $4,100!
Hence the small audience in front of Cab's gyrations!
1949: 2 big breaks and a false one.
With the New Year's Eve TV remote success in mind, Cab could hope the new year would start well for him on TV: on January 4 (8:00-9:00pm Eastern), he's among the guests of the Milton Berle Show (S1, Ep 31) along with Jackie Coogan, Jackie Cooper, Mitzi Green, Ken Shapiro). The Texaco Star Theater is televised from NBC in New York. To figure out what that theater was, check the incredible website Eyes of a Generation (NBC New-York Television Studio History, Volume1, page 47)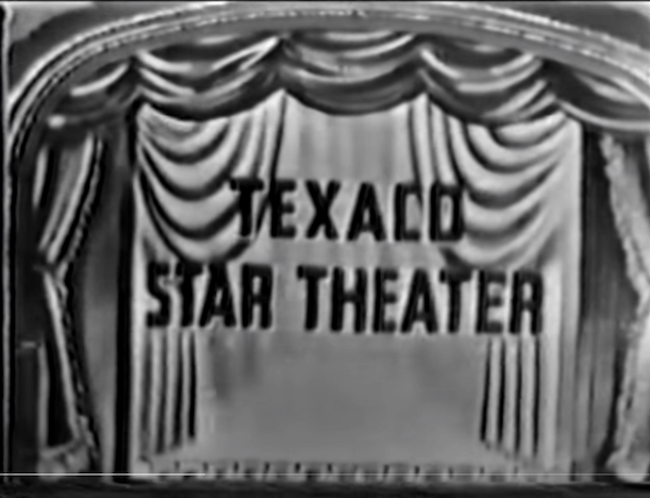 Opening title for the Milton Berle Show in 1949
E.B. Rea in his column Encores and Echoes" for the Afro-American (Jan 22, 1949) points out: "Cab Calloway went over solidly on the Milton Berle show". And the mainstream trade magazine Variety (Jan 12, 1949) adds: "Calloway went over solidly, too. In his outlandish hep costume, used on stage shows, he kicked in with the usual 'St. James Infirmary,' 'Minnie the Moocher' [backed by the orchestra led by Allen Roth] and worked with [Milton Berle and Mitzi Green]".
More eloquently, New Journal and Guide from April 9, 1949 writes "So sensational was the Calloway performance on [The Milton Berle Show on NBC and Ed Sullivan Toast of the Town on CBS] that Cab has been offered two network video shows of his own and will probably accept one at the close of his theatre tour."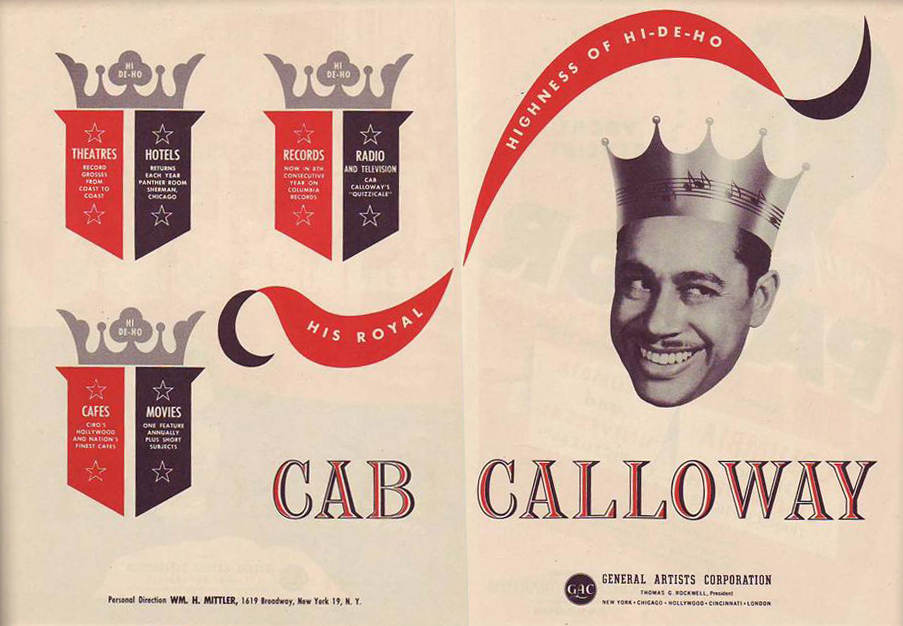 Cab is the king everywhere: in theatres, hotels, cafés, movies, records, radio... and television!
General Artists Corp. quickly understands that while booking is slow for nightclubs and cabarets for their artists, television could be a wellspring of contracts… They want to promote those under their belt such as Louis Jordan, Nat King Cole Trio, the Mills Brothers, the Deep River Boys, Nellie Lutcher, Connie Jordan, the Trenier Twins, Eddy Hayward trio, Paula Watson, and… Cab Calloway! They work on putting together "a Negro revue type show" package available to channels like NBC or CBS. (Variety, January 26, 1949).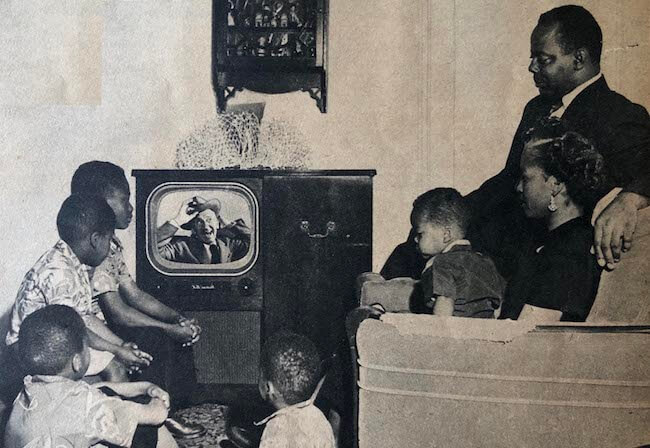 The Black viewers had to wait for a while before an African American performer
had a regular show on TV. And this never happened with Cab! (Picture from our World, May 1952)
The TV show that never aired
Historians always forget to mention the aborted Cab Calloway TV show. On May 10, 1949 at 9 pm, Cab Calloway's own television show is supposed to premiere on NBC-TV. Sponsored by Procter & Gamble and presented from their Fireside Theatre, live from New York, the show is produced by Jack Hurdle and represented by Doug Storer. "On this new TV show Cab will select and bring to the public new and outstanding sepia talent. Format of the show will be variety and will include a top name as a guest (California Eagle, April 28, 1949).
Billy Rowes gets enthusiastic on April 23 in the Pittsburgh Courier: "A lot of folks are going to love Cab Calloway on his new sponsored television show come May 10. The one time is sponsored by Proctor and Gamble and if it's a success, the country will be viewing its first colored tele commercial. Cab's show, which will follow the [Milton] Berle spot is asking the cooperation of all performers, since it will be the first to break down the shut-door policy for Negroes in radio. Following a guest star format, program will give unknowns a chance, too. So those of you who have stardust sprinkled on your souls, call the Cab at his office at 1619 Broadway right away."
On May 2, The Philadelphia Inquirer informs us that "Cab Calloway [is] packaging a Cotton Club Revue for TV"…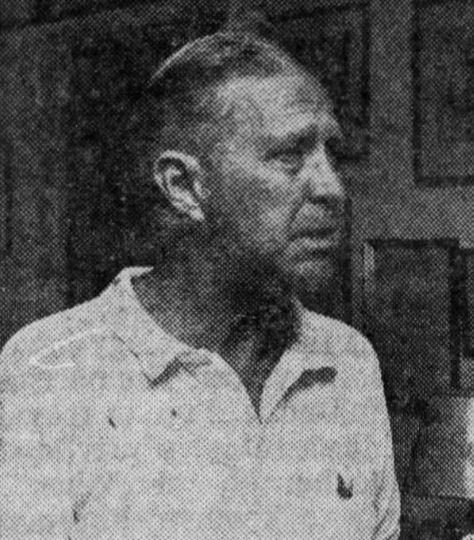 The producer Jack HURDLE and the presenter Doug STORER
Let's stop for a while and pay attention to the producer and presenter:
• Jack HURDLE (1909-1971), as one of the producers of the wartime radio show "For the Record" (1944, appearing on V-Discs): Cab Calloway did the September 18, 1944 broadcast from NBC Studio, New York, NY. Hurdle was later famous for presenting Jackie Gleason's first network TV programs.
• Doug STORER (1899-1985) was a radio producer, talent agent, and writer responsible for introducing Robert Ripley and his Believe It or Not feature to radio in 1933. In 1941-1942, Storer was director of programming for the Blue Network. Hence he was the producer of Cab Calloway's Quizzicale radio show (read our full-length article) and his archives still have scripts and audio transcriptions of a couple of shows.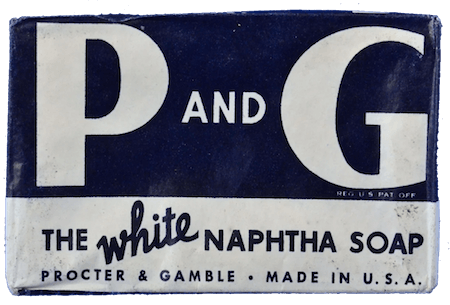 Don't run to YouTube or seek a kinescope of the show: Proctor & Gamble CANCELED it at the last minute "without the slightest explanation" (The Pittsburgh Courier, May 7, 1949) and it never aired. A few weeks after, Daily News dated July 14, 1949 informs us that Cab was offered "an all-Negro variety show to be telecast by NBC next fall…"
Not enthusiastic anymore columnist Billy Rowe got mad at this news and wrote in the Pittsburgh Courier: "Proctor and Gamble cancelled the Cab Calloway NBC-TV show, scheduled for Tuesday, without the slightest explanation. Guess they just didn't want to gamble with democracy since so many bigots seem to be taking a hand in the raising of the TV baby…" (May 7, 1949).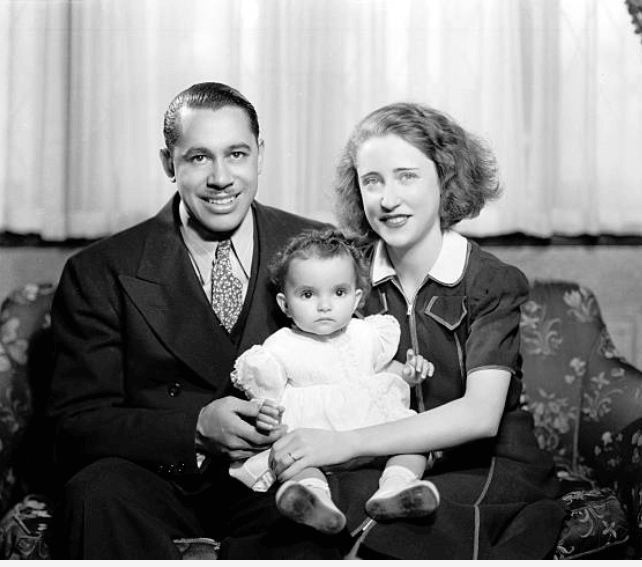 Cab and his second wife Wenonah 'Betty' Conacher married in 1929,
with their adopted daughter Constance (1938).
Divorce and alimony were another issue for Cab in 1949.
Cab owes some money…
At that time, Cab was playing the Town Casino in Buffalo, NY. But the big break he was expecting on TV occurred in his private life since after his divorce, Wenonah 'Betty' Conacher obtains custody of their adopted daughter Constance and an award of $1,100 [$13,000 in 2021] monthly for alimony and child support. This additional charge he had to face was an extra motivation for finding new gigs and perhaps new opportunity on TV…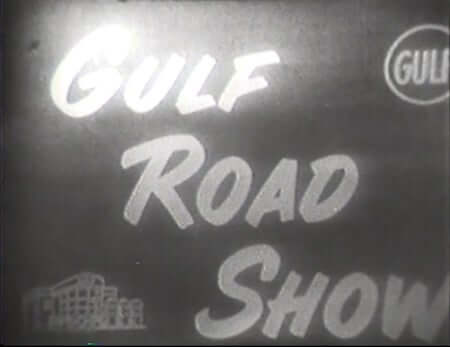 On June 23, Cab appears on NBC "The Gulf Road show" where he dances to his latest recording (May 5) "The Hucklebuck" and his everlasting theme "Minnie The Moocher", probably backed by Buddy West and his band, with Bobby Smith as host.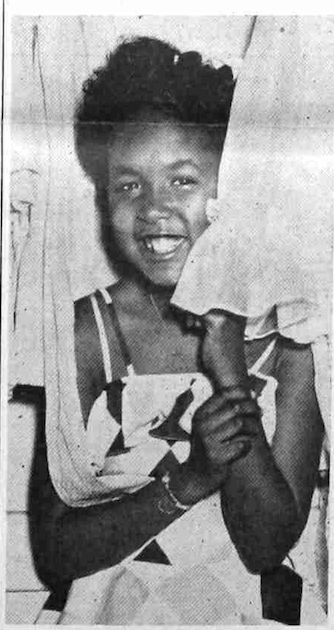 The young Toni Harper, who toured with Cab in 1947
On June 28 1949, Cab appears along with Toni Harper, backed by The Oscar Bradley Orchestra on Dan Seymour's TV show "We, The People" on CBS. Cab had been touring with the young singer in the summer of 1947 on the West coast. Maybe they sang together that evening…
Don't forget the July 17, 1949 appearance in the Ed Sullivan Toast of the Town, along with Jackie Robinson. Cab is in great shape and sings Did You See Jackie Robinson Hit That Ball? (see above)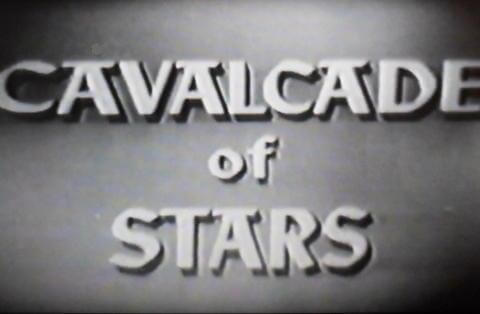 There are no other TV shows on view before October 8 until "Cavalcade of stars" (episode 19 of the first season) for DuMont Network, hosted by Jack Carter with guests Marie McDonald and Gil Lamb. Cab Calloway sings, probably backed by Sammy Spear and his orchestra. In his column dated October 15, Billy Rowe writes "WARD guestarred Cab Calloway Satdee nite (sic) [October 10] and the guy rocked the eye-lanes. He's still out front as one of the greatest entertainers of our time…"
Another hope for Cab on television...
Despite the May deception with Proctor & Gamble, "Cab Calloway has accepted the offer for an all-Negro television show to start this month." (California Eagle, Oct 6, 1949).
Cab Calloway should have been warned by another fail: the Harlem Jubilee (or Sugar Hill Times) TV show with Willie BRYANT as emcee. We have dealt with that show on our article about singer and dancer Dottie Saulters:
"On September 13, 1949 at 8:00 pm on CBS – exactly the same hour when Milton Berle himself has his own show on NBC! – the viewers are able to hear Don Redman's band (permanent team) accompanying Louis Armstrong, Juanita Hall, Timmie Rogers, Harry Belafonte, dancer Jimmy Smith and Coles & Atkins. For the second episode of 6 October 1949, the show is renamed Sugar Hill Times. The guests are Pearl Bailey and Hot Lips Page. Unfortunately, the very promising TV show will only have a short existence: it is canceled after 5 weeks and a total length of 3 hours broadcast in November 1949, after failing to attract advertisers or sponsors. Once again history repeats itself, as with Cab Calloway's Quizzical Radio show in 1942 and his television experience in May 1949 on NBC as MC."
For another tryout, "Cab Calloway (…) kinescoped his first proposed "Cotton Club" video show (on Wendy Barrie's program)" (in Daily News, Nov 4, 1949).
Alyn SHIPTON, who for once had been allowed to explore the Calloway archives in Boston University, unearthed a sketch for this tentative attempt:
"[Calloway] was still trying to revive his past experience of success as he looked for ways to transfer his traditional stage revue to the small screen. A draft running order for a putative television show featuring his one-time hit "She's Tall, Tan, and Terrific" suggests a fully formatted variety program built around him. It lists movements for a song and dance troupe of six girls and four boys, details flash dance routines, proposes comedy inserts, and outlines a guest spot for a female vocalist, for whom Cab has sketched in the names of Hazel Scott, Ethel Waters, and Lena Horne. In an alternative format he lists their male counterparts Billy Eckstine, Nat Cole, and the Mills Brothers. "After guest star, direct to musical introduction to Cab Calloway," reads the note, with a list of his possible feature songs including 'Minnie the Moocher' and 'St. James Infirmary'" (Alyn SHIPTON, Hi-De-Ho, page 187).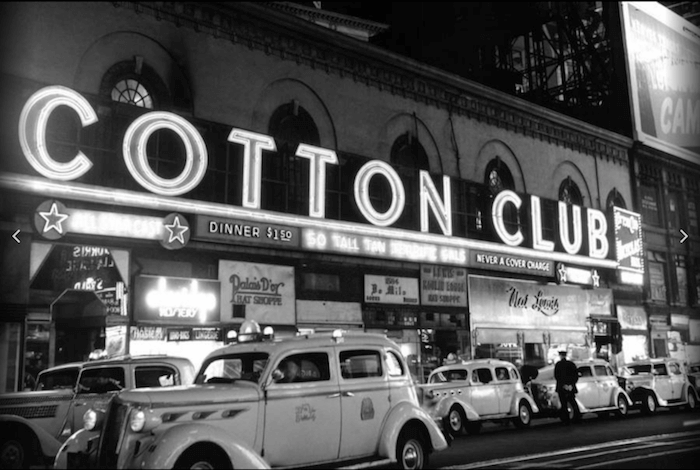 For his TV show, Cab was dreaming of the good old days,
when "Tall, tan, and terrific" were in lights on the marquee of the Cotton Club…
The kinescope didn't survive apparently. And nothing like that followed either, not even in the ensuing decade… Cab indeed confirmed it in an interview for Our World published in May 1952 under the title "How Dead Is Cab?": "As the situation stands now, radio and TV are very much impressed by the guest jobs done by Negro entertainers. They say you've done a grand job and pat you on the back. They'll even admit that you should have a show of your own. But unfortunately, that's as far as it goes. When you sit down and explain your idea of a show format, they the sponsors won't buy it."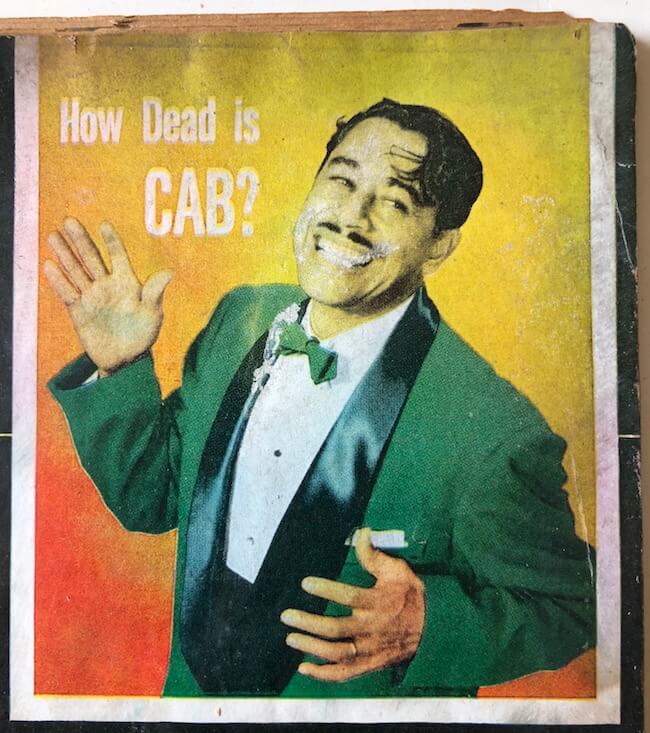 The offensive catch line of Our World magazine (May 1952)
where Cab talks about the relations between TV and the Black performers
In its final edition of the year, The Pittsburgh Courier ambiguously titles an article "Race-Angled Film, Stage, TV played vital part in over-all 1949 Scene; Jazz in slump." Cab Calloway appears among Jazz artists with the likes of Sarah Vaughan, Josephine Baker, Lionel Hampton, Erroll Garner, etc. "Television proved to be a bonanza for our performers. (…) Negroes are terrific on television because they take the screen better. Many top names were used on many top shows. Ed Sullivan's 'Talk [sic] of the Town' used scads. Much more has to be done, be we have our foot in the door here. Television is still in homes only in the higher income brackets, so to speak." And the article goes on about Music: "Specifically, we mean jazz. No new bands made a splash. Nothing happened. Probably no year in the last decade or so has the talent been at such a low ebb." Well… despite the first Miles Davis' recording, the opening of Birdland, Early Autumn, the introduction of Capitol's and Decca's 33 RPM and the launch of 45 RPM by RCA that infamous 1949 year, let's see what's the next decade will offer to Cab Calloway on the small screen whose number is incredibly increasing and will become the major media during the 1950s in the United States of America.
Read our next article!
(coming soon)
---
SOURCES
Collective, Jazz on Television, The Museum of Broadcasting (catalog of exhibition Nov 15, 1985-January 30, 1986), New York, 1985
Donald BOGLE, Primetime Blues, African American on Network Television, Farrar, Strauss and Giroux, 2001
Dorean K. COLLINS, 'Sullivison': Doc Examines Impact of 'The Ed Sullivan Show' on Black Entertainers, NBC News, 2017
Bobby ELLERBEE, Eyes Of A Generation…Television's Living History website
Michael HARRIS, Always On Sunday: An Inside View of Ed Sullivan, the Beatles, Elvis, Sinatra & Ed's Other Guests, Word International, 2010
William LAFFERTY, "No Attempt at artiness, Profundity, or Significance": Fireside Theater and the Rise of Filmed Television Programming, Cinema Journal27, 1987
John LEONARD, A Really Big Show, A Visual History of The Ed Sullivan Show, Avery, 1992
Library of Congress: "Did You See Jackie Robinson Hit That Ball?" in the collection "By J. Fred Popular Demand: Jackie Robinson and Other Baseball Highlights, 1860s-1960s", no date
MacDONALD, Blacks and white TV: Afro-Americans in television since 1948, Nelson-Hall, 1983
James MAGUIRE, Impresario, The Life and Times of Ed Sullivan, Billboard Books, 2006
Gerald NACHMAN, Right Here On Stage Tonight, University of California Press, 2009
Our World, "How Dead Is Cab?," May 1952
Alyn SHIPTON, Hi-De-Ho, The Life of Cab Calloway, Oxford University Press, 2010
And many articles from Billboard, Variety, New York Age, Pittsburgh Courier…
Our other articles tagged with Television: http://www.thehidehoblog.com/blog/tagged/television
---
Thanks to Mark CANTOR (Celluloid Improvisations) for checking this article.
My deepest gratitude to my friend Keller WHALEN
for his enthusiastic help on this article at every step