The trumpet section during Swayze's reign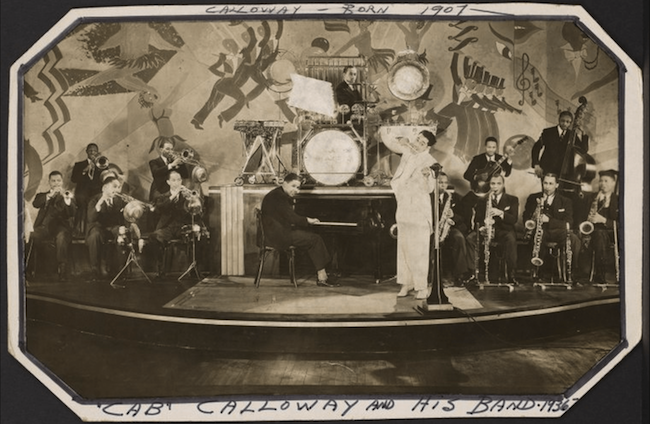 The orchestra posing for a movie still in Cab Calloway's Hi-De-Ho (1934)
Edwin Swayze is the second trumpet between Lammar Wright and Doc Cheatham.
"The newest incumbent of the growl-and-plunger trumpet chair" as Gunther Schuller names Edwin Swayze (The Swing Era) is a frame to Swayze's job in the section. Acting as a third trumpet, he shares his solos with the wonderful Lammar Wright (read our article), while the first trumpet leads the section, only very seldom getting solos.
Even the British magazine The Gramophone – that never appreciated Cab Calloway – has a nice mention about Edwin Swayze "whose trumpet playing was one of the delights of this band" (Charles Fox, The Gramophone, August 1967).
That's one of the reasons that led us to as our friend, trumpeter and jazz historian Yves FRANÇOIS to share his knowledge to help us identifying, and understanding the solos and mutes used by Edwin Swayze during his time with Cab… Each comment by Yves is presented "bolded and between quotation marks".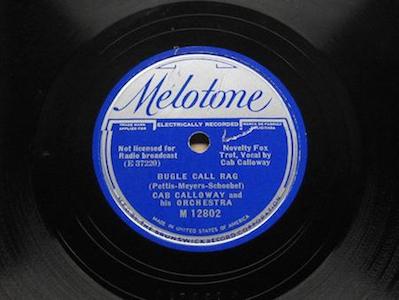 • From July 9, 1931 to April 20, 1932:
Reuben Reeves (1st), Lammar Wright (2nd), Edwin Swayze (3rd)
Noted solos by Swayze:
For his first session with the band, Swayze is featured on every song, even if it sometimes sounds difficult to distinguish him from Reuben Reeves's touch.
• It Looks Like Susie – Jul 9, 1931 (first solo by Lammar Wright, second one by Swayze)
• Sweet Georgia Brown – Jul 9, 1931
• Basin Street Blues – Jul 9, 1931 (first muted solo; long open-tp by Reeves; t-end by Wright)
• Bugle Call Rag – Sept 23, 1931 (intro by Reeves; growl trumpet – "Talk to me, Son" shouts Cab to Edwin. Second trumpet solo by Reeves). – About this tune, a critic from the New Movie Magazine dated May 1932 thinks that "the boys swing right on this one and it has some wonderful solo work, especially the high trumpet. It is a real musician's record."
• Ain't Got No Gal In This Town – Oct 27, 1931 (growl trumpet)
• Without Rhythm – Nov 16, 1931 (muted). Alyn SHIPTON: "This piece shows that [Cab's] reorganization of the trumpet section had been a great success, starting with Swayze's growling horn, and with a sparkling high-note solo from Reeves in his best Armstrong manner. The entire section leads the final key change and closing chorus, showing some of the band's most disciplined and effective brass playing so far, recorded over its traditional bouncing midwestern rhythm." (Hi De Ho, p. 59)
• Corinne, Corinna – Nov 16, 1931 (first of the 2 short plunger solos; 2nd one by Wright)
• Cabin in the Cotton – Feb 29, 1932
• Minnie The Moocher's Wedding Day – April 20, 1932 – "obbligato with plunger"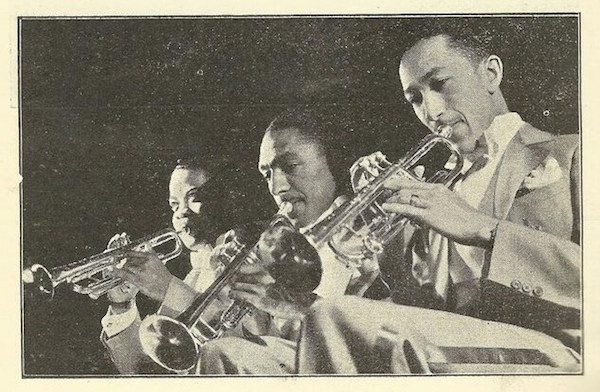 Lammar Wright, Edwin Swayze and Doc Cheatham (1934)
• From June 7, 1932 to January 21, 1935:
Doc Cheatham (1st), Lammar Wright (2nd), Edwin Swayze (3rd)
At 30 months, this is probably the longest trumpet section without any change in the history of Cab's orchestra.
Noted solos by Swayze:
• A Strictly Cullud Affair – March 14, 1932
• Minnie The Moocher's Wedding Day – April 20, 1932 (obbligato behind Cab)
• How Come You Do Me Like You Do – June 7, 1932
• You Gotta Ho-De-Ho – June 9, 1932 (tp-intro: Wright; 2nd solo: Swayze). "Short solos with plunger or maybe that Calloway mute release – very King Oliver. Feels like what ever he used to do with his hand and a door knob mute."
• Beale Street Mama – November 15, 1932 (open trumpet at the beginning by Doc Cheatham; then straight mute on back of Calloway)
• My Sunday Gal – November 30, 1932: "Though a fluff at one moment Edwin has a great solo in a hat. High point of the record actually."
• I Gotta Go Places And Do Things – December 7, 1932: "As K.B. Rau noted, Swayze uses shakes a lot but less vibrato than most of his generation. Nice solo towards the end."
• Lady With The Fan – November 2, 1933: "Beautiful open trumpet, one of his best moments."
• Harlem Camp Meeting – November 2, 1933: "Plunger with a pixie mute under it. Brilliant."
• Father's Got His Glasses On – November 2, 1933 (muted – on Rudy Vallee's 1933 broadcast): arrangement by Harry White. 1st and 2nd solos: Doc Cheatham (muted), 3rd Ed Swayze (open). "Sounds like a variant of I NEVER KNEW."
• Minnie The Moocher – December 18, 1933 (muted – on Rudy Vallee's 1933 broadcast): "Plunger with a pixie mute."
• The Scat Song – December 18, 1933: "a typical early 1930's straight mute (usually made of fiberboard). It is easy to hear Swayze. Here – the 3 against 2 Frankie Newton liked to do – is something he loved to do."
• Long About Midnight – January 22, 1934: "Incredible short solo in a derby – nice bluesy intonation."
• Jitter Bug – January 22, 1934: "Sounds like a plunger cup sound (Calloway mute? – see below) but no wa-wa at all."
• Keep That Hi De Ho in Your Soul – January 21, 1935: "Great open Swayze solo, sadly his last one."
---
EDWIN SWAYZE'S INSTRUMENT: A VEGA TRUMPET
---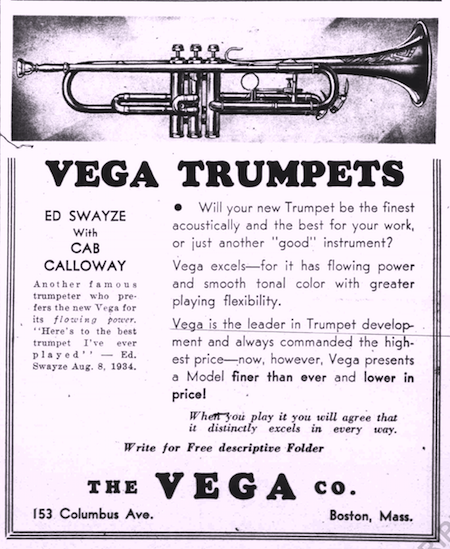 Advertising for VEGA trumpets endorsed by Ed Swayze (Metronome, December 1934)
Yves François: "The VEGA trumpets were highly rated from the 20's to perhaps the 50's. Besides Swayze, Miles Davis played them in the 1940's. Vega later concentrated on string instruments (guitar, banjo) after the 60's."
Note that at this time, Lammar Wright and Doc Cheatham played Conn trumpets (Conqueror for the first, 8B Special for the latter). In 1935, Doc Cheatham and Swayze's successor Irving Randolph played on Vincent Bach trumpets.
---
EDWIN SWAYZE'S RANGE OF MUTES
---
In Storyville 2002-2003, in his article "King Oliver – Some Observations on mutes", Brian Goggin explains that Ed Swayze uses "a small straight mute inside the bell and the plunger over it", like Bubber Miley did in order to get his wa-wa sound. But that's a little bit more complicated than this. Each mute type affects the volume and timbre of the muted trumpet. And Swayze was a specialist of that instrument as the many examples explained above attest.
For non-trumpeters and jazz connoisseurs, Yves François explains the various mutes used by Edwin Swayze. The picture below is a detail from a 1934 picture of the band in the movie Hi De Ho.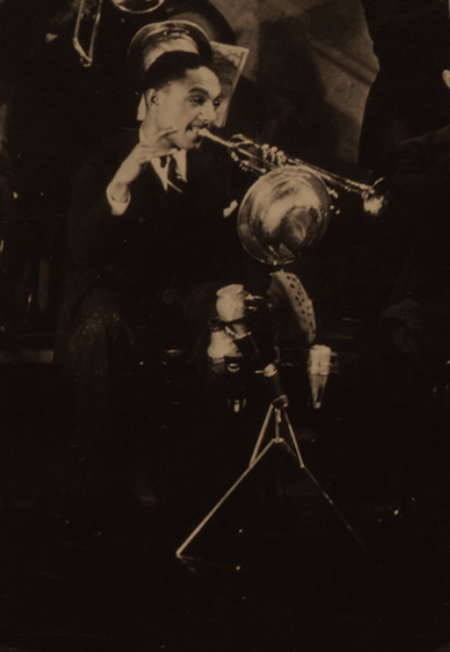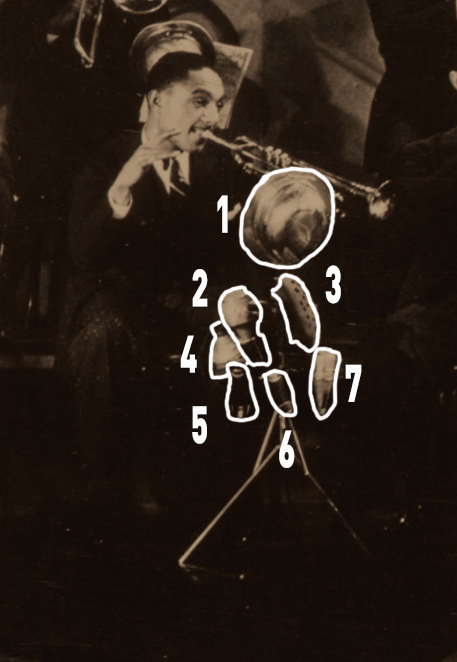 "Metal derby (hat).
Cup mute - probably fiberboard and wood resonator on end with metal attachment – lot of contemporary trumpets collectors these.
Either a rhythm instrument or a homemade buzz mute.
Harmon mute (wa-wa different from plunger – without the stem). It's what Miles Davis liked, with the stem all the way produced the effect that Clyde McCoy uses on Sugar Blues.
Frankie Newton on the 1939 recording Jitters uses that mute to great effect.
Probably a buzz straight mute.
Straight mute and behind it going to part of 2, I see a solotone. – later called a clear tone mute (both look like Shastock products).
Maybe a larger metal straight mute or even the one to make a horn sound more sax like. It could also be a Gee Gee mute."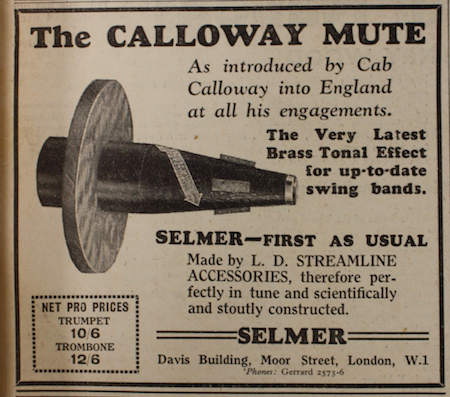 Advertising for a Selmer mute, used by Edwin Swayze
(published in the British magazine Melody Maker, April 1934)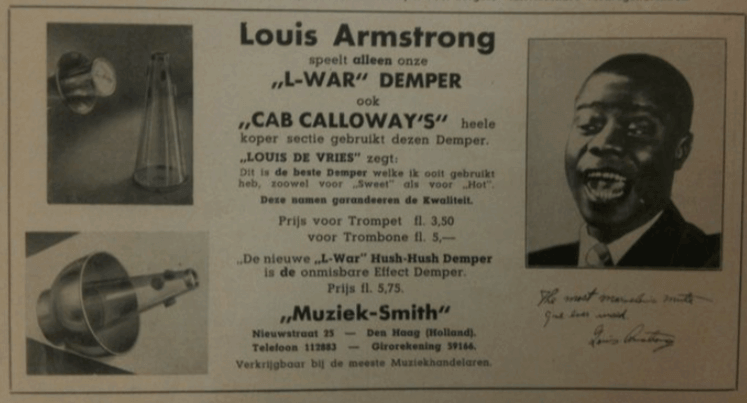 Advertising for a glass mute "like the Shastock.
Perhaps a prototype of the future detachable adjustable metal cup by Harmon Company"
(Jazz Wereld, NL, 1934).
---
You may find substantial information on various mutes on this website by David Summer
---
Read the other parts of our series about Edwin SWAYZE:
Bibliography, sources and aknowledgements are presented Part III