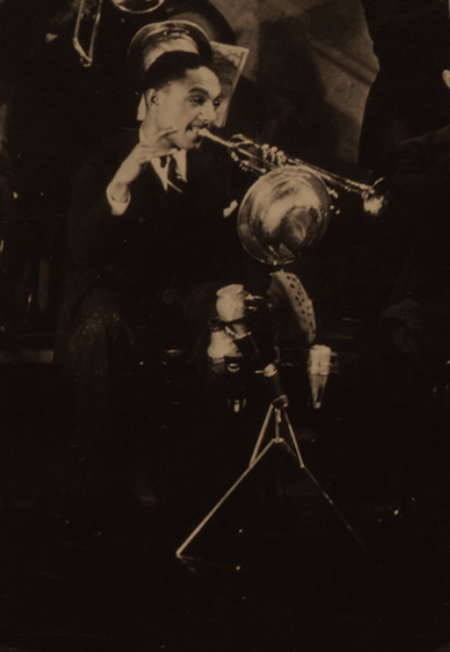 Edwin Walter SWAYZE
(June 13, 1906, Marshall, TX – January 31, 1935, New York, NY)
Nicknames: "King", "Ravoy" or "Son"
Trumpet in Cab Calloway's orchestra between July 1931 and January 1935
Crowned "The King", inspired by King Oliver, leader of his own band for a while, famous for composing Jitterbug, noted soloist on muted trumpet and high notes, Edwin Swayze is a musician who deserves to be rediscovered for his intense career that started in Arkansas, made him a bandleader, lead him twice to Europe, and ended abruptly at only 29 during a stay the world-famous Cotton Club in Cab Calloway's orchestra.
---
Part I: With Alphonso Trent, Sammy Lewis,
Jelly Roll Morton, Chick Webb and many more
---
A LITTLE JAZZ MUSICIAN FROM LITTLE ROCK
---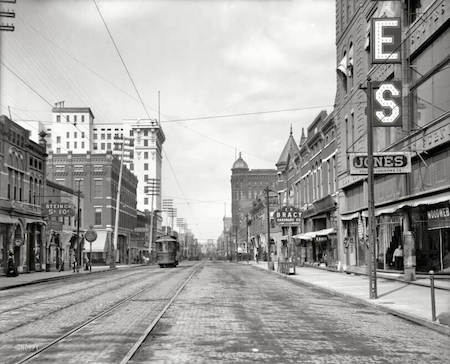 Main Street north from Sixth, Little Rock, Arkansas, circa 1910.
(source: SHORPY)
In July 1931, when Edwin Swayze is hired by Cab Calloway to replace R. Q. Dickerson who just left, he's not a newbie in the jazz business. This "very fine trumpet player" as qualified by Cab himself "came back from Europe and I grabbed him" (Cab in a tape recording for his autobiography, 1974). Cab knew that Swayze was a musician who would fit in with his band and had the ability and required talent to seat on Dickerson's chair. And he was certainly right! But let's start with the beginning, in Little Rock, Arkansas.
Born in Marshall, TX in 1906, Edwin Swayze is the youngest kid in the family composed of the father John A. Swayze (born 1884 in Mississippi), the mother Ida (born 1888 in Texas), a sister Johnie (born 1904), and a brother Rosco (born 1905). Dates and locations are determined by deduction from the 1920 and 1930 Census files. The three kids are all born in Texas.
Swayze's father was an insurance man, probably like his son Rocco. The "official" biography that appears in Calloway's programs from 1933 states that "he started his musical education under tutelage of his father… improved through constant study and application."
During a successful engagement at the Royal in Baltimore with Sammie Lewis and the Bamville Dandies, Swayze is interviewed by a local journalist and provides precious information about his siblings: "A sister is organist at the Owl Theatre in Chicago, and a brother Johnny [confusion with the sister] Swayze was taught to play tuba when but 8 years of age. 'King' says that the little fellow got an unusually good tune from the horn despite his limited lung power." (Afro-American, February 6, 1926). The sister was probably accompanying silent movies (at the nearby Vendome Theatre, where the one and only Fats Waller was tickling the pipes) while Clarence M. Jones was the house band – Louis Armstrong was the featured trumpet in 1927! Unfortunately, I've been unable for find further information about the little tubist brother.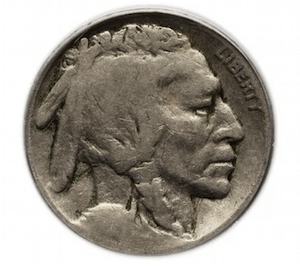 Trumpet player Jack 'Jacques' Butler said that Swayze "had a face like the Indian head on the nickel. A lot of the musicians I've met over the years have had Indian ancestry." I haven't been able to confirm the Native American ancestry for the Swayze family; note that among musicians – and Afro-Americans more generally – having such roots was often considered as a privilege or an important stature.
In 1910, the family settled at Caddo Township, Clark County, Arkansas, 80 miles southwest of Little Rock. In 1920, the Swayzes were at 1108 Izard Street, Little Rock, capital of Arkansas. In 1923, they were now a few blocks south at 1519 Chester Street, still in Little Rock, while Edwin was studying.
According to a typical press release propelled by the Irving Mills agency to newspapers in 1934, Edwin's first job was shoe salesman. But seeing his musical career, I wonder if he did that before he was 13!
---
First notes with a band of friends
---
On Swayze's road to success, his friends from high school hold a permanent place: they are associated in one way or another. What is sure is that we are sure of NOTHING! Chronology is hard to find and what is written here has been cross-referenced with our sources. This is difficult since many musicians come and go from bands and their memories are misty and don't fit one period with another as one band with another (for instance, it seems Alphonso Trent played in almost every band and with every musician quoted in the next chapter!)
Please forgive the errors and omissions and let me know any correction or information you may add.
1919 ca-1922
The Rose City Jazz Band
Edwin (and probably several other of his friends from high school: Alphonso Trent, and James Jeter) joined the Rose City Jazz Band, a "jazzy" subsidiary of the Rose City Orchestra, one of the early "territory bands" in Arkansas — and a "colored" one — founded in 1913 by pianist, organist, accompanist, and arranger Lucius Sterling TODD (Little Rock, Oct 15, 1896-Chicago, Aug 14, 1967) former pupil of composer Florence Price.
After a car accident reported in the Arkansas Gazette, dated June 6, 1919, we learn that Sterling Todd, Will Gelkey, George Mullen and Robert Freeman were part of the band.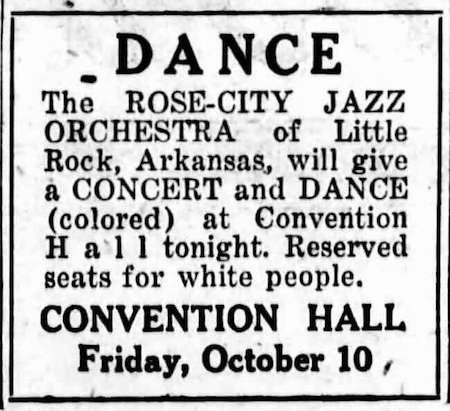 Muskogee Daily Phoenix, Oct 10, 1919
The first "jazz" engagement for this orchestra I found in newspapers was in October 1919 (Edwin was only 13!) in Muskogee for a Dance at the Convention Hall and their summer gig there was billed as The Rose City Jazz Band at Whittington Park, in Muskogee, OK. This town appears to be the place where Walter Foots Thomas, later a colleague in Morton's and Calloway's band originated. Have they met there? No clue detected.
Almost never cited anywhere, this orchestra seem to have been important in the eyes and ears of the Arkansas people since a 1934 article about the coming of Cab Calloway's band there mentioned Edwin Swayze as a former member of the Rose City Jazz band. Indeed, a 1921 article states that it's "one of the South's best orchestras" that supplied dance music, while John FIELDING is "the melodious singer".
Todd's band got a long-running stand at the Riceland Hotel that opened in 1923 in Stuttgart, AR. I haven't been able to confirm whether Swayze was still playing with Todd's band at that time, since I couldn't find any information about the moment Swayze left the Rose City Orchestra.

1923
Alex Hill
The literature we already read about Swayze states that he played in Alex Hill's orchestra. The pianist, composer and early jazz arranger Alex HILL (born 1906, like Swayze) was also from Little Rock. At 12, he was already hanging around jazz and right after finishing high school, and "would slip away to practice with the local Rose City Orchestra led by drummer Willie Gilkey [sic: Gelkey] and was apparently playing with other natives, Joe Hayman, Edwin Swayzee and 'Snub' Mosley. As Alphonso Trent was also a student at Shorter College, there was no shortage of "swingers" to encourage young Alex" (Ralph Gulliver, No Jubilees for Alex - The Tragedy of Alex Hill, Storyville #38). Unfortunately, we have no confirmation of a specific engagement of Swayze in Hill's early band. Don't forget that a few years later, in 1932, Alex Hill was the pianist in the Alphonso Trent orchestra (at a time when Trent was not playing anymore). Confusion may have led to mistakes here…
1923-1925

Eugene Crook (picture ca 1927 when he was playing in Alphonso Trent's orchestra)
Eugene Crook's Synco Six was a territory band from Helena, AR, and was composed of Edwin Swayze on trumpet, James Jeter on alto saxophone, Eugene Crook (-1973) the leader on banjo, Alphonso Trent on piano, Harry Jones on drums, and John Fielding on vocals. As you can see, it's almost the same line up as the Rose City Jazz Band.
The group also welcomed trombone Snub MOSLEY (1905-1981) who said decades later: "Crook was a great big, strong guy."
In the spring of 1925, the group was eventually called the Alphonso Trent Orchestra.
1924
Thanks to Storyville's column "Pieces of the Jigsaw", we learn that Edwin Swayze plays in the Creole Dandy orchestra at Pekin Cabaret, Atlantic City, NJ in May and June 1924.
---
With Alphonso Trent, "one of the best"
---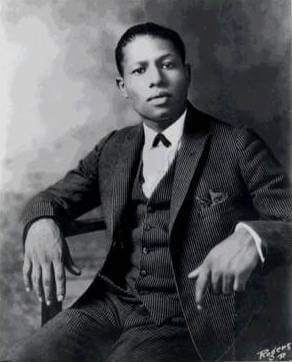 1925-1928
Alphonso TRENT
In their early teens, with his friends from high school, Alphonso Trent, James Jeter, Swayze combined "their talents with those of A. G. Godley, Eugene Crooke and John Fielding, [and] the group began their initial engagement, a summer-long run at Stem Beach in Muskogee, Oklahoma." (Sarah Fitzjarrald, Alphonso Trent, One of the Best, Fort Smith Historical Society Journal, VIII, April 1984). Snub Mosley explains: "That was a summer resort, you know, where people used to come for a vacation, and the Stem Beach was a ballroom, and we stayed there the whole of the summer. At that time, we didn't have a band bus, and we travelled in two cars, and after that I think we went to Dallas. When we started at the Stem Beach, we had Harold Jones (..) on drums, but Trent fired [him – who was his cousin], and we got A.G. Godley. That was his real name. His mother just called him A.G., so we called hum Ananias Garibaldi! (…) In Dallas, we played the Oakcliff Pavilion. We weren't doing all that well at that time, and we just took any gigs that came along, and there was another ballroom we used to play on Thomas Avenue… but I can't recall the name of the place. It was the bellhop at the Adolphus who heard the band while we were at the Oakcliff, and he recommended us to Mr. Ellifritz, who was the managing director at the Adolphus, he told him he should hear the band. He booked us in, and we stayed there over a year and a half." (Storyville #97, Oct-Nov 1981).
The band, "an extremely versatile one, played the Adolphus Hotel in Dallas for a year and a half" (Stuff Smith, in The World of Swing, Stanley Dance), which was a first there that "upset Texas" according to Trent's widow, Essie. They had a regular broadcast from the Hotel that was aired in several surrounding states.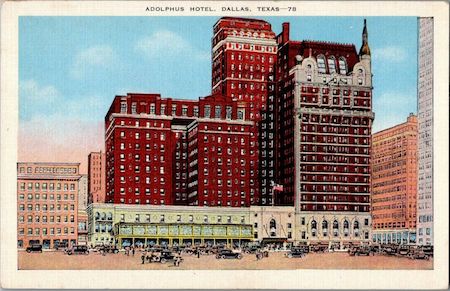 "That was a real prestige job, because the Adolphus was the biggest Hotel in Dallas, and Dallas was the biggest City in Texas. They catered exclusively for a very wealthy white clientele. We were just about the first colored band to play for a white audience down there and in those days in Texas it was almost a crime for white and black to be in the same place together, so we had nothing but discrimination. In fact, the Ku Klux Klan planned a 'tar and feather' party for us just because we were booked in the Adolphus, that's how bad it was then. We had to use the back elevator, coming and going, but there was one thing we put our feet down on — we weren't going to eat in anybody's kitchen. If they wanted us to play they were going to have to feed us decently like human beings. So we ate up in the ballroom, and we ate the same as everyone else. Of course they put us in a corner when no one else was around, but we did eat in the ballroom, not in the kitchen! Texas was awful then. But the people we played for were the very wealthy. It was such an expensive place that only the very wealthy could afford to go in there. That's why it was so unusual for us to go in there, and to broadcast, and that's why we made so much money when we went on tour later. We started our day in the afternoon in a room called 'The Spa', where we played for an hour, and then at about six o'clock we went to another room called 'Bamboo Land' - that was a gorgeous place, all potted palms and that sort of thing. It was a horseshoe- shaped room and, after a while, there were so many people wanting to see us and the crowds got so big, that they built a sort of bridge for us to play on over the horseshoe. We were a bit nervous the first night we played on it, because there wasn't anything underneath us that we could see, but it held up, and we were OK. (…)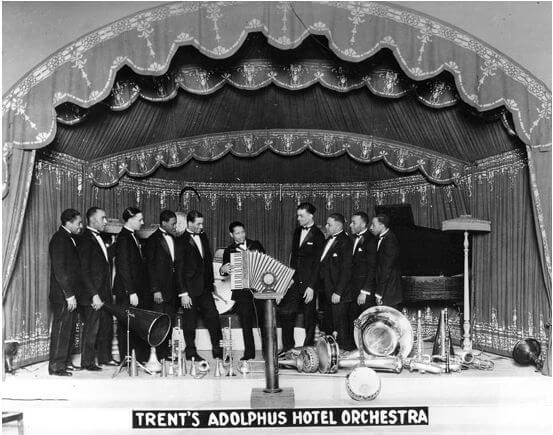 Unfortunately, Edwin Swayze doesn't appear on this picture, but you have, from left:
A.G. Godley (d), Terrence Holder, Chester Clark (tp), Snub Mosley (tb), Gene Crook (bj),
Alphonso Trent (with accordion, p and ldr), James Jeter (as), John Fielding (voc),
Brent Sparks (tu), Wendell Holloway (ts)
Another thing I remember while we were at the Adolphus was one night Jay Gould – he was from one of the wealthiest families in the United States, and they still are – who was quite a young man then, had a big party over to the right of the bandstand. We were playing The Eyes Of Texas [a song played at momentous occasions such as graduation and even funerals, based on the folk song I've Been Workin' On the Railroad]... of course, we were jazzing it up a bit and, for some reason he picked up a big ice cube and threw it at the band, and hit our saxophone player William Holloway. Holloway politely picked up the ice cube and threw it back... and got him right on the temple! There was uproar because he'd hit Mr. Gould and they immediately sent for Mr. Ellifritz to come down. And the first thing Mr. Ellifritz said when he came down was, "What right have you got to throw anything at my band?" Mr. Gould had been drinking, but he quietened down right away. Mr. Ellifritz was always very good to us, and he called us together afterwards and said, "I don't want you fellows to get excited. I booked you in here, and you've been wonderful. We've bad words that the Ku Klux Klan aren't very happy about you being here, but don't worry, nothing's going to happen to you at all." A big guy like Mr. Ellifritz wouldn't have to ask the police, he would just tell them. Anyway, he had a Cadillac, and every night he would come and fetch us — he would have to make two journeys – and he would take us back afterwards. We heard that the Klan was planning to stop the car and tar and feather us. It wasn't funny then, but later we laughed about it. I remember one of the guys said, "Wouldn't old Snub look funny with a feather stuck in him?" (…) So, for the year and a half we were at the 'Adolphus we didn't have any real trouble.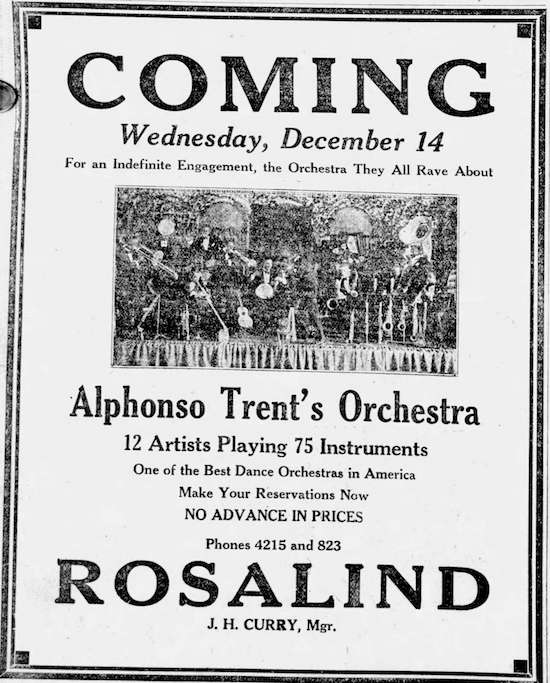 Ad published in The Lexington Herald, Sunday December 11 1927.
Unfortunately, Swayze doesn't appear on this photo either.
Alphonso Trent didn't want to be bothered with any of the business arrangements, he wanted to be just one of the guys, and he was drawing fifty dollars a week, the same as the rest of us – and that was big money in those days, so he made one of the guys our business manager and after we were there a couple of months he added Chester Clark on trumpet and Brent Sparks on bass-tuba. We were a sensation right from the start, and we used to pack that ballroom every night—and that was a really big place that held about a thousand people. After about eight months of this we began to feel that maybe we should have a little more money and we had a meeting. I remember the guy who was our manager saying, "We got a real nice job here, we didn't ought to push things." But the guys eventually persuaded Trent to go and talk with Mr. Ellifritz. And Mr. Ellifritz said, "I've already given you fellows one raise." And Trent said, "But we didn't get it." Then Mr. Ellifritz told him he'd given everyone a raise of twenty-five dollars a week after we'd been in there about two or three months, so our business manager had been keeping that much back from every one of the guys for about five months. Really, we should have been suspicious because he'd been riding around in a brand new Buick and he always had lots of new clothes. Anyway, after that, they made me business manager. That guy stayed on with us for some time and then he left and formed his own band, but I'm still in touch with him and we're still good friends.] The Trent band was the happiest band I ever played in, and the guys had such a wonderful feeling for each other. No one really held it against that guy — we were all young ...and you all make mistakes. (Snub Mosley interviewed by Howard Rye, Very Young Man with a Horn, Storyville #97, Oct-Nov 1981)
The band even had an offer to tour several Adolphus hotels that led them to "the Midwest, the Dakotas, and Canada as well, playing clubs, college proms, and gubernatorial inaugural balls." (Swing Southern Styles, Three Texas Bands, Howard Baum, Music 343, 1981)
Edwin Swayze leaves the band in 1925 after the Dallas engagement and is replaced by T. Holder. He'll be back in summer of 1926 to replace Ewen Brigham.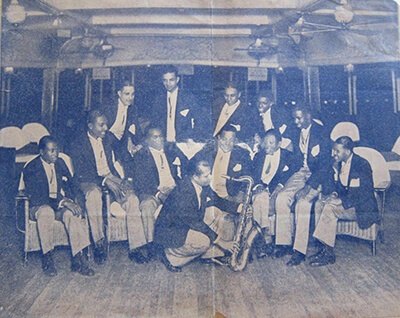 Alphonso Trent Orchestra, lounge, Riverboat Saint Paul, prob. summer 1928,
on the reverse of a handbill for "Halloween Treat", "Crystal Circuit Attraction",
Thursday, November 1st, 1928, Crystal Dansant, Fifth and Palm Streets, Cincinnati,
restoration courtesy Anthony Barnett © AB Fable Archive, info at www.abar.net/smithtrent.htm
(Edwin Swayze is in the back, far right)
Summer 1928
SS St. Paul, on Mississippi between St. Louis and New Orleans
During summer 1928, the group plays on Mississippi St. Paul and each musician gets $70/week. Edwin probably meets reed player Hilton JEFFERSON (who will play in Cab's orchestra years later). Swayze remains until Labor Day. Irving 'Mouse' RANDOLPH replaces Edwin.
Violinist Stuff Smith who also played in the band tells Stanley Dance in The World of Swing: "Swayze taught me a lot about music and how to read a manuscript." The same says, "the brains of the band were James Jeter the alto saxophonist, and Edwin 'King' Swayze".
Unfortunately for us, Swayze left before the band recorded in fall 1928. I write "unfortunately" because saxophonist Budd Johnson said about that band: "Let me tell you about Trent... They were gods back in the twenties, just like Basie was, only many years ahead of him... They worked nothing but the biggest and finest hotels in the South... They were years ahead of their time" (quoted in Gunther Schuller, Early Jazz, 1968).
"Trent was one of the first bandleaders to use a vocalist as distinct from one of the guys who also sang" (Snub Mosley, interviewed by Laurie Wright, (Very) Young Man with a Horn, Storyville #98, Dec 1981-Jan 1982): John Fielding (as was already done with the Rose City Jazz Band in 1920). Therefore the band could play novelty numbers, serious numbers (classic music), funny numbers plus real jazz. Alphonso's widow Essie Mae Trent confirmed that the band members "were all high school graduates. And they were not like regular musicians at all. They had culture." In a later 1932 ad for the Trent orchestra, A. G. 'Ananias Garibaldi' Godley is billed as "eccentric drummer, originator of the drum solo." Godley (1903-1973) will have a long career, spanning from Pete Johnson to Hot Lips Page and was considered as one of the best big band drummers of his time.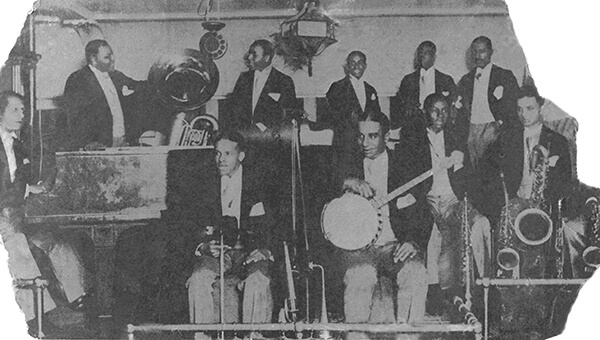 Alphonso Trent Orchestra, ballroom, Riverboat Saint Paul, prob. summer 1928, placard, restoration courtesy Anthony Barnett
© AB Fable Archive, in Anthony Barnett, Stuff Smith and the Alphonso Trent Orchestra: A Newly Discovered Photo, 2009
(Edwin Swayze is second from left)
---
'The King' and his moaning trumpet: the Bamville years
---

1924-1928
Sammy Lewis Orchestra aka Bamville's Dandies, Bamville Revue
Between 1924 and 1928, Edwin Swayze played intermittently with Trent or Lewis bands.
"Despite lucrative offers to connect himself with leading orchestras [Edwin Swayze] has preferred to remain in vaudeville" explains the Afro-American dated February 6, 1926. And reading the forthcoming paragraphs, I'm pretty sure you'll agree with the musician.
First mention is at the end of June 1924: Swayze is at the Standard in Philadelphia, PA, backing Sammie Lewis (Chicago Defender, June 28, 1924). Edwin will come and go in Sammie Lewis' band between 1924 and 1928, as with the Alphonso Trent orchestra.


Ad for the Bamville Dandies, featuring "King Edwin Swayze",
March 14, 1925 (Pittsburgh Courier)
The Bamville Dandies' was Sammy Lewis' touring road show. Early 1925, thanks to The Chicago Defender (and Al Vollmer's research for Storyville in 1978), we know that the band included Ed Swayzee (spelled with 2 "e's") as cornet and manager and Sam Davis on piano.
As shown in the ad, "King Swayze and his 'moaning cornet' were given top billing with the Bamville Dandies. Paul Seminole played piano and was an excellent left-handed banjoist and entertainer. At times, when he did not show up for work, Jasper, the MC, filled in."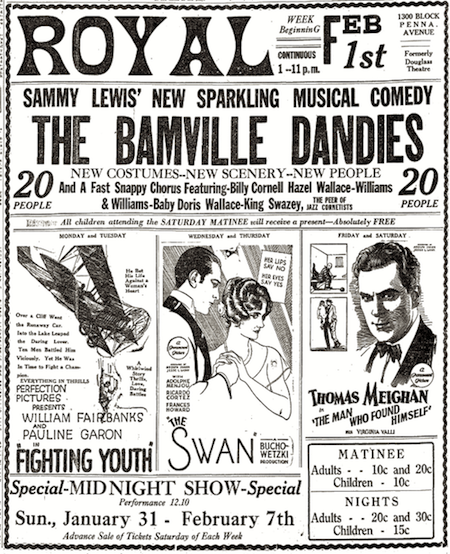 January 1, 1926 ad for The Bamville Dandies
with "King Swazey, the peer of jazz cornettists", in Baltimore, MD (The Afro American)
"The Bamville Dandies toured extensively from their home base – the Mid-City Theater in Washington. The farthest South they travelled was to Newport News. (…) During 1925 and 1926, [Lewis] appeared at the Regent in Baltimore, both the Standard and New Dunbar in Philadelphia, and the Washington Theater in Indianapolis."
Billboard (dated November 8, 1924) offers an early review of the Sammy Lewis orchestra including Edwin Swayze for a show at Douglass Theater in Macon, GA on October 20, 1924:
"The Sammie Lewis Company, with 11 people, here for the week, opened to a very good house. The personnel: Catharine Harris, Agnes Brooks (Siki), Naomi Foy, Mary Huskins, Carrie Montelle, Margaret Durrah, Edwin Swazey [sic], musical director; Leon (Sunny) Gray, Sammie Lewis, Earnest Williams and Freddie Durrah.

The offering for the first half was Two Hard Crooks, a play with plenty of comedy that kept the house in an uproar all the way thru. Durrah and Gray handled the principal comedy while Sammie Lewis and Edwin Swazey made the audience sit up and take notice to some jazz music and blues singing. Some big show numbers we rendered during this performance. "Liza" was put over by the choristers to heavy applause. The sketch Pay Me My Dollar scored, while "High Yaller," by Durrah, hit with the auditors. Mrs. Durrah received much applause for her feet manipulations with Freddie in "Carolina Mammy."

Thursday's change was the "Dog Fight," very ancient, but it seems that the folks liked it and the show got over to applause.

The Douglass Orchestra is knocking 'em a twister every night and is serving the Y.M.C.A. every Sunday at the Douglass Theatre. Movies are offered every other Sunday."
Another early article from The Chicago Defender, dated December 20, 1924, indicates their successful 3 week engagement at the Aldridge Theater in Oklahoma City, OK. A typical press release follows: "According to reports from that section the show is one of class and distinction and is winning much favor. The show has a jazz band that can be spoken of as one of the best, headed by the clever cornetist Edwin Swazey, Raymond Jefferson is doing the straight (…). With his jazz moaning Edwin Swazey is the business manager and Raymond Jefferson has charge of the stage." A later article dated February 14, 1925 from the same newspaper erroneously states that "Sam Davis is the pianist and King Edwin Swayze is at the drums."
Our musician is billed on top during the Bamville Dandies tour: "King Edwin Swayze – Hear him with his moaning trumpet" at the same size as "Sammie Lewis – Famous Gennett Record Star". 20 or 30 artists according to the ads or the reviews are the great attraction in each city where the vaudeville company performs. For instance, during their "indefinite run" at the Dreamland, Buffalo, NY, "King Swayze, the cornet wonder, keeps Buffalo screaming".
An enthusiast critic from Baltimore once explained: "King Swazey blows 'indigo' notes from a trumpet. Lewis, Swazey and a pianist succeeded admirably in entertaining with a specialty." (Feb 21, 1925). This recognition by the mainstream and trade press plus the success on the road, lead Sammy Lewis to the record booth in New York on February 3, 1926. Just Too Late has Sammy Lewis on vocal, an unidentified piano (Vivian Wright?) and Swayze. "The fine cornet of Edwin Swayze, which is ample compensation for Lewis' compulsive vocal tic at the end-uh of line-uh (Chris Smith, liner notes Black & White Piano, volume 3, Document Records, 1999). Laurie Wright, on her side, appreciates that "Lewis leaves plenty of room for the musicians, and they make good use of it" (in Storyville, #68).
Again in Baltimore in December 1925, the reviewer writes: "Sammy Lewis is heading a company here this week that has not been excelled this season. After a number of specialties the performance ends with an afterpiece that reaches the high spots for laughing purpose. (…) 'King' Swazey, cornetist, doubles in the pit and in the afterpiece."
Success is accruing more and more for the whole troupe and Edwin is even billed as "the peer of jazz cornetists" (Afro-American, January 30, 1926).
During their stay in Baltimore, the journalist reveals: "Yielding to the call of the graphophone record makers Sammy Lewis and 'King' Swayze appearing at the Royal this week will soon be featured by a large company of record manufacturers. $1,200, the team says will be expended to put them over. Five records are now in the process of manufacture and will be released on the 18th of this month."(Afro-American, February 6, 1926) The same edition provides a review for the show and points: "There is a song group delivered by Sammy with his horn blowing partner 'King Swazey blowing improvisations and jazz embellishments on a trumpet that 'set him back' over a hundred bucks" and concludes "If you're tired of seeing the oldtimers perform go on up and see 'Youths' and be refreshed." A week later in the same theater, the very same journalist adds, "Ovations on the appearance of the various members indicates that they have not been forgotten for their superb showing of the last week. (…) 'King' Swazey and his trusty trumpet, found some unknown melodies and didn't keep them inside the horn, the hearers testified their pleasure."
In late February 1926, The Bamville Dandies open at the Lafayette Theatre, in Harlem. An engagement probably felt as an achievement and the path to a promising future. Next week, I. Hurst, a white artist, joins the 22 members of the company for the "Black and White Revue" at the Gayety Theatre in Philadelphia. A nine piece jazz band is now under the direction of Swayze.
A few months later, in June 1926, while at the Regent in Baltimore, we learn that the band is composed by "King Swazey", Oscar Hammond (tb), Eugene Eichelberg (cl), Edward Goy (sax), Ozie Adams (banjo), Sonny Wilson (drums), Emmanuel Clark (piano); a quite different line up than the one that recorded on June 14, 1926 in New York for Vocalion. In Baltimore, Vivian Wright, a local piano player teamed with Lewis and Swayze in a specialty (Storyville, 1962).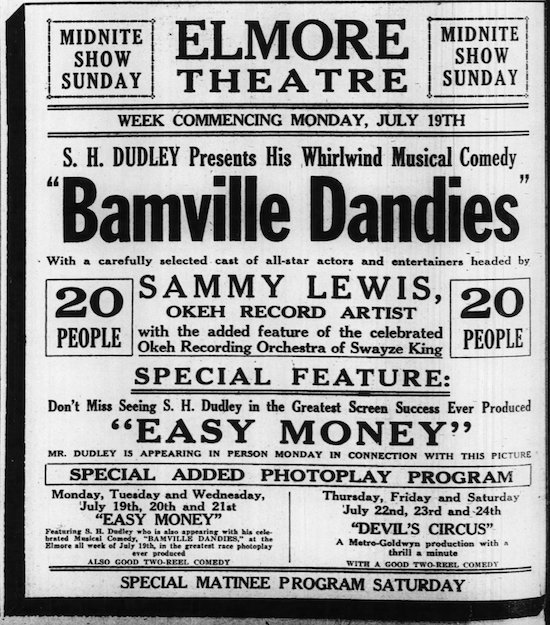 The Pittsburgh Courier, July 17 1926
During their week at the Elmore Theatre in Pittsburgh, the Bamville Dandies are on the ether waves on Station WJAS on July 21, 1926. They take advantage of the presence of comedian S.H. Dudley of recent fame "Easy Money" (also added as a photoplay program). Dudley was also a wise businessman who always took care of presenting his movie while touring with a revue.
While at the Grand Theater in Chicago, early August, "Swazie's Jazz band hit big with the packed house." In Kansas City, a few weeks later, the orchestra is noticed: "The King Swayzee band occupied the pit during the presentation of the show, but closed the bill on the stage with the most remarkable jazz offerings ever seen at the Lincoln."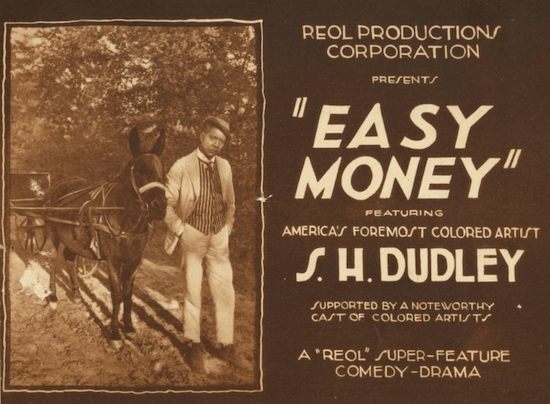 Lobby card for "Easy Money" screened after the Bamville Dandies revue

****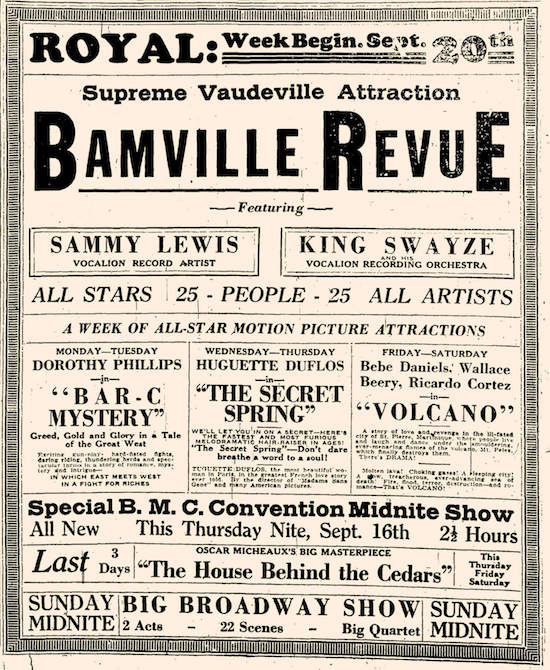 Back in Baltimore (The Afro American, Sept. 18, 1926)
Fall 1926: the company comes back to Baltimore and once again gets raves from critics: "As usual, the biggest hit with the Dandies is that jazz band, featuring Edwin Swazey. This one and that one claim the title of America's premier jazz cornetist, but we think that the title rightfully belongs to Swazey. Then he has E.O. Ikelburger and Leonard Theopolis, two saxophone players that attracted attention with their smooth harmony and melody. Oscar Hammond, a local boy, is doing a turn on trombone, the boy not only can play a trombone, but takes it apart and plays it in sections. The rest of the band includes Henry Walker, piano, King Swazey, trumpet, Joe Watts, drums and Sammy Lewis, director. To see Lewis enter with a careless sway of the body to the moderate tempo of one of the selections that he and his orchestra have canned for a famous record company, is to see art at its best."
We also find tracks of Swayze with Sammie Lewis' Bamville Dandies, touring the South, billed as "King Swayzer and his Jazz Band" on November 15, 1926 in Augusta, GA, then in Asheville, NC, all with segregated performances. Since the group was touring the TOBA circuit ("but not the biggest houses," according to Jack Butler), they come back there the year after, almost at the same period, Swayze still spelled "Swayzer".
Trumpet Jack 'Jacques' BUTLER (1909-2003), interviewed by Laurie and Peggy Wright for Storyville recalls: "At first, I didn't know what I wanted to play and began on clarinet. I was only a novice but I played with Edwin 'King' Swayze – he was a disciple of Joe Oliver. (…) The job with Swayze was, I think, my first. I joined him because I wanted to get away from Washington (…). I was lucky enough to get with Swayze's band… we were known as Sammy Lewis and his Bamville Follies and we toured Washington, Baltimore, Virginia... Swayze fell in love with a girl down there, and married her too [Josephine MORDECAI* (*last name to be confirmed – if so, is she related to tap dancer Jimmy Mordecai from the trio who starred in Paris in 1930, Wells, Mordecai and Taylor?), born at Lee Hall, Newport News, VA, on 9 June 1909, daughter of Richard Mordecai (TBC), born in 1883 in the West Indies]. We went down as far as Savannah, Georgia. We were on 'Toby-time' and we had some awful cars we travelled in… they'd break down anytime, anywhere… seems like there was always a deduction for something every week… everything that went wrong was deducted from our money, but we were happy and we were playing and we were young and we never got tired. But we did get hungry when we were young, believe me!"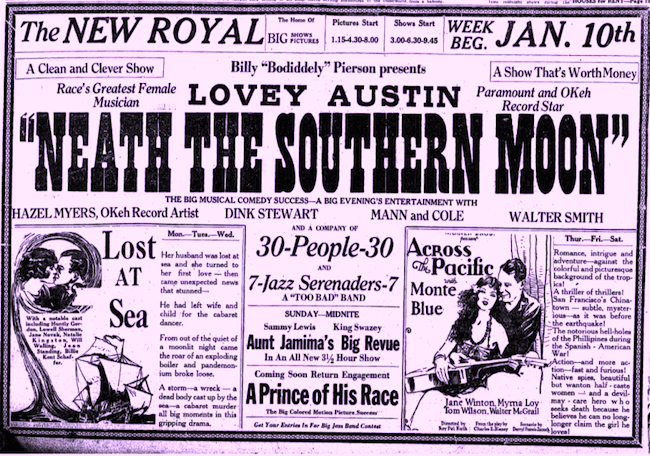 During the Aunt Jemima's Big Revue, violinist Stuff Smith
shared the bandstand with King Swazey (The Afro-American, Jan 8, 1927)
Starting January 1927, the Bamville Revue becomes for a while "Aunt Jemima's Revue", featuring Sammie Lewis and Edwin Swayze. They start at the Royal in Baltimore: "Sammie Lewis makes his entrance this time singing 'I'm A Little Blackbird', and from there on is prominent all through the show. (…) The jazz band makes an impressive showing from the pit and later when placed upon the stage run away with the show. Top honors go to King Swaze [sic] and Leroy Smith, a youthful violinist. (…) Members of the band are: King Swazey, cornet and director; Henry Walker, piano; Oscar Hammond, trombone; Henry Perrin, banjo; Robert Jeffers [sic], drums; Ernest White, cornet; Eugene Eichelberger, sax; Ernest Parham, sax and Leroy Smith, violin." (Afro-American, January 8, 1927). That Leroy Smith is in fact violinist Stuff Smith who, interviewed by Anthony Barnett in 1965, indicated that he was in the band at the time, having just started his musician's career.
In its April 23, 1927 edition, Baltimore Afro-American reviews Aunt Jemima's Revue. The critic is harsh but once again notices Swayze's qualities:
"Sammy Lewis' "Aunt Jemina Bamville Revue" is over at the Star this week. The revue is minus Aunt Jemima, minus any good singing, and minus Sammy in all except one scene, but it is drawing the crowds like a magnet. There is the spirit of jazz through the entire offering; in the widely applauded dances and the strains of King Swayze's quintet of syncopation artists. (…) The girls of the chorus and the principals keep up the swift part of dances to the moaning music of Swayze's orchestra. There are charlestons which are cleverly done, oriental and muscle dances which border around vulgarity and others which are just dances, no names having been found for them thus fab Lena Miller is one of the chorus girls who puts plenty of extra power into her work and easily lessons her ensemble sisters."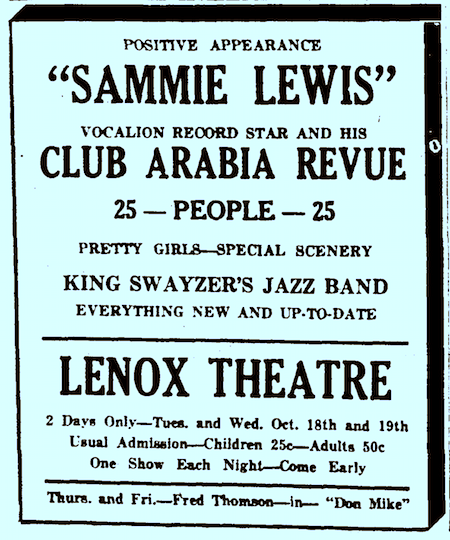 Bamville Revue is out: Club Arabia Revue is in (Augusta Chronicle, Oct. 16, 1927)
In October 1927, Sammie Lewis names his show "Club Arabia Revue", with "pretty girls, special scenery" and still "King Swayzer's jazz band", promising "everything new and up-to-date" for their engagement at the Lenox Theatre in Augusta, Georgia.
In a later articles starting January 1928, Swayze's name is not mentioned. Doc Hyder's band succeeds Swayze's orchestra. So it looks like Swayze may have come back to the Alphonso Trent orchestra. He will remain there until fall.
Other bands, other stories to be told
According to Larry Kemp in his book "Early Jazz Trumpet Legends", Edwin Swayze toured with a band named The CLOWNS, and "all the members of the band would perform while dressed as clowns". Mr. Kemp remembers that Doc Cheatham talked about this to Whitney Balliett. This could be an early road show but I haven't been able to find any significant clue.
****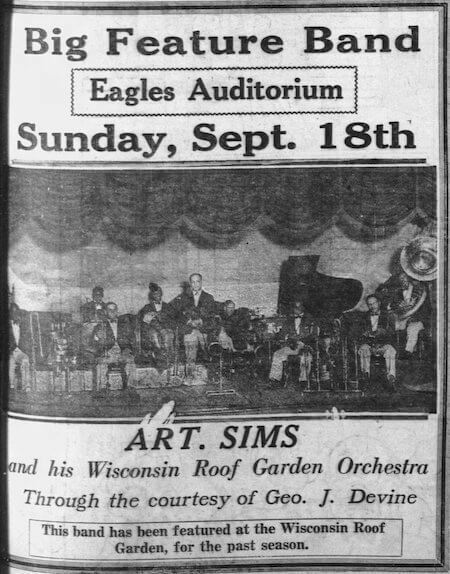 Ad for a concert of Art Sims and his Wisconsin Roof Garden Orchestra
(The Sheboygan Press, Sep. 16, 1927)
Another unverified orchestra with whom Ed Swayze is supposed to have worked is Art SIMS and His Creole Jazz Band. "We played Milwaukee, it was a ten-piece band." Wallace Bishop — the musician who's trying to collect his memories with the help of Roger Richard for Storyville #26 — believes that "the band included Oscar [Bernie] Young and Ed Swayzee on trumpets, Billy Franklin on trombone; Ed Inge on alto and clarinet; [Art] Simms [sic] himself on tenor and Cass[ino] Simpson on piano, but couldn't recall the names of the others [Preston Jackson, trombone; Gilbert Munday, baritone sax; Charles Harkness, tuba; Arthur Allbright, banjo; Wallace Bishop, drums]. He did however later recall that they were resident for a year at the Wisconsin Roof Gardens in Milwaukee in [1925-]1926." In fact, most of the dates we have found with Art Sims bump into the Bamville Revue ones that have "confirmed" Swayze's presence (at least, his name is on the bill). According to William Howland Kenney in his book "Chicago Jazz, A Cultural History, 1904-1930" (OUP, 1993), "Arthur Sims, whose father Adolph was well placed in Mayor Thompson City Hall [in Chicago], possessed what the Defender called "aristocratic" manners and was one of the first jazz band contractors at the Sunset Café and Midway Gardens." As kspm0220s posted along his video on DailyMotion, "He insisted that Black band members should perform impeccably groomed, appearing before the public as entertainers. Accordingly, they became role models for many younger musicians." Regarding the way Edwin was always dapper on pictures, that's exactly the kind of attitude that perfectly fits with Swayze's personality.
The band only recorded 3 tracks for Okeh on June 21, 1926 in Chicago and the trumpet solo by Bernie Young on "How Do You Like It Blues" could have been also done by Edwin Swayze.
****
Swayze is also supposed to have played in Sam WOODING's band. Could it be during his European stay between 1929 and 1931? I haven't been able to find any clue about this information that has been repeated in every short, incomplete and erroneous notice I've read about Swayze.
---
In the meantime, a subtle accompanist for blues singers
---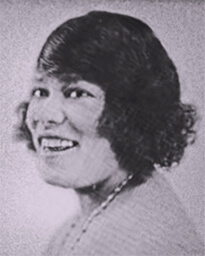 Rosa Henderson (1896-1968)
1926-1927
Rosa HENDERSON and other singers
In The Mississippi Rag dated June 1980, trombonist Snub Mosley remembers: "When I was sixteen, Ethel Waters came to Little Rock and she brought with her what everybody said was one of the great trumpet players, Johnny Dunn – Johnny Dunn and his Jazz Hounds. She only had Dunn and a piano player, and she wanted some more local musicians in the band. I was recommended, so was Edwin Swayzee, trumpet; and Joe Hayman, alto." From this experience probably dated in fact January 1923 (at 17!), Swayze knew his way backing singers!
During his time with Sammy Lewis and the Bamville revue, Edwin Swayze was often billed as a Vocalion or Okeh artist. But "King Swazey" never recorded under his name. Nevertheless he backed singers on several occasions.
Thanks to K. B. Rau's incredible work for his Harlem Fuss website http://www.harlem-fuss.com/ , Swayze is identified as the cornet player with several blues singer and vaudeville entertainers between May 1926 and January 1927:
• Rosa HENDERSON: 11 songs (May 14, June 5, July 2, 1926, and January 1927). K. B. Rau is enthusiastic about "She Belongs To Me": "Listen to Swayze´s solo in and you will immediately hear that his style is derived from King Oliver. Might this be the reason for the fact that he is named Edwin "King" Swayze in the papers of the time?". Read her discography here and listen to Rosa Henderson here.
• Nettie ROBINSON: 2 songs (Dec 24, 1926)
• Laura SMITH: 2 songs (Jan 15, 1927)
• Sadie GREEN –pseudonym for Bessie BROWN: 2 songs (c. Jan 15, 1927). Read her discography here.
To quote Rau, on those records, "we hear the trumpeter assumed to be Edwin Swayze with his sharp yet earthy trumpet playing derived from King Oliver".
Please refer to K.B.'s study on Swayze for detailed information on those sessions – and all their recordings are available on Document Records. Probably all those singing ladies were touring the Theater Owners Bookers Association circuit, hence the encounters with Swayze who was supposedly touring with the Bamville Dandies at that time, although all the sessions took place in New York.
---
5 cents a dance with Jelly Roll Morton and a couple of records
---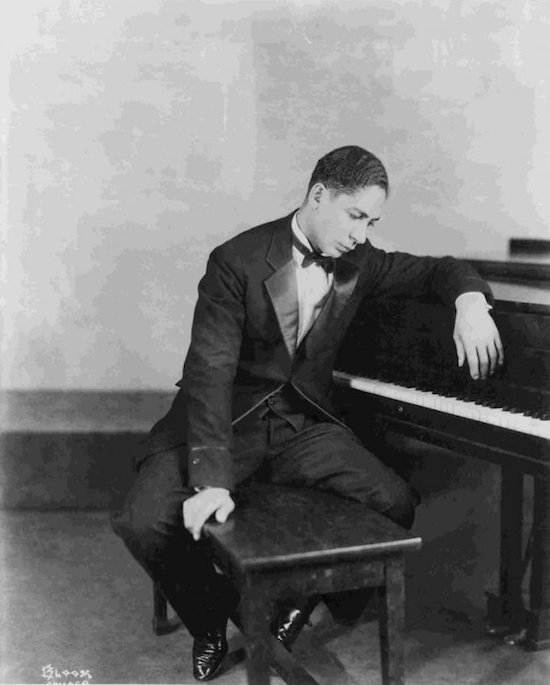 1928
Jelly ROLL MORTON
Fall 1928: Ed Swayze and his bandstand friend Stuff Smith leave Alphonso Trent for good to join Jelly Roll Morton's band in New York, where they played in a dancehall, 5 cents a dance per dancer! On the bandstand, they find new friends in trumpet Louis Metcalf and tenor sax Walter Foots Thomas who will later join the Missourians and will eventually remain with Cab Calloway until 1946.


(The Evening News, Harrisburg, PA, Dec 26, 1928)
Drummer Wallace BISHOP (1906-1986) said to Roger Richard for Storyville #26 ("A jazzman in Europe, Wallace Bishop") that "Ed Swayzee and Hayes Alvis were in the band with him and a very fine young alto player called Irby Gage who died very young, from pneumonia he thought." (Bishop dated the personnel in 1925, which is wrong). The band was in fact:
Charlie SKEETE
Tommy Benford, quoted from The Ghosts of Harlem, p. 108, in KB Rau PDF remembers: "My brother Bill had a nice band. He´d taken over Charlie Skeets´s [read SKEETE] band, and it was the same band Jelly Roll Morton used to make some of those Red Hot Peppers records. Jelly Roll Morton never played with that band outside the recording studio, but the band stayed together, and we played in dance halls all over the city, uptown and downtown." This short information allows us to believe that Swayze may have indeed been part of Skeet's band during that period.
Listen to Skeete's tunes here.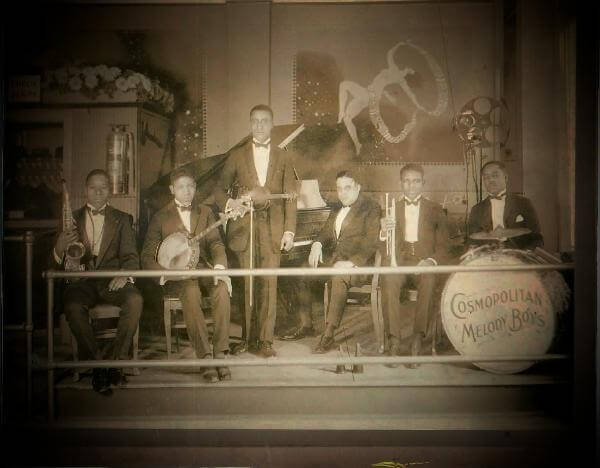 Charles Skeete (at the piano) and his Cosmopolitan Melody Boys
From Dailymotion: "According to the site Mr. Barry Skeete dedicated to his father [not online anymore], Charlie Skeete, was a world-class piano player in the 20's, and 30's. His first band was the Cosmopolitan Melody Boys. In the 1920's, his band was one of the first African-American bands to have their own radio show. Charlie Skeete and His Orchestra was one of the most popular and well-known bands in NYC. They were regular performers at the Cocoanut Grove, the Savoy and the Cotton Club. Due to heart problems, he gave up his orchestra in 1930 when it was taken over by Claude Hopkins. This brilliant recording (Tampekoe) was made in 1926."
Ed Swayze's presence at the Levee Serenaders session on January 21, 1928 in Chicago was often discussed but it sounds clear now that it's Ed who soloes on Midnight Mama and Mr. Jelly Lord, and "is astounding on both titles, playing a strong lead in a satisfying ensemble and some fierce and intense breaks which outweigh the period vocals of the deservedly obscure Frances Hereford" (John Capes' liner notes from Get Easy Blues, Chicago 1928-1930, Frog DGF9).
Deep Creek (December 6, 1928) is one of the most cherished tracks by Morton with a band. But the trumpet solo heard at the beginning is not by Swayze but probably by Edward Anderson.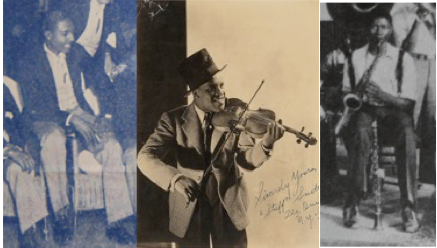 Edwin Swayze (pictured in 1928), Stuff Smith (in 1936), and Walter Foots Thomas (in 1929):
what an incredible band of friends and talented musicians!
Jelly Roll Morton was someone hard to work with. According to Stuff Smith recollection, "after we had had our fifth of Gordon's Dry Gin, we would go to bed. One morning, I went to bed and set the whole place on fire. We were living above an undertaking parlor. When I woke up, a fireman was squirting water in my face! We burnt the whole apartment up, and everything went except the violin, the trumpet, and the saxophone. We grabbed them first – Swayzee, Foots Thomas and me – but it left us without any clothes, so we had to go to the pawnshop to get something to put on" (in The World of Swing).
In Mississippi Rag dated April 1979, Wallace Bishop remembers another scarring anecdote about working with Jelly Roll Morton: "I went on the road with him, too [at the time with Swayze]. We went to Indiana and Ohio. No trouble at all. We got $70 a week then, whether we worked or not. And that was in the '20s. Sometimes we only worked three nights a week. We had big crowds. We had some things written out but it was featuring Jelly Roll mostly. One time I was driving the bus, Jelly Roll used to sit right behind me, and I heard a shot, 'boom, boom, boom.' I got nervous, and a car was coming. I sideswiped the car, and a piece of glass flew back and cut Edwin Swayzee's wife across the cheek. Just a little thing, but Jelly Roll liked to shoot his pistol at night. He'd shoot out the window, not in the cities, but in the country. I could have killed everybody in that bus!"
Maybe that's the kind of misadventure that led Swayze to leave Jelly Roll Morton's band as he was becoming a more "responsible person"…
---
With the Savoy King
---

****
In 1929, Swayze becomes the father of Dolores, born in Virginia, birthplace of her mother Josephine.
****

Spring 1929
Chick WEBB
Swayze joins Chick Webb and his orchestra early 1929 and remains until June that year. The orchestra is then the Savoy Ballroom's house band.
Quickly, Ed's contract is enhanced with "the biggest 'talkie' contract ever issued a colored dance orchestra when Chick signed for a 15-mn movie "After Seben" directed by S. J. Kaufman in March 1929 at the Lasky-Players-Paramount Studios in Long Island City near Astoria.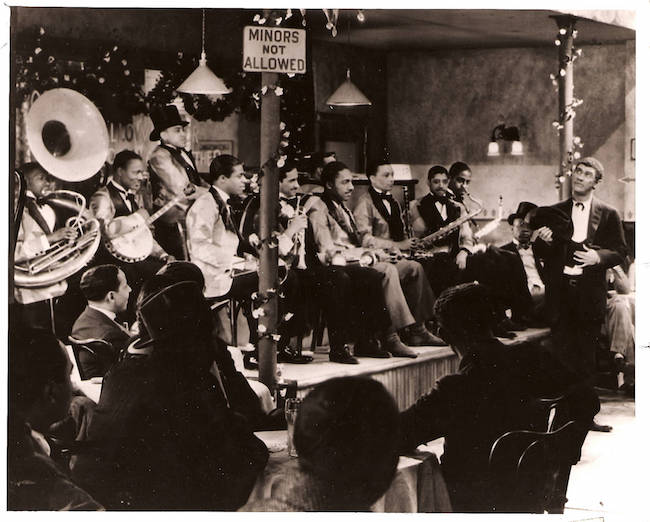 Movie still from "After Seben": Chick is with the top hat,
and Swayze is between the 2nd trumpet and the saxophone player
You can see and hear Edwin Swayze in Chick Webb's band all through the movie. Probably even from the opening title, that's clearly Ed's trumpet! Chick Webb and his musicians appear on stage at the seventh minute and save the film that features blackface comedian James Barton. The other interesting point is that this is probably the first time early Lindy hop is caught on film, with three dancing couples from the Savoy Ballroom, among them Shorty Snowden and Mattie Purcell jumping and dancing (read a detailed analysis on the dance sequence here).
Ed is seated in front, just behind the master of ceremonies and gently puts his mute on his trumpet, chatting with his section mate.
After the long song by Barton supported by the pianist, a contest among the dancers opens and, again, Swayze's muted notes are on Sweet Sue with the first and third contestants.
Further information about "After Seben" here.
"After Seben" is released May 18, 1929. And on June 14, propelled by movie fame, they enter the studio and record Dog Bottom, the first wax for Chick Webb. Unfortunately, Swayze isn't featured here, to the benefit of the other trumpeter in the band, Ward Pinkett (who also does the scat vocal solo). 13 days after, the band is back in the studio for another session for Brunswick, in New York, where they record Jungle Mama. Here's an opportunity to clearly hear Edwin Swayze during a 12 bar-solo (a la Freddy Jenkins, according to Doc Cheatham in "Conversations with Doc", Storyville #14, Dec 1966-Jan 1967), after solos by Ward Pinkett (muted trumpet), Joe Garland on clarinet, Robert Horton on muted trombone. A beautiful gem of early big band sound with an exceptional arrangement, probably by Benny Carter – unless it's Swayze's…
We haven't exactly determined when Edwin Swayze left Chick Webb's orchestra... But in our next part, we'll tell you everything about Edwin Swayze's first trip to Europe with the Blackbirds: there he worked with Adelaide Hall, Aida Ward, worked in the swankiest places in Paris, on the French Riviera, in the Netherlands where he led his own band: The Plantation Orchestra.
---
---
Bibliography, sources and aknowledgements are presented Part III