DOTTY SAULTERS
(Born August 7, 1922 in Philadelphia,
died April 5, 1962 in New York)
in Cab Calloway's troupe from 1941 to 1947, and then sporadically in 1950, 1951
Part 2: DURING CAB CALLOWAY
Cholly and Honi separate...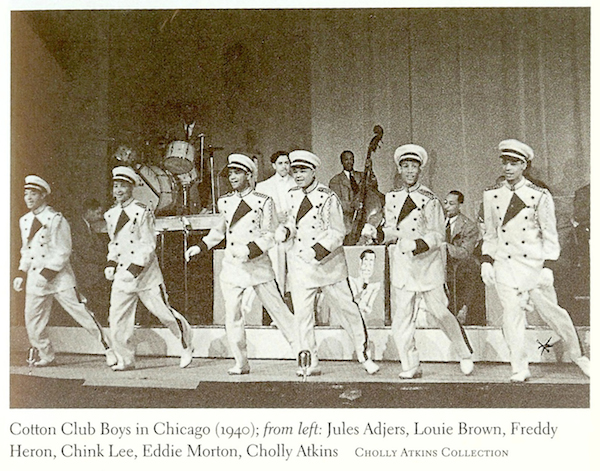 The Cotton Club Boys (1940)
In summer 1939, the dancer Cholly Atkins had joined the cast with Cab Calloway a few months earlier in the Cotton Club Boys for a revue at the prestigious mid-town nightclub. He choreographs the group numbers of 6 dancers to put Cab ahead in the limelight. Cholly Atkins works hard, allowing the sextet to be noticed during the show's tour that followed that fall. The Cotton Club Boys then go with other orchestras (they tour again with Cab for almost two months in New York and the West Coast) but gradually, each member of the group wants to follow his destiny and they separate.
We are then in the spring of 1941. Cholly, who had long been the friend and partner of Honi Coles, are quick to find work together. A tailor from Atlantic City, Eddie LIEBERMANN, who also produces a revue for Club Paradise, offers them a job choreographing the numbers. And in those numbers, of course there's... Dotty Saulters! Cholly and she had not seen each other since their first meeting in Hollywood in 1937.
Rehearsals begin and everything is all right. Catherine, Cholly's wife, is in the troupe with Dotty. Honi Coles has his own solo number; Cholly then decides to ask Dotty to do a duet with him. In addition, to improve the continuity of the revue and vary the atmosphere, Cholly asks Honi to prepare some short interludes with Dotty. The public and the press quickly notice those numbers and identify the pair as a very promising duo.
In September 1941, the duet is actually found with the Mills Brothers at the Plantation Club in Detroit, and goes on tour for six weeks (Honi Coles on his part had been called by Cab Calloway for the autumn tour with him!)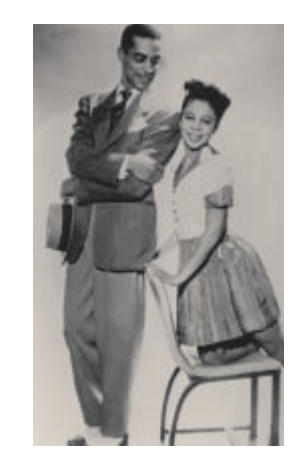 Cholly and Dotty unite...
All seemed to go smoothly and innocently. Professionally, so to say. But gradually the feelings need some room! Especially since Cholly's spouse – who was a dancer at the Apollo – is unemployed due to the end of featuring chorus girls at the famous theater in Harlem. She leaves to settle in Chicago while her husband tours with the sparkling Dotty… Catherine thinks of leaving show business and tries to influence her husband to do the same. The gaps are becoming wider and wider. Therefore, the one who would soon become the "first wife" packs her bags for Des Moines to resume her scholarship.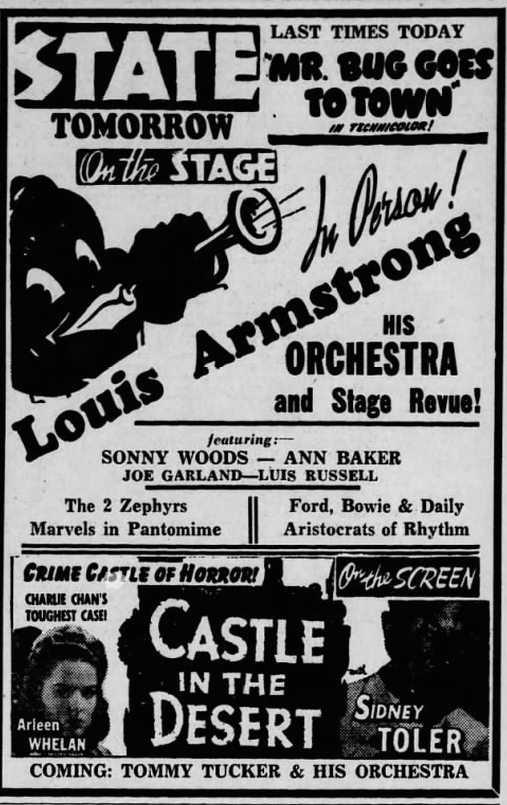 Through Leonard Reed, Cholly and Dotty replace Chilton and Thomas, another pair of dancers at the Grand Terrace Chicago, run by Memi Capone, Al's brother. Here, Joe Glaser – mutual manager of Earl Hines and Louis Armstrong – notices them. He makes an offer for them to accompany him on his next tour in March 1942. Unfortunately I wasn't able to find any ads with their names associated with that of Armstrong. Then they return to play in small clubs around Detroit waiting for the next big contract. There, their friend Leonard Reed seeks to put on a show at Broad's Club Zombie, with a monthly schedule keeping the same cast. Cholly takes the opportunity to learn the rudiments of producing from Reed. The experience lasts several months.
Then at South Side Chicago at Dave's Café, Cholly and Dotty are booked for a few months before going on tour in Canada: Toronto, Winnipeg, Calgary and Vancouver then back to the U.S. via Seattle, Portland, Oregon and ending in Chicago. Meanwhile, Dave's Café had changed its name and owner: it's now called Rhumboogie and boxer Joe Louis's half-brother is the new boss.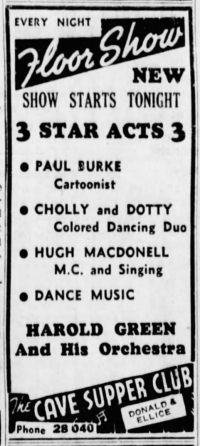 A decisive baseball game
In February 1942, while Cab Calloway is visiting Chicago, a baseball game is held between Rhumboogie's team and the Hi de Ho orchestra in Washington Park. But Cholly Atkins has the good idea to make a sporting gesture for Cab. And made a score for later! Indeed, in the fall of the same year, Aland from the Anise & Aland duo is drafted into the army. Anise got a small solo singing but the thrill is not there (also Anice Aland often got mixed or bad reviews...). Thanks to Honi Coles already in Cab's troupe, Dotty and Cholly put together the new show.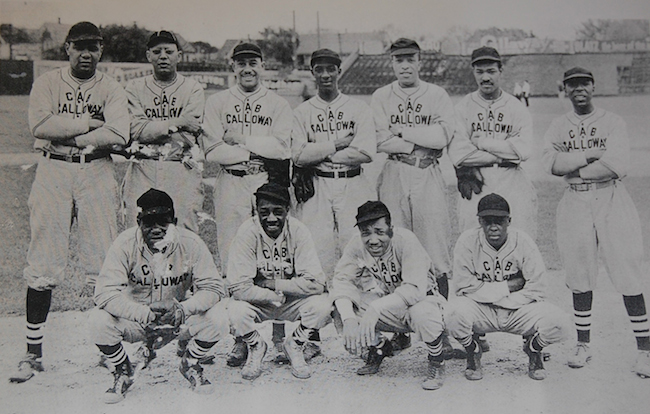 Cab Calloway's baseball team (1939)

At this time Catherine Atkinson's lawyer sends official papers for divorce... playing Cupid, Honi Coles leads Cholly to recognize his feelings for Dotty, his soul mate, with a professional view of the situation:
"You're working like a dog to build this act, so you'd better put some insurance on it and lock her up!" (page 55).
Four months later, the young couple are spending all their time together on stage and off!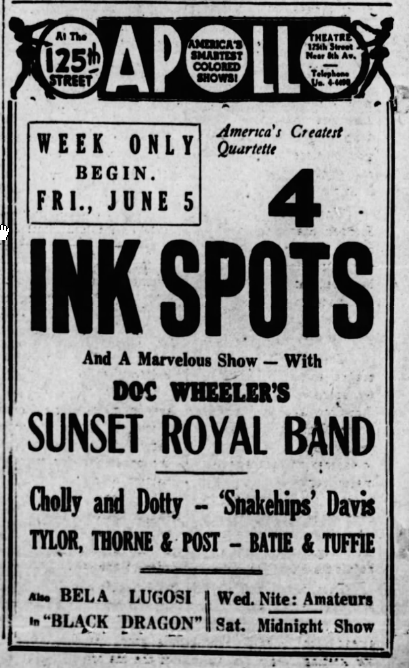 In June 1942, Cholly and Dotty appears at Harlem's Apollo with the 4 Ink Spots.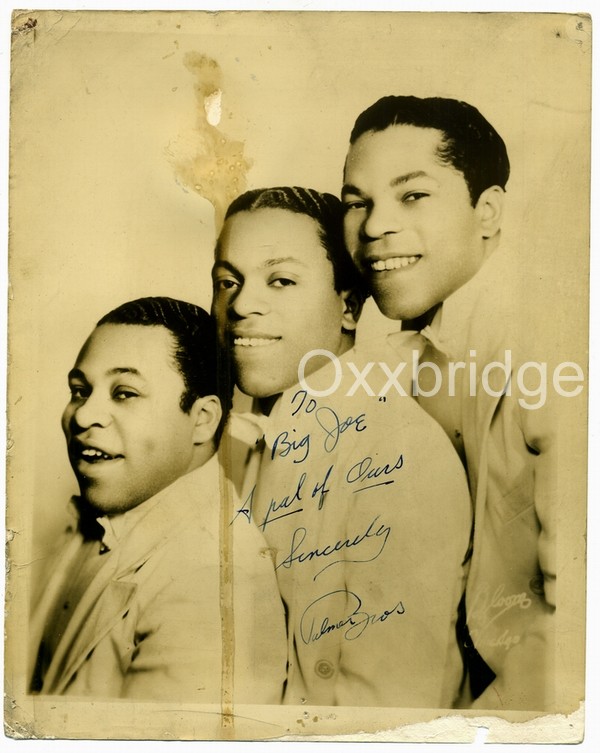 The Palmer Brothers
The girl can sing. Why not?
Once again in the history of show business, it's a twist of fate that propels Dotty to the front of the stage. Due to disagreements with their manager, the Palmer Brothers, a vocal trio in Cab's orchestra since 1941 (you can hear and see them in the Soundies Blues In the Night or Virginia, Georgia and Caroline) gave their resignation. "This hole in the company will be easily filled by Cholly and Dotty," suggests Cholly to Cab. "Why not?" replies Cab, who also chooses to hire a New Jersey singer he knows: Frances Brock. Nevertheless, whenever possible, especially during ballroom evenings where Cab hardly took the microphone, Cholly and Dotty hold it instead!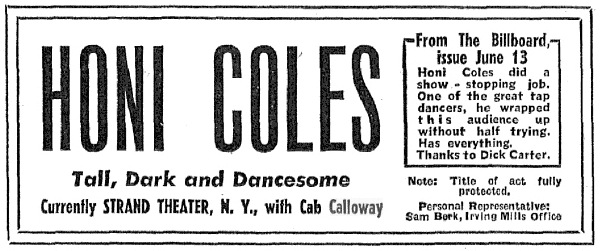 Still, a Billboard critic stresses at that time that "the girl, tho cute, makes too many faces" (April 1943). A month later, Variety says the duo is "a clever tap team. Pair go through a routine rhythm, Then the boy is there alone with fast toe work and back to a duo finish. They're neat." (Variety, May 26, 1943). In July 1943, during Calloway's shows at the Cocoanut Grove in New York, the Billboard critic explains that Dorothy has "a thin sweet voice, bearing the major burden of piping."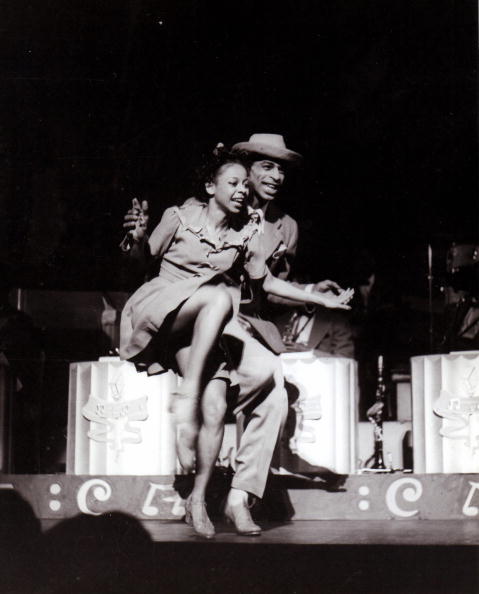 The perfect pair on stage: Dotty Saulters and Cholly Atkins
Honi Coles is drafted in April 1943 and replaced by his brother Baby Coles, who, however, seems more interested in pool than the stage. He goes away relatively quickly and since Cab is especially faithful with his talented artists, he asks Honi to replace him. In September 1943, Cholly receives his military papers. Before he leaves for the army, Cab assures him: "You do not have to worry about Dotty, man. I'm going to keep her as my band vocalist."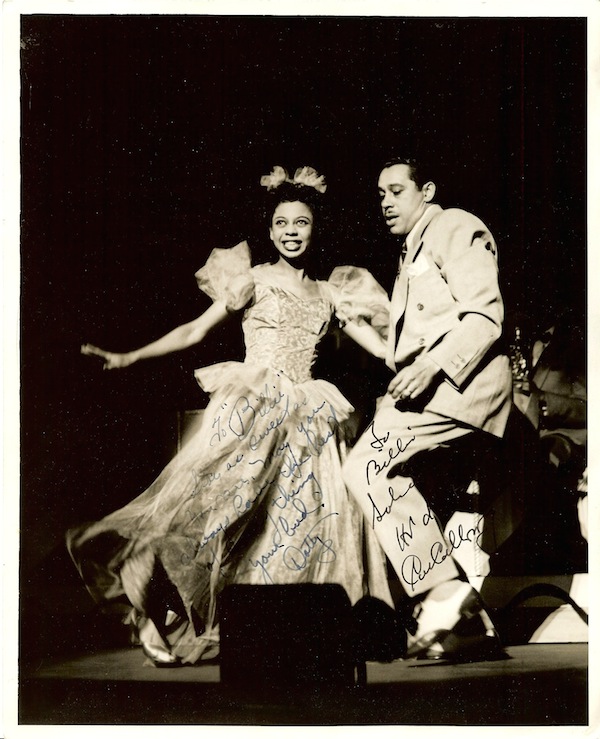 Dotty and Cab on the stage of the Strand, Times Square (1945)
Dotty, the hot singer
To balance his shows, Cab Calloway often uses several types of singers: a "sweet" one and a "hot" one. The first role, more lyrical, was given to Frances Brock or the soprano Avis ANDREWS, "Harlem nightingale." And Dotty was definitely there to provide the maximum entertainment.
Cab quickly perceives Dottie's skills. And critics did not make any mistake, writing:
• "Dotty Saulters is a cute-as-a-button vocalist who was obviously raised on Mexican jumping beans." (Variety, October 25, 1944)

• "Cute thrush. (...) Girl has a clean diction and knows how to sell, but does better on the novelty than the ballad." (Billboard, Dec. 9, 1944)

• "Dotty Saulters is not only a very effective, vibrant vocalist, but also a first-rate dancer who jitterbugs with Cab and scores with her two numbers." (Variety, Feb 2, 1945)

• "Winsome Dotty, once a pro dancer, has finally worked some terping into her presentation, and the addition is surely to pull some more palming." (Billboard, Dec. 15, 1945)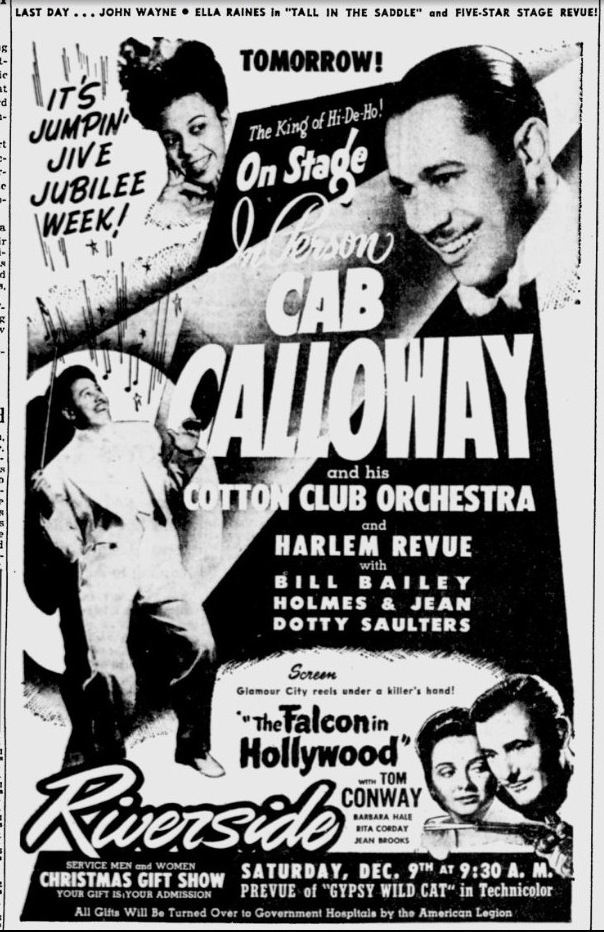 Dotty Saulters's picture is on top of the bill in this December 1944 ad.
Cab sharing the stage and screen with Dottie!
If you listen to Cab Calloway's performances of that period affected by the strike that has blocked the AFM records for nearly 2 years, the petite Dotty Saulters is present on many songs. Especially those broadcast live from the Café Zanzibar. I'm not personally a fan of Dottie's voice but we feel she has a great stage presence.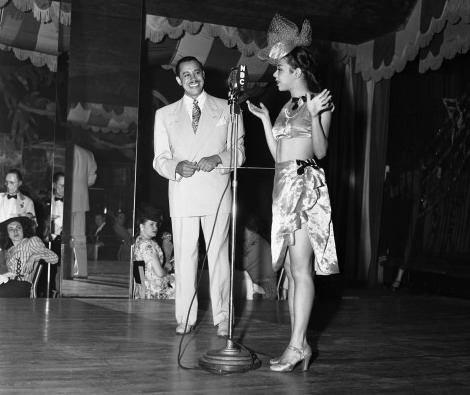 Cab Calloway and Dotty Saulters at The Café Zanzibar in New York, 1945
All this is visually confirmed by the Soundies filmed in 1945 (and all produced and directed by William Forest Crouch) where Dotty Saulter (this time without the final "s") appears next to Cab: the rolling eyes, the perfect diction, gracious and smiling little face... She is the paragon of the petite singer, like the canaries in the white big bands, but with a distinct personality!
Soundie: I Was Here When You Left Me (1945)
Note that in this Soundie, Cab Calloway lets Dotty Saulter be the star, not even singing a duet with her...
Soundie: Walkin' with My Honey (1945)
This time, Cab joins Dotty for a very accomplished duet.
---
Sources:
Class Act, The Jazz Life of Choreographer Cholly Atkins, Cholly Atkins & Jacqui MALONE, Columbia University Press, 2001
Hi De Ho, The Life of Cab Calloway, Alyn Shipton, Oxford University Press, 2010
Groovin' High, The Life of Dizzy Gillespie, Alyn Shipton, Oxford University Press, 2002
Satchmo Blows Up the World: Jazz Ambassadors Play the Cold War, Penny M. Von Eschen, Harvard University Press, 2006
Hendersonia: the music of Fletcher Henderson and his Musicians, Walter C. ALLEN, Jazz Monograph No. 4, 1973
Plenty of Good Women Dancers: African American Women Hoofers from Philadelphia
"Africa, The Cold war and Diaspora at home" by Ingrid Monson, 2011 (full-text PDF)
"Maurice Rocco in the 1930s", Mark Cantor, 2013 on Celluloid Improvisations
R&B Notebooks by Marv Goldberg
Dottie Saulters's grave on Find a Grave
---
Many thanks to Franz HOFFMANN for providing the Soundies posted on YouTube (see his amazing channel)
My deepest gratitude to Keller WHALEN for helping me in providing a better english text.
---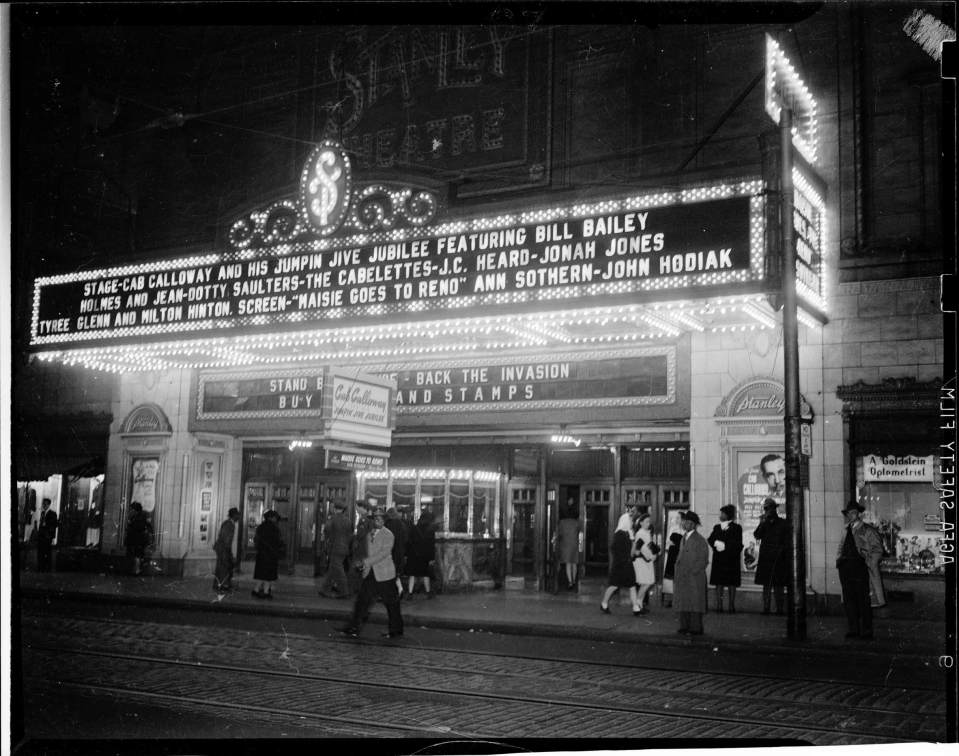 Dotty Saulters's name in lights at Pittsburgh's Stanley, 1944 ca