DOTTY SAULTERS
(Born August 7, 1922 in Philadelphia,
died April 5, 1962 in New York)
in Cab Calloway's troupe from 1941 to 1947, and then sporadically in 1950, 1951
Part 3: AFTER CAB CALLOWAY
"What happens when child prodigies grow up?"
It is with this title that Ralph Matthews of the Afro American (March 15, 1947) evokes the careers of artists who have known the glory as youngsters but who didn't all remain in the limelight. The likes of Sugar Chile Robinson, the Nicholas Brothers, the Berry Brothers, Ida James and Dottie Saulters are the stars of… the article. The latter two actually have a similar career, a promise of success but stopped by segregation:
"Little Dottie Saulters, after graduating from the theatrical kindergarten, became a night club favorite in Lower Manhattan where she was discovered by a talent scout and whisked off to Hollywood, along with Maurice Rocco, to be featured in a number of films. But she too fell victim of the same color bar which excluded Ida James."
When Cab Calloway's orchestra disbanded, Dottie found work at the Baby Grand and Savannah Club in Manhattan, the 845 in the Bronx and several clubs in Philadelphia.
Accompanying her husband on tour with the Ink Spots, Dotty is back on the road (but not on stage). She shares her cooking skills with the company.
A show produced by Willie Bryant
Nevertheless, in February 1948, she is in the cast of a radio-stage show produced and presented by Willie Bryant at the Apollo in Harlem. A show is intended to be daily, combining numbers, songs and games. The press announces the sax player Charlie Ventura and his Orchestra with vocalist Billy Stewart and also the contortionist (very convenient for radio!) Irene Hinton, the tap dancer Billy Williams and Dottie Saulters, of course, "the personality girl." A journalist says that she "has an uninhibited style and sells her songs with verve and showmanship."
I do not know what happened to the Willie Bryant radio show, but Dottie Saulters soon moves to the Beige Room of the Pershing Hotel in Chicago. In a revue produced and presented by Larry STEELE, she's headlining, along with The Four Tones and Slim & Sweets. The revue begins on February 6th and lasts several weeks.
In the springtime, the couple moves from 2040 Seventh Avenue in Harlem to a rooming house on Morningside Drive, with a larger apartment with an extra room for a hoped-for baby... They visit their neighbors Willie Bryant, Ella Fitzgerald and Ray Brown, Harry Belafonte. But shortly after, due to issues with the landlord, they move into an apartment owned by a friend of the one-legged tap dancer Peg Leg Bates in Queens. There, their new neighbors are Honi Coles, Dizzy Gillespie, Milt Hinton and Budd Johnson.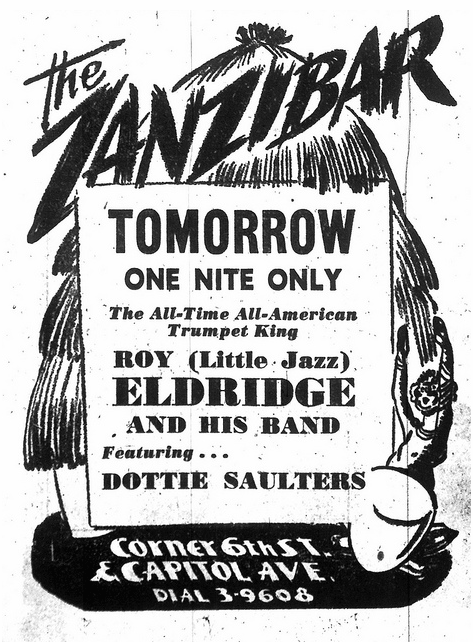 The canary with Roy Eldridge and Louis Armstrong
In July 1948, Atkins tours with Coles – but without Dotty - in Great Britain and returns in September. For some time, when she has no gig in Philadelphia, Dottie Saulters accompanies trumpeter Roy Eldridge and his quintet. One can hear her at Sacramento's Zanzibar and spend eves with them at Club 86 in Geneva, NY. At this time, they are under contract with MCA that organizes packages of artists.
Early in 1949 Dotty changes trumpeter and place: this time it's Lee Castle (formerly with Benny Goodman, Tommy Dorsey and Bob Crosby) at Utica's Chancellor, all in the northwest of the State of New York.
In spring 1949 she is on tour with Louis Armstrong, with her husband and Honi Coles. Billboard calls her a "pert and vivacious songstress."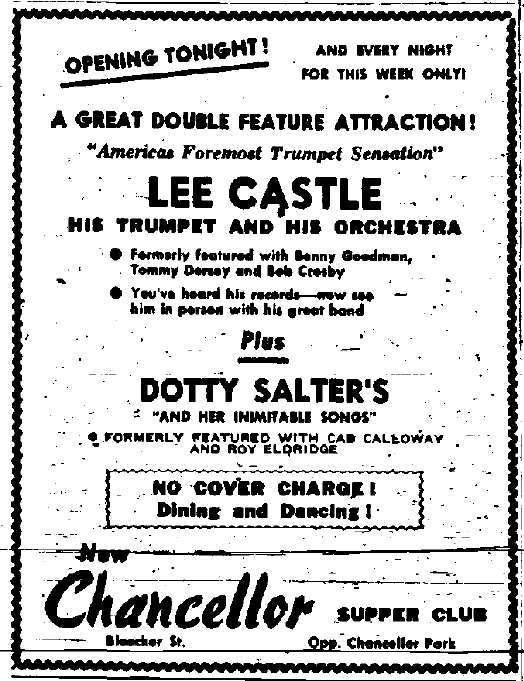 August 1949: along with Coles and Atkins, led by Howard McGee and his orchestra, Dotty Salters tours the eastern U.S., including Syracuse, NY. She's billed as "formerly with Cab Calloway," still an impeccable reference in show business.

Willie Bryant with Cholly and Atkins (1955)
In one of the first black TV shows: Harlem Jubilee
Dottie Saulters is among the first guests of the TV show with only black artists: Harlem Jubilee (or Uptown Jubilee). Willie Bryant emcees this program. Dottie had probably impressed him earlier. On September 13, 1949 at 8:00 pm on CBS – exactly the same hour when Milton Berle himself has his own show on NBC! – the viewers are able to hear Don Redman's band (permanent team) accompanying Louis Armstrong, Juanita Hall, Timmie Rogers, Harry Belafonte, dancer Jimmy Smith and Coles & Atkins. For the second episode of 6 October 1949, the show is renamed Sugar Hill Times. The guests are Pearl Bailey and Hot Lips Page. Unfortunately, the very promising TV show will only have a short existence: it is canceled after 5 weeks and a total length of 3 hours broadcast in November 1949, after failing to attract advertisers or sponsors. Once again history repeats itself, as with Cab Calloway's Quizzical Radio show in 1942 and his television experience on May 1949 on NBC as MC.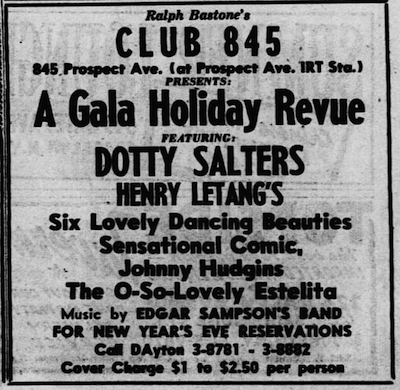 From late 1949 to early 1950 (at least until January) Dotty Saulters appears as lead performer at Club 845 Prospect Avenue in the Bronx. The Edgar Sampson orchestra (who had also made several arrangements for Cab Calloway) is in charge of the musical atmosphere while Nat Wilson, comic dancer is the master of ceremonies. Dotty is escorted by Henry Le Tang's six dancers. Connie Harris also takes the microphone. December 31 New Year's Eve concert is a great success!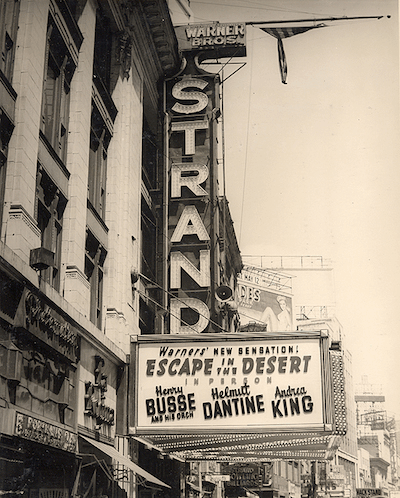 Back with Cab Calloway
Dottie is found again with Cab Calloway and his orchestra (10 musicians, 3 reeds, 3 trumpets, 1 trombone and 3 rhythm) for a week from May 17, 1950 at the New York Strand, accompanied by Apus & Estrellita and Harold King. Dottie sings three songs, including "I Do not Want to Be A Good Girl Anymore." Variety critic writes:
"Dottie Saulters is cute and pert on the wordage of a trio of tunes (...). Gal could tone down a little on the coyness in places, but generally it's a good vocal performance." (Variety, June 6, 1950).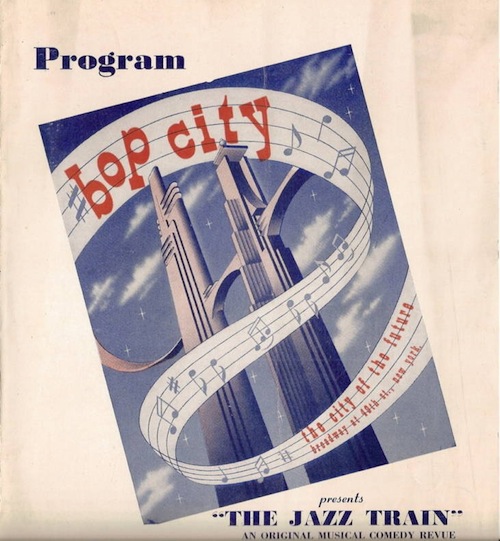 On September 15, 1950 premieres a new revue at New York's Bop City, the famous "JAZZ TRAIN" with music by Fletcher Henderson. Supposed to narrate the history of Jazz, the show is based on arrangements by Eddie Barefield and alternates Earl Bostic and Fletcher Henderson orchestras. In the latter, there are many musicians who played with Calloway: Lammar Wright (tp), Claude Jones, Tyree Glenn (tb), Eddie Barefield, Chauncey Haughton (sax).
Dotty Saulter appears in several scenes such as "The Second Car – Plantation", "The Fifth Car – Passengers" and the song "The Roarin' Twenties". Three shows per night (except Mondays) are not enough to excite critics who find the show pretentious despite lively and colorful staging. The public does not come either and the Billboard critic even writes: "actors might become blind to all these white sheets that covered the empty tables" (in Billboard, September 30, 1950). Bop City vainly changes its name for the Paradise Club, but without improvement. And on November, Royce Wallace replaces Dottie who had already left the cast.

From July 13 to July 26, 1951, Cab Calloway takes his passport for concerts in the chic Gatineau Country Club, Ottawa. Accompanied by 15 musicians (including Milt Hinton and Panama Francis and two percussionists), he sings along with Dotty Salter. In its August 1 edition, Variety explains that attendance records are broken. This is also why the one-week engagement is doubled. The journalist adds: "As always, it's Calloway's show, but he gets stalwart competition from his trim, wiry singer, Dotty Salter, who tosses her songs with a showmanship that ought to get her high in the business." And he describes her performance in detail:
"Gal's leadoff is Good Day. She does more than sing it; she zings it. I Don't Wanna Be a Good Girl is handled in a style that gets all the lyrics have to offer over to the customers. Almost Like Being In Love sends her away to beg-offs." (Variety, Aug. 1, 1951).
On July 29, 1951 Cab Calloway appears on Toast of the Town, hosted by Ed Sullivan. He sings one of his new songs, never recorded on wax: "That's My Girl". And guess who is HIS girl, dancing with him? Dotty Saulters of course! Heres the clip from the show that appeared on YouTube in March 2021

July 29, 1951: Cab Calloway with Dotty Saulters on Toast of the Town, singing "That's My Girl"
The tour continues in Canada in August 1951 at Toronto's Casino. The success is so great that 6 performances are scheduled per day! "Dorothy Salter, vivacious pint-sizer, for her little-girl and eye-rolling song styling, particularly in her I Don't Want to Be a Good Girl." (Variety, Aug 8, 1951).
The tour lasts probably until October 1951, when Dorothy is still with Cab Calloway at Circle Theatre in Los Angeles (The Pittsburgh Courier, November 3, 1951).

Saleswoman in a department store
In the spring of 1952, Dottie puts her artistic career on hold, the time for her to recover from a miscarriage. She finds a job as a saleswoman at Gertz Department store in Queens, where also works Maggie, the wife of Honi Coles. Apparently she'll keep that job on and off whenever she's not on stage. Nevertheless, the jazz is always present, because during the traditional Christmas Party organized by this department store, Dotty is in charge of production. Buck Clayton will even be a member of the orchestra for one of the evenings.
Finally, Dotty also appreciates this new world and befriends with several other female colleagues.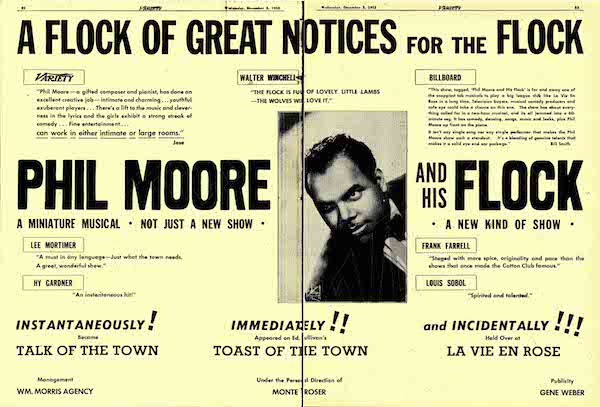 In the hit revue by Phil Moore
On August 5 or 6, 1952, Dotty auditions at the cabaret La Vie en Rose (123 E 54th Street) and is selected from among 300 candidates. This is a chance because it is a revue created by Phil Moore, producer, pianist, composer and arranger. He was the one who had accompanied in every way Dorothy Dandridge, helped Marilyn Monroe to become who she was, etc.
Moore's ambition is to create "a revue that will revolutionize packages for night clubs, offering more room for black artists." (Pittsburgh Courier, November 1, 1952).
On November 18, 1952 the premiere of "Phil Moore and His Flocks" takes place at the cabaret La Vie en Rose, a Manhattan nightclub. Thanks to Phil Moore's reputation, the whole world of show business and television attends the premiere, which is a great success. Phil Moore has thought about everything for this very well paced show where the maestro is at the piano on the front line. Nine artists succeed on stage including Dottie Saulters. The other 8 are:
Bob BAILEY, baritone singer and former with Basie, who will stop his professional career shortly after to start studying again...
Joya SHERRILL, singer, noticed with Ellington for her rendition of "I'm Beginning to See the Light",
Bunny BRIGGS, the tap dancer, then formerly with the troupe accompanying Charlie Barnet,
Margee McGLORY, from the Larry Steele revue "Smart Affairs" impersonator of Bette Davis and Louis Armstrong,
Vivian CERVANTES, "curvaceous model", which says it all...
Deborah ROBINSON, blues singer who was with Claude Hopkins's orchestra before,
Jackie DANISH, former Katherine Dunham dancer,
Dolores HARPER, also former te Katherine Dunham dancer ("The Dunhamite"). Dolores will soon leave the show for Aly Khan's arms, the one who had courted Rita Hayworth before!
Dottie Saulters is in charge of the second number with "Big Bad Wolf's Afraid of Me". She does the comedy skit "Lies, All Lies," dressed as good as Jackie and Margee.
The success of the revue is such that the company appears on television on the most popular show of the day: "Toast of The Town" hosted by the unavoidable Ed Sullivan (for French readers, the American Michel Drucker) on November 30, 1952! A second appearance in this TV show for Dotty. How many artists can say they did that?
The tout-Gotham is reported attending the show at La Vie en Rose, including Duke Ellington, Sugar Ray, Edna Mae, Jackie Robinson, Errol Garner, and even Bennie Payne (former Cab pianist).
Early December, Cholly Atkins joins the troupe as choreographer to develop the new numbers. The review will thus continue to La Vie en Rose at least until March 1953 (according to the documents consulted), Dorothy DANDRIDGE succeeds Dotty Saulters! "The snappiest Tab Show in Town" is what is said about Phil Moore's Flock: anything but a flop!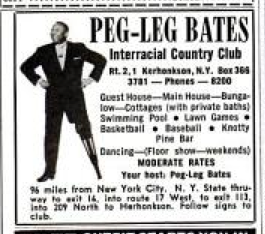 And weekends in the Catskills
And Dottie Saulters spends the weekends in the Catskills, at the Route 17 Kerhonkson Resort. Peg Leg Bates is the owner of The Peg Leg Bates Country Club. Note that he is the first African-American to own a resort in the Catskills, known for their hotels and bungalows welcoming many artists and all the Jewish community on weekends.
Peg Leg is also the star (another one-legged dancer is on the bill: Jimmy Valentine) with Rita, Apus, Estrelleta... and Dottie! It seems that her weekends in the Catskills last for a many year because in July, 1958, we learn she still plays on Saturdays and Sundays.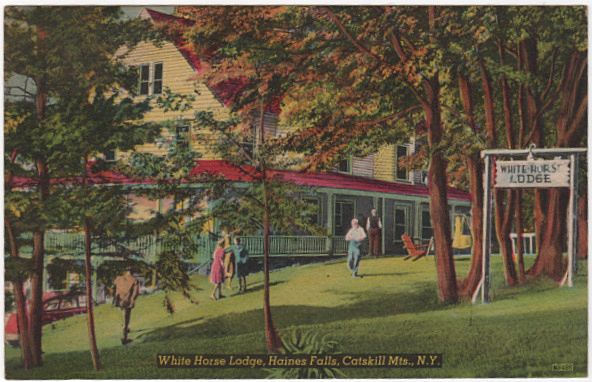 On September 7, 1953, "the little doll with a terrific voice" is the emcee of a special evening ceremony Labor Day at the White Horse Lodge still in the Catskills, owned by Dorothy Lukin and Margie Van Dyke.
A few days later, on September 27, the "hit of the Catskills" is a guest on the TV program "Chance of a Lifetime" on ABC, where three talents contestants compete against each other and then against last week's champion. Unfortunately, the performance hasn't been preserved, so far as we know.
"Pert and pretty" Dottie has a short stay in hospital Mount Morris mid-March 1954, probably because of another miscarriage. Relieved, at the end of the month, she's on for a week at the Apollo with the Lucky Millinder orchestra. The real stars of this week are the Drifters. But the poster also announced her husband Cholly Atkins along with Leonard Reed, his new partner on stage.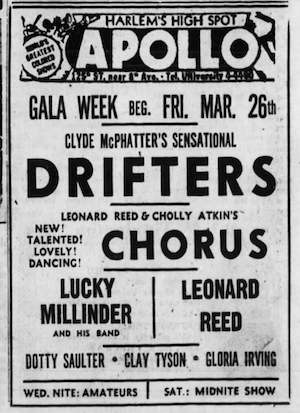 For one week, starting on April 24, 1954, the divine Sarah VAUGHAN heads the Rhythmic Revue at the Apollo Theatre. Paul Quinichette and his Orchestra, Leonard Reed and chorus girls, the Two Zephyrs, actors Rastus Murray and George Williams are in the show. Dotty Saulter is one of the attractions.
A few weeks later, joining her husband's hoofers group, the Copasetics, Dotty Saulter stands out in her opening number of the show Four Guys. She also meets Dinah Washington there and especially Dizzy Gillespie who she'll meet again in 1956.
At the end of August 1954 the two friends from their youth in Philadelphia, Dot Saulters and Ida James, find themselves portrayed as competitors by the press. Let's admit that Ida James regularly doesn't show up for her gig at the Briggs Café (opposite Madison Square Garden on 8th Avenue). Its owners eventually replace her by Dot.
In February 1955, JET magazine announces that, finding no commitments, Dottie Saulters now works in a department store in Long Island at the lingerie counter. It's the Gretz Department Store where in fact she's has been working intermittently since 1952.
With Dizzy Gillespie in a diplomatic tour
In March 1956, Dotty has a contract to follow Dizzy Gillespie on his tour of the Middle East, as Jazz Ambassador for the United States. During the Cold War, this kind of diplomatic initiative was a unique opportunity for the U.S. to uphold their culture and open mind. Armstrong, Goodman, Ellington, Quincy Jones, Brubeck and many others were "drafted" to help the U.S. in their mission.
Dizzy Gillespie plays the game, with all his eloquence, his humanism and his one-of-a-kind talent.
The tour that involves Dotty goes through Iran (March 27-30), Pakistan (April 2-11), Lebanon (April 14-17), Syria (April 18-19), Turkey (April 23-May 5), Yugoslavia (May 7-10) ending in Greece (May 12-21), with a total of 54 formal concerts.
The orchestra includes Melba Liston (woman trombonist), Ernie Wilkins, Quincy Jones, Phil Woods, Walter Davis Jr., Charlie Persip and Frank Rehak. Dottie Saulters appears in the second part of each concert, performing Birth of the Blues, Make Love To Me, Gabriel, All God's Chillun, Born to Be Blue.
In Muslim countries, the first performance of Melba Liston and Dottie Saulters shocks the Iranian public because of their clothing far from the canons of the religion.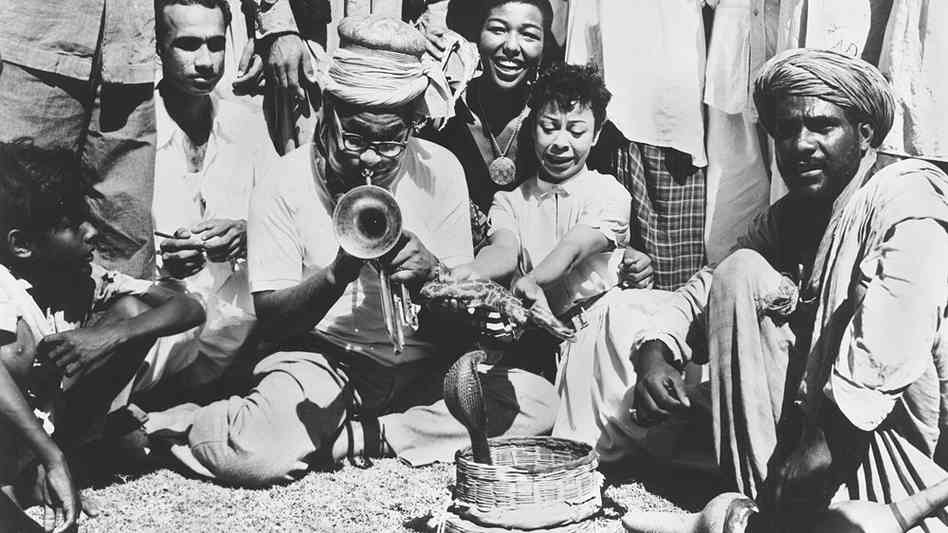 This photo taken in Karachi where we see Dizzy charming a snake with his trumpet,
shows the moment when the reptile attacked Gillespie's instrument.
Dizzy, in his words, "beats the jump back record."
Anyway, the tour is so successful that Gillespie immediately signs for a second one in South America the next summer. But as of May 23, the "petite vocalist Dottie Saulter" flies back to the USA and off again soon for Bermuda, where she is expected at the famous Angel Grotto Hotel. While those places are segregated, the fact that the gross has tripled during Dotty's engagement will enable many other black artists to come to these paradise islands.
In August 1956, the press announces a new dance number for Dotty while her husband and his former accomplice Honi Coles join to tour in Kiss Me, Kate.
In October 1956, the press echoes the arrival of the stork in the Cholly and Dotty's home. Unfortunately, this will result in one of the many miscarriages Dotty suffered.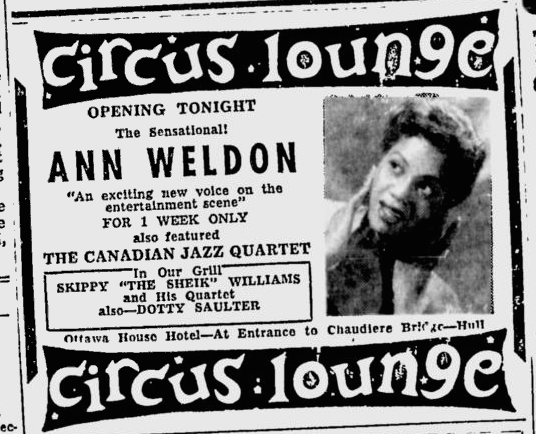 Few small contracts...
May 1957: a paragraph in the news indicates Dotty Saulter and Lon Fontain (future choreographer of The Temptations) at Montmartre Club of Montreal, Quebec.
Thanks to her success in a previous engagement Clover Club in Miami, Dottie gets a new contract in Nassau Junkanoo Club, along with Billy Bowen Butterball.
After spending part of August 1957 at the Clover Club in Miami, Dotty Saulter is on the bill at the Circus Lounge in Ottawa as a regular singer with quartet Skippy 'The Sheik' WILLIAMS. On the main stage there's singer Ann WELDON while Dotty has to be contented with the grill of the hotel for a week beginning September 24...
She might have a friendly pal at The Pittsburgh Courier or the New York Age in the person of Izzy Rowe who writes a regular article for the newspaper. That's the column where we always get news of Dottie. Like in July 1958, where we learn that, between her weekends at Peg Leg Bates resort in the Catskill, Miss Saulters has several auditions scheduled for forthcoming fall Broadway revues.
In 1959, Dorothy suffers another miscarriage and after resting with her sister in Utica, NY she decides to end her artistic career. She takes a job as a waitress in an Irish bar in her neighborhood.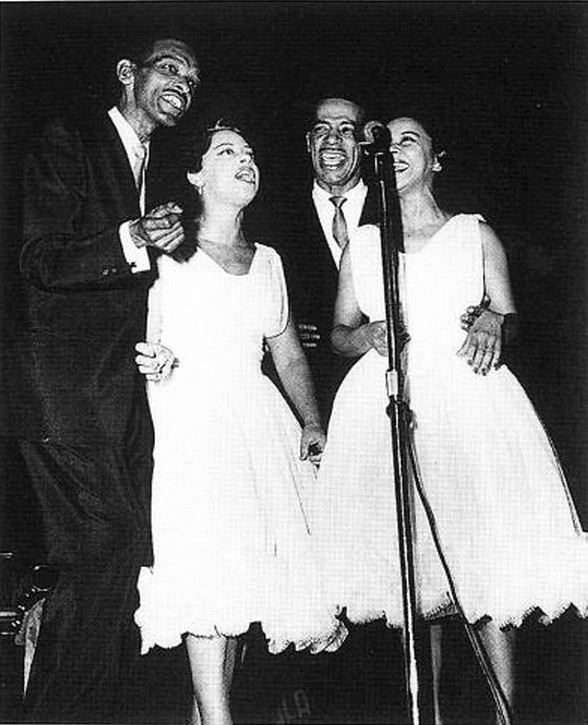 One of the last stage appearances listing Dotty Saulters takes place in 1961 as part of a show with the Copasetics, the famous group of hoofers created at the death of Bojangles Robinson where you can enjoy Cholly Atkins, Honi Coles, Peg Leg Bates, Louie Brown but also Billy Strayhorn. The latter even becomes president of the association. During the show "On the Riviera" Honi and Cholly form a quartet with their wives; the show is given at the Riviera Terrace Room on Broadway, with 2,000 spectators attending.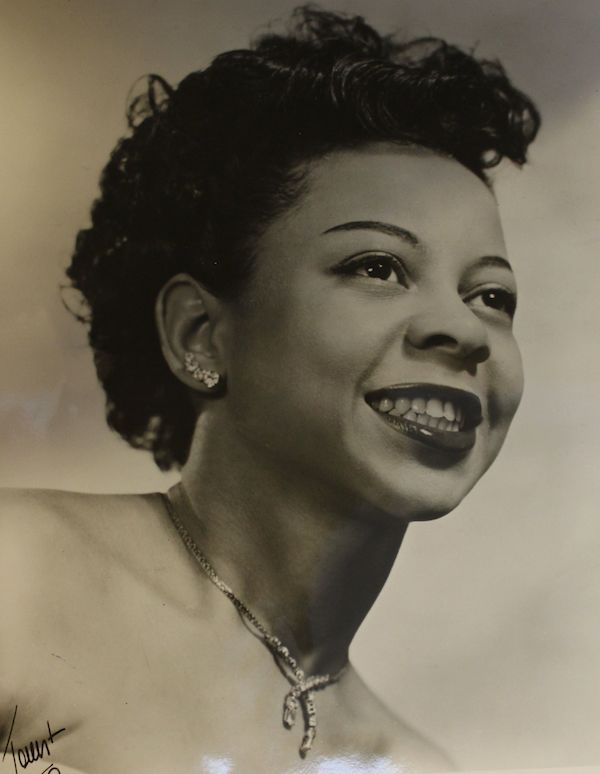 A tragic and sudden death
Her husband, Cholly Atkinson, writes in his autobiography the circumstances of Dotty's death on April 5, 1962.
At that time, she works in an Irish bar as a waitress. Cholly comes to take her home in the evening but is told she had left earlier. Indeed, back home, he finds that she's in bed with an irrepressible headache. Her migraines are frequent; Cholly cares just a little more than usual. But this time, she's staggering from exhaustion. Cholly manages to put her in a taxi to bring her to the hospital. During the trip, he tries to wake her up. Arriving at the hospital, doctors declare her dead. After an autopsy, a brain tumor is found as the cause of death. Among the speculations about the origins of the disease: a fall in ice-skating or another one on stage in Turkey during the tour with Gillespie.
Cholly remains inconsolable for a while, drinking too much, and then back to work more seriously. He marries a third and final time with Maye Harrison Anderson in 1963... He dies on April 19, 2003.
Since her death, Dotty Saulters sank into oblivion, not only because discographically speaking there is little or no evidence (see our attempt discography below), in addition she was in the troupe of Cab Calloway to which historians are still struggling to pay some serious attention (often condescension for his "antics"), and she was just not a "serious" singer. But, as a Billboard critic noted in 1945:
"Gal is a little dynamo, has lots of personality and knows how to sock."
Another critic writes the conclusion for us:
"Dottie Saulters, makes up for what she lacks in true voice by her song selling. Her special emphasis is cute utilization of eyes, flashing white teeth and cute gestures." (Billboard, March 1946)
---
Nota Bene: Poor Dotty Saulters. Due to many spellings of her full name, the tracks were often blurred during searches. Some of the ways to write her name we identified:
Dorothy
Dowry
Dotty
Dottie
Doty
Don
Dot
SALTER
SALTERS
SAULTER
SAULTERS
Mix them together and you get a wide possibility of results and as much power of dissolution!
---
Repertoire with Cab Calloway (from press clippings and broadcasts)
Right Kind of Love (September 1943)
St. Louis Blues (November 1943)
There's A Man In My Life (November 1943)
Star Eyes (January 1944)
Swing Low (February 1944)
Straighten Up and Fly Rite (duet with Cab Calloway) (February 1944)
I'm Making Believe (August-September 1944)
Is You Is or Is You Is not my Baby (August-September 1944)
Magic is the Moonlight (Sept 1944)
I Do not Want to Love You (September 1944)
Some Peaceful Evening (October to December 1944)
Tabby the Cat (October 1944-January 1945)
I'm gonna love that guy (January 1945)
I Did not Know About You (Feb 1945)
Rum and Coca Cola (March, May 1945)
Caldonia (duet with Cab Calloway) (June, October, December 1945, Jan-Mar 1946)
I Was Here When You Left Me (Jul 1945)
Walkin' With My Honey (Jul 1945)
Can't We Try Again (Jul 1945)
I'm Gonna Love That Guy (Jul 1945)
Atchison, Topeka and Santa Fe (October, December 1945)
Surprise Party (January 1946)
Big Bad Dad (February-March 1946)
Frim Fram Sauce (Feb-March 1946)
Be Bop Bob (March 1946)
Minnie The Moocher (duet with Cab Calloway) (March 1946)
I Do not Want to Be a Good Girl (June 1950, July-Aug 1951)
That's My Girl (July 1951)
Good Day (Jul-Aug 1951)
Almost Like Being In Love (Jul-Aug 1951)
---
Attempt of discography:
With Cab Calloway
AFRS Jubilee no. 65, Los Angeles, c. January 1944
AFRS One Night Stand transcription no. 384, "Cafe Zanzibar", New York, August 15, 1944
I'm Making Believe
Is You Is Or Is You Is not My Baby
AFRS One Night Stand no. 356, "Cafe Zanzibar", New York, September 8, 1944
Magic Is The Moonlight
I Do not Want To Love You
AFRS One Night Stand no. 405, "Cafe Zanzibar", New York, September 15, 1944
Is You Is Or Is You Is not My Baby
NBC radio show "For The Record", New York, September 18, 1944
I'm Making Believe (VP-947 released on V-Disc 338-A)
AFRS One Night Stand transcription no. 717, "Cafe Zanzibar", New York, July 8, 1945
I Was Here When You Left Me
AFRS One Night Stand transcription no. 773, "Cafe Zanzibar", New York, July 9, 1945
AFRS One Night Stand transcription no. 703, "Cafe Zanzibar", New York, July 10, 1945
AFRS One Night Stand transcription no. 690 "Cafe Zanzibar", New York, July 15, 1945
AFRS One Night Stand no. 831, "Cafe Zanzibar", New York, July 23, 1945 (not available)
Tabby The Cat
I'm Gonna Love That Guy
AFRS One Night Stand no. 809, "Cafe Zanzibar", New York, July 30, 1945
+
AFRS One Night Stand transcription no. ???, "Cafe Zanzibar", New York, January 16, 1946 (? To Be Verified)
---
Attempt of filmography
CINEMA
Underworld, Oscar Micheaux (Micheaux Pictures Corp., 1937)
Walter Wanger's Vogues of 1938, Irving Cummings (United Artists, 1937)
52nd Street, Harold Young (United Artists, 1937)
SOUNDIES
I Was Here When You Left Me with Cab Calloway (Dir.: William Forest Crouch, Film Craft Productions, August 6, 1945)
My Baby Walking Home with Cab Calloway (Dir.: William Forest Crouch, Film Craft Productions, October 1, 1945)
TELEVISION
Sugar Hill Times, Season 1, Episode 1 (September 13, 1949) and 4 (October 6, 1949), CBS-TV
Toast of the Town, July 29, 1951: Cab Calloway with Dotty Saulters dancing and singing "That's My Girl"
Toast of The Town (Ed Sullivan's Show), Season 6, Episode 12 (November 30, 1952), with Phil Moore's Flock
Chance of a Lifetime (September 27, 1953), ABC-TV
---
Sources:
Class Act, The Jazz Life of Choreographer Cholly Atkins, Cholly Atkins & Jacqui MALONE, Columbia University Press, 2001
Hi De Ho, The Life of Cab Calloway, Alyn Shipton, Oxford University Press, 2010
Groovin' High, The Life of Dizzy Gillespie, Alyn Shipton, Oxford University Press, 2002
Satchmo Blows Up the World: Jazz Ambassadors Play the Cold War, Penny M. Von Eschen, Harvard University Press, 2006
Hendersonia: the music of Fletcher Henderson and his Musicians, Walter C. ALLEN, Jazz Monograph No. 4, 1973
Plenty of Good Women Dancers: African American Women Hoofers from Philadelphia
"Africa, The Cold war and Diaspora at home" by Ingrid Monson, 2011 (full-text PDF)
"Maurice Rocco in the 1930s", Mark Cantor, 2013 on Celluloid Improvisations
R&B Notebooks by Marv Goldberg
Dottie Saulters's grave on Find a Grave
---
My deepest gratitude to Keller WHALEN for helping me in providing a better english text.
---