By Keller WHALEN
On several occasions in the 1970s Cab teamed up with producer Ben Bagley to record musical comedy show tunes for LP salutes to the great popular songwriters. Bagley's Revisited series of albums pay tribute to the iconic Broadway composers and lyricists with some of their more obscure and forgotten songs. Those exceptional albums are cherished and widely coveted by collectors. Keller Whalen, for The Hi De Ho Blog, tells you the whole story. And it's history!
Ben Bagley – the Introduction
Studio recordings by Cab Calloway were sparse between the years 1960 and 1980 while he concentrated on appearing on stage and television. There are some numbers performed by Cab on the 1967 original cast recording of Hello Dolly! with Pearl Bailey. And Cab recorded a selection of popular songs and show tunes for his LP Cab Calloway '68 ("Cabaret," "Mame"), arranged and conducted by the amazing 'Bugs' Bower. Read our article about Cab's LP with 'Bugs' Bower here.

Cab flaunts his zoot suit in a 1974 photo session for the LP Hi De Ho Man Classics.
In 1974, the two-record set Hi De Ho Man Classics was released on Columbia with 20 of Cab's biggest hits recorded with his orchestra between 1935 and 1947. And in 1978, Cab recorded novelty disco versions of "Minnie the Moocher" and "A Chicken Ain't Nothin' But a Bird." Read our article about Cab's disco period here.
But there's more! On several occasions in the 1970s Cab teamed up with producer Ben Bagley to record musical comedy show tunes for LP salutes to the great popular songwriters. Bagley's Revisited series of albums pay tribute to the iconic Broadway composers and lyricists with some of their more obscure and forgotten songs. Cab recorded seven songs for Ben Bagley, including charming duets with Blossom Dearie, Phyllis Diller and Dorothy Loudon.
What could be better than hearing Cab Calloway singing beautifully crafted Broadway show tunes from the 1930s with modern arrangements and engineering? It's startling and delightful to hear his mature voice singing these wonderful songs not normally found in his repertoire. It all happened due to the unique vision of Ben Bagley.
Ben Bagley -- the Early Years
Although he always claimed to be born and raised in Vermont, census forms and newspaper reports show that Bernard James Bagley was born October 18, 1933 at St. Mary's Hospital in Hoboken and he lived with his parents in Union City, New Jersey. An only child, his mother Madeline Beaupre was a concert pianist and piano teacher and his father James was a draftsman and a chemical salesman. Young Ben, however, did spend his summers in Hardwick, Vermont with his imperious (and royally named) grandmother Josephine Robelard Beaupre. His extended family included his grandfather Edward J. Beaupre, a choir director and former conductor with the Vermont Symphony, his uncle Robert Beaupre, the city editor of the Burlington Free Press, and another uncle, Bernard Beaupre, a dentist.
He likes to recall that a woman in Hardwick once stopped him and his grandmother on the street and gushed, "Oh, what a sweet child!" Flush with indignation, his grandmother retorted "It would take a detective to find sweetness in this child." (Washington Post, January 1, 1982)
Ben's extended family took him to the movies (he recalled seeing Rosalie, 1937) at the Idle Hour Theatre in Hardwick; and back in New York, his mother took Ben on his first trips to Broadway to see the musicals On the Town (he loved it) and Oklahoma (he didn't like it, much too serious).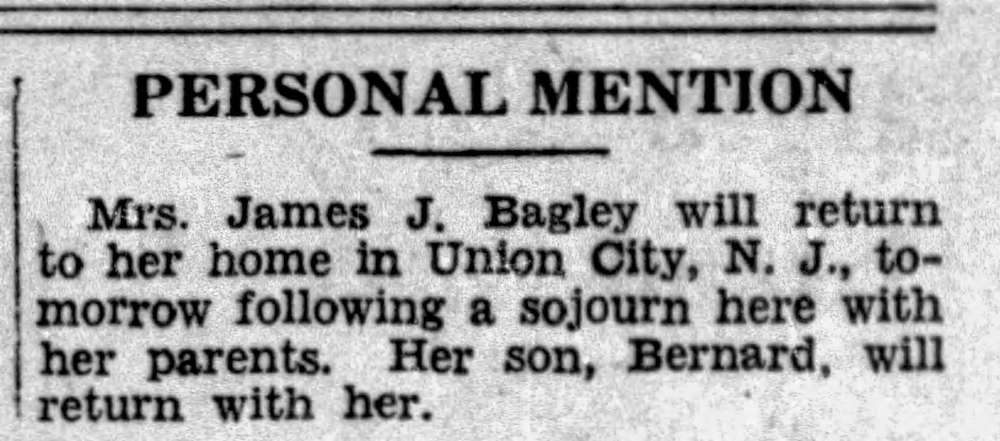 Young Bernard Bagley is written up in the Burlington Free Press in 1935, 1941 and 1944.
Dropping out of high school at age 16 and lying about his education and experience, Bagley worked fringe jobs in the publishing business (mailroom, file clerk, newsletter copywriter, etc.) but lost them for reasons that varied with each telling – he broke a chandelier, he drew mustaches on photos before publication, he wrote an obituary for a very much alive Doris Day.
He was inspired in 1950 when he saw the Broadway show, Touch and Go, a revue with music and sketches and a cast that included the Broadway debut of Peggy Cass. Bagley simply decided that he would create something like that himself.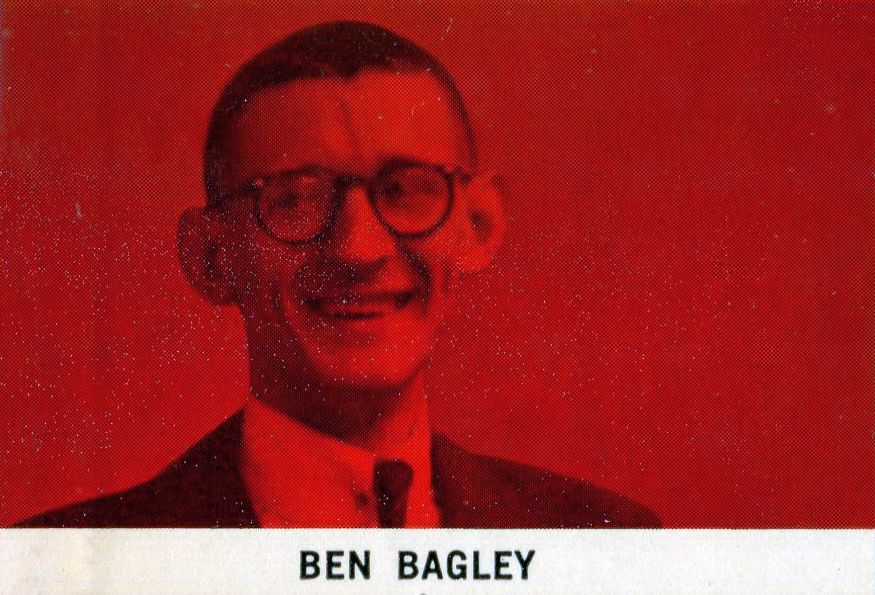 Ben Bagley before contact lenses and plastic surgery to pin back his ears
According to Bagley, his grandmother Josephine educated him in "the power of positive deception." He didn't mind bending the truth when it served a beneficial end. He took two years to raise $18,000, getting funds from each source by claiming he already had an investment from another source, and hiring young writers, composers and performers anxious for work but then discovering they had to wait for the payoff.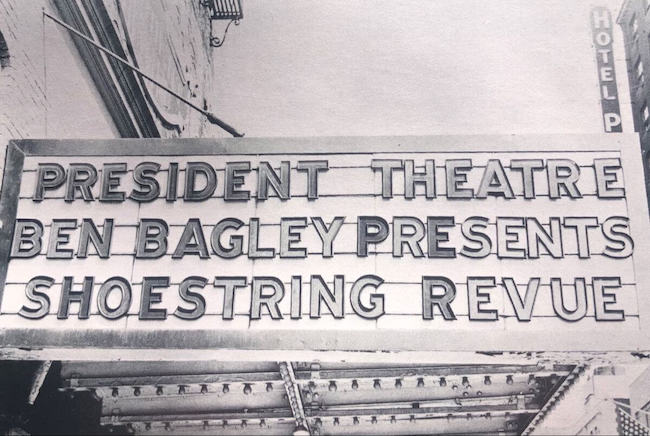 Ben Bagley Presents Shoestring Revue at the President Theatre, 1955
His first Off Broadway show was the accurately named Shoestring Revue opening in February 1955 at The President Theatre on 48th Street (the popular Mama Leone's Restaurant later took over the site). The music and comedy revue included such off-the-wall numbers and sketches as "Hamlet, Prince of Skaters," "Medea in Disneyland" and "Nobody's Doin' It Dance." Performers who enjoyed some of their first exposure in this production included Bea Arthur, Arte Johnson and Chita Rivera. It was directed by Christopher Hewitt, later TV's Mr. Belvedere.
"It's funny before you take your coat off," wrote critic Walter Kerr in the New York Herald Tribune.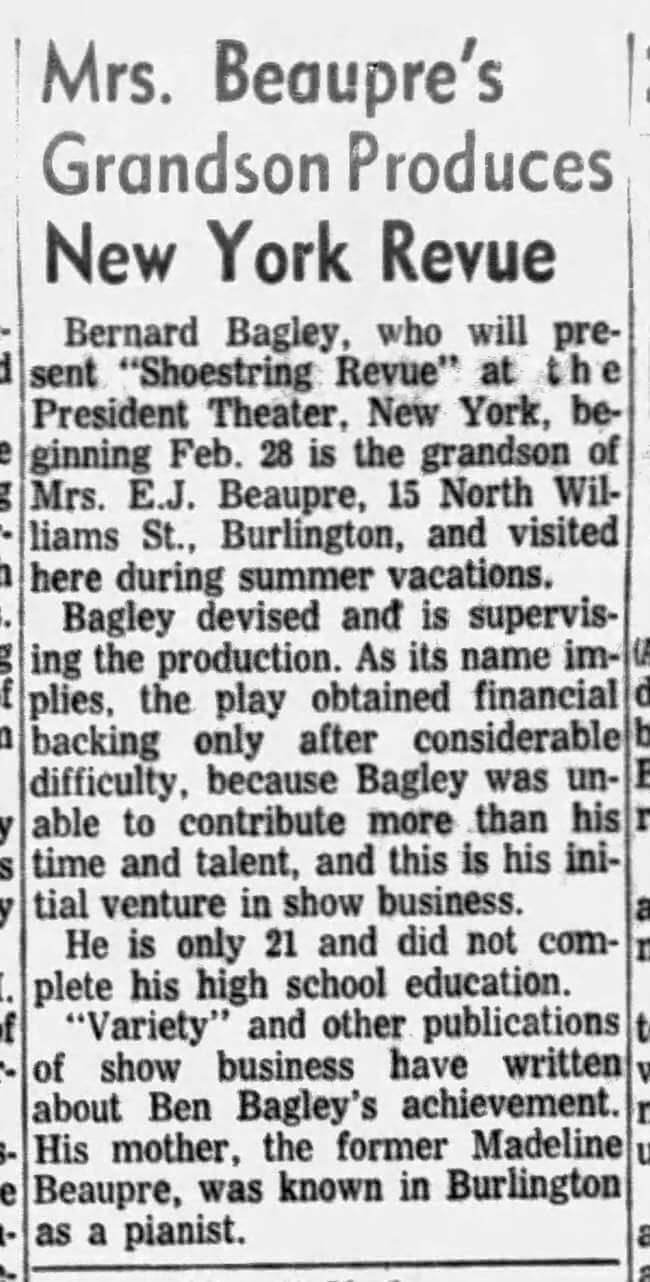 From the Burlington Free Press, February 14, 1955.
Bagley was among the first to hire writer Michael Stewart (Hello Dolly!) and composers Charles Strouse and Lee Adams (Bye Bye Birdie), Sheldon Harnick (Fiddler on the Roof), and Tom Jones and Harvey Schmidt (The Fantasticks).
Click here for Bea Arthur singing Sheldon Harnick's composition "Garbage" from Shoestring Revue, 1955.
Overall, Shoestring received decidedly mixed reviews, with most critics not willing to overlook the youth and inexperience of the performers and the stinginess of the production while still appreciating the wit of the writing and enthusiasm of the cast. The day before the opening, Ben had to borrow 30 cents to get home to Union City for the night. The show ran for a respectable 96 performances, buoyed late in the run by a Bagley-produced abbreviated version of the show broadcast on live television on Dumont's WABD Channel 5 in New York City. After closing, several of the cast were hired immediately for other Broadway and film jobs. Over the ensuing years, Bagley consistently complained that they never thanked him for their big breaks.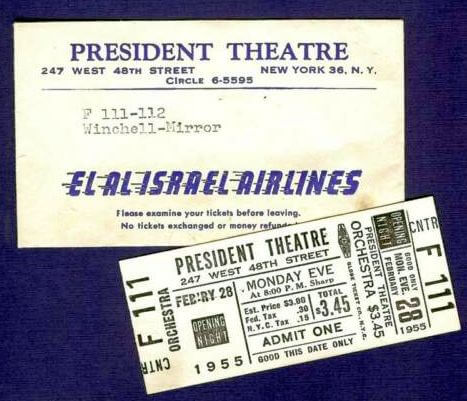 Walter Winchell of the New York Mirror didn't show up to collect his free ticket for the opening night of Shoestring Revue on February 28, 1955 (via eBay)
The next show to be "conceived, cast and assembled" by Bagley, was The Littlest Revue in 1956 with established composers Vernon Duke and Ogden Nash. That show included early appearances by Joel Grey, Tammy Grimes, Charlotte Rae and Larry Storch, all of whom appear on the original cast album.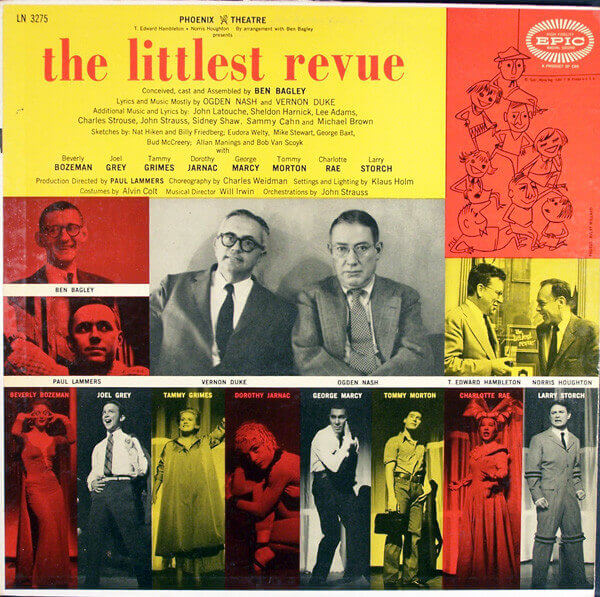 The Original Cast album of The Littlest Revue, 1956
Years later, Bagley claimed to have rejected many other actors during the audition process for his early shows, including Mike Nichols and Elaine May (he thought Nichols had a bad toupee), Shelly Berman, Carol Burnett ("wouldn't stop crossing her eyes"), Ann-Margret, Joan Rivers, and Steve McQueen ("just another pretty face").
His next production, Shoestring '57, had to be updated at the last-minute when he playfully opened it with the Overture to My Fair Lady -- the show was quickly served with a cease-and-desist order from the Lerner and Lowe organization. On December 9, 1956, the cast performed scenes from Shoestring '57 live on The Ed Sullivan Show.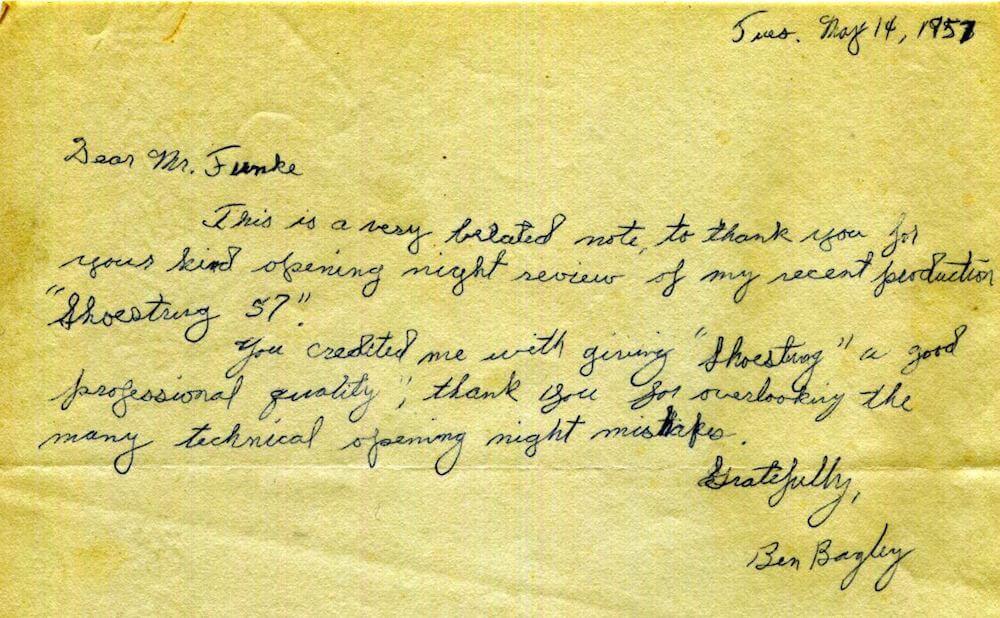 Ben wrote to the New York Times critic Louis Fumke, thanking him for his review of Shoestring '57.
In 1958, Ben Bagley's career was delayed for two years while he recovered from tuberculosis at Will Rogers Hospital in Saranac Lake, NY. His mother died in 1959 of the same disease. During his long convalescence Ben's good friend pianist Arthur Siegel recorded tapes of himself singing obscure Rodgers and Hart songs from his rare sheet music collection. The seeds began to sprout for the biggest undertaking of Ben's career.
Ben Bagley -- the Revisited Albums
The first of the Revisited series of albums was recorded in 1964 at Robert Fine Studios with engineer George Piros and musical direction and arrangements by Norman Paris. Ben partnered with another young show business producer, Michael McWhinney to finance the project.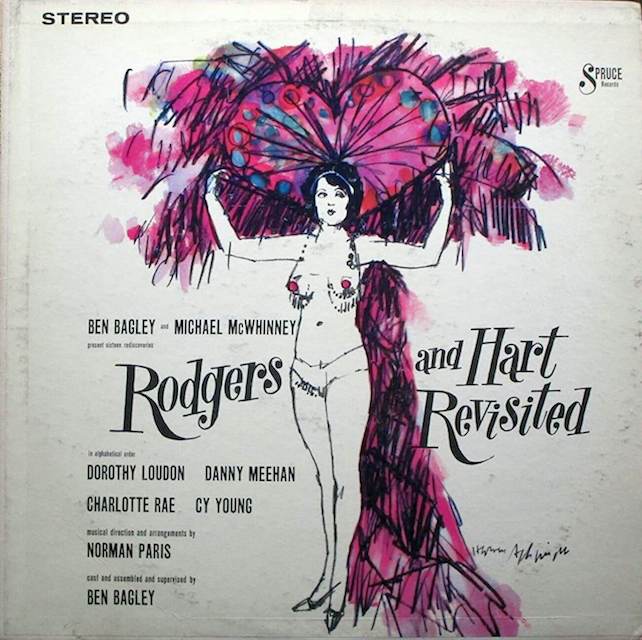 Rodgers and Hart Revisited, 1964, cover art by Harvey Schmidt
Rodgers & Hart Revisited was followed the same year by Cole Porter Revisited. Bagley had sent a copy of R&H to Cole Porter himself and was invited to fish for songs in Porter's archives. Cole was pleased with the songs that Bagley selected, because in some cases stars Bert Lahr and Ethel Merman had refused to sing them when they were originally written – the song meant for Lahr song included innuendo about a woman he was actually having an affair with; Merman's song had a reference to lesbianism. Porter died in October 1964 just two weeks before the finished recording was released.
Each LP is like the Original Cast album of a disjointed musical comedy revue with many featured star performers, catchy tunes, brilliant and witty lyrics, a dinky little orchestra, and a load of enthusiasm.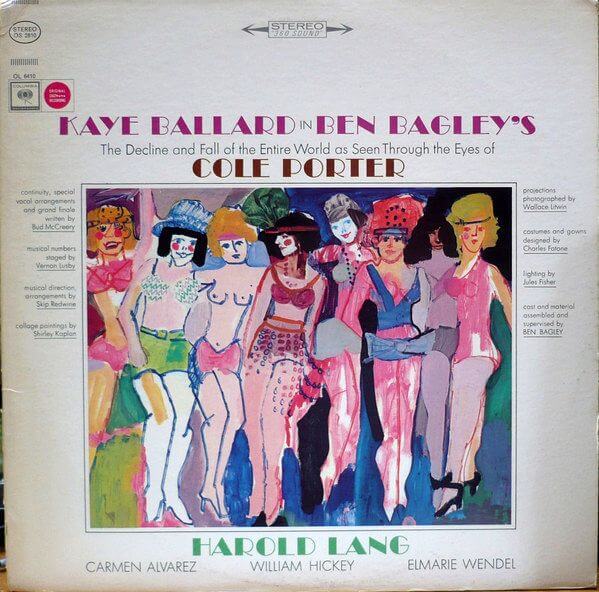 The Decline and Fall of the Entire World as Seen Through the Eyes of Cole Porter, 1965
The Cole Porter album inspired Bagley's final major stage production, The Decline and Fall of the Entire World as Seen Through the Eyes of Cole Porter, a 1965 revue featuring even more newly unearthed songs by the composer. With the production on a tight budget, the stage backgrounds came from a slide projector. The highly successful show played Off Broadway for 15 months and had editions in San Francisco and London. This revue concept -- dedicated to a single composer -- paved the way for later Broadway jewels like Ain't Misbehavin', Smokey Joe's Café, and Sophisticated Ladies.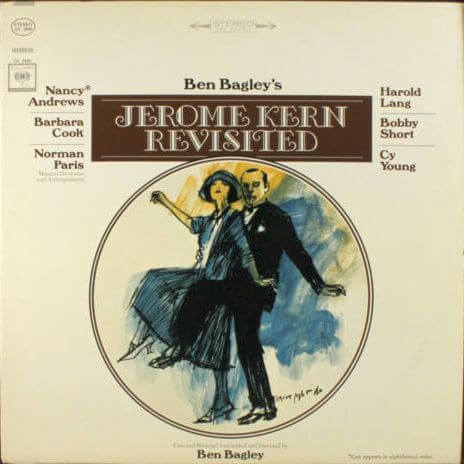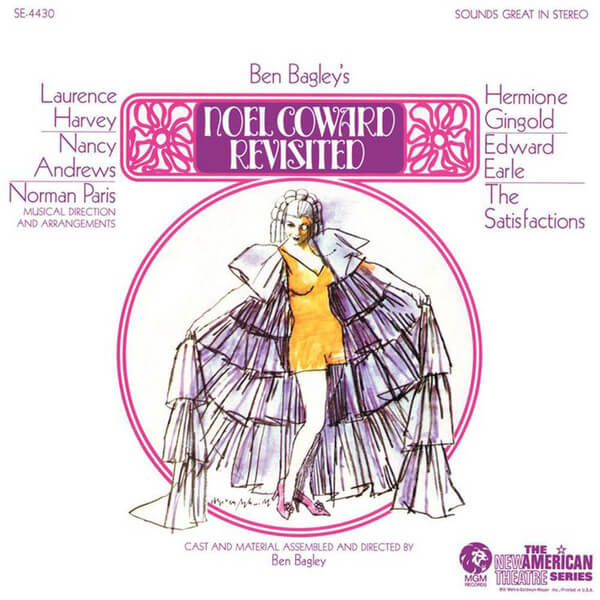 Jerome Kern and Noel Coward were revisited by Ben Bagley
After R&H and Cole Porter came Jerome Kern Revisited and Noel Coward Revisited, each with a variety of songs that were deleted from hit shows, included in flops and promptly forgotten, orphaned without a show, unpublished, or simply rejected by the composer. Those first several albums came out variously on the Spruce, RIC, JJC, Columbia and MGM labels, all which either went out of business or lost interest in the series. But in 1970, Crewe Records put out three new albums with a burst of national advertising and reviews, bringing the Revisited records to a bigger audience.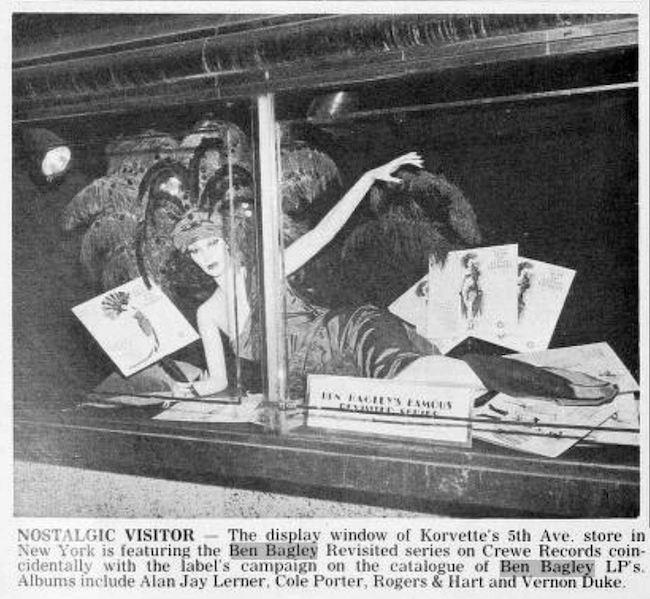 Crewe Records promoted the Revisited series nationally (from Cash Box, February 28, 1970).
Nevertheless, the Crewe label soon went bankrupt. Bagley, however, always managed to retain the rights to his master tapes throughout the myriad label moves. That even involved begging Goddard Lieberson, President of Columbia Records, for the return of his tapes, claiming "these albums are my children. And you own two of my children." (New York Times, September 29, 1974).
Bagley took some time out for plastic surgery after Rod McKuen called him "an ugly duck" in a 1970 poem called "The Love Creature." And a bout with hepatitis slowed him down again, but in 1971 Bagley set up his own label, Painted Smiles, with help from a fan, Jerome Hill, multi-millionaire patron of the arts (who also financed avant-garde filmmaker Jonas Mekas). By then the albums were regularly selling about 10,000 copies, each one making just enough money to finance the next album.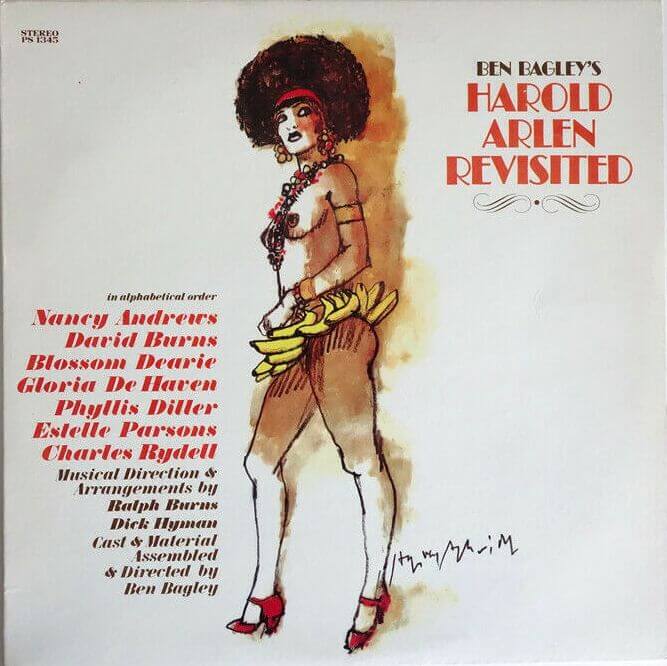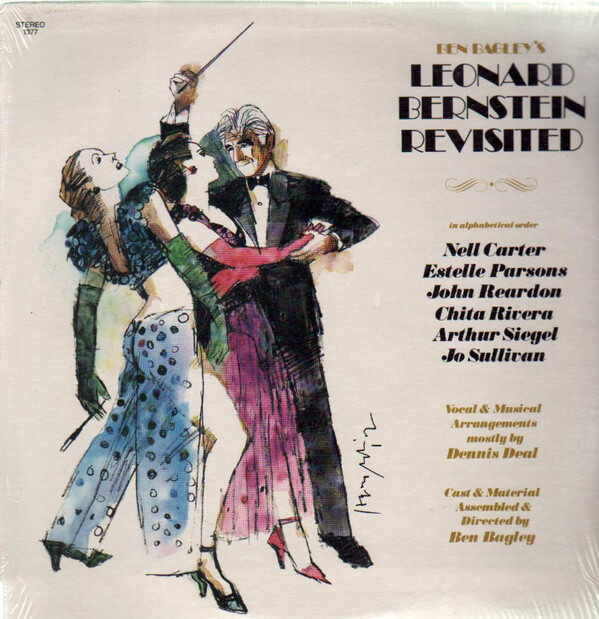 The Revisited series continued for many years on the Painted Smiles label.
Bagley kept busy between records by managing summer stock shows and producing cabaret and night club acts including William Bolcom and Joan Morris, and Zsa Zsa Gabor, along with short-run revues at Upstairs at the Downstairs, "7 Comes 11", "No Shoestrings" and "The Impudent Revue."
Ben Bagley – the Collaborators
The Revisited albums provide a goldmine of songs for today's Broadway fans and cabaret performers. "I keep coming out of the mine clutching shards of music, sparkling with gold dust." Many new Revisited albums followed in the 80s, including tributes to Harold Arlen, Leonard Bernstein, George Gershwin, Frank Loesser, three more volumes of Jerome Kern rarities, and studio cast recordings of Ben's own Shoestring shows and other previously unrecorded Broadway musicals including Make Mine Manhattan and The Grass Harp.
Arrangements and orchestrations for the songs were squeezed out of his talented friends and acquaintances, Dennis Deal, Dick Hyman, Norman Paris, Bruce Pomahac, and others. Occasionally, a recording engineer is thanked – Gladys Hopkowitz, Ron Johnson, Fred Miller, David Stone, Val Valentin were all from different studios rented on the cheap during off hours to make the recordings.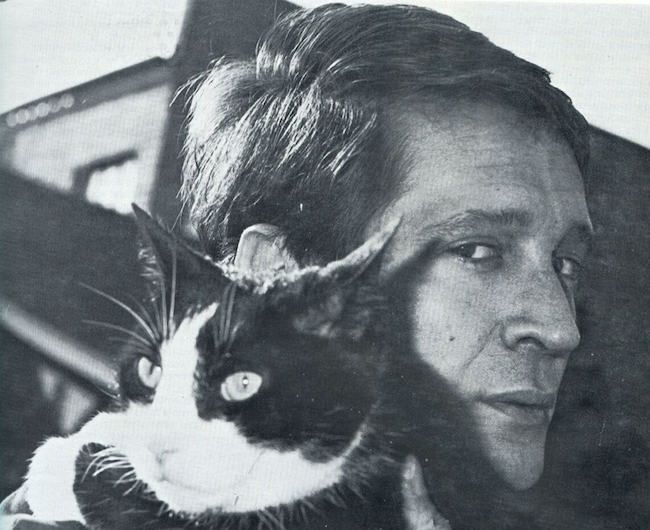 Ben Bagley, 1970
I was fortunate to speak about Ben Bagley with Larry Moore who arranged and orchestrated songs for several of the Revisited albums in the early 80s that were recorded under the musical direction of Mike Battistelli, Dennis Deal and Albert Evans.
Larry Moore: I had a lot of Ben's recordings when I moved to NYC in June 1979, so I knew who he was. I was hired to be a trouble shooter and buyer for the Drama Book Shop on my third day in New York, and one of the record vendors I ordered from was Painted Smiles. Ben used to come into the store with the orders and visit with the owners, and I got to know him.
I thought, I'd better get some experience in a sound studio, and Ben was my door to recording. I don't remember now how I got involved but I started working as a copyist for Dennis Deal and Albert Evans who were doing the orchestrations. I copied scores for "Conquering the City" on Leonard Bernstein Revisited (I told Ben he had to record "We Are Women" from CANDIDE!), and some things for Jerome Kern Revisited III, and at some point Dennis Deal had me writing string parts. By Jerome Kern Revisited IV, I was orchestrating and copying my own scores.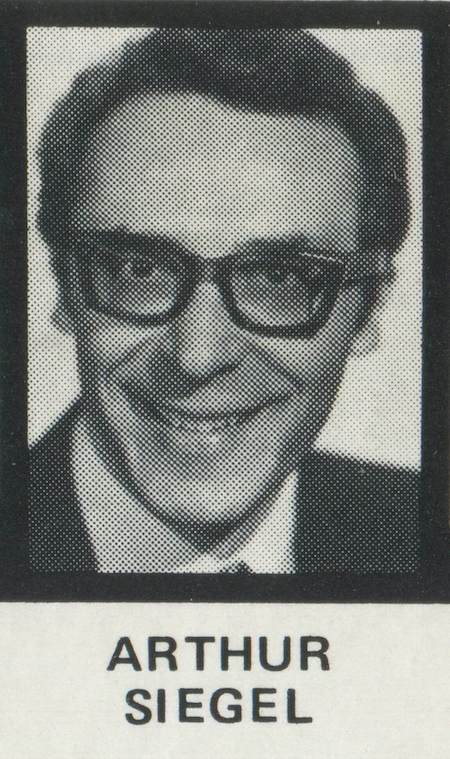 Ben's close friend and frequent collaborator, pianist/singer Arthur Siegel
In order to get around union regulations, few musicians were credited. Ben's friend Arthur Siegel (1923-1994) was a regular singer on the albums and frequently played the piano on the recordings. Siegel started his career as Eddie Cantor's accompanist and wrote songs for New Faces of 1952 including Eartha Kitt's big hit "Monotonous."
Bill Tynes (1957-1987) was the founder and artistic director of the New Amsterdam Theater Company. He contributed string arrangements and his own violin, sometimes multi-tracked, to the Revisited recordings.
LM: The pianist was always the wonderful Arthur Siegel, whom Ben loved and relied on heavily. He also did a hilarious, wicked impersonation of Arthur. The violinist was my friend Bill Tynes, and I think the players on Jerome Kern IV were in the orchestra for the Houston Grand Opera revival of Show Boat.
The singers amounted to a who's who of Broadway and popular song. Among Bagley's alumnae are Kaye Ballard, Nell Carter, Blossom Dearie, Sandy Duncan, Hermione Gingold, Madeline Kahn, Dorothy Loudon, Rod McKuen, Jerry Orbach, Bobby Short, Elaine Stritch and Margaret Whiting.


A typical lineup for a Ben Bagley album, this one from Frank Loesser Revisited
Other performers not known for their singing were also drafted: Adam Arkin, Richard Chamberlain, Phyllis Diller, Katharine Hepburn, Roddy McDowell, Estelle Parsons, Anthony Perkins, Maureen Stapleton, Gloria Swanson, Joanne Woodward and Nancy Walker. Even Rex Reed.
Based on one contract I reviewed (with Sandy Duncan in 1980), the studio and recording dates were pre-determined, the songs were specified, and the singer received Bagley's standard fee of $100 per song, with no royalties. Billing on the album would be alphabetical and the singer promised not to re-record any of the same selections within the following five years. Many of the artists just recorded for free.
LM: One day in a coffee shop during a session break, I asked him, wouldn't it be fun to have a party and invite all the stars you've worked with? He said, I can think of nothing more frightening or horrible.
Ben wasn't always successful in convincing performers to join his efforts. June Allyson and Mabel Mercer turned him down; and when he called Lauren Bacall, she hung up on him, asking, "How the hell did you get my number?" (Chicago Tribune, March 14, 1971)
Bagley's close friend Montgomery Clift was set to record a Jerome Kern tune from Show Boat, "I Have a Room Above", but the recording studio was only available in the mornings and Monty didn't work before noon. Cy Young sang the song on Jerome Kern Revisited. (Ben and Monty were friends but not an item – according to Clift's biographer they only "cuddled.")
In 1979 Bagley wrote a letter to Katharine Hepburn asking her to record songs for Cole Porter Revisited Volume IV and she graciously agreed! Hepburn took the project seriously, even working with a vocal coach, Sue Seton, and actually auditioning for Bagley and Siegel before the recording sessions.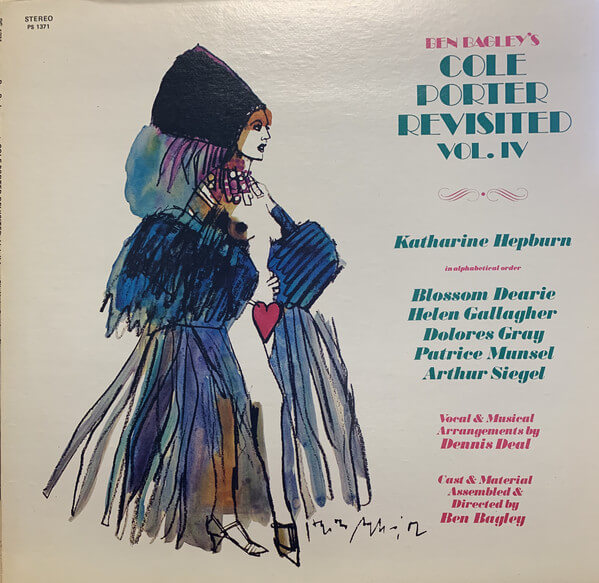 The participation of Katharine Hepburn earned her top billing on Cole Porter Revisited Volume IV, 1979
"Recording Katharine Hepburn is probably the only thing I've ever done that my grandmother would have approved of." The record sold five times the average release and subsidized the next two albums.
Larry Moore: Ben did tell me a story about recording with Katharine Hepburn. He picked her up at her home on East 49th Street and when they came out to the car, a waiting fan ran up and asked for her autograph. She rather rudely cut him off and ignored him. The fan got a taxi and followed them to the studio, where she once again rebuffed him. When they left the studio, the fan was still waiting, and as they went to the car, he begged her to sign something. She was her usual rude self, and as she got into the car, the fan yelled, You're a rotten woman, Audrey! Hepburn laughed all the way home.
Hepburn returned to record two more songs for Contemporary Broadway Revisited. Click here to watch a delightful video set to Katharine Hepburn singing the hilarious, "I Hate Spring."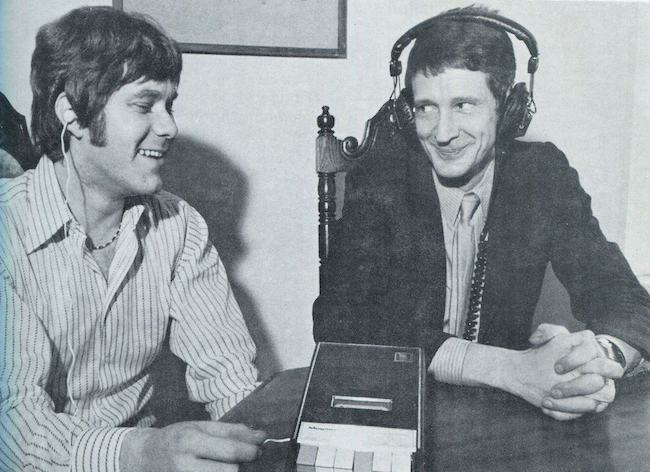 Ben Bagley with pop singer Oliver in 1970 (from After Dark)
Irving Berlin, who throughout his life maintained strict control over his compositions, tried to stop the release of his own Revisited album, demanding the removal of two of the songs. He thought he was being made fun of. He was probably right.
Ben Bagley – the Liner Notes
A consistently enjoyable feature of the albums is the often totally fabricated biographical and historical notes written by Ben. "Some people hate my records, but buy them just to read the liner notes."
"Katharine Hepburn's latest film is LUST SLAVES OF LIMA."
George Gershwin's lyricist is identified as "his lovely wife, Ira."
Alfred Drake's credits included these: "Kiss Me, Kate," "Kismet, "Kean," and his latest triumph as Claudius in the Richard Burton musicalization of Hamlet, "A Great Dane, Comin' Manana."
Referring to a 1940 show starring Nannette Fabray: "One of my most treasured possessions is a souvenir program showing Miss Fabray with her old nose."
Ben's introduction to Oscar Hammerstein Revisited includes this diatribe: "Record company greed has left our youth hostile and ignorant. The self-pitying prattling of Dore Previn, Phoebe Snow, Rod McKuen, and Patti Smith (they probably all go to the same gynecologist) are often confused by the young as poetry. The fact that the youth of America will not buy this record and not know of Oscar's genius is as great a Music Business tragedy as the Connie Francis Ramada Inn rape."
"And now the world seems to be plagued with incurable diseases, drug addiction, and saucy behavior in general. It is my belief that this was all brought on by smut, promiscuity, and the songs of Peter Allen, Bobby [sic] Joel, and Diana Ross."
Edward Albee called Bagley's liner notes "the finest example of schizophrenic writing in America." (Washington Post, January 1, 1982)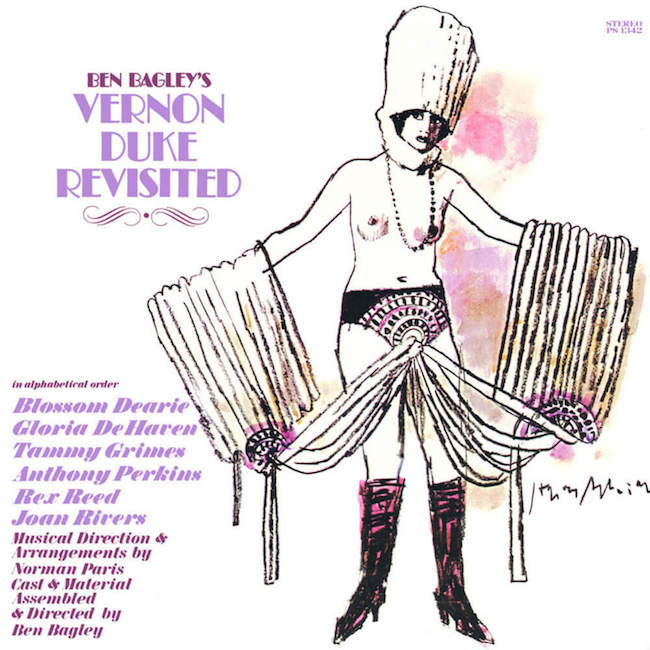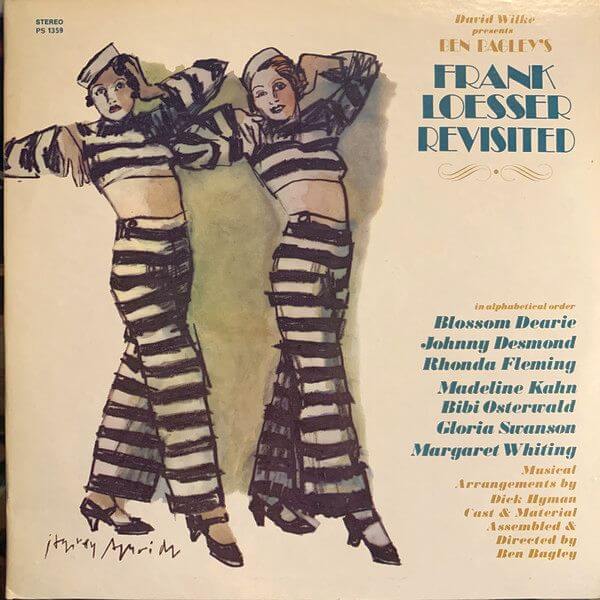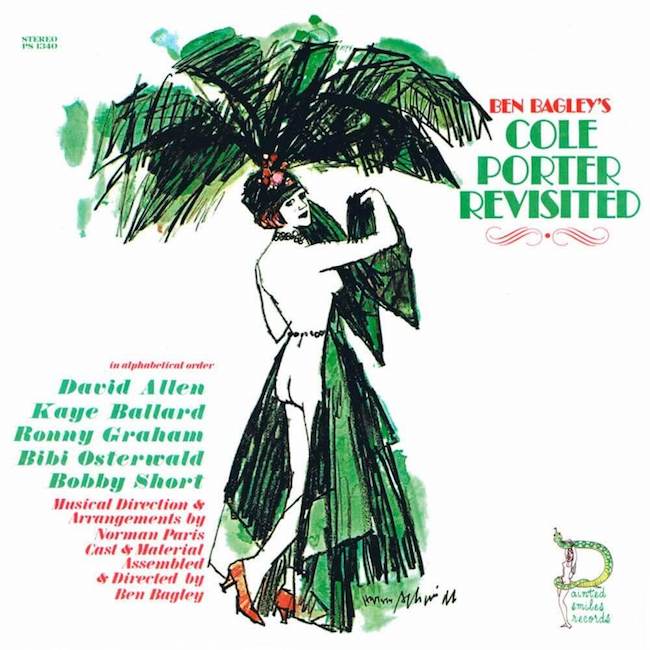 Almost all the albums have an original and sexy cover painting by Harvey Schmidt (composer of The Fantasticks).
Ben worked as hard as his health would allow, always planning new projects, but he was a lonely soul.
Larry Moore: He was a very sad gay man, always falling in love with straight men who led him along, and like John McGlinn [conductor and archivist who produced studio cast recordings of classic musicals], Ben would call and cry on my shoulder about his latest crush. One night after a session, he and I ended up at a piano bar for a few drinks and he kept telling me I needed contact lenses. Stop hiding behind those glasses, he said. He was probably right.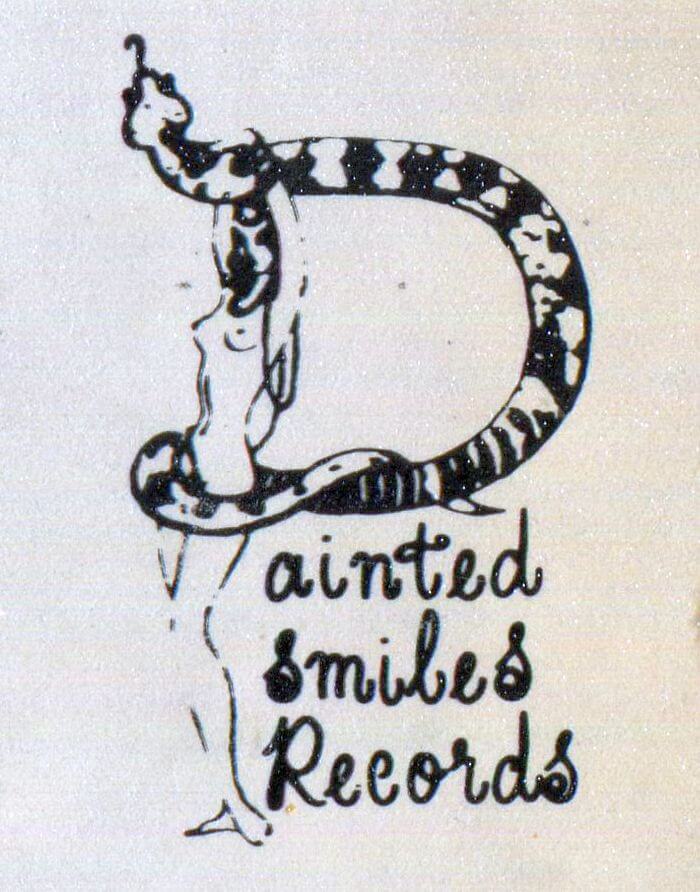 The Painted Smiles logo, "Serpent Lady" by Jerome Hill
Ben continued to try to raise money to launch new revues throughout the 70s and 80s – but the planned shows The Unpainted Smiles of Cole Porter and Painted Smiles and Tarnished Lips went unproduced. Ben himself performed periodically in a presentation called Sassy Musical Theater where he gave a lecture and slide show on the great composers accompanied by a singer and pianist. He sometimes traveled with Blossom Dearie to college campuses to present his small show.
In case you didn't notice, 'saucy,' 'sassy' and 'impudent' were Ben's favorite words, which he used variously to describe his shows, his performers, his albums, his grandmother, and himself.
Ben moved to Jackson Heights, Queens in 1960 where he lived, as he described it, "in abject poverty" with successive cats through the years: Butch (circa 1960 to 1974), Fogarty (1974 to the late 80s) and Emily (late 1980s to 1998).


From left: Butch, Fogarty and Emily (with friend)
Putting out a total of 48 records between 1964 and 1996, Bagley was a self-described lonely man and he was genuinely appreciative of his audience. Many albums included the entreaty, "I am totally sincere when I tell you that these albums are my way of reaching out and touching you. If you have a spare moment or two I'd appreciate hearing from you care of Painted Smiles Records." He claimed to be writing his memoirs to be called My Bed is Not for Sleeping.
There are about 700 songs across all of Bagley's albums, but we're going to take a closer look at just a few of them. All the songs, however, have stories behind them about the composers, or the shows and stars they wrote them for, and you can read some true and a lot of not-so-true information about them in Bagley's irreverent liner notes.
---

Ben Bagley – the Cab Calloway Songs
There are seven songs recorded by Cab Calloway in the Revisited series. In addition to being freshly recorded gems from our favorite jazz singer, as strong as ever in his sixties, they provide clever, tuneful and rarely heard numbers from the brilliant composers of the great American songbook.

Pearl Bailey and Cab Calloway in Hello Dolly! 1969
Cab is the ideal interpreter for these revisited tunes, fresh off his star turns on the Broadway stage where he appeared in Hello Dolly! with Pearl Bailey and The Pajama Game with Barbara McNair – and would soon join touring editions of Bubbling Brown Sugar.
Read about Cab in The Pajama Game here. And catch up on Cab's turn in Hello Dolly here.
Cab Calloway, Bagley wrote, "can be described visually…as an elder-lovely. Cab sounds like Bobby Short would have liked to have sounded when Bobby was young."


Cab's duet partners from left, Blossom Dearie, Phyllis Diller and Dorothy Loudon
The exact dates of the recording sessions are uncertain since there is no recording data on the albums. Musical direction for all of Cab's songs on these albums was by Dorothy Loudon's husband, Norman Paris (1926-1977), a conductor and composer who was responsible for the orchestrations on Paul Simon's Grammy-winning album Still Crazy After All These Years (1975). According to Ben, Paris "is one of the few musicians in New York still wearing a zoot suit with reet pleat." Good match for Cab!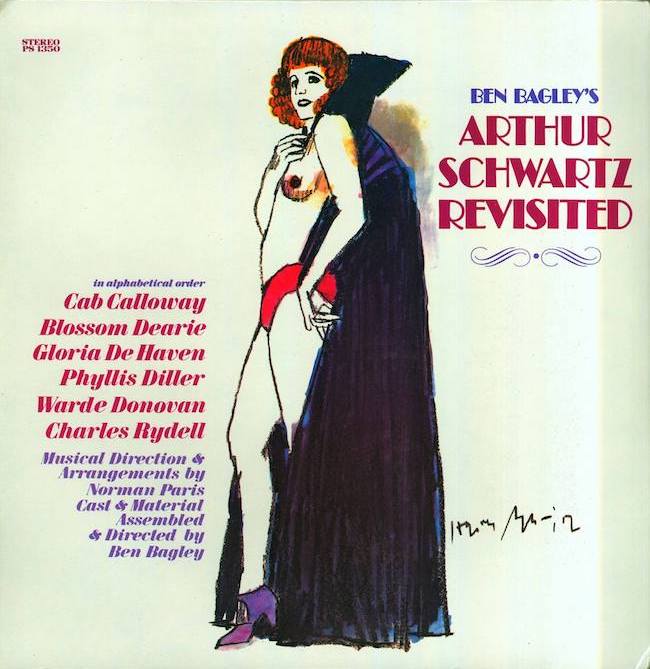 Arthur Schwartz Revisited (recorded circa 1970)
Cab sings "Got a Bran' New Suit" in a duet with Phyllis Diller, a number originally from the Broadway show At Home Abroad (1935) sung in that show by Ethel Waters and danced by Eleanor Powell in 198 performances. A special arrangement of the song with additional customized lyrics was put together for Cab and Phyllis by Bud McCreery, a writer and performer from Bagley's Shoestring shows. The song had been previously recorded in the 1930s by Louis Armstrong and Fats Waller. Cab pulls out all the stops when Phyllis suggests within the song that he attempt a little "hi-de-ho" scatting.
Click here to watch and hear Cab and Phyllis.
Cab's solo number "Smokin' Reefers" is from Flying Colors (1932) which starred Clifton Webb and Patsy Kelly. The songs from that show included a bizarre voodoo- inspired ballet choreographed by Agnes deMille, who quit the production soon after coming up with the dance. The original stage program helpfully explained the subject of the song for those not in the know:

"Smokin' Reefers" is a dirge from a time long passed, a melancholy window into the lower depths of drug addiction and despair, with every bit of the powerful force of "Old Man River" (just kidding -- I thought I'd try some of Bagley's brand of hyperbole). The song was a natural for Cab, hearkening back to his old hot jazz hits like "The Reefer Man" and "Kicking the Gong Around", but it's actually a pleasant, gentle, piano-driven story. I found just one previous recording of "Smokin' Reefers" made by Larry Adler in 1938. "Cab's version is more an invitation than a warning," (Variety, January 13, 1971).
Click here to listen to Cab singing "Smokin' Reefers".
Arthur Schwartz Revisited was Bagley's personal favorite of all his albums. On the LP liner notes he promised to make Cab a regular part of his recording repertory company.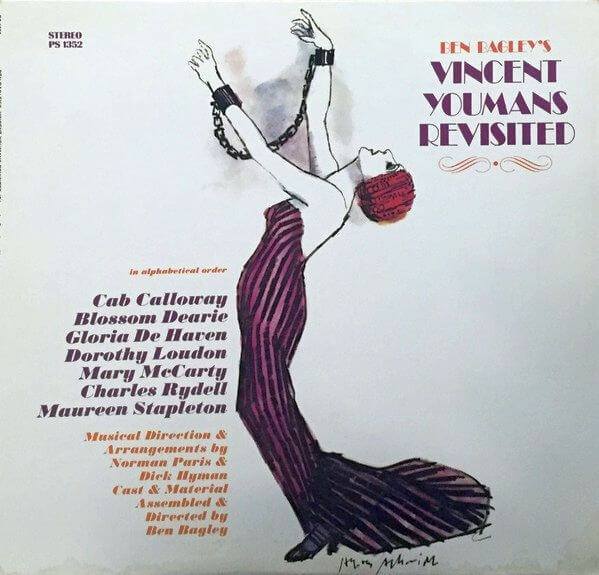 Vincent Youmans Revisited (recorded circa 1971)
Cab and a male chorus sing "Say Young Men of Manhattan" from the show Smiles starring Marilyn Miller and Fred and Adele Astaire that played for only 63 performances in 1930, a rare flop from impresario Florenz Ziegfeld. The lyric refers to New York as "Fun City" long before Johnny Carson and Mayor John Lindsay used that term. A love song to New York, with the fine piano and big brass accompaniment, you can visualize the stage setting with a huge skyline background and the nighttime sky and blinking lights of the billboards, clubs and restaurants.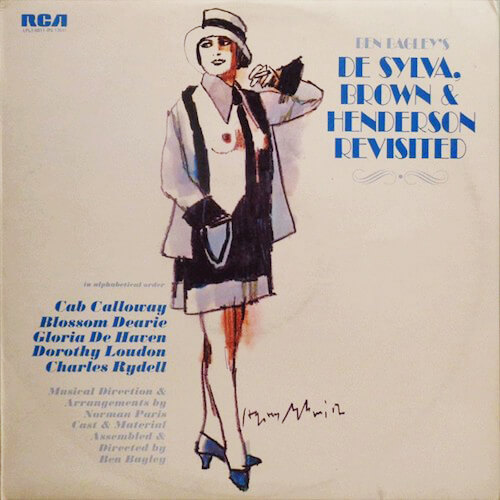 DeSylva, Brown & Henderson Revisited (probably recorded in 1972)
For "Heel Beat," Cab duets with Dorothy Loudon and company. The song is from Hold Everything (1928), a highly successful show running for 409 performances. Cab is no stranger to introducing new dances over the years with "Duck Trot", "Truckin'" "Chili Con Conga", "Floogie Walk", "Jitterbug", "The Huckle-Buck", "Peckin'" and others. Here, "Heel Beat" comes complete with a backing chorus and the sounds of dancing feet.
Dance tunes were common throughout Cab's career, but duets were a distinct rarity. In 1949, he recorded a version of "Baby, It's Cold Outside" with Eugenie Baird. And he backed up his daughter Lael on a 45rpm single of "Little Child". Other than that, he only sang occasional duets on stage in specialty numbers with Mae Johnson, Norma Miller and daughter Chris Calloway.
"One More Time" is from Strike Me Pink which starred Jimmy Durante and Lupe Velez in 122 performances in 1933. It's a perfect song for Cab, a gently swinging number with some fine brass arrangements. A jaunty pop tune, it would have been an excellent choice for Cab to sing in his 1980s and 90s concert appearances.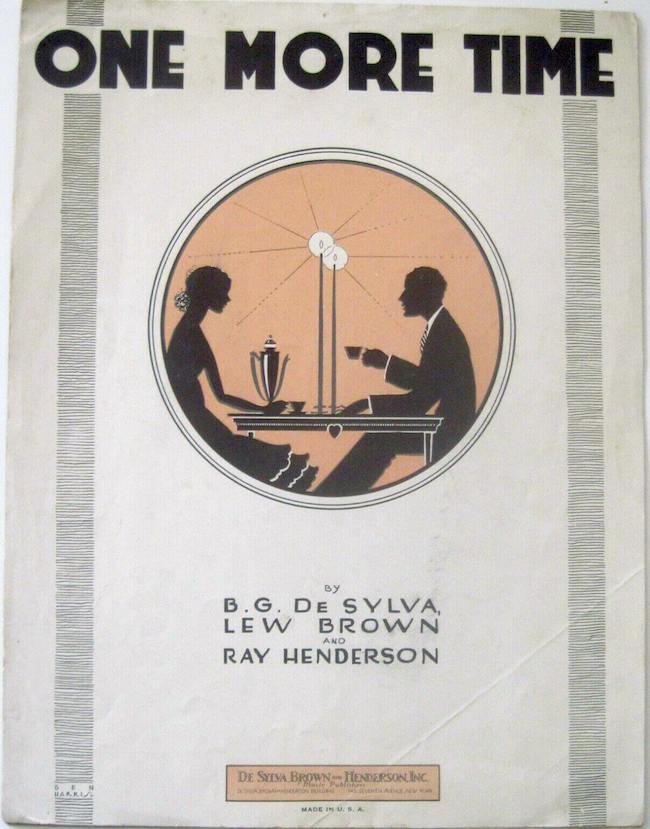 Sheet music for "One More Time" was published in 1931
"My Bluebird's Home Again" is a duet with Dorothy Loudon and Company originally from Manhattan Mary (1927) which ran for 264 performances. It's a delightfully structured recording – almost like two completely separate numbers. A very infectious melody, Loudon sings the first half in her inimitable smooth style and then the tempo changes to an upbeat and swinging second half for Cab. Cab's part includes a 1940s-style chorus behind him, sounding a bit like the Modernaires or his own orchestra's 1940s vocal group The Cabaliers. This one is my favorite among Cab's seven Bagley numbers.
Click here to listen to "My Bluebird's Home Again".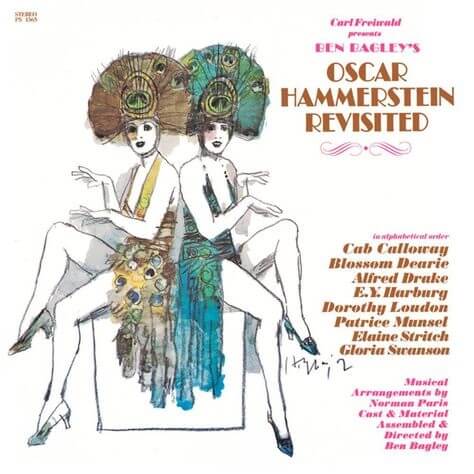 Oscar Hammerstein Revisited (recorded 1975)
With music by Jerome Kern and lyrics by Oscar Hammerstein, "When I've Got the Moon," a duet with Blossom Dearie, is a previously unpublished song that Oscar would sing at parties. It was originally written for an unproduced MGM musical for Jeanette MacDonald and Nelson Eddy to be called Champagne and Orchids. Accompanied by just clarinet, bass and drums, Dearie's high warble and Cab's booming baritone transform this operetta-like number into a bit of a swinging party. But are they singing in the most appropriate key? Dearie and Cab both seem to stretch for a few of their notes.
Listen to "When I've Got the Moon" here.
After appearing in the film The Blues Brothers (1980), Cab's late career took off and its seems like he no longer had the time to be included in any more of Ben Bagley's tightly scheduled recording sessions.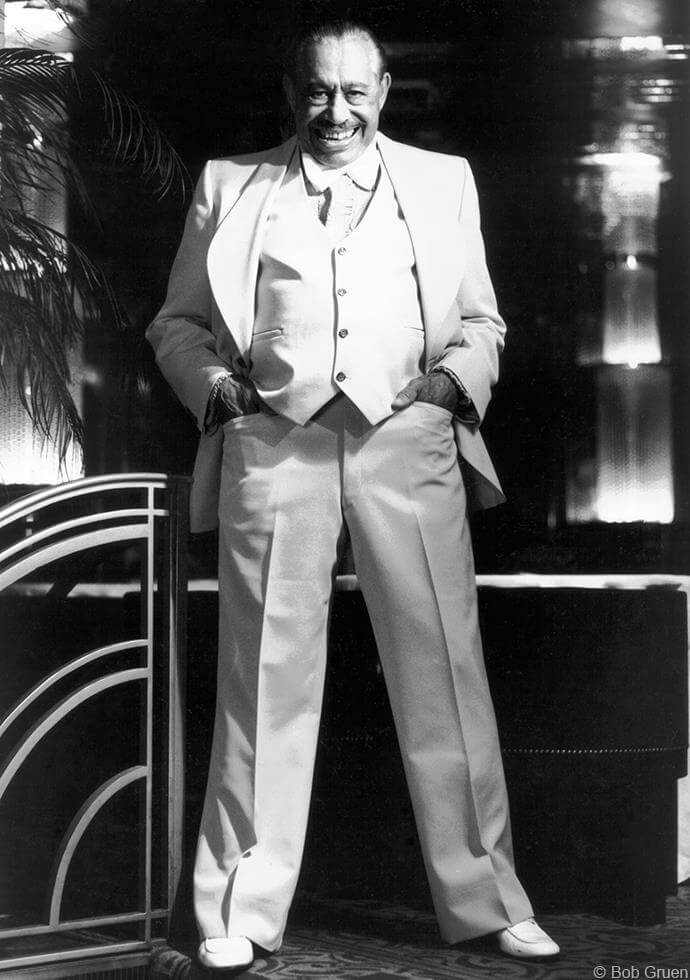 Cab Calloway, late 1970s (photo: Bob Gruen)
---
Ben Bagley – the Later Years
By the 1980s, the quality of the Revisited albums had diminished somewhat due to cost constraints, with less studio time to fix mistakes. A few wrong notes were played and there were some less than stellar vocal performances from new singers who begged Bagley for a chance to be on his records. From Larry Moore: "Each song got one take, maybe more if the singer requested it and had some clout, but the overdubs were hit or miss…three or four note chords were suddenly turned into solo lines for one bar."
LM: The music was put on the stands and Ben said, let's do a take. If somebody screwed up on a pass, Ben would say, we'll take it out in the mix. His early recordings had actual budgets and union contracts. By the time I worked with Ben, it was seat-of-the-pants recording.
In the early 1990s, I was on Mr. Bagley's mailing list and I purchased a half dozen of the Revisited series albums on newly issued CD's, some with added material including newly-recorded songs. If the great digital sound wasn't enough, many of the compact discs also had different Harvey Schmidt cover artwork of his "Broadway Ladies".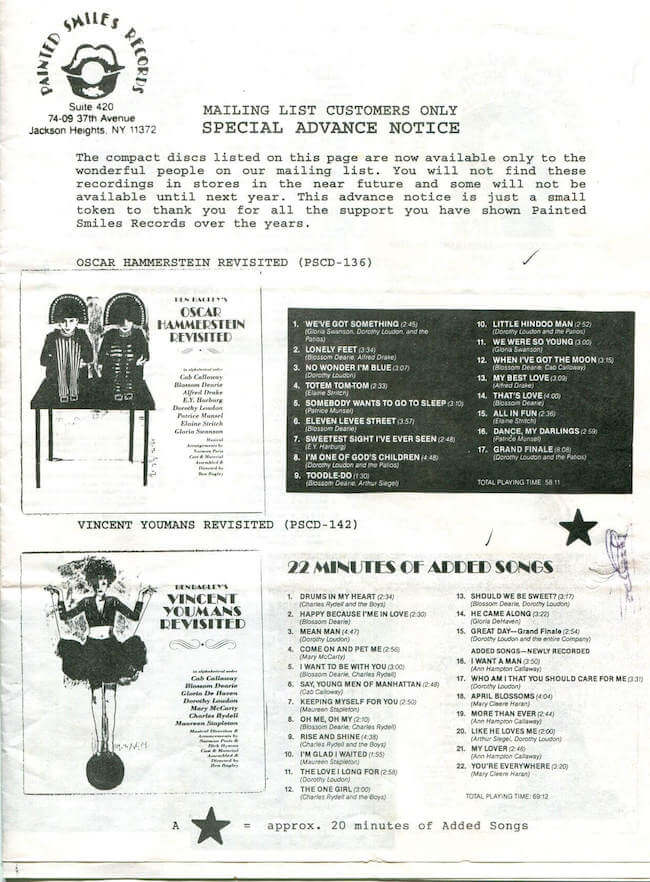 Special Advance Notice "available only to the wonderful people on our mailing list." (circa 1993)
More recently, the CD packages are being beautifully re-mastered and released on Bruce Kimmel's outstanding Kritzerland Records label. About 20 of the Revisited albums have been re-released with the rest to follow periodically. Visit Kritzerland here where you can listen to samples of songs from the Revisited series.
For Cab Calloway fans, Kritzerland also released the loving package of rare soundtrack recordings from Stormy Weather, including songs that didn't make the 1943 film, and the historic cast live recording of Porgy and Bess in Berlin 1952 with Cab in his iconic role as Sportin' Life.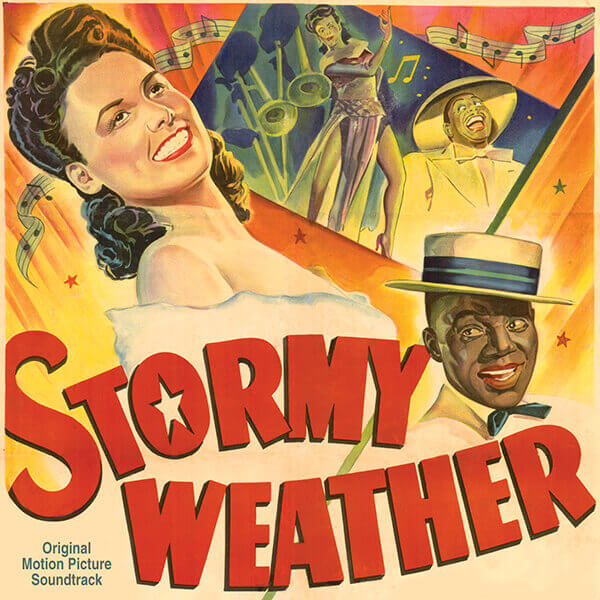 The Kritzerland CD releases of Stormy Weather and Porgy and Bess
"The youth of our world may be breaking heads in at Rolling Stones concerts. The Moral Majority may think the entire world belongs to Billy Joel, Deborah Harry, Ronald Reagan, Senator Jesse Helms, Pope Pius John Paul, and Patti LuPone, but Painted Smiles people are the most superior people in the world and you and I don't think so. We found the better way." (A cheerful observation by Ben from Kurt Weill Revisited Volume II)
Larry Moore: I loved Ben, and I miss him. He was funny, very smart, gentle, a little crazy, and one of the cheapest people I have ever known. I did all my work for him for no payment, and I had to pay full price for purchasing the recordings! Long after I stopped working with him, he called regularly to beg a free ticket for whatever I was working on.
Bruce Kimmel: Ben was unique. The first time he called about us releasing his stuff, he was so witty and wicked and we just liked each other right away. We spoke several times over time and he was always witty and wicked. That sort of wicked wit has gone the way of the dodo bird and what a shame that is.
LM: Ben was socially a wonderful host, a great raconteur, and a lot of fun to hang out with.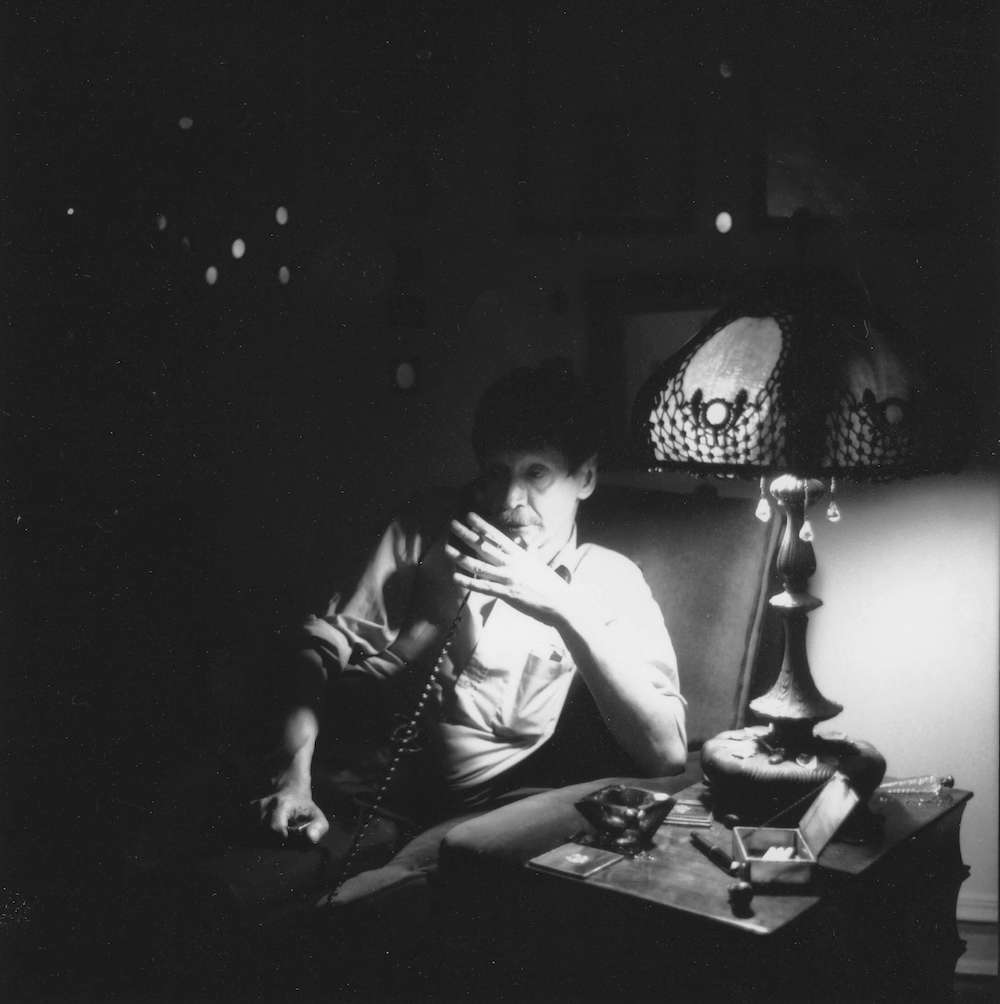 Ben Bagley at home in Queens, August 1990. Photo by Margot Sheehan.
Ben Bagley died of emphysema at 64 on March 21, 1998.
"Like Mrs. Parker and all those others, I've become a smart ass, not about to settle for happiness."
---
Ben Bagley – the Bibliography
Bagley, Ben. "Ben Bagley's Shoestring Revues" Equity Library Theatre program, October 15, 1970.
Bloom, Ken. "The Decline and Fall of the Entire World as Seen Through the Eyes of Ben Bagley" Show Music, Fall 1996.
Botto, Louis. "Ben Bagley Revisited" Playbill, August 15, 1997.
Capua, Michaelangelo. Montgomery Clift. McFarland, 2015.
Green, Stanley. Ring Bells! Sing Songs! Broadway Musicals of the 1930's. Galahad Books, 1971.
Hepburn, Katharine. Me: Stories of My Life. Alfred A. Knopf, Inc., 1991.
Holden, Stephen. "Ben Bagley, 64, Produced Off-Broadway Hits" New York Times obituary, March 27, 1998.
Jones, Kenneth. "Ben Bagley Lives! His Decline and Fall Revue Begins to Beguine" Playbill, August 23, 2006.
King, Bruce. The Emerald City, television interview with Ben Bagley, Episode #28, 1978.
Kissel, Howard. "Upon Further Revue" Daily News, April 5, 1998.
Kramer, Carol. "Funny, Lonely Ben Bagley, the Schizophrenic Writer" Chicago Tribune, March 14, 1971.
Kresh, Paul. "Ben Bagley Visited" Stereo Review, September 1977.
LaGuardia, Robert. "The Strange, Strange Love Underworld of Ben Bagley" After Dark, November 1970.
LaGuardia, Robert. Monty: A Biography of Montgomery Clift. Avon Books, 1978.
Richards, David. "Anything for a Song!" Washington Post, January 1, 1982.
Strouse, Charles. Put On a Happy Face: A Broadway Memoir. Union Square Press, 2008.
Whalen, Keller. Interview with Larry Moore, July 12, 2020.
Wilson, John S. "Ben Bagley – He Made All His Lies Come True" New York Times, September 29, 1974.
Wilson, John S. "Broadway Past and Present" New York Times, December 6, 1964.
Wilson, John S. "Unlucky Shows But Good Music" New York Times, April 26, 1970.
Quotes attributed to Ben Bagley are from his album liner notes unless otherwise indicated.
---
Special thanks to Larry Moore, Bruce Kimmel and Jean-François Pitet for their very special input!
---