A personal reminiscence by Keller Whalen
I was a Cab Calloway fan from the first time I heard him on the soundtrack recording of the "Porgy and Bess" movie singing "There's a Boat That's Leaving Soon for New York" and "It Ain't Necessarily So." That was around 1975 and I immediately began collecting his orchestra's 78rpm records and LP collections.
By 1984, I knew that Cab was still alive, but I didn't think he would still be performing into his 70s. The only live action performance I had was the spectacular musical scenes that I watched over and over on my VHS copy of "Stormy Weather" (1943) taped off WOR Channel 9 late one night.
My first opportunity to hear Cab Calloway sing live in person appeared in September 1984 with an ad in the Village Voice that promised a one-week residence at the Blue Note in Greenwich Village, New York.

The Village Voice advertisement, September 25, 1984, with my notes after calling for reservations;
I called early in the day, but the recording told me to call back after 4PM.
Cab Calloway live in person! At a real New York jazz club! At a price I could afford! I recruited my friend Carol (a fan of Art Tatum and Charles Trenet), and made the reservations about a month in advance to attend the 9 o'clock show on Friday, October 26th.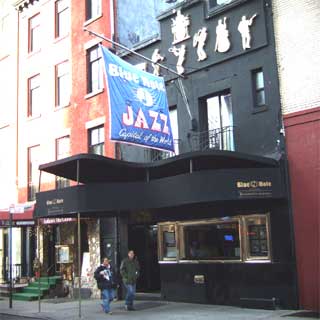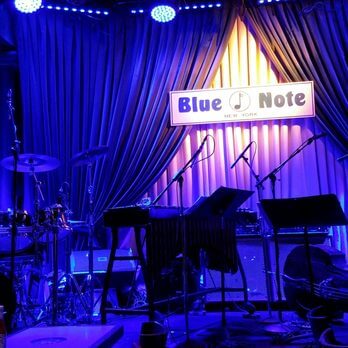 The Blue Note, Jazz Capital of the World, exterior and interior
The Blue Note is an iconic jazz club in New York City. In a city known for its many famous jazz venues over the years -- Birdland, Famous Door, the Onyx Club, the Cotton Club, Café Zanzibar, and all the clubs on 52nd Street -- it may seem that the Blue Note has been there forever, but it opened for the first time only in 1981.
The club is located at 131 West 3rd Street, New York, between 6th Avenue and MacDougal Street in Greenwich Village. There were previous clubs at that address, including speakeasies in the 1920s. Since it was opened by Danny Bensusan in 1981, Blue Note has always been a top jazz club and a destination for musicians and fans alike. Artists with multiple appearances or long-term residencies include Tony Bennett, Dizzy Gillespie, Lionel Hampton, Modern Jazz Quartet, Gerry Mulligan, Oscar Peterson, Tito Puente, Sarah Vaughn, and Nancy Wilson.

There are also international Blue Note clubs in Rio, Milan, Tokyo and Beijing.
In 1984, at the age of 76, Cab Calloway was riding high on his recent show-stopping turn in the film "The Blues Brothers" where an entirely new generation heard "Minnie the Moocher" for the first time.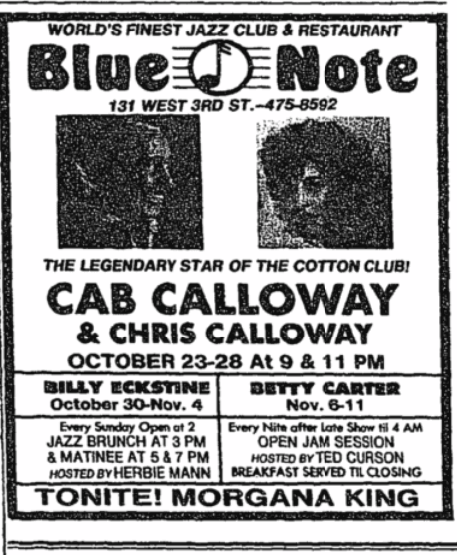 New York Times ad October 21, 1984
Cab's scheduled appearance from October 23rd to 28th, 1984 was part of the Blue Note's "October Parade of Vocal Stars". Earlier in the month, the series presented Miss Sarah Vaughn, Joe Williams and Morgana King for a week each. And then Billy Eckstine and Betty Carter appeared at the Blue Note in the two weeks after Cab's gig.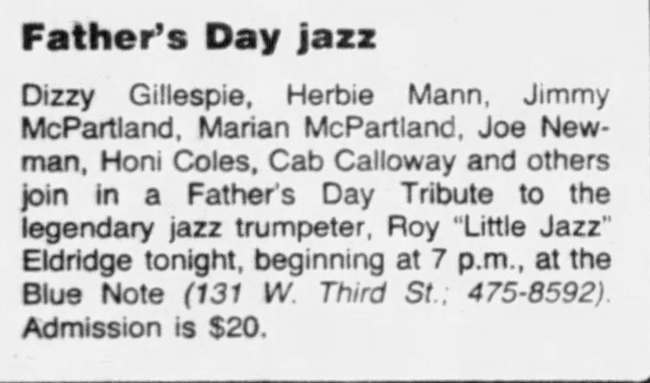 New York Daily News, entertainment listing, June 16, 1984
Cab had appeared at least twice before at the Blue Note – in June 1984 at a tribute to Roy Eldridge, and in September of the same year at a special one night only Dizzy Gillespie show celebrating the third anniversary of the Blue Note's opening. "Non-stop jazz 7PM to 4AM!" read the ad in the Village Voice.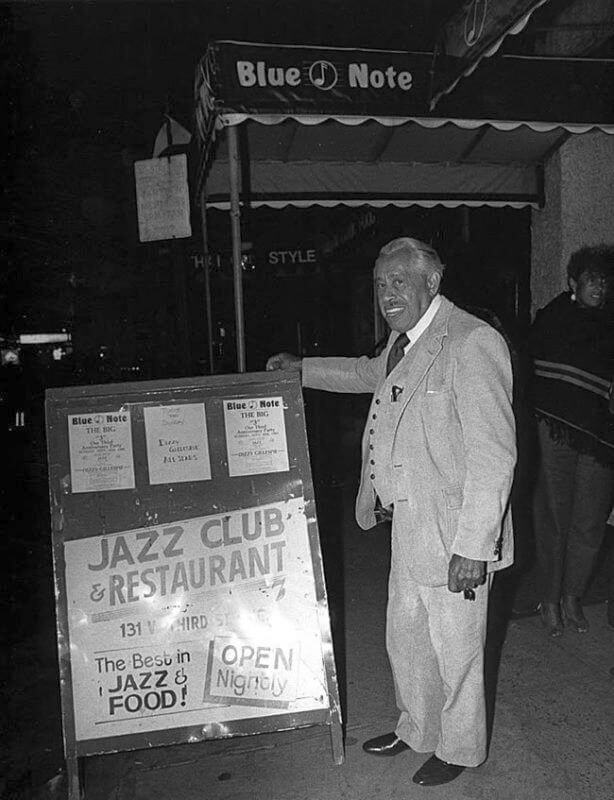 Cab in front of the Blue Note, Sunday, Sept 30, 1984. Dizzy Gillespie & Friends performed for the 3rd anniversary of the Blue Note.
Cab and his daughter Chris Calloway were represented by Mark Felix, then a junior agent at William Morris (now the director of the Drury Entertainment Group). He also represented Miles Davis for a few years, and worked with Suzanne Somers, Marvin Hamlisch, Tommy Tune, Buddy Rich and others.
Mr. Felix was good enough to speak with me recently and he confirmed that Cab worked often in New York, close to his home in White Plains. There were many more jazz-friendly venues in the city in the 1980s than there are now. During the decade, Cab also appeared at The Red Parrot, The Riverside Ballroom, The Beacon Theatre, Carnegie Hall and other theatres and clubs.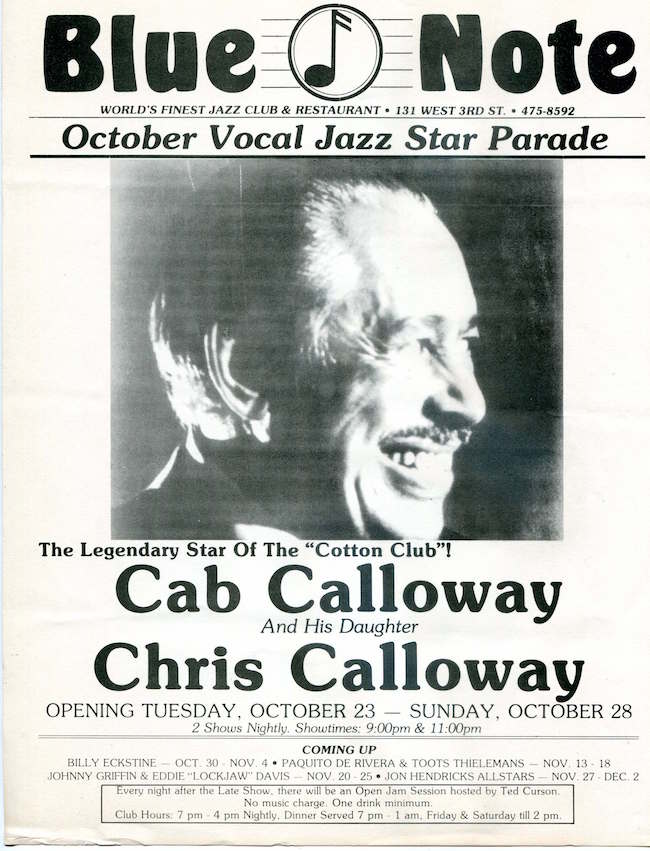 Above is an 8x10 photocopied flyer that was in a rack at the front door of the Blue Note. I grabbed a whole pack of them and stuffed them into my jacket.
Other notable stars who were performing in the New York area that very same week in October 1984 included Ella Fitzgerald and Oscar Peterson at the Westbury Music Fair; Grover Washington, Jr. at the Beacon Theatre; Frank Zappa's Halloween Party at The Felt Forum; comedy with Gilbert Gottfried and Emo Philips at Caroline's; Junior Walker and the All-Stars, followed by Dr. Buzzard's Original Savannah Band (a Calloway-influenced group!) at the Lone Star Café; Santana at the Ritz; Elton John at Madison Square Garden; and Chaka Khan at Radio City Music Hall.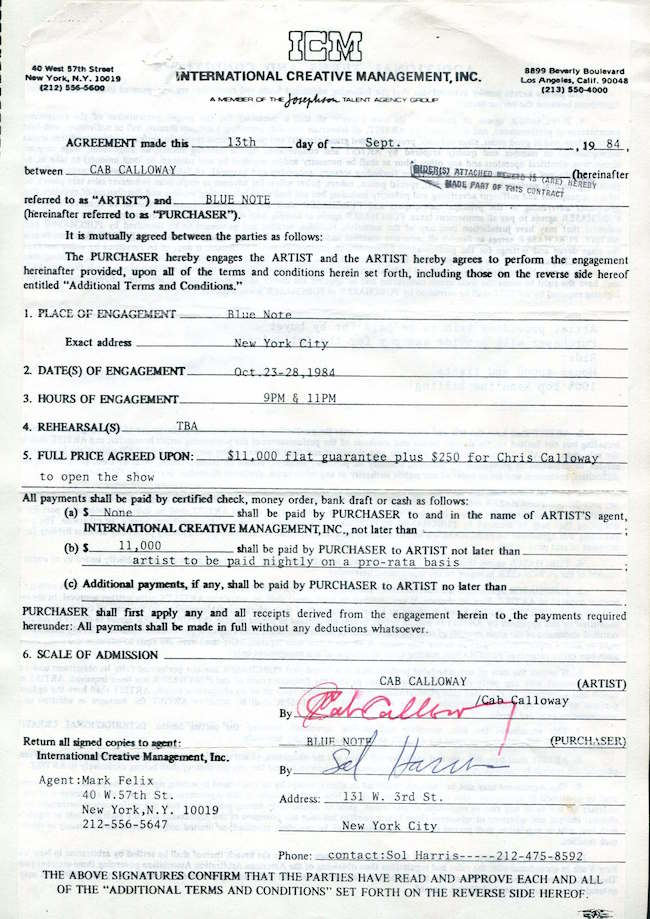 Cab's contract for his Blue Note appearance. It's amazing what you can find on eBay!
Cab's Blue Note contract called for two shows a night, at 9:00 and 11:00, for six nights. His flat rate guarantee was $11,000 with an additional $250 for Chris. Going back to his days on the road with the orchestra when he was occasionally ripped off, robbed or worse by unscrupulous promoters, the contract stipulated that Cab was to be paid after each night's performances.
On Friday night, Carol and I drove down to the Village from Connecticut in my brown 1980 Chevrolet Chevette. We coasted around the Village for a while until we found a parking spot on the street without a meter – score! We got there early; admission to the club was $15.00 each with a $5.00 food or drink minimum. We splurged and ordered hamburgers and fries. It was going to be a very special evening!
The trio of backup musicians was selected by Cab but they were paid separately by the Blue Note management: Charles Bateman on piano, Jimmy Lewis on bass, and Ronnie Cole on drums.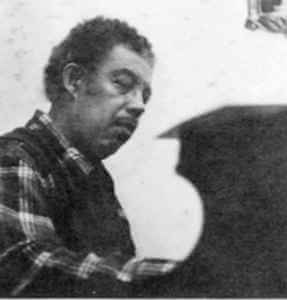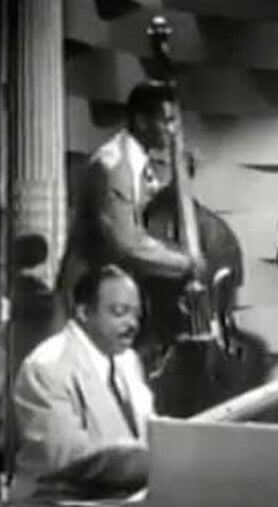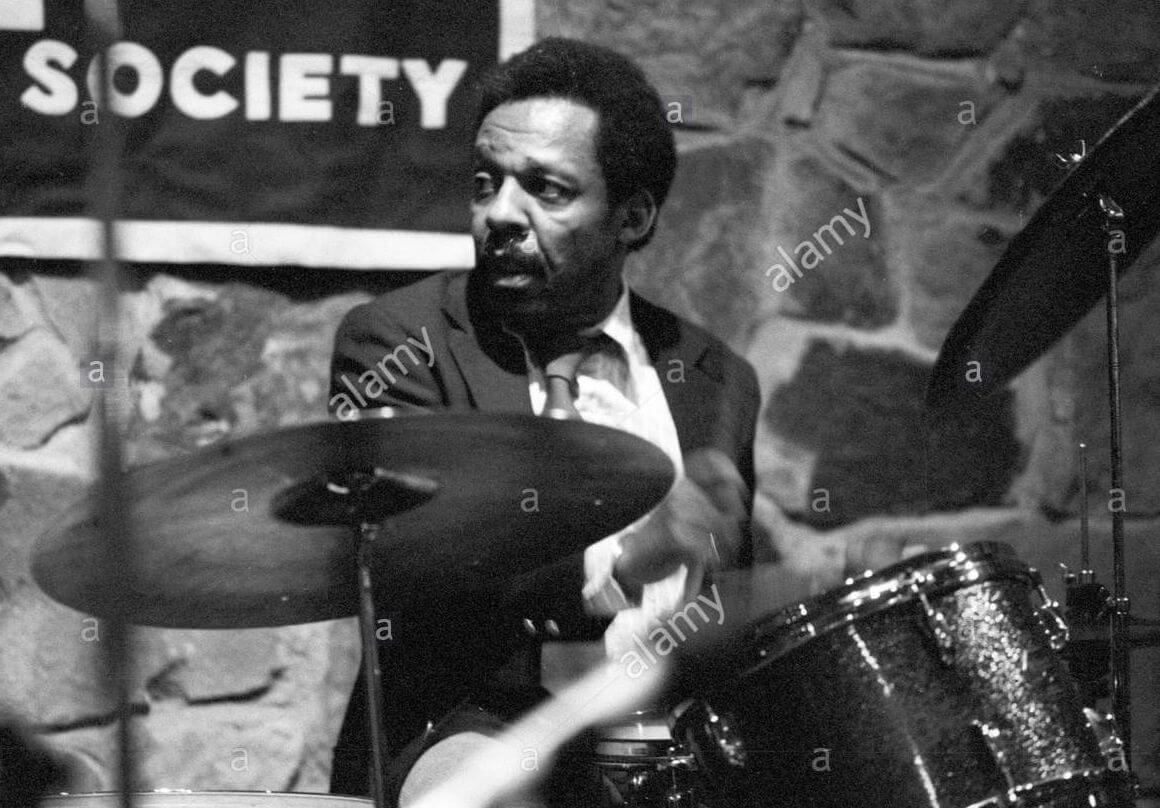 Charles Bateman, Jimmy Lewis (behind Count Basie) and Ronnie Cole.
• Pianist Charles Bateman (1922-2004) spent years training to play classical music, but his move into jazz took him into a world of which many of his fans could only dream. In his heyday, he could be found on stage with the likes of Billie Holiday, Louis Armstrong and Miles Davis. Bateman was often seen and heard on the Central Florida jazz scene after retiring and moving from New York City in the early 1990s. (Tammie Wersinger, Orlando Sentinel, 27 January 2004)
• Jimmy Lewis (1918–2000) was an American double bassist who worked with the Count Basie Orchestra and sextet in the 1950s and with Duke Ellington, Cootie Williams, Billie Holiday and Ivory Joe Hunter before moving to bass guitar during his time with King Curtis. He played bass guitar in the pit for the Broadway production of Hair from 1968 to 1972. Lewis freelanced extensively and performed on many albums by soul and jazz musicians, including Horace Silver and the Modern Jazz Quartet through the late 1980s. (Wikipedia)
• Ronnie Cole was the son of alto saxophonist and clarinetist Rupert Cole, who was a member of bands led by Louis Armstrong and Cootie Williams. Ronnie Cole wound up playing much of the same sort of classic jazz as his father and the career of Cole the younger spans the period from the close of the 1950s to 1987, when the drummer seems to have cut his last recording session to date, a live date with Benny Waters. He was also active in the 1980s with the Harlem Blues & Jazz Band, an ensemble project devoted to vintage performers from the swing era. (AllMusic.com)
The tables up front sat eight, so Carol and I sat across from each other, second from the front, dead center. The artists performing that night would be about four feet from us. Two young ladies had the chairs closest to the stage. One woman shared with me a napkin she had that was signed, "Hi de ho, Cab Calloway". She had obtained it earlier when Cab was coming into the club. I was jealous. I knew that I was a bigger fan than she was!

The Blue Note stage and the front tables.
Showtime! I really don't remember whether anyone introduced him before he came to the stage – it was just too exciting. Cab came dashing out in his wonderful white tuxedo and that gigantic smile. He scanned the audience and checked out the ladies at the closest tables and then he started the show.
This is the set list to the best of my recollection:
Cab opened with Get Happy the Harold Arlen/Ted Koehler standard introduced by Ruth Etting in 1930 and memorably performed by Judy Garland in the film Summer Stock (1950).
After that jumping opener, Cab turned to a slow song. Sunday in Savannah, which I had never heard before at that time. It's a ballad written by Hugh Mackay, which was originally considered (and recorded by Cab) but ultimately dropped from the film Stormy Weather. It was later recorded by Rosemary Clooney in 1959 and memorably performed by Nina Simone in a concert on April 7, 1968 just days after Martin Luther King's murder.
Good Time Charlie's Got the Blues was originally a hit for Danny O'Keefe in 1973. With the lyrics, "some gotta win, some gotta lose…" Cab's voice soared to the very sky – what incredible power and control. That was worth the price of admission.
September Song, the perennial classic composed by Kurt Weill in 1938 with lyrics by Maxwell Anderson. I guess if you're a singer over 70, you just have to perform this song.
Learnin' the Blues a 1955 song, made famous by Frank Sinatra and recorded by Cab in 1955 and 1961, Cab's version was swinging! He very occasionally made a hand gesture to the band to slow down or speed up, almost imperceptible.
You're Nobody Till Somebody Loves You, a song from 1944 that was a hit for Dean Martin in 1964. Cab used an arrangement by Bugs Bower that was recorded for the LP Cab Calloway '68.
Click here to read all about the making of the LP "Cab Calloway '68" with Bugs Bower.
Stormy Weather, the classic Harold Arlen/Ted Koehler song first introduced at the Cotton Club by Ethel Waters and later Lena Horne's signature number; Cab sang it in a low register. Not a song that I expected to hear, but it was a wonderful choice for his mature voice, very different, somewhat sadder than the well-known female versions.
With Jumpin' Jive Cab introduced his daughter and they swung into a duet of Cab's 1939 classic. Cab then rested off-stage while Chris took the spotlight.
Chris sang Don't Cry Out Loud. A song written by Peter Allen with lyricist Carole Bayer Sager in 1976, it was a hit record for Melissa Manchester in 1979. Chris belted it out, giving it her all.
Chris also powerfully sang This Is My Life, the great Shirley Bassey song; a tremendous performance. Chris had all of her father's register and power in her voice.

Cab and Chris in a 1985 photo.
Cab may have sung Old Man River next in a neat, upbeat version, but my memory is not complete. He often sang it in concert during this period, so I might be just remembering some concert recordings I've heard over the years. Either way, he gave Paul Robeson a run for his money.
Next up was one of the great classics of Cab's career, It Ain't Necessarily So, the Gershwin song from "Porgy and Bess" with lots of tricky Calloway additions in the scatting sections. What absolute fun! The audience laughed and applauded throughout the vocal travels as Cab interpolated bits of If I Were a Rich Man and sang like a cantor; a truly memorable and unique live performance of a great song. Cab had recorded some Yiddish-flavored songs in the 1940s – "Utt de Zay", "Abi Gezundt"-- and now he was bringing all the traditions together live! Near the end he did his old trick of holding the last note for an interminable length of time, much to the loud and hilarious appreciation of the audience.
St. James Infirmary one of Cab's signature numbers, recorded several times over the years and a concert favorite; sad and emotional and funny all at once. He sang it with the same feeling whether he was 21 years old or 76.
Next up, Cab sang One for My Baby, in slow, sad way, as if it were his standard traditional closing song. The song had been recorded in 1961 on his LP "Blues Make Me Happy." Was the show over? Of course not!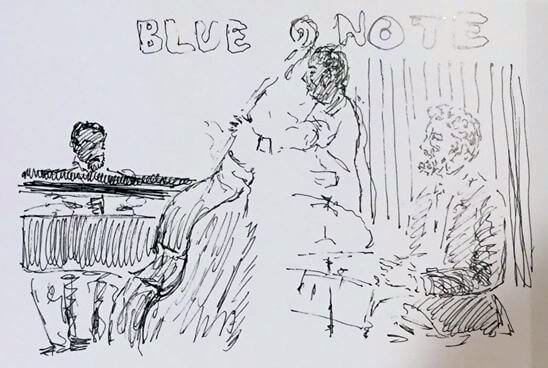 The Blue Note by Anthony Benedetto (Tony Bennett).
I had wanted to hear some of my favorite songs from Cab's younger days like St. Louis Blues, Nobody's Sweetheart and Blues in the Night, but I wasn't disappointed at all in the selection.
Cab was always smiling and talking to the audience between songs, telling little anecdotes, stories about the songs and bad jokes. During one of these brief breaks fairly early in the show, Carol interrupted Cab by pulling something out of her purse and handing it to him. We were close enough that Carol didn't need to stand up and Cab didn't have to bend down much to take it.
First a little background. The state of Connecticut, where we lived at the time, had recently changed from requiring automobile license plates to be on both ends of the car, to requiring only one plate in the back. Some years earlier, I had purchased specially ordered 'vanity' plates that read "HIDEHO" and since I now no longer needed two plates, we took one with us to the Blue Note that night to somehow present to Cab.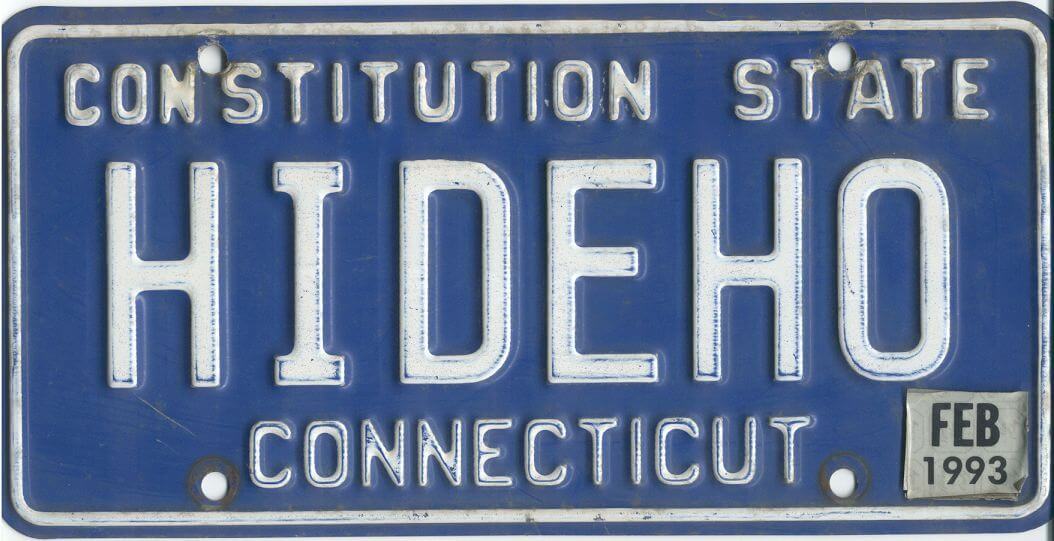 My 'vanity' license plate, issued by the state of Connecticut. Don't be impressed—my car was just a Chevette.
Carol found that right moment when she whipped it out of her purse. Cab was a bit taken aback and actually impressed by the license plate. He stared and it and wasn't quite sure what to do with it. He held it up very everyone to see and my license plate got a big round of applause!
He said, "You know, I think if I drove through Connecticut with this on my car, I might get arrested or something." Then he placed the license plate on his ass and made a little prance around the stage, "Look at me go! You can't catch me!"
And of course the show closed with "Minnie the Moocher." "Minnie" was Cab's theme song and his band's 1931 recording is a classic of the hot jazz era, and later with the 1942 recording, a classic of the swing era as well. He also re-recorded it several times in the 50s and 60s and made an extended disco dance version in the 70s.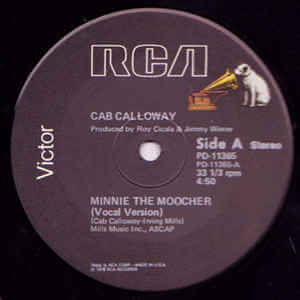 The 'disco' version of "Minnie the Moocher" 1977.
I owned Cab's 1977 recording of "Minnie" on a 12-inch disco record and I always thought of it as a novelty that disappeared after being played a few times here and there. I was thrilled when Cab announced "and now, I'll hope you'll join in and help us with the 'hi-de-hi's' and the 'ho-de-ho's' with our old friend, 'Minnie the Moocher'" but then I was shocked when the band immediately started playing that same anachronistic disco arrangement! An instantly recognizable tune, but the tempo was much faster than the classic versions.
Click here to read about the making of the disco version "Minnie the Moocher"
What was he thinking, playing a disco version in a jazz club? I was just a little bit offended, though nobody else seemed to mind. This arrangement was Cab's preferred version for closing his shows from the late 70s and through the 80s.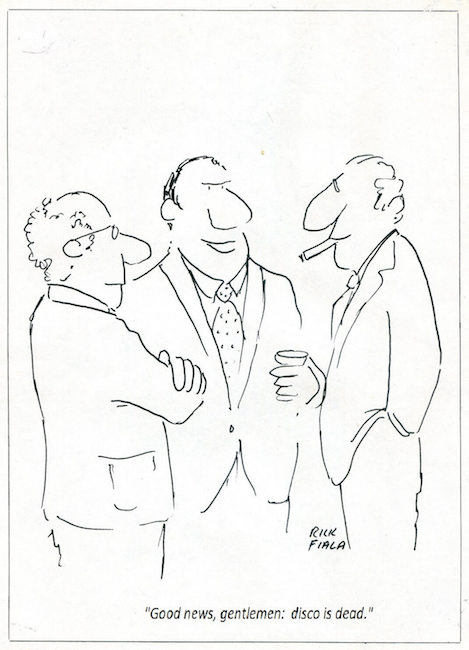 "Good news, gentlemen: disco is dead." Cartoon by Rick Fiala, circa 1982.
Just a few years earlier, when Cab showed up to film his "Minnie the Moocher" number for director John Landis while making "The Blues Brothers", Landis would have none of that silly disco arrangement and forced Cab back to using the standard big band version. That certainly paid off for the final film!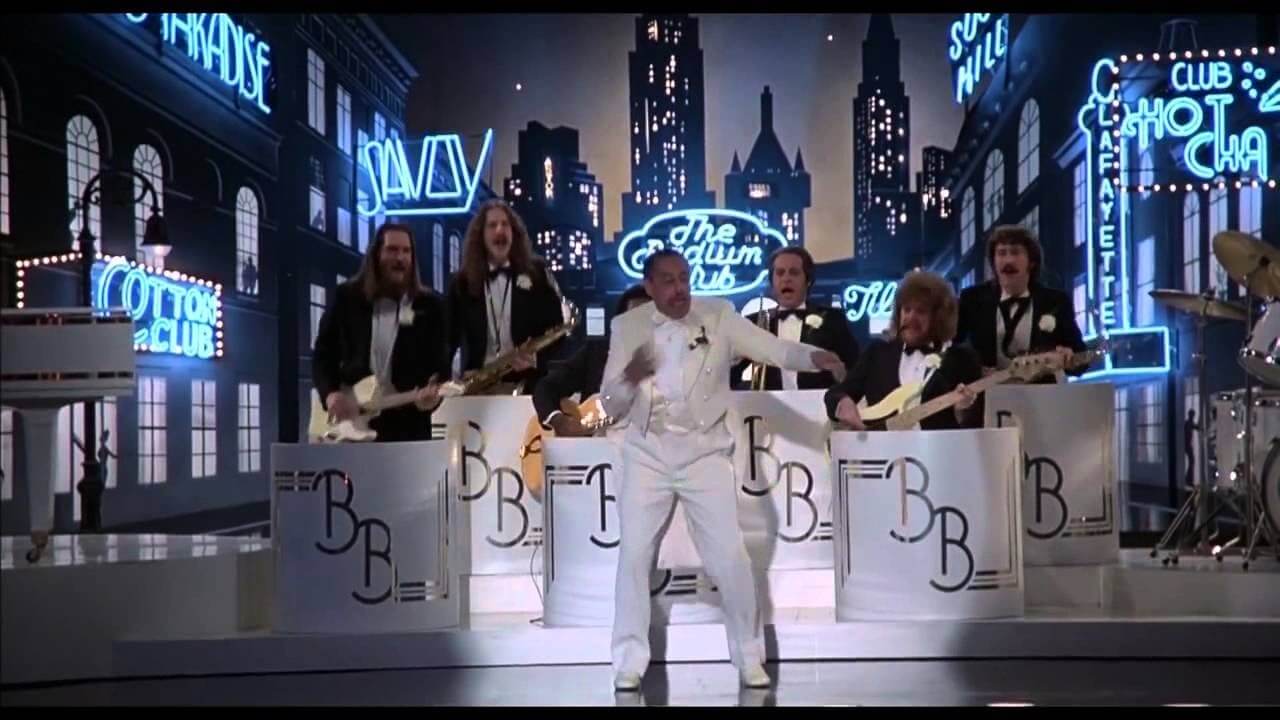 Cab Calloway in "The Blues Brothers" (1980).
Click here for a film clip of Cab singing "Minnie the Moocher" in a scene from "The Blues Brothers".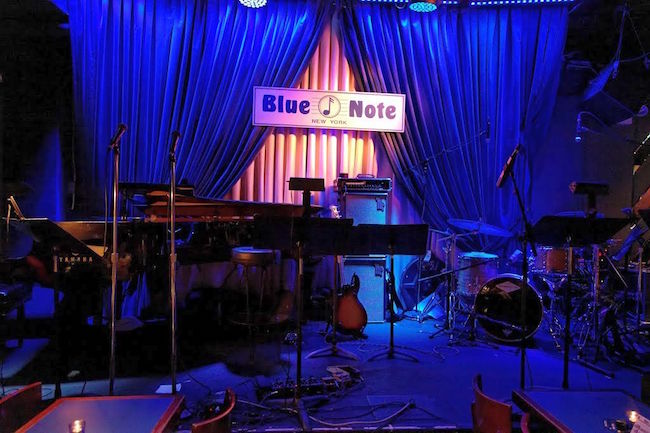 The Blue Note stage.
At the end of the Blue Note show, the Friday night New York audience was loud and appreciative with their applause, but still calm and quick – the quarters were too tight for a standing ovation. Cab waved and went upstairs to the dressing room, followed shortly by the band. Mr. Bateman gathered up his giant book of music and went up the stairs last.
We waited for our check (and to come down from the Cab Calloway musical high). There was an open winding staircase to the left of the stage with a couple of doors to the dressing rooms at the top. The keyboard player was stationed outside the first door. We asked to see Cab and he frowned, but Carol reminded him that we gave him the license plate. He grabbed his giant music book (Cab had handed the plate to him and he stuffed it inside the book) and went in to see Cab. The door opened after about three minutes and we were invited in.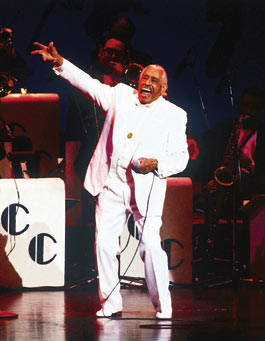 Cab and his tuxedo, circa 1991.
There was something quite different about Cab in the dressing room compared to his stage presence – I couldn't put my finger on it, but he seemed to have an altogether different… shape. He still had on his tuxedo, just with the coat open and the tie loosened, so what was so different? Then I realized – he must have taken off his girdle! He went from a barrel-chested killer on-stage to an entirely normal 76-year old pear-shaped man in the dressing room.
I was a little tongue-tied, and didn't want to gush, but wanted to make sure that he knew how much I loved his voice and his music and his legacy. He shook hands with me and I blithered some flattering nonsense and handed him my magazine to sign (already prepared, he had a black Sharpie in his hand) He didn't make any eye contact with me at all while talking and signing my magazine because he spent the whole time looking Carol up and down while she chatted him up as if he was her neighbor catching up over the back fence.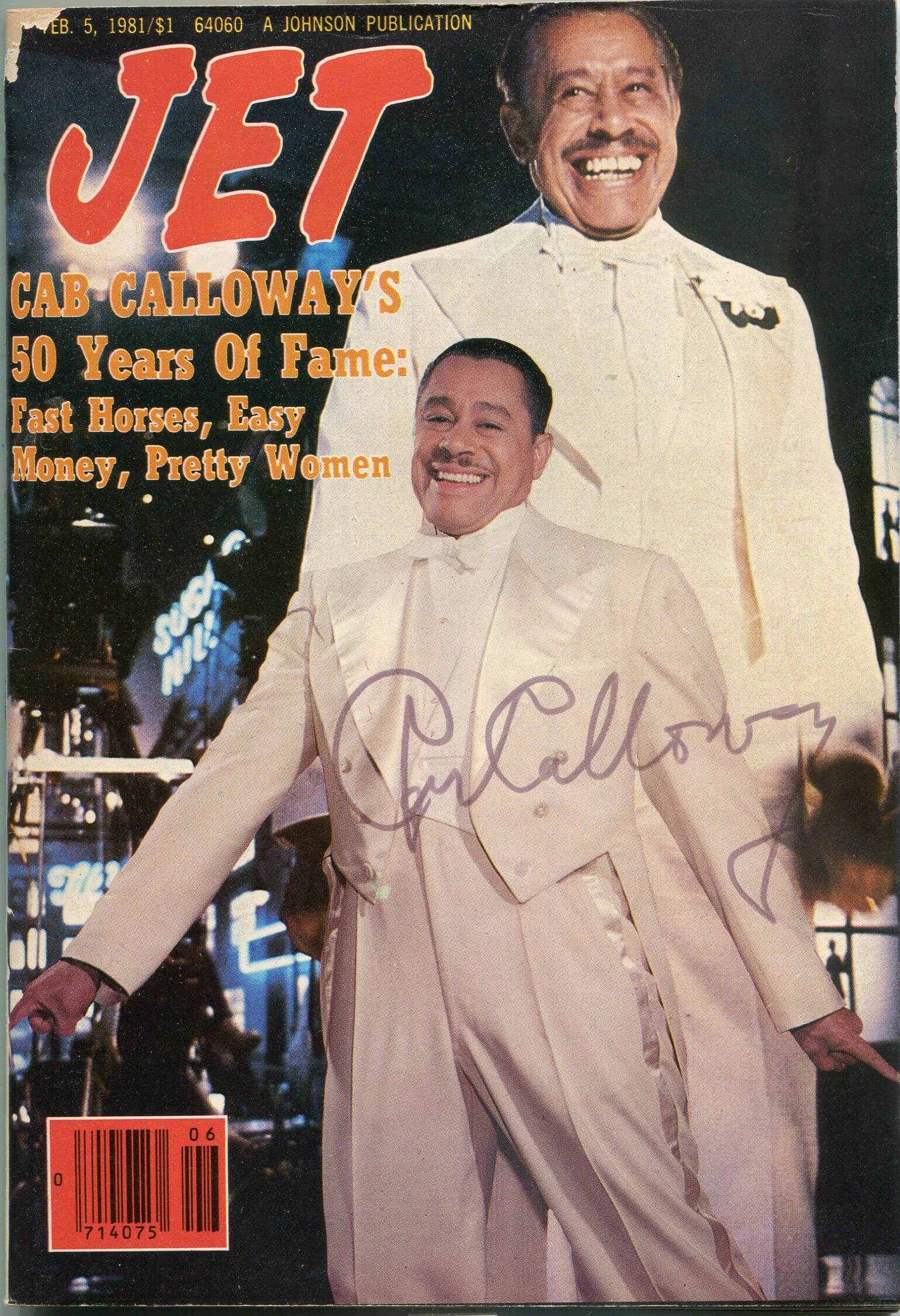 My autographed copy of the February 5, 1981 issue of JET.
As I handed him my copy of a 1981 JET Magazine to sign and he looked at it puzzled and said, "This is an OLD magazine. Wow." Here's a guy who's been famous for over 50 years and he thought a three-year old magazine was old!
Three or four more people were lined up at the door for their audience with Cab. We were happy.
I next saw Cab perform September 24, 1985 at a tribute Lehmann College in the Bronx, with Chris, Lee Castle and the Tommy Dorsey Band with Doc Cheatham and others with various tributes. That night, Cab sang until his voice gave out! Later I was lucky enough to attend more of his performances in Stamford and Westport, Connecticut in the following years.
Cab continued to perform for another ten years or so for a career totaling almost seventy years. Even the Rolling Stones have a long way to go before they hit that record!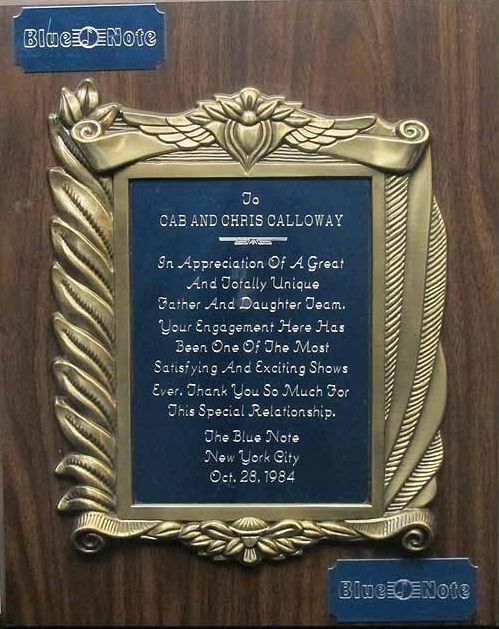 Plaque presented to Cab and Chris by the Blue Note.
On the last night of the engagement, the Blue Note presented Cab and Chris Calloway with a plaque (now in my possession). It reads "In Appreciation Of A Great And Totally Unique Father And Daughter Team. Your Engagement Here Has Been One Of The Most Satisfying And Exciting Shows Ever. Thank You So Much For This Special Relationship. The Blue Note New York City Oct. 28, 1984"
After briefly fantasizing about ditching Carol and going home with Chris, I decided to be a gentleman and we headed back to Connecticut with a jacket full of photocopied flyers, a personally obtained autograph, some wonderful musical memories and my remaining HIDEHO plate on the back of my car.
We made it home without being arrested.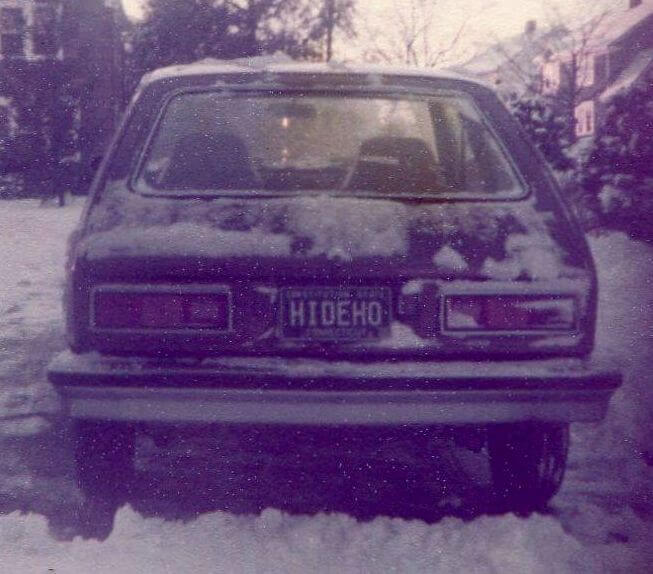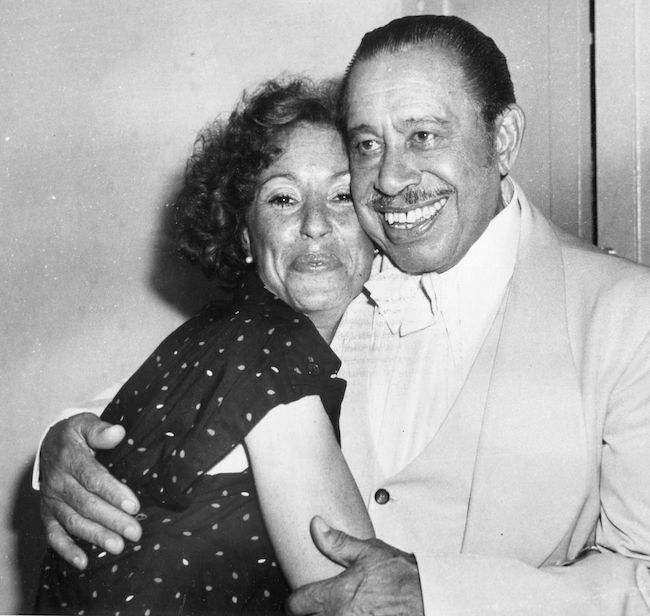 Cab and Chris Calloway, 1980.
---
ACKNOWLEDGEMENTS
Special thanks to BlueNote.com, Jean-François Pitet, Mark Felix, The Village Voice, New York Times, New York Daily News, Central New Jersey Home News, The New Yorker, JET Magazine, Sharpie, Chevrolet, and the state of Connecticut Department of Motor Vehicles…
and to Carol Hall, wherever she may be.
---