The author of this incredible biography is my great friend and jazz connoisseur Keller WHALEN.
PART 5: THE OTHER MAE JOHNSON & OTHER SEPIA MAE WESTS
THE 'OTHER' MAE JOHNSON, SEBASTIAN'S COTTON CLUB
Yes, there were two separate talented African American performers, each named Mae Johnson, who were almost exact contemporaries. Existing brief biographical notes on such sites at IMDb.com understandably conflate these two wonderful but different women who both worked night clubs and movies in the 30s and 40s.
The life and career of the 'other' Mae Johnson -- chorus girl, dancer, movie extra and charity worker -- was based on the west coast and ran concurrently with our Mae Johnson -- the "Sepia Mae West," singer, dancer, actress and specialty artiste -- who was based primarily on the east coast and then later in L.A.
The 'other' Mae Johnson was born in Petty, Texas March 20, 1911 and was raised in Tulsa, Oklahoma. While based in San Diego in 1926 she was the Charleston Queen and a member of the dance group, the Four Covans. The 1930 census shows Mae was living at 325 Anacapa Street in Santa Barbara, California. Her earliest appearances in Los Angeles were in March 1931 when she appeared at the Tivoli Club as a featured act, and then a few months later at the Los Angeles Playhouse, where she was noticed for the first time by syndicated columnist (and part-time movie extra) Harry Levette of the Associated Negro Press, saying she "has ability and a winning way that will carry her far."
In the spring of 1931, Mae first began her work as a regular chorus girl at Frank Sebastian's Cotton Club in Culver City, along with the house orchestra, one of the hottest jazz bands of the day, McKinney's Cotton Pickers. Like Harlem's Cotton Club, its namesake, Sebastian's night spot showcased African American entertainers for an exclusively white clientele.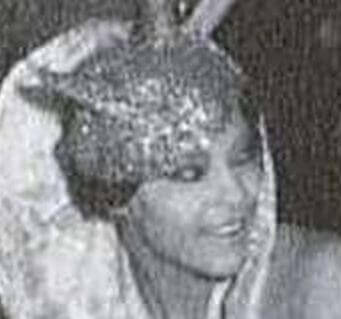 The "other" Mae Johnson as she looked in the chorus line at Sebastian's Cotton Club, 1934
Los Angeles had a night life every bit as exciting as that of New York with the tremendous advantage of having the world's biggest movie studios in the same back yard. The strip along Central Avenue, home of many African American entertainment venues such as the Lincoln Theatre, the Apex Club and the Club Alabam, was nicknamed "the great Dark Way" by actor Clarence Muse.
In August 1931, reporters were allowed in to view rehearsals for a new as yet untitled revue show announced for the Hollywood Playhouse to star comic actor Stepin Fetchit, dancers Broomfield & Greeley and the singing and dancing brothers, Connie and Eddie Anderson. Mae was listed among the chorus girls and "Never was such a collection of beauty and lightning fast dancing ability collected in the west as are seen when the ten girls get in line" (California Eagle, August 21, 1931.) Unfortunately, it's unclear whether this particular show ever actually opened after the rehearsals.
Later that year, Mae appeared in the four performances of a short revue produced by the Bilo and Ashes company (Bilo Russell and Sandy "Ashes" Burns) that was included as the added live attraction for screenings of the Anna May Wong film "Daughter of the Dragon."
On December 18, 1931 Mae joined the chorus of the highly successful musical show "Lucky Day" at the Mayan Theatre in Los Angeles. The show featured Eddie Anderson once again, still several years before his role as "Rochester" on the Jack Benny radio program. The uncredited assistant to choreographer LeRoy Prinz for this show was Hermes Pan who soon went to work with Fred Astaire on his many films at RKO. The show opened on December 29, 1931, playing for eight weeks as many as four shows a day, including at the Pantages in February 1932, and later on a successful tour that included San Diego and San Francisco.
In the spring of 1932, the new show at Sebastian's Cotton Club was the first of several produced by the team of Broomfield & Greely who would later be appearing and choreographing shows at the Ubangi and Minsky's in New York (including several shows that featured New York's Mae Johnson).
Among the other chorus girls at Sebastian's during this period were Alyce Key who became a civil rights activist and the first African American newspaper columnist in Las Vegas; Juanita Moore, who enjoyed a fine film career and starred as the iconic Bloody Mary in both the Broadway and film versions of the musical "South Pacific;" and Rosa Lee Lincoln, later a star of the Oscar Micheaux film "Two Gun Man from Harlem" and a dancer in the film "Stormy Weather".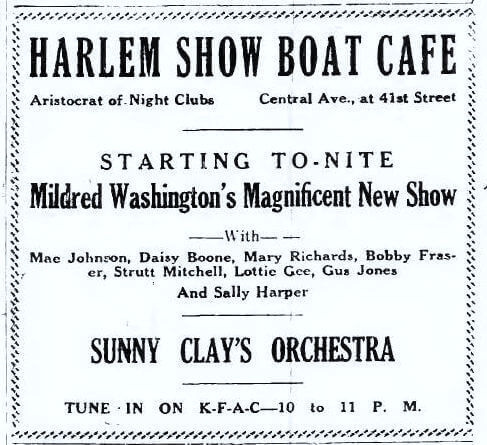 The 'other' Mae Johnson appears in Los Angeles, February 12, 1932
In early 1932, Mae was in a floor show the Harlem Show Boat Café in Los Angeles and in November 1932, Mae was the female lead in a comedy and music show called "Central Avenue" at L.A.'s main African American stage, the Lincoln Theatre. The show was produced by and starred John Larkin and Alec Lovejoy. The Lincoln Theatre at 22nd Street and Central Avenue was a showcase for black entertainers and audiences.
The entire Sebastian's chorus appeared as exotic background extras in the 1932 film "The Devil and the Deep" starring Tallulah Bankhead and Gary Cooper. And in August, Mae was among the extras in Cecil B. DeMille's "The Sign of the Cross."
Star headliners at Sebastian's popular club in the spring and summer of 1932 included Louis Armstrong and Les Hite's band with Lionel Hampton on the drums, "the jazziest jazz maniacs outside of captivity" (Salem Tutt Whitney writing in the Chicago Defender July 2, 1932). Other major performers appearing in 1932 included Ada Brown (later in a featured role in "Stormy Weather"), Mae Diggs (a New York Cotton Club headline performer), Dudley Dickerson (wide-eyed comic dancer seen in films with the Marx Brothers, Abbott & Costello, the Three Stooges and other comedies) and the dance team of Rutledge & Taylor.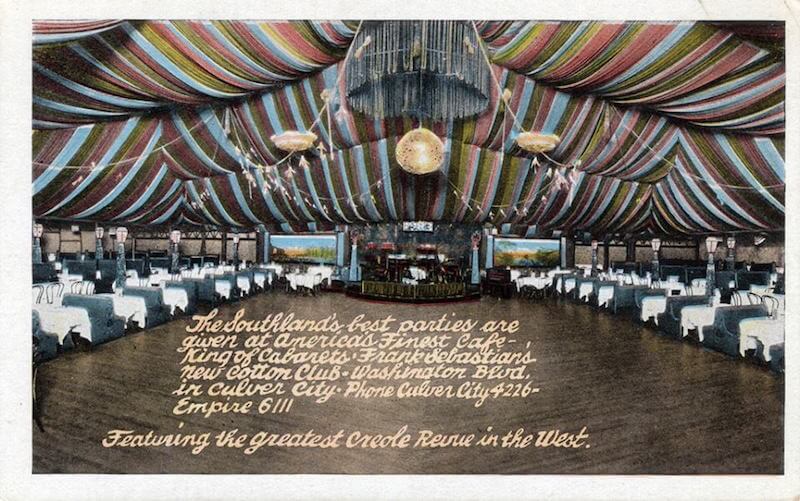 Interior of Sebastian's New Cotton Club, Culver City, California in the 1930s.
"The kitchen, dressing room and store rooms are in Los Angeles, the cabaret proper is in Culver City. This unique arrangement of construction enables Mr. Sebastian to keep his cabaret open to 3 a.m., evading the closing law that compels Los Angeles cabarets to close at 1 a.m." (Chicago Defender, July 2, 1932).
On November 11, 1932, Mae and one other chorus girl lost their jobs at Sebastian's – not because of lack of talent, but rather due to financial issues brought on by the deepening depression. Frank Sebastian chose the unlucky ones by drawing straws, reducing the chorus line from ten to eight girls.
THE 'OTHER' MAE JOHNSON, MOVIE DANCER AND EXTRA
Later that month, Mae, along with Juanita Moore and two other chorus girls from Sebastian's, were hired to appear as dancers in the latest Wheeler & Woolsey film, "Back to Africa" (re-titled "So This is Africa" for its ultimate release). In the film, the comedic team tries to attract backers for an expedition to Africa by staging a makeshift African show in the lobby of a hotel, complete with the chorus line in full faux African costumes.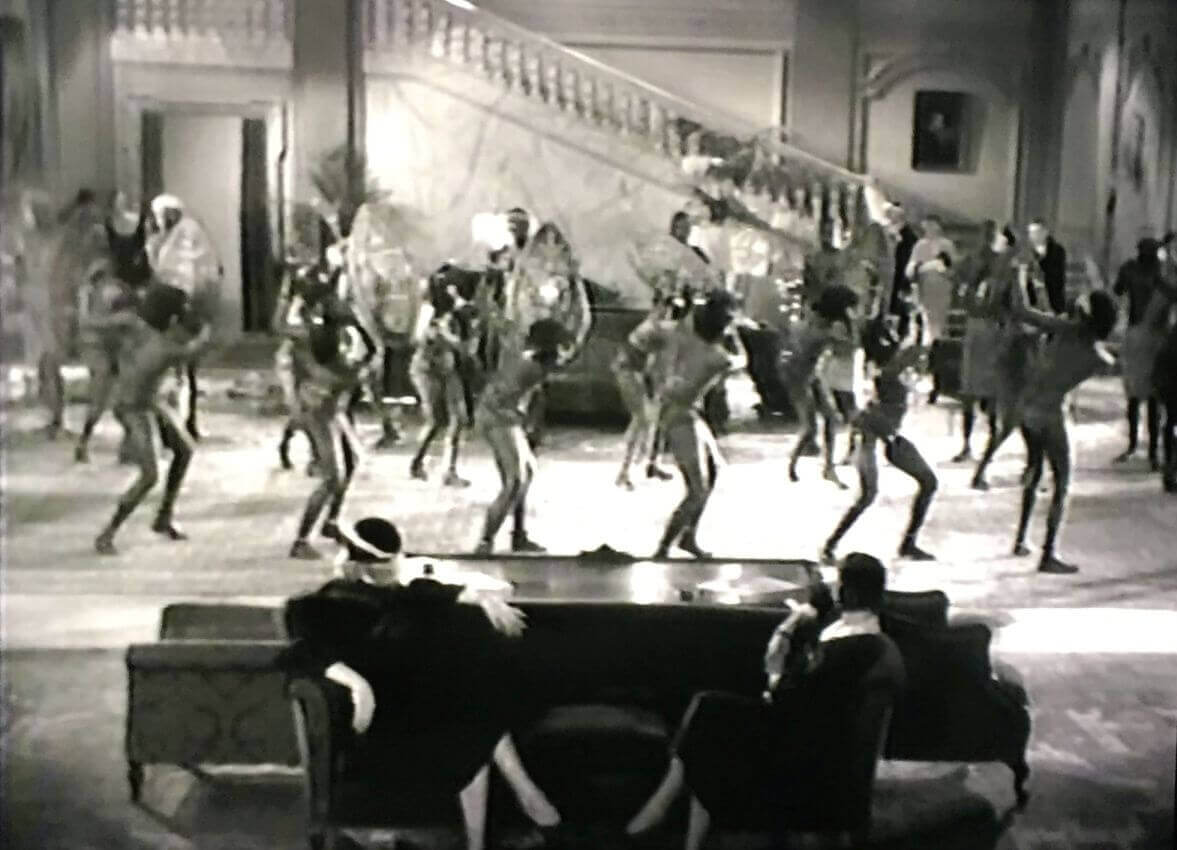 Screen capture of the African American chorus line in "So This Is Africa" 1932
Because dancers were usually hired on a movie for their specific talent, they were therefore by definition not just anonymous extras. But in segregated America, the black dancers were not treated the same way. These talented men and women were almost never mentioned in the credits or the promotions for the film, so we are correcting that omission now.
The African American chorus line in "So This Is Africa" consisted of Mae Johnson, Patsy Hunter, Francis Turnham, Juanita Moore, and Rosalee Lincoln, with dancing boys Jack Williams, Earl Robinson, Leon Hampton, Carl Gibson and "Perry" (Pittsburgh Courier, December 3, 1932). June Rutledge of Rutledge & Taylor was the choreographer, assisted by Patsy Hunter.
Several local African American chorus girls, including Mae Johnson, appeared in support of Marlene Dietrich in even wilder African costumes for the iconographic and sexy jungle-themed number "Hot Voodoo" in the film "Blonde Venus" (1932) directed by Josef Von Sternberg.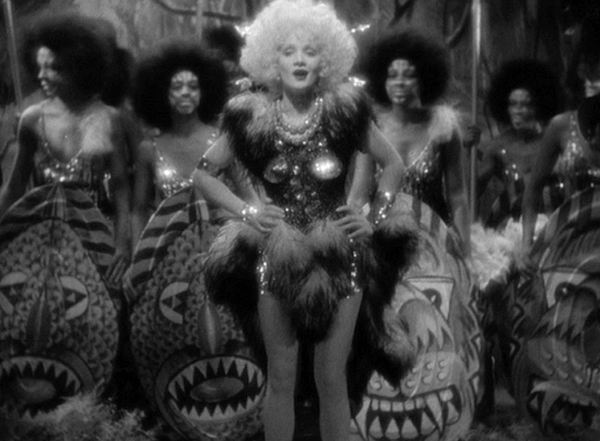 Marlene Dietrich in "Blonde Venus" singing "Hot Voodoo" with some of the exotic background dancers. Mae Johnson is back there somewhere.
Here's a short film excerpt from the "Hot Voodoo" number
On Wednesday, December 21, 1932, an all-star cast put on a benefit at the Lincoln Theatre for various Negro charities. On stage in a show dubbed "Harlem Meets Deep Central" were Les Hite and His Orchestra, Broomfield & Greely with the Sebastian's Cotton Club chorus, Clarence Muse and his Sleepy Time Troubadours, the Club Alabam company and the full cast of the earlier "Lucky Day" show including Mae Johnson.
As early as February 11, 1933 Mae felt it necessary to differentiate herself from the New York Mae Johnson (who happened to be appearing in the L.A. area at the time) and she wrote a letter to columnist Harry Levette of the Chicago Defender who published it in his column:
"Dear Harry: I know you will drop dead when you know just what I want and who I am. May I ask you a favor? I am leaving for Chicago on March 10 or 11, and as there are two Mae Johnsons on the Coast, both of us professionals, folks confuse us. Please remind my friends that I am the Mae of the famous "Lucky Day" and give my best wishes and good-by to them." Levette goes on to list some of Mae's other credits in clubs and in the movies (Chicago Defender, February 11, 1933.)
Keeping busy in pictures, Mae was an extra in Eddie Cantor's "Roman Scandals" and Cecil B. DeMille's "Cleopatra" starring Claudette Colbert. Patsy Hunter, Juanita Moore, Mae Johnson and Ruth Givens were slave girls; Earl Turnhan, E.G. Smith, and Blue Washington were Nubian guards (Harry Levette, "Behind the Scenes," March 30, 1934.) In July 1934, Mae was a guest at a birthday party bash for the Four Covans – Mae had been part of that team in its early days.
THE 'OTHER' MAE JOHNSON, BACK AT SEBASTIAN'S
In 1934 and 1935, Mae joined the chorus for more Broomfield & Greeley produced revues at Sebastian's including a show with her old team, the Four Covans, and starring Eddie Anderson and others with Lionel Hampton and his Orchestra, The Mills Brothers and Les Hite and His Orchestra.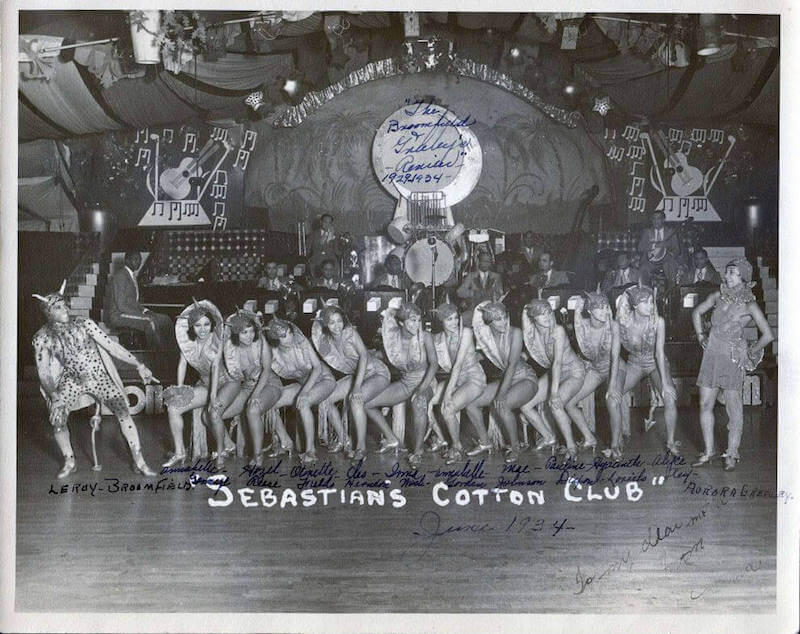 The Sebastian's chorus line was back up to full strength with ten girls in June 1934; Mae Johnson is fifth from the right.
Valaida Snow, the trumpeter, and her husband Anaias 'Nyas' Berry of the acrobatic Berry Brothers dancing team, played Sebastian's Cotton Club for an extended period in 1935. Later in the run of that show, Mae was selected as the lead chorine in a number at Sebastian's. The California Eagle reported, "Mae Johnson, pretty chorus girl at Sebastian spot, has been picked by Miss Snow to lead one of the chorus numbers there...because it is on the heels of the elevation of pretty and talented Juanita Moore to the role of principal, it is all the more to the credit of Miss Snow for her desire to give those possessed with talent a well deserved break" (California Eagle, August 30, 1935).
Mae was busy from 1935 to 1937 supporting Dickie Walker in the revue, "School Days," dressed in kiddie dresses and carrying all-day suckers; and later with Eddie Anderson at the Club Alabam, and then back at Sebastian's again behind the Berry Brothers, Earl Hines, and Lionel Hampton; and yet another show at the Alabam where the new dance "Truckin'" was introduced to the west coast after first launching at New York's Cotton Club.
And in the movies, Mae was an extra in "You Can't Have Everything" (1937) at Fox, in another Eddie Cantor movie "Strike Me Pink" (1936) and then backing up Bill Robinson in the film "The Big Broadcast of 1936" for the "Miss Brown to You" Pied Piper of Harlem number. She also appeared in "New Faces of 1937" at United Artists. The plot of "New Faces" followed stage producers who figure out how to make more money from a flop than a hit, an inspiration for the Mel Brooks film and Broadway musical "The Producers."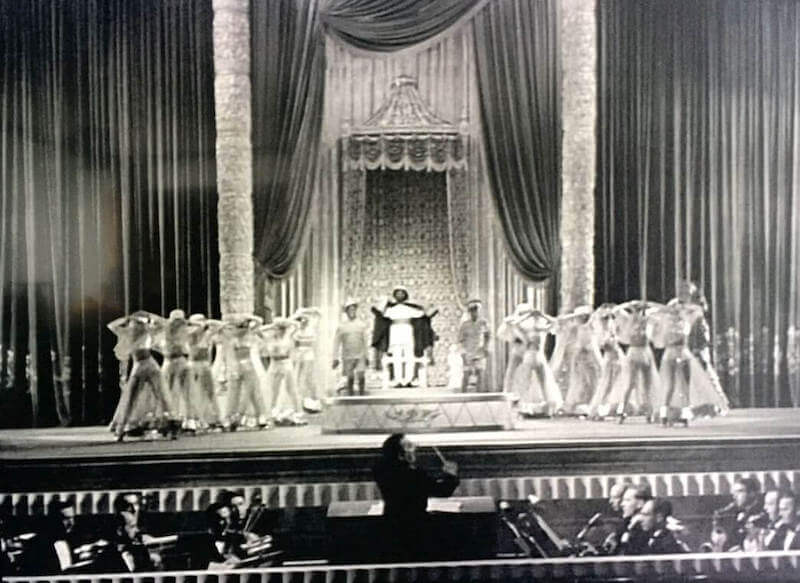 Mae Johnson and friends, supporting Tip, Tap & Toe in the "Rhythm of the Radio" number in "You Can't Have Everything" 1937.
The Pittsburgh Courier helpfully listed all the chorus girls appearing in the one number allotted to the African American cast members in "You Can't Have Everything." "Enhancing the musical extravaganza are the beautiful sepia, dancing darlings: Patsy Hunter, Catherine Atkinson, Connie Harris, Ruth Givens, Mae Johnson, Wanda Robinson, Emma Priestly, Lenora Brown, Mildred Boyd, Suzette Harbin. Joe Bacon and Henry Washington are also in the pic" (Pittsburgh Courier, June 10, 1937.)
THE 'OTHER' MAE JOHNSON, "VOGUES OF 1938"
Mae was one of the carefully selected chorus girls for a spectacular sequence in the film "Vogues of 1938." This time she garnered an actual movie credit -- not on the screen, but at least in the promotional material and press releases. Although this film is her one officially credited screen appearance, it's usually attributed incorrectly to the New York Mae Johnson.
Singing and dancing with abandon, the sexy and swinging ladies performed "Turn on That Red Hot Rhythm (Burn Your Blues Away)" with diminutive Dottie Saulters (check our full-length article) singing lead and the wild Maurice Rocco on the piano. The dancers in "Vogues of 1938" were Mae Johnson, Louise Robinson, Rosalee Lincoln, Deenie Gordon, Dorothea "Garbo" Durham, Lucille Battle, Mildred Lloyd, and Connie Harris. The male dancers were The Four Hot Shots team, who also appeared that same year in the Marx Brothers movie, "A Day at the Races."
The "Turn on the Heat" sequence is probably the closest imitation of an actual Cotton Club number ever filmed. Other attempts to depict the Cotton Club in films such as "Taxi!" (1932), "The Cotton Club" (1984), "Hoodlum" (1987), "Who Framed Roger Rabbit?" (1988), and "Harlem Nights" (1989) all pale by comparison.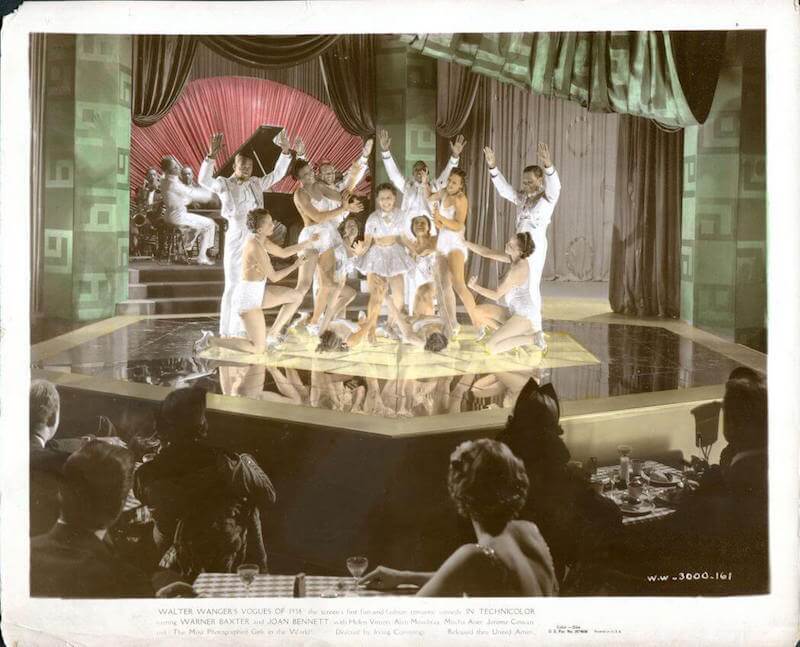 A colorized still from the Cotton Club sequence, "Turn on That Red Hot Heat" in "Vogues of 1938."
> Watch the filmed Cotton Club musical number from "Vogues" here <
In 1937 Mae Johnson was still dancing in the chorus line at Sebastian's, including a show in June with starring Eddie Anderson, just a month before his first appearance as Rochester on the Jack Benny radio show. And like the New York Mae Johnson, the gossip never ceased – the columnists wondered when Mae was going to marry her man about town, a certain "Johnny"; being spotted at parties; and touted as one of the best dressed at Easter.
In 1937 she married Johnny Thomas, a member of the tap-dancing trio The High Hatters, and the next year the columnists announced the birth of "Baby Baldy" (his name was really Tyrone). After apparently taking a year or two to care for her baby, she was back at work in 1940, appearing again with Broomfield & Greely at the Bal Tabarin club along with Juanita Moore. In addition, Mae had the time to be an extra in "Road to Zanzibar" (1941) with Bob Hope and Bing Crosby.
In 1941, Mae was at Club Alabam's grand reopening among eight chorus girls with Curtis Mosby producing and Patsy Hunter choreographing. In March, the club threw a party for Mae celebrating her thirtieth birthday.
"THE CLUB ALABAM really swung out this week with the best show since its highly acclaimed reopening. Already popular, the acquisition of its liquor license by the proprietor, Curtis Mosby, was served to pull big crowds nightly. With Bill Heflin, that ace master of ceremonies doing the honors, Patsy Hunter, clever, widely experienced producer, has really delivered the goods. The classy, speedy, pretty, 8-girl chorus led by Patsy herself, includes Olivette Fields, Juanita Moore, Louise Franklin, Myrtle Fortune, Helen Mitchell, Mae Johnson and Lucy Battle. Mosby's Blue Blowers led by the "Baron" make the music for the show and dancing with motion pictures on the screen filling in the time between" (California Eagle, January 23, 1941).
There are no accounts of Mae's work in entertainment during the war years. She may have temporarily retired, continued working anonymously as a movie extra, or taken other non-entertainment work in support of the war effort.

At a new restaurant opening, May 2, 1942, Patsy Hunter, restaurateur Johnny Cornish, Mrs. Harry Mills and Mae Johnson.
THE 'OTHER' MAE JOHNSON, THE BATTLE AFTER THE WAR
We next find Mae in 1947 when she was the stand-in and double for Billie Holiday for the film "New Orleans." She was also an extra in "The Pirate" (1948) and "White Witch Doctor" (1953).
In October and November 1958, filming was proceeding on Samuel Goldwyn's much-anticipated film of "Porgy and Bess." The movie starred Dorothy Dandridge, Sidney Poitier, Sammy Davis Jr. and Pearl Bailey, and was directed by Otto Preminger. Mae Johnson was hired for Pearl Bailey's stand-in as she had similarly been on Preminger's film "Carmen Jones" a few years earlier.
On October 18th, Hollywood columnist Hazel Washington reported that Mae threw a party for the "Porgy and Bess" cast and crew. It was successful by all accounts: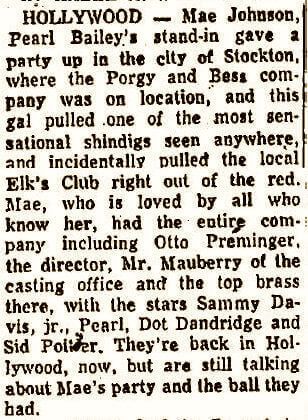 The California Eagle reported on a wonderful party given by the popular Mae Johnson, October 1958.
But less than three weeks later, on November 13th, shortly after principal photography on the picture began, Mae was fired.
An innocuous announcement in the California Eagle proved to be the root cause of what became a major issue on the set. The announcement read: "PORGY 'N BESS — George Francis, Byron Ellis and Mae Johnson account for the swinging Sunday afternoon affairs, featuring the cast, at Dynamite Jacksons West Adams spot" (November 20, 1958.) Mae tried to recreate her successful party of the previous month and the restaurant's owners made much of the planned shindig, over-promising the stars that would appear.
Pearlie Mae didn't like the fact that her name was associated with a commercial enterprise and complained to the film's production director and to Otto Preminger himself, blaming Mae Johnson for instigating the affair and demanding that Mae be fired. Preminger quickly acquiesced to his star.
On November 26th, Mae Johnson filed suit against Pearl Bailey for $50,600. "In the suit, Atty. Gordon said Miss Johnson is asking for $20,000 in damages in connection with her career, $20,000 damages to her reputation in the community, $10,000 punitive damages plus $600 in lost wages, or a total of $50,600. Miss Johnson claims that Miss Bailey not only engineered her dismissal, but that in addition she was loud and raucous and caused her a great deal of embarrassment."
The suit made the front page of the California Eagle, "PEARL BAILEY SUED FOR $50,000 HURT," but with equal sympathies going to both Mae and Pearl. "Mae Johnson is beloved by our community as a member of the Benevolent Variety Artists group of theatrical women. And she has given unstintingly of her time to help charitable causes. On the other hand, Pearl Bailey, one of the nation's top show business personalities has many times given a helping hand to aspiring show folk who haven't yet reached their goals" (California Eagle, November 27, 1958).
Toni Thomas, who was Eartha Kitt's stand-in, stood behind Mae's story and the case was scheduled to go to trial. By April 1959, however, the suit was quietly settled out of court with the persistent rumor being that Pearl had agreed to a payment, although for considerably less than the $50,000 sought, and probably less than $10,000. All sides remained mum on the deal.
In her several memoirs, Pearl Bailey makes no mention of Mae Johnson or the lawsuit. Similarly, the multiple biographies of Otto Preminger do not bring up the subject.
Mae continued work as an uncredited extra in many movies including "The Pirate," "White Witch Doctor," "It's a Mad, Mad, Mad, Mad World," "The Greatest Story Ever Told," "A Global Affair" and "The Manchurian Candidate;" and on the television shows "Headquarters FBI," "The Dick Powell Show" and "Zane Grey Theater." Mae was a member of the Elks Club and a founding member of the Benevolent Artists Variety Guild, a charitable institution organized by former showgirls for show business folk. She attended a surprise reunion party for Lionel Hampton in January 1959 where the guests included 'old-timers' Les Hite and Patsy Hunter.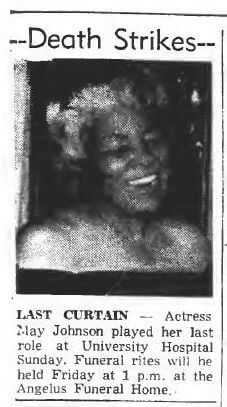 From the front page of the California Eagle, 1963
On November 21, 1963 after a three-month stay in the hospital, Mae Johnson died. The California Eagle put her obituary on the front page. She was survived by her son Tyrone Thomas and a sister, Elizabeth Spiller.
---

THE OTHER 'SEPIA MAE WEST' PERFORMERS
Mae Johnson (that's the New York Cotton Club singer/actress Mae, as opposed to the Los Angeles chorus girl/movie extra Mae) wasn't the only performer who was actually billed or otherwise described as the "Sepia Mae West."
Due to her buxom figure, Ida Cox, sometimes called the "Uncrowned Queen of the Blues" was also billed as the "Sepia Mae West" for many of her 1933-34 appearances.
During the same period, another blues singer, Alto Oates, was billed sometimes as "Harlem's Mae West" or "the sepia Mae West" in her appearances around the northeast U.S. and Canada, primarily in the popular "Brownskin Models" traveling show produced by Irvin C. Miller. Ms. Oates was known for the phenomenal fancy gowns that she wore on-stage.


Full circle: this newspaper ad lists Alto Oates starring in "Brown Skin Models"
at the Fox Theatre in Hutchinson Kansas, April 1933.
Mae Johnson is also in the cast and the stage show was paired with
the movie "So This Is Africa" which included
the 'other' Mae Johnson in a chorus line scene!
From 1933 to 1937 (which lines up with the approximate era of the real Mae West's film successes at Paramount Studios), female impersonator Dick Barrows made a career as a nightclub MC and performer billed as "Sepia Mae West." He worked in Chicago under that billing at many local nightspots including The Radio Inn, the Lone Star, the 7-11, the Cabin Inn and the New Club, and he produced a revue for the Platinum Lounge in 1937. At six feet tall and 195 pounds, there couldn't have been too much confusion as to his sex and he claimed to own 13 suits and 67 evening gowns. When he was working on the west coast in 1936 and 1937, one newspaper article reported that Dick Barrows had a part in "The Singing Kid," although he is not listed in the known credits of that Al Jolson-Cab Calloway film.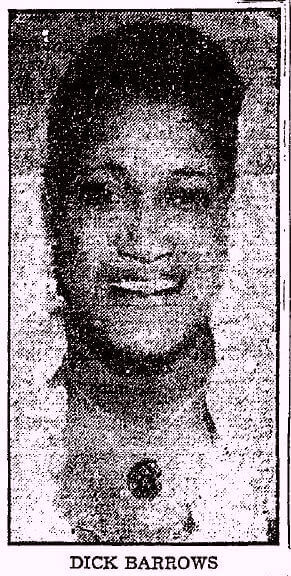 Dick Barrows, from the Afro-American July 6, 1935
In early 1934, again coinciding with the Mae West's rise to national fame, Small's Paradise in New York presented a performer billed simply as "Sepia Mae West." Several quixotic advertisements and reviews announced the Small's Paradise appearances with the simple question "Female?" By April of 1934 Chicago's Dick Barrows was already threatening to sue the perpetrator of this claim to his livelihood for $25,000 in damages. The upstart "Sepia Mae West" was named Samuel Fouche, soon to be touted as the darling of female impersonators in New York. By November of the same year, this new "Sepia Mae West" had appeared at the Apollo Theater and at the Harlem Opera House.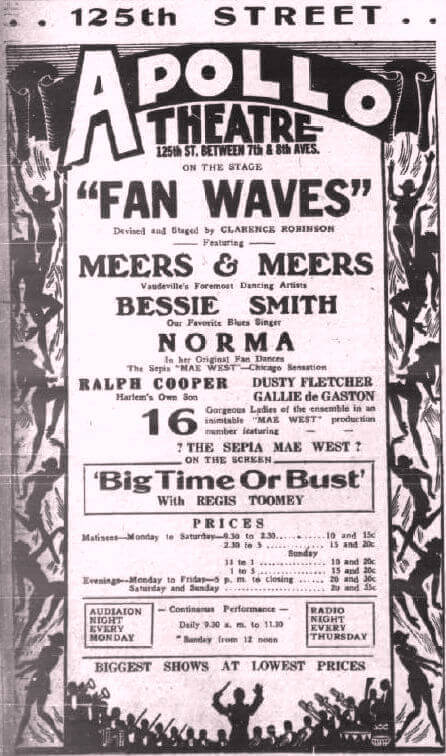 "Sepia Mae West" (Samuel Fouche, or is it Dick Barrows?) appears at the Apollo November 1934.
One unidentified reviewer in the African American weekly, The New York Age, expressed disgust with Fouche in his appearance at the Harlem Opera House: "There is only one spot on the program which might really be classed as 'putrid', and that is the demonstration of just how freakish humans can become as offered by something which is styled as 'The Sepia Mae West.' The less said about it, the better" (December 1, 1934).
It should be noted that during the prohibition era and jazz age, Harlem was very tolerant, and absorbed, albeit briefly, some of the gay sub-culture of the early 1930s. Since, there were no exclusively African American burlesque houses or 'drag balls' like the more risqué milieu found downtown that catered to the white audiences, Harlem speakeasies and small clubs took up the demand for more titillating, off-center and mixed-race entertainment.
Victoria Vigal was another Mae West imitator who appeared at the Memphis Club in Philadelphia in 1935. She made appearances as late as 1951 in burlesque houses and strip clubs, by that time billed as "Vickie Vigal, the Bronze Mae West." Perhaps the term "sepia" was out of fashion by then.
In 1934, at the Ambassador in Albany, New York, Yvonne Williams was listed as the "colored Mae West" and in 1936 she shared a bill in Syracuse New York with Gladys Brewster, who was called "the miniature Mae West." We can only imagine that show.
In 1935 at the African American Club Alabam in L.A., Lillian Randolph was touted as a Mae West impersonator, complete with a blonde wig singing Mae West's songs from "Goin' to Town."
Bee Freeman was an African American actress who appeared in five of 'race film' director Oscar Micheaux's films, providing what was described as a Mae West-type character in movies such as "Murder in Harlem" (1935) and "Underworld" (1937).
Hannah Sylvester, who sang with Fletcher Henderson's Orchestra in 1940, was called "Harlem's Mae West."
The immortal Mae West continued to be a rich source for impressionists and female impersonators for many years. Virginia Rendell embodied Mae in "It Happened in Hollywood" (1937); Marilyn Maxwell and Debbie Reynolds did fine imitations on television, while Mr. Lynne Carter, Charles Pierce and Craig Russell worked their gender-bending magic in night clubs and other appearances through the 1980s. Mr. Carter had been discovered and promoted by Pearl Bailey; Charles Pierce was a highly successful mainstream night club and TV performer; Craig Russell actually worked as Mae West's secretary for a time in the late 1960s and brought his West imitation to the movie "Outrageous!" (1977). Ann Jillian played the role of Mae in the 1982 TV movie "Mae West."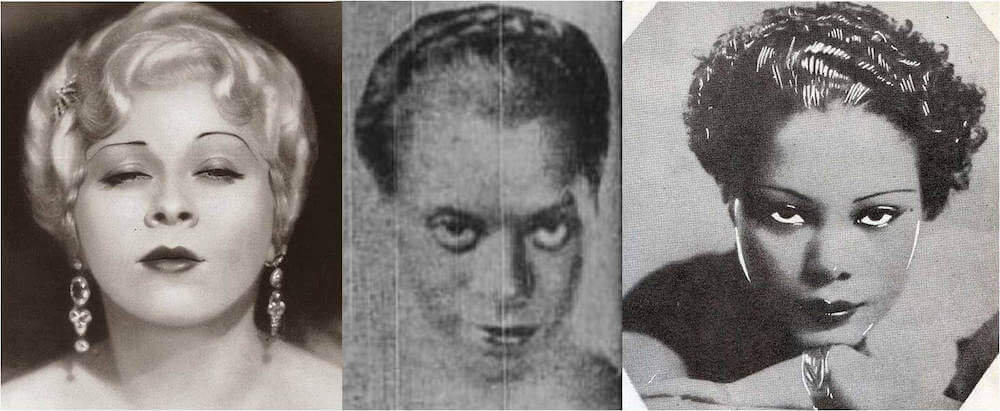 Mae West 1932, Sam Fouche 1934, Mae Johnson 1938
---
NOTES and ACKNOWLEGMENTS
The sources used for this article often alternated the spellings "Mae" and "May." I have changed the incorrect spelling for clarity in several places.
The African American press of the early and mid-twentieth century continues to be an amazing source of information found nowhere else. While these newspapers covered the injustices of the Jim Crow era and followed the early civil rights successes, they were no less complete and appreciative of the literary, artistic and entertainment accomplishments of the African American community that were largely ignored by the mainstream press during this period.
Therefore, this research would have been entirely impossible without the archives of the Chicago Defender, the Baltimore Afro-American, the Pittsburgh Courier, The New York Age, the California Eagle and a host of other local and regional weeklies along with the Associated Negro Press syndicated columnists Billy Rowe, Harry Levette, Otto McClarrin, Alan Macmillan, Eddy Wiggins and others.
Many thanks to webmaster and jazzman extraordinaire Jean-François Pitet
for his encouragement, patience and invaluable suggestions and demands for this piece.
There would have been no reason to perform this research if I didn't know there would be at least one reader!
Merci beaucoup.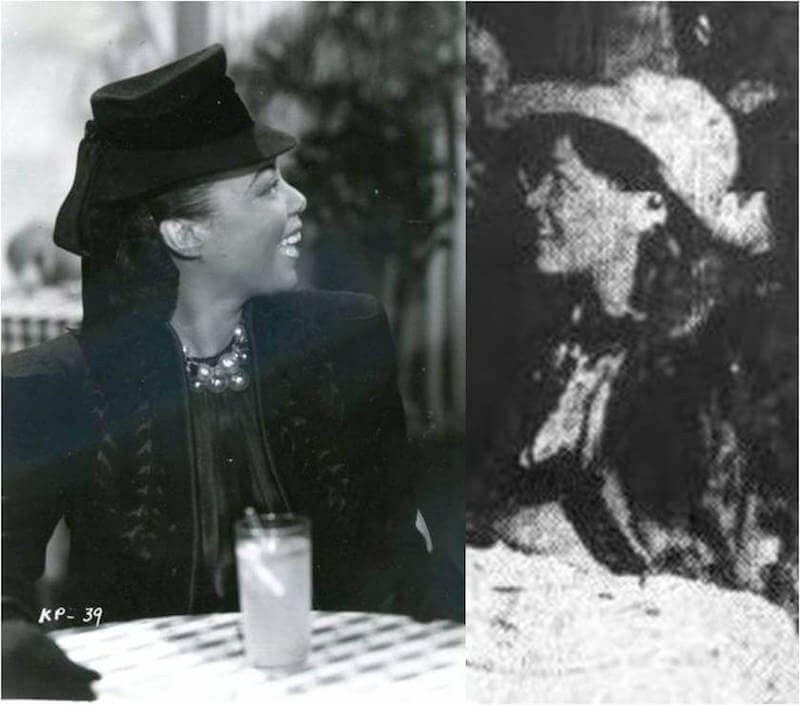 I don't know if the two Mae Johnsons ever met, but I'm sure they would have had a lot talk about over lunch.
---
BIBLIOGRAPHY
Bogle, Donald, Dorothy Dandridge: A Biography, New York: Boulevard Books, 1998
Brooks, Michael, Horst J.P. Bergmeier and Rainer E. Lotz, Live From the Cotton Club, Hambergen, Germany: Bear Family Records, 2003
Bryant, Clora, et al, eds. Central Avenue Sounds: Jazz in Los Angeles, Berkeley: University of California Press, 1998
Calloway, Cab with Bryant Rollins, Of Minnie the Moocher and Me, New York: Thomas Y. Crowell Company, 1976
Dandridge, Dorothy and Earl Conrad, Everything and Nothing: The Dorothy Dandridge Tragedy, New York: Abelard-Schuman, 1970
De la Croix, St. Sukie, Chicago Whispers: A History of LGBT Chicago Before Stonewall, Madison: University of Wisconsin Press, 2012
DjeDje, Jacqueline Codgell and Eddie S. Meadows, eds., California Soul: Music of African Americans in the West, Berkeley: University of California Press, 1998
Franceschina, John, Duke Ellington's Music for the Theatre, Jefferson, North Carolina: McFarland & Company, 2001
Gottschild, Brenda Dixon, Waltzing in the Dark: African American Vaudeville and Race Politics in the Swing Era, New York: Palgrave, 2000
Gourse, Leslie, ed., The Ella Fitzgerald Companion, New York: Omnibus Press, 1998
Haskin, Jim, The Cotton Club, New York: Random House, 1977
Heap, Chad. Slumming: Sexual and Racial Encounters in American Nightlife 1885-1940, Chicago: University of Chicago Press, 2009.
Hill, Constance, Brotherhood in Rhythm: The Jazz Tap Dancing of the Nicholas Brothers, Oxford: Oxford University Press, 2000
Johnson, Howard Eugene, A Dancer in the Revolution: Stretch Johnson, Harlem Communist at the Cotton Club, New York: Fordham University Press, 2014
Leonard, Wiliam Ellery, Chicago Stagebill Yearbook, Chicago: Fieberg Press, 1947
Oja, Carol J., Bernstein Meets Broadway: Collaborative Art in a Time of War, Oxford: Oxford University Press, 2014
Perritti, Burton W., Nightclub City: Politics and Amusement in Manhattan, Philadelphia: University of Pennsylvania Press, 2007
Sampson, Henry T., Blacks in Blackface: A Source Book on Early Black Musical Shows, Metuchen, New Jersey: The Scarecrow Press, Inc., 1980
Short, Bobby, Black and White Baby, New York: Dodd, Mead and Company, 1971
Shypton, Alyn, Hi-De-Ho: The Life of Cab Calloway, Oxford: Oxford University Press, 2010
Singer, Barry, Black and Blue: The Life and Lyrics of Andy Razaf, New York: Schirmer Books, 1992
Vogel, Shane, The Scene of Harlem Cabaret: Race Sexuality, Performance, Chicago: University of Chicago Press, 2009
White, Claytee, ed., An Interview with Alyce Key, Las Vegas, Nevada: Las Vegas Women in Gaming and Entertainment Oral History Project, 1998
Wilson, James F., Bulldaggers, Pansies, and Chocolate Babies: Performance, Race, and Sexuality in the Harlem Renaissance, Ann Arbor: University of Michigan Press, 2011
Woll, Allen, Dictionary of the Black Theatre: Broadway, Off-Broadway, and Selected Harlem Theatre, Westport, Connecticut: Greenwood Press, 1983