Here's a movie of minor interest, except the stage is shared by two stars of the time, Al Jolson and - of course - Cab Calloway.
In The Singing Kid, Jolson plays the role of a star of radio and stage who lives alone in a penthouse in New York. Unable to succeed in love, he is abandoned by his fiancée who leaves with his manager, the latter leaving him owing half a million dollars in taxes. Al drowns in alcohol and can no longer sing. Deciding to leave show business, he goes to rest in the countryside where he falls in love with a young girl. Forgive me if I didn't inform you of the complexity of the plot...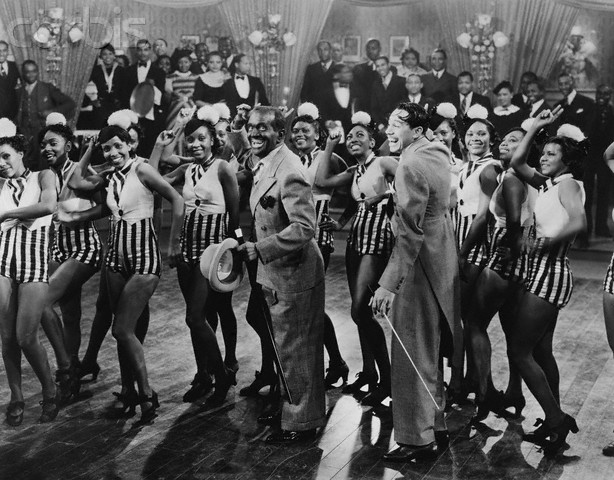 This film is actually the last one to star Al JOLSON (although before his death in 1950 Jolson was honored in biopics!) It also has very little to do with 1927's "The Jazz Singer": he definitely had gained weight and it is clear that, in order to bring him up to date, the film's producers assembled some more "modern" music: hence the presence of Cab Calloway and his Orchestra, very much in vogue at that time. To the point that Cab appears with top billing on the poster. And when advertisements are printed in the newspapers of the African-American community, Cab even has his name above Jolson's!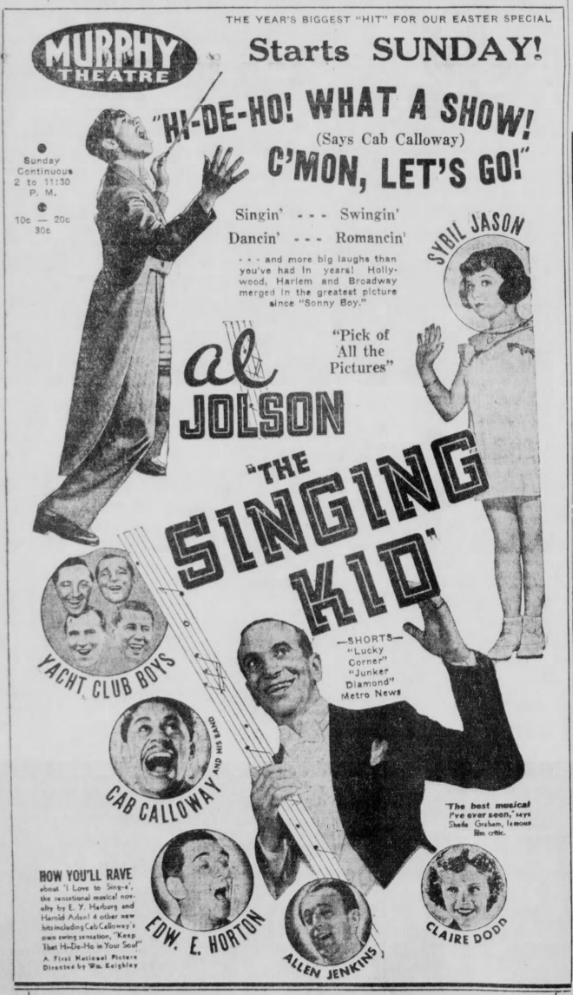 According to Cab's autobiography, everything is easily arranged. Cab wanted to follow Duke's lead: go to Hollywood to shoot a feature film. Yet he had already participated by this time in several films: The Big Broadcast (1932), Jitterbug (1935) and numerous short films which were presented as the first part of film programs (the cartoons of Betty Boop are one example). All these were shot in the "Hollywood of the East Coast" in Astoria studios near New York.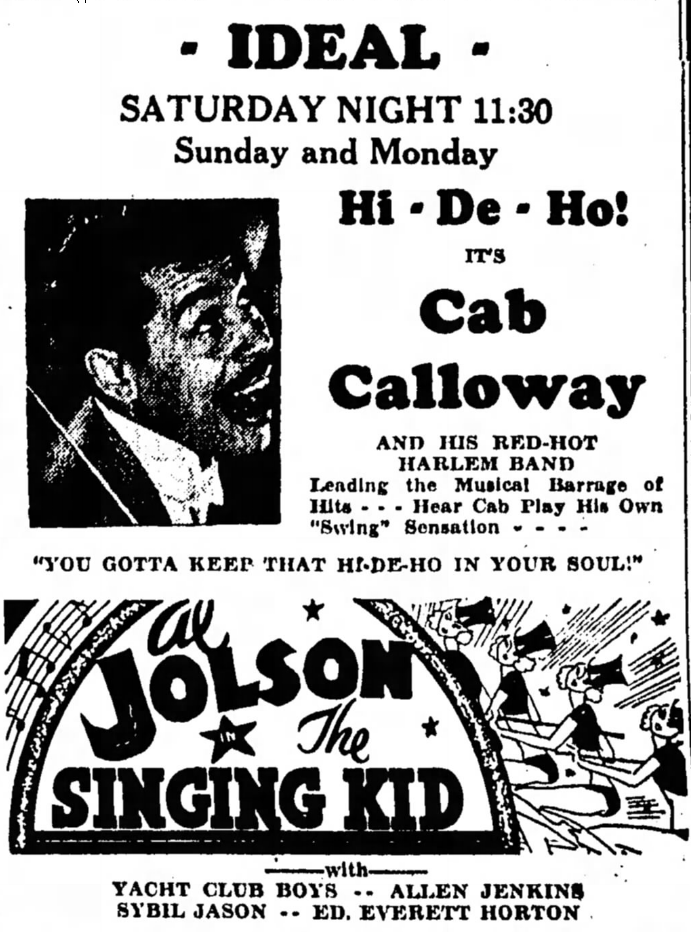 Cab says that he went to see the owner of the Cotton Club at the time, Frenchy Demange, and when he expressed his wish the latter made a call to California; and a few days later everyone was on the way to Hollywood. Yes, the Mafia had strong enough connections to reach the west coast... The contract between Cab and Warner Brothers Studios is signed on October 30, 1935. Filming begins November 11. Cab and his band, while touring the country, won't be under the spotlights until January 12 and then for ten days. While in Hollywood, however, they play at Sebastian's Cotton Club in Los Angeles and other venues. They also participate in Jolson's radio program, Shell Chateau, on January 19, 1936. And you can listen to the show in its entirety by clicking on this link.
Between the two star partners, the chemistry seems perfect. One of Jolson's biographies, however, states that the actor ultimately hated this movie that only lead to bad reviews for his acting and the vacuity of the scenario.
It also seems that the film is produced very quickly. For instance, in its issue of December 13, Variety reports that the duo Harold ARLEN and E.Y. "Yip" HARBURG had already created four songs for the film: You're the Cure for What Ails Me, Save Me Sister, I Love to Sing-a, and Here's Looking at You. Cab is initially expected to accompany "Save Me Sister." He will eventually play on 3 of the 4 titles! And he will even add one of his own songs: "Keep That Hi-De-Ho in Your Soul" (Calloway, Irving Mills, Harry White).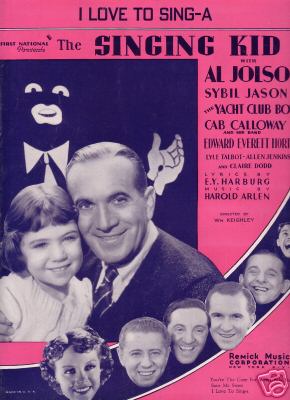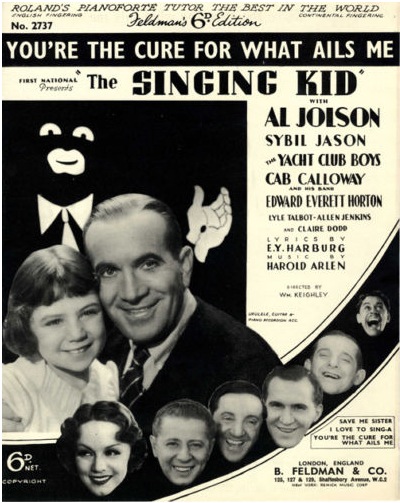 Cab remembers the way he was treated there - like a prince - and he stayed in the same hotel as Jolson. Cab even said he had a large balcony where he could rehearse the orchestra (unless his memory deceives him and he confuses it with the "I Love to Sing-a" sequence shown below).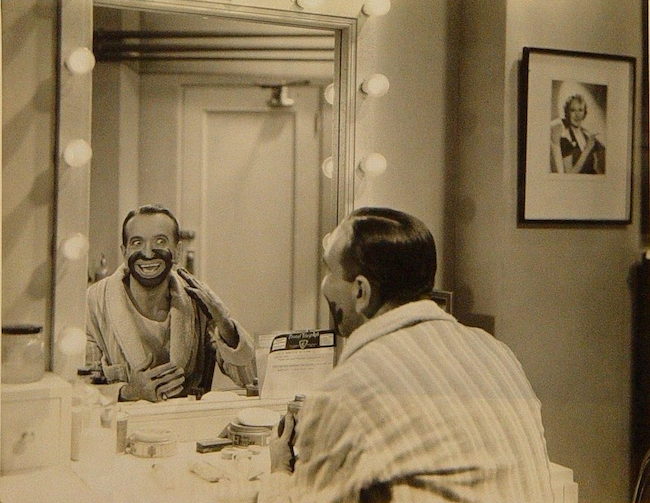 However, keep in mind this anecdote that demonstrates the stupidity of marketing department at Warners. To "pay homage" to Jolson's trademark blackface, they came up with nothing better than to ask Cab's orchestra to paint their faces white! You read that right! Naturally, Cab and his band refused. But the idea nonetheless reached the ears of the press.
"Resenting the insinuation and utter disregard for their rating as artists, Cab Calloway and the members of his band refused to don 'whiteface' makeup and appear with Al Jolson, who was to appear in blackface for contrast, as a publicity stunt."
(From "Calloway Balks Whiteface Role," New York Amsterdam News, February 1, 1936; quoted by Frank Büchmann-Møller in "Someone to Watch Over Me, The Life and Music of Ben Webster.")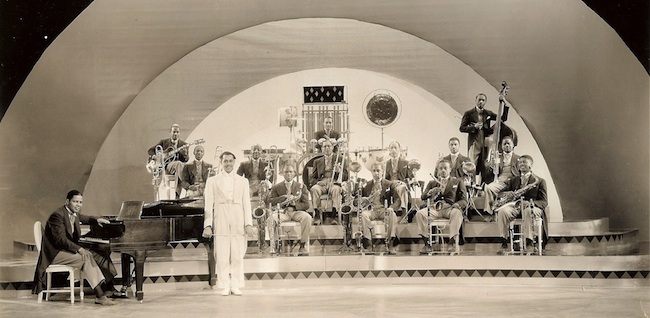 Cab Calloway's orchestra. Second from right on the tenor sax is Ben WEBSTER
From left to right : Benny Payne, Morris White, EB DePriest Wheeler, Cab Calloway, Keg Johnson, Eddie Barefield, Claude Jones,
Leroy Maxey, Andrew Brown, Doc Cheatham, Ben Webster,
? (not a regular guy in the band), Al Morgan, Lammar Wright, Walter Foots Thomas
Cab also recalls some issues with Harold Arlen, who wrote the music for the film (as he did for the Cotton Club revues at the time). Apparently Arlen wanted to influence Cab's musical style. But Cab would not accept any such changes and it's only thanks to the intervention of Al Jolson that things calmed down.
Here in the middle of a "very complex" plot, we witness a duet between the two men with the song "I Love to Sing-a." The two men talk from the penthouses of one building to another, giving the scene a very futuristic look. The exchange consists of a long solo by Jolson repeated in the swingingest way by Cab and the orchestra.
And we are especially lucky with this film since many clips are available online. Here they are in the order they appear in the movie.
I Love To Sing-A (duet with Al Jolson)
I Love to Singa also appears in a Merry Melodies cartoon from Warner (by Tex Avery).
Keep That Hi De Ho In Your Soul - Save Me Sister
You're The Cure For What Ails Me - I Love To Sing-A (reprise)
There is also a 10 mn behind-the-scenes private film about the preparation, rehearsals and shooting. It is not possible for me to put it online, but you can watch it by clicking here.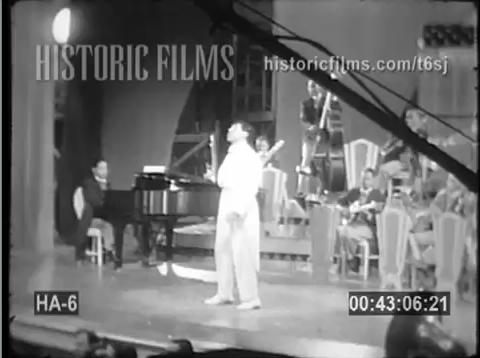 ---
Thanks to Keller WHALEN for his help on the translation
---