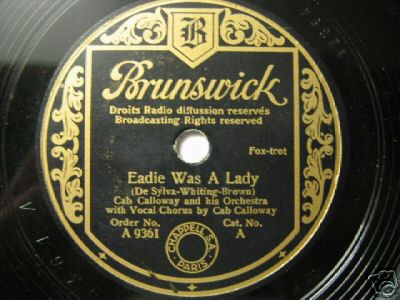 Enregistrement de 3 chansons par Cab Calloway and his Orchestra :
Eadie Was A Lady*
Gotta Go Places And Do Things*
Hot Water
Etaient présents à l'enregistrement à New York :
Cab Calloway (vocal*, dir), Edwin Swayzee, Lammar Wright, Doc Cheatham (trompette), De Priest Wheeler, Harry White (trombone), Arville Harris (clarinette, alto saxophone), Andrew Brown (clarinette basse, atlo saxophone, baryton), Walter Thomas (clarinette, tenor saxophone, flute), Bennie Payne (piano), Morris White (guitare), Al Morgan (contrebasse), Leroy Maxey (batterie).
Une semaine seulement après la session du 30 novembre, Cab et son orchestre reprennent le chemin des studios.

Eadie Was A Lady reprend le principe de l'appel-réponse, simplifié, qui a fait le succès de Cab Calloway. Ses variations vocales mettent en vant sa grande tessiture comme son sens de la dramaturgie.
Lisez notre article sur l'histoire de cette chanson, racontée par Keller Whalen.

Gotta Go Places And Do Things possède un titre des plus abscons. Pour tout vous avouer, en le réécoutant pour faire cette éphéméride, j'ai bien eu l'impression de l'entendre pour la première fois… Pourtant, malgré sa structure classique, ses solos bien placés et une rythmique efficace, Gotta Go Places mériterait bien qu'on l'auditionne avec plus d'attention. Ne serait-ce que pour écouter la contrebasse d'Al Morgan.

Hot Water est un des très rares titres instrumentaux enregistrés pas Cab et son orchestre à l'époque. Sur des arrangements de Will Hudson, il délivre un tempo très emporté dans lequel la section rythmique démontre une parfaite maîtrise (écoutez la guitare de Morris White avec attention). La mélodie n'a rien d'extraordinaire et est même plutôt simpliste. Le morceau devait d'ailleurs certainement servir pour des danseurs de claquettes.