"Eadie Was a Lady" was recorded by Cab Calloway on December 7, 1932. Today, The Hi De Ho Blog is happy to welcome an essay on this song, sharply written by one of the biggest Cab Calloway fan I know: Keller WHALEN.
This American guy, friend of mine has digged the roots and the many covers of that song with such strange lyrics...
---

ALL ABOUT "EADIE WAS A LADY"
by Keller WHALEN
"Eadie Was a Lady" is a riotous narrative ballad introduced by Ethel Merman in the 1932 Broadway show "Take a Chance." Cab Calloway is one of the few artists to record this unique song.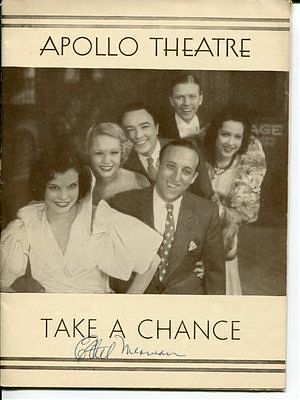 Playbill for "Take A Chance," Ethel Merman, far right
The song relates the life story of a dead prostitute as remembered by some of her old girlfriends. It's a descriptive and complex account, introducing multiple characters with a dense and clever lyric full of contemporary and colloquial references.
The hot jazz bands of the time routinely covered each other's tunes with different (or not so different) arrangements. In the early 30's, Cab Calloway and His Orchestra recorded songs made popular by Duke Ellington, Paul Whiteman, Fats Waller and Benny Carter. And the band covered some Broadway hits of the day, notably the first recording of "I Gotta Right to Sing the Blues" from "Earl Carroll's Vanities of 1932." But why a blowsy Ethel Merman show tune?
The year before, Duke Ellington's Orchestra had recorded Ethel Merman's earlier hit song, "Sam and Delilah" from another Broadway show "Girl Crazy" ("Delilah was a floozy, Delilah wasn't choosy") with vocal by Chick Bullock on Victor 23036.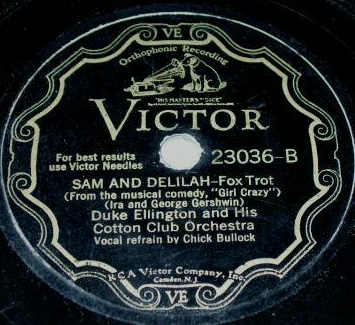 Victor 23036, Duke Ellington, "Sam and Delilah"
And "Eadie" certainly fits neatly into Cab's choice of other songs about 'bad girls' like Minnie the Moocher, of course, and including "Miss Otis Regrets", "Nobody's Sweetheart", "Corrina Corrina", "The Lady with the Fan" – although Cab may have overlooked a few other 'bad girl' possibilities like "Frankie & Johnny", "Katie Did in Madrid", "Flat Foot Floogie" and "Don't Bring Lulu". When asked "why the name Eadie?" the composer explained, "It's a good name for a bad woman."
In addition, "Eadie Was a Lady" includes a marvelous call-and-response part for Cab and the band, a distinctive brassy march beat, a catchy tune with solid horn parts, a little trombone fun—but with no distinctive solos—and room for some vocal pyrotechnics although no scatting.
Cab Calloway and His Orchestra's rendering was recorded during a particularly fertile period for Cab in 1932. Backed with "Hot Water" it was released, not on Brunswick, his label of the day, but on Brunswick Record Corporation's budget labels Banner and Melotone (sold at just 50c each as opposed to 75c), and subsequently shared with the company's other associated dime-store labels, Romeo, Perfect, Oriole and Vocalion.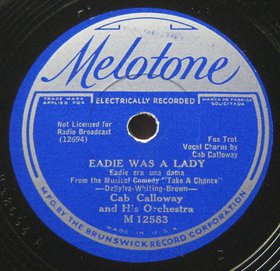 Melotone 12583, Cab Calloway, "Eadie Was a Lady"
The song was written by Buddy deSylva (he wrote the lyrics for "The Birth of the Blues"), Richard Whiting (lyrics for "Hooray for Hollywood") and Nacio Herb Brown (composer of "Singin' in the Rain"). Buddy deSylva, during his partnership with George Gershwin, also worked on the early one-act jazz opera "Blue Monday," a precursor to Porgy and Bess.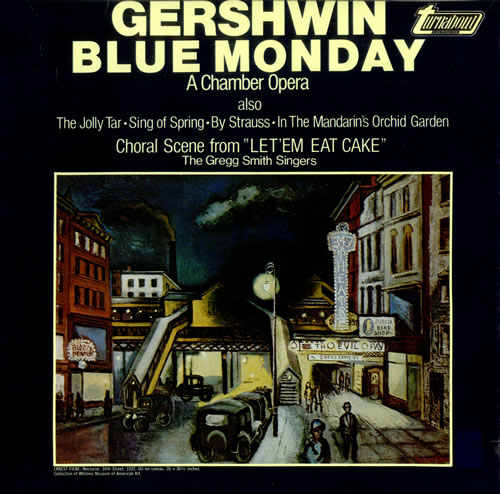 LP release of Gershwin's "Blue Monday"
The Broadway show started as "Humpty Dumpty," a backstage comedy revue that was trying out in Philadelphia. The song "Eadie Was a Lady" was written specifically as a solo number for Walter O'Keefe (who introduced "The Daring Young Man on the Flying Trapeze), but he couldn't do the show at all due to a strict radio contract. The number was ultimately dropped as the show was being developed.
One of the songs remaining in "Humpty Dumpty" was a major production number about recreational drug use called "Poppy Smoke." During rehearsals, the producers went to see another show that was enjoying good business on Broadway, Flying Colors (188 performances 1932-33).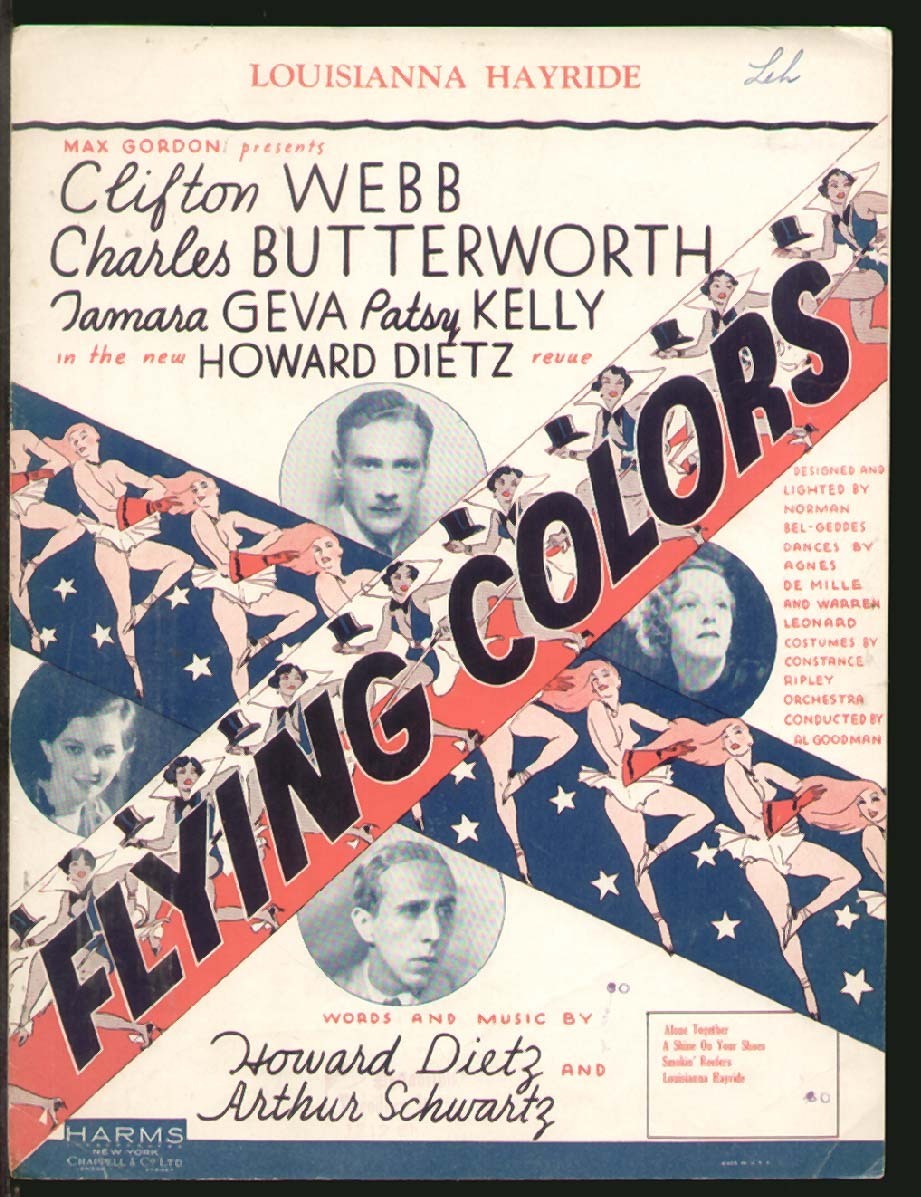 Sheet music from "Flying Colors"
After seeing that show, they decided they had to cut "Poppy Smoke" from the production of "Humpty Dumpty" because "Flying Colors" included a similarly themed number called "Smokin' Reefers."
So they performed some re-working of the song for a female lead, and a change from solo ballad to major production number, and "Eadie Was a Lady" was reborn and brought back for Ethel Merman to sing just before the show failed after tryouts. After a short delay, the show was reworked yet again, renamed "Take a Chance," and finally made it to Broadway for a respectable 243 performances.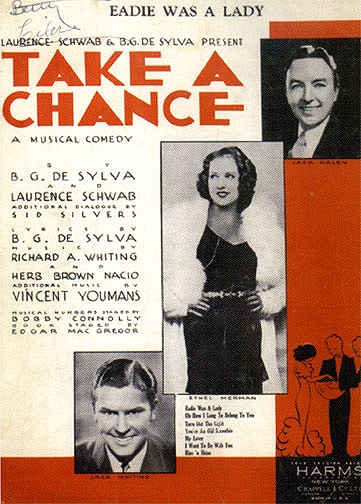 Sheet music for "Eadie" from "Take a Chance"
Meanwhile, it took a full 38 years until "Smokin' Reefers" was finally recorded – and it was waxed by none other than Cab Calloway in 1970 as part of Ben Bagley's series of recovered show tunes, Arthur Schwartz Revisited.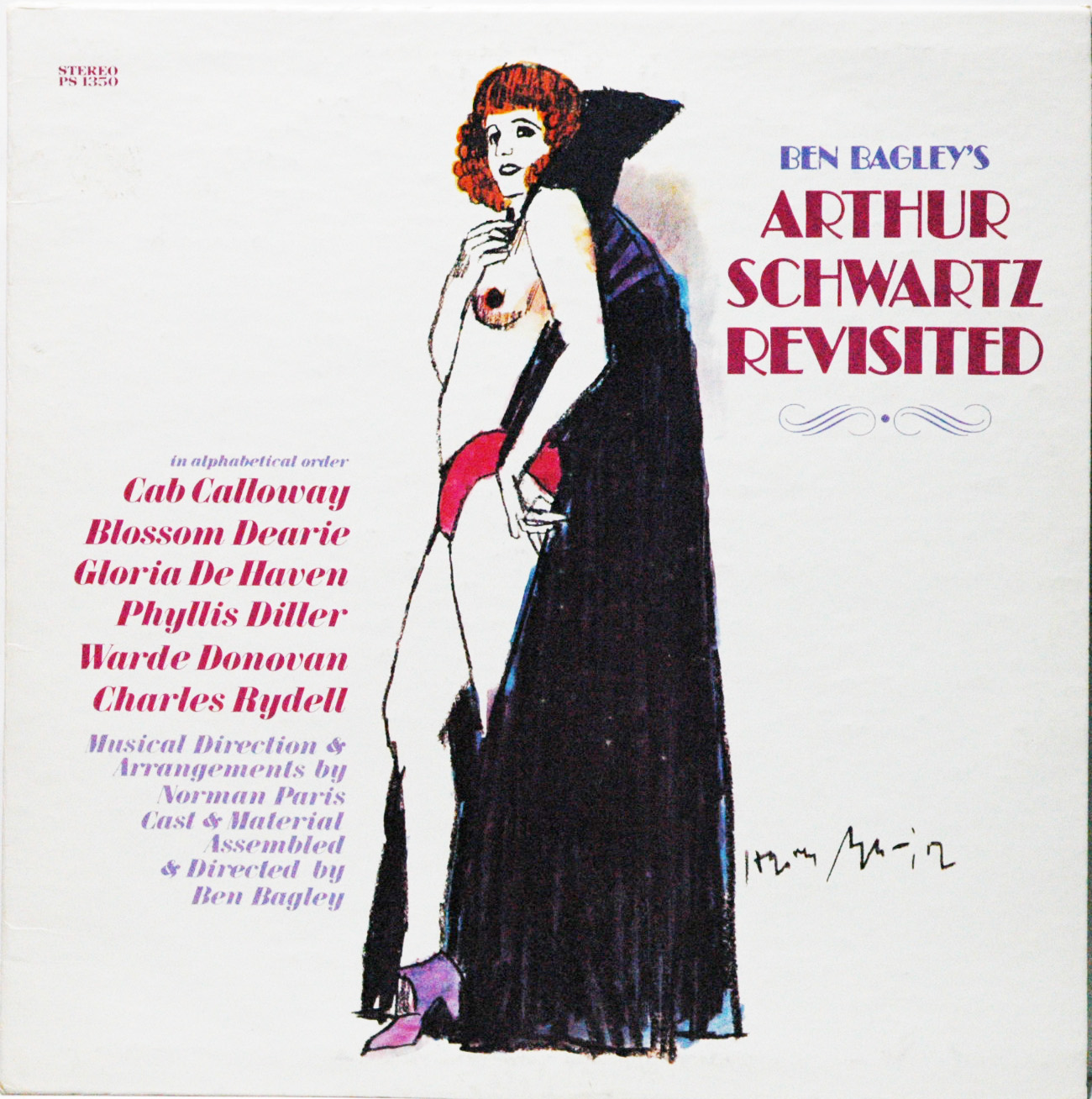 LP release of "Arthur Schwartz Revisited"
There doesn't seem to be any extant recording of the rejected "Poppy Smoke" (although there's a 1990's Japanese punk rock song by the same name).
ON THE STAGE
In "Take a Chance," Ethel sang the song in a full red dress and black boa, the set behind her was a turn of the century New Orleans supper club. There were many comparisons to Mae West, but Ethel always claimed to be the first to wiggle her ample hips in a tight dress and sing sexy songs. Mae West's first movie was in 1932 although she had developed her persona much earlier on burlesque and the stage. The 1933 movie version of Take a Chance even includes the song "Come Up and See Me Sometime," one of Mae West's staple numbers.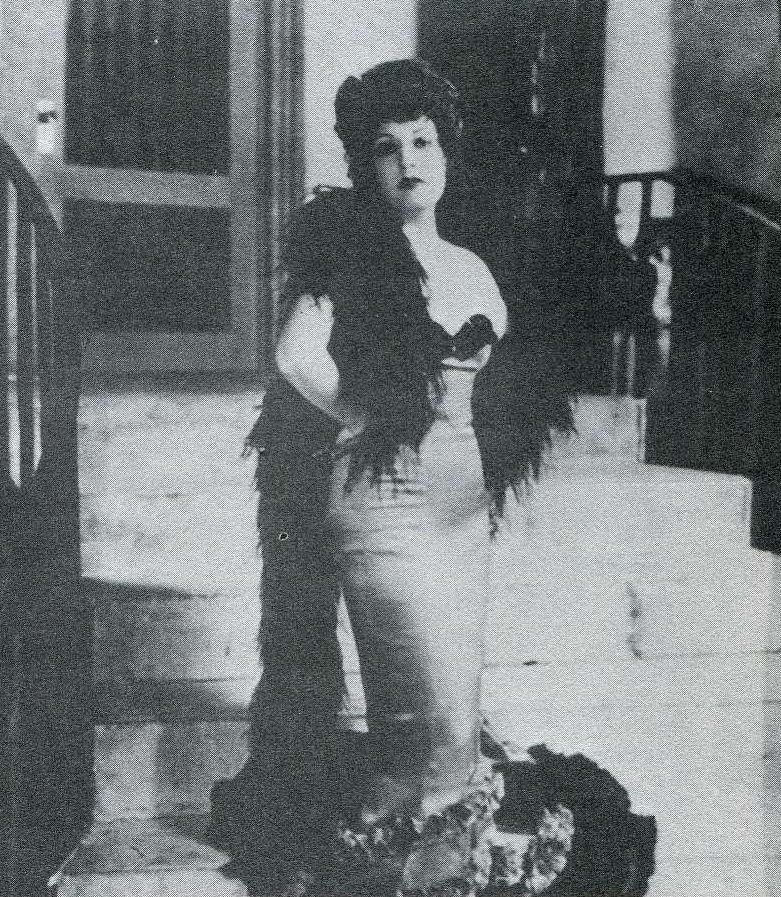 Ethel Merman in costume for "Eadie Was a Lady" onstage
That film version of "Take a Chance" (with very little of the original play left intact) starred Lillian Roth (also seen in "Animal Crackers.").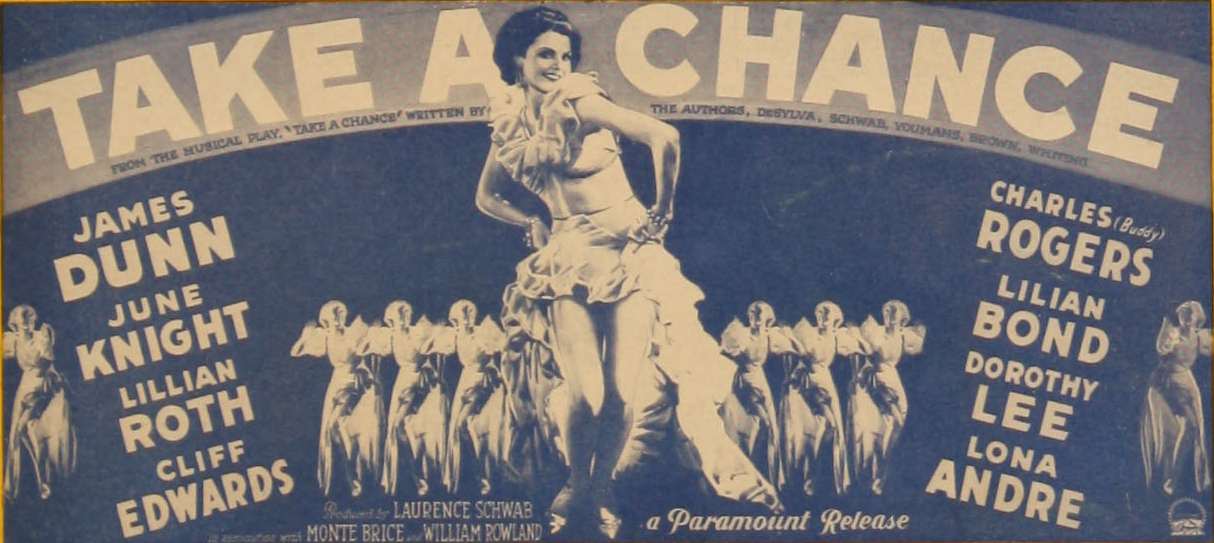 1933 poster for the film version of "Take a Chance"
Lillian sang "Eadie" in the seedy saloon setting doing her best Ethel Merman impression with lots of low-life characters surrounding her, including P.I. O'Grady who figures prominently in the lyrics—not a character in either the play or the movie, "P.I." is short for "Private Investigator", while O'Grady is a generic Irish name representing law enforcement.
Lillian Roth sings Eadie from "Take a Chance"
One of the background players who was allocated a single verse of "Eadie" to sing solo in the film, was Vivian Vance, later to be forever associated with the role of Ethel Mertz in "I Love Lucy".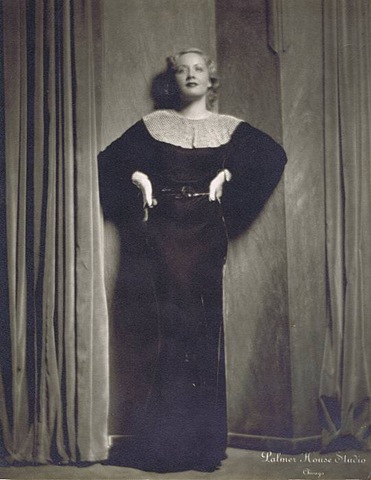 Vivian Vance circa 1929
Vance appeared on Broadway in "Anything Goes" in 1934 and "Red Hot & Blue" in 1936, both starring vehicles for Ethel Merman, and then years later in "My Daughter, Your Son" which enjoyed 47 performances on Broadway in 1969 while Cab Calloway was simultaneously appearing in "Hello Dolly" at the St. James Theater around the block.
ON THE RADIO
The song was actually banned from radio performance due to its suggestive lyrics. "Eadie" is in fine company with other banned songs including the vocal renditions of a couple of all-time jazz standards, "Body & Soul" and "Love for Sale," as well as Cab's own "St. James Infirmary."
On her radio guest appearances in 1933, Ethel was not allowed to sing "Eadie Was a Lady" on the airwaves. Nevertheless, the song was a hit, with Ethel's 1932 recording with the Victor Young Orchestra. In January 1933, it reached #8 on the hit parade according to Joel Whitburn's imaginative reconstruction of the record charts, "Pop Memories."
And in February 1933, the song made #17 in a version by Paul Whiteman recorded in late 1932 with the vocal by Ramona Davies. The version by the Calloway band was most likely not played on the radio at all.
There was also a fine recorded version for the British market sung by Al Bowlly with the Lew Stone Orchestra, also recorded in 1932, along with several other versions by lesser known and regional U.K. dance bands.
The song was still in the public ear in 1934 when a parody was performed before a major league hockey game. A rendition of "Ebbie was a Defense Man" before the game may or may not have helped the Detroit Red Wings skate over the Chicago Blackhawks three to nothing.
In the 1933, the New York show business establishment gave a goodbye luncheon for Maurice Chevalier who going back to France after some Hollywood movies and other appearances in the U.S. Showbiz columnist William Gaines reported in his October 7, 1933 column "About New York" –
Ethel Merman sang—among other things, "Eadie Was a Lady." There are some apocryphal verses to "Eadie" that Ethel didn't sing in "Take a Chance." They are riots. Ethel had the guests rolling under the tables as she sang, wearing a becoming red hat. She never looked better; never was in better voice.
None of Ethel's biographers has reported any actual "apocryphal verses", however, although even the standard lyrics (presented in their entirety at the end of this article) were contemporaneously described as "torrid" and "scorching."
In May 1935, Eadie was finally approved for broadcast for Ethel's radio program "Rhythm at Eight." The song generated no complaints at the time. Also in May 1935, Merman sang Eadie for a BBC shortwave radio test.
ON THE BIG SCREEN
A 1934 film inspired by the song was originally to be called "Eadie Was a Lady." The title was first changed to "Born to be Kissed," and then finally to "The Girl from Missouri." It starred Jean Harlow as Eadie, taking nothing from the song itself, except for the gutsy title character.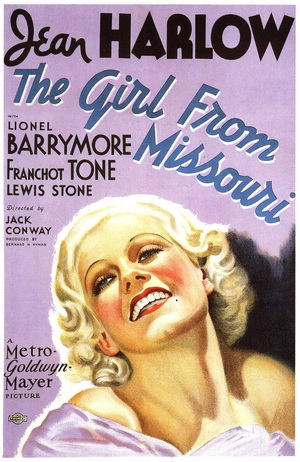 1934 poster for "The Girl From Missouri"
In 1941 the movie musical "Eadie Was a Lady" was announced, scheduled to star Rita Hayworth, Franchot Tone and Jackie Gleason. The film finally appeared in 1945, but with Ann Miller (listen to her cover of the song) as Eadie and Joe Besser (later one of the Three Stooges, replacing Shemp.)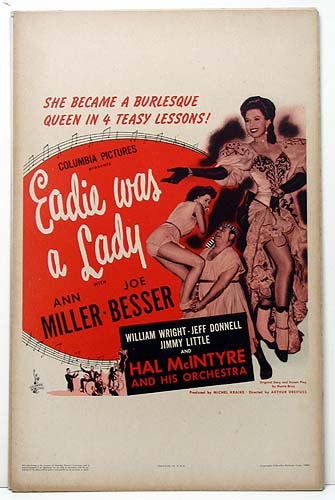 1945 poster for "Eadie Was a Lady," the movie
ON THE SMALL SCREEN
The song was recorded comparatively rarely over the years, but enjoyed a few revivals on television variety shows:
• Giselle MacKenzie sang it on a "Dean Martin Show" in 1959; and in 1973 Steve Lawrence took it on for a "Julie Andrews Hour".
• Ethel herself sang it a couple of times on TV, including the acclaimed "Ford 50th Anniversary Show" with Mary Martin (June 15, 1953, soundtrack released on 10" LP); and "Shower of Stars" (January 25, 1955) with slightly altered lyrics to satisfy the censors ; and later on "Merman On Broadway", (November 24 1959)
Ethel sings Eadie on "Shower of Stars"
On CBS May 12, 1956, both Ethel Merman and Cab Calloway appeared in "Max Liebman Presents: The Music of Gershwin" along with Tony Bennett, Alfred Drake and others. Alas, this was not the appropriate occasion for a Cab Calloway/Ethel Merman duet on "Eadie was a Lady."
ON SHELLAC, WAX, VINYL AND CD
• Ethel Merman 1932 reached #8 in January 1933, recorded wtih Victor Young Orchestra on Brunswick 6456
Ethel's 1932 recording of Eadie is notable for being spread over 2 sides of the 78 rpm record—an rare allowance. Ohers include: Empty Bed Blues by Bessie Smith; Creole Rhapsody, Tiger Rag and Blackbirds medley, all by Duke Ellington
• Paul Whiteman 1932 with vocal by Ramona Davies made #17 in February 1933 released on Victor 24202
• Cab Calloway 1932 Banner 32647 Melotone 12583 12/7/32 and others including Oriole, Perfect, Romeo and Vocalion
The 1932 recording can also be found on the EPIC LP 3265 "Cab Calloway" 1956, and Fontana EP TFE17216 "Cab Calloway" 1960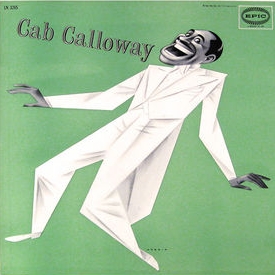 A beautiful cover for "Cab Calloway" EPIC LP 3265
Plus, the same Calloway band recording is included on these Various Artist compilation albums:
"Silver Screen Symphony" Columbia CSP 10710;

"Those Legendary Leading Men: Stage, Screen Radio" Harmony KH 32424;

"Charming Gents of Stage and Screen", Columbia Legacy CK 57712.

and on CD in The Chrono(lo)gical series #537 Cab Calloway and His Orchestra 1932
• Al Bowlly with Lew Stone Orchestra on Decca F3825 recorded December 29, 1933
• Sam Browne
, recording found on the CD release "Oh What a Night for Romancing," recorded circa 1933
• Dick Robertson & His Orchestra Crown 3427, 1933
• Casani Club Orchestra (as Malor's Dance Orchestra) Sterno 1323 Cecile Petrie vocal
• Casani Club Orchestra (as Willie Freeman and his Dance Orchestra) Plaza P228 Harry Bentley vocal
• Harry Roy & His Orchestra Parlophone R-1709, unknown vocal (all four above probably recorded in 1933)
• The Cavendish Three (medley w/ Lola), 1940
• Ethel Merman "Songs She Has Made Famous," newly recorded version with the Jay Blackston Orchestra in 1947, released on Decca 10" LP in 1949
• Lillian Roth with Jack Pleis Orchestra Epic 3206 Stage 9011 "I'll Cry Tomorrow" on Coral EP 81106 and Coral LP 61182 recorded in 1954 reprising her song from the movie
• Ethel Merman and Mary Martin "Ford 50th Anniversary Show" 10" LP 1953 Decca DL 7027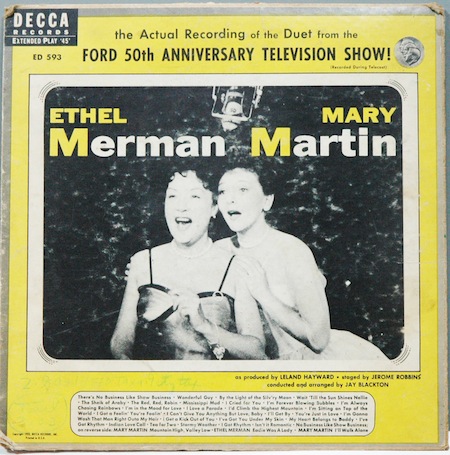 Cover of "Ford 50th Anniversary Show" Decca DL 7027 1953
• Bill Jacoby (former singer with the Henry Busse band) released a 45 rpm of Eadie in 1961 on Towne 100 backed with "Have You Met Miss Jones"
• Ethel Merman on "Merman Sings Merman" with Stanley Black and London Festival Orchestra on Decca PFS4266 recorded 1972-4
•
Jack 'Jive' Schafer & Melody Anne from the 1983 LP "I Want a Butter and Egg Man"
• The Original Rabbit Food Spasm Band in a 2010 contemporary live jazz performance
---
THE LYRICS (all of them)
Intro:
Maud and Mabel, seated at a table
Talking over bygone days
Mabel's sporty, fat and over forty
Said, "Remember Edith Hayes"

Alternate version from Roth film:
I've had playmates, night and day-mates
Way back since the bygone days
Some were sporty, fat and over forty,
But none was quite like Edith Hayes

TV version intro:
Friends and mourners, praisers and scorners
Bring around your funeral praise
Let's get next to, pay our respects to
A solid sister, Eadie Hayes

Eadie was a sucker for a bottle and a glass
But in spite of everything that gal had class
Then one summer, she wed a coarsèd drummer
Struck with her refined like ways

Alternate version:
Then one winter, she wed a Chinese printer
Struck with her refined like ways

Alternate version:
Now Eadie was a lady who was bold as brass
But in spite of everything the gal had class
So don't make merry with her obituary
Just say she had refined like ways

Chorus:
But Eadie was a lady
(backup singers: Eadie was a lady)
Though her past was shady
(Though her past was shady)
Eadie had class, with a capital K

Though her life was merry
(Though her life was merry)
She had sav-yer fairey
(Lots of sav-yer fairey)
Eadie did things in a ladylike way
(Eadie was a lady, Eadie was a lady)

She would have a golden toothpick handy
After meals she'd flash it about
Remember how she used to drink her brandy
With her finger sticking well out

Chorus:
For Eadie was a lady (Eadie was a lady)
Ask P. I. O'Grady (not P.I. O'Grady!)
Eadie had class with a capital K
(She was a lady, Eadie was a lady)

Additional censored verses:
When in her cups she'd get her local eggs crossed
She'd pick the ones that seldom paid
But you'd never catch her with her legs crossed
In the wagon after the raid

Now Eadie was the belle of the levee
They say she was some tasty dish
She handed out politeness just as heavy
As an Astor or a Stuyvesant fish

But without that mask of elegance and refinement
Eadie would never have made the grade
Why, when she got crossed in one of her assignments
Say, she'd just call a spade a lowdown dirty spade!

Censored version:
Why Eadie could get plastered, call a guy a…scoundrel
And still be very dignified and dainty
She could take her talk and cram it with a hell, with a dammit
And dammit, she was still a perfect lady!

To satisfy the censors:
Why Eadie could get tricky and slip a guy a mickey
And still be very dignified and dainty
Like an Oklahoma twister she could blister any mister
And mister she was still a perfect lady

When it came to clothes she was the worst one
Everything she wore was just right
Eadie used to always be the first one
In the bathtub Saturday night

There really is no moral to my story
Poor Eadie has long since gone to her glory

Censored line:
She still lays in her grave so cold and hoary

To satisfy the censors:
She still lays in her grave in purga-tory…there

Verse sung only by Vivian Vance in the film:
She'd been livin' on her morals
Now she's resting on her laurels
And her tombstone read
Here lies the perfect lady

Close:
Eadie had class
She was classsseeee

Chorus:
Eadie was a lady
Though her past was shady
Eadie had class with a capital K
Eadie was lady
Eadie was lady
Eadie was lady
---
Bibliography:
American Musical Theatre: A Chronicle by Gerald Martin Bordman 2000
New York Times theater review by Brooks Atkinson 11/28/32, photograph 12/4/32
New York Evening Post article "Eadie Was a Lady" 12/10/32
The Evening Leader (Corning NY), "About New York" 10/7/33
Ring Bells! Sing Songs! Broadway Musicals of the 1930's by Stanley Green 1971
Ethel Merman: A Life by Brian Kellow 2008
Ethel Merman: The Biggest Star on Broadway by Geoffrey Mark 2005
The Swing Era: The Development of Jazz 1930-1945 by Gunther Schuller 1989
---
Many thanks to Keller Whalen for the quality of his research and friendship!