by Keller Whalen
St. Louis Blues (1958) is a movie production that was filled with promise, a film biography of W.C. Handy covering the obstacles and successes of a great American, a musical with a magnificent canon of songs, and the on-screen assembly of many of the most talented mid-century African-American performers. But it's a missed opportunity – simply not a memorable film, it's slow-moving and clichéd, the true charms of its stars mostly not visible; a portfolio of assets with no value. How could it go so wrong?

Watch the original trailer for St. Louis Blues here.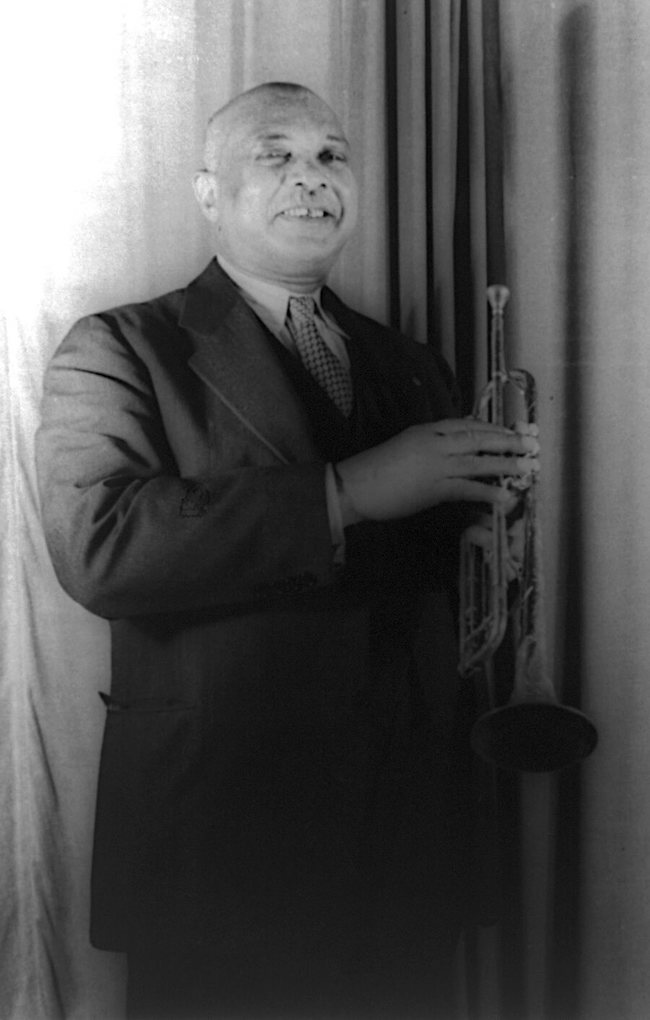 W.C. Handy in a 1941 photo by Carl Van Vechten.
W.C. Handy, (November 16, 1873 – March 28, 1958) was a musician, composer, bandleader and music publisher born in Memphis, Tennessee. He worked in minstrel shows from 1896 and was touring and recording with his own bands from about 1917. He owned a music publishing company and a record label, and in 1941 published his autobiography Father of the Blues. Many of his compositions are perennial jazz standards, including "St Louis Blues," "Memphis Blues" and "Careless Love." Handy was blinded by an accident in 1943 but continued to make appearances in his 80s. W.C. Handy's vast archives are split among Fisk University, The Schomburg Center for Research in Black Culture and The Library of Congress (from The New Grove Dictionary of Jazz). This film does not do justice to the rich life of W.C. Handy.
There are at least two other movies named St. Louis Blues – the 1929 short with Bessie Smith and the Hall Johnson Choir performing a spectacular version of the title song; it's the only known film footage of the great blues singer -- and a 1939 feature starring Dorothy Lamour and Lloyd Nolan as showbiz partners putting on a floating stage show; the cast includes the wonderful Maxine Sullivan in a rare film appearance performing a fine rendition of the title song, also with the Hall Johnson Choir behind her.
THE STARS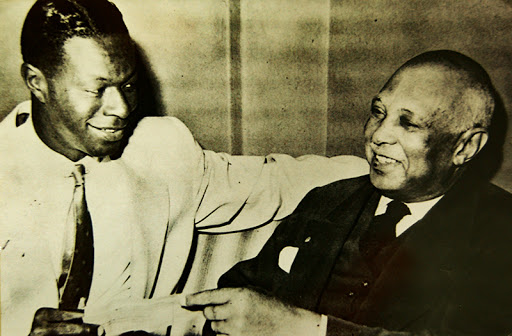 Nat 'King' Cole and W.C. Handy in an undated photograph.
The idea for the film was first marketed by producer George Garabedian who ultimately was not attached to the picture. As early as 1954 he had the rights covered and the studios contacted, but couldn't elicit any interest for an all-Black musical (Down Beat, April 3, 1958). Paramount finally gave it the green light.
From the beginning the film was planned around Nat 'King' Cole in the central role. Cole and W.C. Handy had been acquainted since 1943 and Cole discussed the possibility of playing Handy at the latter's birthday party on November 16, 1956 in Yonkers, New York. Cole recalled in an interview that Handy "surprised me by saying he had long been a fan of mine and would be delighted to have me play him in the movie."
In a later interview, Cole compared his own experiences to Handy's, "It felt sort of like I was living my own life over again, my own childhood."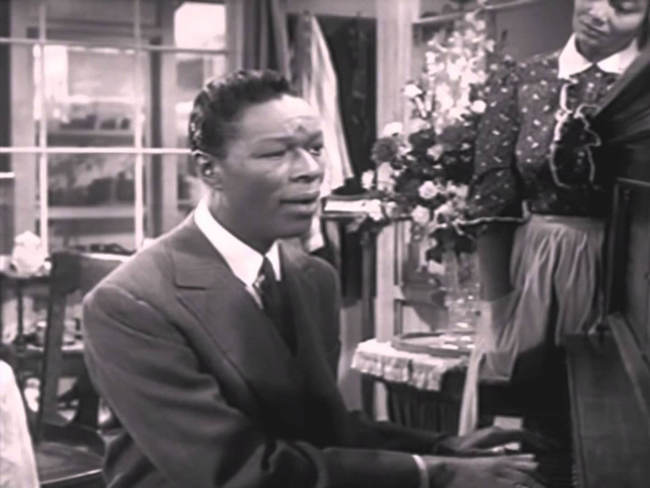 Cole as Handy, singing the blues.
This film production presented the timely and logical opportunity for Cole to add 'movie star' to his already considerable accomplishments as a musician, singer and TV star -- provided he could carry an entire picture as the main protagonist. He had completed supporting roles in China Gate with Gene Barry and Angie Dickinson and Istanbul with Errol Flynn (both 1957), and performed as himself in several other films. But in St. Louis Blues his performance would end up studied and wooden. Cole's undeniable charisma is nowhere to be seen in this film; he simply did not have the dramatic momentum to hold the story together (Epstein, p. 275).

Eartha Kitt publicity shot.
Eartha Kitt was at the height of her powers, also making a move to become a movie star. In the film, she portrays Gogo Germaine, honky-tonk singer and femme fatale with a heart of gold. Her sexy gowns and slinky moves, however, are out of place in the turn of the century setting. There were rumors on the set of an affair between Kitt and the married Cole (Williams, p. 194). In a memorable bit of dialogue from the film, Gogo warns Handy, "Don't fall in love with me, Will."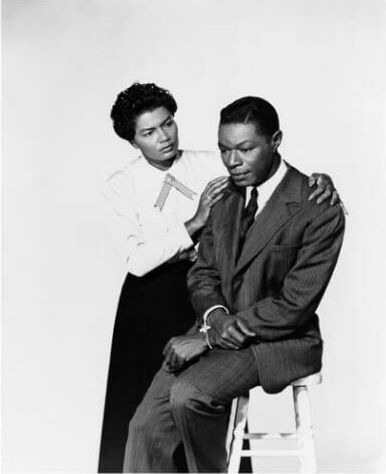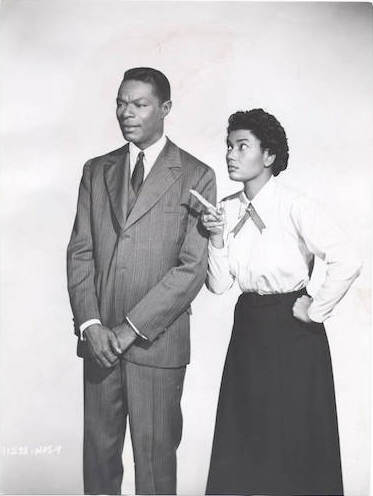 Nat Cole as Will Handy with Pearl Bailey as Aunt Hagar.
Pearl Bailey, as Will's Aunt Hagar, who helped raise the young Handy, doesn't actually sing a full number of her own in the film. She shares part a hymn with Mahalia Jackson, and in one scene hums and follows along encouragingly while Cole as Handy is in the act of composing the song "St. Louis Blues." Pearl's Aunt Hagar character is a version of herself, just a little more naïve and maternal than her typical stage and screen persona. Bailey had appeared in That Certain Feeling (1956) with Bob Hope, and in Carmen Jones (1954) with Harry Belafonte and Dorothy Dandridge.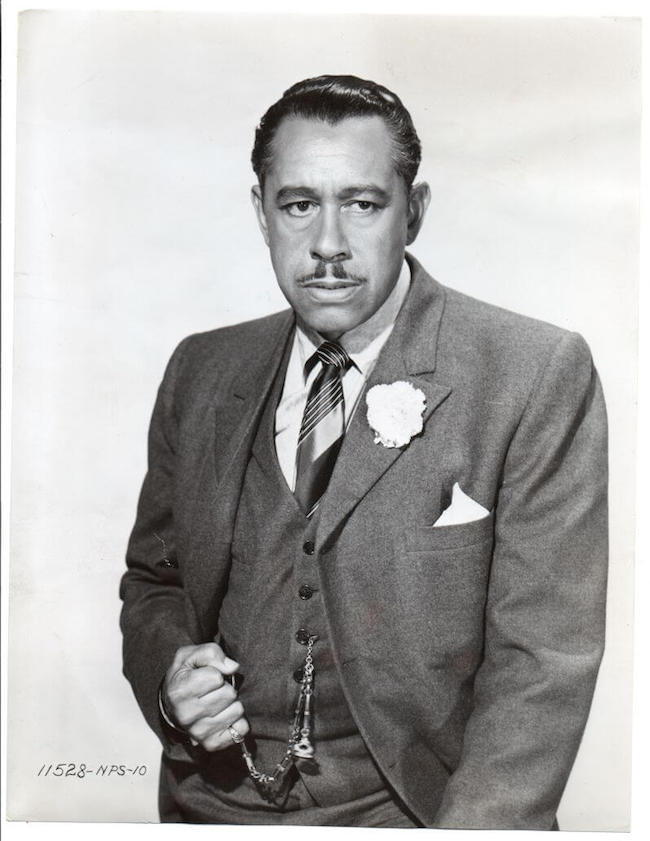 Cab Calloway in his only costume for St Louis Blues, looking appropriately nasty.
Cab Calloway plays Blade, a Beale Street saloon-keeper, the villain of the story. He walks around his nightclub, The Big Rooster, in a tailored suit with a carnation in his buttonhole, eavesdropping on his employees, being rude to his customers, and hatching a nefarious scheme to steal Handy's music. Normally, you'd expect such a character to be molesting the slinky Eartha Kitt all the time, but this is 1957, so there's barely a hint of that.
Unlike Pearl, Cab stays true to the nasty character that he's playing and doesn't let his exuberant stage presence shine through. And unfortunately, Cab doesn't sing a note in the movie. "I don't know if the world is ready for a quiet Cab" he said about the part before the film was released. "Cab's role," producer Robert Smith explained in Down Beat, "is strictly character."
Click here to watch the scene where Handy confronts Blade in the Big Rooster.
The year 1957 was tough on Cab's career. Early in the year, a TV version of Porgy and Bess was announced that would include the current touring cast with Cab as Sportin' Life. It never happened. And in the fall, Cab was being cast in a live TV production of Green Pastures, possibly for the role of the angel Gabriel. In its September 26, 1957 edition, TV Guide says "Cab Calloway quits Hallmark's Green Pastures production, when he learned they had been keeping him on the string, while the role was being offered to four others. Cab remembered a previous movie commitment." He was replaced in the production by Sugar Ray Robinson. Cab coincidentally played Gabriel some years later in a musical TV production of The Littlest Angel with Fred Gwynne and E.G. Marshall.
Also in 1957, Cab started appearing live in new show called The Cotton Club Revue, first in a Miami nightspot renamed The Cotton Club, and later in various versions around the country. Read our article about that exciting show here.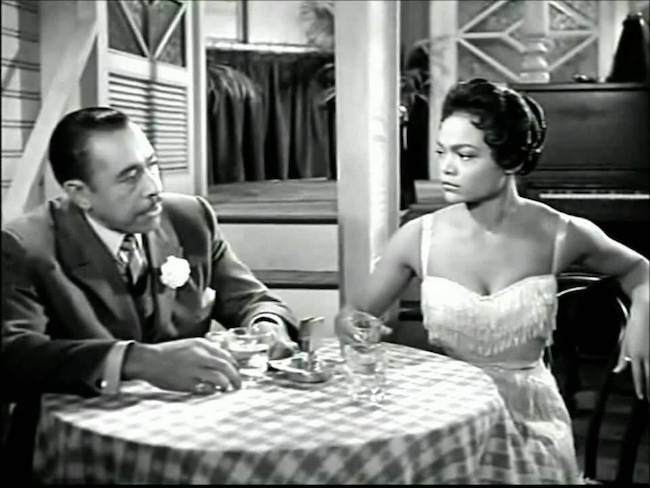 Cab looks past Eartha, trying to spot his next job.
Ever since the classic American opera Porgy and Bess was first optioned for film in 1954, producer Samuel Goldwyn wanted only Cab Calloway for the dynamic character of Sportin' Life. Clyde McPhatter, lead singer of The Drifters, was also briefly considered for the role, but after several years of pre-production -- even as Cab continued to tour in the part on stage to great acclaim -- the movie role ultimately went to Sammy Davis, Jr.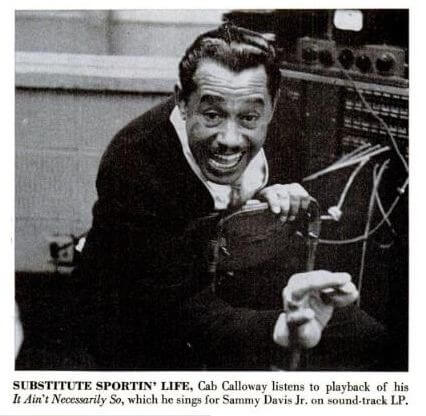 Cab in the recording studio showing Sammy Davis how it's done.
Cab was rewarded with a little payback when, due to contract limitations, Sammy's numbers could not be included on the bestselling Porgy and Bess original soundtrack LP. Sportin' Life's songs from the film were recorded by Cab for the best-selling album and his renditions of "It Ain't Necessarily So" and "There's a Boat That's Leavin' Soon for New York" with Andre Previn's magnificent orchestrations became the definitive recordings of the Gershwin classics.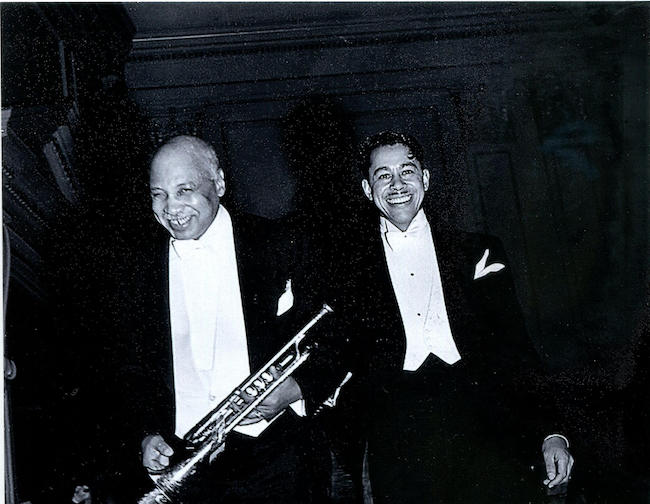 W.C. Handy with Cab Calloway enjoying themselves at Carnegie Hall in 1938.
Cab Calloway and W.C. Handy were on same bill in various benefit productions as early as 1934 and they appeared together in the 5th edition of the Cotton Club Parade in 1938 and at a 65th birthday tribute to Handy at Carnegie Hall the same year.

Nat King Cole and Ruby Dee in a torrid love pose.
Ruby Dee was cast as Handy's faithful girlfriend Elizabeth. Having played the title role in Anna Lucasta on the stage (a role that was taken by Eartha Kitt in the 1958 film of the drama), Dee was under contract at Paramount who didn't quite know what to do with her. An accomplished actress, she later starred in the stage and film productions of A Raisin in the Sun (1961) and Spike Lee's films Do the Right Thing (1989) and Jungle Fever (1991). Ruby Dee's role in St. Louis Blues primarily consists of waiting patiently for Handy while he gets that crazy music out of his system.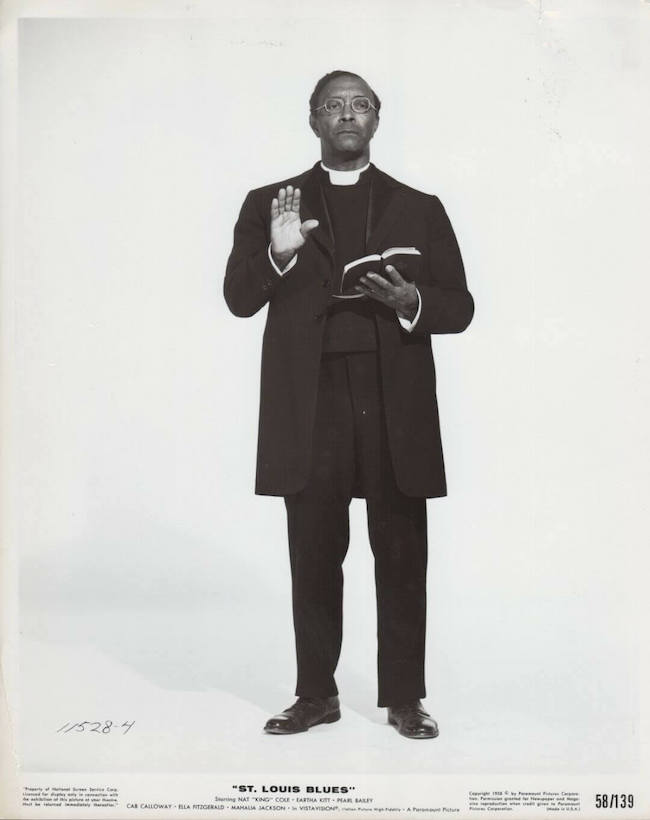 Juano Hernandez as the stern Reverend Charles Handy.
Juano Hernandez brought some serious acting chops to the role of Handy's strict Baptist minister father Reverend Charles Handy. An underused actor with some dynamic parts on his resume, Hernandez had been a circus ringmaster, a vaudeville act, a silent film actor, a performer in the 25th Edition of the Cotton Club Parade, and had made numerous appearances on radio and Broadway. Some of his memorable film performances include Intruder in the Dust (1949), The Breaking Point (1950) with John Garfield, and Sidney Lumet's classic The Pawnbroker (1964). On TV he starred in the memorable Alfred Hitchcock Presents episode, "An Occurrence at Owl Creek Bridge". Hernandez brings gravity and plenty of fire and brimstone to the role of Reverend Handy.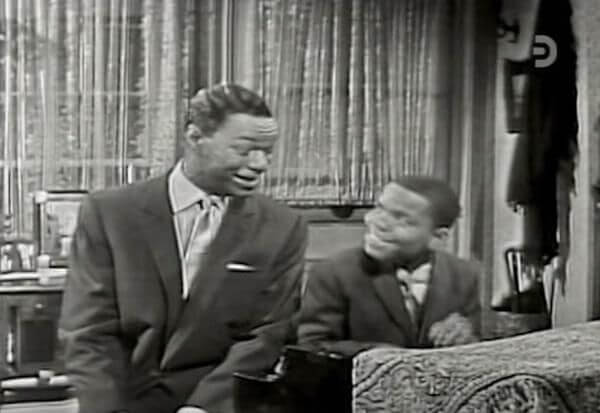 Nat King Cole with young Billy Preston on Cole's TV show, October 1957.
At just 11 years old, Billy Preston, a gifted and unique keyboard prodigy, takes the role of the young Will Handy, playing both the trumpet and the organ on screen. He delivers a few lines and sulks impressively when berated by his on-screen father. Preston later worked with Ray Charles, Sam Cooke, The Rolling Stones and the Beatles.
Billy Preston went on to a substantial R&B and rock career and has the distinction of being the only artist ever to share a credit on a Beatles record -- the 1969 recording of "Get Back" is by 'The Beatles with Billy Preston'. He also enjoyed many hit solo records in the 1970s ("Outa Space", "Nothin' from Nothin'", "Will It Go 'Round in Circles").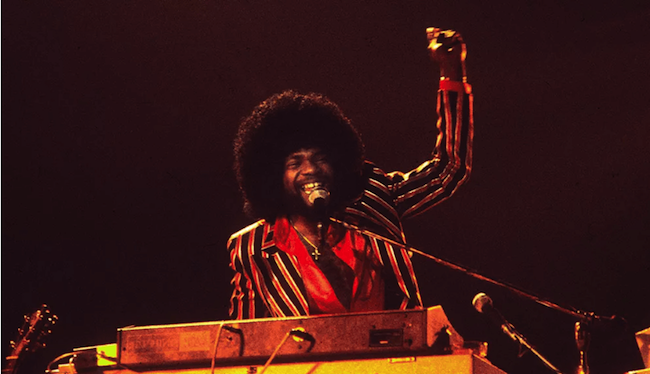 Billy Preston at the height of his career in the 70s.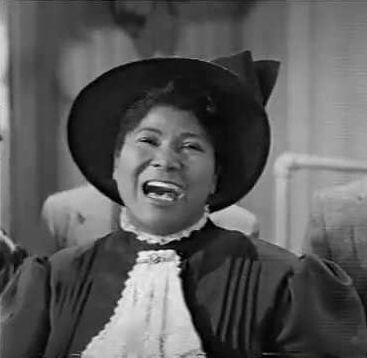 Mahalia Jackson sings "Hush the Wind."
The immortal gospel singer, Mahalia Jackson, who would not sing blues or jazz songs as a rule, played the part of Bessie Mae, a member of Reverend Handy's church choir. In one scene, she leads the choir in a hymn written by Handy, "Hush the Wind." Young Will (Billy Preston) starts to swing on the organ a little and, just as the beat picks up, Bessie Mae abruptly stops singing and the song is picked up with a little more oomph by a grooving Aunt Hagar (Pearl Bailey) with the choir backing her up. But the song is quickly interrupted by the Reverend Handy who will have none of that devil's music, a theme he repeats throughout the film.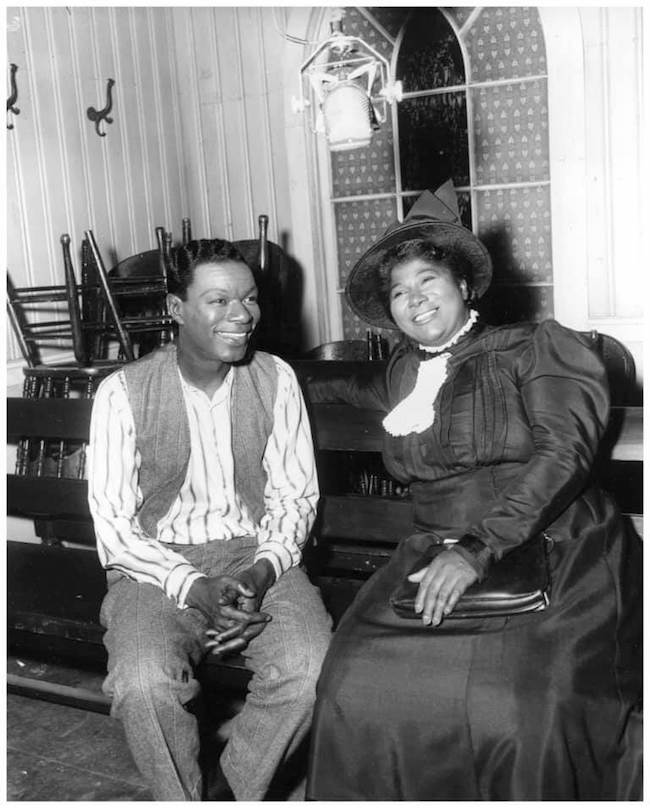 Nat King Cole and Mahalia Jackson relax between scenes.
Later, Jackson beautifully sings two fine Handy hymns without embellishment. Click here to watch Mahalia Jackson singing "He That Sows in Tears" from the film. Also, in a pivotal scene, Jackson's character Bessie Mae causes a major confrontation when she spots Will working at the Big Rooster night club and immediately tattles to his father. Conflict!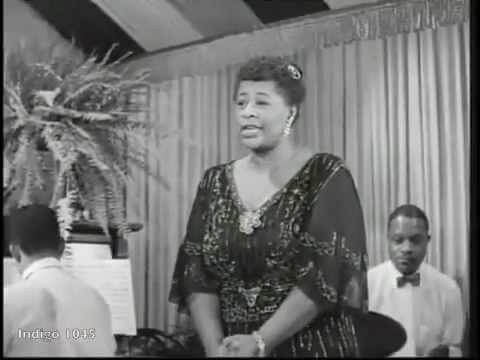 Ella Fitzgerald sings "Beale Street Blues."
Ella Fitzgerald plays herself performing in a nightclub, singing Handy's "Beale Street Blues" in a lilting and effective manner in her one brief scene. The fictional Memphis Jazz Quartet, play behind Ella on piano, drums and bass, led by Bill Green on clarinet. She doesn't interact on-screen with any of the other characters. Handy happens to walk past the club and he listens to Ella sing his own composition from the sidewalk outside but chooses not to enter the club (apparently, he's supposed to be emotionally distraught because he's frowning). Click here to watch Ella Fitzgerald's fine cameo appearance in the film.
BEHIND THE SCENES
In the fall of 1957, Little Rock High School was being integrated, the NAACP and the National Guard were involved, President Eisenhower and Governor Faubus were at odds, and the United States was at a crossroads in race relations. Black celebrities were speaking out and showing support more than ever. A tense time to be sure, but Hollywood was not ready to acknowledge the movement (Williams, p. 195).
Cole's breakthrough NBC TV show The Nat King Cole Show was on the air from November 5th, 1956 until December 17th, 1957, supported entirely by the network, and with NBC chairman David Sarnoff's personal backing, until they could gain a sponsor -- none was forthcoming for a show with an African American host, so Cole himself finally pulled the plug on the show, famously explaining, "Madison Avenue is afraid of the dark" (Friedwald, p. 366).
Hollywood was plugging other all Black cast musicals. Carmen Jones (1954) at Fox Studios, and the upcoming Porgy and Bess (1959) produced by Samuel Goldwyn for Columbia, were big budget color productions, both directed by Otto Preminger. Expectations were high for St. Louis Blues as well, but only second tier filmmakers were assigned to work on the film, and none of them were African American.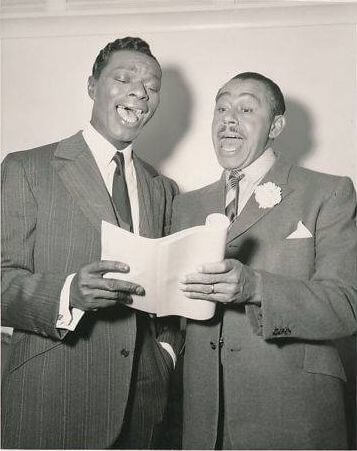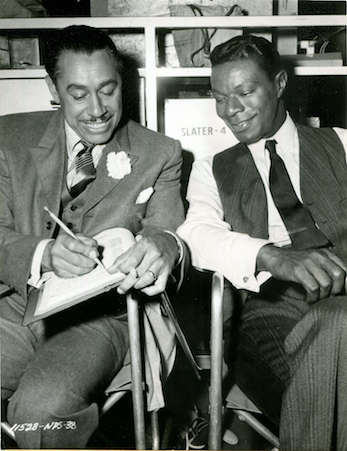 Cole and Calloway between takes; no one was ever that happy on-screen.
Robert Smith, writer and producer, had just completed The Buster Keaton Story (1957) with Donald O'Connor and had also directed The Beast from 20,000 Fathoms (1953). The co-writer of the script was Ted Sherdeman, screenwriter for The Eddie Cantor Story (1953).
The director of St. Louis Blues was Alan Reisner, a journeyman television director who had just four feature films to his credit. He helmed numerous episodes of Ben Casey, Gunsmoke, Hawaii Five-O, The Twilight Zone and the Climax! TV series.
The costumes by the venerable Edith Head are uninspired – most of the clothes are suitably drab for the period but the musicians all tend to look like members of a barbershop quartet. Eartha Kitt sported either a fringed frock or the tight evening dresses like she usually wore on stage.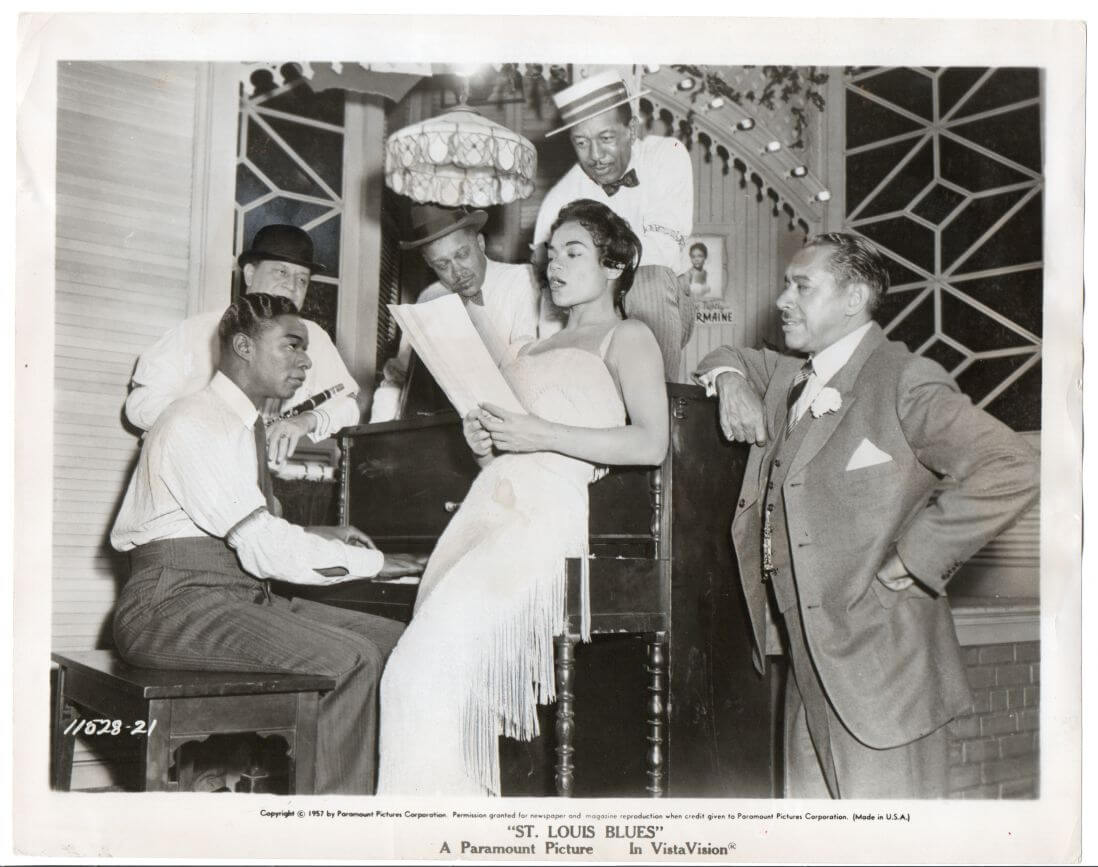 The presence of sleeve garters on the men was meant to represent the early 1900s.
Cinematography was by Haskell Boggs, who was responsible for photographing five Jerry Lewis movies and 137 episodes of Bonanza. St. Louis Blues was filmed in the widescreen VistaVision process at 1.85:1 aspect ratio in glorious 35mm black and white.
Only moderately budgeted, there was not much effort made at creating authentic turn-of-the-century sets or décor. The famous Beale Street in Memphis looks like it could be from any routine 1950s Western movie. Art director Sam Pereira and set decorator Sam Comer were working on Vertigo at the same time, so Alfred Hitchcock must have commanded all their attention.
W.C. Handy is credited as "technical advisor" to the film, although there are no photographs or stories of him being on the set. In her syndicated column on December 4th, Dorothy Killgallen reported that the family of W.C. Handy was purportedly not happy with the script or the stars. Did they know something nobody else did?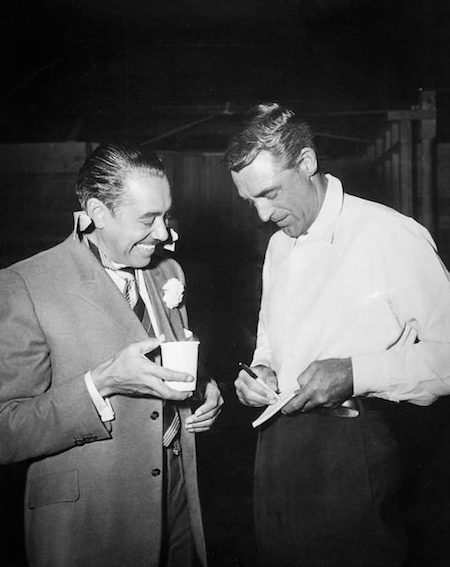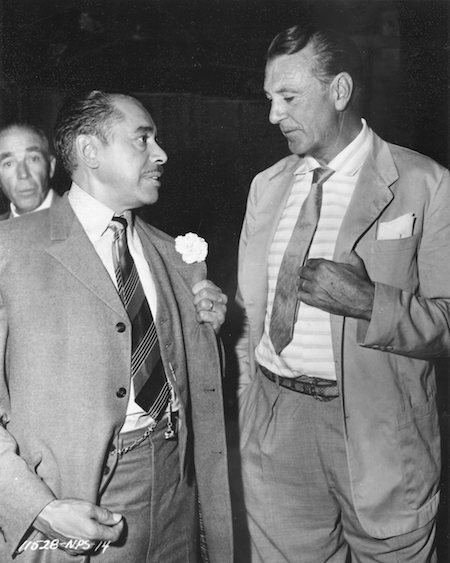 Behind the scenes, Cab and Cary Grant exchange autographs; Cab and Gary Cooper compare lapels.
While in pre-production, under the working titles The W.C. Handy Story or The Life of W.C. Handy, other teasing early cast announcements reported from February to August didn't pan out, including Lena Horne, Dorothy Dandridge, Duke Ellington, Ethel Waters, Louis Armstrong and Sarah Vaughn. Down Beat also reported that producer Robert Smith was planning to sign jazz musicians Earl Hines and Meade 'Lux' Lewis.
By early July, both Eartha Kitt and Pearl Bailey were settled upon.
In her column of September 18th, Hedda Hopper announced the inclusion of Juano Hernandez, to be flown in from his home in Puerto Rico where he was teaching at a college. Ruby Dee was cast later, just before rehearsals started.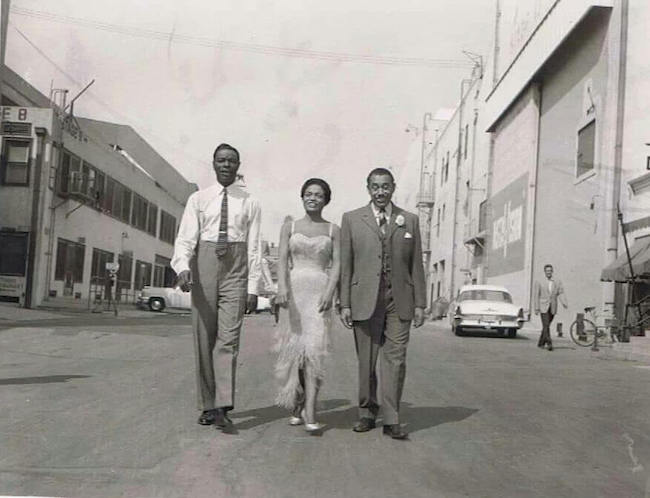 The stars take a stroll on the Paramount lot. But they couldn't get away from the script.
Rehearsals prior to shooting took place in Las Vegas where Cole was appearing at the Sands Hotel and Eartha Kitt at the El Rancho. Filming started on October 7th and continued for three weeks through November 1st, 1957 at Paramount Studios in Los Angeles.
Other films were in production simultaneously on the Paramount lot: Houseboat with Cary Grant and Sophia Loren, The Buccaneer starring Yul Brynner, and Alfred Hitchcock's classic Vertigo (being filmed under its working title From Amongst the Dead.)

Cab tries to leave the picture, but Eartha convinces him to stay put.
Since The Nat King Cole Show was filmed in Los Angeles, Cole brought on several of the film's cast members as weekly guests for the TV show.
On October 22, Cab Calloway guests with Cole where they dress in western garb where Cole sings "Don't Fence Me In" and Cab does "It Ain't Necessarily So."
On November 5th musicians Barney Bigard, Teddy Buckner and George Washington appear on the show playing songs from the movie, along with an appearance by Billy Preston.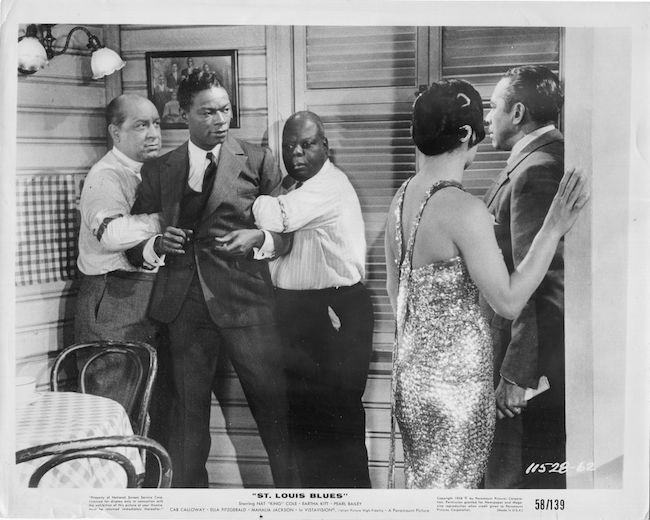 Barney Bigard and Teddy Buckner hold back Nat King Cole in the big 'fight' scene.
Other related guest appearances on Cole's program included Eartha Kitt on October 8th, Mahalia Jackson on November 12th and Ella Fitzgerald on November 19th. Pearl Bailey had been a guest the previous season.
The movie was filmed almost entirely on the Paramount back lot. Only the scenes taking place at The Big Rooster club were filmed on location at an actual Los Angeles club, the Royal Room, a traditional jazz venue at 6700 Hollywood Boulevard; the club was gutted in a fire just a month after the film wrapped.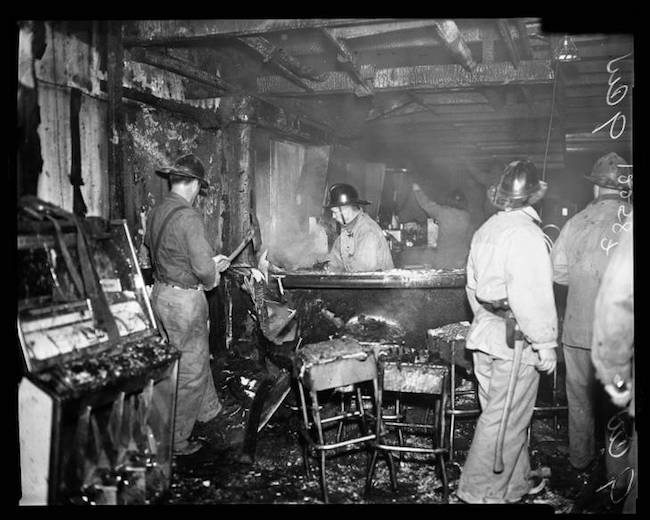 The Royal Room after the fire. Too bad the screenplay didn't burn, too.
During the filming, Pearl Bailey had a gig at the Flamingo Hotel in Las Vegas and the production arranged for a private plane to pick her up at Las Vegas at 2:00AM after her two live shows, arriving via limo at Paramount at 3:30AM for a few hours sleep before shooting started at 8:00AM, and then heading back to Las Vegas at 3:30PM to prepare for her stage shows at 8:30PM and midnight.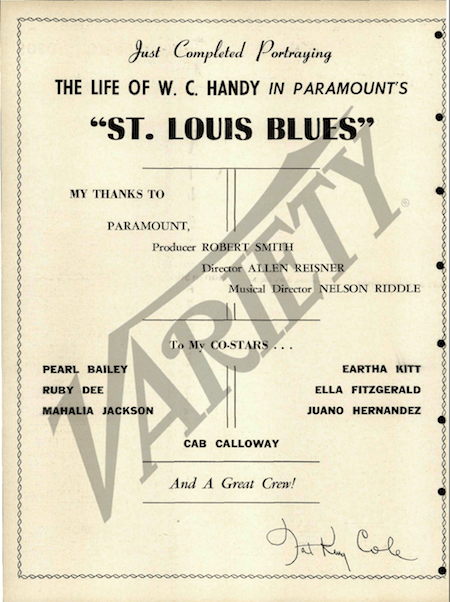 Cole thanks his co-stars and crew in this ad from Variety, November 13, 1957
When WC Handy turned 84 in November, Cole recorded a tribute that was played at Handy's party at the Waldorf Astoria in New York. In what would have made a good scene for the movie, the entire invited crowd of 800 guests sang a rendition of "St Louis Blues."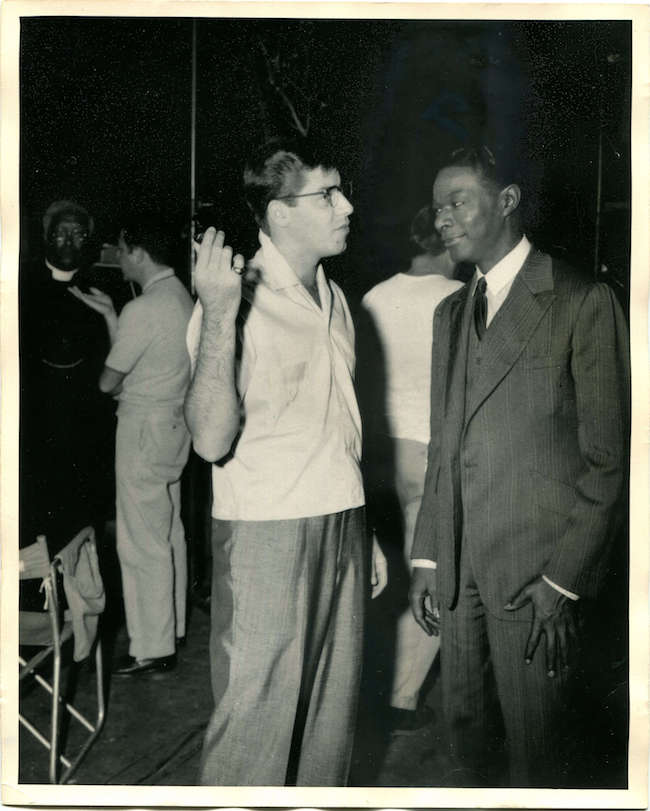 Jerry Lewis gives Nat King Cole some pointers on how to make a lousy movie
(Juano Hernandez in the background).
In a Chicago Defender feature article in January 1958, the film was expected to open on March 21st. Writer Hilda See, in her fawning promotional piece, pronounced Cole "the best Handy that could be located." She went on to say the film was "one of the best and most historical stories imaginable" with a cast "to tell and demonstrate it as proficiently as perfectly as the book requires….And the scenic effects as socksational interpretations of what has happened and still happening to the blues."
Columnist Bob Thomas called it "the most ambitious film about Negroes in years." If only it had just a little ambition.
On April 5, 1958, Cab is the guest of the Canadian TV show "Cross Canada Hit Parade" where he sings "St. Louis Blues". Click here to watch an energetic Cab singing "St. Louis Blues" on another 1950s TV show.
On Sunday, April 12, Cole appeared on the Ed Sullivan Show singing a medley of songs from the movie. That evening's show also included a rendition of "Take Me Out to the Ball Game" sung by a quartet consisting of Yogi Berra, Whitey Ford, Mickey Mantle and Bill Skowron. Click here to watch Nat King Cole sing "St Louis Blues" on the Ed Sullivan show.
THE PLOT

"There's only two kinds of music in the world, the devil's and the Lord's,"
says the Reverend Handy (Juano Hernandez).
Early on, Cole had described the movie this way: "It's boy meets girl, boy loses girl, boy writes blues." That's a very accurate resumé of the plotline.
Young Will Handy is a talented organist and pianist, but he is intrigued by the blues and call-and-response songs that he hears sung on the streets and docks of Memphis. His father is a minister and doesn't want his son involved with "the devil's music." Handy goes through various failures, argues with his father, rejects a job offer, gets ripped off, is kicked out of his home, suffers an injury (psychosomatic blindness), goes back home, juggles two women, gets his sight back, keeps writing songs, and finally wins out in the end when his music is accepted by everyone including his religious father.
If the plot outline sounds familiar, it's not because you already know so much about W.C. Handy's life, rather it's because (except for the blindness) the story is basically the same as The Jazz Singer (with Al Jolson in 1927, remade with Danny Thomas in 1952 and again with Neil Diamond in 1980).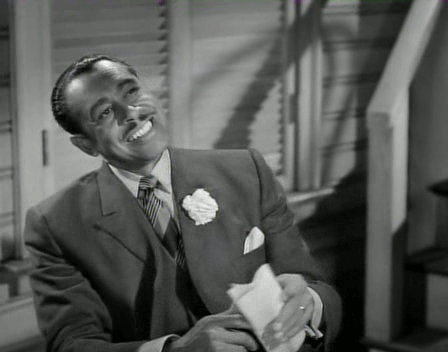 Cab as 'Blade' grins after stealing the contract for Handy's first successful composition.
Cole himself said, "I think people may be surprised at how little Nat Cole there will be in the movie. I suppose with this cast they will expect a big musical. But we are sticking to a strong story and making the music incidental."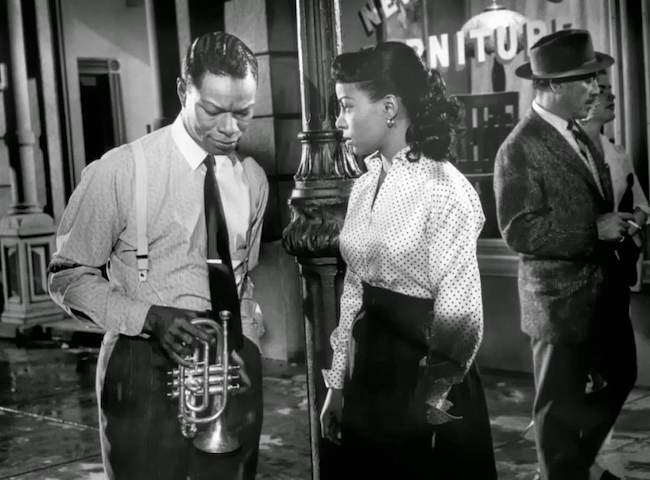 Nat Cole and Ruby Dee earnestly discuss Will Handy's future. This is as earnest as they get.
In the end, the blues is finally palatable and respectable only when played at Aeolian Hall in New York by a symphony orchestra with a Russian conductor in front of a white audience. Everyone applauds, Handy smiles weakly, and the movie is over.
THE MUSIC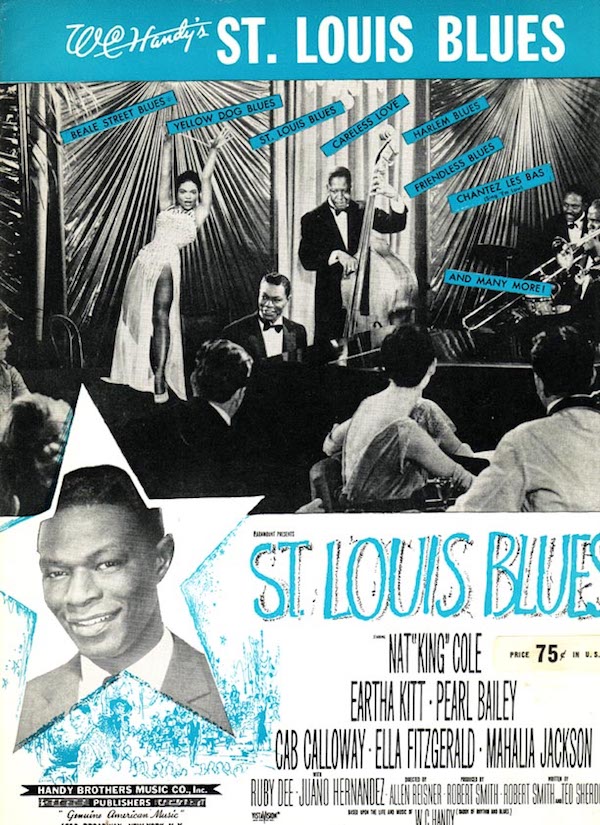 Sheet music for "St Louis Blues" published to coincide with the film.
"St. Louis Blues" (pronounced Loo'-iss, not Loo'-ee) is an iconic and immensely popular song by W.C. Handy first published in 1914. By 1957, Handy's royalties for the song were still a remarkable $50,000 annually. In an interview, Cab Calloway said his two favorite songs were "St. Louis Blues" and "Stardust." At Cab's first studio session as a bandleader in 1930, he recorded "St. Louis Blues" in an original hot jazz arrangement, the vocal opening with Cab holding a single note on the word "blues" for a full 10 bars. Listen to the Cab Calloway Orchestra's classic 1930 recording of "St. Louis Blues" here.
Handy's blues/jazz standard was recorded by hundreds of other artists over the years, most memorably by Bessie Smith and Louis Armstrong. There were even arrangements for mambo and a military march. Laverne Baker released a rock & roll version of "St. Louis Blues" around the time the movie was being made. Click here for Baker's updated 50s rendition.
On March 28, 1958, Handy died, just a few days before the movie premiered. A Charlotte Observer editorial tribute to Handy lamented the loss of the blues altogether, replaced by "the slick, modern professional" singers embodied by Fats Domino and Nat 'King' Cole, leaving only "the pale commercial facsimile of Tin Pan Alley." Yes, the very same Nat King Cole, the star of our film, was branded as an example of the loss of the blues!
Five talented jazz musicians were drafted for the film. They all had previous experience playing jazz and acting in films and were given a few scattered lines in St. Louis Blues.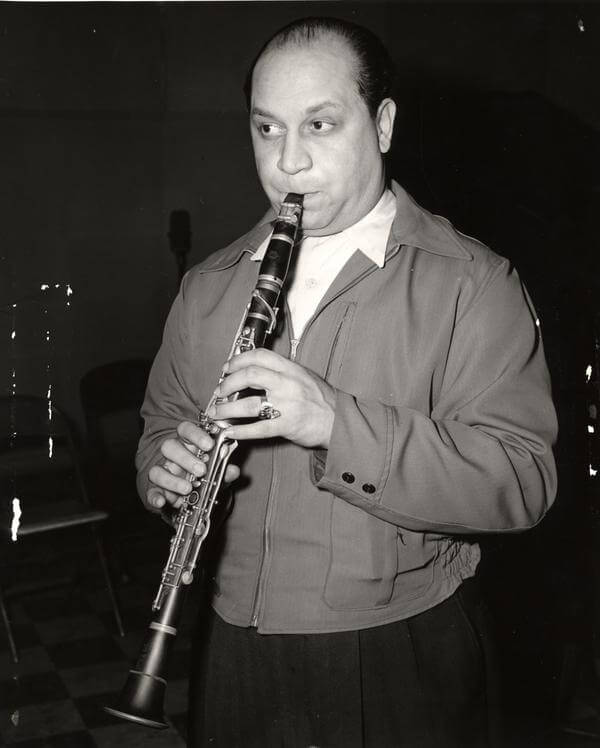 Barney Bigard (1906-1980), clarinet, from New Orleans, played with Duke Ellington 1928-1942, and later with Louis Armstrong's all-star road bands. He appeared in New Orleans (1947) with Billie Holiday and Louis Armstrong and The Glenn Miller Story (1954) starring Jimmy Stewart.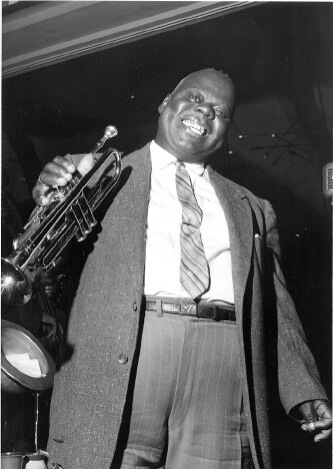 Teddy Buckner (1909-1994) trumpet, formerly with Benny Goodman and Lionel Hampton orchestras; he appeared in Stormy Weather (1943) as a member of Jim Europe's band. He was also in Pete Kelly's Blues (1955) with Peggy Lee.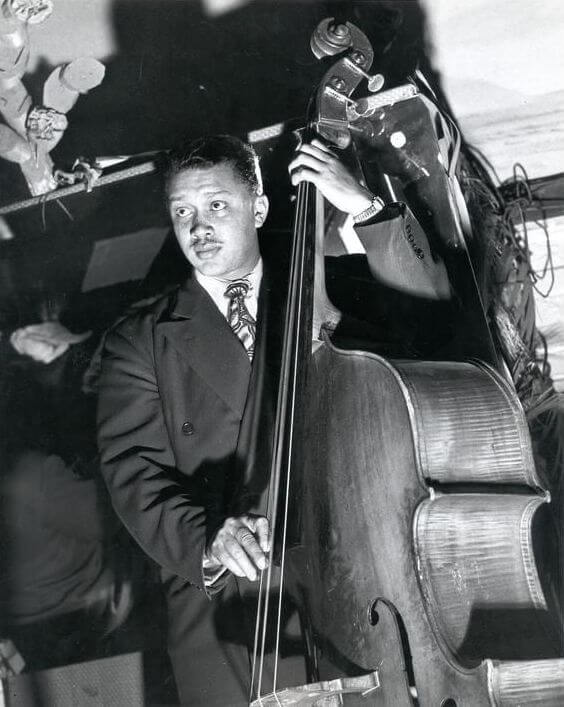 George 'Red' Callender (1916-1992), bass, was a solid back up player who performed with Charlie Parker, Errol Garner and Art Tatum. Callender also appeared in New Orleans (1947) along with Barney Bigard.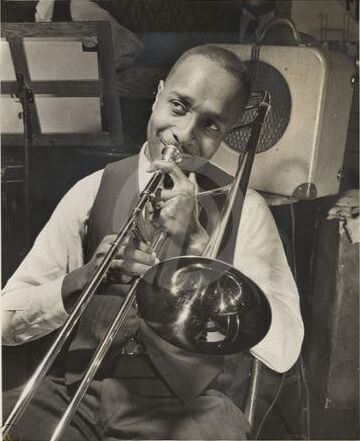 George Washington (1907-?), trombone, spent time with the Benny Carter and Fletcher Henderson bands as well as with Louis Armstrong from 1938 to 1943. He appeared in the classic jazz-themed film Young Man with a Horn (1950) starring Kirk Douglas.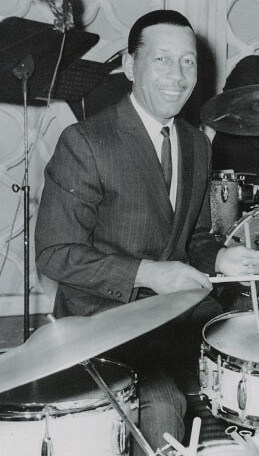 Lee Young (1914-2008), drums, the brother of Lester Young, played with Fats Waller, Nat Cole and later became a record producer and executive. He had a musical role in the Red Skelton film I Dood It (1943), backing up Hazel Scott.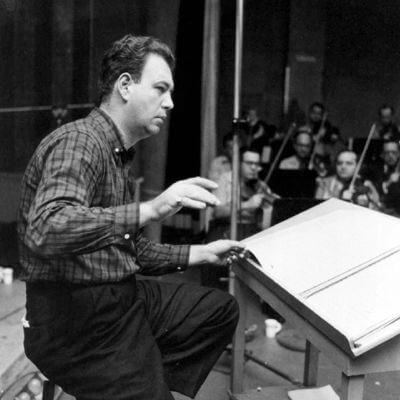 Nelson Riddle conducts.
The music was overseen by Nelson Riddle (1921-1985), the consummate arranger and conductor for not only Nat King Cole at Capitol Records, but also Frank Sinatra, Dean Martin, Ella Fitzgerald and later Linda Rondstadt's classic series of standards. Several other orchestrators are also credited in a hodgepodge of arrangements for the film.
There was no soundtrack LP released for St. Louis Blues, and an album couldn't even be considered since the main stars were all under contract to different record labels. Instead, Cole, Bailey and Kitt each released solo albums entitled St Louis Blues that were tied loosely with the film. All three albums included widely differing versions of just about all the songs in the movie, including Eartha singing the spirituals and Cole singing another version of Nelson Riddle's arrangement of the title tune.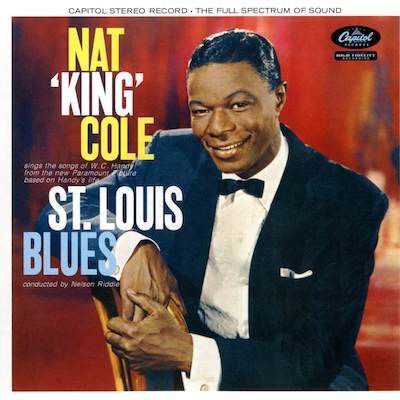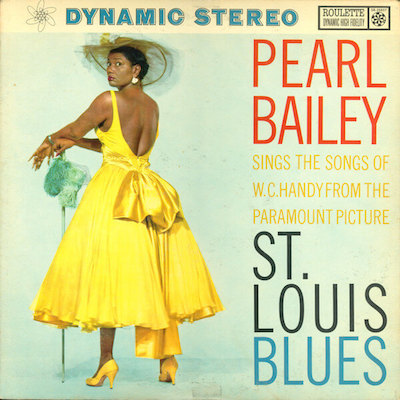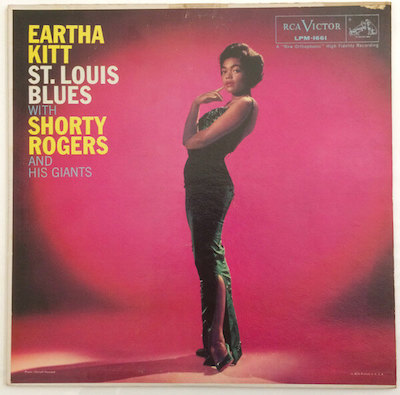 Separate non-soundtrack albums released in 1958 to tie in with the film.
Shortly after production was completed, Cab Calloway recorded his album Cotton Club Revue of 1958 based on his on-going stage show. The LP was released in March 1958 although it didn't include any Handy compositions. Read our article about that album by clicking here.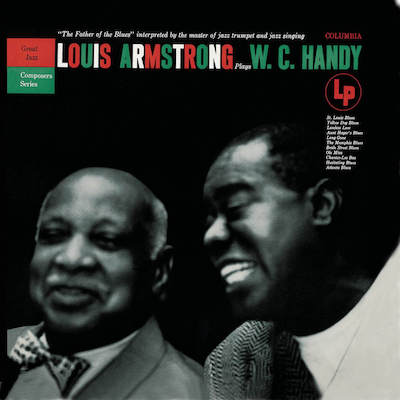 With Handy's death and the new movie, Patrick Scott of The Globe and Mail predicted a flood of W.C. Handy related LP's and specifically recommended Eartha Kitt's St Louis Blues album with Shorty Rogers. He went on to describe Louis Armstrong's 1954 LP Louis Armstrong Plays W.C. Handy as the best contemporary recording of Handy's compositions. That album remains a classic. Read about the making of that iconic LP in Ricky Riccardi's fascinating behind the scenes story.
About a dozen of Handy's tunes are performed during the course of the film. Said Cole before filming began, "I don't know what kind of previews we'll get but we're starting off with a tremendous ASCAP rating," referring to the royalties that would have to be paid for the use of the songs.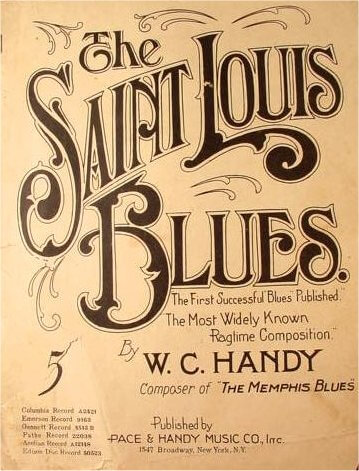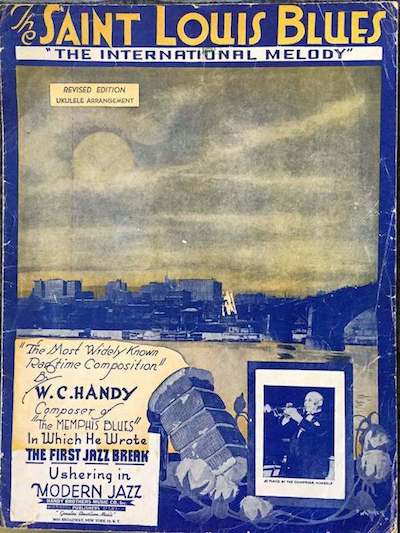 Early sheet music for "The St. Louis Blues"
"Hush the Wind", Mahalia Jackson starts singing this hymn as Billy Preston picks up the beat on the organ and Pearl takes over the vocals.
"Careless Love" Eartha and Cole begin to get sweet on each other while rehearsing this tune. Eartha later sings a creditable version with the band. A fine contemporary version of this classic song was recorded by Madeline Peyroux.
"Chantez Les Bas" -- Eartha is all legs while singing this song which is actually a nice fit for her, and probably the best number in the film. Listen to it here.
"Morning Star" Nat gently sings Handy's hymn. Previously unknown, the sheet music for "Morning Star" was lying on W.C. Handy's secretary's desk when spotted by producer Robert Smith. The unidentified secretary thought it would be of no interest for the movie since it was a spiritual, but Smith took it and the song was introduced for the first time within the movie sung by both Cole and Jackson. New lyrics were provided by Mack David. In 1969, on Billy Preston's first solo album for Apple Records, he included his own fine version of "Morning Star." Click here for Nat King Cole's version of "Morning Star," not from the soundtrack, but from Cole's LP of Handy songs.
"He That Sows in Tears" and "Steal Away to Jesus" are two spirituals sung beautifully by Mahalia Jackson.
"Beale Street Blues" (also known as "If Beale Street Could Talk") is sung by Ella Fitzgerald as herself with a small jazz combo accompaniment.
"St. Louis Blues" – in a contrived scene, Nat plinks out the notes on the piano and Pearl recites the lyrics while Handy is in the very act of composing the classic song. Listen here as Pearl reads the classic lyrics like she's hearing them for the first time ever.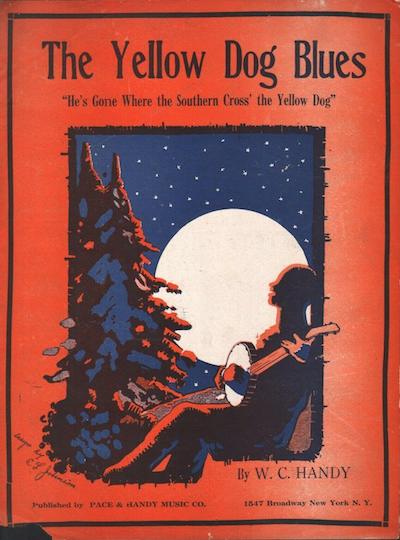 Vintage sheet music for "The Yellow Dog Blues."
"Yellow Dog Blues"/"Going to the River"-- a short medley sung by Cole with the band in a montage to demonstrate how Handy's career was progressing.
"St. Louis Blues" -- first Eartha Kitt, and then Nat Cole separately perform elaborate versions of the classic song with the symphony orchestra in a scene taking place at Aeolian Hall in New York, introduced by the conductor Constantin Bakaleinikoff (1896-1966), a veteran of over 350 films. Nelson Riddle created two completely different arrangements for the same orchestra to play back to back for the two singers. Listen to Eartha's film version of the song here (if you must).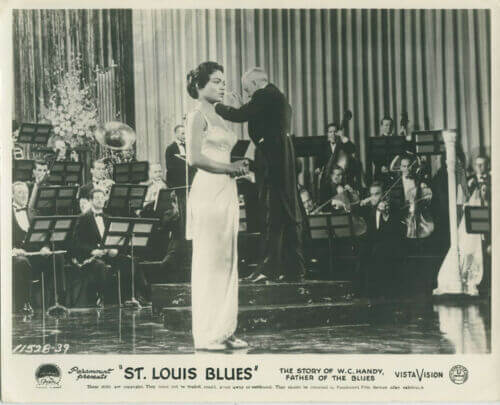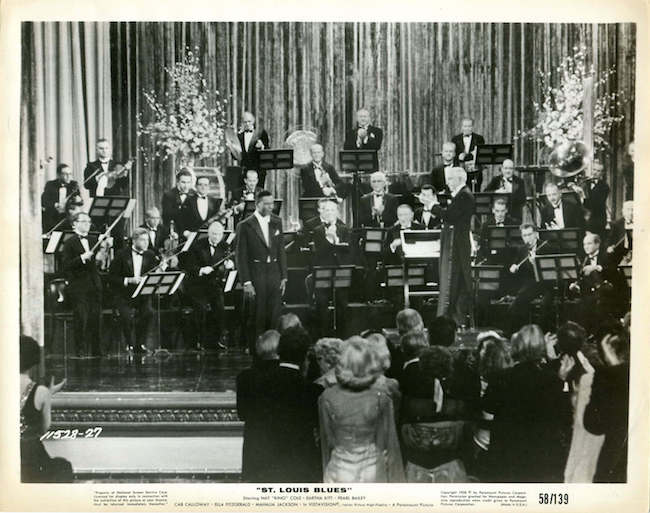 Eartha Kitt, left, and Nat King Cole, right, each sing "St. Louis Blues" with the full orchestra.
TimeOut's book of capsule film reviews calls the final number an "embarrassingly patronizing attempt to dignify jazz by showing its triumphant arrival in the concert hall." To emphasize the ultimate success of the song and the blues, the orchestra and the entire audience are all white.
THE REVIEWS
At W.C. Handy's funeral, Cootie Williams blew a trumpet solo on the hymn "Holy City." A crowd of 150,000 heard the eulogy by Rev. Adam Clayton Powell, Jr. Mourners attending included Marian Anderson, Irving Berlin, Eubie Blake, Cozy Cole, Oscar Hammerstein, Langston Hughes, Noble Sissle and Ed Sullivan.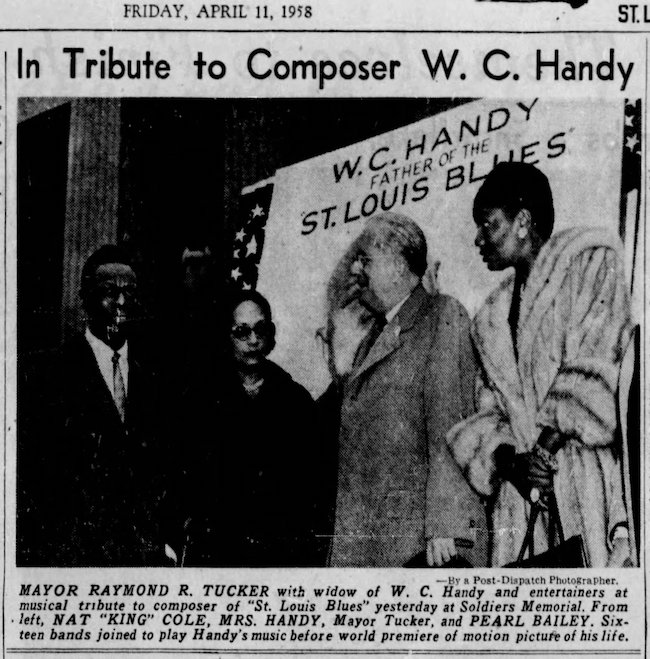 The mayor of St. Louis, Raymond Tucker, with Mrs. Irma Handy, Nat Cole and Pearl Bailey.
The World Premiere of St. Louis Blues took place on April 10th, 1958 in St Louis, Missouri, at the Fox Theater. Cole and Bailey were in attendance. Earlier in the day there was a tribute to W.C. Handy at the St. Louis Soldier's Memorial attended by Handy's widow Irma and brother Charles, along with Cole and Bailey. Sixteen bands played "St. Louis Blues" in unison.
A variety of advertisements and posters were created for the film, most of them dominated by either a full body shot of Eartha Kitt in a leggy pose or a gentle silhouette of a musician playing the trombone.

The standard poster for St. Louis Blues. W.C. Handy didn't play the trombone.
In the earliest review, John Lester of The St. Louis Globe-Democrat, probably in deference to the hometown aspect of the film and the presence of Pearl Bailey and Nat Cole in town, completely fails to examine the quality of film but instead took several paragraphs to recount the entire plotline in great detail. Without commenting on the actual performances in the film, he generally praised the stars only by describing their otherwise successful careers. Juano Hernandez, is "probably the finest Negro actor in the world." Eartha Kitt and Pearl Bailey are both "very fine performers." Ruby Dee is a "veteran actress." Cole is a "gentleman and a very, very nice man." Such ecstatic praise!
Lester identifies Cab's role as the villain but says nothing of his characterization. He does, however, wax poetic about the voices of Ella Fitzgerald and Mahalia Jackson, and for some reason he describes Alan Reisner's direction as "deft, sure, knowing and, at times, uncannily skillful." Makes you wonder if Lester actually saw the movie.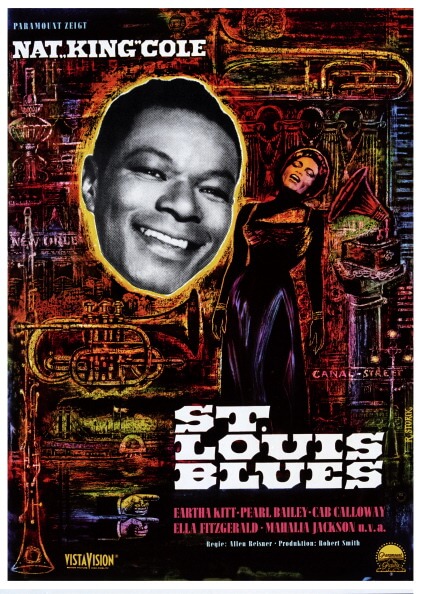 Colorful German poster for St. Louis Blues -- stumpf und langweilig in any language.
Closer to reality was another hometown paper, the St. Louis Post-Dispatch, where the next day critic Myles Standish wrote that the picture was draggy and tedious. He grouped the film among other songwriter biopics (Night and Day, Till the Clouds Roll By, Three Little Words) all of which "didn't turn out very well." He didn't like the film's music much either, indicating that the title song finale "was out of its element played by a symphony orchestra…it was meant for the hot beat of jazz bands."
John Bustin in the Austin American Statesman wrote "considering the vitality of W.C. Handy's music, this film version of the famed blues composer's life is surprisingly lackluster and slow of foot. If it weren't that the man turned out such a fine assortment of blues, in fact, the picture would be downright dull." After listing the "topgrade performers" he goes on to say "somehow little of the excitement suggested by such notable combinations of songs and artists jells as solidly as perhaps it should have." "Cole seems rather too polished as performer to conjure up pictures of Memphis Beale Street" and "the sleek continental sophistication of Miss Kitt, too, is a somewhat incongruous note." In the end, his generous recommendation of the picture is "only as a vehicle for some earthy old blues."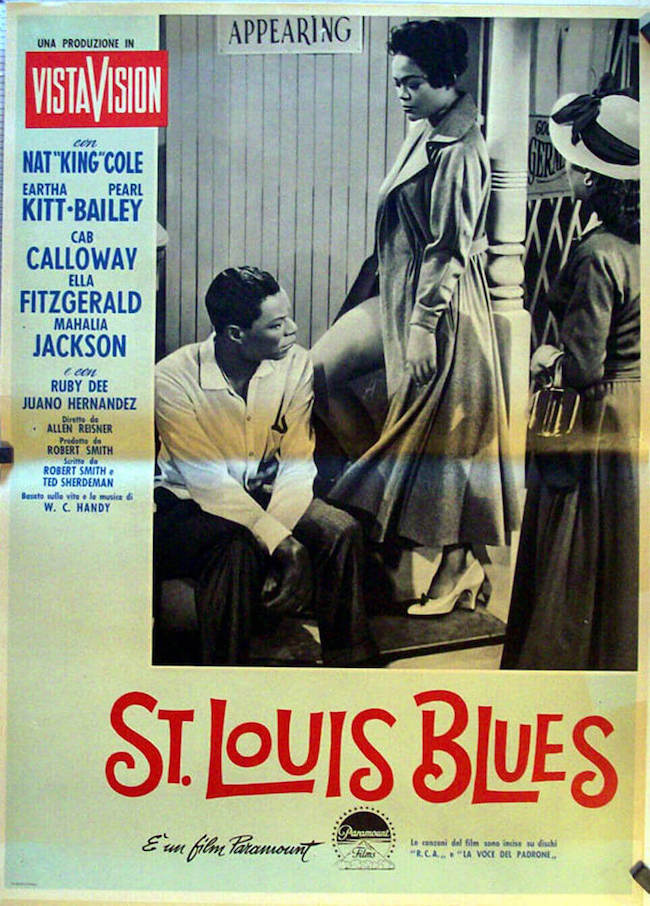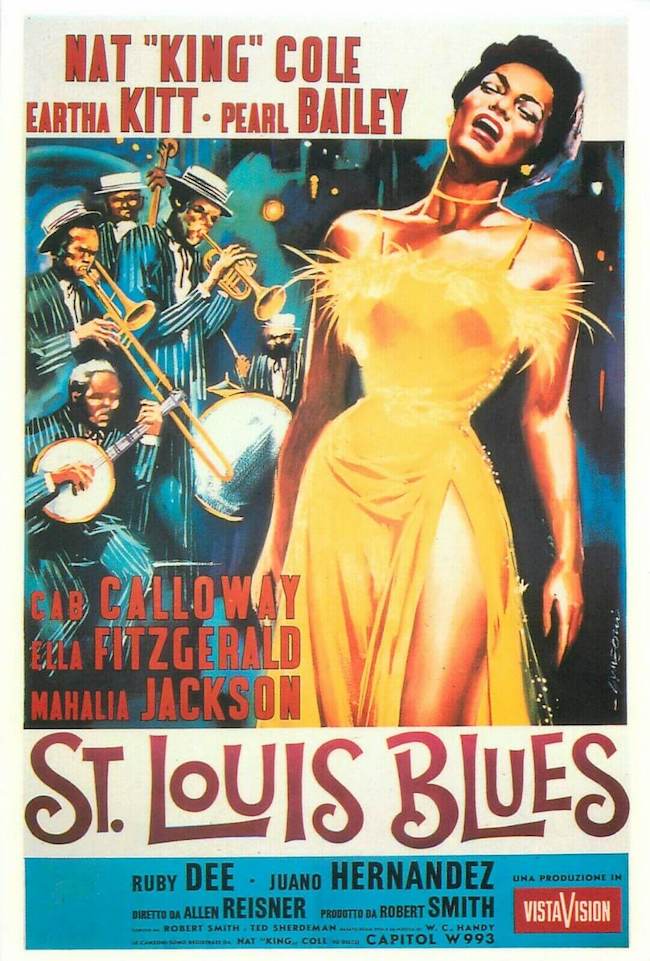 Italian promotional posters for St. Louis Blues emphasized Eartha Kitt's left thigh.
Tucson Daily Citizen called the film a "disappointing account of the life of WC Handy….Placid story fails to capture lusty spirit of jazz."
In the Oakland Tribune Theresa Loeb Cone wrote, "St. Louis Blues doesn't begin to do justice to the man's life or his music" and "St Louis Blues stresses the lachrymose in a script that calls for Nat King Cole to frown his way through almost every scene except the last." "A ridiculous waste of talent" and Kitt was "one of the most unpleasant screen personalities I can remember in some time."
Variety's review, signed 'Powe,' said the screenplay is unconvincing and "the music is seldom seen or heard to advantage." "The result is such a genteel portrayal of life in Memphis in the early years of this century that you might wonder why the Negroes ever sang the blues." Ouch!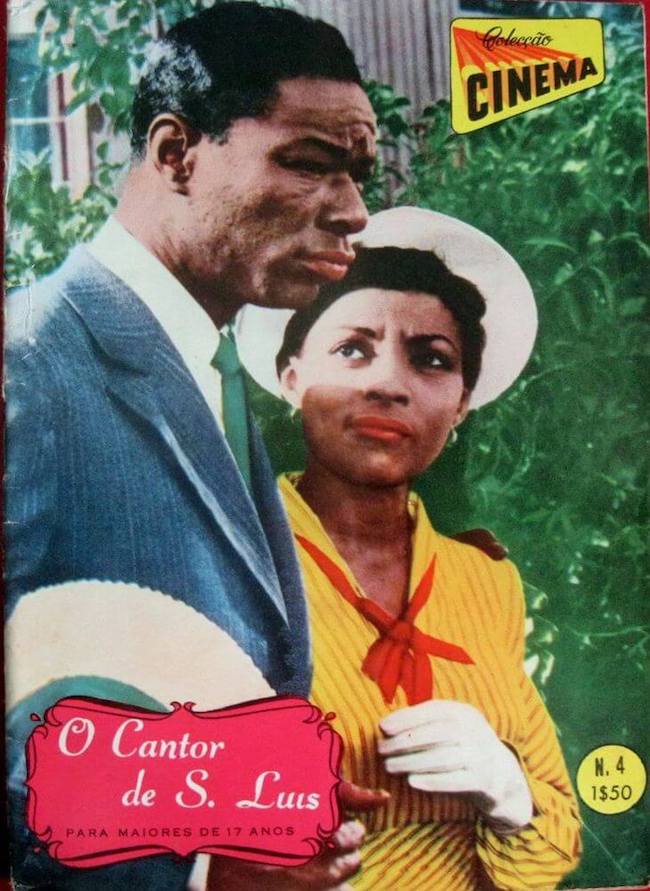 This Brazilian magazine cover is in need of some airbrushing.
From the Abilene Reporter News: Although populated with great musicians, "the music is the most disappointing thing about the show." "Cole doesn't handle the keyboard in the Cole manner" and Eartha Kitt "finds herself out in left field."
Globe and Mail reviewer Ronald Johnson wrote that the production, "given the best talent and story possibilities in the world, comes up with a dud." "The story line boils down into a trite melodrama sprinkled liberally with crudely-sketched love interests and parlor psychology…. Cab Calloway pops in for a few moments to give an excellent portrayal of a caustic nightclub owner…. Biggest lack in the picture is any true sense of atmosphere."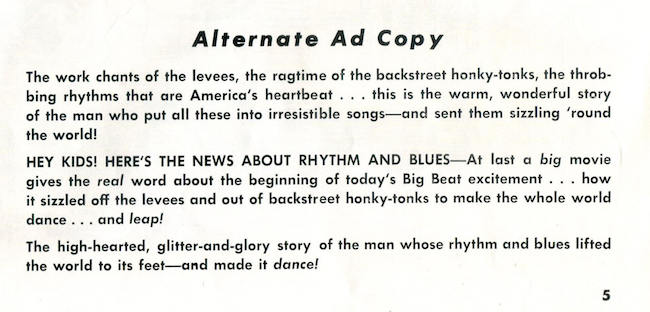 "Hey Kids! Here's the News about Rhythm and Blues,"
reads the suggested ad copy from Paramount's 'Showmanship Manual' for St. Louis Blues.
The U.K. magazine Picture Show described the movie in classic understated British fashion as "a very sincere film."
Al Rickets in Stars & Stripes wrote, "St. Louis Blues is just about the worst screen biography we've seen." About W. C. Handy he said, "There should be a good story in a man like that, but Paramount failed to find it…. It's hard to figure out how they could have missed the boat so completely." The high points for him were Ella Fitzgerald and Mahalia Jackson. Pearl Bailey "adds humor" and Juano Hernandez "is solid." His capsule review: "The blues sung way off-key."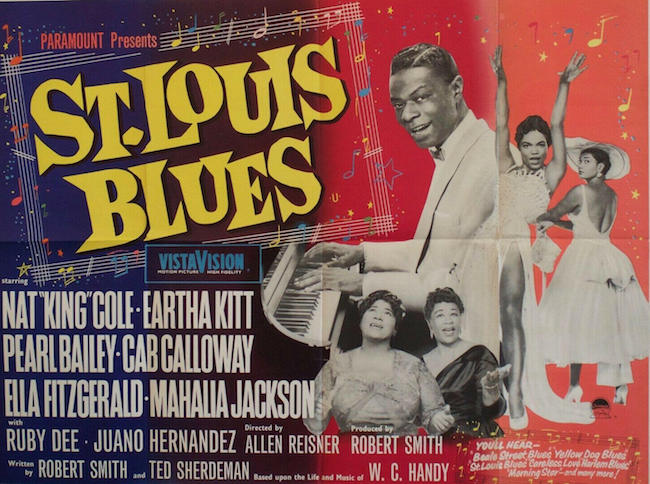 This busy poster promoted Nat Cole and the ladies.
Ralph Matthews writing in The Afro-American had two major problems with the picture. First he found fault with the story telescoping an inspiring 80-year career into 100 minutes. He points out that no credit is given to Handy for his success as a historian, a publisher and an astute businessman as well as a performer and composer.
Secondly, Matthews said Hollywood was too scared to show any actual intimacy between Black actors or characters. Although the main protagonist has two long relationships, one with the good girl back home (Ruby Dee) and one with the urban vixen (Eartha Kitt), "there was no kissing, no hugging, no fond embraces to create the illusion that anybody was that way about anybody else….the alleged lovers all behaved like perfect strangers." (Actually Cole and Dee hugged briefly once in the picture, and in one scene Eartha ran her fingernails along Cole's shoulder.)
In an example of ducking any racial issues in the film, the script has Cab Calloway as Blade stealing Handy's first composition. In reality, of course, it was white publishers who took advantage of the composer early in his career.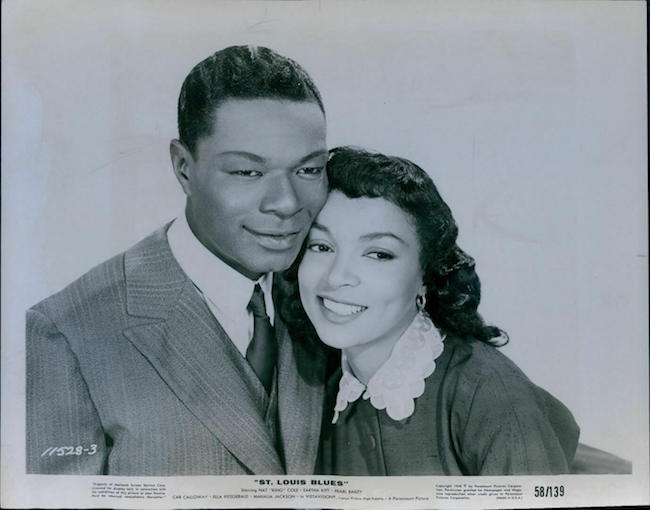 Nat Cole and Ruby Dee in a publicity shot – you won't catch them smiling in the film.
Bosley Crowther in his New York Times review called it "an alleged biography of the great composer" that demonstrated "a silly, tedious notion of emotional conflict…presented with neither style nor substance…. Some fairly well done musical numbers are few and far between and add up to a piteous accounting of the works of W.C. Handy." He calls both Cab and Pearl "bumptious." Yes, Pearl was bumptious, but that's what we love about her. On the other hand, he was wrong about Cab who played his role without his characteristic stage mannerisms or wild antics.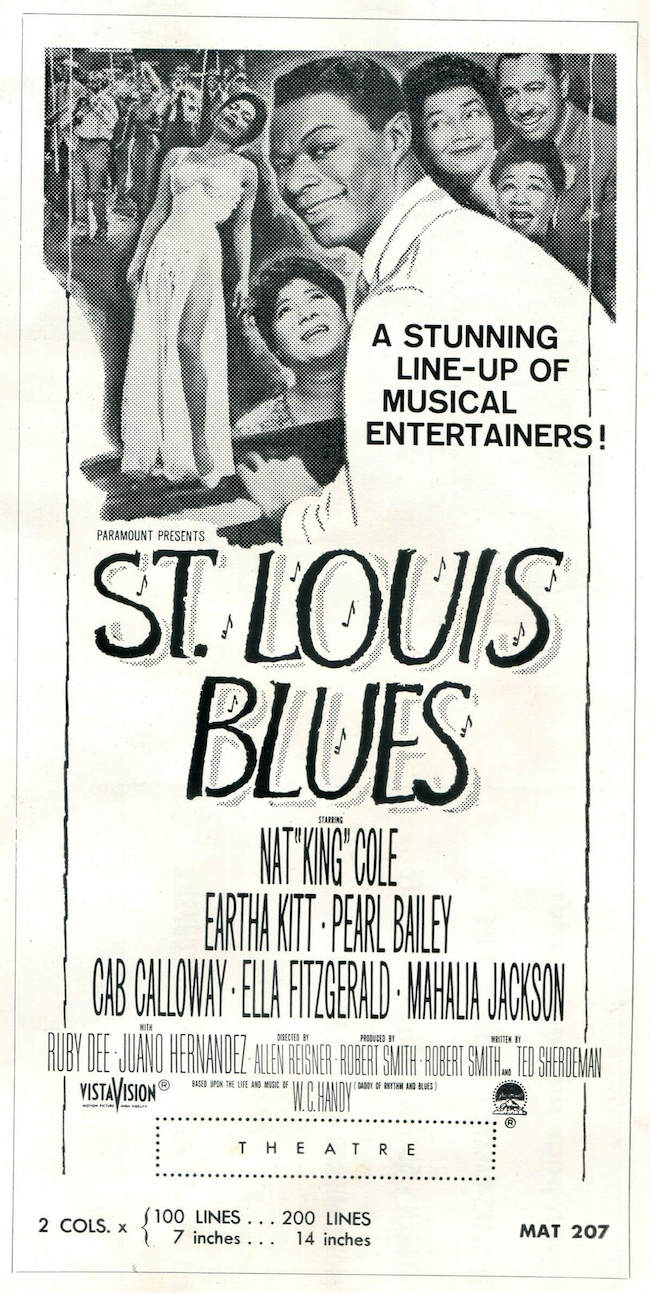 One of the poster formats offered in Paramount's 'Showmanship Manual'.
More recent reviewers of the film are also not impressed:
Nat King Cole's biographer Daniel Mark Epstein said, "Cole did not have the dramatic momentum to hold the story together" so more emphasis was put on the music. He would never have another opportunity to lead a picture (Epstein, p. 275). He could only play himself (and for the best example of that, see Cole in 1965's Cat Ballou).
In his book, Toms, Coons, Mulattoes, Mammies & Bucks, Donald Bogle said, "Thin and anemic and much too suave and courteous, Cole seemed out place. And it was apparent that he lacked the strength and range to carry the picture…Cole proved the least interesting of all the cast." (Bogle, Toms, Coons, p. 267).
In a 1961 interview with Cecil Smith in The Los Angeles Times, Cole himself referred to the film as a fiasco, "a picture that should have had everything with that cast and had nothing."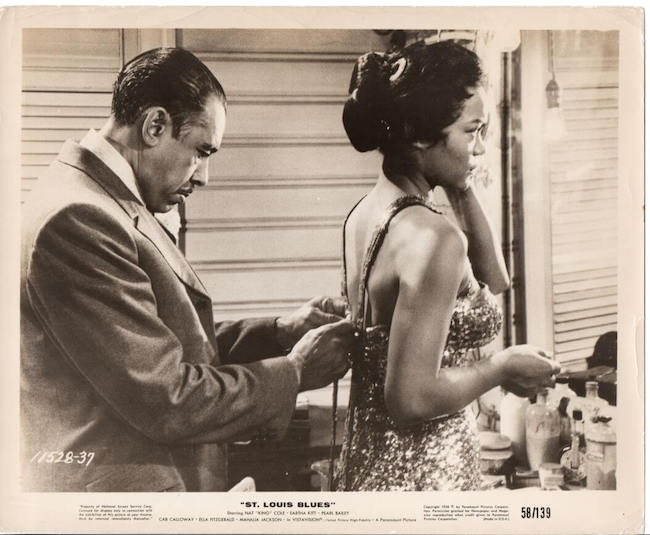 Cab Calloway helps Eartha Kitt with her anachronistic dress.
Eartha Kitt's biographer, John L. Williams put the blame on Paramount: "It's evident that as far as the studio was concerned this was just a cheap movie for black people, who were so rarely catered to by Hollywood that they'd probably accept whatever they were given" (Williams, p. 198 ).
Neither Cab Calloway in his autobiography nor Alyn Shipton, in his detailed bio of Cab, had anything to say about the film.
"Today the reason for seeing St Louis Blues is because of the all star cast surrounding Cole, some of whom very rarely turned up in films and almost all of whom were wasted here." Otherwise it's "a routine B-picture." (Bogle, Blacks, p. 204)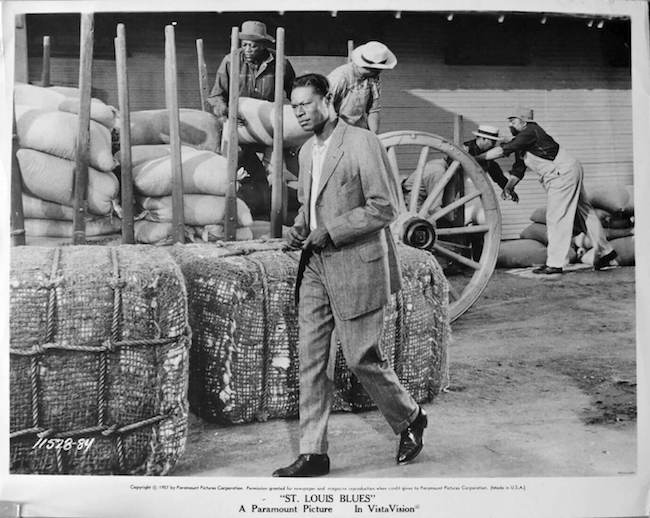 In a rare action sequence from the film, WC Handy (Cole) takes a walk.
In his Movie Guide, critic Leonard Maltin laments the picture's "treacly dramatics." The Rotten Tomatoes website gives the film a 56% rating on their Tomatometer.
Perhaps any filmed biography of a musician or songwriter is subject to the same clichés and tropes. A.O. Scott, writing in The New York Times about a 2021 biopic of Billie Holiday, starts his review saying:
"Every great musician is one of a kind, but the biographies of great musicians—or more precisely their biopics—end up looking pretty much alike. Childhood trauma is followed by success and its consequences, usually including addiction and love trouble. A chronicle of artistic triumph doubles as a cautionary tale, with ruin and redemption wrapped around each other like twin strands of a narrative DNA. If all else fails, the soundtrack music offers occasional reminders of why we should care." ("This Singer's Life Was No Cabaret," New York Times, February 26, 2021).
EPILOGUE
St. Louis Blues was a flop at the box office. I hate to see that evening sun go down.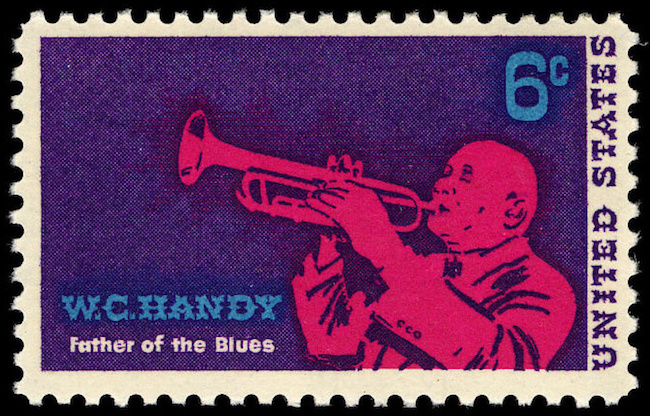 "Life is something like this trumpet. If you don't put anything in it you don't get anything out."-- W.C. Handy.
Cab Calloway's acting career survived the film. He went on to an excellent supporting dramatic role in The Cincinnati Kid (1965) with Steve McQueen, and some other non-singing guest appearances in the TV shows Harry O with David Janssen and Madigan with Richard Widmark. Nat King Cole made no further dramatic film appearances.
There is a TV drama series in development as of mid-2021 called Delta Blues. The one-hour episodes take place starting in 1903 and are loosely based on the life of W.C. Handy. Terrence Howard will star.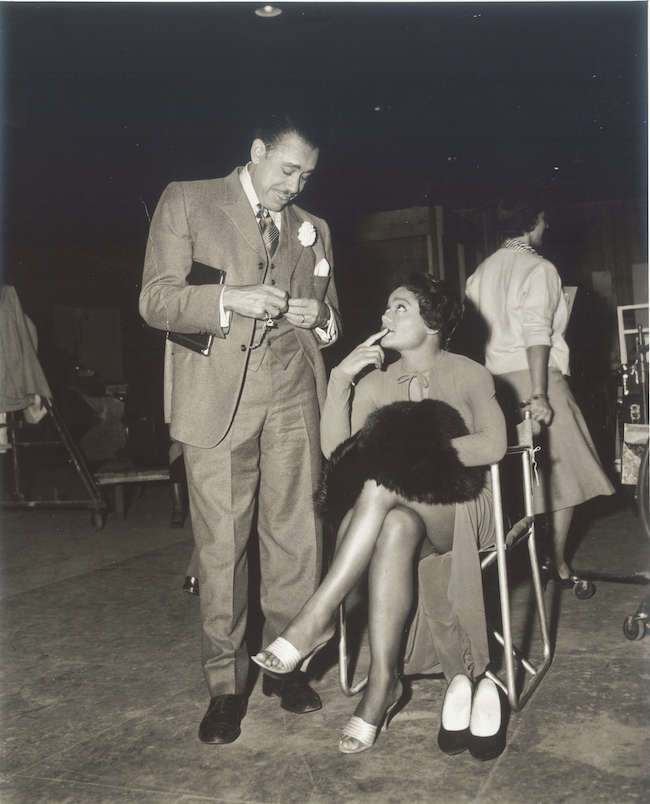 "That was very nice, Baby" says Cab.
---
SELECTED BIBLIOGRAPHY
Pearl BAILEY, The Raw Pearl. New York: Harcourt Brace & World, 1968.
Donald BOGLE, Blacks in American Films and Television. New York: Simon & Schuster, 1988.
Donald BOGLE, Bright Boulevards, Bold Dreams. New York: Random House, 2005.
Donald BOGLE, Toms, Coons, Mulattoes, Mammies & Bucks. New York: Viking Press, 1973.
John Douglas EAMES, The Paramount Story. New York: Crown Publishers, 1985.
Daniel Mark EPSTEIN, Nat King Cole. Boston: Northeastern University Press, 1999.
Will FRIEDWALD, Straighten Up and Fly Right: The Life and Music of Nat King Cole. New York: Oxford University Press, 2020.
Leslie GOURSE,The Ella Fitzgerald Companion. New York: Schirmer Books, 1998.
Barry KERNFELD, ed., The New Grove Dictionary of Jazz, 2nd Edition. New York: Macmillan Publishers, 2002.
John KISCH and Edward MAPP, A Separate Cinema. New York: The Noonday Press, 1992.
Peter STANFIELD, Body and Soul: Jazz and Blues in American Film 1927-63. Chicago: University of Illinois Press, 2005.
John L. WILLIAMS, America's Mistress: The Life and Times of Eartha Kitt. New York: Quercus, 2014.

This is the film's sexiest scene in its entirety.
---
Profound thanks to my friend Jean-François PITET for his support, editing, corrections, additions, technical expertise, and constant brow-beating.
---

Now that you've been warned, you can watch the entire film at your own risk