The author of this incredible biography is my great friend and jazz connoisseur Keller WHALEN.
PART 3: THE MOVIE CAREER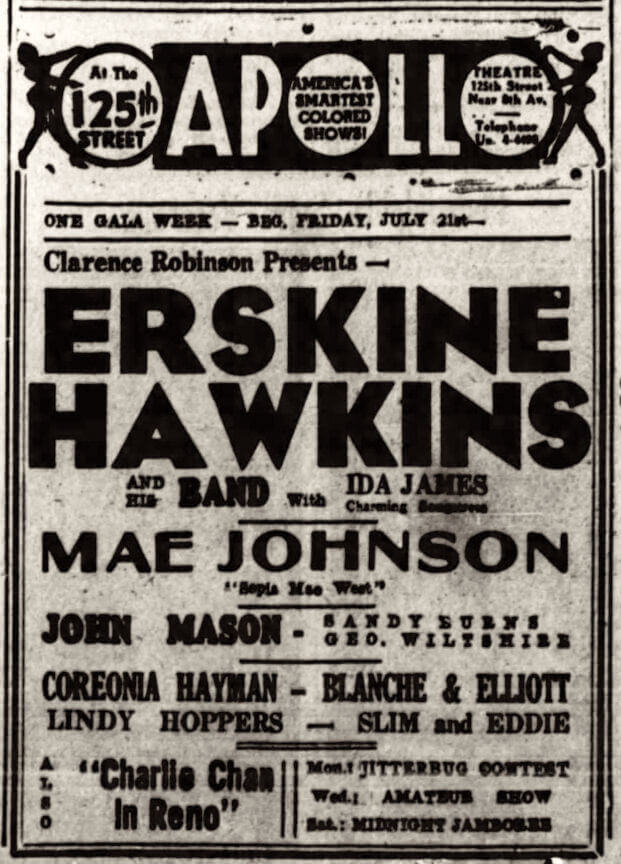 In July 1939 Mae appeared with the Erskine Hawkins Orchestra for a week at the Apollo Theater
NEW YORK, "KEEP PUNCHING"
With no Cotton Club job and no European tour, Mae was busy nevertheless. On May 13, she and Shag Hogans were both guests (although it's not clear that they were together) at a huge New York party to honor Joe Louis and two pioneer African American pilots, Chauncey Spencer and Dale White. On May 29th, she appeared on a bill at the Apollo Theater with Ella Fitzgerald, Billie Holiday and host of other singers, dancers and comedians in the annual benefit for the Harlem branch of the Children's Aid Society. The show was sponsored by the Theatre Authority, the Stage Hands Union and Musicians Local 802, with artists and revues loaned from the Harlem clubs like Small's Paradise, the Cotton Club, Cafe Society, the Plantation Club and Yeah Man.
Once again, the reviewer for Variety was not particularly fond of Mae's act. "Mae Johnson is unimpressive in two tries, first piping an unintelligible original [possibly "A Lesson in C"] in the opening bit, and later as 'Sadie Thompson' (Variety, July 26, 1939). But the Pittsburgh Courier was more appreciative saying, "Mae Johnson, whose last engagement kept her on Broadway at the Cotton Club for several seasons, goes to town in grand fashion, making her return to Harlem theatricals more of an event than anything else" (Pittsburgh Courier, July 29. 1939).
Mae was slated to co-star in a new all-black cast movie production, "The Devil's Daughter" with Nina Mae McKinney and Emmet 'Babe' Wallace. The film was shooting in Jamaica, the first African American production to be filmed on location. But once again, at the last minute, Mae was out of the picture, this time because she was scheduled to appear in the next major Cotton Club show and the filming schedule would overlap with the rehearsal period.
At the Cotton Club, Andy Kirk played the summer months and then Louis Armstrong took the stage for the fall show with Bill Robinson. The club management was cutting costs, however, and after Armstrong and Robinson were hired, there was little money left for the next tier of acts. Mae was cut out of the show. The drop-off in business after the World's Fair, the continuing depression, and the specter of war all combined to bring hard times to all the New York clubs.
Mae's next offer soon came along in the form of an opportunity to act in another film. "Keep Punching" would star Henry Armstrong, the world welterweight boxing champion and Willie Bryant, popular MC and bandleader. Also in the cast were two stage actors soon to make to the move to the Hollywood studios, Canada Lee ("Lifeboat", "Cry, the Beloved Country") and Dooley Wilson ("Casablanca," "Stormy Weather").
The movie was announced in September, filmed around New York for $40,000, and distributed by Sack Amusement Enterprises, a major producer and distributor of filmed entertainment for the under-served African American audience. "Keep Punching" had its premiere on December 7, 1939 at the Apollo Theatre in Harlem.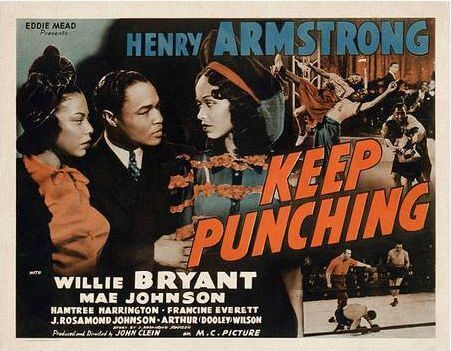 A poster for the independently produced film "Keep Punching", 1939
In the film, Mae played a femme fatale with a heart of gold. She is a confident actor and an enjoyable presence in the film as Jerry Jordan, a bad girl who is hired to slip a mickey to the champ played by the real welterweight champion, Henry Armstrong. But Jerry falls in the love with the champ and the plan goes awry. Jerry repents in the end in a touching scene.

Mae Johnson, Henry Armstrong and Willie Bryant in "Keep Punching" 1939
Mae continued to garner mentions in columns as a guest in the audience of a new club or spotted on 125th Street wearing a new skunk coat. The columnists were happy to remind their readers that Mae was "the real cooch dancer" and that she had spent several seasons as a staple at the Cotton Club. She attended the annual Negro Actors Guild Ball at the Savoy Ballroom on March 15, 1940. Hogans was also on the guest list, but again it was unclear that they were together. Indeed, Dr. Hogans was mentioned as one of the top eligible Harlem bachelors at the beginning of 1940.
NEW YORK, CLUB HARLEM and TROPICANA
The 1940 U.S. census, with information collected in April of that year, finds our Mae listed as single, living in a small apartment house on Seventh Avenue in Harlem, and unemployed but seeking a job for the past 52 weeks (she may have exaggerated the length of her unemployment having appeared at the Apollo for a week and making "Keep Punching" in the fall of 1939).
Prospects didn't look good in 1940, for black entertainers especially. The African American press lamented the dearth of jobs for black performers on stage and screen.
At last, a job appeared in July. At the Club Harlem in Atlantic City, Mae was on the bill with Blanche Calloway with her orchestra led by Coleridge Davis. Also in the cast were comedienne Jackie 'Moms' Mabley and the Beachcombers, who had been a hit at the Cotton Club's World's Fair Edition (the team was described by Billboard as a "boy with a leer and immoral intent and frightened girl with a fancy shape"). That summer, Atlantic City was a cornucopia of African American entertainment put on for mixed crowds, with four such clubs that were starting to hurt the business of the nearby 'white only' spots vying for the summer tourist trade. In early August, all four of those African American clubs in Atlantic City -- Club Harlem, Little Belmont, Wonder Bar and Paradise -- were raided under a newly elected mayor and the club owners were arrested. It was never made clear exactly what the charges were in the first place and the owners quickly posted bail. All four clubs re-opened almost immediately to continue the same gangbuster business.
Fresh from Atlantic City, Blanche Calloway's bandleader Coleridge Davis moved to the Southland Café in Boston and took Mae Johnson and the Beachcombers with him to open his first revue there. Subsequent shows at the Southland starred Ada Brown and Bill Robinson.
Back in New York again, Mae was immediately booked for the new Tropicana club at 1678 Broadway (later to be the address of a reborn Ubangi Club and still later the home of the famous Birdland). The ambitious show starred 22-year old Ella Fitzgerald (who had just become the leader of the orchestra founded by the late Chick Webb), Mae Johnson, Avon Long, comedians Swan & Lee, and The Beachcombers again along with the Socarras Orchestra and Babe Wallace as the MC. The club was billed as "New York's newest South Sea Island rendezvous" and pinned as "a hopeful substitute for the ole Cotton Club" (Floyd C. Snelson, New York Age, October 26, 1940).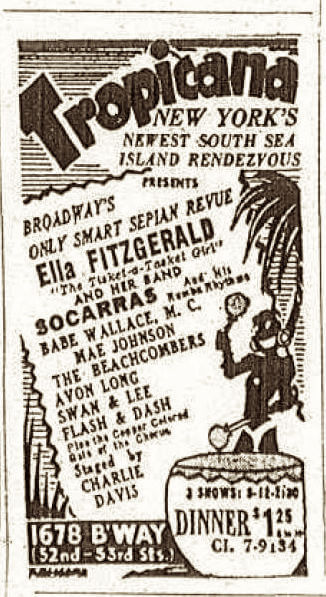 Ad for the show at the new Tropicana night club, October 1940
The production's theme was "Harlem Gone Latin." "Heading the show, Mae Johnson tied it up in approval knots with her takeoff on Sadie Thompson in 'Rain.' Others who pleased were Swan and Lee, Flash and Dash, Avon Long, Babe Wallace and the eight dancing girls" (Pittsburgh Courier, October 26, 1940.)
After her Tropicana gig, Mae moved back to her hometown, Washington DC. I found no record of any appearances there during this time. She was reported attending the Joe Louis-Buddy Baer fight in May and was spotted visiting Los Angeles in September, "New York Cotton Club Mae Johnson, shake and art dancer, looks good even in her street clothes covered up. Tee, hee! She's a killer!" (Jay Gould, September 4, 1941).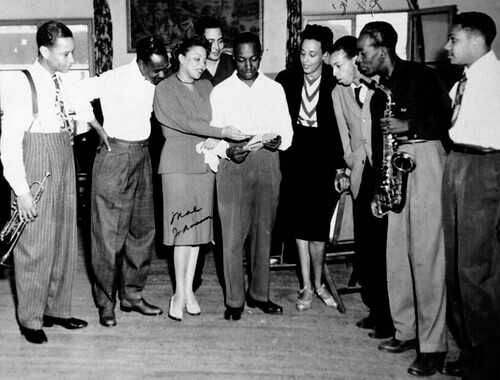 Mae Johnson backstage with musicians in an undated photograph.
NEW YORK, THE UBANGI CLUB RE-OPENS
In New York, the Ubangi Club re-opened in December 1941 at the vacated Tropicana location at 1678 Broadway. Still trying to fill the void left by the Cotton Club Parade productions of the past, the new club initiated the Ubangi Club Follies. The First edition of the Ubangi Club Follies (1941) with words and music by Andy Razaf and Paul Denniker, had jazz violinist Stuff Smith leading his orchestra and featured singer Ada Brown and comedian 'Pigmeat' Markham.
Mae Johnson was slated as a headliner for the Second Edition of the Ubangi Club Follies planned for the spring of 1942, but not before making the papers with little more excitement. "…in town for a session at the Ubangi, a bit on the plump side but still the old Mae (Spitfire) Johnson. The other nite as she and the gang partook of a late snack at Johnny Dancer's speakeasy-like "Coop," La Johnson got her dander up when Monte Hawley started to take leave of the party and threw a not too soft corn muffin at his head that struck long and tall Louise McCarrol right in the eye." (Hawley and McCarrol are two other mostly forgotten mid-century African American performers who need their biographies written!)
The Second Edition, also billed as "Harlem on Parade," got some good press attention with its headliners Mae Johnson, Jackie Mabley, tap dancer Bill Bailey (Pearl Bailey's brother—he was appearing on Broadway at the same time in Eddie Cantor's "Banjo Eyes") and singer Savannah Churchill, opening on Sunday, March 8, 1942. The African American columnists welcomed Mae back "after a long absence" from the New York clubs (it had been 16 months since her last New York stage appearance). "Her take off on performers and old song favorites are among the highlights of the evening."
But not for the first or last time, the mainstream press found her performance underwhelming, with the New York Post reporting that she was the "comedienne who was tagged the sepian Mae West back when Mae was really something to be named after." It's true that by this time the real Mae West's movie career was almost completely over, her most recent starring vehicle, "My Little Chickadee," with W.C. Fields, having been released a full two years earlier.


Mae Johnson in 1942
Mae was only at the Ubangi for about five weeks when she was fired after taking off back to Washington DC. Seems she had a new boyfriend there, another physician, Dr. Charles W. 'Buck' West. There is no record of Mae performing in the Washington area during this period, but in May 1942, she was back in business headlining at an exciting new club in Chicago, the Rhumboogie, in a show with Detroit's Joe 'Ziggy' Johnson as MC and also starring comedian Dusty Fletcher and Tiny Bradshaw and His Orchestra.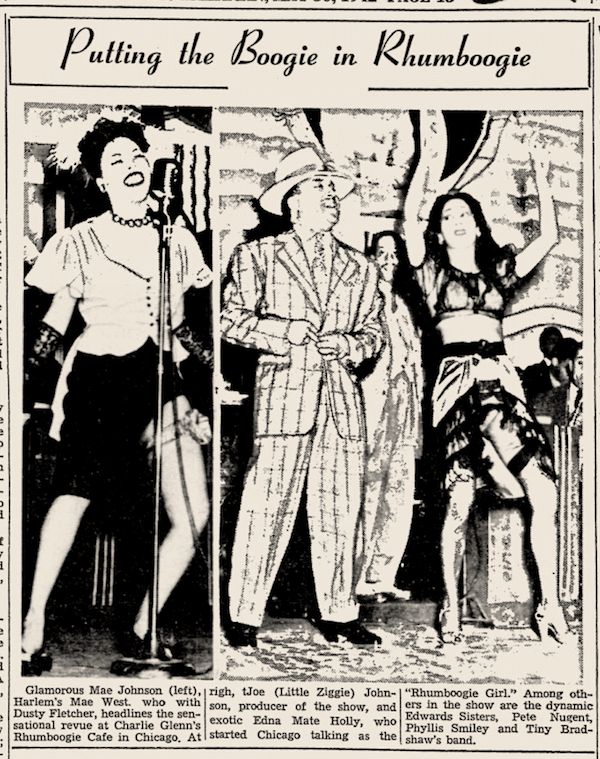 Mae putting the boogie in Rhumboogie, May 1942.
In Chicago in June of 1942, Mae married Dr. West (his fourth marriage), and yes, this would have meant her name was now actually Mae West! "Buck" West was a lieutenant in the army medical corps (the U.S. having entered the war in December 1941) and the couple set up camp in Fort Huachuca, Arizona, the home of the African American 10th Cavalry Regiment, the famous "Buffalo Soldiers." Mae and her new husband were seen in L.A. on vacation in November, and on Thursday, November 12, Mae entertained at a party honoring actors Tyrone Power, Cesar Romero and Dana Andrews who were joining the service and columnist Billy Rowe who was heading for the South Pacific as a war correspondent. Songs for the evening were provided by Mae Johnson and Lena Horne with Mantan Moreland as MC and an exciting jam session with Lionel Hampton and Count Basie.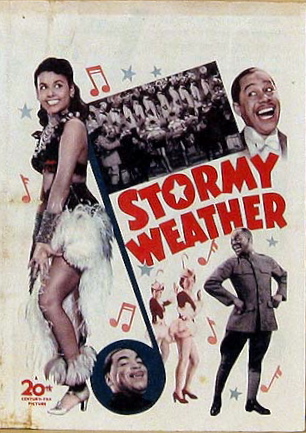 Cover of the pressbook
LOS ANGELES, "STORMY WEATHER" and THE WAR YEARS
The year 1943 would prove to be a career high point for Mae Johnson. She had permanently moved to the Los Angeles area and started the year by entertaining the soldiers. One major African American troupe that performed at San Bernardino included Mae along with stars Hattie McDaniel, Clarence Muse, Ernest Whitman and Mantan Moreland.
Mae also recorded an Armed Forces Radio Services Jubilee Show in February. AFRS provided radio shows for the troops domestically and overseas via short wave or recorded on 16-inch discs; the Jubilee series of broadcasts specifically showcased black artists. AFRS Jubilee show #13 dated February 21, 1943 starred Ernest Whitman as MC, Dooley Wilson, Mae Johnson, and the Charioteers, with Les Hite and His Orchestra. Mae sang a brand new song "I Lost My Sugar in Salt Lake City" with backup provided by Les Hite's band. While most of the AFRS Jubilee show recordings have been preserved, no copy of this particular show #13 seems to have survived.
Sometime in February, Mae recorded her one musical number and filmed her brief scene for the movie "Stormy Weather." The film was produced as part of a new initiative by the major studios to include the African American population in the war effort. "Stormy Weather" was one of two major 1943 productions with all-black casts. MGM filmed "Cabin in the Sky" in late 1942. It starred Ethel Waters, Eddie 'Rochester' Anderson, Lena Horne, Louis Armstrong, Rex Ingram, Ernest Whitman and Duke Ellington and His Orchestra. Not to be matched or outdone, 20th Century Fox passed on all those performers, with the exception of Lena Horne, and for their picture chose an all-different all-star all-black cast: Bill Robinson, Cab Calloway, Fats Waller, Ada Brown, Dooley Wilson, the Nicholas Brothers and many others.
Mae sang "I Lost my Sugar in Salt Lake City" in a memorable scene, a showstopper in a film packed with showstoppers from some of the greatest performers of the era. Dooley Wilson, as a would-be angel producer for Bill Robinson's down-and-out new show, tells the cast that he's willing to invest if he can see a little of the talent. From high on a staircase, Mae says "maybe I can give you an idea." She then addresses the maestro with "Vamp me, professor, vamp me!" and launches into her song.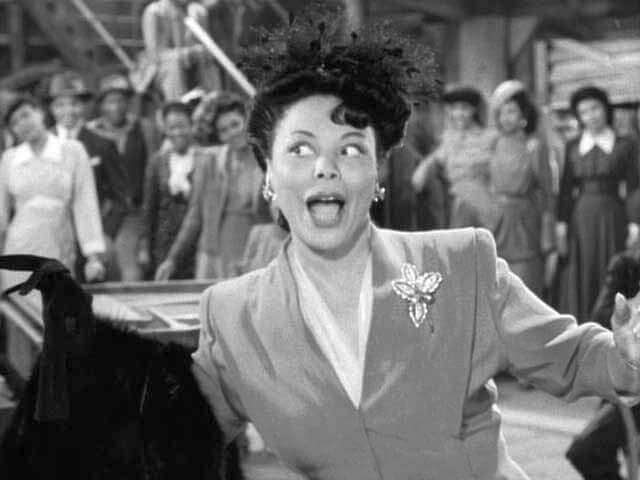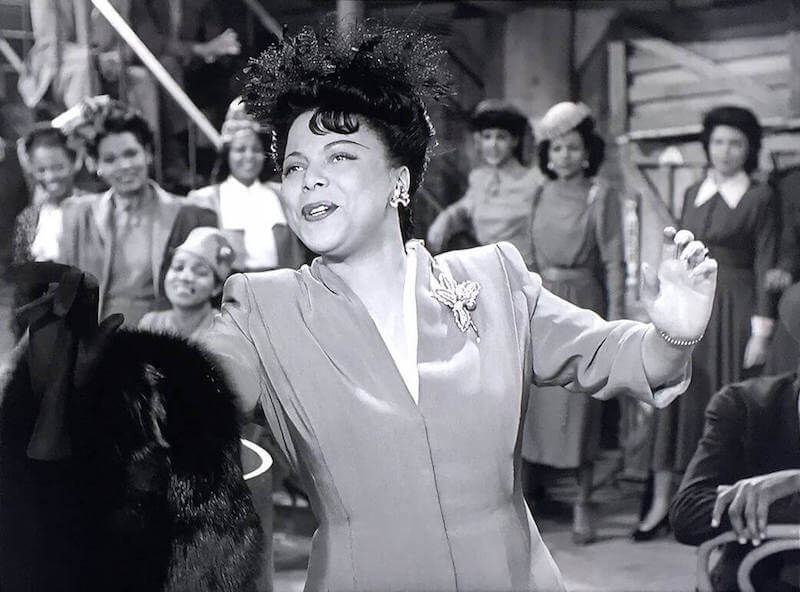 Screen captures from Mae Johnson's number "I Lost My Sugar in Salt Lake City" in "Stormy Weather"

Irving Mills was credited as Assistant Producer on "Stormy Weather" and was probably responsible for collecting much of the talent and selecting the music for the picture. "I Lost My Sugar" was published by Irving Mills Music, as were most of the songs in the movie. Written by Leon René ("When It's Sleepy Time Down South" and "When the Swallows Come Back to Capistrano") and Johnny Lange ("Mule Train" and "Clancy Lowered the Boom") and first recorded by Johnny Mercer in late 1942, the song soon became something of a blues standard and was later recorded by Judy Garland, Peggy Lee, Julie London, Louis Jordan and others.
Only eight principal performers were included in the on-screen opening credits of "Stormy Weather," but the press releases and other publicity identified almost all of the other performers. Mae is credited for the first and only time in her career as "Mae E. Johnson." Why this middle initial all of a sudden? She probably had to be listed as something other than simply "Mae Johnson" because there was another actress named Mae Johnson who was already established in Los Angeles and who had been officially credited under that name in at least one previous studio film, "Vogues of 1938." [More about the 'other' Mae Johnson later.] The actors' unions prohibit any performer from using the same name as another, so our Mae had to be different somehow. The added "E" was a nod to her given name, "Eddie Mae."
In April 1943, Mae scored another nightclub hit appearing at the Trocadero on Sunset Blvd in Hollywood just before "Stormy Weather" was released. Even Variety liked her performance this time, "In a glittering opening night sponsored by the exclusive Naval Aide auxiliary, an entirely new and different show featuring Mae Johnson, New York singing sensation, and Snub Mosely's orchestra…Miss Johnson, fresh from a featured role in 20th Century-Fox's "Stormy Weather," was in fine fettle and earned countless encores. Her accompanist was Eddie Beale, nimble-fingered pianist of the Eddie Beale Trio." (Variety, April 20, 1943.) There was so much excitement that the show promised two opening nights!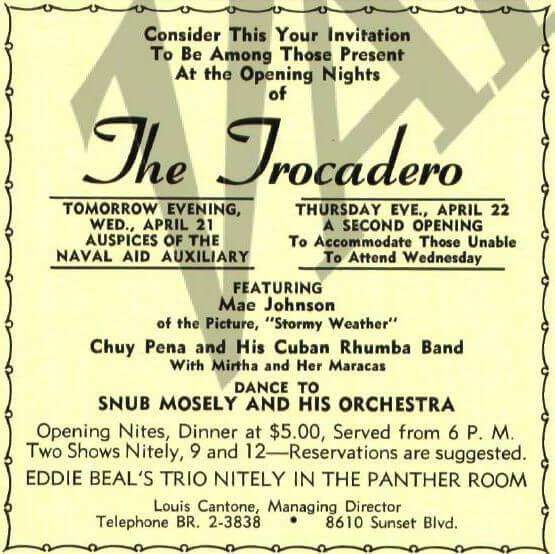 Two opening nights featuring Mae Johnson at the Trocadero in Los Angeles, April 1943.
In October 1943, Mae made her second appearance on the AFRS. Jubilee show #48 starred Ernest Whitman as the Master of Ceremonies, Eddie 'Rochester' Anderson and singer Johnny Taylor. After she was introduced and traded some funny jive banter with the MC, Mae dedicated her song to her man, Lt. West at APO510 somewhere overseas. Mae sang a rousing version of a new song written by Nat 'King' Cole and Irving Mills, "Straighten Up and Fly Right" backed by Erskine Hawkins and His Orchestra. The song became a hit for both The Andrews Sisters and The King Cole Trio in mid-1944.
There was some good publicity for Mae after "Stormy Weather" was released, but unfortunately it didn't translate into any other film appearances. There is little record of Mae appearing anywhere throughout 1944 and 1945, but she was probably busy with the war effort, including possible appearances with the USO at camps around the western United States.


Sounds promising, but no, Mae Johnson did not appear in either
"Thank Your Lucky Stars" or "Hers to Hold." (Afro American, June 19, 1943)
Supporting the February 17th opening of Andy Kirk and his Orchestra with June Richmond at the Club Plantation in Los Angeles, Mae was in the audience along with Mantan Moreland, Cab Calloway, Eddie Jackson, members of both the Woody Herman and Harry James orchestras and many others. And in November 1945, a party for Mae's 35th birthday was celebrated in L.A. with a "blitz party Harlem style."