His highness, the King of Hi de Ho!
Many jazz fans will be delighted by this story told by Cab Calloway in his autobiography,
Of Minnie the Moocher and Me
: at an evening reception in honor of Duke Ellington, Richard Nixon approached Cab Calloway and told him
"My wife and I really like what you're doing, Mr. Ellington"
True or not, it indicates the presence of Cab at the White House and his relationship with the U.S. leader.
The Hi de Ho Blog
will tell you a little more...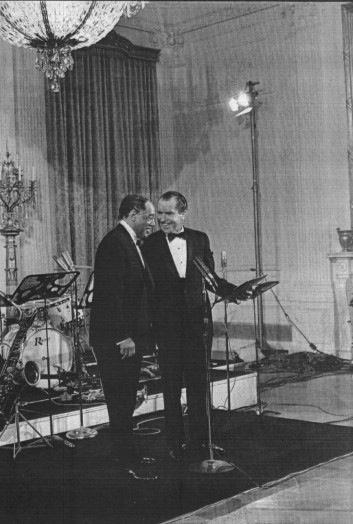 Ellington (the real one) and Richard Nixon at the White House in 1969.
The relationship between jazzmen and politicians is always interesting to observe. Their evolution is largely due to the role that men are willing to give to these troublemakers who are the Afro American flag.
Obviously, as the civil rightsn movement grew to success, the most symbolic representatives (and perhaps less aggressive), that is to say the jazzmen, were invited to the "adults" table. This did not prevent some talking loudly: Miles Davis, Max Roach, Dizzy Gillespie, the latter was even a candidate for the presidency of the United States! But back to Cab Calloway ...
The Cotton Club is Cab's kingdom
The Cotton Club in Harlem and Manhattan attracted many personalities from the entertainment world, not to mention politicians from all sides and more or less intimate with the tenants of the premises ... The first contacts were settled there. The Duke of Windsor was a particular fan and went regularly there to applaud Cab. He even boasted of having the largest collection of Cab's records in the world!
During the European tour in 1934, the King of Greece came to applaud Cab Calloway at the London Palladium.
During tours in the United States, Cab Calloway was regularly welcomed by the municipalities of each city, and received local honors.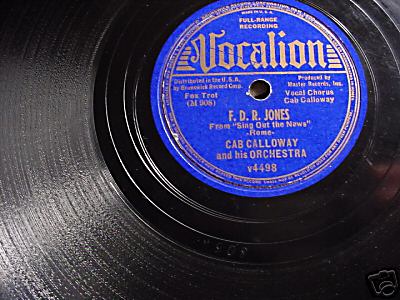 Franklin Delano Roosevelt : just call me FDR!
November 2, 1938 : Cab Calloway and his orchestra record "FDR Jones". Composed in honor of then President Franklin Delano Roosevelt, and created by Rex Ingram in the revue Sing Out The News, the song goes pretty popular and is soon covered by others, such as Ella Fitzgerald (the first version), The Mills Brothers, Harry Roy, Chick Webb, then Glenn Miller, Nat King Cole Trio and Judy Garland (16 covers alone in 1938!).
I must say that the popularity of Roosevelt among blacks was high: the New Deal program allowed them to expect some progress and especially promise of getting a job! The number of African Americans babies receiving the baptismal name "Roosevelt" or variations reached such proportions that a white author captured the phenomenon and wrote this song. Here are the lyrics:
I hear tell there's a stranger in the Jones' household,

(Yes siree, yes siree) That's what I am told

I hear tell there's a new arrival six days old

(Yes siree, yes siree) Worth his weight in gold

Come right in and meet the son

Christening's done, time to have some fun

(Yes Siree, yes siree) yes siree-e-e-e

(Yes siree, yes siree-e)

It's a big holiday everywhere

For the Jones Family has a brand new heir

He's a joy heaven sent, and we proudly present,

Mr. Franklin D. Roosevelt Jones.

When he grows up he never will stray

With a name like the one that he got today

When he walks down the street

Folks will say "pleased to meet

Mr. Franklin D. Roosevelt Jones"

What a smile, and how he shows it

He'll be happy all day long

What a name, I bet he knows it

With that handle how can he go wrong

And the folks in the town all agree

He'll be famous, as famous as he can be

How can he be a dud

Or a stick-in-the-mud

When he's Franklin D. Roosevelt Jones.

Go to sleep my baby, and maybe,

You'll balance the budget by and by

Oh you're a lucky baby

With Franklin D. for your name

Mrs. Jones' baby boy is a welcome resident

Give him a fishing rod for a toy,

He's the future president

When this rascal goes to school

ABCs wont matter

Teach him plain old `rithmetic

And of course the fire side chatter

My friends, my friends, let's all shout "Hooray"

We'll be proud to affirm when he serves his fourth term

Just you wait and see, he'll make history

'Cause he's Franklin D. Roosevelt Jones.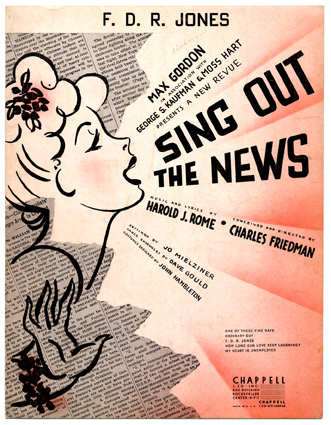 This song adored by black audiences was perhaps a first sign that one day an African American would enter the White House...
We will return in a future article on Cab Calloway's war effort and his involvement in the defense of the rights of black musicians at that time, as his many recordings and radio transcriptions serving soldiers on the front. It is obvious that at this time, the relationship between Cab and the presidency had some issues, despite a sense of selflessness.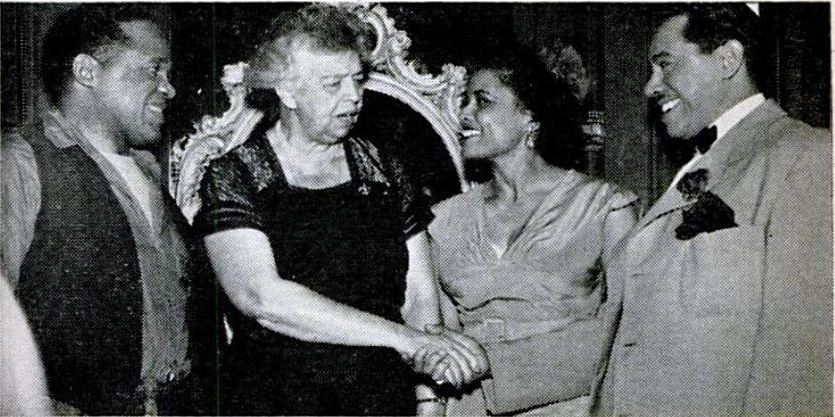 Eleanor Roosevelt surrounded by Laverne Hutcherson,
Urylee Leonardos and Cab Calloway (Ziegfield Theatre, New York - Photo : JET)
Porgy and Bess

: serving Truman and USA
And despite an FBI file on him (which we will probably talk about soon) related to the anti-government and anti-racist activity (even communists!) Cab Calloway found himself hired in what was a grand tour supported by Washington state in the cold War.
Moreover, at the opening night of Porgy and Bess in Washington, Harry Truman visited the whole party after the show. The story goes that everyone had lined up to greet the President and each artist was amused looped back to th end of the line to shake the presidential hand more than once!
During the 1952 European tour, Princess Margaret came to attend the opera in London and some also remember Cab singing the Marseillaise on the stage of the Empire in March 1953 (the U.S. ambassador who attended the first performance certainly appreciated it!). Back in the U.S., Porgy and Bess still attracted a lot of people: the former First Lady Eleanor Roosevelt visited the cast behind the scenes and was greeted with great warmth: it must be said that she had worked hard for the black cause when she was in the White House and still continued to lobby for the rights of African Americans.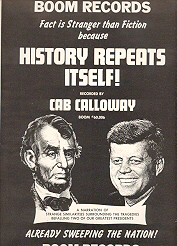 From Lincoln to Kennedy
During the JFK presidential campaign, Cab records supportive radio spots, as many other African American artists who were involved with the young Kennedy's support for civil rights: Nat King Cole, Hary Belafonte, Lena Horne.
After the death of Kennedy, Cab recorded the strange tune "History Repeats Itself" (see our separate article) establishing a bizarre parallel between Lincoln and JFK ...
A little later, in December 1966, during the Vietnam War, Cab comes to comfort wounded soldiers during a show in Washington DC.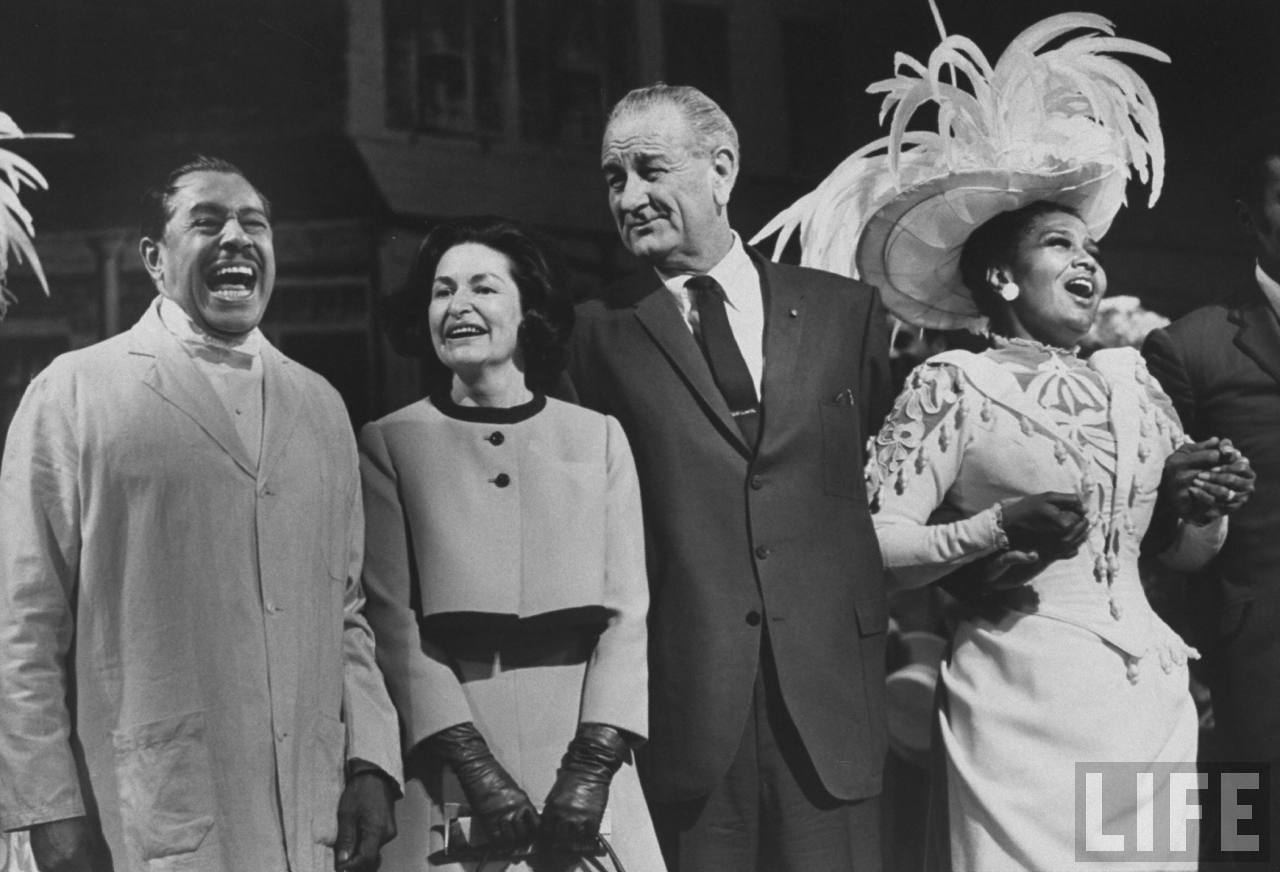 The whole Hello Dolly! cast singing along with
President L. Johnson and his spouse.
One of the highlights of Cab Calloway at the side of a president was certainly the night in November 1967 when President Lyndon Johnson and his wife were attending the premiere of "Hello Dolly!" with Pearl Bailey and Cab. The musical was then pre-Broadway tour in Washington DC. At the curtain calls, the President was invited to go on stage and accepted - a historic first - to join the artists. Everyone sang in the choir as Hello Dolly, and Cab went with... Minnie The Moocher, of course!
Then on December 11 of the following year, Cab Calloway was invited to the White House and was among the 140 guests (including Gregory Peck) in a reception in honor of representatives of Kuwait. Naturally, he took the opportunity to sing again the adventures of his protegee, Minnie.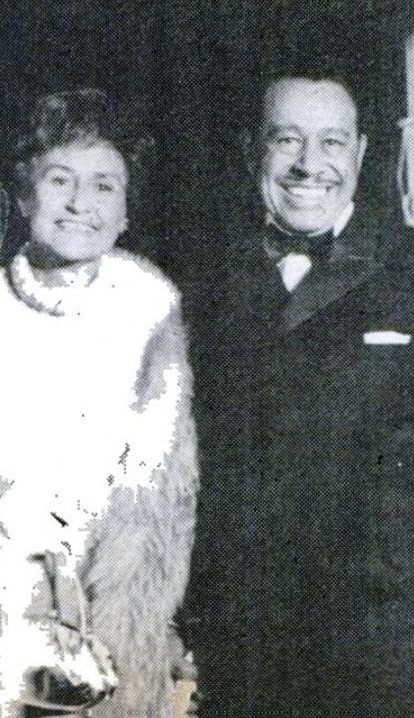 Cab Calloway and his wife Nuffie,
arriving at Duke Ellington's 70th birthday party at the White House.
On 29 April 1969 on the occasion of Ellington's 70th birthday, President Nixon celebrates the great musician with a host of musicians including, Cab Calloway. He will be asked two more times, always with his wife Nuffie.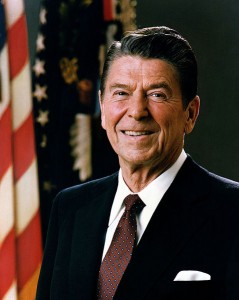 In 1987, during the concert at Carnegie Hall in New York celebrating 60 years of Cab in show business, the honoree received a telegram from Ronald REAGAN: "You do deserve such a celebration. During your whole life, you've contributed to the American musical songbook through your so special humor and jargon. You captivated the youngs and the olds and you are entered into our hearts to stay there forever. Nancy and I are proud to greet you. God bless you." (quoted by Serge Loupien in Libération, November 21, 1994).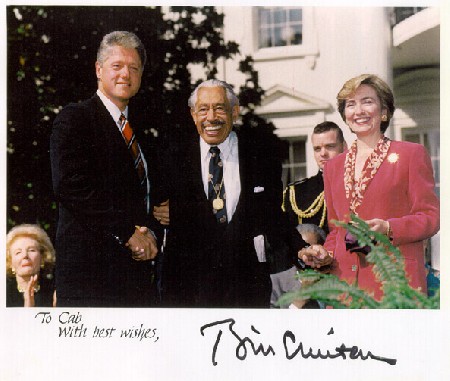 On this official picture, Margaret Tatcher's smile is quite as wide as Cab's!
On this date a ceremony at the White House was held in honor of Ray Charles and Cab Calloway among others.
Cab just had hip surgery and could not stand. But when President Clinton named him to give him his medal, he got up and came to stand during the President's speech and the cheering that followed.
"The legendary vocalist and bandleader, Cab Calloway, has had indeed a remarkable career, one of the originators of American jazz. An enduring figure in popular music, Cab Calloway added ''Hi-dee-ho'' and the scat sound to our musical vocabulary. And for those of us who
have lived a while, we can enjoy seeing the brightness of his smile in our memories going back for decades. He is an American original, and I am deeply honored that he's here with us today."

On the death of Cab Calloway, November 18, 1994, Bill Clinton sent a letter of condolence to the family.
The King Hi de Ho is dead. Long live the Hi de Ho!
---
To explore this topic further:
Roosevelt's Blues: African-American blues and gospel songs on FDR par Guido van Rijn
Pearl Harbor Jazz,
Ghosts Of Harlem de Hank O'Neal
Les magazines Jet, Ebony, Billboard
Many thanks to
Philippe BAUDOIN
for the
"FDR Jones"
sheet music, from his
private collection
and mublished here with his authorization.
---