Durant sa longue carrière, Cab a enregistré un foultitude de titres plus ou moins étranges. Celui-là est franchement particulier ! Avis aux monomaniaques complétistes : il n'y a qu'eux qui seront intéressés par l'acquisition de ce 45 tours qui n'a rien d'une chanson. Il s'agit en fait d'un récit mettant en scène le parallélisme des destins d'Abraham LINCOLN et John F. KENNEDY.
Notons tout de même qu'avec ce titre, Cab Calloway atteignit tout de même la place #89 dans le
Top 100
(chose qui n'avait pas dû lui arriver depuis longtemps !). Notons que la version originale gravée par l'auteur avait atteint le 2e rang au Top Country et le 39e rang au Top Pop de
Billboard
.
L'enregistrement de
History Repeats Itself
par Cab est également sorti chez STATESIDE et AMPAR.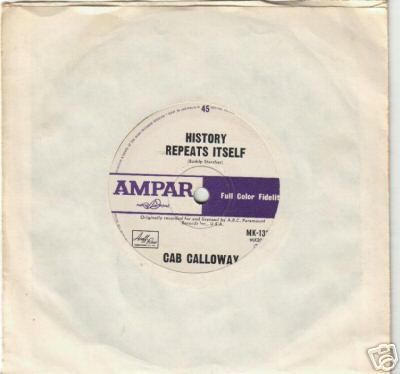 En voici les paroles complètes (de
Buddy STARCHER
), pour suivre avec assiduité la leçon d'histoire de Cab Calloway :
Glory, glory, hallelujah
His truth is marching on
This is a strange but true story
Which proves that history
Does repeat itself
And the events depicted here
Happened just one hundred years apart
Both President Lincoln
And President Kennedy
Were concerned with
The issue of civil rights
Lincoln was elected
In eighteen hundred sixty
Kennedy was elected
In ninteen hundred sixty
One hundred years apart
Both were shot from behind in the head
Their successors both named Johnson
Were Southern Democrats
With seats in the Senate
Andrew Johnson was born
In eighteen hundred and eight
Lyndon Johnson was born
In nineteen hundred and eight
One hundred years apart
John Wilkes Booth
The man that shot Lincoln
Was born in 1839
Lee Harvey Oswald
The man that shot Kennedy
Was born in 1939
One hundred years apart
Booth and Oswald were Southerners
Favoring unpopular ideas
Booth and Oswald were both
Assassinated before going to trial
Both presidents wives
Log on to kill this message.
Lost children through death
While in the White House
Both presidents were killed on a Friday
And in the presence of their wives
President Lincoln's secretary
Whose name was Kennedy
Advised him not to go to the theater
President Kennedy's secretary
Whose name was Lincoln
Advised him not to go to Dallas
John Wilkes Booth shot Lincoln
In a theater and ran to a warehouse
Lee Harvey Oswald shot Kennedy
From a warehouse and ran to a theater
The names Lincoln and Kennedy
Each contain seven letters
The names Andrew Johnson
And Lyndon Johnson each
Contain thirteen letters
The names John Wilkes Booth
And Lee Harvey Oswald
Each contain fifteen letters
And friends, it is true
History does repeat itself
His truth is marching on
La face B est tout autant inoubliable puisqu'elle s'intitule
AFTER TAXES
de
Leiber et Stoller
. Gravée également par Billy Edd WHEELER et Johnny CASH, elle dénonce les abus des impôts et enchaîne une litanie de ce qu'il reste après passage par la perception. vous l'aurez compris, un titre inoubliable !
Greg G. de
WFMU's Beware of the Blog
signale d'ailleurs que le titre
After Taxes
enregistré pour la face B de Cab ressemble franchement à un autre titre de Buddy STARCHER intitulé
A Taxpayer's Letter.
Pour les historiens en herbe, et ceux amusés par de tels enregistrements, consultez donc

la page de WFMU

(pourvoyeur du mp3 proposé ici).