The Cab Calloway and Duke Ellington orchestras were among the most popular of the 1930's and 1940's. They were also responsible for disbursing the highest payroll! Of course, the Duke had the prestige and incomparable excellence. Many of the musicians who passed through Cab's bandstand were eager at one time or another to join Ellington. Only a handful of them succeeded in that objective ... and fewer still traveled the other direction. The Hi De Ho Blog reviews them all for you. And there are a few unexpected names on the list!
We begin the series with...
The SAXOPHONES

---
Chauncey HAUGHTON (alto, clarinet)
• With Cab Calloway from December 1937 to October 1939 and 1958
• With Duke Ellington July 1942 to April 1943
• The story you should know: Chauncey Haughton is hired by Ellington to replace Barney Bigard, but his style seems too strong in comparison with Bigard. It's the army that cuts short Haughton's career with Ellington when he is called up in 1943 and remains under the flag until 1945. Haughton returns one last time to Cab in 1958 to record the album "Cotton Club Revue" and then finally leaves the world of show business. (See our separate article on his full career with Cab Calloway).

• The title to hear with Cab: Every Day's A Holiday (1937, clarinet)
•The title to hear with Duke: Sherman Shuffle (1942, clarinet)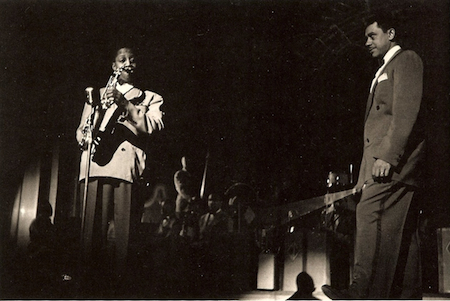 Hilton JEFFERSON (alto) :
• With Cab Calloway from October 1939 to 1949 and again in 1951
• With Duke Ellington in 1952-1953
• The story you should know: 'Jeff' was an exceptional lead saxophone in Cab's orchestra. The other musicians appreciated his musical qualities, although he had a dark temperament and a reluctance to talk. Remember that Ben Webster was regarded as one of his teachers along with Benny Carter, Coleman Hawkins and Johnny Hodges. Calloway hires him to replace Chauncey Haughton in order to give more of a "jazz" texture to the orchestra, but Hilton Jefferson did not have much opportunity to demonstrate his skills. His only claim to fame in Cab's repetoire is Willow Weep For Me (which some consider a little too syrupy), a hit with the jukeboxes. In March 1943, even Metronome Magazine despairs of seeing Jefferson so under-used in the orchestra. Yet, Hilton remains among Cab's faithful since he is later seen in the Soundies shorts in 1947 and he also accompanies Cab to South America in 1951.

• The title to hear with Cab: Willow Weep For Me (1941)
• The title to hear with Duke: The Mooche (album Uptown, 1952)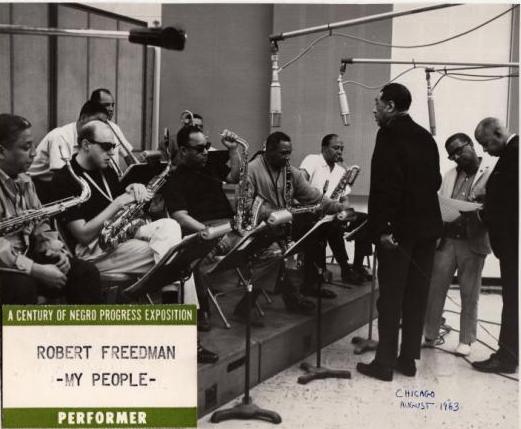 Rudy POWELL (alto)
• With Cab Calloway from April 1945 to May 1948
• With Duke Ellington in August and December 1963

• The story you should know: As a bandstand musician, Rudy Powell is not known for his solos. As the lead saxophone, he has to ensure the regular functioning of the group (in addition, there's Hilton Jefferson on alto, and the star of the moment is the tenor Ike Quebec). With Ellington, Powell has no featured solos. Indeed, the best solos you can hear from him are those where Powell accompanied Fats Waller in 1936 on the clarinet. When Rudy Powell joined Cab in 1945, the King of Hi De Ho's orchestra was enjoying its best year, never again to pull in such high receipts. Yet in just three years, like most of the big bands, Cab will be forced to disband the orchestra.
• The title to hear with Cab : Russian Lullaby ( July 1945 ) for his work in the sax section.
• The title to hear with Duke : My Mother, My Father (album My People, 1963) ibid
We will also add a note on Eddie BAREFIELD who played with Cab in the 30's and 40's through 1958 and was music director in the 70's. When he went to play briefly with Ellington between January and May 1947, he was on the trumpet, replacing William Cat ANDERSON on the podium ... (thank you to Christian Bonnet for this new addition).
---
Among the many sources consulted, note:
The New Desor, Luciano Massagli and Giovanni M Volonté
History of Jazz Tenor Saxophone, Jan Evensmo
The World of Swing, Stanley Dance
Someone To Watch Over Me, Buchmann-Moller
Benny Carter, A Life in American Music, de M. & E. Berger and J. Patrick
---
Of course, if you find an error or omission, please let me know.
---
A huge thank you to Claude CARRIERE, Christian BONNET and Yvan FOURNIER for their encyclopedic knowledge so generously shared along with their encouragement.

Be sure to take the opportunity to visit La Maison du Duke in which these two great ellingtomanes officiate with Philippe BAUDOIN.
Another bigh thank you note to Keller WHALEN for the translation.