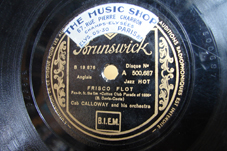 Enregistrement de 4 chansons par Cab Calloway and His Orchestra :
Copper-Colored Gal*
Frisco Flo*
The Wedding Of Mr. And Mrs. Swing*
The Hi-De-Ho Miracle Man*
Etaient présents à l'enregistrement à New York :
Cab Calloway (direction, vocal*), Lammar Wright, Shad Collins, Irving Randolph (trompette), De Priest Wheeler, Keg Johnson, Claude Jones (trombone), Garvin Bushell, Andrew Brown (clarinette, alto saxophone), Ben Webster, Walter Thomas (clarinette, saxophone ténor), Bennie Payne (piano), Morris White (guitare), Milton Hinton (contrebasse), Leroy Maxey (batterie).
Copper-Colored Gal
, comme tous les titres de cette session, est dû aux talents de Davis et Coots. Créé pour la revue du Cotton Club de cette année, elle est évidemment dédiée aux chorus girls que Cab et l'orchestre cotoyaient souvent de très très près...
Frisco Flo
est dédié à une jeune femme de San Francisco, que sa générosité a perdue. Désormais au paradis, sa mémoire est honorée par ce morceau au tempo dramatisant. Beaucoup de pathos pour pas grand-chose...
The Wedding Of Mr. And Mrs. Swing
est un titre qu'aurait tout à fait pu enregistrer Charles Trénet ! A vous d'imaginer Cab sur scène avec ses danseurs et les différents pupitres de l'orchestre illustrant les paroles de cette chanson très... swing.
The Hi-De-Ho Miracle Man
joue sur la légende du personnage de Cab, capitalisant sur le succès de
Minnie The Moocher
, avec le système d'appel-réponse. On est dans le registre du Hi-De-Ho avec des sonorités un peu dramatiques comme dans
Frisco Flo
. A noter d'ailleurs que ces deux morceaux seront utilisés dans le court-métrage Vitaphone
Hi-De-Ho
(1937).
J'ai la chance de posséder un 78 Tours de pressage français avec
Frisco Flo
et
The Hi-de-Ho Miracle Man
. Tous les détails sont dans
la note en lien ici
. On notera que la critique française ne l'avait pas franchement épargné, réclamant que l'on enregistre plutôt d'autres artistes que Cab. A vous d'en juger.