New Orleans to Hollywood
by Keller WHALEN
In 1936, the new mid-town location of the Cotton Club presented the Second Edition of the "Cotton Club Parade". A major production to cement their position as the club's mainstay of Broadway night life, the revue starred Duke Ellington and His Orchestra and Ethel Waters. The Nicholas Brothers and tenor George Dewey Washington filled out the major draws and the cast also included tap dancer Bill Bailey (Pearl Bailey's older brother), the delightful Ivie Anderson (a member of Duke's band), exotic dancer Kaloah, and a full choir under the direction of Wen Talbert. In addition, Duke Ellington brought in a ringer, a gorgeous singer and dancer who had conquered the west coast while appearing at Frank Sebastian's New Cotton Club in L.A. and was ready for the big time in New York.
Mae Diggs was a singer, dancer, drummer, bandleader, composer and producer. She sang popular songs of the day, sultry blues numbers, and her own compositions. She danced, usually solo on stage, with sexy, exotic moves dressed in a variety of costumes including a collection of evening gowns. She played the drums. She produced entire night club productions and occasionally conducted jazz bands and, for over twenty years, fronted a Rhythm & Blues combo. This is her story of resilience and reinvention.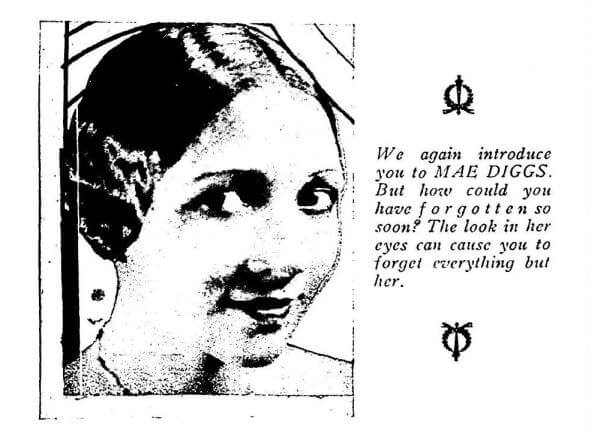 Mae Diggs in 1929 (from the Inter-State Tattler)
NEW ORLEANS – 'THE COLORED GARBO'
Angela Mae Diggs was born in New Orleans in 1910. Her family was of Creole origin, the descendants of colonial French and Spanish settlers and free Blacks. The French-speaking Creole people of Louisiana were a financial and cultural powerhouse throughout the 19th century with Creole businesses, orchestras and an opera house; successful Creoles sent their children to Paris to be educated. The racially-mixed people flourished until the 1890 Jim Crow laws in Louisiana classified Creoles of color as Negro or mulatto, instantly taking away many of their rights and relegating them to second class citizenship for generations. Today, Zydeco music along with gumbo, jambalaya and red beans and rice can be traced back to Creole origins. Notable Creoles include Debbie Allen, Danny Barker, Sidney Bechet, Barney Bigard, Edgar Degas, Fats Domino, Illinois Jacquet, Jeni Le Gon, RuPaul and Allen Toussaint.
Mae attended McDonogh 35 High School on Rampart Street, the only public high school available to African Americans in New Orleans until the 1940s. She won a beauty contest in New Orleans and was tagged 'The Colored Garbo'.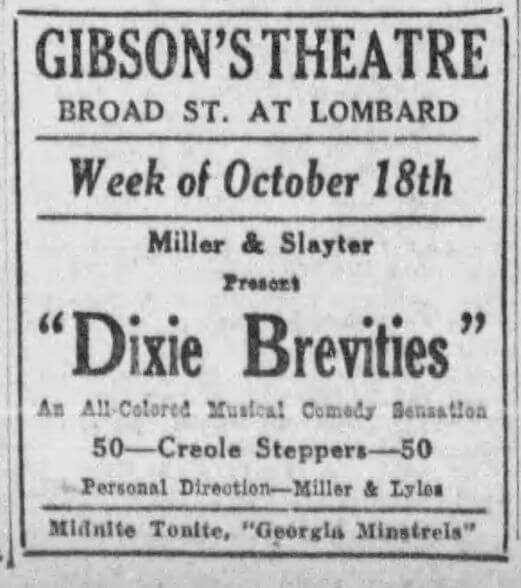 Dixie Brevities opened in Philadelphia on October 18, 1926.
Our earliest sighting of Mae Diggs as a performer came in a traveling show called "Dixie Brevities," produced by Quintard Miller and Marcus Slayter, touring the east coast from October 1926 through February 1927. In local reviews, Mae was singled out several times as a highlight of the show "being a Black Bottom dancer of unsurpassed merit….She rocks the house" said one reviewer about 50 years before Tina Turner (Atlanta Constitution).
"In Mae Diggs the show presented one of the best Black Bottom dancers that has been here in many a day. Her dancing was all that could be asked and heartily received. She was called on the stage for several encores and only a limited time prevented her entire act from being repeated," wrote Roy E. White in the Atlanta Constitution. Mae Diggs was 17 years old (it appears she dropped the 'Angela' from her name early on).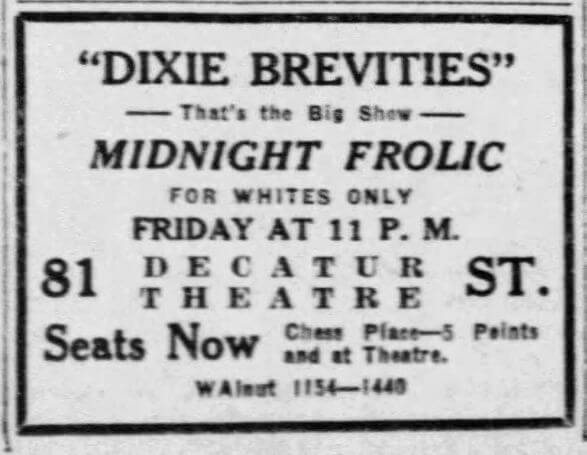 For "Dixie Brevities," this Atlanta venue designated that the show was 'For Whites Only' in 1927
In November 1927 a brief mention in the Pittsburgh Courier indicated that Mae Diggs and two friends were leaving show business behind. Mae Fanning -- she was "resting" and died of TB soon after; Billie Rickman -- she was living the domestic life in Harlem; and Mae Diggs, "prominent in the 1926 theatrical season in New York," was now enjoying private life in Philadelphia. Except for her turn in "Dixie Brevities," however, we were unable to identify any specific show where Mae was a credited performer in the 1926-27 season.
In Eubie Blake: Rags, Rhythms and Race, Blake recalled that Mae Diggs had a part in the Vaudeville unit he put together with Leonard Harper that ran on the Keith-Orpheum circuit's vaudeville houses and movie theaters across the country from August to December 1928. The show, Shuffle Along, Jr., was named after the landmark hit 1922 Sissle and Blake Broadway musical revue. Shuffle Along, Jr. was a tabloid show, an abridged version of a stage musical (it ran 32 minutes). The production was reviewed by several publications, including Variety and Billboard, but Mae was not singled out by any of the reviewers. Did she have a featured role or did she dance in the chorus line? The girls of the "Panama Pansies" chorus justifiably got a lot of attention.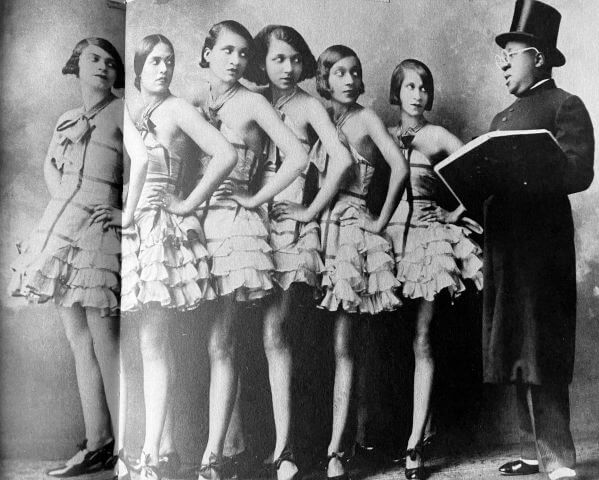 The "Panama Pansies" chorus line from Shuffle Along, Jr.
In September 1929, Mae's photo appeared in the Inter-State Tattler along with four other "chorines of charm and pulchritude." Among them, Millie Cook had previously been a Cotton Club chorus girl in 1926 and appeared in Maude Russell's "Just a Minute" in the fall of 1928; Bernice Miles and Marie Davis had both appeared in the Broadway hit Hot Chocolates at the Hudson Theatre since June of 1929. Mae might have been a cast member of one of those shows, and publicity later in her career claimed she had performed at both Harlem's Cotton Club and Connie's Inn around this time. Later stories about Mae also mention work in Chicago and Philadelphia from this period.


"Charm and pulchritude," Mae Diggs, second from right.
LOS ANGELES – 'MISS SNAKEHIPS'
After crossing the country following job opportunities, Mae started making headway as a performer in Los Angeles, opening in a floor show Friday, July 26, 1929 at Curtis Mosby's Apex Club on Central Avenue in Los Angeles. The Central Avenue district boasted many Black entertainment venues and performers, and was nicknamed "The Great Black Way." Mae was among six new artists being presented at the Apex for this show. For the record, the other new artists were Norville Reese, "the little man with the big voice;" Mary Richards, "the greatest jass dancer the Pacific Coast has ever produced;" the dancing team of Dick and Slick; and Ernestine Porter, another dancer.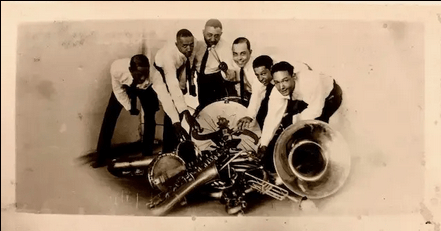 Curtis Mosby's Blue Blowers
An unsigned column in the California Eagle reported, with just a touch of hyperbole, "Beginning tonite there opens at Curtis Mosby's Apex Nite club the most pretentious [that word was a compliment in 1929] floor of the season; featuring the largest array of talent ever presented to the Los Angeles public in the history of nite clubs in this city." Curtis Mosby's house band at the Apex, the Blue Blowers, can be seen and heard in an evocative black-and-tan night club scene in the Josef von Sternberg film Thunderbolt (1929).

Watch the evocative night club scene from Thunderbolt.
Mae was once again singled out for praise. The same column in the California Eagle read, "Now we come to a newcomer to our Los Angeles Nite clubs in the person of little Mae Diggs, a product of New York City. While playing an engagement in one of Chicago's foremost nite clubs this little winsome Miss made quite a reputation for herself." The smarmy but for some reason popular bandleader Ted Lewis introduced the production on opening night.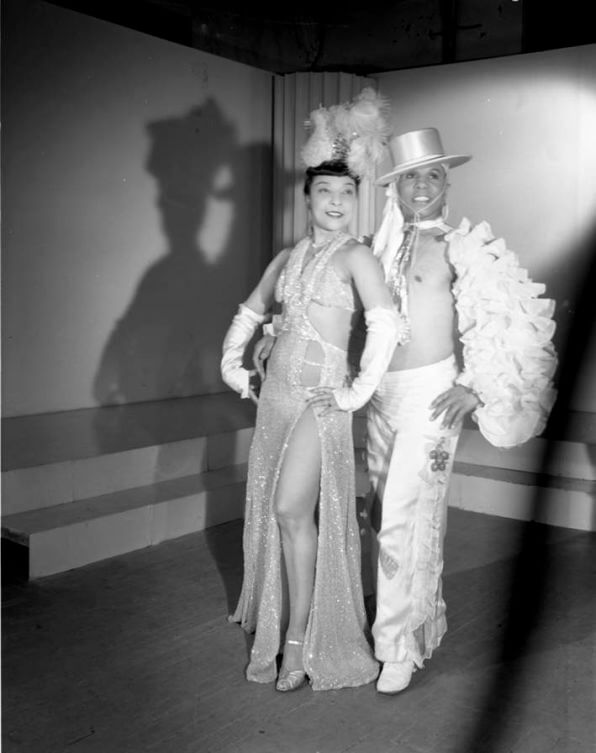 Aurora Greeley and Leroy Broomfield, dancers, choreographers and producers.
In early 1930 Mae joined a new production at Sebastian's New Cotton Club produced by the prolific team of Leroy Broomfield and Aurora Greeley. Other performers included Carolynne Snowden, a popular west coast singer doing "Melancholy Mama;" Baby Mack, the singing and dancing wife of bandleader Les Hite; and Edith Spencer formerly of Lew Leslie's original Blackbirds on Broadway who had also been in the cast of Dixie Brevities.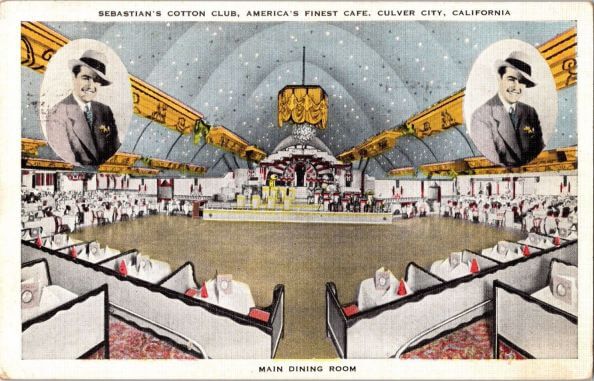 Frank Sebastian's New Cotton Club
Frank Sebastian's New Cotton Club was not affiliated with Harlem's famous Cotton Club. In fact, there were many Cotton Clubs across the country -- Boston, Chicago, Cincinnati, Newark, Seattle, Tampa -- and in Paris, France. Sebastian's was the most successful of the imitators with its major floor shows, jazz orchestras and the best Black and white performers of the day – Ivie Anderson, Louis Armstrong, Cab Calloway, Jimmy Dorsey, Duke Ellington, the Mills Brothers and Fats Waller all had engagements at Sebastian's in the 1930s.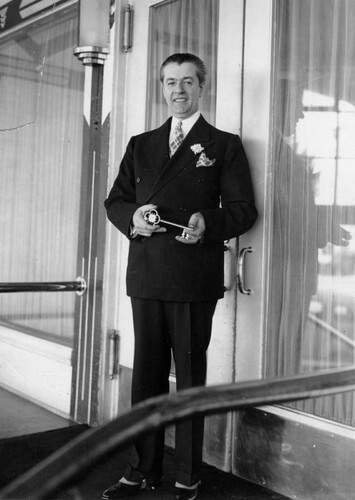 Frank Sebastian at the door of his Cotton Club.
From 1928 the house band at Sebastian's was Tin Can Henry's Dixieland Harmony Kings, led by trumpeter Vernon Elkins. Louis Armstrong enjoyed an extended residency at Sebastian's Cotton Club from July 1930 to March 1931 starting with the Vernon Elkins band now fronted by Leon Herriford with Lionel Hampton on drums, Baby Mack, Rutledge and Taylor, Evelyn Preer, the dance team featuring the brothers Connie and Eddie Anderson (before Eddie became famous as Jack Benny's butler "Rochester" on radio and TV), and a full chorus line.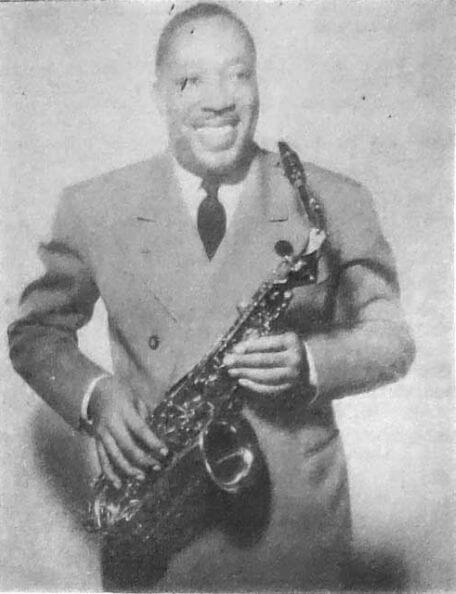 Les Hite with his saxophone. He stopped playing it after a car accident injured his lip.
The tenure of the Vernon Elkins band, however, ended abruptly on October 10, 1930 when they asked Frank Sebastian for a raise. Les Hite was quickly drafted to form a new band with some of Elkins's musicians and various others who were available in L.A. Recordings they made during this period are credited to Louis Armstrong and His Sebastian New Cotton Club Orchestra. Mae Diggs was reported to be ill at the time and sat out the entire Louis Armstrong residency.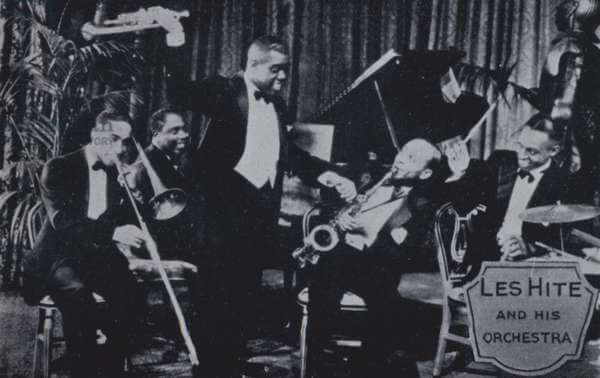 Lawrence Brown, Jimmy Prince, Louis Armstrong, Les Hite and Lionel Hampton, circa 1931.
Earlier in 1930 Mae married Milton Rousseau, a trumpet player with Les Hite and other local L.A. bands. The marriage didn't last long. That's showbiz.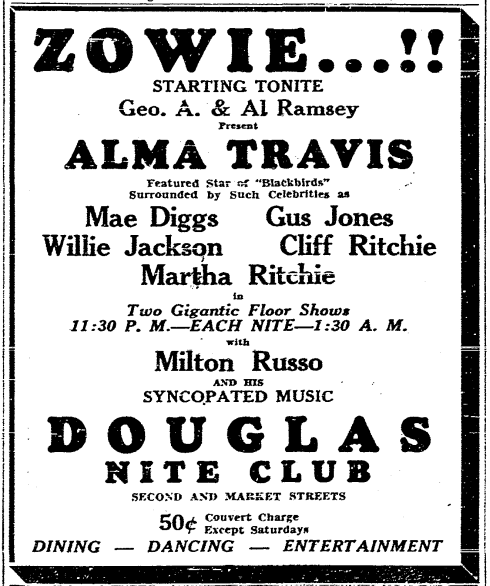 Mae Diggs at the Douglas Nite Club, San Diego, 1931.
After her illness, Mae made her 'comeback' billed as "Miss Snakehips" at the Follies Theatre midnight show on October 4th, 1930. She soon moved to the Black-owned Douglas Nite Club in San Diego, where she presented her impression of Louis Armstrong.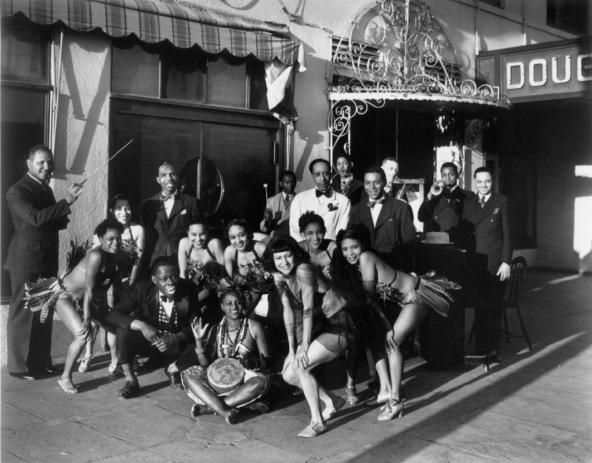 A typical lineup in front of the Douglas Nite Club.
Her stay at the Douglas was lucrative and Mae added producer to her job duties there, putting together a new show with Alma Travis called "Hot Bits of Everything." Later in July, Mae appeared at a white Burlesque theater in San Diego with a band led by drummer Alton Redd.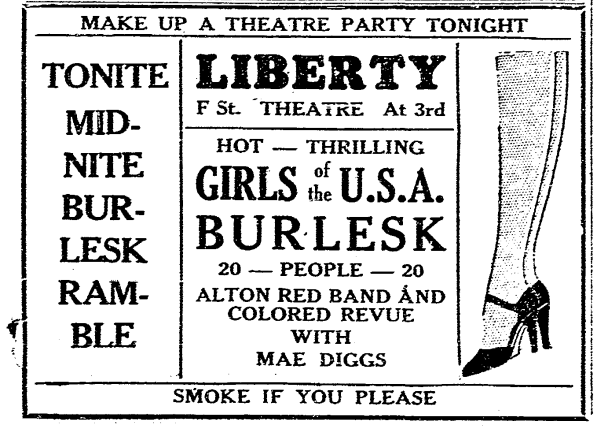 Mae Diggs was slumming at a white Burlesque house in 1931.
In September 1931 and for the rest of the year, Mae continued to open new shows at the Douglas Nite Club, quickly moving up to the top billing spot. In December, the Douglas presented a production called "Tan Town Topics" with Mae Diggs and The New Octaroon [sic] Chorus.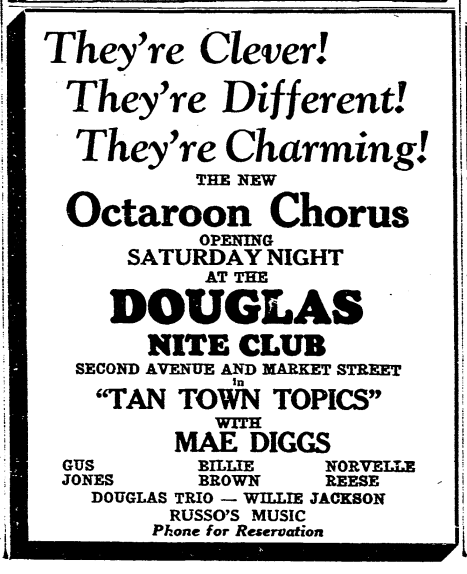 Mae Diggs gets top billing at the Douglas in December 1931 for 'Tan Town Topics'.
In February 1932 we find Mae touring with a white vaudeville troupe presenting their acts in movie theatres before showings of The Champ, starring Wallace Beery, and other films. The show's review in Variety was tepid and it probably wasn't a satisfying appearance for Mae. She was introduced somewhat patronizingly as the pianist's girlfriend, and she closed the show trying to perform her uninhibited solo dance routine with the entire cast on stage with her at the same time.
SEBASTIAN'S NEW COTTON CLUB – 'SLENDER SYLPHLIKE SIREN'
In 1932 the Les Hite band at Sebastian's gained substantial local popularity, having retained the virtuoso services of Lionel Hampton on drums. Mae Diggs signed for Alhambra on Central Avenue and then the Club Alabam, but by May of that year the California Eagle reported that Club Alabam had lost Mae when she returned to Sebastian's Cotton Club.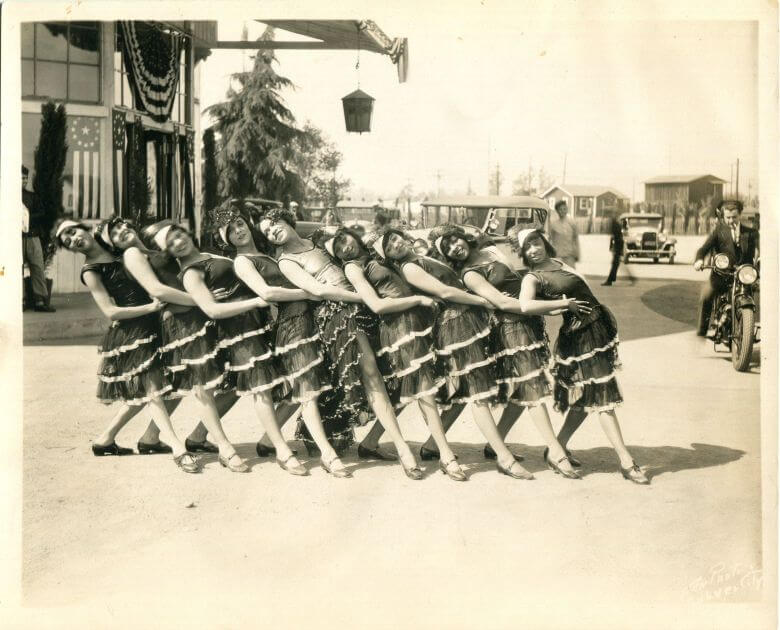 A typical chorus line in front of Sebastian's Cotton Club; Frank Sebastian is on the motorcycle at right.
The club was decorated for the Olympic Games that were being held in L.A. The cast included Les Hite's band with Lionel Hampton, blues singer Ada Brown, the portly and hilarious Dudley Dickerson, Baby Mack and Mae Diggs.
W.E. Oliver writing in the daily Los Angeles Evening Herald reviewed rising star Mae Diggs at Sebastian's: "this young girl has as much control over her body's convolutions as Kriesler has over his little finger" (that would be Fritz Kreisler, violinist). This "dusky night club star [is] emerging steadily to prominence from the ranks of the club's colored revues."
After a major New Year's Eve party and another production by Broomfield and Greeley starring Mae Diggs, Sebastian's opened a new revue called "Black Birds of 1933," borrowing a title, not for the first or last time, from a successful New York show. Mae was the hit of the show. During this period, the Cotton Club productions changed every two to four weeks.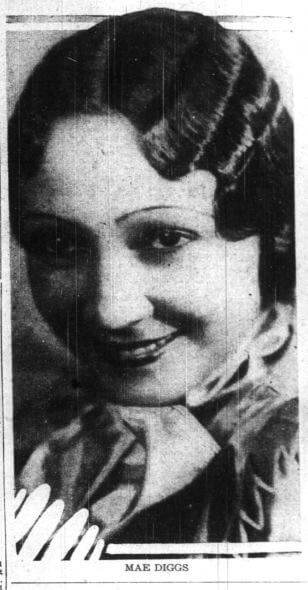 Mae Diggs, circa 1933 (from the Pittsburgh Courier).
Although Mae Diggs was closely associated with Les Hite's orchestra beginning in January 1933, unlike many other jazz band singers of the time she wasn't an actual member of the band organization. She worked with Hite frequently at various venues but was always billed and paid separately as a featured entertainer. That assured her independence and the ability to seek solo work away from the band.
Seemingly settled on the west coast for good, Mae published a letter in the Chicago Defender in January asking to hear from her old mid-west friends. They could write to her at 920 ½ East 54th Street, Los Angeles, an address just off Central Avenue.
Harry Levette described Mae Diggs at Sebastian's as a "slender sylphlike siren with a rich contralto voice and a sinuous seductive dance that earns her the name of Miss Snakehips" (Chicago Defender, January 1933).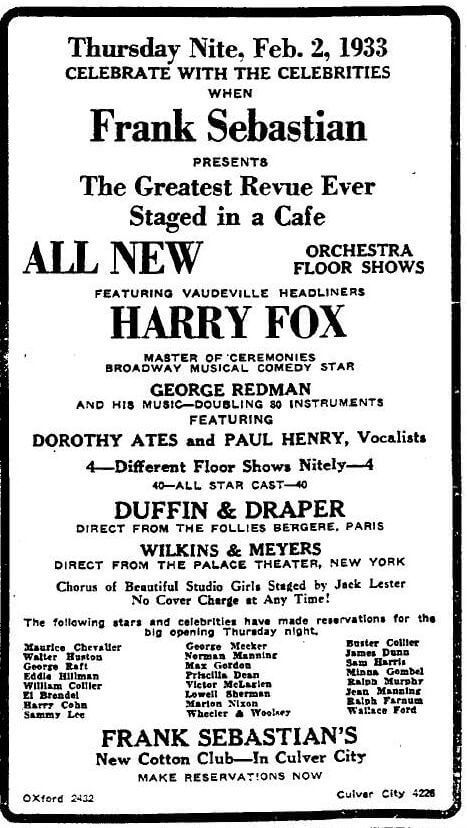 An ad for Sebastian's short-lived floor show with white entertainers,
February 1933, including an impressive list of celebrities
who "have made reservations" for the big opening night.
In early 1933 Frank Sebastian decides to replace his entertainers with white performers, advertising it as "The Greatest Revue Ever Staged in a Café." Benny Rubin, a dialect comedian, was originally scheduled to be the new MC. In the end Sebastian went with waning vaudeville performer, Harry Fox (who claimed the Fox-Trot was named after him). An orchestra, vocalists, a dance team and a comedy act were added. The only members of the prior all-Black cast to stay in diminished roles, relegated to entertaining between shows, were singer Mildred Washington, dancer Eddie Anderson, comedian Dudley Dickerson, and Mae Diggs. Les Hite and his band, the prolific producers Broomfield & Greeley, the dance team Rutledge and Taylor and the entire chorus line were all given the gate (Pittsburgh Courier, Chicago Defender).
As the new production began, columnists reported that Mae Diggs quit on Sunday the 12th of February when Sebastian tried to cut her wages. She came back soon, so they seem to have come to an agreement fairly quickly. Frank Sebastian had claimed that the mainly white cast cost him only a third of what he had been paying the more popular Black entertainers. During the eight month run of the show Eddie Anderson had moved on and Mildred Washington had died (Pittsburgh Courier).
By June of 1933, Frank Sebastian discontinued his experiment and brought Les Hite's Orchestra and the Black cast, and the reliable Mae Diggs, back to the Cotton Club. Hite's band now included Hite and Charles Jones, tenor sax; Marvin Johnson, Marshall Royal, alto sax; Joe Bach, bass; Henry Prince, piano; George Orendorf, Sunny Graven, James Porter, Parker Berry, trumpets; and Lionel Hampton, drums.
HOLLYWOOD – 'TOO BEAUTIFUL'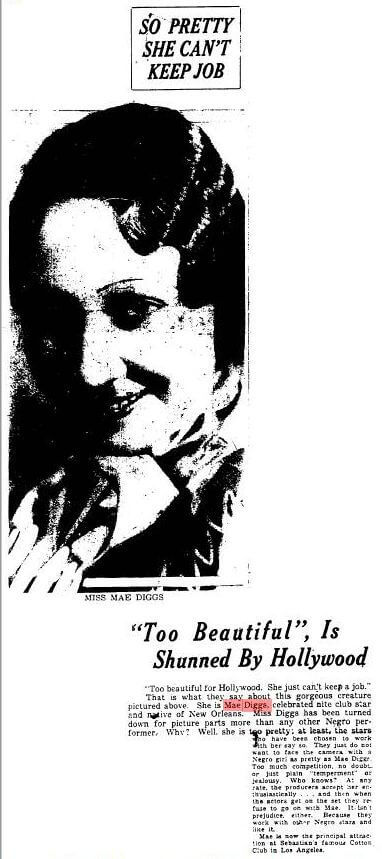 Mae Diggs was "Too beautiful for Hollywood" in 1933.
A clever manager or press agent put Mae's publicity in overdrive when an article that was picked up by many African American newspapers across the country printed Mae's photo along with the story claiming "she's so pretty she can't keep a job….Mae Diggs has been turned down for picture parts more than any other Negro performer…the stars just do not want to face the camera with a Negro girl as pretty as Mae Diggs."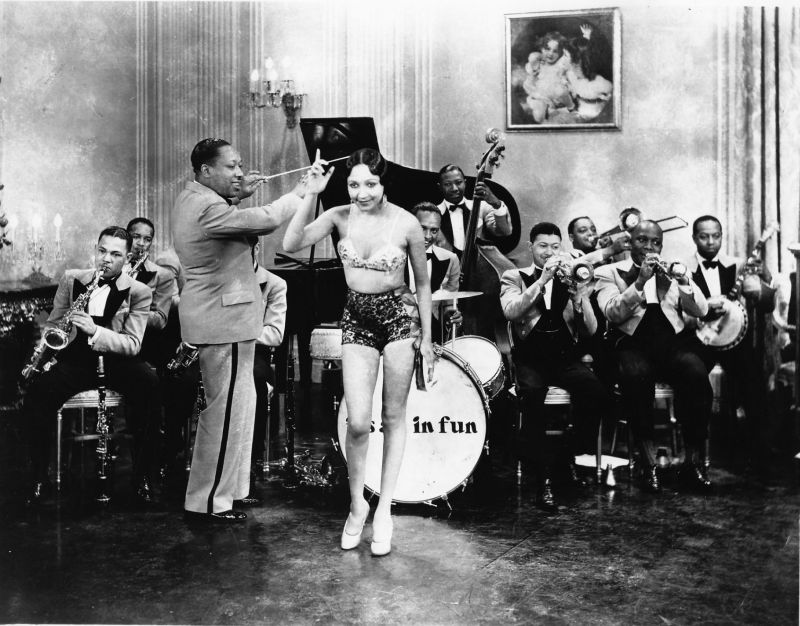 Mae Diggs and the Les Hite Orchestra in Sing, Sinner, Sing (1933) - Courtesy @Gilles Petard
In spite of being too pretty, Mae filmed a brief musical scene with Les Hite and the band for the movie Sing Sinner Sing (1933), a murder mystery with Paul Lukas and Leila Hyams. That's Lionel Hampton behind Mae throwing his drumsticks around; his bass drum reads "It's all in fun."

Watch Mae Diggs doing her dance
Mae's abbreviated dancing routine in this clip seems somewhat disorganized and was possibly improvised. The halting moves on the tiny stage don't live up to the ecstatic reviews for her live act. The scene was probably thrown in just to show off her skimpy costume for this pre-code movie. Les Hite's music is fine hot jazz, although it doesn't sound like an actual song -- it's more like a few throwaway bars so the production didn't have to pay a composer. This brief scene was re-used as an example of decadence in a sex-drug-gambling exploitation film called Gambling with Souls (1936).
Newspaper reports of Black actors hired as Hollywood extras suggest that Mae also filmed scenes for The Show of Shows, Golden Dawn, Hallelujah (all in 1929), as well as Murder at the Vanities with Duke Ellington and Cleopatra with Claudette Colbert (both 1934). We were unable to positively identify Mae in any of these films, although an exotic "Egyptian" dancing girl filmed only in a long shot in Cleopatra could be our Miss Diggs.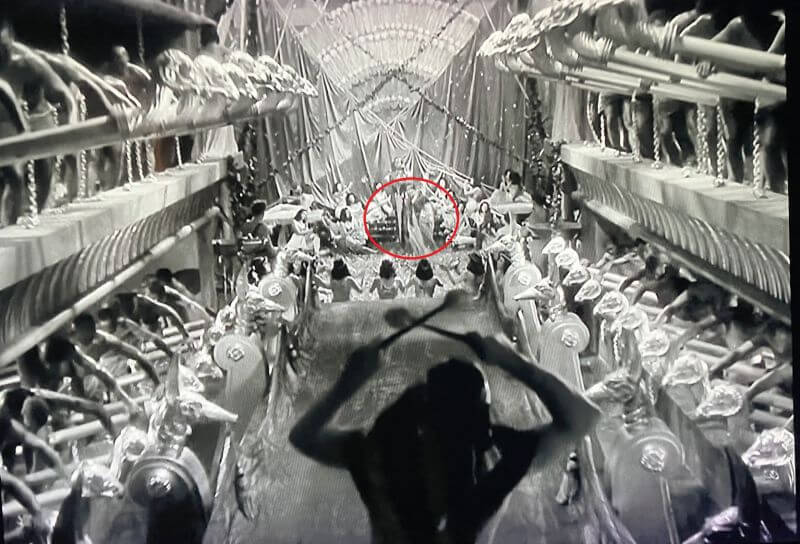 Screen capture from Cleopatra (1934); the unidentified dancer moves like Mae Diggs.
Harry Levette, columnist for the American Negro Press and part-time film extra himself, reported on an exotic dance scene in Golden Dawn where Black dancers were hired to replace a white troop: "Golden Dawn directors fired thirty white girls after they had been rehearsing those beautiful tribal dances shown in the picture … and replaced them with thirty of our girls who did the intricate dances perfectly after five days rehearsal." Although most dancers in movie musical scenes had an appropriate pay scale, Black dancers were classified as "extras" and paid a flat rate per day.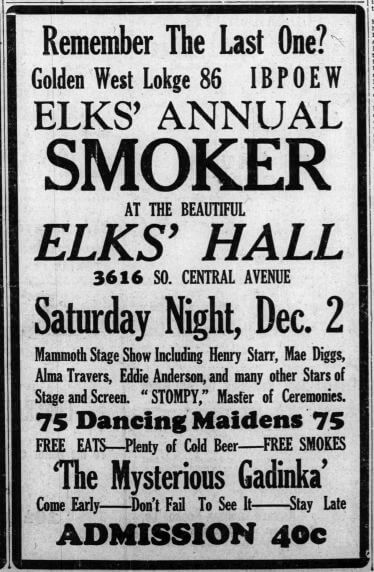 Mae Diggs moonlights one night from Sebastian's at the Elks' Hall in L.A.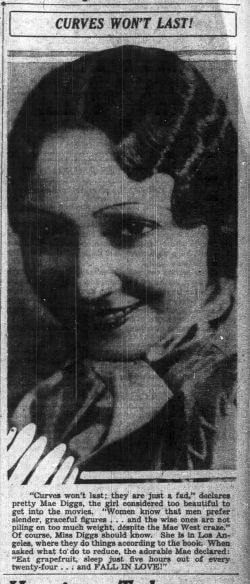 "Curves won't last!" An intimate 1934 interview with Mae Diggs.
In a short interview with the African American Press, Mae said, "Curves won't last; they are just a fad…women know that men prefer slender, graceful figures…and the wise ones are not piling on too much weight, despite the Mae West craze." And when she was asked what do to reduce? "Eat grapefruit, sleep just five hours out of every twenty-four…and FALL IN LOVE!"
In April 1934 Duke Ellington appeared at Sebastian's Cotton Club while on the west coast filming scenes at Paramount Studios for Murder at the Vanities and Mae West's It Ain't No Sin (released as Belle of the Nineties). Mae was in the cast of the floor show along with Eddie Anderson, Dudley Dickerson and others. Ivie Anderson was also part of the show.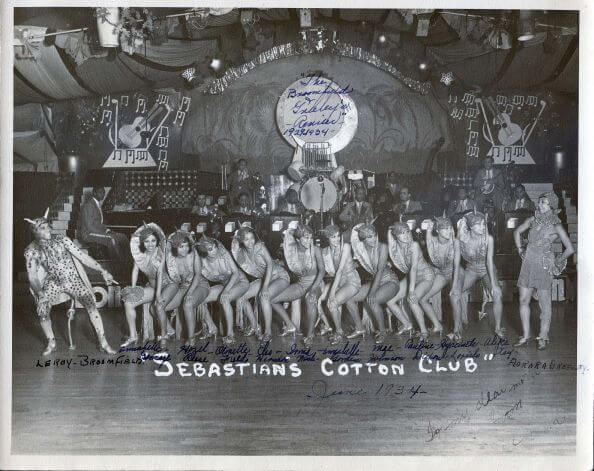 Broomfield & Greely with the chorus line at Sebastian's Cotton Club, June 1934.
The Ellington residency closed after just three weeks due to their high salary but low audience interest, so Leon Herriford was back leading the Sebastian's house band with Mae Diggs, Eddie Anderson, Rutledge & Taylor and Dudley Dickerson. "You will go in a big way for Mae Diggs," said the Hollywood Filmograph.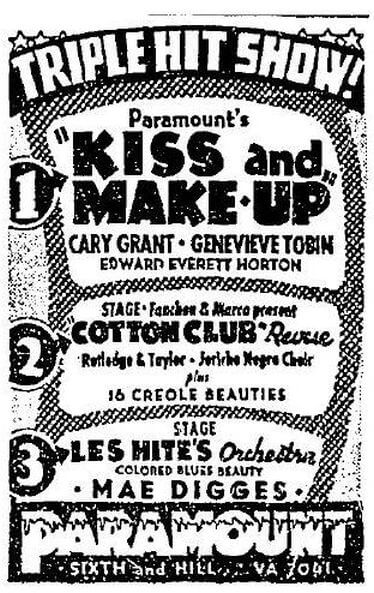 Mae Diggs, "colored blues beauty" (say that quickly three times)
In June, Les Hite and Mae Diggs were in San Francisco with other acts, calling their show the "Cotton Club Revue." They also appeared at the Paramount Theatre in L.A. along with the Jericho Negro Choir, as an added attraction for the film. Mae was billed as the "Colored Blues Beauty."


Mae Diggs, 1935
W.E. Oliver writing in the daily Los Angeles Evening Herald reviewed rising star Mae Diggs at Sebastian's: "this young girl has as much control over her body's convolutions as Kriesler has over his little finger" (that would be Fritz Kreisler, violinist). This "dusky night club star [is] emerging steadily to prominence from the ranks of the club's colored revues."
Variety published a fine review of the entire show, including "Mae Diggs, blues warbler… is a throaty torcher, with plenty of animation, looks and ability, and puts her numbers across with a bang."