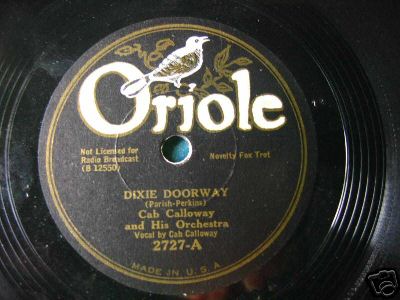 Enregistrement de 3 chansons par Cab Calloway and his Orchestra :
I've Got The World On A String*
Harlem Holiday*
Dixie Doorway*
Etaient présents à l'enregistrement à New York :
Cab Calloway (vocal*, dir), Edwin Swayzee, Lammar Wright, Doc Cheatham (trompette), De Priest Wheeler, Harry White (trombone), Arville Harris (clarinette, alto saxophone), Andrew Brown (clarinette basse, atlo saxophone, baryton), Walter Thomas (clarinette, tenor saxophone, flute), Bennie Payne (piano), Morris White (guitare), Al Morgan (contrebasse), Leroy Maxey (batterie).
Je ne sais pas ce qui s'est passé de particulier en novembre 1932, mais ce fut un mois vraiment très chargé pour Cab et ses musiciens : pas moins de 3 sessions avec 10 morceaux enregistrés, sans compter 3 autres morceaux la semaine d'après en décembre 1932.
Et malgré la quantité, la qualité est vraiment au rendez-vous.
I've Got The World On A String
, tout d'abord est une superbe version, très équilibrée où l'orchestre montre une vraie dynamique sur un tempo moyen. Quelques beaux scats de Cab viennent ponctuer ce morceau tout juste créé pour la nouvelle revue du Cotton Club. C'est la « création » de cette chanson qui sera suivie d'une bonne demi-douzaine d'enregistrements, rien que dans l'année suivante !
Harlem Holiday
est, en pleine Harlem Renaissance, un hymne au quartier noir de New York. A noter : un solo de trombone de De Priest Wheeler, un à la clarinette d'Eddie Barefield et un dernier au sax ténor par Walter Foots Thomas, sans doute.
Dixie Doorway
est, comme tous les morceaux faisant allusion au Sud, un morceau qui a mal vieilli (à mon goût en tout cas !). Les trémolos de Cab sont un peu exagérés. Au final, un morceau qu'on oublie rapidement.