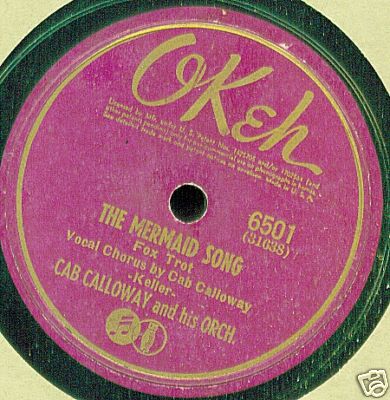 Enregistrement de 4 chansons par Cab Calloway and his Orchestra :
The Mermaid Song*
Who Calls*
Nain, Nain*
Tappin' Off
A Smo-o-oth One
Etaient présents à l'enregistrement à New York :
Cab Calloway (vocal*, dir), Jonah Jones, Russell Smith, Shad Collins, Lammar Wright (trompette), Tyree Glenn, Quentin Jackson, Keg Johnson (trombone), Jerry Blake - alias Jacinto Chabani (clarinette, alto saxophone), Hilton Jefferson (alto saxophone), Andrew Brown (alto saxophone, baryton), Ted McRae, Walter Foots Thomas (tenor saxophone), Bennie Payne (piano), Danny Barker (guitare), Milton Hinton (contrebasse), Cozy Cole (batterie). Palmer Brothers : vocal sur
Who Calls?
Cette session est remarquable notamment parce qu'il s'agit de la première juste
après le décès accidentel de Chu Berry
, le saxophoniste ténor vedette de l'orchestre.
Dizzy Gillespie n'est plus là non plus, remplacé par Shad Collins
; il a quitté Cab en septembre, suite à la fameuse altercation (
the spitball story
) qui lui a valu d'être viré illico. Nous évoquerons en détail les tenants et aboutissants de cette histoire qui a eu de nombreuses répercussions…
Ted McRae
a la lourde charge de remplacer Chu Berry, mais l'on n'entendra plus le saxophone ténor à la Chu.
The Mermaid Song
possède un swing de haute tenue, sur lequel on entend particulièrement bien la section rythmique, avec le signes bien distinctifs de Cozy Cole. Cab répond à l'appel des sirènes... et pourtant, ce morceau passe relativement inaperçu. Ce serait dommage de passer à côté de la qualité de l'orchestre à l'unisson.
Who Calls?
est une ballade permettant d'entendre le trio vocal des Palmer Brothers, aidant Cab à achever cette langoureuse (et trop longue) chanson.
Nain, Nain
permet à Cab de raconter une sombre histoire d'amour et de danse. Ted McRae fait un court solo tout à fait honorable (un poil plus rocailleux que ne l'aurait fait Chu Berry). Au niveau vocalises, Cab y fait son numéro des grands jours, comme dans
The Hi de Ho Man, That's Me.
Tappin' Off
est un instrumental qui bénéficie de superbes arrangements de Buster Harding (un des plus courus du moment avec Benny Carter). Ecoutez comme ça swingue ! Shad Collins se permet même un très bon solo, suivi par Ted McRae. A croire qu'on leur a demandé de faire comme du temps des deux absents… Même le trombone (Tyree Glenn ?) a droit à ses mesures en vedette !
A Smo-o-o-oth One
est un autre insturumental qui nous permet d'entendre encore de très beaux arrangements de Buster Harding. La clarinette (Jerry Blake) est cette fois mise en valeur, puis Shad Collins à la trompette (moins inspiré que dans le dernier morceau). Enfin, Ted McRae s'offre encore quelques mesures. Superbe et vraiment swing !