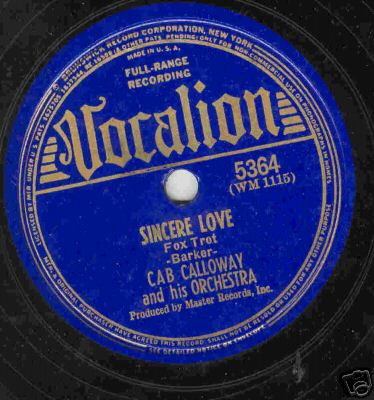 Enregistrement de 4 chansons par Cab Calloway and his Orchestra :
A Bee Gezindt
Give, Baby, Give*
Sincere Love
Do It Again*
Etaient présents à l'enregistrement à New York :
Cab Calloway (vocal*, dir), Mario Bauza, Dizzy Gillespie, Lammar Wright, Doc Cheatham (trompette), Claude Jones, Keg Johnson, De Priest Wheeler (trombone), Chauncey Haughton, Andrew Brown (clarinette, alto saxophone), Chu Berry, Walter Thomas (tenor saxophone), Bennie Payne (piano), Morrice White (guitare), Milton Hinton (contrebasse), Cozy Cole (batterie).
A Bee Gezindt…
au titre ésotérique est en fait dédié à Dizzy Gillespie. D'ailleurs écoutez bien le début de la chanson, vous l'entendrez dire
« I'm Diz the wiz »
… ce que confirme l'orchestre en le qualifiant plus tard de
« solid blower »
et en chantant ses louanges, tandis que Cab reste fier d'être un « cat » ! Un titre à écouter et réécouter pour percer tous ses secrets. Si d'ailleurs vous en possédez les paroles, n'hésitez pas à me les communiquer…
Give, Baby, Give
nous permet d'entendre encore quelques mesures de solo par Dizzy Gillespie et, après un tutti irréprochable de l'orchestre, Chu Berry au sax ténor nous régale de quelques notes bien senties. Mine de rien, ce morceau démontre encore toutes les qualités de swing de l'orchestre de Cab.
Sincere Love
, composé par le guitariste de l'orchestre, Danny BARKER, est un de ces rares intrumentaux enregistrés par Cab Calloway, même du temps de Chu Berry. Assurément fait pour la danse langoureuse, il permet aux saxophones de se faire toujours plus voluptueux. Chu était un sacré spécialiste en la matière.
Do It Again
permet à Cab de reprendre la parole – après avoir tout de même laissé l'orchestre entamer la chanson pendant la moitié du morceau. Ce sera pour laisser encore le micro à Chu Berry, puis à Dizzy Gillespie (peu inspiré ici).