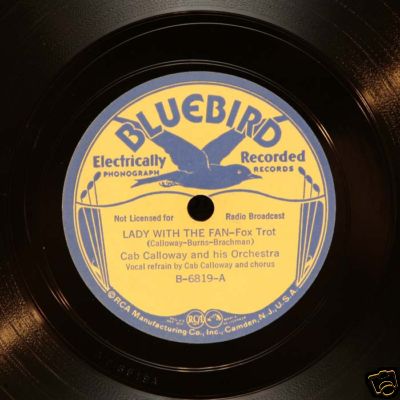 Enregistrement de 4 chansons par Cab Calloway And His Cotton Club Orchestra :
The Lady With The Fan*
Harlem Camp Meeting*
Zaz Zuh Zaz*
Father's Got His Glasses On*
Etaient présents à l'enregistrement à New York :
Cab Calloway (vocal*, dir), Edwin Swayzee, Lammar Wright, Doc Cheatham (trompette), De Priest Wheeler, Harry White (trombone), Eddie Barefield (clarinette, alto saxophone, baryton), Arville Harris (clarinette, alto saxophone), Andrew Brown (clarinette basse, alto saxophone, baryton), Walter Thomas (clarinette, tenor saxophone, flute), Bennie Payne (piano, celesta), Morris White (guitare), Al Morgan (contrebasse), Leroy Maxey (batterie).
Comment vous dire… Nous sommes dans une de mes périodes préférées de Cab. Sa popularité a déjà bien décollé et sa mythologie est déjà un peu en place : homme à femmes, le Cotton Club, Harlem, etc. Cette session est tout simplement superbe et nous permet d'entendre quelques-uns de ses succès de 1933.
The Lady With The Fan
a déjà été expliquée sur ce site à plusieurs reprises : paroles, images. A vous de cliquer sur les liens ci-dessus afin de tout savoir sur cette chanson dédiée à une des chorus girls du Cotton Club qui dansait devant l'orchestre. Après avoir soupçonné Cab, mes recherches me mèneraient plutôt du côté de Bennie Payne, le pianiste de Cab, qui avait rencontré sa femme… parmi les chorus girls du night club le plus en vue de Harlem. D'ailleurs, pour revenir à l'aspect musical de cette chanson, la part belle est donnée tant à la voix de Cab (qui est obligé de s'éloigner du micro afin de pouvoir crier son amour) qu'au piano de Bennie. L'ensemble avec l'orchestre tourne magnifiquement. A ne pas rater !
Harlem Camp Meeting
traite de l'ambiance de Harlem, à travers les solos de ses musiciens. Rien à voir avec les images désolantes que l'on a tous pu voir… Soutenu par Cab, Eddie Barefield fait un superbe solo de clarinette. Cab crie, chante, scatte à tue-tête, se souciant à peine des pauvres ingénieurs du son (qui décidément ne l'aimaient pas !). Superbe trompette bouchée (Edwin Swayzee). Pour terminer, Bennie Payne fait un court solo de piano, lancé par son ami Cab.
Zaz Zuh Zaz
, qui devint l'un des hymnes zazous (c'est de là qu'ils tirent leur nom. Et pour en savoir plus, regardez d'ailleurs cette
note sur le livre

Les Zazous

de Loiseau
). Smokie Joe est l'un des personnages de cette chanson, en droite ligne de Minnie The Moocher : un système d'appel-réponse non plus sur
« Hi de ho »
mais sur
« Zaz zuh zaz »
… Comme vous le voyez, avec un peu d'imagination et quelques syllabes, on pouvait se faire une belle carrière à l'époque ! On notera la présence appuyée de la section rythmique, qui bât le tempo avec de superbes envolées de Bennie Payne au piano. Quant au scat final de Cab, il est tout simplement d'anthologie !
Father's Got His Glasses On
tire son titre d'Harry White, l'arrangeur dudit morceau. Il avait en effet pour habitude de chausser ses lunettes lorsqu'il écrivait ses partitions
(anecdote tirée du livret du Classics 544).
Solo de trombone superbe (De Priest Wheeler ?) auquel répondent l'orchestre puis le formidable scat de Cab, avec la guitare de Morris White en appui. Ecoutez bien vers 1 minute 50, comment Cab est une fois de plus obligé de se reculer pour pouvoir chanter sans ruiner la prise de son !