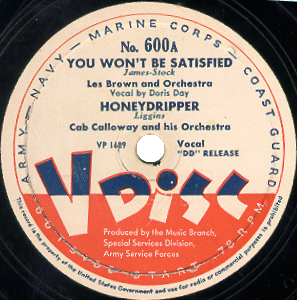 Enregistrement de 2 chansons par Cab Calloway and his Orchestra :
The Honeydripper*
Afternoon Moon*
Etaient présents à l'enregistrement à Chicago :
Cab Calloway (vocal*, dir), Russel Smith, Jonah Jones, Paul Webster, Shad Collins, Roger Jones (trompette), Tyree Glenn, Fred Robinson, Keg Johnson, Quentin Jackson (trombone), Hilton Jefferson, Alfred Gibson (alto saxophone), Bob Dorsey, Ike Quebec (tenor saxophone), Rudy Powell (alto sax et baryton), Dave Rivera (piano), Danny Barker (guitare), Milton Hinton (contrebasse), Buford Oliver (batterie).
The Honeydripper
contient plus de jive au mètre carré que l'on peut en espérer ! Un grand classique de la carrière de Cab. Véritable succès qui connut une édition en V-Disc. Les arrangements sont particulièrement efficaces. Ike Quebec y fait un superbe solo, mais il faut savoir apprécier les qualités d'ensemble de l'orchestre : une ryhtmique efficace, une section trompette d'une rare justesse, des saxophones encore meilleurs que chez Basie… Un de mes morceaux préférés !
Pour tout savoir sur les circonstances exceptionnelles
de l'enregistrement de cette chanson, cliquez ici.
Afternoon Moon
nous fait encore écouter Cab rouler les 'r' comme un Ecossais ! Un tempo plus lent et une chanson sans grand intérêt, malgré les efforts des saxophones. Un morceau typique du moment, tout à fait calqué sur le swing blanc.