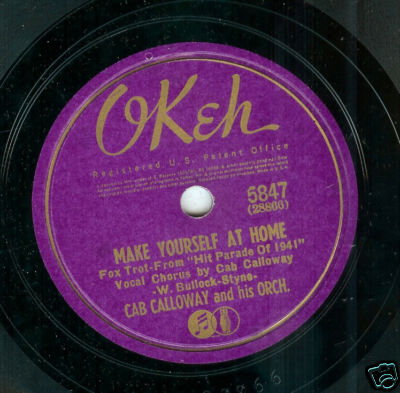 Enregistrement de 4 chansons par Cab Calloway and his Orchestra :
A Chicken Ain't Nothing But A Bird*
The Worker's Train*
North Of The Mohawk Trail
Make Yourself At Home*
Etaient présents à l'enregistrement à New York :
Cab Calloway (vocal*, dir), Mario Bauza, Dizzy Gillespie, Lammar Wright (trompette), Tyree Glenn (trombone, vibraphone), Keg Johnson, Quentin Jackson (trombone), Jerry Blake (clarinette, alto saxophone), Hilton Jefferson (alto saxophone), Andrew Brown (clarinette, alto saxophone), Chu Berry, Walter Thomas (tenor saxophone), Bennie Payne (piano), Danny Barker (guitare), Milton Hinton (contrebasse), Cozy Cole (batterie).
A Chicken in't Nothing But A Bird
ne brille d'abord pas par ses paroles... De ce morceau, on ne retiendra que le solo de Chu Berry, peu inspiré toutefois, qui fait un travail honnête mais rien de fondamental. La force du saxophoniste vedette de l'orchestre tient surtout dans sa capacité à être reconnu dès la première mesure... Rien que ça !
The Workers' Train
est une espèce d'ovni dans le répertoire de Cab (même s'il est un des co-auteurs). Un sujet étonnant, même si l'on sait que lui et l'orchestre prenaient très très souvent le train ! On regrettera un tempo décidément trop lent pour swinger véritablement.
North Of The Mohawk Trail
. Comment dire... vraiment pas grand-chose pour un morceau sans personnalité, baignant même dans le stéréotype par moment. Pas étonnant que ce soit quasiment la première fois que quelqu'un en parle ! Je ne voudrais pas faire mon Delaunay, mais était-ce bien utile de graver un morceau pareil ??
Make Yourself At Home
: encore un morceau pour rien ou presque (vous allez croire que je suis de mauvaise humeur aujourd'hui !).