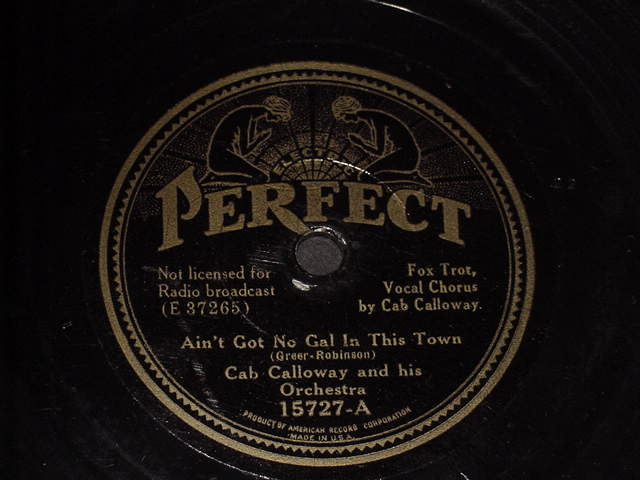 Enregistrement de 4 chansons par Cab Calloway and his Orchestra :
Ain't Got No Gal In This Town*
Between The Devil And The Deep Blue Sea*
Trickeration*
Kicking The Gong Around*
Etaient présents à l'enregistrement à New York :
Cab Calloway (vocal*, dir), Lammar Wright, Reuben Reeves, Ed Swayzee (trompette), E. B. De Priest Wheeler, Harry White (trombone), Arville Harris (clarinette, alto saxophone), Andrew Brown (clarinette basse, atlo saxophone, baryton), Walter Foots Thomas (clarinette, tenor saxophone, flute), Bennie Payne (piano), Morris White (banjo), Jimmy Smith (tuba, contrebasse), Leroy Maxey (batterie).
Quelle session ! A peine dix jours après celle du 12 octobre dernier, Cab repart en studio pour enregistrer les succès e la dernière revue du Cotton Club. Sur les quatre morcaux enregsitrés ce jour-là, deux traverseront les années sans problème.
Ain't Got No Gal In This Town
n'a pas retenu l'attentnion des historiens du jazz et pourtant, c'est un très bon enregistrement d'un blues basique sur lequel Cab fait preuve d'une grande inventivité vocale. Beaucoup de maîtrise également pour pouvoir partir aussi loin dans les délires et revenir en maître sur la note.
Between The Devil And The Deep Blue Sea
est du tandem Arlen-Koehler comme les deux morceaux suivants. Tirés tous les 3 de la revue
RHYTHMANIA
du Cotton Club, ils vont être des vecteurs incroyables du succès de Cab. Ce dernier fait d'ailleurs tout pour attirer l'atention avec une interprétation hors du commun. Du scat sans gène !
Trickeration
s'endiable sur un tempo nettement plus soutenu, laissant peu de souffle aux danseurs ! On est dans le pseudo-folklore de Harlem, inventé ici pour attirr le bourgeois blanc de Manhattan. N'empêche : Cab scatte ici à merveille !
Kicking The Gong Around
est là aussi pour faire fantasmer le public propret du Cotton Club... on y parle de drogue, mais il faut avouer que peu de personnes parmi le public comprenaient certainement le sens des paroles. On est dans la suite des pérpéties de Minnie The Moocher, avec Smoky Joe qui cherche après sa Minnie, sans doute partie predre son pied avec quelque substance interdite (ici, la cocaïne). Vous pouvez en retrouver un "clip" filmé un peu plus tard et toutes les informations sur la chanson en
cliquant ici
.