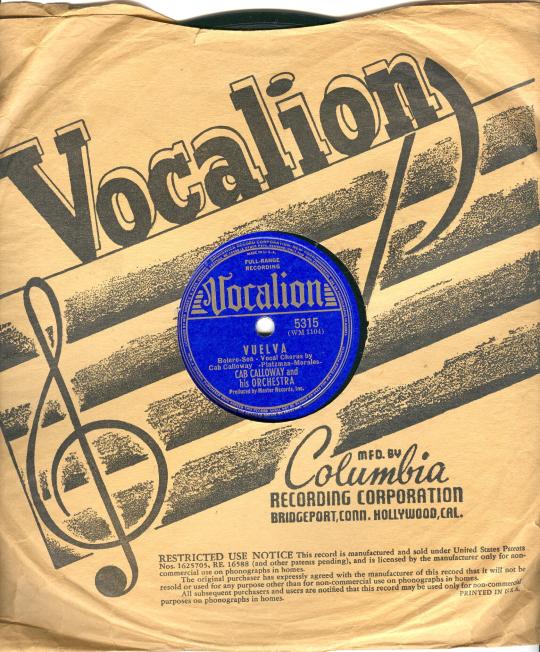 Enregistrement de 4 chansons par Cab Calloway and his Orchestra :
Chili Con Conga*
Tarzan Of Harlem*
Jiveformation Please*
Vuelva*
Etaient présents à l'enregistrement à New York :
Cab Calloway (vocal*, dir), Mario Bauza, Dizzy Gillespie, Lammar Wright, Doc Cheatham (trompette), Claude Jones, Keg Johnson, De Priest Wheeler (trombone), Chauncey Haughton, Andrew Brown (clarinette, alto saxophone), Chu Berry, Walter Thomas (tenor saxophone), Bennie Payne (piano), Morrice White (guitare), Milton Hinton (contrebasse), Cozy Cole (batterie).
Chili Con Conga
sacrifie à la mode afro-cubaine et réonne de l'influence de Mario BAUZA (tropettiste cubain, qui a fait engager quelques mois plus tôt le jeune Dizzy GILLESPIE). Le conga, c'est marrant, surtout lorsque des danseurs équipés de manches à frou-frou s'agitent autour de Cab. Et puis, souvenez-vous, la scène du
Conga Beso
dans
Hellzapoppin
' !
Tarzan Of Harlem
n'a que peu d'intérêt, si ce n'est qu'on peut l'écouter avant
The Jungle King
(que Cab enregistrera en 1947).
Jiveformation Please
doit absolument s'écouter avec le
Hepster's Dictionary
écrit par Cab et qui recense les expressions argotiques des musiciens de New York (nous y consacrerons prochainement une note, promis).
Vuelva
est une autre facétie du type rumba, enregistrée uniquement pour faire danser sur les rythmes à la mode du moment. Chu BERRY y fait un solo bien conventionnel, quasi-caricatural. Cab y fait preuve d'un chant encore maîtrisé, mais cette fois-ci un peu attendu (et je ne vous parle pas des paroles indigentes !).